These Mexican Turkey Meatballs made with cilantro, garlic and a packet of taco seasoning are a great appetizer or weeknight meal when served with Arroz Verde (green chile rice).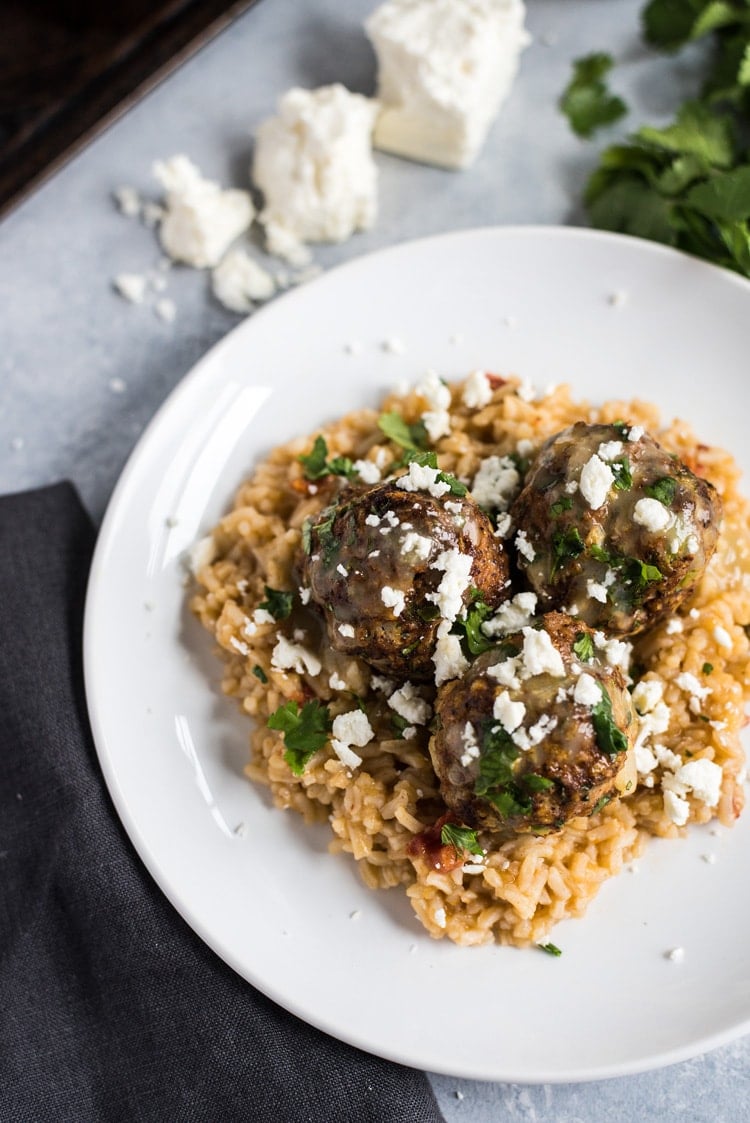 This post has been sponsored by La Preferida. Thanks for supporting the brands I love!
Turkey meatballs that are juicy, flavorful and tender?! Yes, siree! It's totally, absolutely, 100 percent possible. And this recipe is proof.
I've got a love-hate relationship with ground turkey. I love it because…
it's a lean protein with a light flavor profile that's perfect for the spring and summer months
it's amazing when paired with bright and acidic ingredients
it's usually cheaper than ground beef or chicken at my local grocery store
But here's the down side – it's easy to overcook it, making it dry and flavorless. That's no bueno.
So what's a girl to do?
Bake those little suckers in the oven and add some moisture.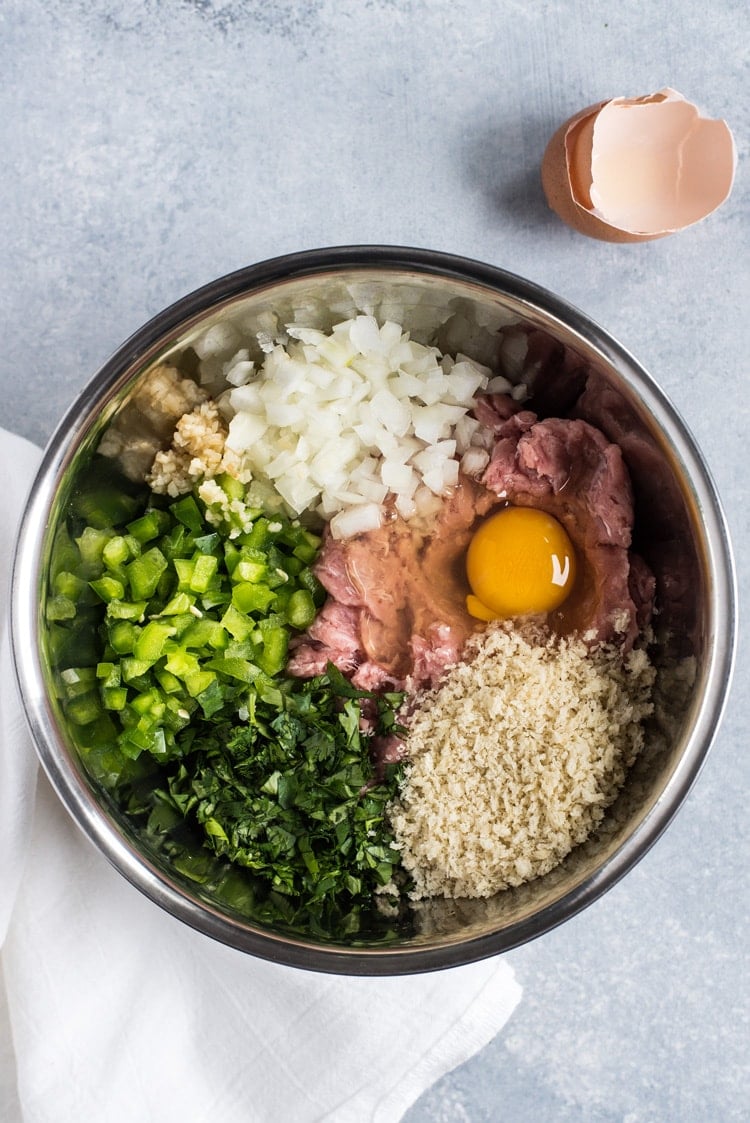 To keep the meatballs from getting dry, I added some moisture-rich ingredients like diced bell peppers, onions, garlic and cilantro.
The panko breadcrumbs help soak up that moisture and keep it locked into the meatball during the baking process.
The egg helps bind the meatball together and prevents it from falling apart.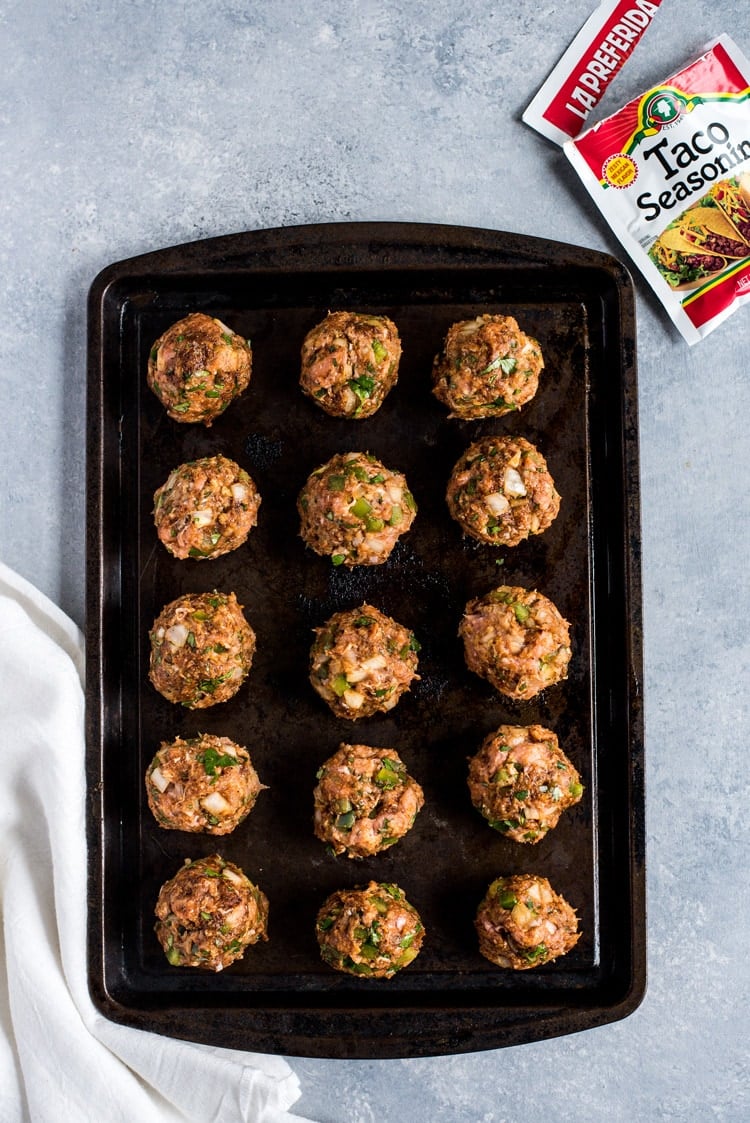 While the bell peppers, onions, garlic and cilantro add some fresh flavors to the meatballs, there's one little secret ingredient that really packs a punch and brings it all together.
Betcha' never thought of using taco seasoning in meatballs! Isn't it just genius?
The amount of flavor that one little packet gives the meatballs is unreal. No more bland turkey meatballs for me. No excuses.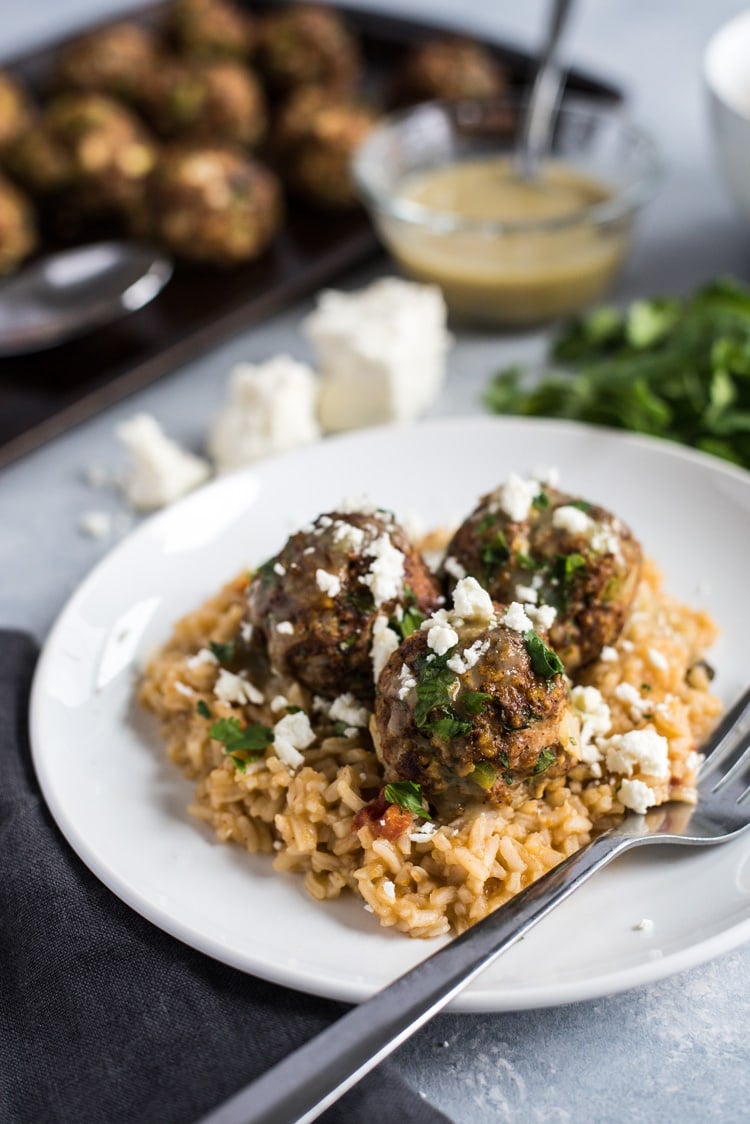 The healthy baked turkey meatballs are great as an appetizer when served with toothpicks. Just top them with a little spoonful of green enchilada sauce and some queso fresco.
They also make an easy dinner for those busy weeknights, especially when served with some arroz verde. Arroz verde is simply rice that's cooked and mixed in with some green enchilada sauce. To make it super simple, I used a box of La Preferida Spanish Rice and a can of La Preferida Green Enchilada Sauce.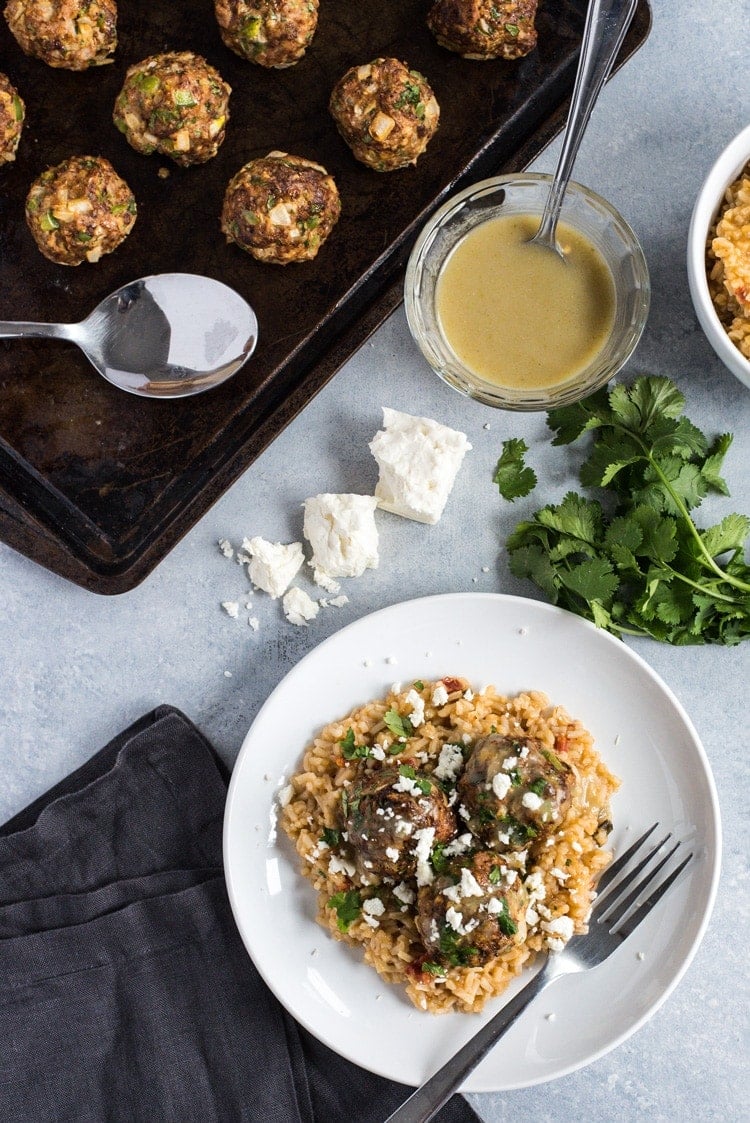 Mexican Turkey Meatballs with Arroz Verde
PRINT RECIPE
PIN RECIPE
SERVINGS:
5
people (3 meatballs per serving)
Ingredients
For the meatballs
1

pound

ground turkey

1/2

cup

diced onions

1/2

bunch of cilantro,

chopped (about 1/2 cup packed)

1

clove

garlic

minced

1

large

bell pepper,

diced (about 1/2 cup)

1/2

cup

panko breadcrumbs

1

egg

1

packet

La Preferida Taco Seasoning
Instructions
Preheat oven to 350 degrees.

In large bowl, combine ground turkey, onions, cilantro, garlic, bell peppers panko breadcrumbs, an egg and La Preferida Taco Seasoning. Mix thoroughly with hands and roll into 15 meatballs.

Place the meatballs in an oven proof pan or baking sheet. Add 1/2 a cup of water to the pan and bake for 25 minutes.

As meatballs are baking, prepare rice per package instructions. When rice is done, fold in 3/4 cup of enchilada sauce and set aside. Save remaining enchilada sauce for topping meatballs.

Serve rice, then layer meatballs on top. Pour a spoonful of enchilada sauce on meatballs and garnish with queso fresco.
Isabel's Tips
Nutrition information is for meatballs only.
Nutrition
Did you make this recipe?
Leave a comment below and tag @isabeleats on social media!
This post has been sponsored by La Preferida, whose authentic Mexican products I love and use regularly in my kitchen. Thank you for supporting the brands who help make this site possible!