Jump to Recipe
This No Churn Mexican Chocolate Coconut Ice Cream is made with cocoa powder, cinnamon and sea salt for an easy decadent end of summer dessert!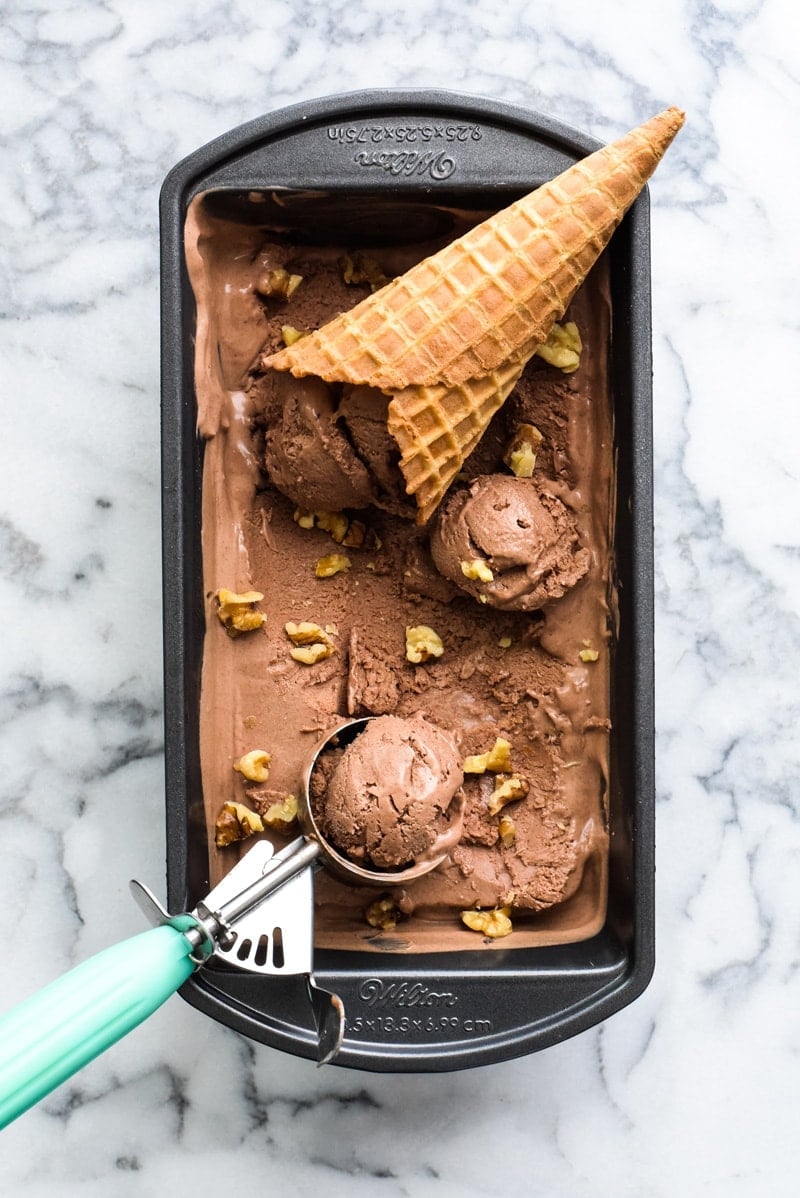 Have you ever wanted to make ice cream at home but quickly realized that so many recipes require fancy tools and equipment that you just don't have? Hands up! That's totally me.
All I've got are some mixing bowls, a whisk, a handheld mixer and only recently did I get a stand mixer as a wedding present (because I'm too cheap to buy one for myself). No ice cream maker in sight.
If I want to make ice cream, I've got to get a little creative. This recipe contains no eggs, no dairy cream, no sweetened condensed milk.
The base is made of two simple ingredients: 1 15-ounce can of cream of coconut and 2 cups of plain Greek yogurt.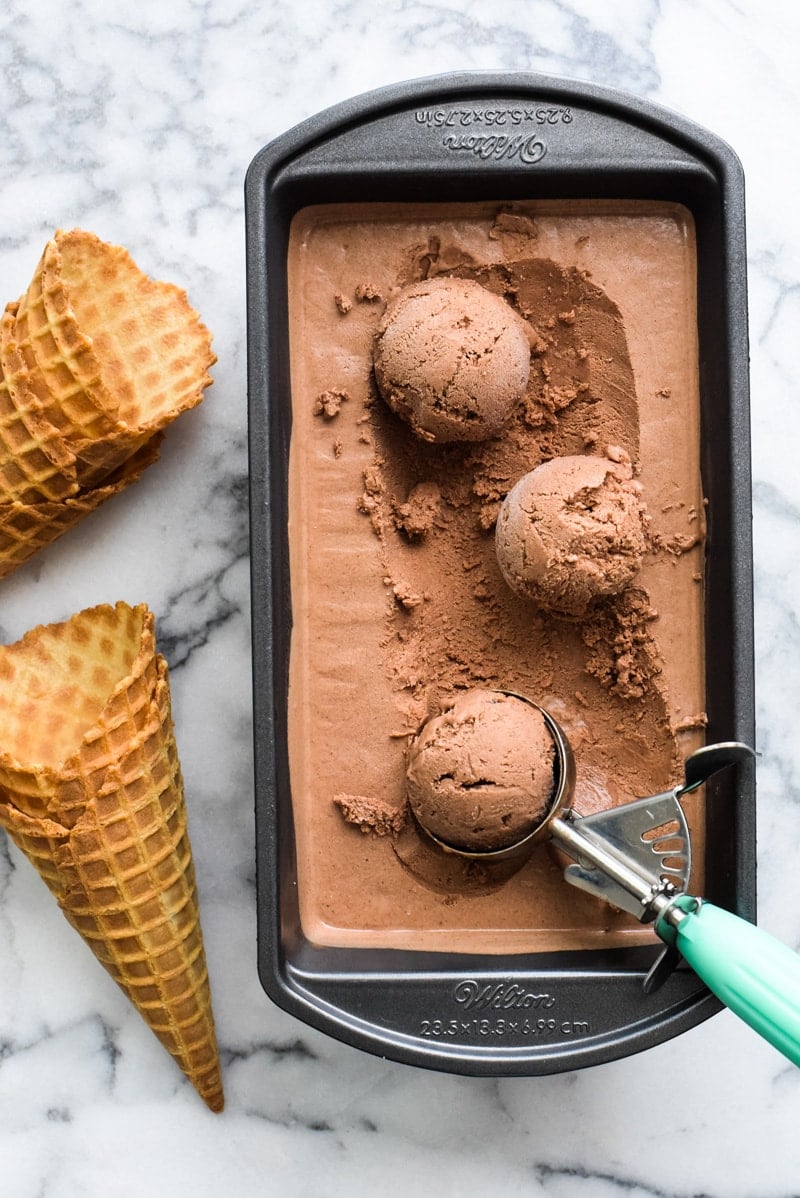 It's rich and decadent, creamy and smooth and the recipe is super versatile and works with any mix-ins or flavors of your choosing.
For this recipe, I combined three of my favorite flavors: chocolate, cinnamon and sea salt.
Mixed in with the cream of coconut base, this no churn ice cream is an interesting combination of summer and fall flavors that are refreshing and cooling, yet comforting and warming at the same time. And since we're in that weird in between seasons stage where people are excited and ready for fall but it's still about 90 degrees outside, I'd say this recipe is pretty much a necessity in all households right now. ?
If you don't like the flavor of coconut, this recipe probably isn't for you. But if you enjoy a little tropical twist, then you definitely have to whip up a batch of this Mexican Chocolate Coconut Ice Cream.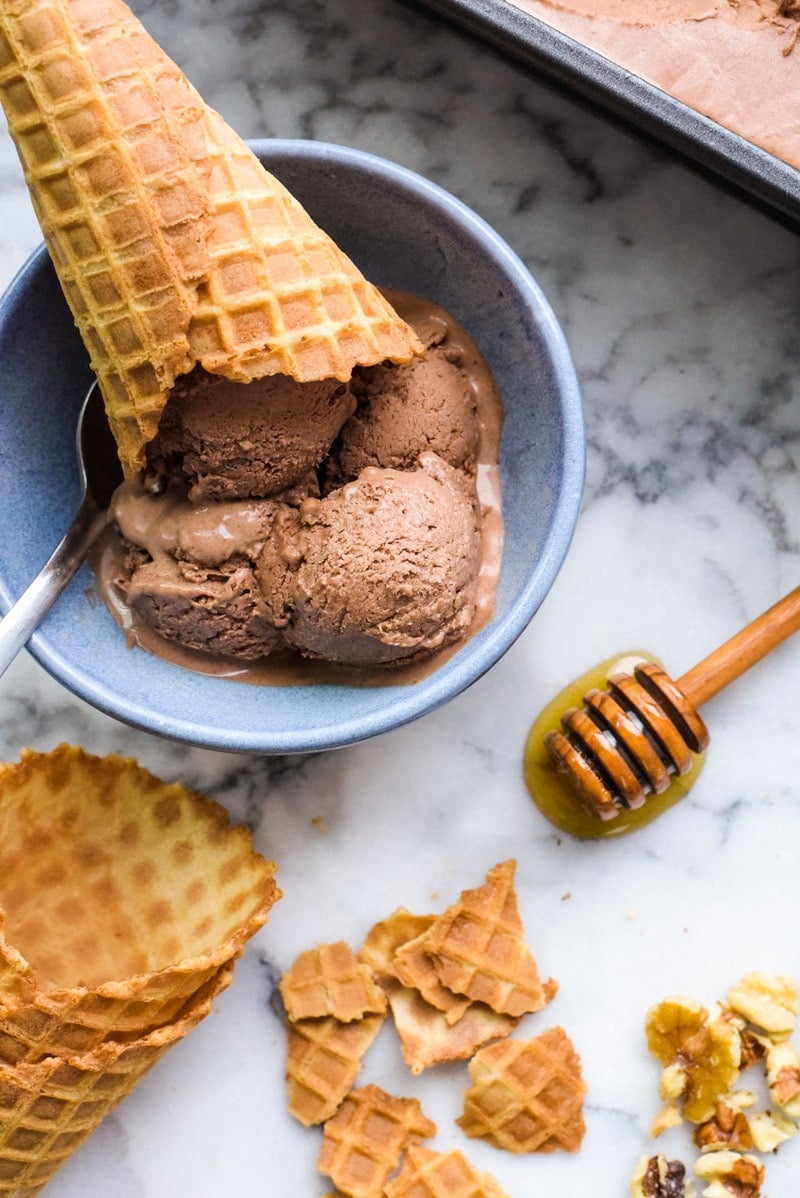 If you're a mix- in fanatic like me, here are some ideas of some toppings and flavors that will work with this specific recipe.
Ice Cream Mix-In Ideas
chocolate chips
chocolate chunks
walnuts
pecans
almonds
honey
M&Ms
vanilla wafers
Oreos
frozen cherries
coconut shavings
brownies
The sky is seriously the limit.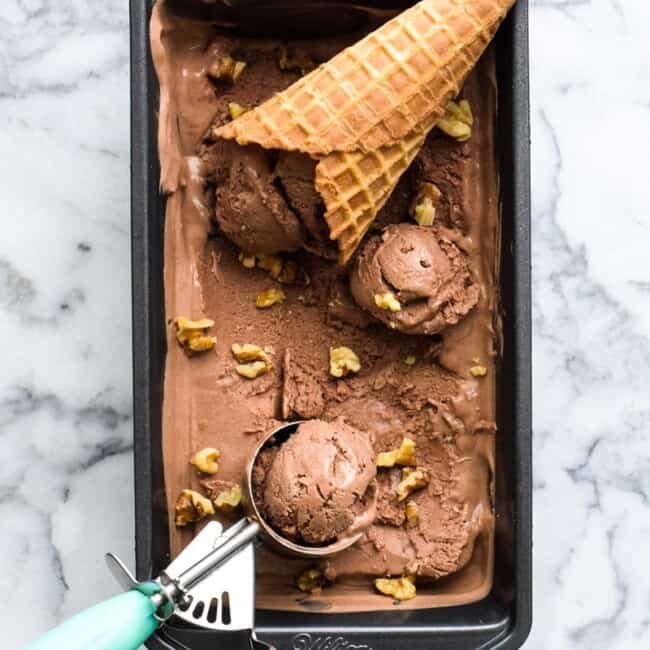 This No Churn Mexican Chocolate Coconut Ice Cream is made with cocoa powder, cinnamon and sea salt for an easy decadent end of summer dessert!
Instructions
Using a handheld or stand mixer, blend cream of coconut, plain Greek yogurt , unsweetened cocoa powder, ground cinnamon and sea salt until well combined, about 3 minutes.

Pour ice cream mixture into a 2-quart freezer safe container and freeze for 6 hours or until firm. Freezing overnight is best. Store in the freezer for up to 4 weeks.
Isabel's Tips:
Cream of coconut should not be confused with coconut cream. Cream of coconut is sweetened and is what is needed in order to make this ice cream. Coconut cream is usually used for savory dishes like curry and is not sweetened. They cannot be used interchangeably.
This page contains affiliate links. If you make a purchase on Amazon after clicking one of my links, I may receive a small commission. I only endorse products and services that I fully believe in. Thanks so much for your support!