This easy, quick and healthy Spicy Avocado Toast with Egg only takes 10 minutes to make and will keep you full and satisfied all morning long.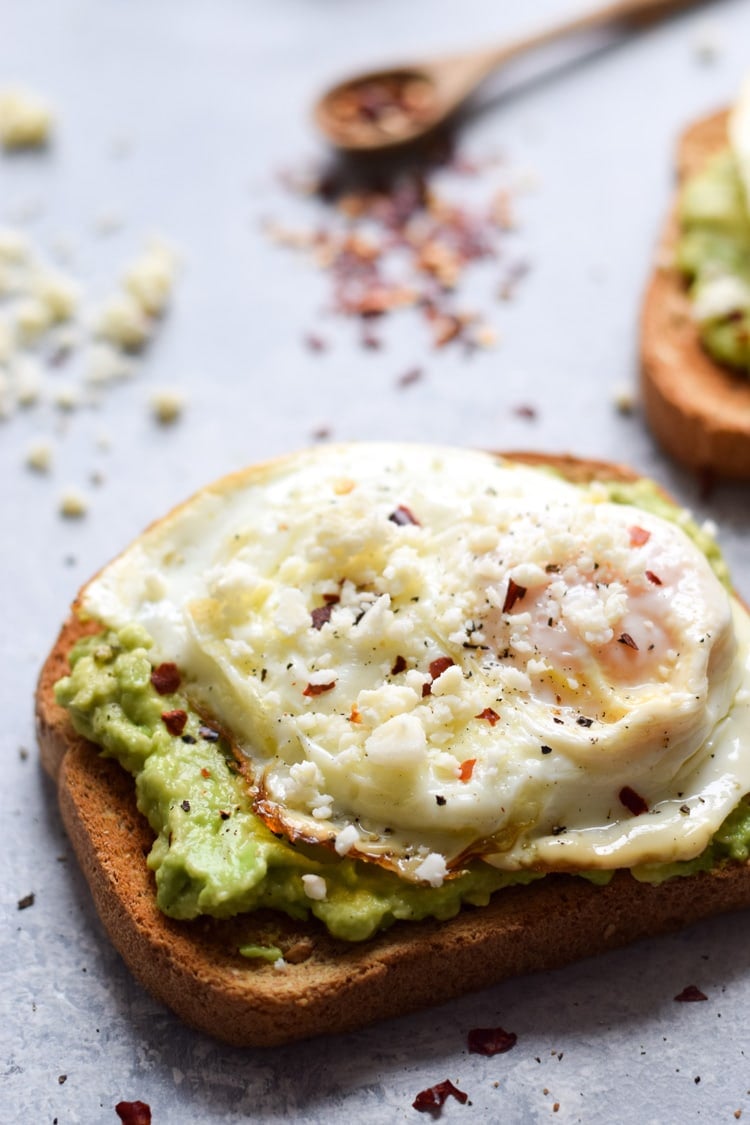 Is there anything better on a weekday morning than starting your day off with some avocado toast?
I don't think so.
Okay, maybe an extra 30 minutes of sleep would be amazing, but avocado toast is a close second.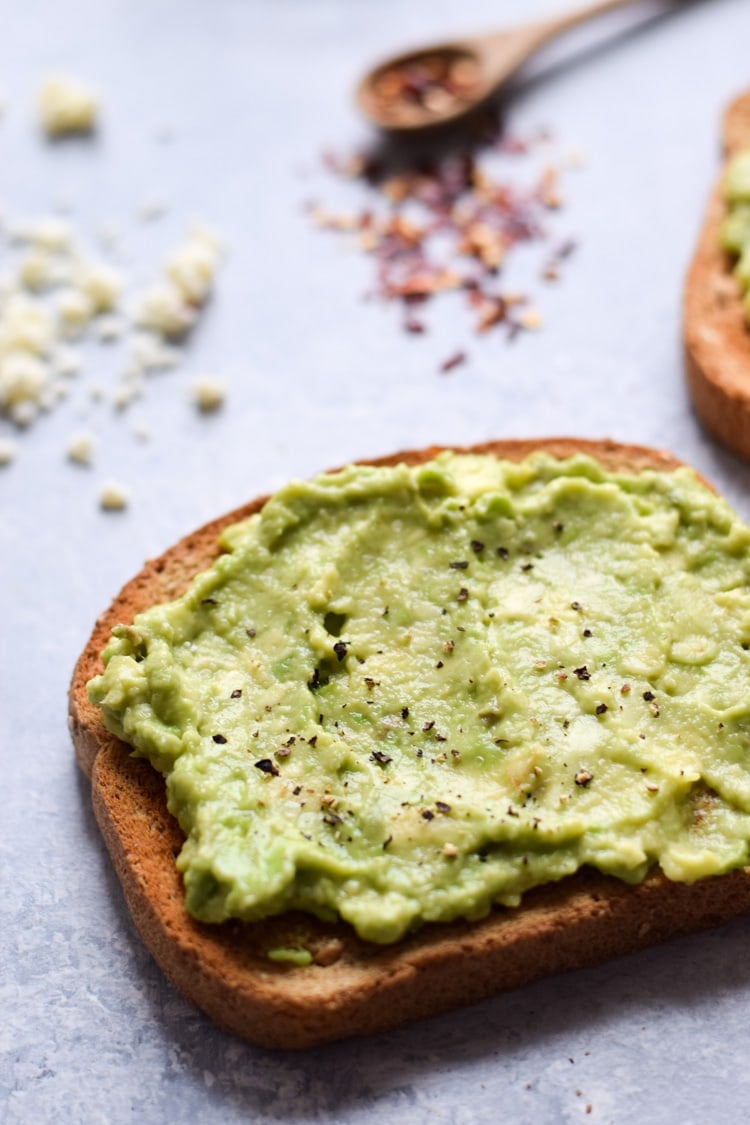 Because it's Monday morning and I'm already running late for work, today's post is going to be a short one. So before I leave you to gaze longingly at the beauty that is this simple and delicious avocado toast, I have to tell you something pretty embarrassing.
I'm kinda new to this whole avocado toast thing.
I know, right?! Apparently I've been living under a rock or something.
I've always loved avocados and have eaten them for as long as I can remember. Growing up, my family actually made a similar dish that we usually ate for lunch called a 'torta de aguacate' – literally an avocado sandwich. The bread that we used is called a 'bolillo' which is a french bread roll that is kind of like a baguette but not as small. We didn't toast the bread, either. We simply sliced it open, filled it with a sliced avocado and seasoned it with salt and pepper.
So. Freaking. Good.
Note to self: I have got to create and post a recipe for bolillos.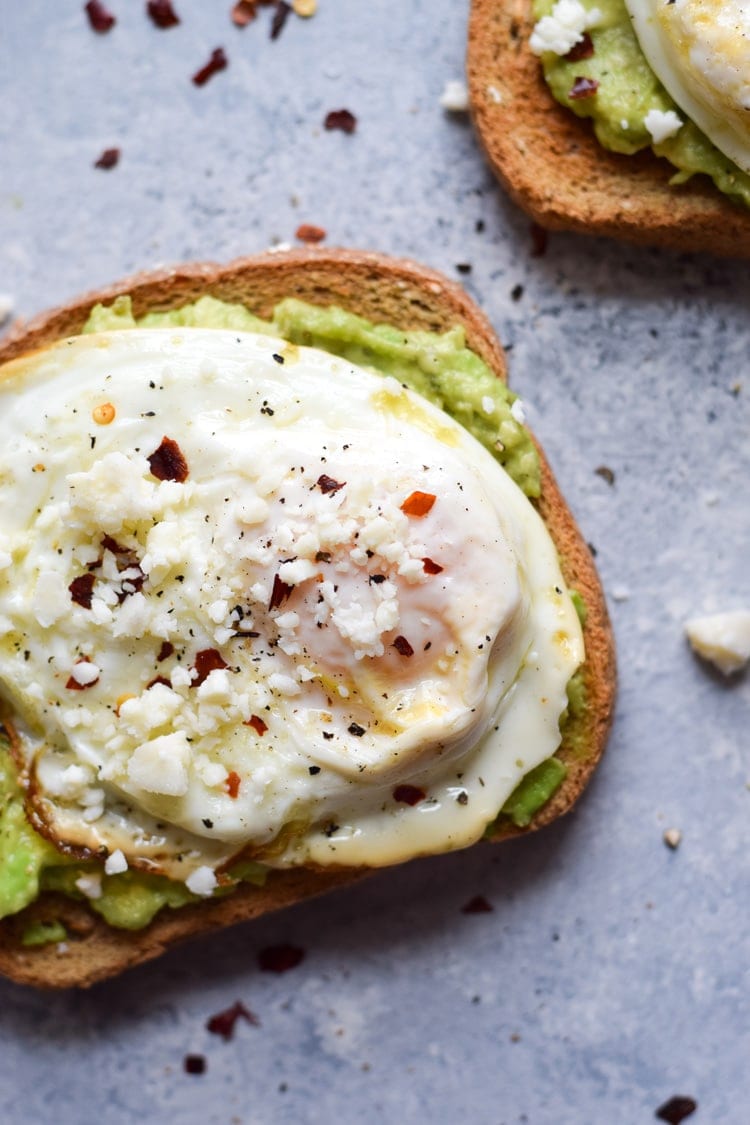 To me, this whole avocado toast internet obsession is just a fancier version of a torta de aguacate. And I'm totally okay with that.
I'm always game for finding new ways to eat avocados so I'm happily jumping on this avocado toast train and not looking back.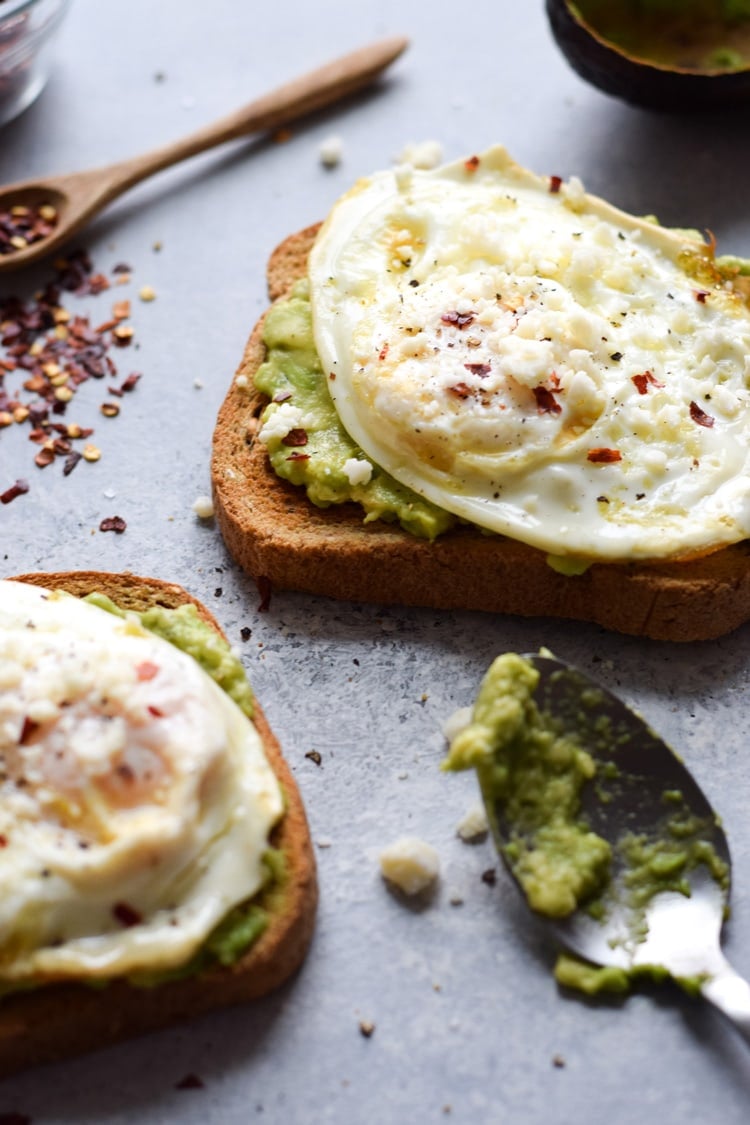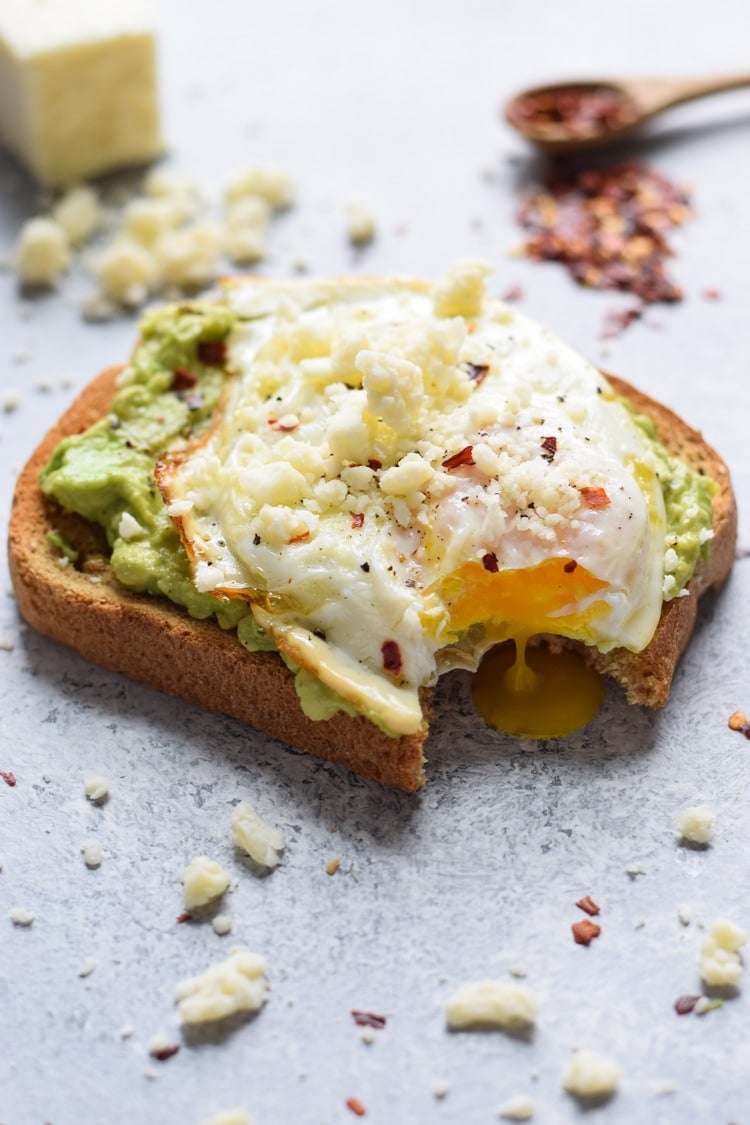 Ingredients
1/2

ripe avocado,

seed and peeled removed

1

tablespoon

olive oil

2

large

eggs

2

slices

toasted sandwich bread

salt and black pepper,

to taste

1

teaspoon

red pepper flakes

2

tablespoons

crumbled cotjia cheese

(or feta)
Instructions
In a small bowl, mash the avocado using a fork until it reaches the consistency you like. (I prefer my avocado slightly chunky - mostly mashed but with small avocado chunks here and there.) Set aside.

In a small nonstick skillet, heat olive oil over medium-high heat. Gently crack in the eggs and cook to your liking. (I prefer mine fried on both sides with the yolk still runny in the middle.) Remove from heat and set aside.

To assemble, spread half of the avocado mash onto a slice of toast and season with a pinch of salt and black pepper. Top with a fried egg, 1/2 teaspoon red pepper flakes and 1 tablespoon of cotija cheese.

Repeat steps to assemble the other slice of toast and enjoy!
Nutrition
Serving:
1
serving
Calories:
568
kcal
Carbohydrates:
34
g
Protein:
23
g
Fat:
39
g
Saturated Fat:
9
g
Polyunsaturated Fat:
5
g
Monounsaturated Fat:
22
g
Trans Fat:
0
g
Cholesterol:
385
mg
Sodium:
683
mg
Potassium:
633
mg
Fiber:
9
g
Sugar:
12
g
Vitamin A:
750
IU
Vitamin C:
9.9
mg
Calcium:
200
mg
Iron:
4
mg
Did you make this recipe?
Leave a comment below and tag @isabeleats on social media!