Jump to Recipe
This Spicy Red Pepper Garlic Shrimp is an easy and healthy weeknight meal that's ready in only 18 minutes. Is gluten free, paleo and low carb.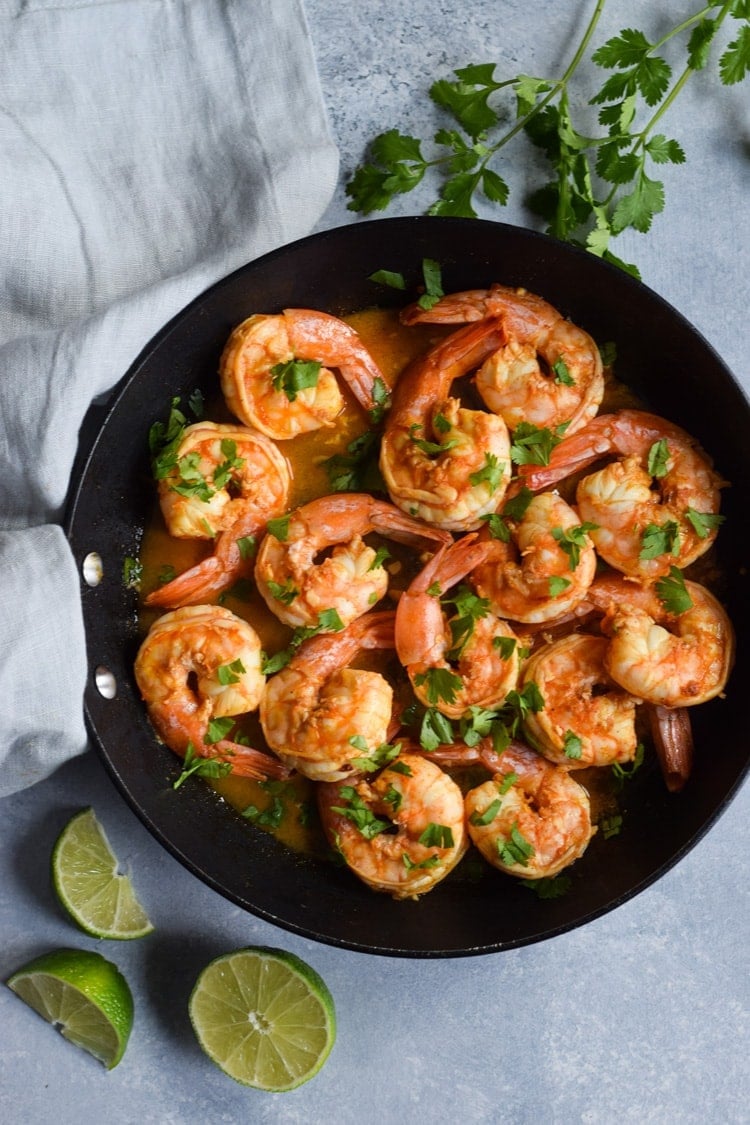 You've got 20 minutes to put a meal on the table and the only requirement is that it can be eaten with some leftover rice you've got in the fridge. Any ideas for what you could make?
Time to bust out the shrimpies!
This may shock some people, but one of my favorite types of seafood is shrimp. Now let me preface that by saying that I grew up in the middle of the country, far, far away from an ocean. In fact, I didn't even see the ocean until I was in college and I didn't crack open my first lobster until last year! (It was delicious. Messy, but delicious.)
I can keep going.
Bodies of water and I don't really mix. I mean, I don't even know how to swim. I'm deathly afraid of relaxing in the water because I know I'll drown. I will. Believe me, I will.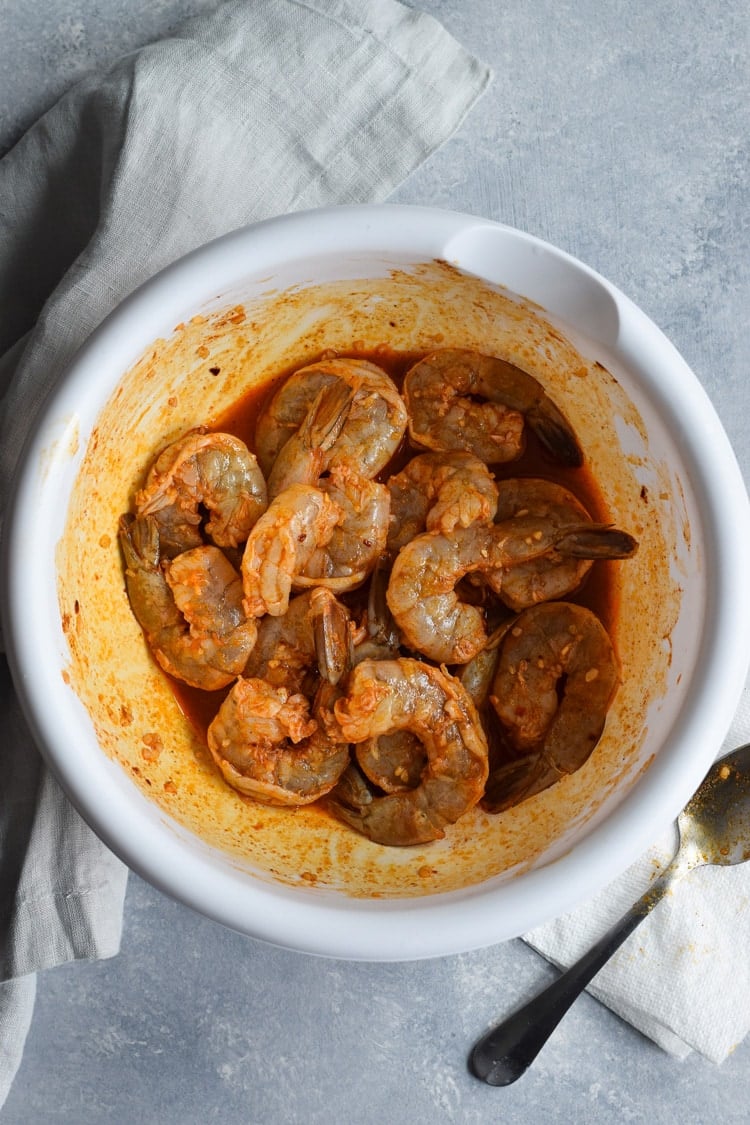 Nevertheless, I know swimming is something I should know how to do as a mere safety/survival thing. I think about it every time I board a plane and the flight attendant talks about using your seat as a flotation device in the event of a water evacuation.
I wouldn't stand a chance.
One more thing before I end this huge tangent – if you ever meet John, he'll gladly tell you the story about the time he convinced me to get on a water slide with him. It was a serious mistake on my part. Not only do I not know how to swim, but I hate rollercoasters and large slides. I hate that feeling you get in the pit of your stomach when you're in freefall. It makes me want to curl up in a ball.
I'm totally the kid on the right.
http://gph.is/PjyhIQ
Now I'm scaring myself just thinking about everything.
Let's get back on track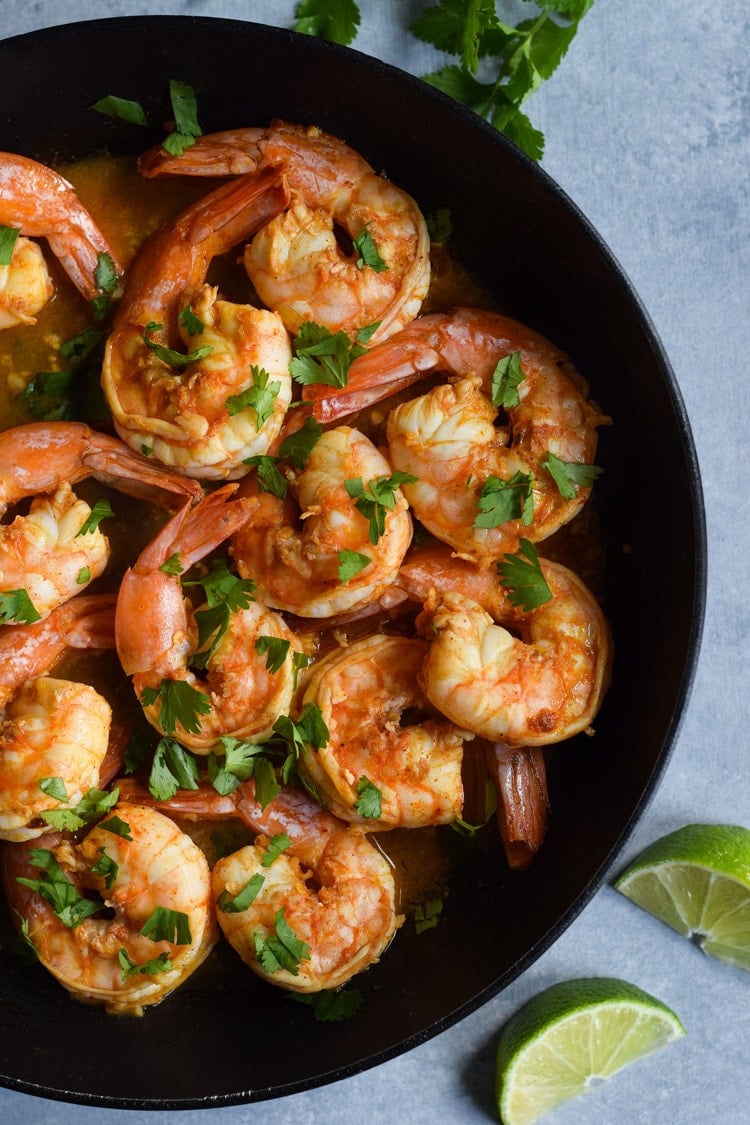 Shrimp – it requires a short cooking time, it's easily infused with different flavors and it's fun to eat.
This entire recipe is ready in only 18 minutes.
The shrimp themselves literally only take about 2 to 3 minutes to cook. You want to add them to a piping hot frying pan and remove them from the heat as soon as they turn pink and opaque. If you cook them longer, they'll turn rubbery and won't be as good.
The other 15 minutes comes from marinating the shrimp in a spicy and garlicky sauce that includes lime juice, paprika, red pepper flakes, minced garlic and a few other ingredients.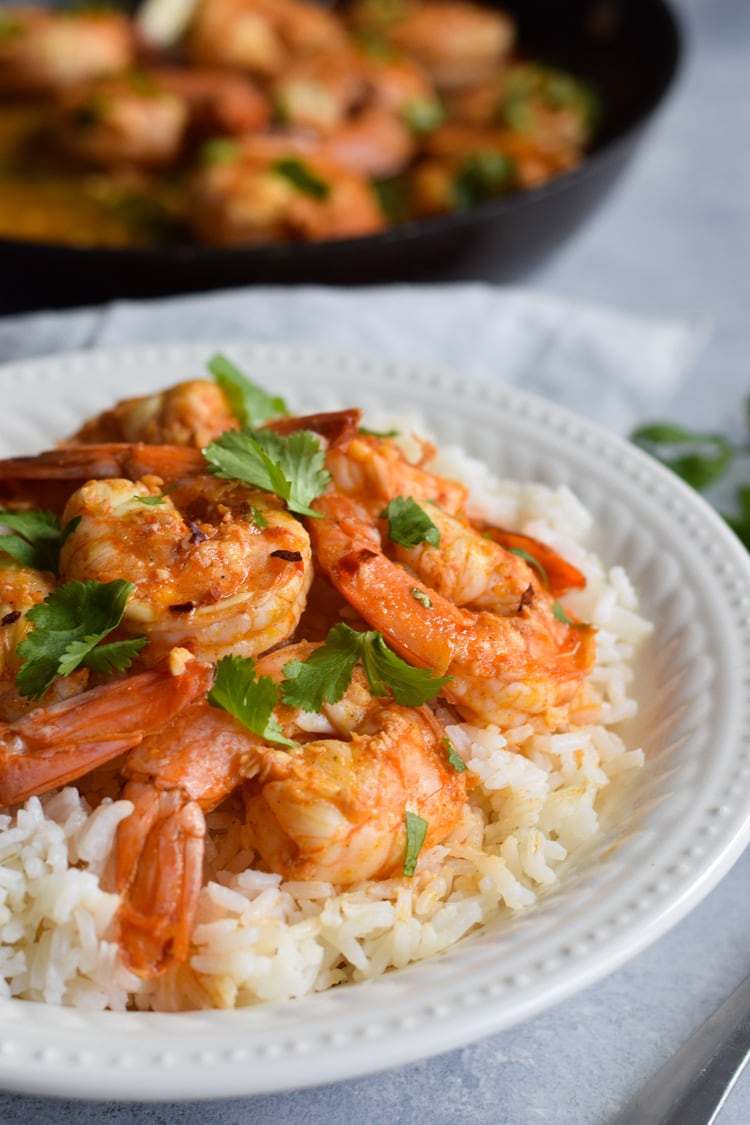 I paired it with some leftover white rice I had in the fridge from the night before and was able to have a meal on the table in no time. If you want to add some veggies to this meal (which we should all do), this would go really well with some steamed or roasted broccoli.
To compliment the marinade, I garnished the shrimp with some freshly chopped cilantro and a squeeze of lime juice. If you like a lot of heat like I do, I recommend topping everything with a pinch of red pepper flakes. Just a pinch because those suckers can pack a big punch!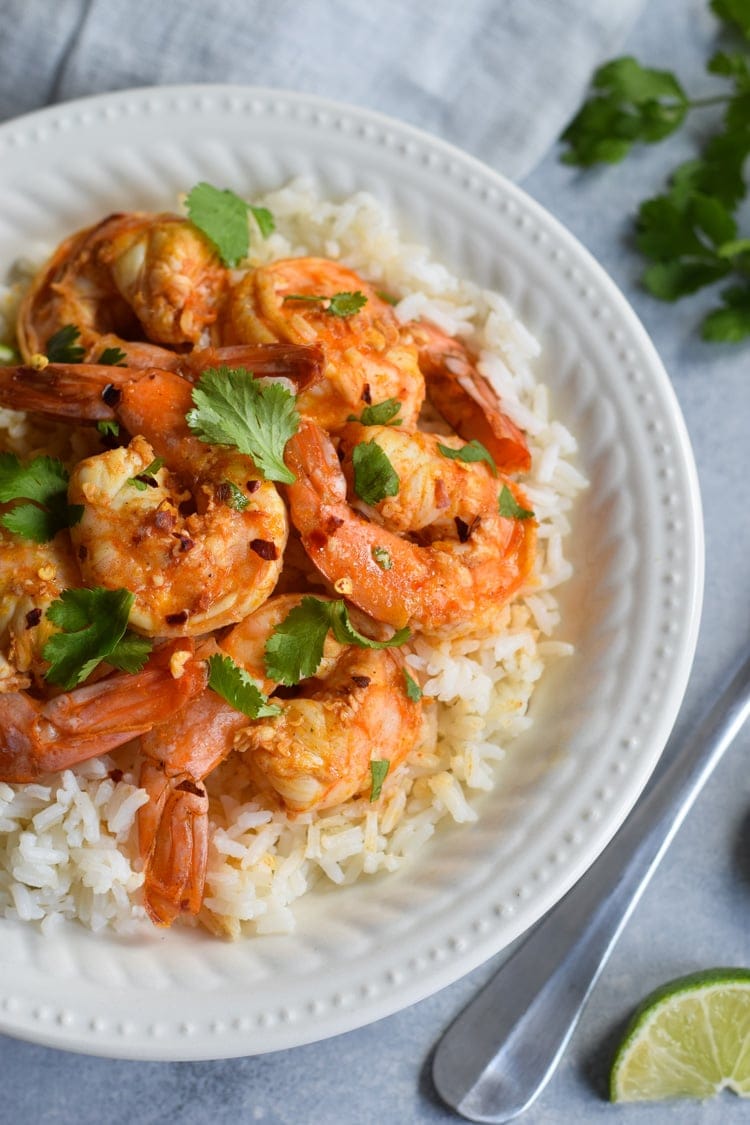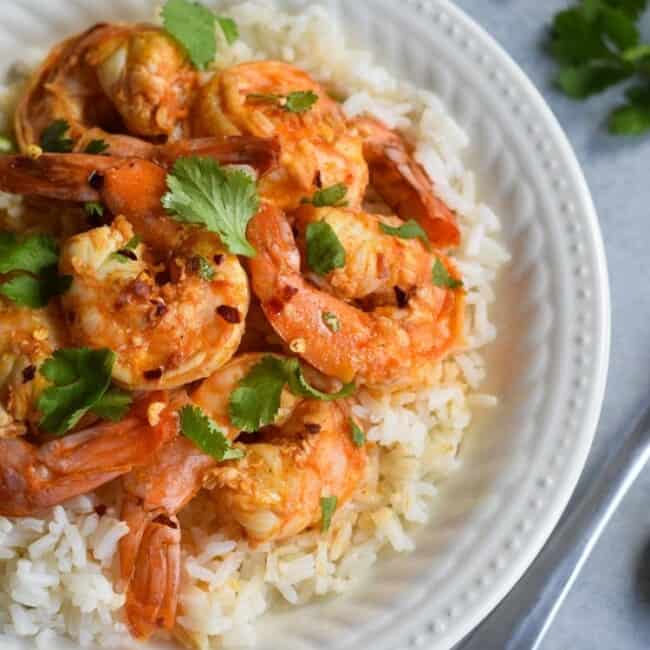 Prep: 15 minutes
Cook: 3 minutes
Total : 18 minutes
This Spicy Red Pepper Garlic Shrimp is an easy and healthy weeknight meal that's ready in only 18 minutes. Is gluten free, paleo and low carb.
Ingredients
For the marinade
1 teaspoon paprika
1 tablespoon minced garlic
1/2 teaspoon salt
1/4 teaspoon dried red pepper flakes
1 teaspoon ancho chili powder
pinch of black pepper
1 tablespoon olive oil
juice of 1 lime (about 2 tablespoons)
For the shrimp
1 lb deveined shrimp, uncooked
1 teaspoon olive oil
1/4 teaspoon cayenne pepper
For serving: cooked white rice, lime wedges, cilantro, extra red pepper flakes (optional)
Instructions
In a bowl, mix together all the ingredients of the marinade. In a gallon-size zip lock bag, combine shrimp and marinade and toss to combine. Let sit for 15 minutes in the refrigerator.

Add 1 teaspoon of olive oil into a large frying pan and heat over medium-high heat.

Add in the shrimp and the marinade and cook until shrimp turn bright pink, about 2 to 3 minutes.

Remove from heat, serve with rice, lime wedges, chopped cilantro and extra red pepper flakes if desired. Enjoy!