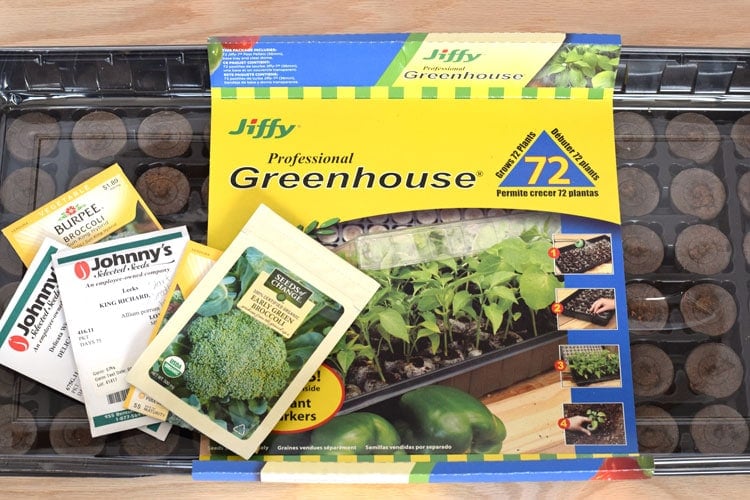 Today is officially the first day of spring, though you wouldn't guess it if you stepped outside. After a beautiful week or two full of sunshine and warm weather here in Pittsburgh, tiny snowflakes are currently falling from the sky.
Mother nature can be such a tease.
But despite the 38 degree temperature and significant cloud cover, you can still get a head start on your garden this year. If you're looking for an easy, beginner-friendly and mess-free way to start your seedlings indoors, I recommend looking into using peat pellets.
Peat pellets are little disks of dehydrated peat that are held together by a biodegradable fine mesh netting. All you have to do is add water to rehydrate the soil and the pellets expand to create a self-contained pot. They're a great space-saving alternative to seedling pots and are just plain fun to work with (reminds me of my childhood fascination with growing animal water toys).
The easiest way to get started is by buying a kit that contains some peat pellets, a holding tray, a lid to create a small "greenhouse" and some labels. All you need are the seeds and some water.
I purchased this 72-plant Jiffy Professional Greenhouse Starter Kit at my local garden supply store but if you're looking for something a little bit smaller, you can find a 50-plant starter kit here or a 25-plant starter kit here. In these photos, I'm starting Organic Early Green Broccoli from Seeds of Change, King Richard Leeks & Delicata Squash from Johnny's Selected Seeds and Sun King Hybrid Broccoli & Dwarf Blue Curled Kale from Burpee.
Step 1
Decide how many peat pellets you need and place them in the tray. Any extra pellets can be kept in a plastic storage bag and used at a later time. Because some seeds may not sprout, I recommend starting one or two extra pellets per plant that you want. If all the seeds sprout and are healthy when it comes time to transplant them into a container or into the garden, you can simply throw away the extra or give them to a neighbor or friend – share the love!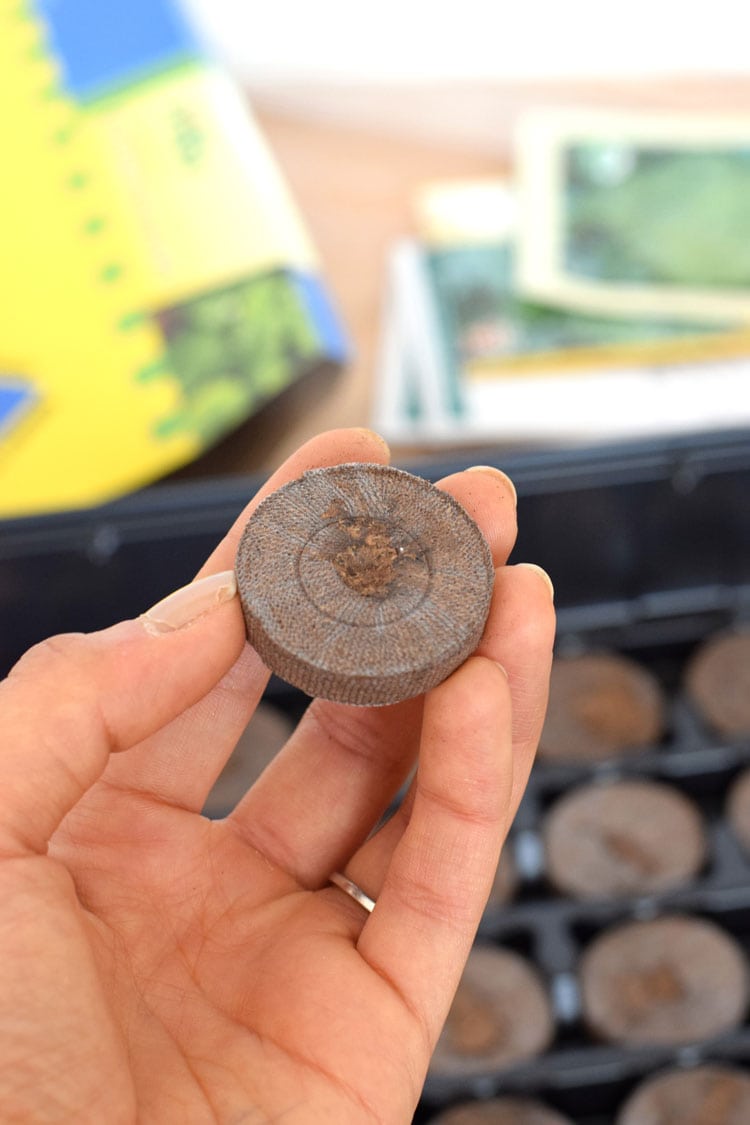 Step 2
Add enough water to the tray to cover half the height of the peat pellets. How much water you actually use will depend on how many peat pellets you use.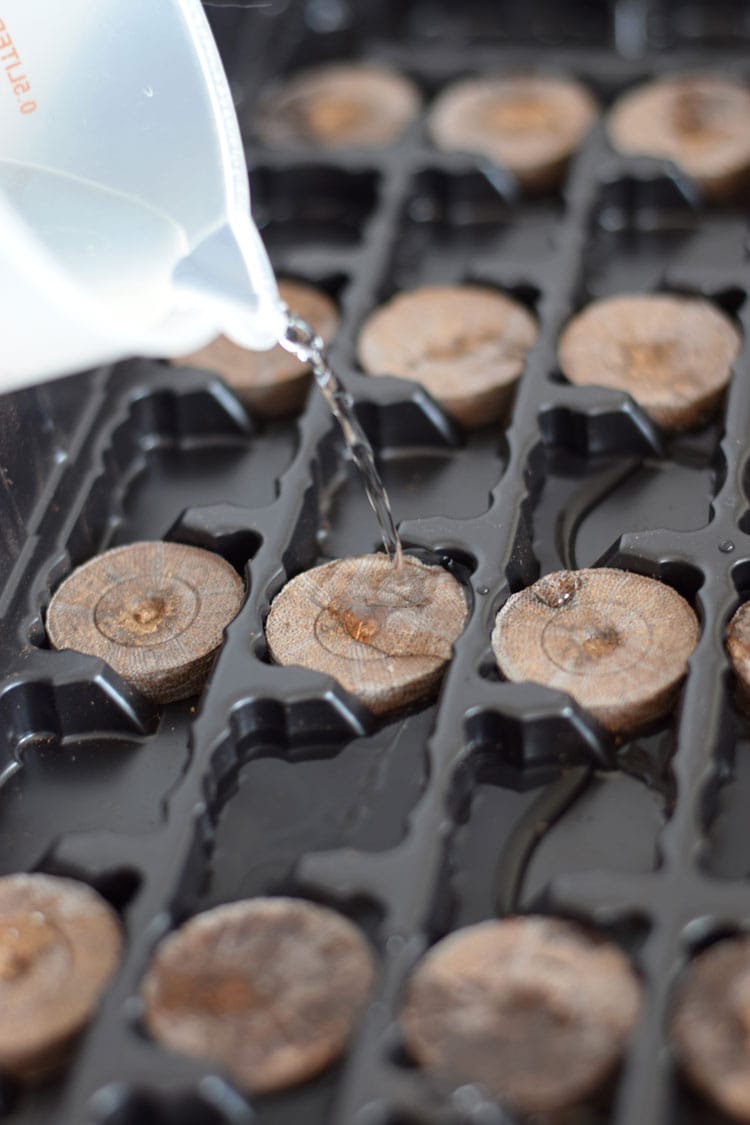 Step 3
Wait 5 to 10 minutes for the pellets to fully expand. If more water is needed, add more. When all the pellets have fully expanded, dump any excess water into the sink.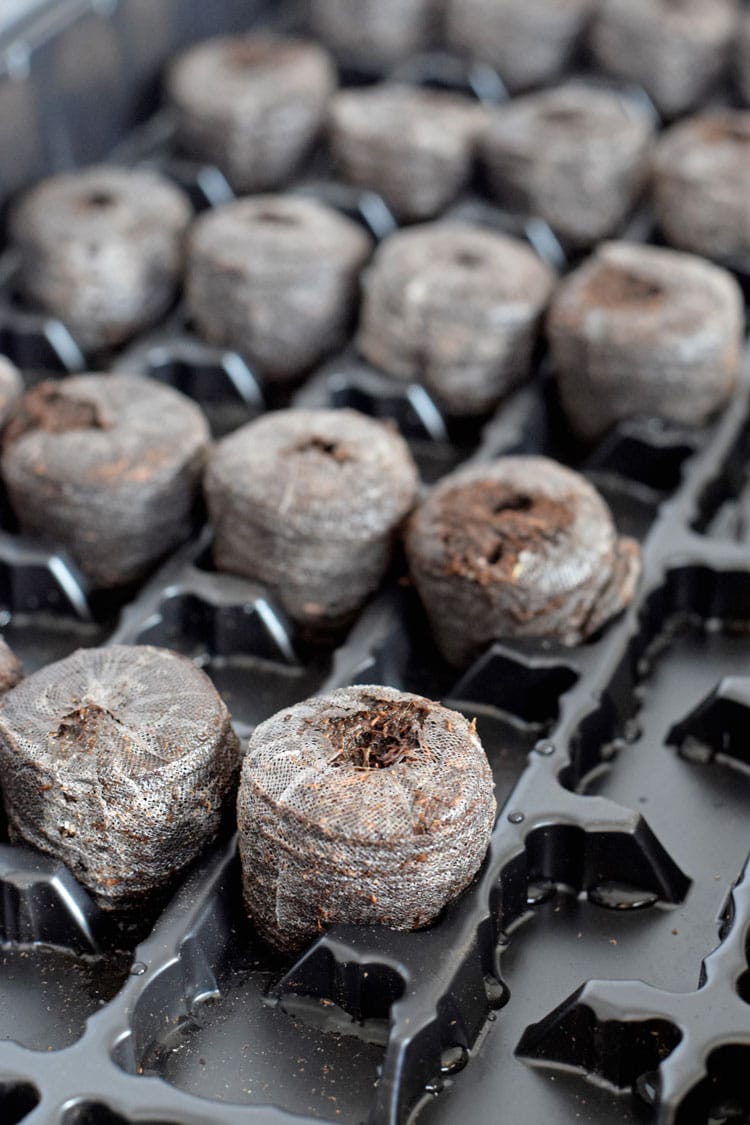 Step 4
Slightly tear the top of the netting on each pellet. Using a toothpick or a pencil, make a small well where the seeds will go.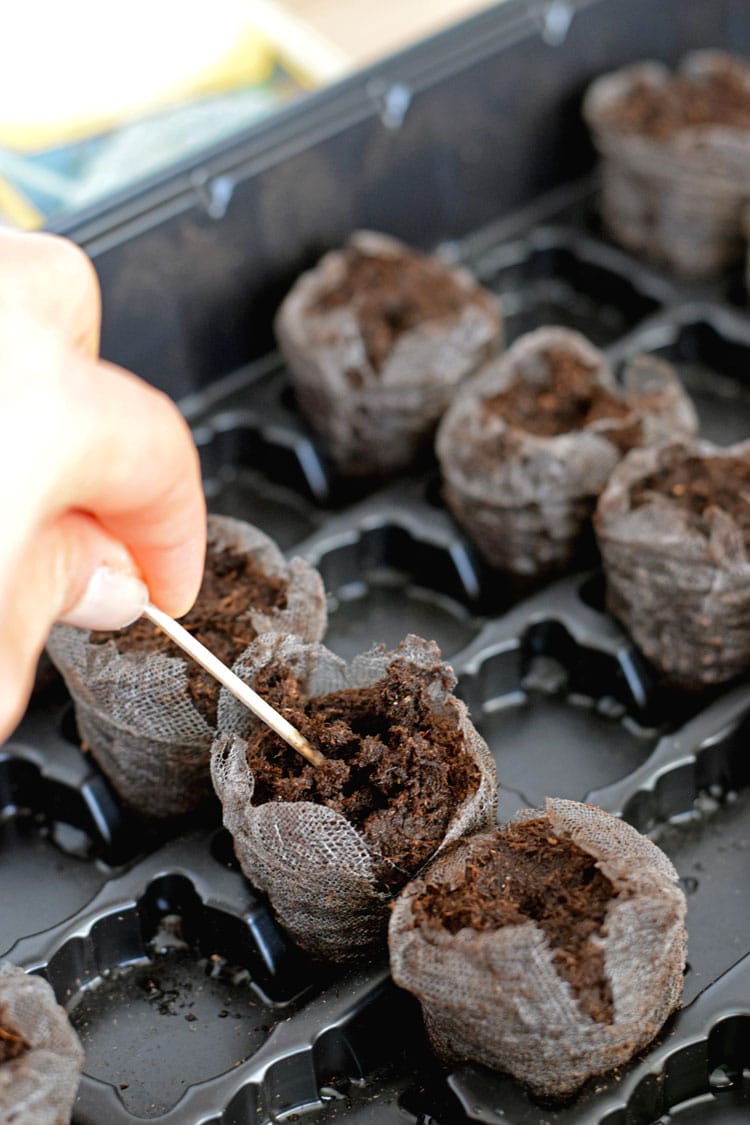 Step 5
Now the fun part – plant your seeds! Place you seeds in the well and lightly cover them with some of the soil you moved to the side when making the well. I put 2 seeds in each pellet in case one of them doesn't sprout.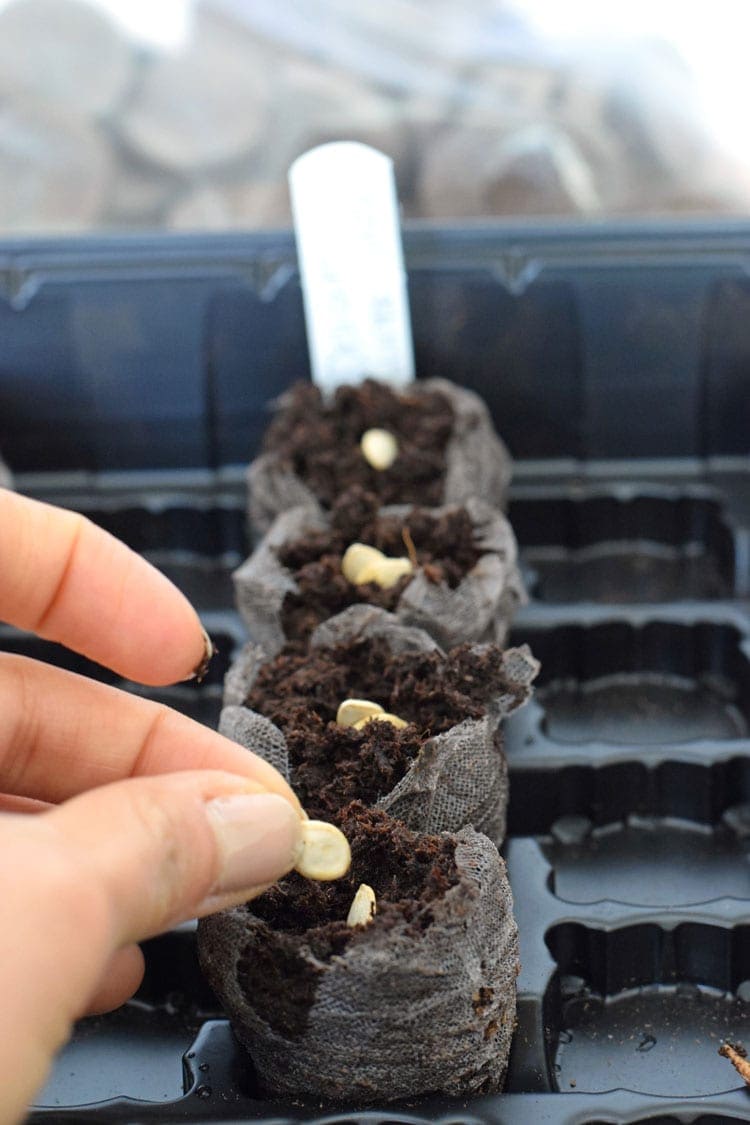 Step 6
Label your pellets so you remember what you planted and cover the tray with the plastic lid. Place the tray in a warm place, out of direct sunlight and wait a few days for the seeds to sprout. I put mine on top of my refrigerator and it worked wonderfully. Some of my seeds sprouted within 2 days!
Be sure to check the tray every day to see if any of the seeds have sprouted. Only water the pellets if they're looking very dry – if the soil is a little damp to the touch, that's perfect.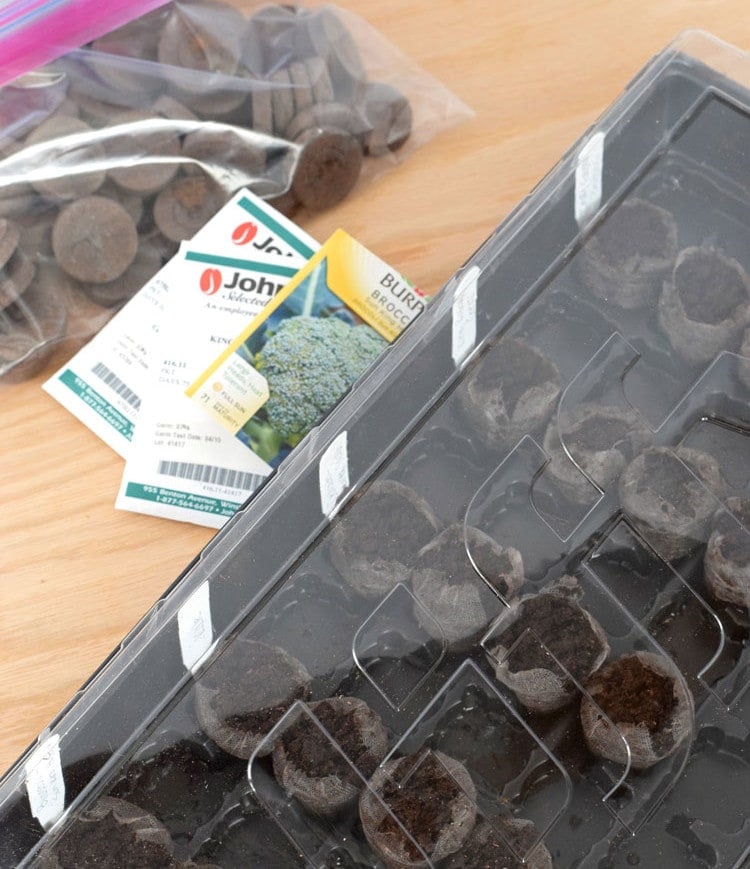 Step 7
Once the seeds have sprouted, take off the lid and place the tray in a sunny spot in your house near a windowsill or place them under grow lights like this one. Water as needed. If more than one seed is growing in a pellet, simply pinch off the other plant so you only have one healthy plant per peat pellet.
Make sure to only place the seeds that have sprouted in the sunlight. If you have some pellets that still show no signs of a growing plant, leave them covered in the tray until they sprout. This means you will need to leave the covered tray in the warm spot on top of the refrigerator and only move the pellets that have sprouted onto a different tray or container you have lying around the house.
When you transplant the seedlings will vary depending on the type of plant, but a sure sign that it's time is if you start to see the roots of the plant through the netting. To transplant the seedlings, simply place the pellet directly into the soil and cover. Though the mesh is biodegradable and doesn't have to be removed, safely removing the netting without disturbing the plant roots before transplanting would be the way to go.
This is only my second year gardening and I'm still learning as I go, but so far, working with peat pellets has been super easy and fun. Have you ever used them before? Have you started any seedlings this year? Let me know in the comments below!
---
This page contains affiliate links. If you make a purchase on Amazon after clicking one of my links, I may receive a small commission. The price of the item stays the same and any money I make goes to supporting this blog. I only endorse products and services that I fully believe in.