This black bean burger recipe is made with quinoa, sweet potatoes, black beans and spices. No eggs required! It's gluten free, vegetarian and vegan.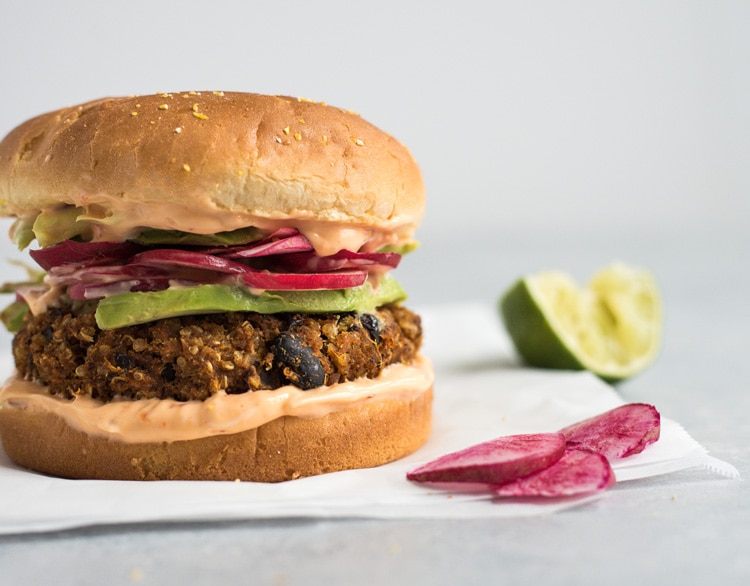 I LOVE a good veggie burger. Especially when it's filled with some of my favorite ingredients like sweet potatoes, quinoa and black beans. Can't get much better than that.
Oh wait – yes, it can.
Add a huge shmear of chili lime mayo and NOW it can't get any better. ?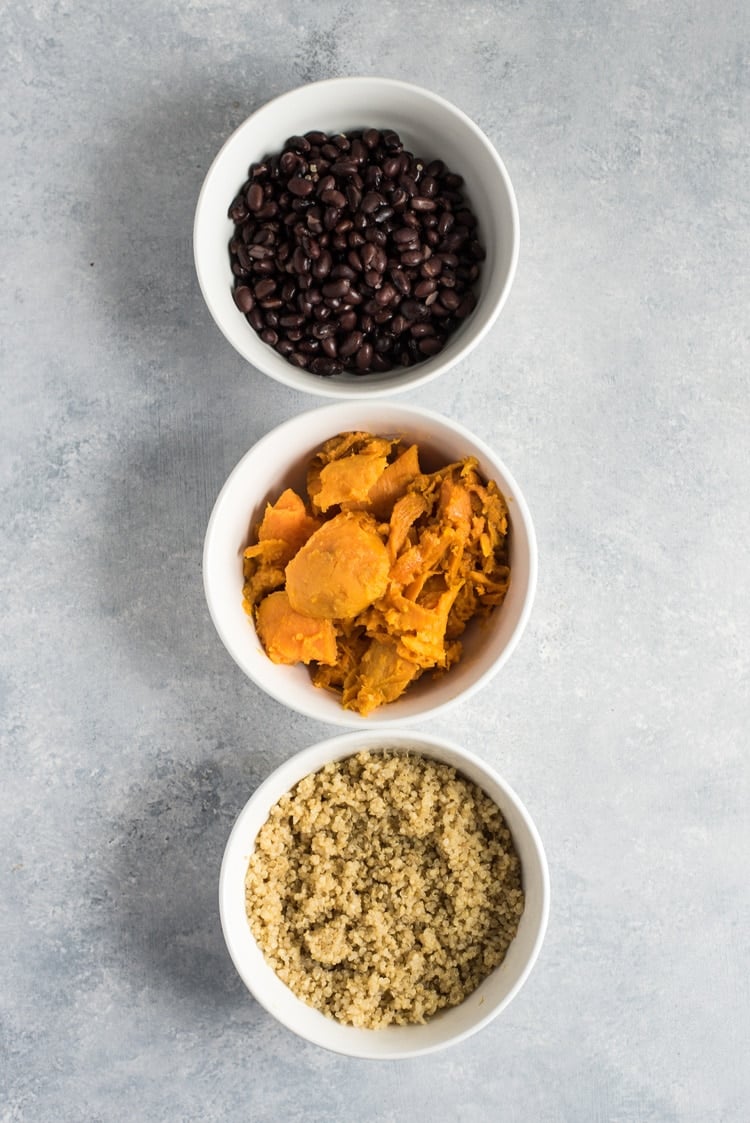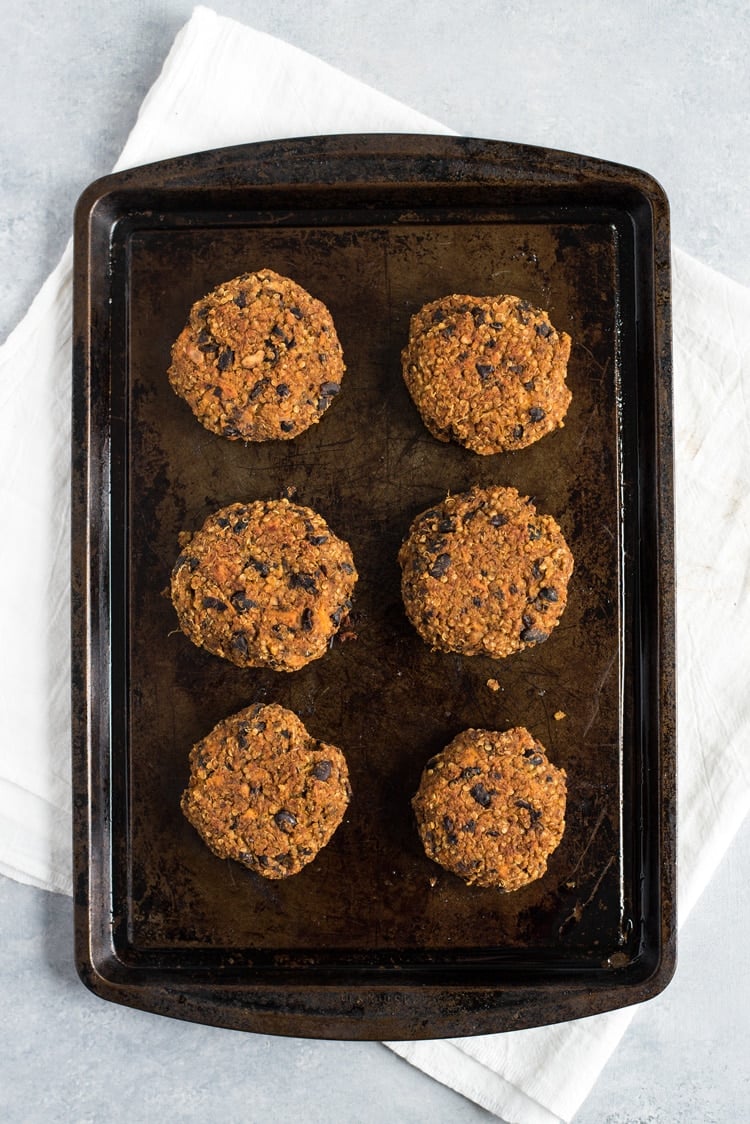 John and I have greatly increased our intake of beans the past few weeks. He's been completely immersed in all things Tim Ferris (of The 4-Hour Workweek and The 4-Hour Body) and has begun following some of his nutrition and exercise recommendations, of which includes incorporating more beans into your diet.
Being the Mexican that I am, I've been totally supportive of that decision. Beans have always been a part of my life. Growing up, my parents had beans available at every. single. meal. It was usually pinto beans, but occasionally they had black beans when they felt like branching out.
Now the way they served the beans wasn't fancy or revolutionary – it was either cooked beans in a broth with onions and spices or mashed refried beans.
While those ways of serving beans are still two of my favorites, I've been experimenting with different ways of eating them in my day-to-day life.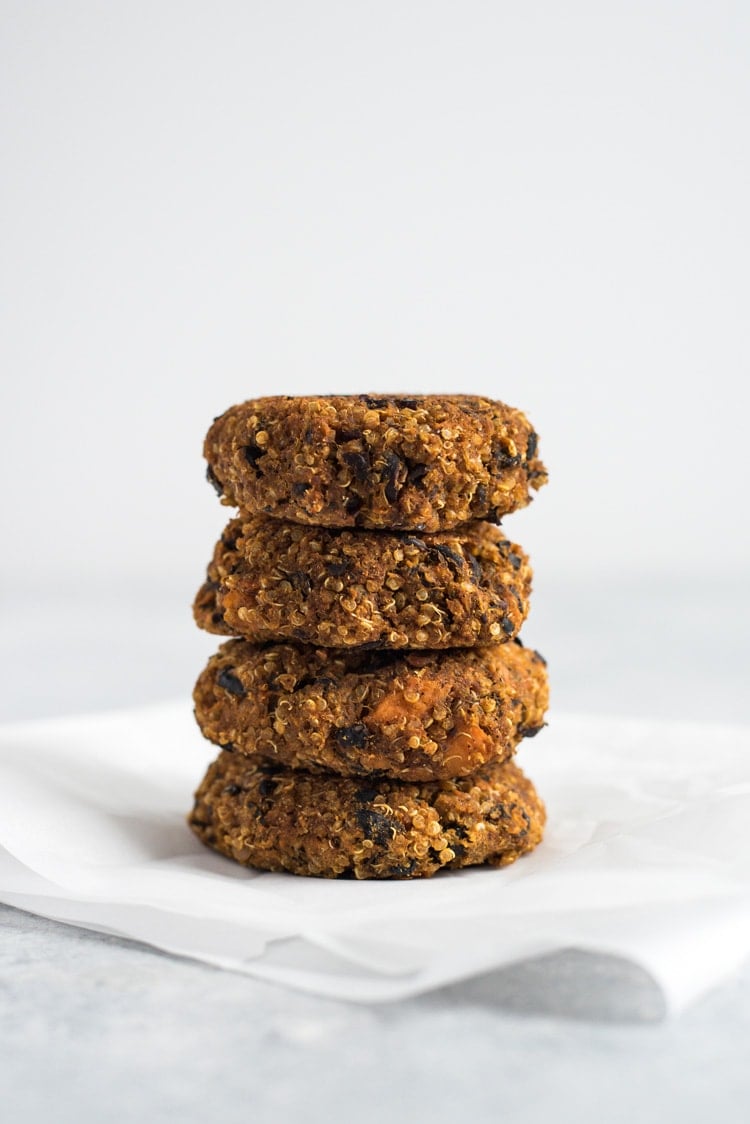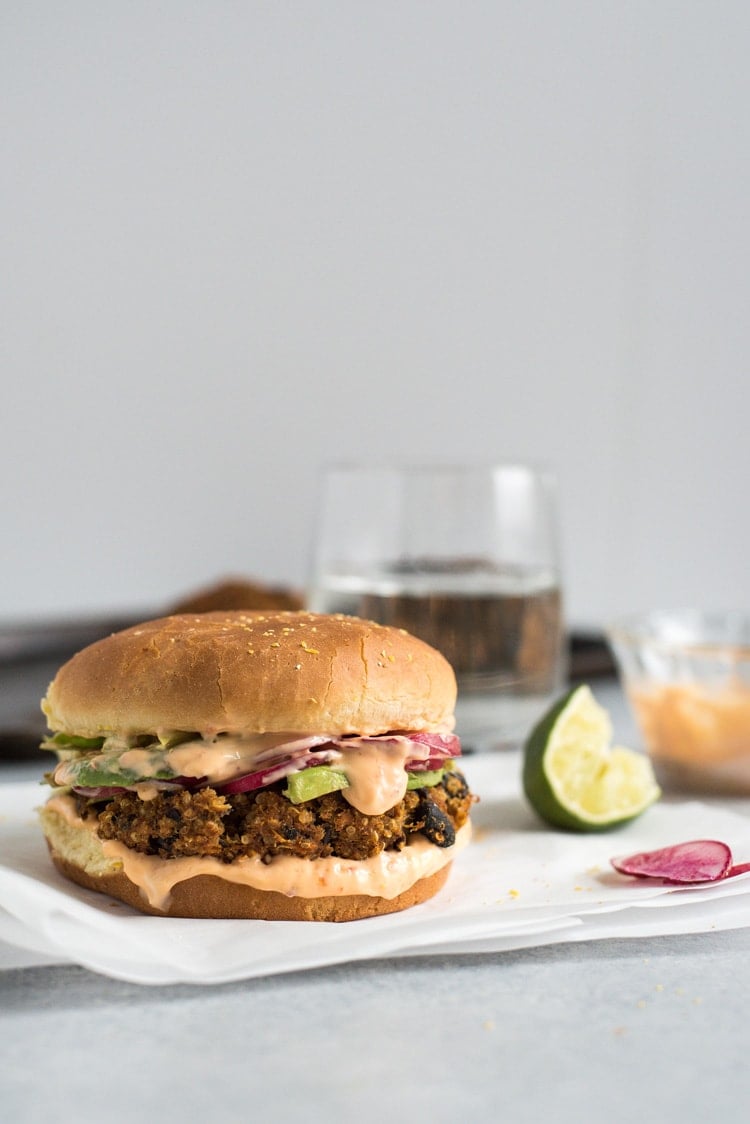 And that's where this Sweet Potato Black Bean Burger comes in. Made with quinoa, sweet potatoes, black beans and spices, this black bean burger is gluten free, vegetarian and vegan. No eggs are necessary to bind the patties together. The mashed sweet potatoes and black beans do all the work. And the quinoa? It's gives the black bean burgers a nice texture and adds a bit more protein to help with the satisfaction factor.
To make it even better, I whipped up a Chili Lime Mayo that's easy to make and only requires a bowl and a fork. All you have to do is mix together some store-bought mayonnaise, chili garlic sauce (like this one) and freshly squeezed lime juice. It's savory, a teeny bit spicy and has a touch of acidity that helps bring out all the flavors of the black bean burger.
Seriously the best condiment ever.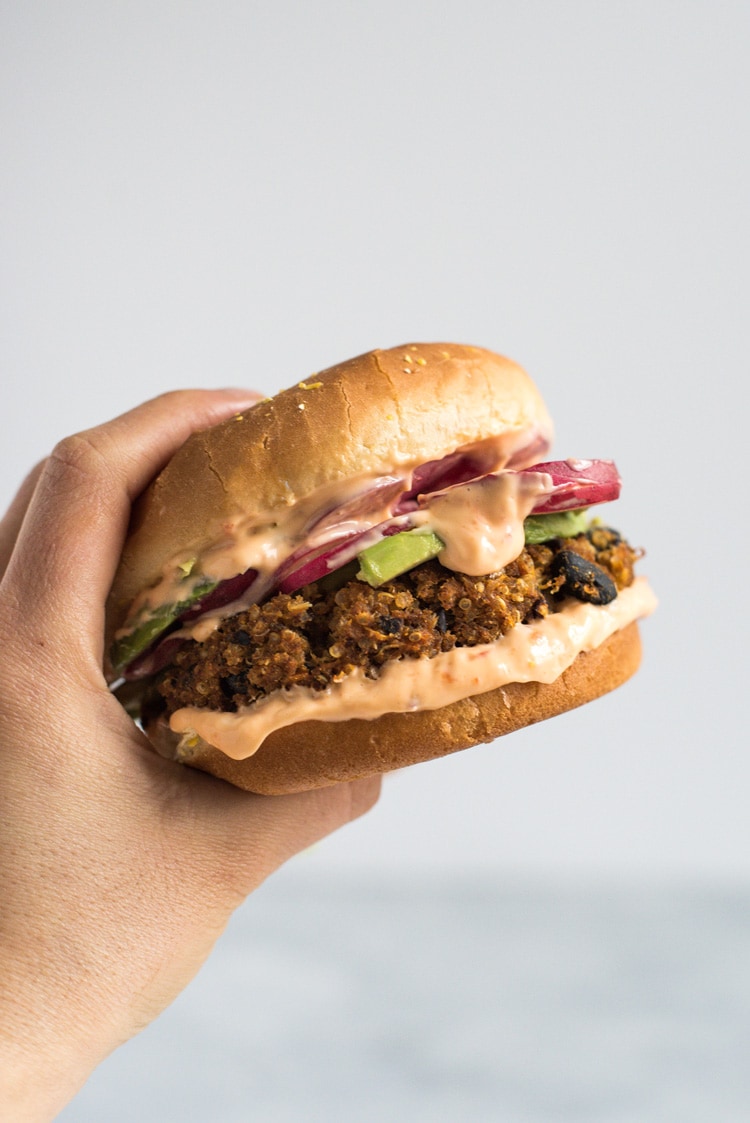 More healthy recipes you'll love
INGREDIENTS
nonstick cooking spray

or olive oil

2

medium

sweet potatoes,

halved lengthwise

1/2

cup

dry quinoa

(about 1 1/2 cups cooked)

3

tablespoons

ground flax seed

2

teaspoons

cumin powder

1

teaspoon

coarse kosher salt

1

teaspoon

onion powder

1

teaspoon

chili powder

1/2

teaspoon

garlic powder

1/4

teaspoon

dried oregano

1/4

teaspoon

ground black pepper

1

15-ounce

can black beans,

drained and rinsed
For serving (optional)
INSTRUCTIONS
Bake the sweet potatoes: Preheat oven to 400°F. Line a large baking sheet with aluminum foil and spray with nonstick cooking spray. Place halved sweet potatoes cut side down and poke each half with a fork a few times.Bake for 30-35 minutes until sweet potatoes are tender and cooked through. Remove from oven and let cool for 5 minutes. While sweet potatoes are baking, make the quinoa.

Cook the quinoa: Place quinoa in a fine-mesh sieve and rinse under cold running water for about 1 minute. Drain and transfer to a medium pot. Add in 1 cup of water and bring to a boil over high heat.Reduce heat to low, cover and simmer for 10-15 minutes, until quinoa is tender and cooked through. Let stand for 5 minutes, covered. Remove the lid and fluff with a fork.

Make the seasoning: In a small bowl, add the ground flax seed, cumin powder, coarse kosher salt, onion powder, chili powder, garlic powder, dried oregano and ground black pepper. Mix together and set aside.

Mash it up: In a large bowl, add the black beans and cooked sweet potatoes. Mash until the consistency is only slightly chunky. Some beans will be completely mashed and others will not. This will help create a nice texture.

Mix it all together: Add the cooked quinoa and combined spices. Mix it all together until all the ingredients are evenly distributed. hands and form into 8 burger patties, about 1/3 cup of mixture each.

Make the patties: Using your hands, form the mixture into 8 burger patties, about a heaping 1/3 cup of mixture per patty.

Cook the burgers: Line a large baking sheet with parchment paper and spray with nonstick cooking spray or olive oil. Place burger patties baking sheet and bake in 400°F oven for 20 minutes. Carefully flip over the patties and bake for another 20 minutes. Remove from oven and serve.
NOTES
---
Nutrition Facts
Sweet Potato Black Bean Burger
Amount Per Serving (1 burger patty)
Calories 156
Calories from Fat 18
% Daily Value*
Total Fat 2g 3%
Cholesterol 0mg 0%
Sodium 454mg 19%
Potassium 297mg 8%
Total Carbohydrates 30g 10%
Protein 6g 12%
* Percent Daily Values are based on a 2000 calorie diet.
Did you make this recipe?
Leave a comment below and tag @isabeleats on social media!
This page contains affiliate links. If you make a purchase on Amazon after clicking one of my links, I may receive a small commission. I only endorse products and services that I fully believe in. Thanks so much for your support!