What is lard, what are its benefits, and why is it surging back into popularity? Explore the answers and also learn to make it yourself!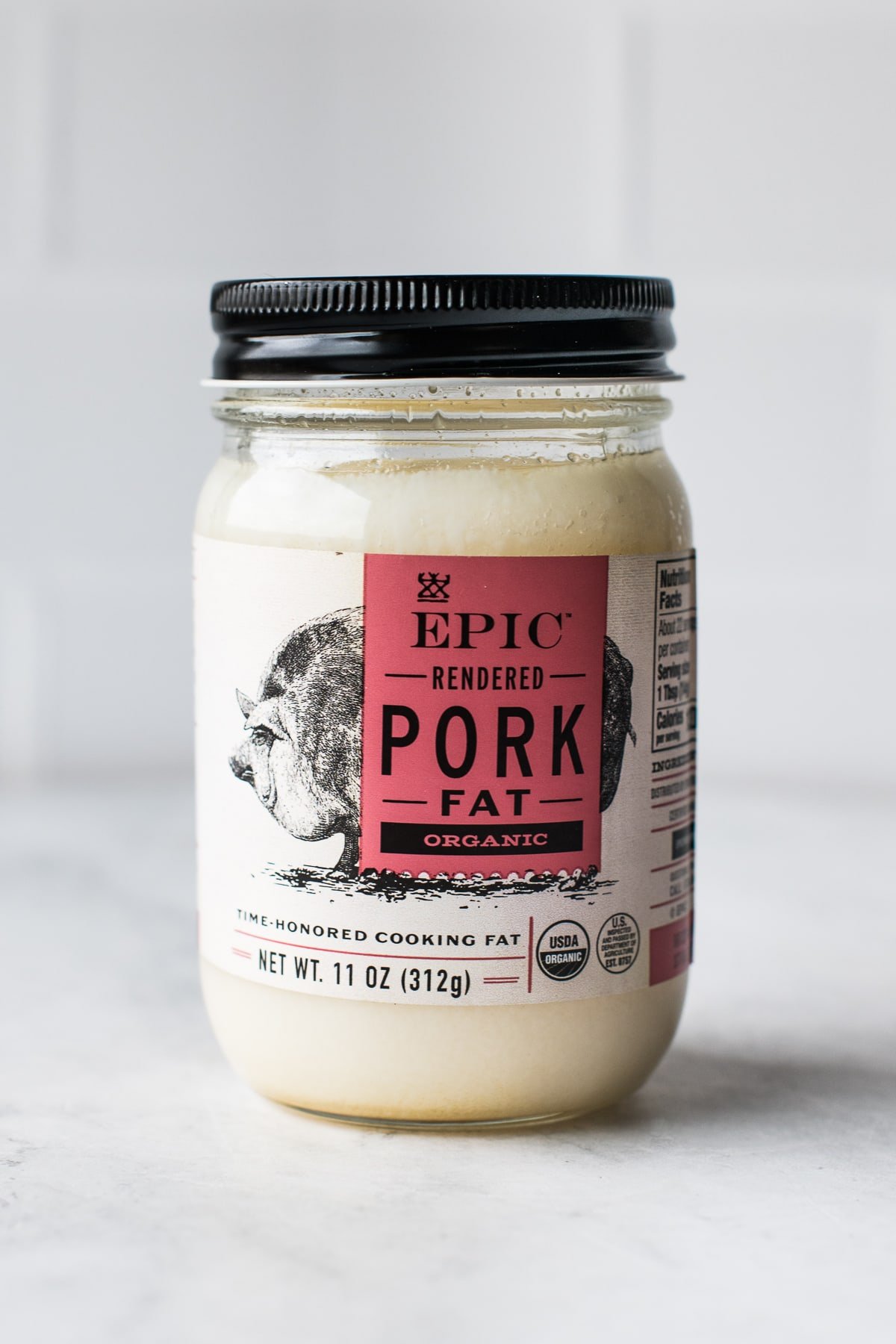 What is Lard?
Lard, simply put, is pig fat.
This fat is semi-soft and quite similar to butter in its texture. It can be found just about anywhere in the pig, but most commonly comes from the back, the belly, and around the organs.
All lard is not created equal, though. Higher quality lard comes from different areas of the pig:
Leaf Lard is considered the highest quality you can get. It's harvested from around the kidneys and inside the loin. This fat has a very neutral, non-porky flavor. That makes it perfect for baked goods, and is especially prized for the flaky pie crusts it creates.
Fatback is next in line. Fatback is like its name implies, fat from the back of the pig. This grade is used by many top chefs in place of oil because of its light, savory flavor and silky texture. Also, it is the best choice for sausage-making.
Caul Fat is the lowest grade available. It's harvested from around the digestive organs of the pig. This fat is net-like membrane. As a result, it's best for wrapping leaner meats or adding to pâtés.
Health Benefits of Lard
Believe it or not, lard offers a wide array of health benefits, making it a great choice for your fat needs:
Vitamin D — Lard is the #2 food source for vitamin D, only trailing cod liver oil. One tablespoon actually contains 1,000 IUs!
Heat Stable — Pork fat isn't destabilized by higher heat. This means it's much healthier and less of a cancer risk than other oils that smoke at high temperatures.
Natural — Because it's a natural food, it doesn't need additives and extra processing to work. 
Cholesterol — Butter contains about three times as much cholesterol as pork fat. For this reason, lard is a great low cholesterol butter substitute.
Where to buy lard
Lard is available in most grocery stores either in buckets or bricks in the baking aisle near other oils and fats, or in the international foods or Hispanic foods aisle as it's commonly used in those cuisines. It can also often be purchased directly from local butchers.
Uses in Mexican Cuisine
Lard is used in Mexican cuisine as the fat of choice for making tamales, refried beans, and flour tortillas.
How to make it
Learning how to make lard is a pretty straightforward process. 
Gather the fat. Check out the first section of this post. It outlines the different kinds of lard and will help you to determine what kind you want.
Freeze the fat. This makes it much easier to cut into smaller pieces.
Chop the fat into ½" or smaller cubes, or grind it.
Place into a heavy pot and cook over low heat with the lid removed. Alternatively, you can use a slow cooker on low or an oven at 225F.
Melt the fat and allow it to cook for several hours until the solid pieces sink and rise to the top again. These are called cracklings because they make a crackling sound when the lard is finished.
Strain the melted fat through a sieve and then through 3-4 layers of cheesecloth to remove any solids.
Store well-rendered and strained lard in an airtight glass container at room temperature or in the fridge.
Use it in place of butter or oil in all your recipes!
The History of Lard
The making and use of lard goes way back. Anywhere in the world that pigs are used for food, lard has been an important part of the diet as well.
Until the early 1800's, it was cheaper and easier to make than vegetable oils. Even after that though, it was a common substitute for butter in the US and Europe.
It wasn't until a book called The Jungle by Upton Sinclair was published in 1906 that its popularity began to drop off. The fictional novel described horrific working conditions in the meat industry, including men falling into the rendering vats and being sold as lard.
Despite negative public opinion surrounding Sinclair's book, and health concerns due to the fat-free movement, pork fat came into new light in the 1990's.
At that time, chefs began singing pork fat's praises. As a result, there was a shortage in 2004, known as "the lard crisis".