This Red Posole is a comforting Mexican stew filled with shredded pork and hominy in a warm red chile broth. It's easy to make and full of authentic Mexican flavor!

It's officially posole season in my house! As soon as the temperature drops and my sweaters and scarves come out for the season, that's when I know that I need to make my first batch of posole for the year. So here we go!
I've shared a recipe for a Chicken Pozole Verde and a Slow Cooker Red Chicken Posole, but I've never shared the traditional version that I grew up eating as a kid made with tender pork and a red chile broth. Until now!
What is posole?
Posole is a traditional Mexican stew made with tender meat and hominy in a savory chile broth. There are many variations of the dish, including some with a red chile or green chile broth and some made with chicken, pork or no meat at all. It's often served at celebrations such as birthdays, Christmas, New Years and other holidays.
Because posole is so hearty and warm, it's often thought of as a hangover cure or even great when fighting off a cold. While I don't necessarily think it really helps with either of those things, it is certainly a comforting bowl of goodness!
Posole or Pozole?
If you do enough Google searching, you'll quickly find that 50% of recipes for this dish are spelled "posole" and the other 50% are spelled "pozole." So which spelling is correct?
They're both correct! The word has alternate spellings, which means they can both be used interchangeably.


While posole is fairly easy to make, you do need to have the right ingredients in order to get the red chile broth to be as flavorful as possible. Here's what you'll need.
Ingredients you'll need for pozole rojo (red posole)
Dried chiles – You can find them in the Mexican aisle of your local grocery store or in a specialty Mexican grocer. If you can't find them in your area, Amazon is always a great option! Here are some links for where to buy dried guajillo chiles, dried ancho chiles and dried arbol chiles.
Mexican chocolate – I used Abuelita Mexican chocolate, but you can use any Mexican chocolate you prefer. I've been able to find it at my local grocery store as well as larger retailers like Target, but if you can't find any in your area, here's a link to get Abuelita Mexican chocolate on Amazon. (Learn more about Mexican Chocolate here.)
Hominy – This is also often found in the Mexican aisle of your local grocery store. If you've never used it before, hominy is a type of maize that's been soaked and treated with lime. The kernels are about triple the size of yellow corn and they look like big and puffy popcorn! (Learn more about hominy here.) If you can't find any near you, here's a link to buy hominy on Amazon.
Pork shoulder – Also known as "pork butt," this cut of meat is perfect for posole because it's super tender and juicy and shreds easily.
Broth – chicken, beef or veggie will work
Spices – cumin, chili powder, oregano, salt, black pepper, freshly minced garlic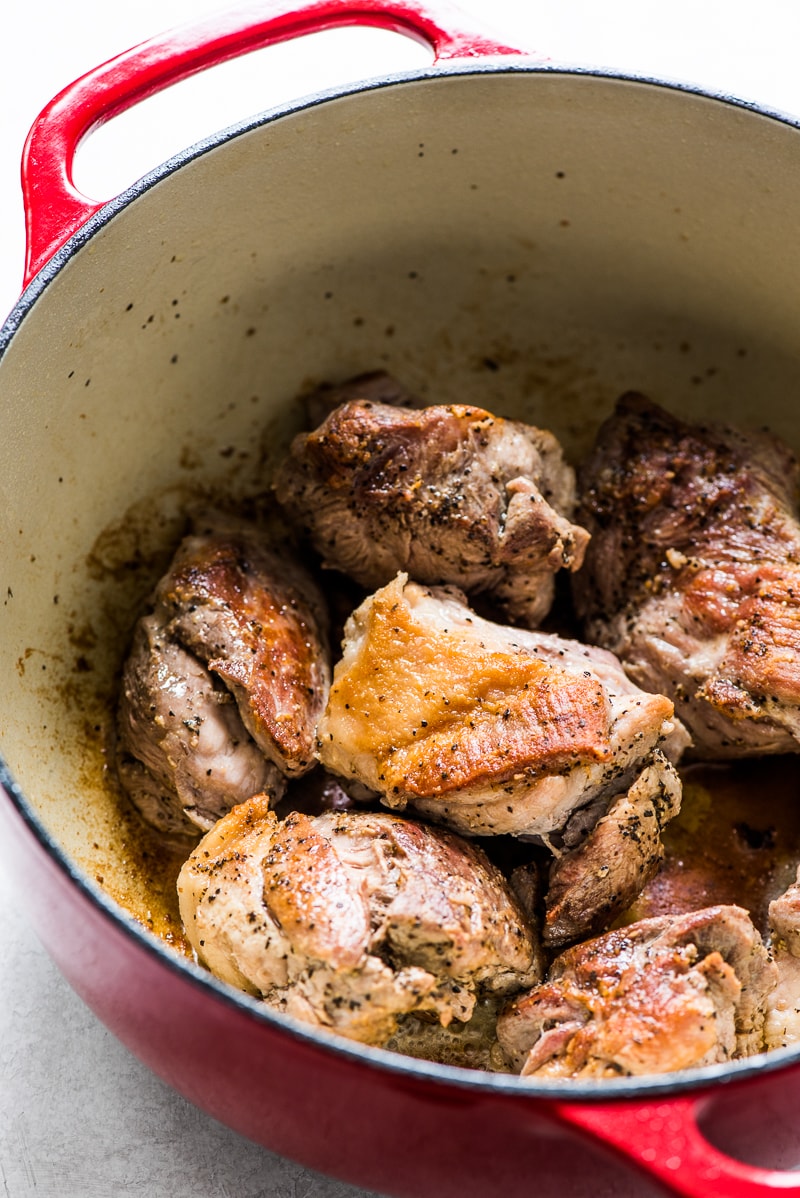 Once you've got all your ingredients, it's time for the fun part! Let's get cooking!
How to make pozole
Make the red chile sauce. First, rehydrate the dried chiles by placing them in a large bowl with 3 cups of hot water. Cover the bowl with a plate and let them soak for about 20 minutes to soften them up. Add the chiles, the water they were soaking in, salt, garlic, Mexican chocolate, cumin powder and chili powder into a large blender. Blend until completely smooth.
Sear the pork. In a large Dutch oven or pot over medium-high heat, add in a little olive oil and sear the pork on all sides until beautifully browned.
Simmer and cook. Add in the red chile sauce and the chicken broth. Scrape the bottom of the Dutch oven to loosen up any of those brown bits from searing the pork and then bring the pot to a boil. Reduce heat to a low simmer, cover and cook for 2 to 3 hours, until the pork is fall-apart tender.
Add the hominy. Uncover the pot and shred the pork with a large fork. It should shred and fall apart very easily. Add in the hominy and dried oregano. Bring to a boil and remove from heat. Serve.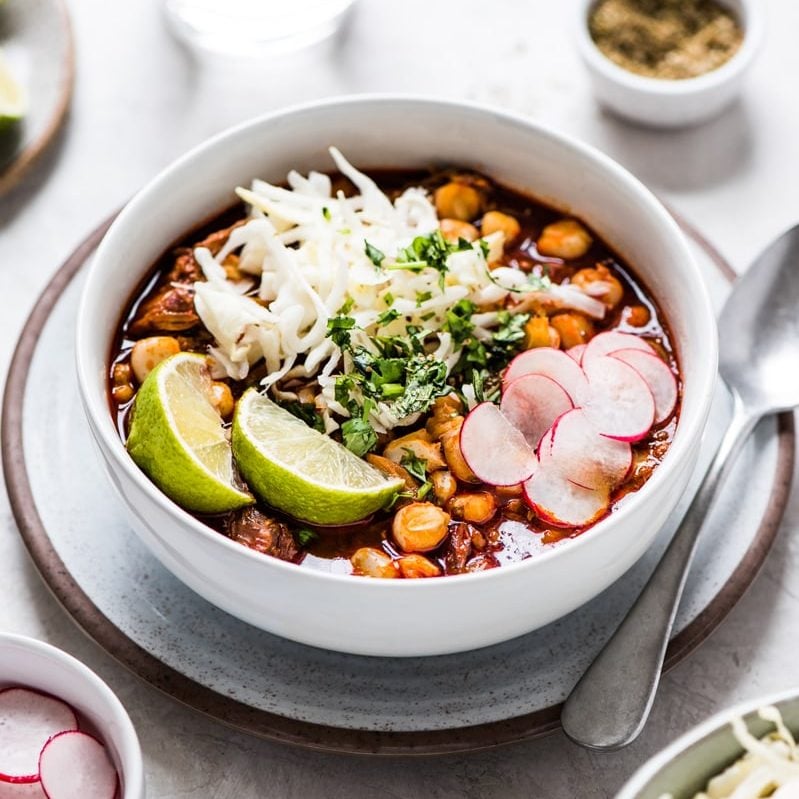 A warm bowl of posole on its own is delicious, but adding toppings and mix-ins makes it 100 times better! Here are some typical toppings that are served with posole.
Toppings and mix-ins for Posole
finely shredded cabbage
cilantro
dried oregano
fresh lime juice
thinly sliced radishes
diced red or white onions
red pepper flakes or hot sauce (if it's not spicy enough for your liking)
I personally love adding ALL of these mix-ins to my bowl, but if I had to choose only a few that are absolutely essential, I would pick finely shredded cabbage and fresh lime juice. The cabbage adds a really great crunch to the stew and the lime juice adds the perfect amount of acidity that makes the red chile broth really pop!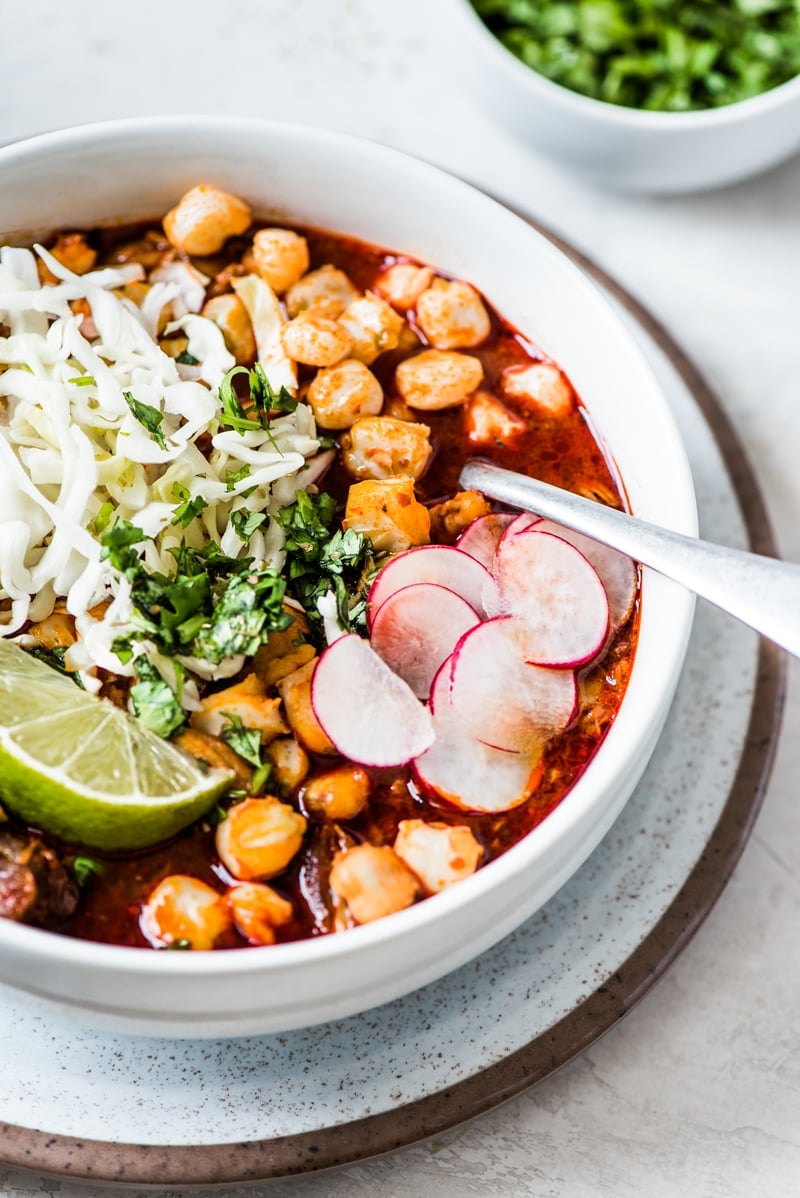 More authentic Mexican recipes you'll love
INGREDIENTS
For the pork
2 1/2

pounds

pork shoulder,

cut into large 4-inch chunks

1

tablespoon

coarse kosher salt

1

teaspoon

coarse ground black pepper

2

tablespoons

cooking oil
For the stew
4

cups

chicken broth

(or beef or vegetable broth)

1 1/2

29-ounce cans

white hominy,

drained and rinsed (about 3 3/4 cups)

1

tablespoon

dried oregano
INSTRUCTIONS
Make the sauce
In a large bowl, combine the dried chiles and 3 cups of hot water. Cover the bowl with a large plate or aluminum foil, and let the chiles soak for about 20 minutes, until softened.

Transfer the softened chiles and the water they soaked in into a large blender. Add the salt, chili powder, cumin powder, minced garlic and Mexican chocolate. Blend until completely smooth.
Sear the pork
Season the pork with salt and black pepper. Heat a large pot or Dutch oven over medium-high heat. Add in the cooking oil and then the pork. Sear on all sides until nicely browned.

Add the red chile sauce and scrape the bottom of the pot with a wooden spoon to loosen all the brown bits.
Make the stew
Add the chicken broth and stir until the red chile sauce and broth are fully mixed together. Bring the pot to a boil, reduce heat to a low simmer and cover. Cook for 2 to 3 hours, until the pork is fall apart tender.

Shred the pork with a fork or spatula (it should fall apart very easily). Add the hominy and dried oregano. Stir to combine. Bring to a boil and remove from heat. Taste and season with more salt, if necessary.

Serve with toppings such as finely shredded cabbage, cilantro, lime juice, thinly sliced radishes, diced onions, dried oregano and red pepper flakes.
ISABEL'S TIPS
To freeze: Cool the pozole in the fridge. Once chilled, scoop into freezer-safe zip-top bags or containers and freeze. When ready to eat, let frozen container thaw completely in the fridge or defrost in the microwave. Reheat on the stove or in the microwave until completely warm.
---
Nutrition Facts
Red Posole Recipe
Amount Per Serving (1 /10th of recipe)
Calories 314
Calories from Fat 180
% Daily Value*
Fat 20g31%
Cholesterol 65mg22%
Sodium 1131mg47%
Potassium 20mg1%
Carbohydrates 14g5%
Protein 20g40%
Vitamin A 1450IU29%
Vitamin C 0.8mg1%
Calcium 10mg1%
Iron 1.8mg10%
* Percent Daily Values are based on a 2000 calorie diet.
Did you make this recipe?
Leave a comment below and tag @isabeleats on social media!