Jump to Recipe
These sopes are made with only 3 ingredients and are perfect for topping with Mexican favorites like beans, cheese, carnitas, and more!  (gluten free, vegetarian, vegan, dairy free)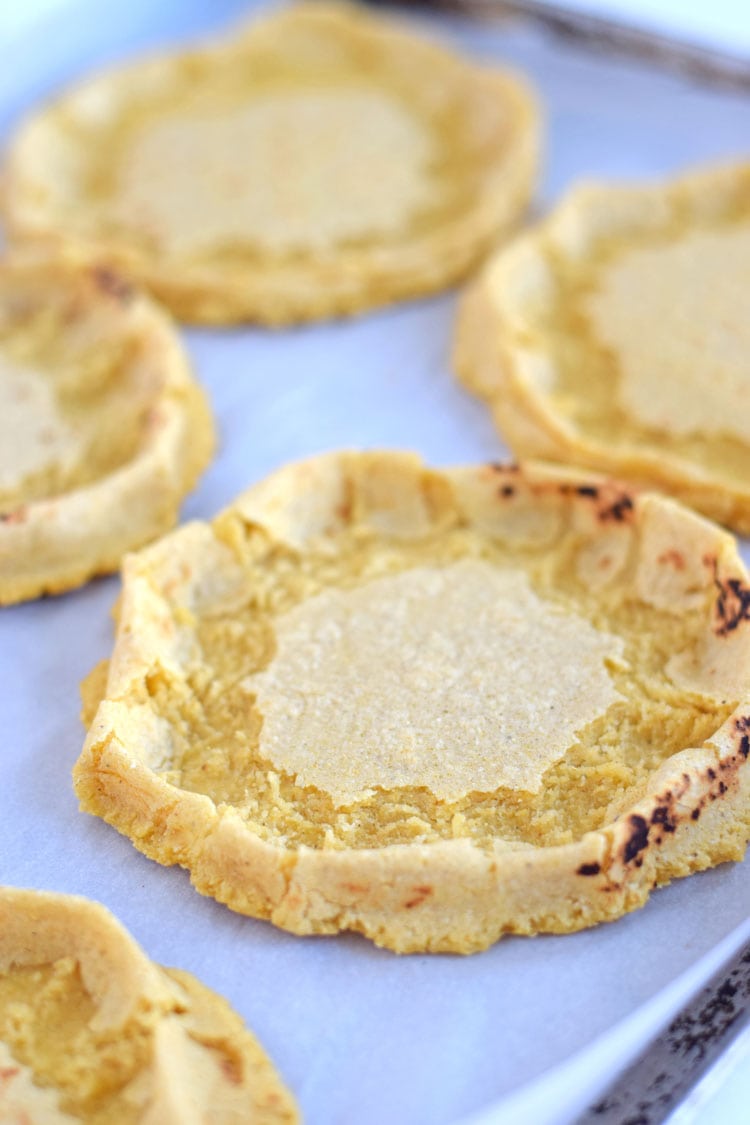 If you love Mexican food as much as I do, then you're going to LOVE sopes! And let me tell you, I really love Mexican food.
I love the heat, the spices, the fresh ingredients. But most of all, I love how inviting and unpretentious the cuisine is. Mexican food is all about gathering around the table with your friends and family, enjoying home-cooked, simple, soul-satisfying meals that you can often eat with your hands and enjoy with a tall glass of beer.
What's better than that?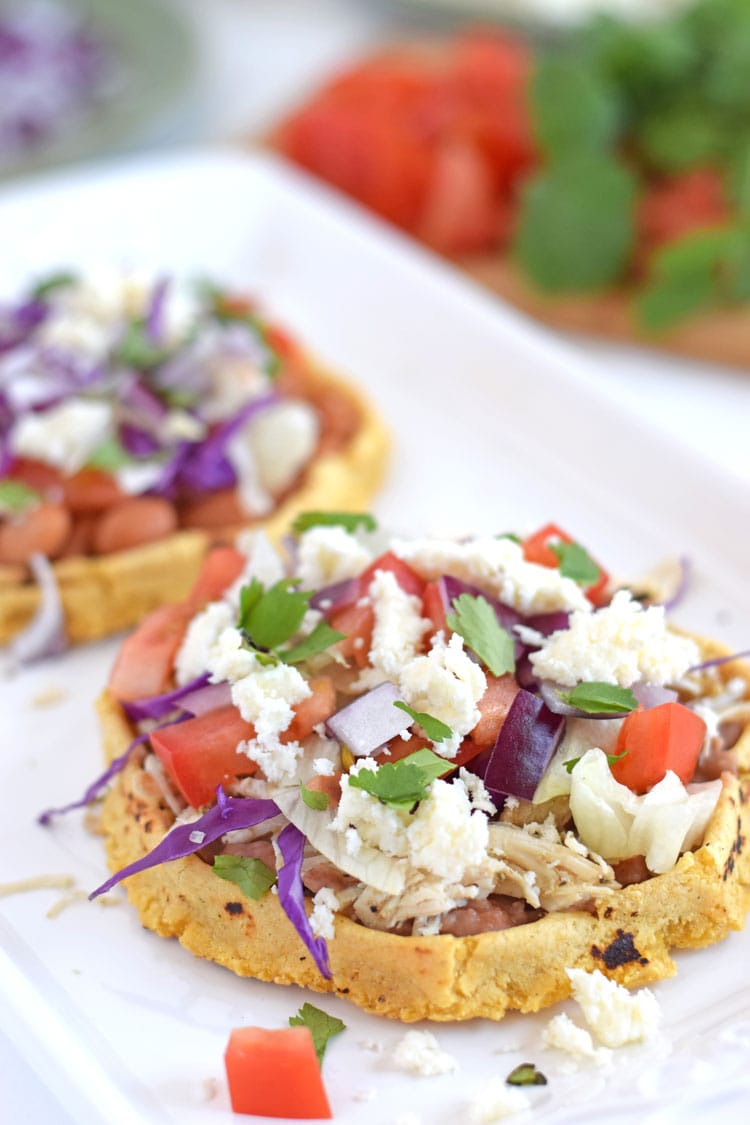 What are sopes?
Authentic Mexican sopes are a thick corn cake that you can top with any ingredients your little tummy desires.
I like to think of them as a thick corn tortilla boat because they're made exactly like a corn tortilla except the edges are pinched up to create a little well in the middle.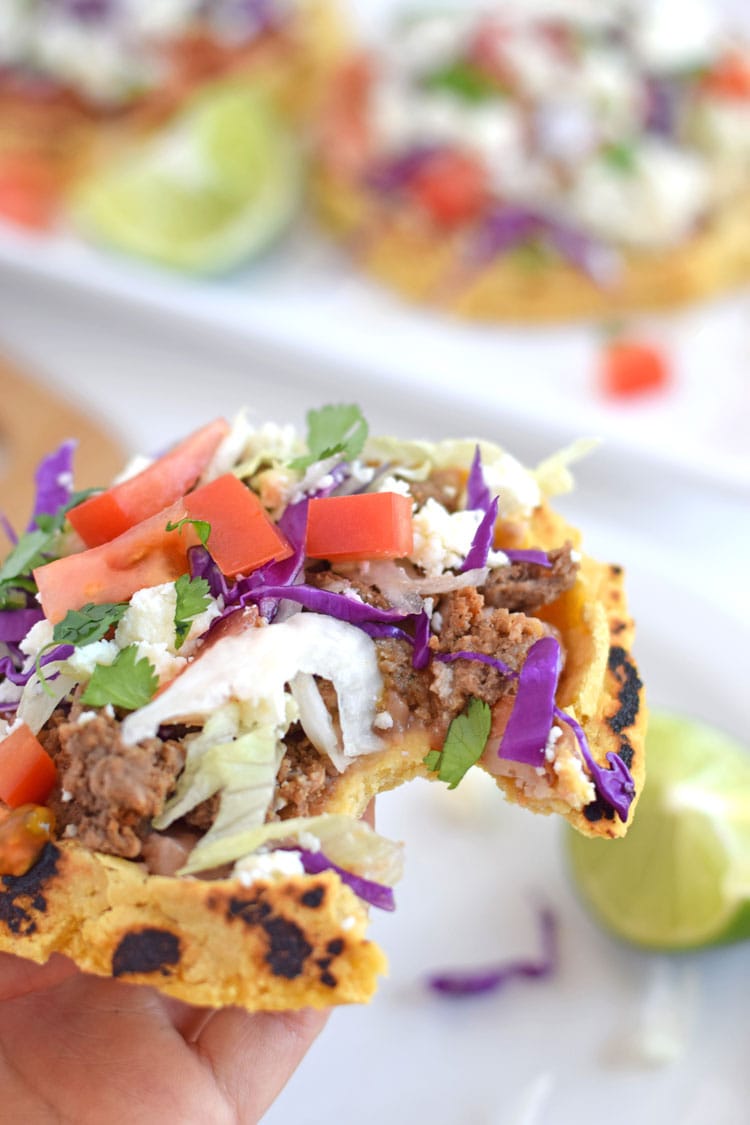 Toppings for sopes
Traditionally, my family tops them with refried beans, queso fresco, shredded chicken, thinly chopped lettuce, cabbage and some red salsa. But if you're feeling a little crazy, why not try it with a buffalo chicken mixture or a vegetarian-friendly spicy sweet potato and rice combo?
The only ingredient that is a must is the masa harina. You can usually find this flour in the ethnic food aisle of larger grocery stores or sometimes next to all the other flours in the baking aisle. If you can't find it in those areas, you may want to take a look at the gluten-free section of your grocery store (if you have one).
If you love online shopping (I know I do) or simply can't find masa harina in your local area, you can always find it on Amazon – here's a link to the brand I used.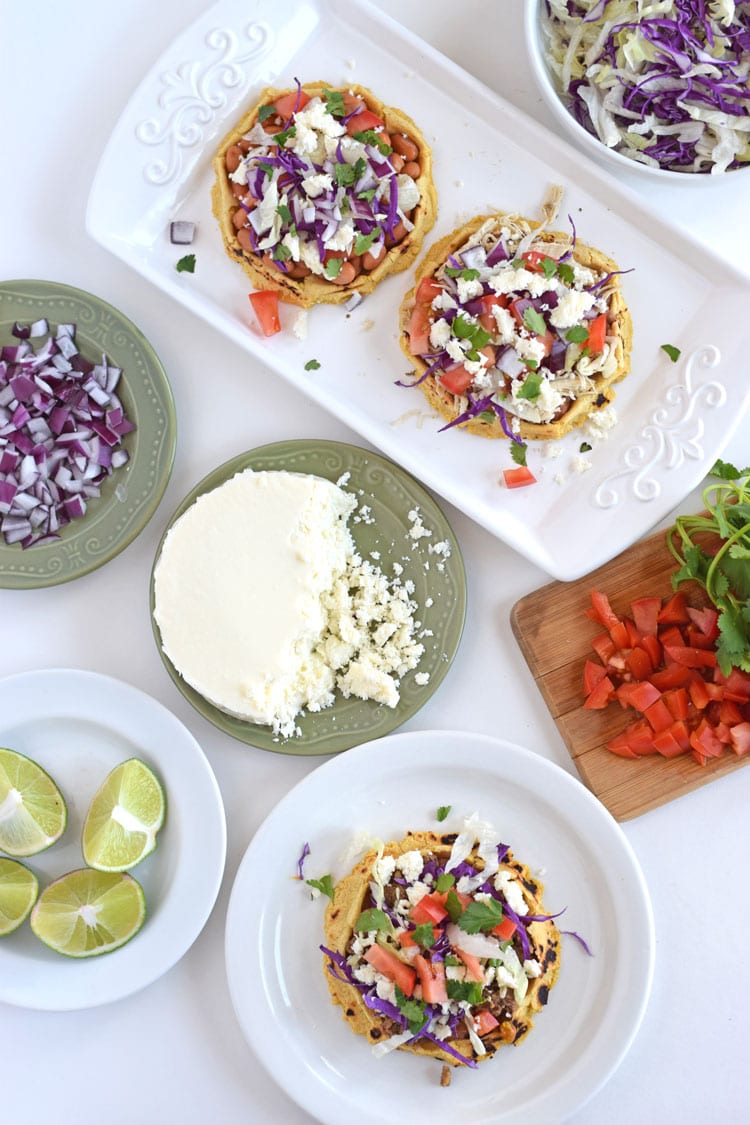 If you like this recipe, you may also like these!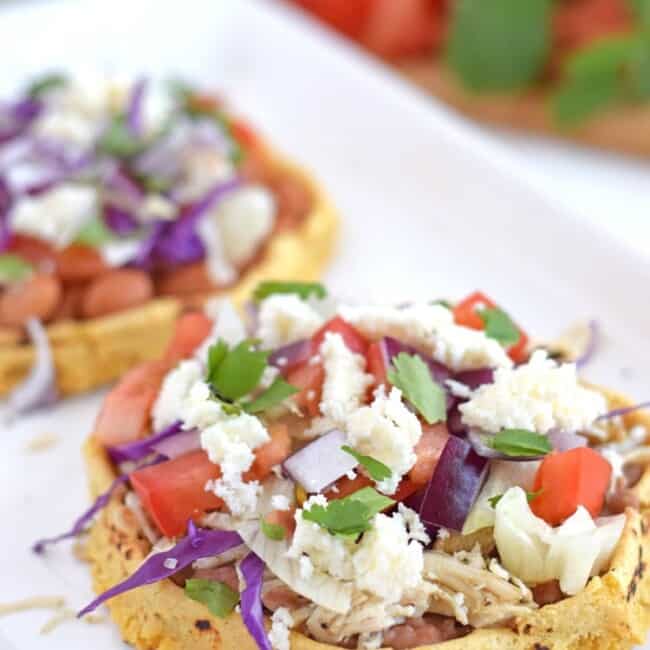 Prep: 10 minutes
Cook: 20 minutes
Total : 30 minutes
These Mexican Sopes are made with only 3 ingredients and are perfect for topping with beans, cheese, carnitas, and more! (gluten free, vegetarian, vegan, dairy free)
Ingredients
3 cups masa harina
2 1/2 cups warm water
1 1/2 teaspoon salt
Instructions
In a large bowl, mix masa harina and salt together.

Pour 2 1/4 cups of the warm water and mix together to form a ball of dough. The dough should be firm and springy when touched, not dry or super sticky. Add more water in small amounts, if needed, until the dough is the right consistency.

Divide the dough into 16 small balls and cover them with a damp paper towel to keep them from drying out.

Preheat a nonstick griddle over medium-high heat.

To form the sopes, grab a ball of dough and flatten it in between two pieces of parchment paper or a cut plastic gallon-sized food storage bag (as seen in my video) using a tortilla press. If you don't have a tortilla press, do your best to form a circle using a regular rolling pin.

Gently remove the flattened dough from the parchment paper and cook on the hot griddle for about 1 minute, depending on how hot the surface of the griddle is. You want the sope to have beautiful brown marks.

Flip the sope over and cook for another 30 seconds to 1 minute.

Remove the sope and let it cool for about 30 seconds. When the sope is cool enough to handle (it should still be hot but manageable), pinch the edges using your thumb and index finger to create a little boat.

Cover the sope with a towel and repeat steps 5-8 until all the sopes have been formed.

Top the sopes with desired toppings (think beans, cheese, ground beef, shredded chicken, veggies, salsa) and enjoy!
Nutrition Information
Serving: 1sope Calories: 75kcal (4%) Carbohydrates: 16g (5%) Protein: 2g (4%) Fat: 1g (2%) Saturated Fat: 0g Polyunsaturated Fat: 0g Monounsaturated Fat: 0g Trans Fat: 0g Cholesterol: 0mg Sodium: 213mg (9%) Potassium: 0mg Fiber: 2g (8%) Sugar: 0g Vitamin A: 100IU (2%) Vitamin C: 0mg Calcium: 20mg (2%) Iron: 0.5mg (3%)
This page contains affiliate links. If you make a purchase on Amazon after clicking one of my links, I may receive a small commission. The price of the item stays the same and any money I make goes to supporting this blog. I only endorse products and services that I fully believe in. Thanks for your support!