Jump to Recipe
Ceviche is a popular Latin American dish that features fresh raw fish or shrimp "cooked" in tangy citrus and mixed with cucumber, red onion, cilantro, jalapeño, avocado, and tomatoes.
This dish is perfect as a main course or as an appetizer for parties and is best enjoyed with tortilla chips or on tostadas for a delicious and refreshing taste.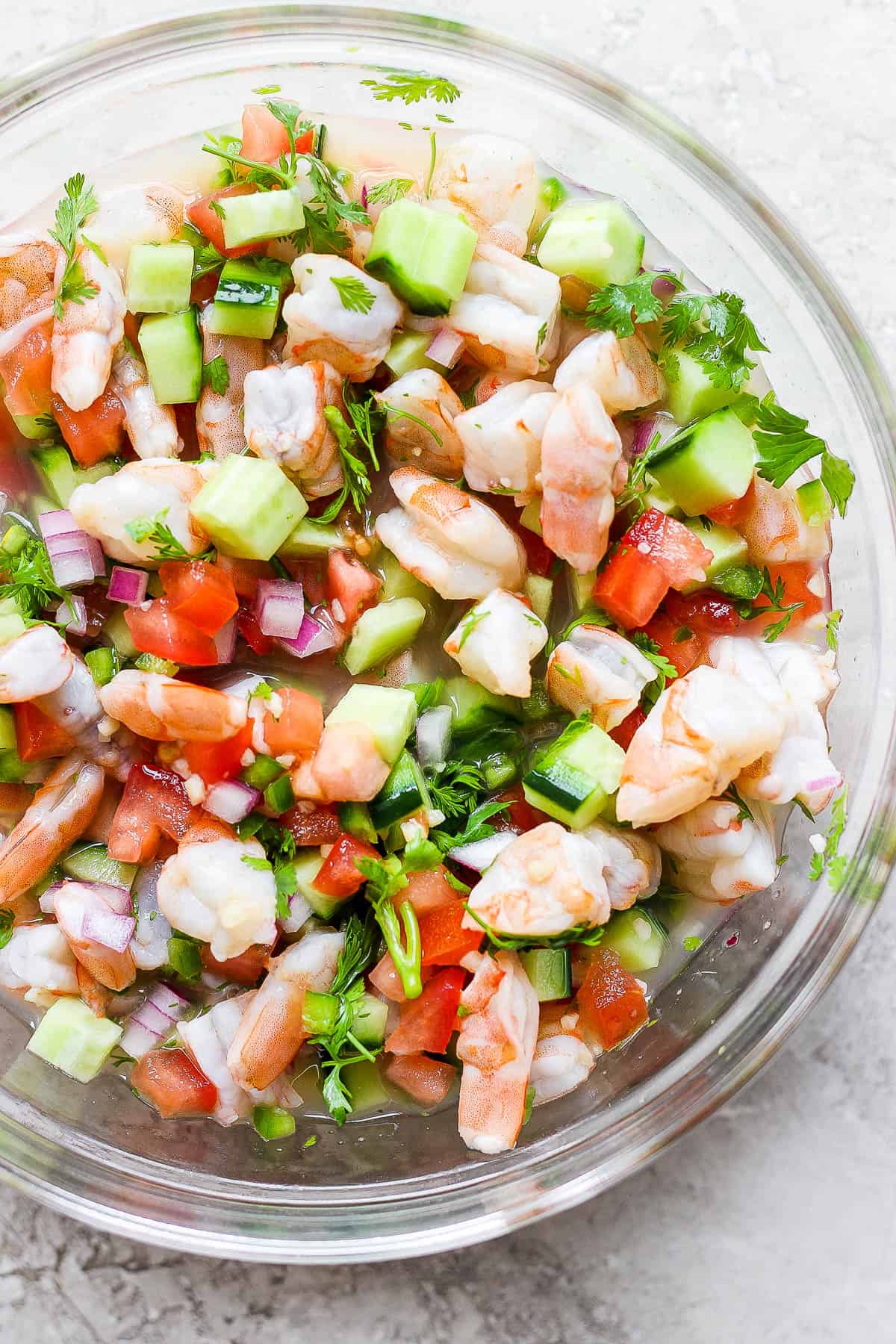 This ceviche recipe is one of my favorite easy, light, and refreshing meals! It's bright and full of fresh ingredients, perfect for seafood lovers. It's a great toss-and-go recipe, perfect for when you just want to throw something together for dinner or a snack. Pair it with some homemade tortilla chips and a cold glass of watermelon agua fresca!
What is Ceviche?
Ceviche is a traditional Latin American dish made of fish or shrimp that is "cooked" or cured in a lemon and lime juice marinade and then mixed with lots of bright and fresh ingredients like cucumbers, tomatoes, red onion, jalapeños, cilantro, garlic, and diced avocados. It's usually served with tostadas or tortilla chips and makes a great dinner or appetizer for your next party.
Using Cooked or Raw Seafood
When making ceviche, it is common to use raw seafood which is then "cooked" in a mixture of lemon and lime juice that is highly acidic. The acidity from the citrus cures the fish, transforming its proteins and causing it to become firm and opaque while also absorbing flavor.
For this recipe, raw shrimp is used, but if you prefer, you can use cooked shrimp for added safety against any potential pathogens or food-borne illnesses. Instructions for using cooked shrimp can be found at the bottom of the recipe card.
You can also use other seafood like mahi mahi, tuna, cod, and halibut.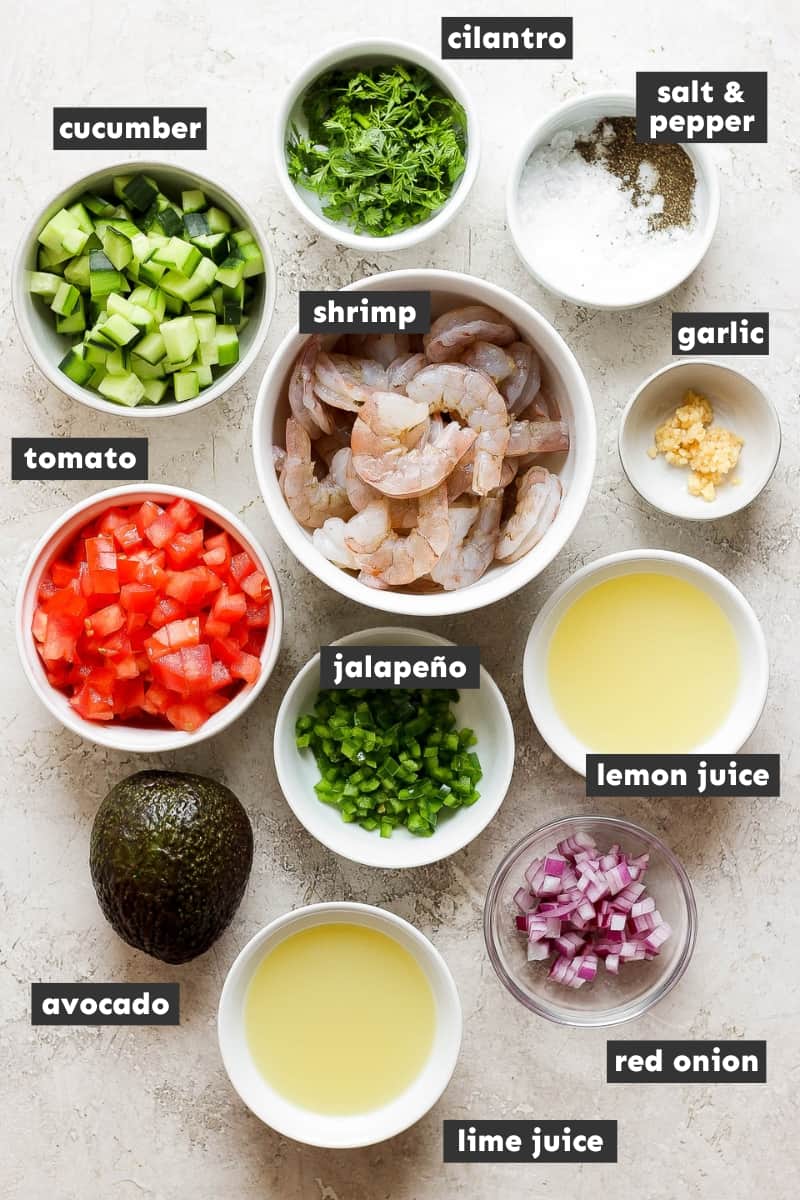 Ingredients
Raw shrimp: I used medium raw shrimp that already comes peeled and deveined to save some time. You can really use any size shrimp you prefer, just make sure they're peeled and deveined. See notes if you want to use cooked shrimp.
Lemon and lime juice: Ceviche needs large amounts of citrus juice to cure the shrimp and fully "cook" it with the acidity. I used fresh lemons and limes for the best flavor.
Red onion: Has a great flavor when eaten raw and adds color and brightness.
Jalapeño: I added jalapeño for a touch of spice. You can leave the seeds in if you like it spicy, or you can omit this altogether. Use serrano peppers if you want it extra spicy.
Garlic: Adds more depth of flavor and helps bring all the flavors of the vegetables together.
Roma tomatoes: Adds a garden-fresh flavor that isn't overpowering.
Cucumber: I love adding cucumbers for their refreshing taste and crunch.
Cilantro: Adds a fresh herb flavor to the ceviche.
Salt and black pepper: I use kosher salt and freshly ground black pepper.
Tostadas or tortilla chips: Ceviche is traditionally eaten with tostadas or tortilla chips since all the ingredients are finely chopped.
How to Make Ceviche
Prepare the shrimp and citrus marinade: Start by dicing your shrimp into small bite-size pieces and placing them into a glass bowl. Add lime juice, lemon juice, red onion, and garlic to the shrimp bowl and give it a light toss.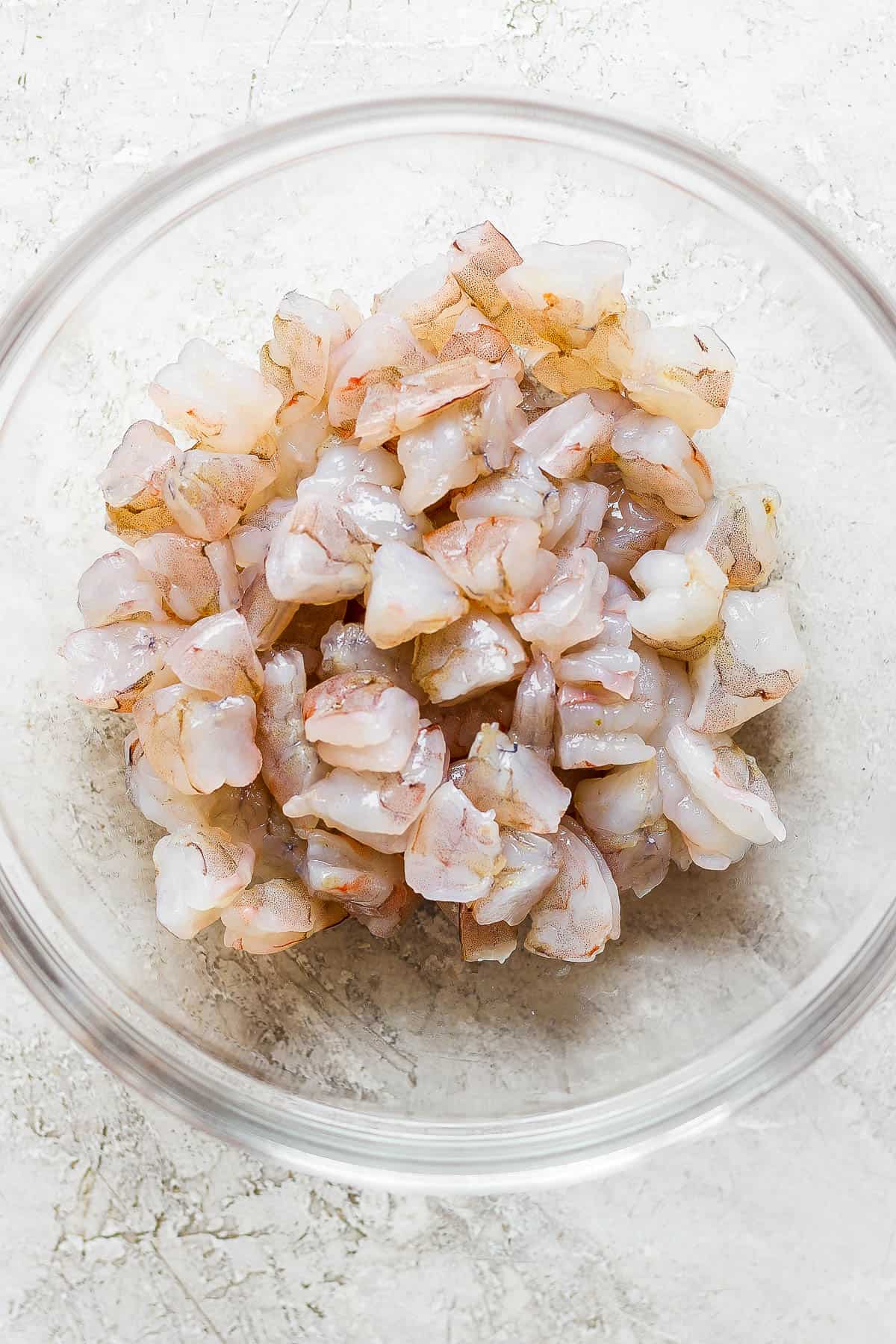 Cure the shrimp: Cover with cling wrap and refrigerate for 20 minutes until the shrimp is bright pink and opaque. Once the shrimp has gone from gray and translucent to bright pink and opaque all the way through, that is how you know it is fully cured.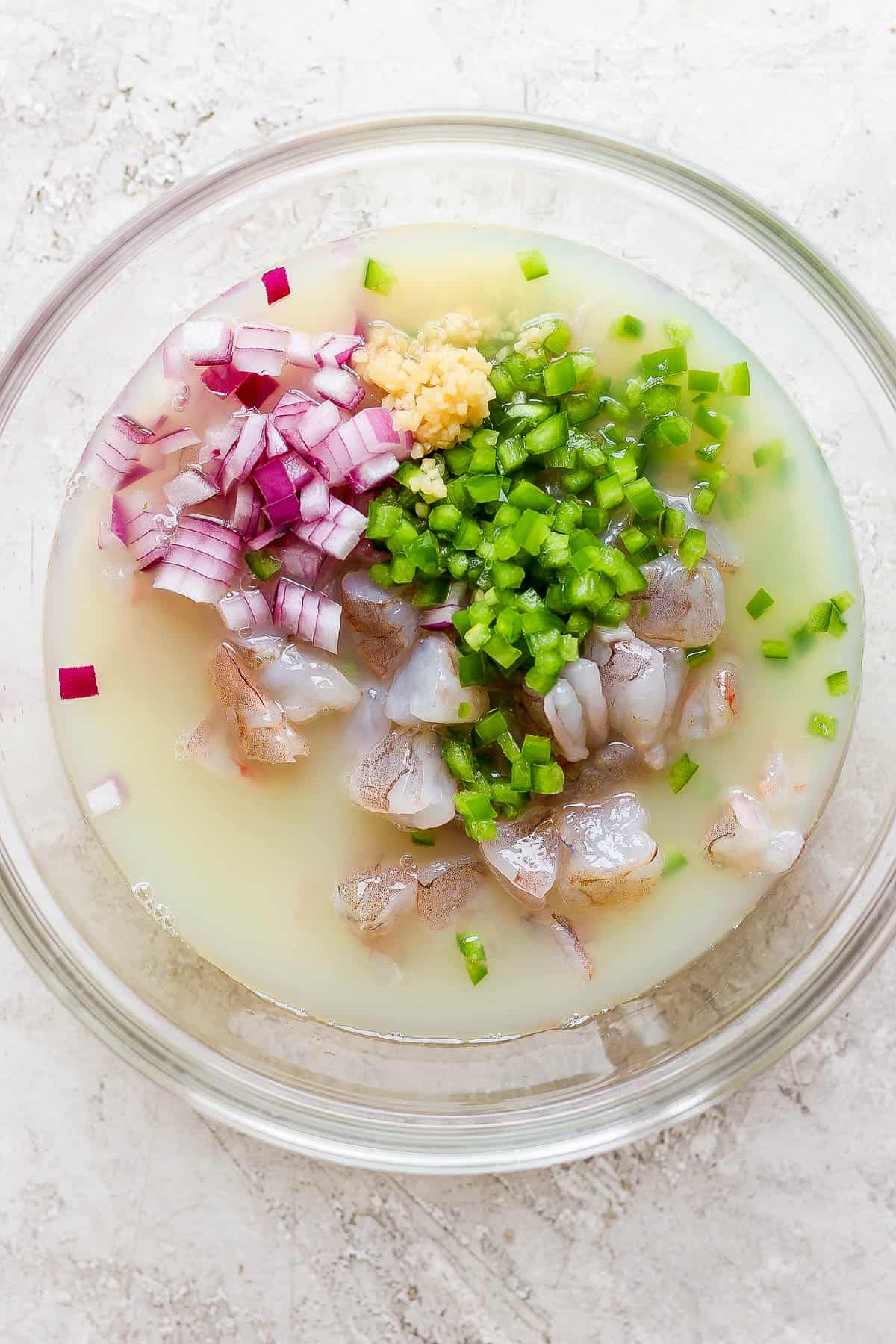 Add fresh ingredients: Add the tomatoes, cucumber, and cilantro to the bowl. Lightly toss to combine, cover, and refrigerate for an additional 10 minutes to meld the flavors together fully.
Add avocados: Add diced avocados, salt, and black pepper to taste last so that the avocado does not brown and stays fresh. Serve and enjoy!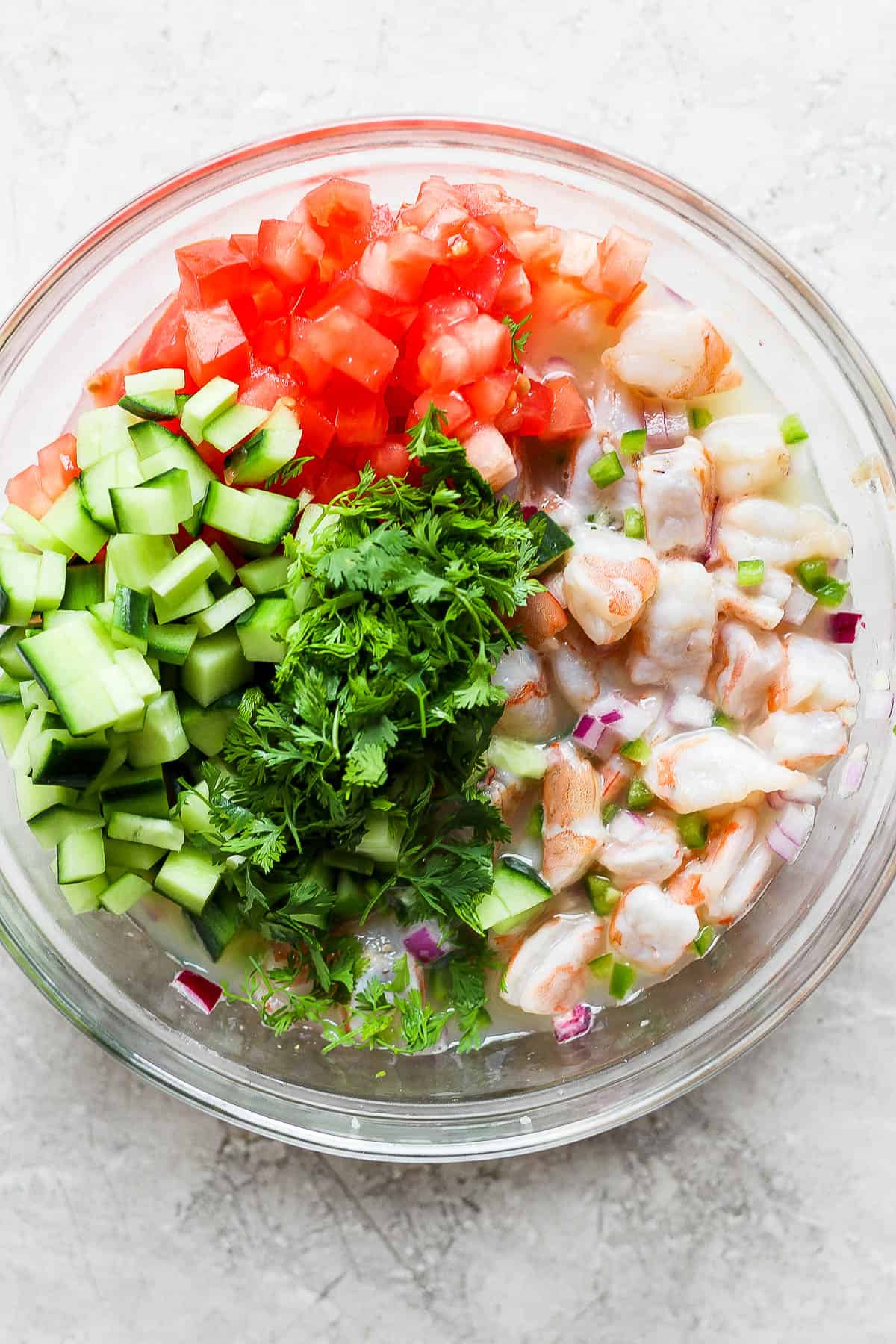 Tips and Variations
Eat immediately. Ceviche is best when eaten as soon as possible. You can make it up to 4 hours in advance, but I do not recommend storing leftovers for more than 1 day since the shrimp continues to "cook" the longer it is in the citrus marinade, making it rubbery.

Use fish. Ceviche can also be made with other seafood instead of shrimp. Fish like cod, mahi mahi, tilapia, and halibut work best.
Add sweetness. Stir in some diced mango for a little added sweetness that pairs well with the fresh and savory flavors.
Make it spicy. To add some heat, use a serrano pepper instead of a jalapeño.
Recommended Equipment
Glass mixing bowls: I like using glass mixing bowls for this recipe so ensure the amount of acidity does not react with the bowl. They're sturdy and super versatile.
Cling wrap: This cling wrap is sturdy and super sticky. It creates a tight seal and one that I use all the time.
Non-slip plastic cutting board: With recipes like ceviche that require lots of fine chopping, using a sturdy and non-slip cutting board really helps speed up the process and makes it more efficient.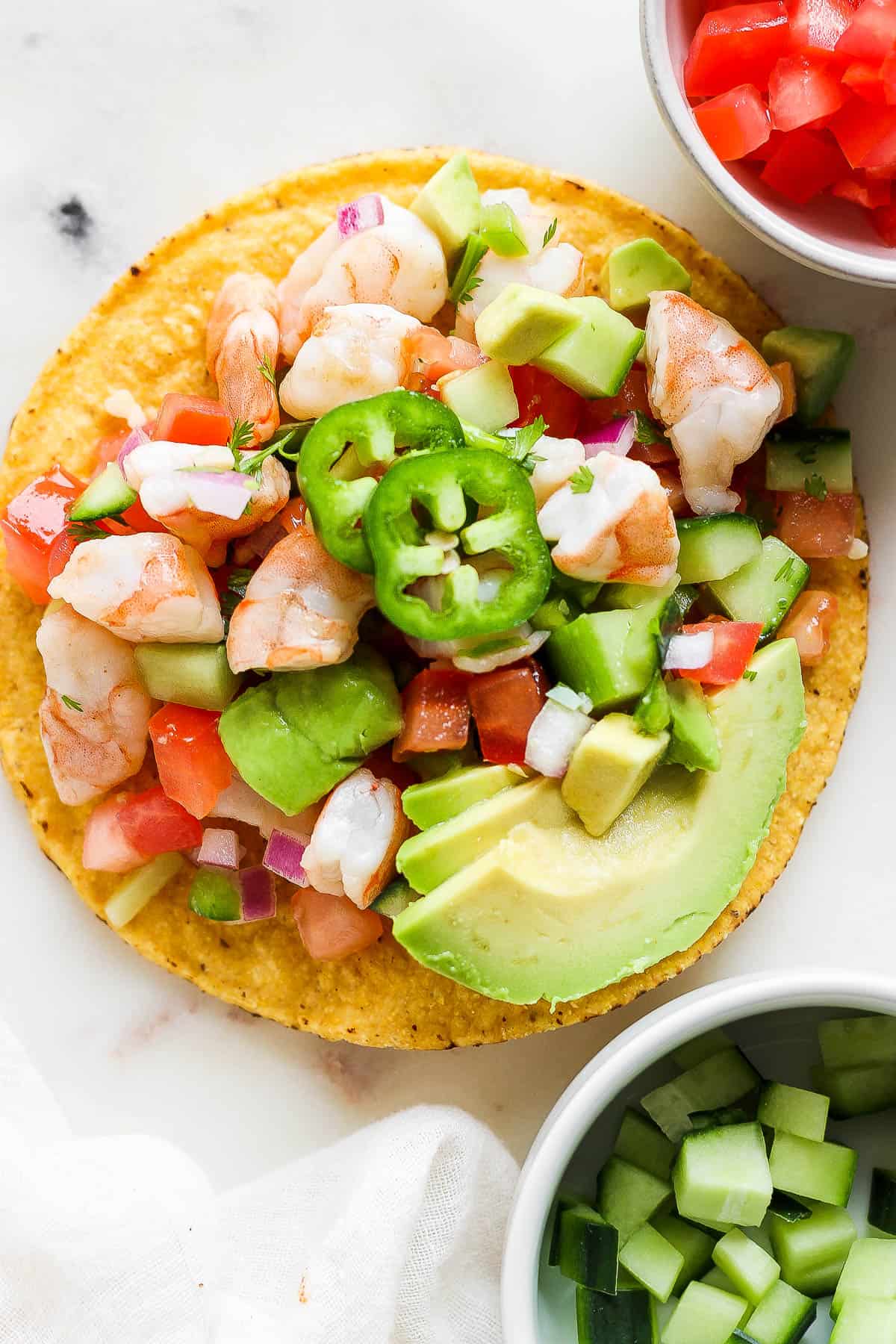 Storage
Leftovers can be stored in an airtight container in the refrigerator for up to 1 day. Just remember that the longer it sits, the tougher the rubberier the seafood will become.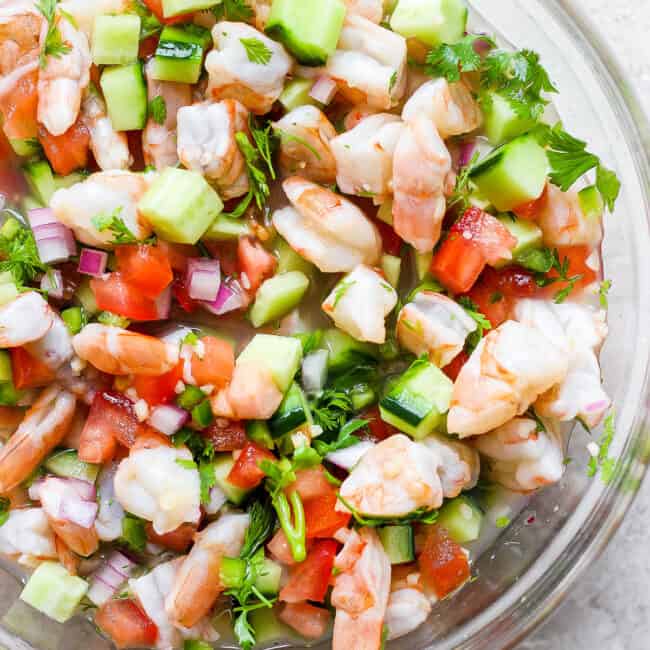 Prep: 15 minutes
Total : 45 minutes
Ceviche made from raw fish or shrimp "cooked" in tangy citrus and mixed with cucumber, red onion, cilantro, jalapeño, avocado, and tomatoes.
Ingredients
1 pound medium raw shrimp, peeled and deveined
½ cup lemon juice (about 2 large lemons)
½ cup lime juice (about 4 limes)
½ cup finely chopped red onion
1 jalapeño, seeded and deveined, finely chopped
1 clove garlic, minced
2 Roma tomatoes, finely chopped
1 medium cucumber, peeled and finely chopped
¼ cup cilantro, finely chopped
1 avocado, diced
Kosher salt, to taste
Freshly ground black pepper, to taste
Tostadas or tortilla chips for serving
Instructions
Dice the raw shrimp into small bite-size pieces and add them into a large non-reactive bowl. Glass or food-grade plastic bowls are both good options.

Add the lemon juice, lime juice, red onion, garlic, and jalapeño to the bowl and lightly toss together with the shrimp to combine.

Cover and refrigerate for 20 minutes until the shrimp is bright pink and opaque.

Add the tomatoes, cucumber, and cilantro to the bowl. Lightly toss to combine, cover, and refrigerate for an additional 10 minutes.

Add in the avocado, salt, and black pepper. Lightly toss to combine, taste, and add more salt as needed. Serve immediately with tostadas or tortilla chips.
Isabel's Tips:
If using cooked shrimp, toss together all ingredients minus the salt, black pepper, and avocado. Let marinate in the fridge for 30 minutes. When ready to serve, add salt, black pepper, and avocado.
Nutrition Information
Serving: 1serving Calories: 197kcal (10%) Carbohydrates: 15g (5%) Protein: 18g (36%) Fat: 9g (14%) Saturated Fat: 1g (5%) Polyunsaturated Fat: 1g Monounsaturated Fat: 5g Trans Fat: 0.01g Cholesterol: 143mg (48%) Sodium: 650mg (27%) Potassium: 627mg (18%) Fiber: 5g (20%) Sugar: 4g (4%) Vitamin A: 695IU (14%) Vitamin C: 38mg (46%) Calcium: 91mg (9%) Iron: 1mg (6%)
Photos by Erin Jensen of The Wooden Skillet.