This baked chicken wings recipe creates flavorful crispy wings without using extra flours or coatings! Topped with a finger-licking good honey lime sauce, these wings are gluten free, low carb and paleo.
Baked chicken wings that taste just as good as restaurant wings? Yes! It can totally happen, and I'm going to tell you all about how you can achieve the perfect crispy baked chicken wings at home.
But first I have a confession to make. Chicken wings aren't my favorite. I know, I know, what is wrong with me?! Let me explain. It's not that I don't like crispy crunchy baked chicken skin or juicy tender chicken, it's just that I'm kind of a clean freak when it comes to eating and chicken wings are usually messy. No matter how hard you try, you always end up having wing sauce all over your mouth/face/hands and it drives me nuts.
I'm telling you this because I want you to understand that me posting this chicken wings recipe must mean that these babies are freaking delicious and worth all the napkins and sticky hands. Because they are! These wings are so good, I threw my clean freak card out the window and DUG IN.  Here's what you need to know.
How to bake chicken wings so they're crispy
The secret to getting your baked chicken wings super crispy is parboiling them. Parboiling simply means partially cooking something by boiling it. So before they go in the oven, the wings need to go in a large stockpot of boiling water for 7 minutes to help get rid of any excess fat. This also cooks them slightly which makes the skin crisp up faster and easier once they go in the oven.
Once they're finished parboiling, remove them from the water using a slotted spoon or colander and place them on a kitchen towel. Now here's the important part: dry off each wing as much as you can by giving it a squeeze in a kitchen towel. You could also use paper towels, but I find that a kitchen towel is more absorbent and easier to use.
Also, be careful not to burn yourself since the wings will be hot. I recommend letting them sit for a few minutes until you feel you can handle them safely, unless you're like me and have "hot hands" as John likes to call them.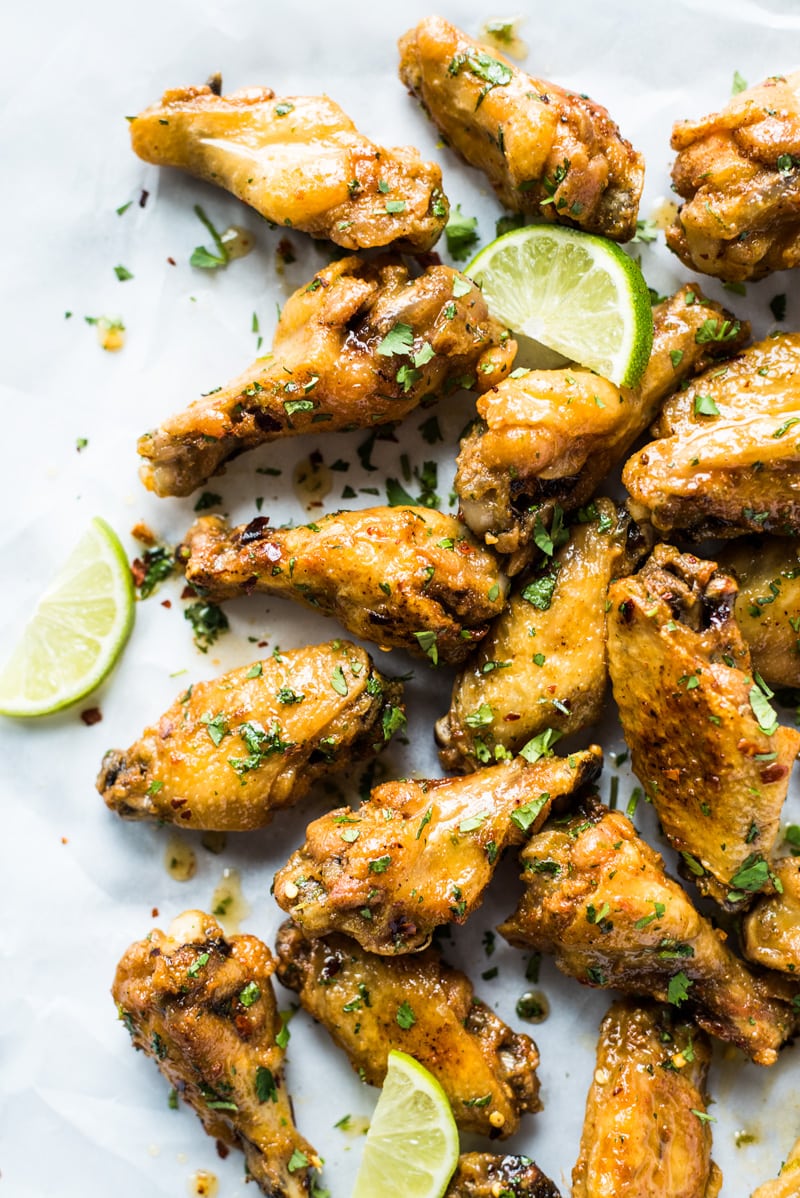 Once the wings are as dry as you can get them, place them on a large baking sheet and sprinkle them with salt, ground coriander, garlic powder and paprika. Bake them in a 450°F oven for 25 minutes, turn them over and baked them for 5 to 10 more minutes. Wing size can vary greatly, so use your best judgement here. If the skin looks crispy, take them out, if not, leave them in for 5 more minutes and see how they're doing.
While the wings are baking, make the sauce. Simple whisk together melted butter, honey, cilantro, lime juice, lime zest and red chili flakes. Once the wings are done, toss them in the honey sauce immediately and serve.
The sauce is LIFE CHANGING and am so so happy with how it turned out. John was obsessed.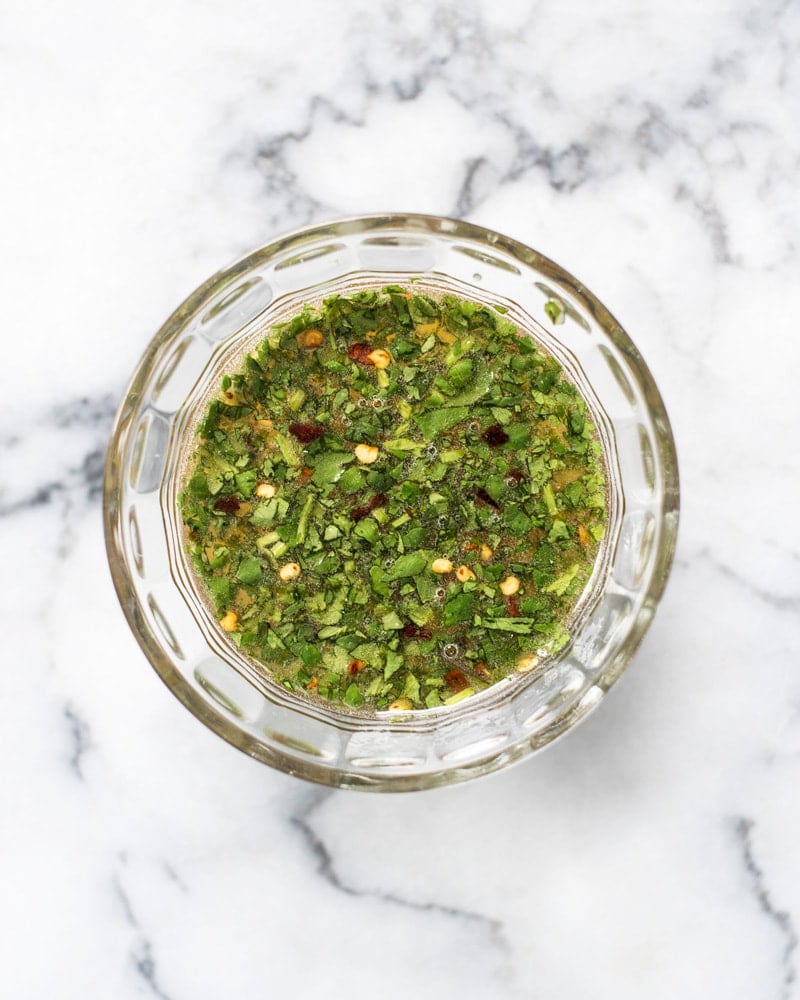 Can these crispy baked chicken wings be made ahead of time?
Yes. To make these ahead of time, simple follow the parboiling instructions and dry them off as much as possible. Transfer the wings to a baking sheet and place in the fridge for up to a day until you're ready to bake them. Then bake like normal.
Can these wings be frozen once they're cooked?
Yes. To freeze, let them come to room temperature first and then place in an air-tight freezer bag. They can keep frozen for up to 4 months. To reheat, I recommend removing them from the freezer and letting them thaw. Once thawed, heat in the oven for 5 to 10 minutes at 450°F until fully heated through. I also recommend making a small batch of honey lime sauce for serving.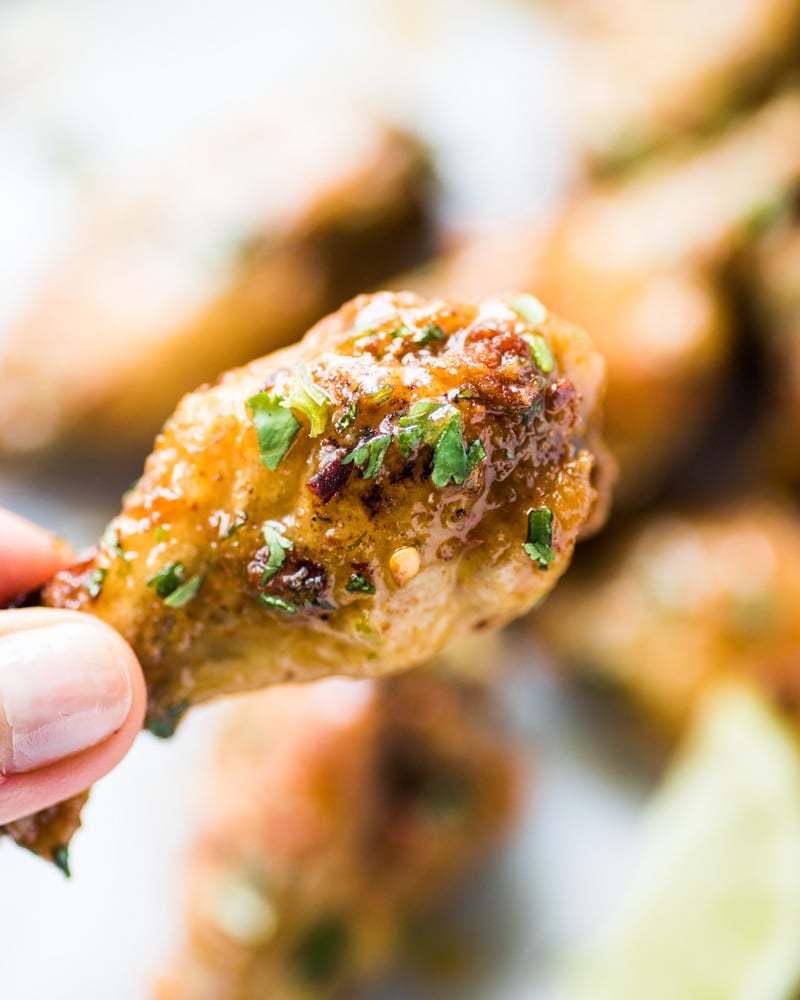 If you like this low carb appetizer recipe, you may also like these:
INGREDIENTS
For the baked chicken wings
2

pounds

chicken wings,

cut in half at joints

1

teaspoon

salt

1

teaspoon

ground coriander

1/2

teaspoon

garlic powder

1/2

teaspoon

paprika
For the honey lime sauce
3

tablespoons

butter,

melted

3

tablespoons

honey

1

tablespoon

chopped cilantro

1

lime,

juiced and zested

1/2

teaspoon

crushed red pepper flakes
INSTRUCTIONS
For the baked chicken wings
Preheat the oven to 450°F. Fill a large stockpot with water, place on stove over high heat and bring to a boil. Season the water generously with sea salt.

When water is boiling, add the chicken wings to the pot and lower heat to medium-high. Cook for 7 minutes.

Remove the wings with a slotted spoon and place them in a bowl lined with a kitchen towel. Pat and squeeze the wings as dry as you can with another kitchen towel. Transfer them to a large sheet pan and set aside.

In a small bowl, combine salt, ground coriander, garlic powder and paprika. Sprinkle seasoning on top of wings and toss to combine.

Place sheet pan in oven and bake wings for 25 minutes, flip the wings over and bake for another 8 minutes. Remove from oven and toss with sauce.
For the honey lime sauce
In a medium bowl, whisk together all ingredients. Pour sauce over baked chicken wings, toss to coat and enjoy!
ISABEL'S TIPS
Cooking method inspired by Fifteen Spatulas.
---
Nutrition Facts
Baked Chicken Wings with Honey Lime Sauce
Amount Per Serving (1 /4th recipe)
Calories 613
Calories from Fat 405
% Daily Value*
Fat 45g69%
Cholesterol 23mg8%
Sodium 645mg27%
Potassium 62mg2%
Carbohydrates 16g5%
Protein 42g84%
Vitamin A 400IU8%
Vitamin C 6.6mg8%
Calcium 10mg1%
Iron 0.2mg1%
* Percent Daily Values are based on a 2000 calorie diet.
Did you make this recipe?
Leave a comment below and tag @isabeleats on social media!