Jump to Recipe
Baked Chile Rellenos are a healthier version of the traditional Mexican dish. These stuffed poblanos are baked and filled with veggies and cheese! (vegetarian, gluten free, low carb)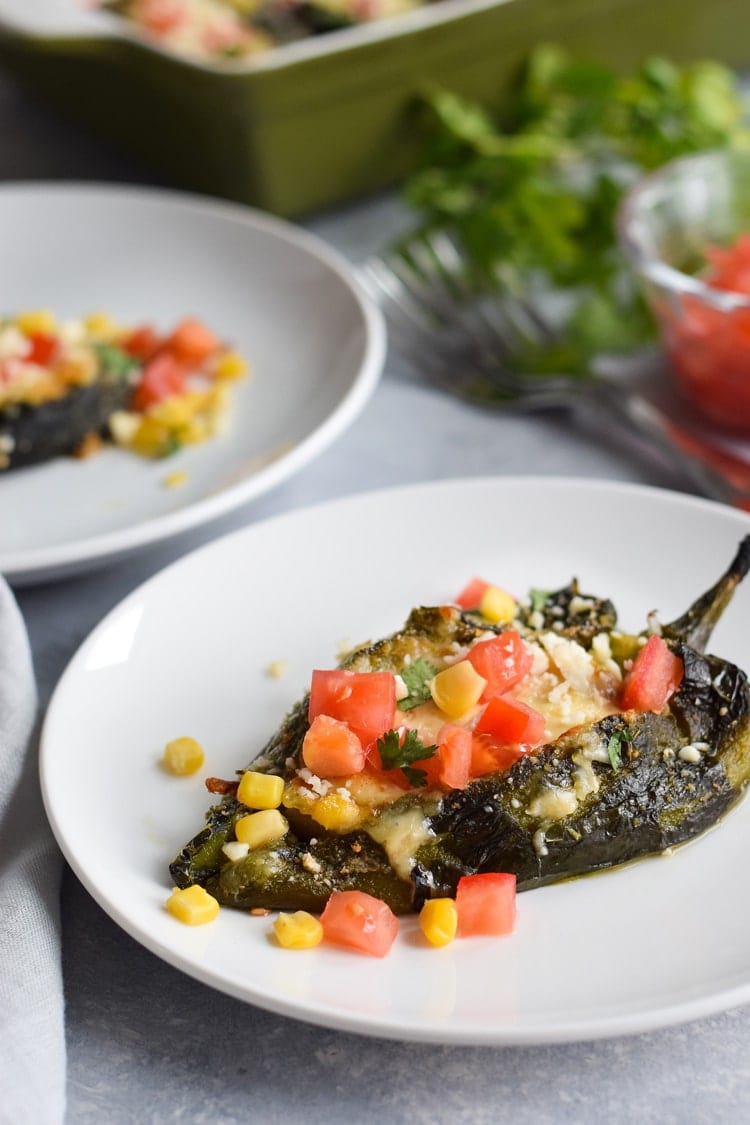 Baked poblano peppers stuffed with ooey gooey cheesy goodness.
Just think about that for a minute. Let it sink in. It's goooood, right?
Now get up and dance around! Celebrate all that is filled with cheese! (Apologies to my lactose-intolerant and vegan friends.)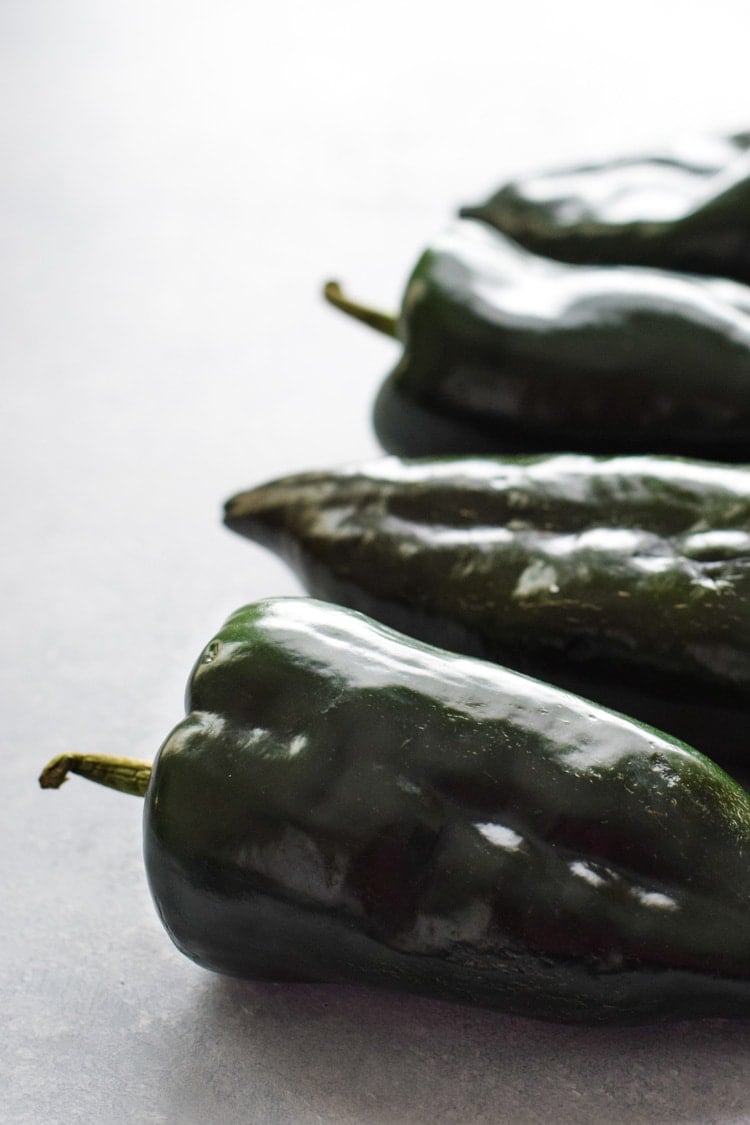 What are chile rellenos?
If you don't know Spanish, you might be wondering what "chile rellenos" means. If you take a look at the photo below, I bet you could take a pretty good guess! Chile rellenos literally means stuffed peppers.
Traditionally, chile rellenos are a Mexican dish made up of battered, fried and cheese-stuffed poblano peppers (here's the recipe for authentic chile rellenos). However, in this recipe, I've decided to lighten it up a bit and bake it instead of frying it. I've also added in some other veggies like diced green chiles and corn to really beef up the filling.
I typically eat chile rellenos as a side dish, but if you'd like to make it a full meal, adding in some rice, quinoa or other grain would be a great option. For the meat eaters out there, adding in some ground meat would work as well.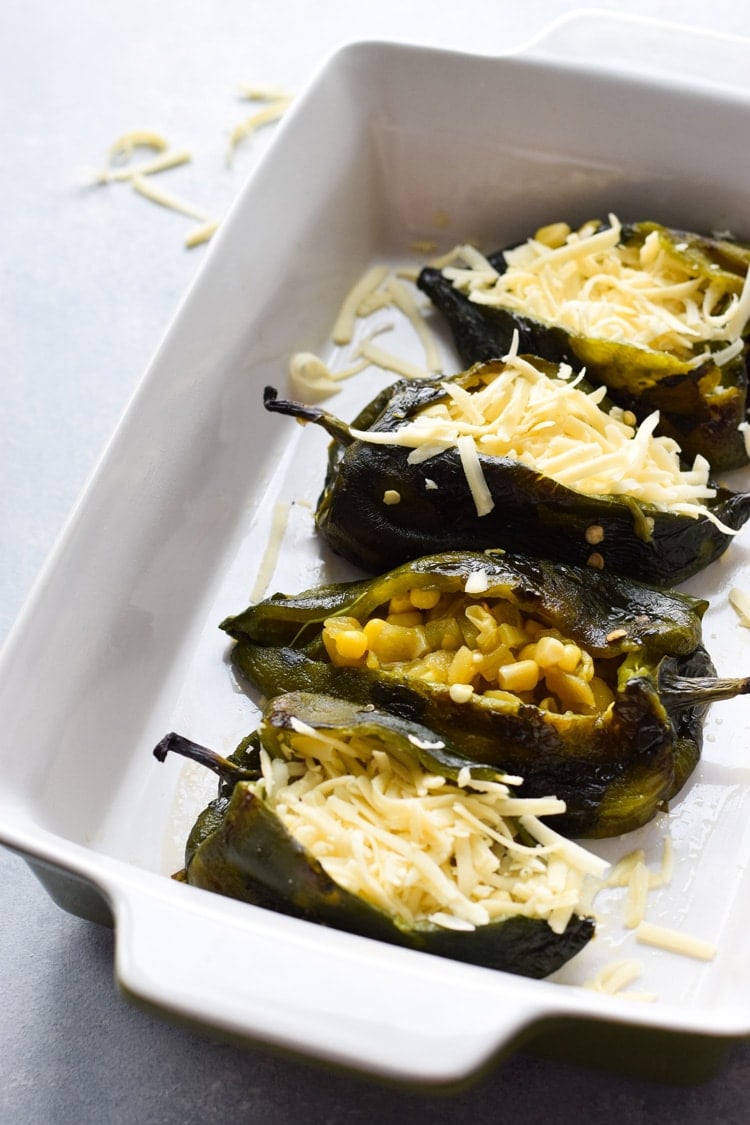 This dish is made using poblano peppers. On the heat scale, poblanos are considered mild, but sometimes they can be a bit unpredictable. One poblano can be super sweet while another one can be very spicy.
To avoid eating a poblano that's too hot, I recommend removing the seeds and the veins before stuffing them. They'll still have that deep, rich and smokey flavor, but they won't accidentally burn your face off.
Click here to learn more about poblano peppers.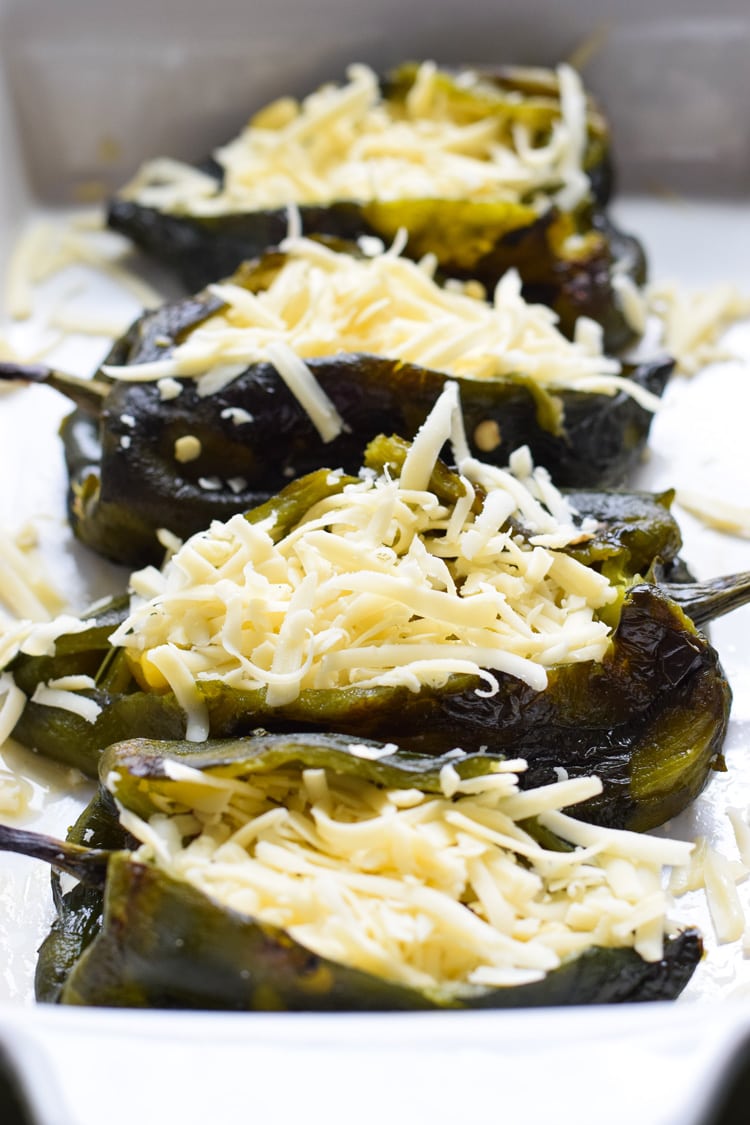 To prepare the peppers, lay them on a baking sheet and place them under the broiler in your oven for about 5 minutes. The skin of the peppers will begin to bubble up and turn black. This is a good thing!
Once the peppers are blackened on one side, turn them over and place them back under the broiler to finish on the other side. The poblanos should look wrinkly and dark green/black. Remove them from the oven and cover them with foil to let them "sweat" for 10 minutes.
Sweating the peppers is an important step. Covering them with foil allows the heat and steam from the peppers to soften them up and the blackened skin to become loose.
Once they've sat covered for 10 minutes, peel off the blackened skin with your fingers and thrown it away. Peeling the poblanos allows you to keep that rich and smokey flavor without getting any of that burnt taste. Don't worry if you're not able to remove all of the skin – just do the best you can!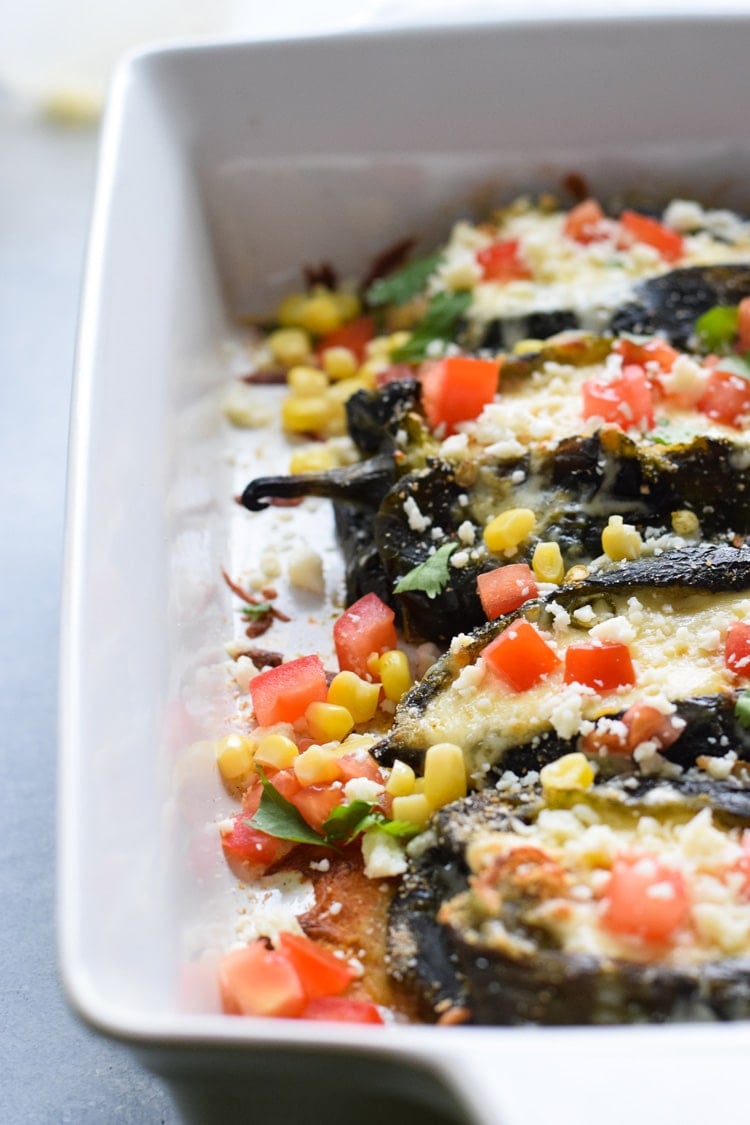 Once they're peeled, cut them open lengthwise and carefully remove the seeds and the veins with a knife or your fingers. If you accidentally rip open a pepper, it's okay. They're pretty soft and this point and it's easy to do. Just keep going and do your best.
Once the seeds and veins are removed, stuff them with the green chile and corn mixture and top them off with the shredded Chihuahua cheese. I chose to use Chihuahua cheese because it melts beautifully, but you can use any cheese you'd like.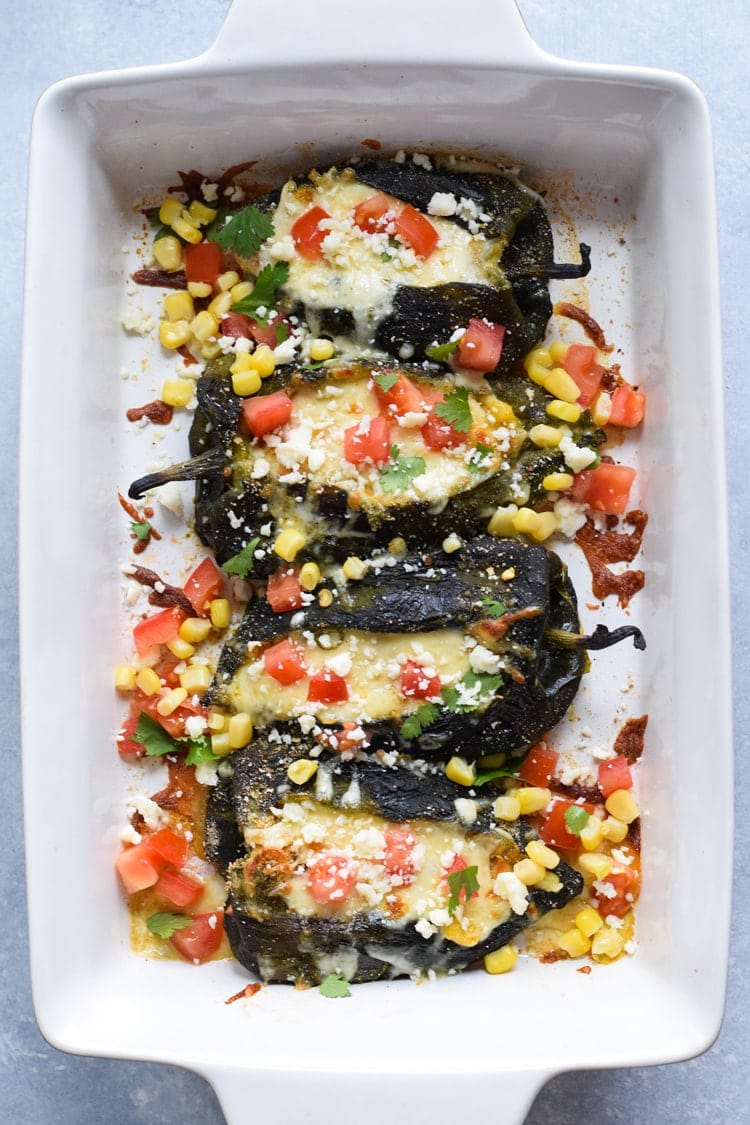 Once they're stuffed, bake them in a 350 degree oven for 15 minutes or until the cheese is bubbly and completely melted and eat up!
I topped them with some salty Cotija cheese, freshly diced tomatoes, plain Greek yogurt and cilantro.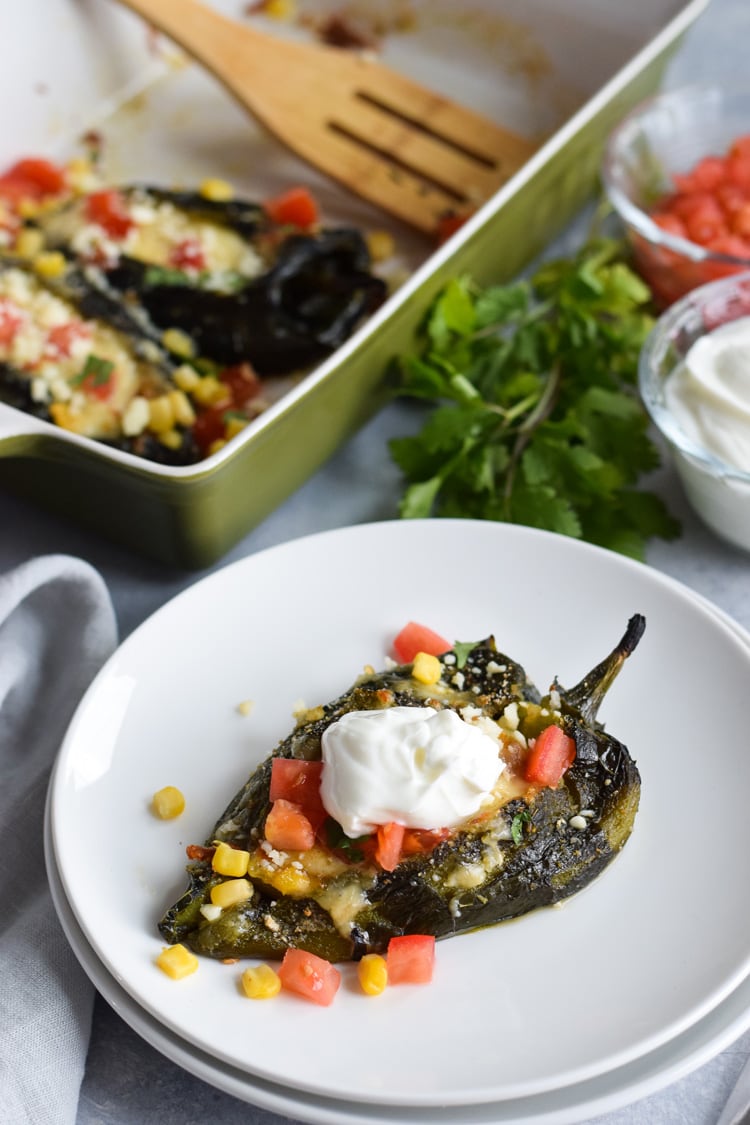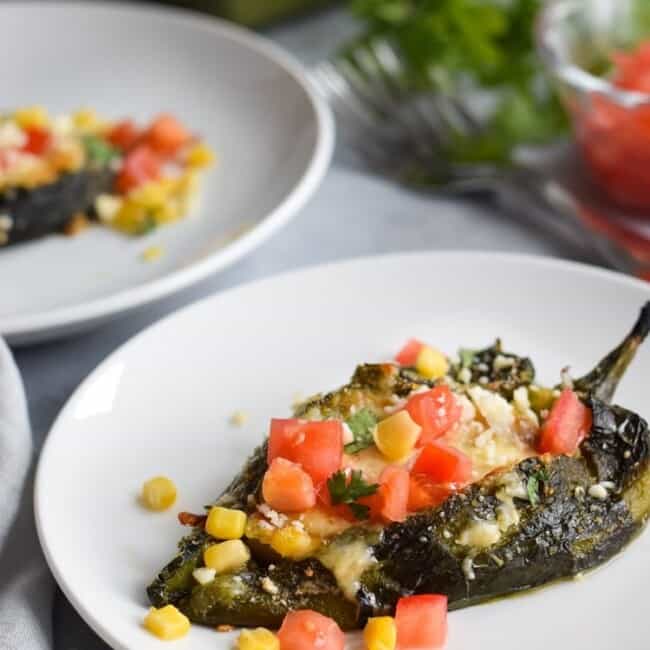 Prep: 15 minutes
Cook: 25 minutes
Total : 40 minutes
These Baked Chile Rellenos are a healthier version of the traditional Mexican stuffed poblanos – baked and filled with veggies and cheese!
Ingredients
6 large poblano peppers
2 4-ounce cans diced green chiles
1 pinch salt
1/4 teaspoon cumin powder
1/2 cup whole kernel corn
1 1/2 cups shredded chihuahua cheese, or other melty cheese like mozzarella
For topping
1/4 cup cotija cheese
2 roma tomatoes, diced
1/4 cup plain Greek yogurt, or sour cream
cilantro
Instructions
Place poblano peppers on a baking sheet and put in oven about 3 to 4 inches from the top. Turn broiler on high and broil for about 5 minutes until peppers are blackened.

Carefully turn the poblanos over on the baking sheet and place back in the oven for 5 more minutes to blacken the other side.


Remove from oven and turn the temperature dial to 350 degrees. Cover the baking sheet with foil. Let rest 10 minutes so peppers can "sweat."

While the poblanos are sweating, combine green chiles, salt, cumin powder and corn in a small bowl.

After 10 minutes, uncover the baking sheet and carefully work on removing as much of the blackened skin from the poblanos as possible. The poblanos will be very soft and delicate – just do the best you can. If you can't remove all the skin, that's okay.

Cut the poblanos lengthwise from stem to tip, leaving the stem intact. Remove the seeds and place in a greased 9×13‑inch baking dish (or two smaller baking dishes).

Carefully spoon green chile and corn mixture into each pepper. Fill each pepper with shredded cheese and bake in oven for 15 minutes or until cheese is bubbly and melted.

Top with crumbled cotija cheese, freshly diced tomatoes and a dollop of plain Greek yogurt or sour cream.
Nutrition Information
Serving: 1chile relleno Calories: 226kcal (11%) Carbohydrates: 11g (4%) Protein: 13g (26%) Fat: 14g (22%) Saturated Fat: 9g (45%) Polyunsaturated Fat: 0g Monounsaturated Fat: 3g Trans Fat: 0g Cholesterol: 45mg (15%) Sodium: 590mg (25%) Potassium: 392mg (11%) Fiber: 2g (8%) Sugar: 4g (4%) Vitamin A: 500IU (10%) Vitamin C: 16.5mg (20%) Calcium: 230mg (23%) Iron: 0.7mg (4%)