Poblano peppers are one of the most popular chile peppers used in Mexican cooking. They're mild and add lots of flavor without being overly spicy!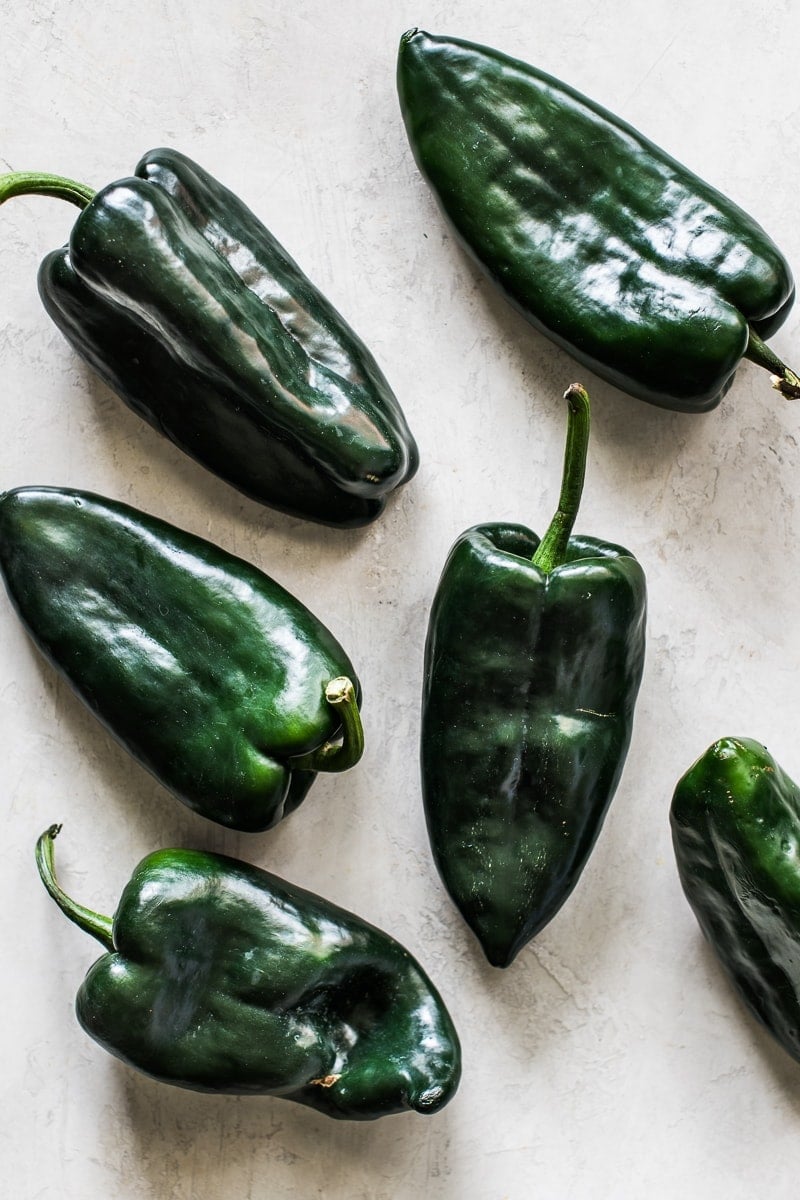 What is a poblano pepper?
Poblanos (pronounced poh-blah-nos) are mild chili peppers named after the Mexican state of Puebla where they were first grown. They're one of the most popular peppers used in Mexican and Tex-Mex cooking because they're not very spicy, but have a really great flavor, especially when roasted!
Poblanos are dark green in color, wide at the stem and narrow along the length of the pepper. When they're mature, they're about four inches long and two inches wide.
When left to fully ripen and dry out, the dehydrated and dried poblano peppers are called ancho chiles.
Both fresh poblanos and their dried counterparts are commonly carried in grocery stores throughout the United States. Fresh poblanos are typically found near all the other fresh produce, while whole dried ancho chiles are usually in the specialty hispanic foods aisle or in the spice aisle as ground ancho chili powder.
Are poblano peppers hot?
The poblano is a mild to medium-heat pepper measuring between 1,000 and 2,000 on the Scoville Scale. They're hotter than banana peppers but not as spicy as jalapeno peppers, which range between 2,500 to 8,000 Scoville Heat Units.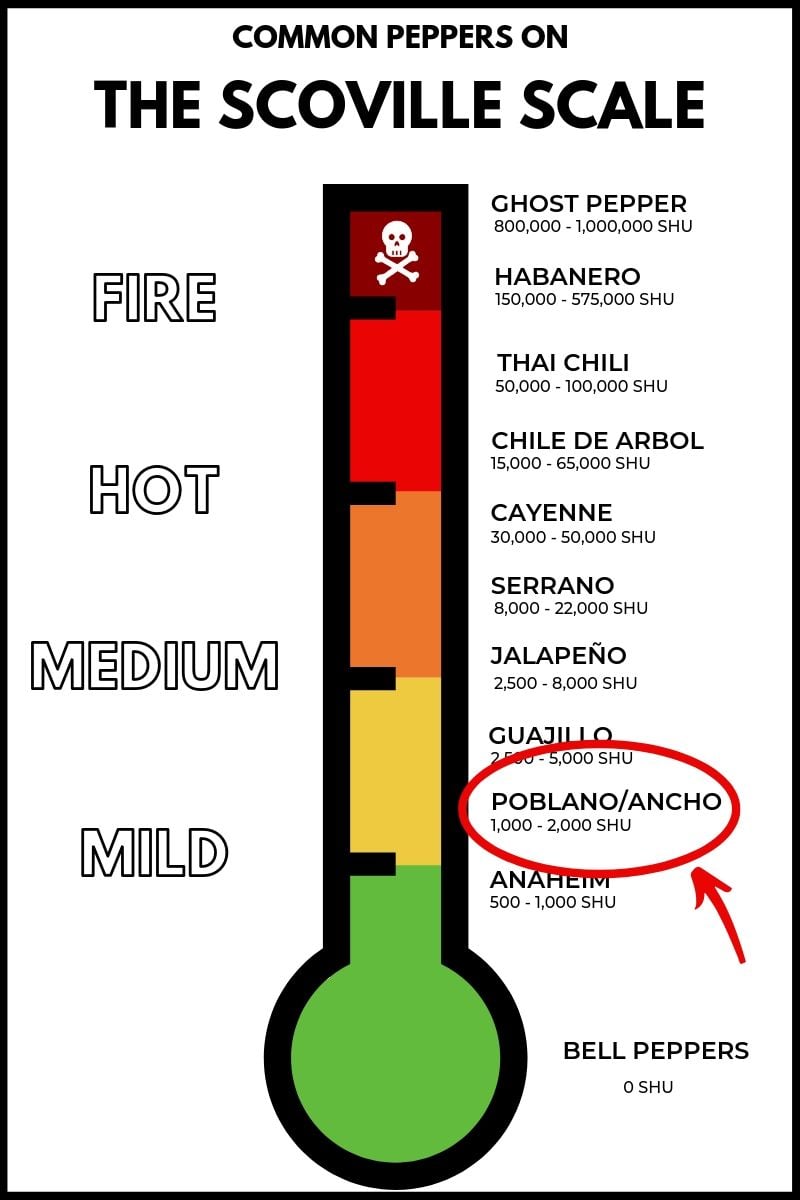 How to cook with poblanos
Think of poblanos as a "family-friendly" pepper that adds just a little kick to any dish. They're not nearly as spicy as many other chili peppers and as a result, they're a great way to introduce many people to popular Mexican meals.
You can eat the peppers raw, but they taste much better when cooked. They have a thin outer skin that can be difficult to chew which makes them great candidates for roasting.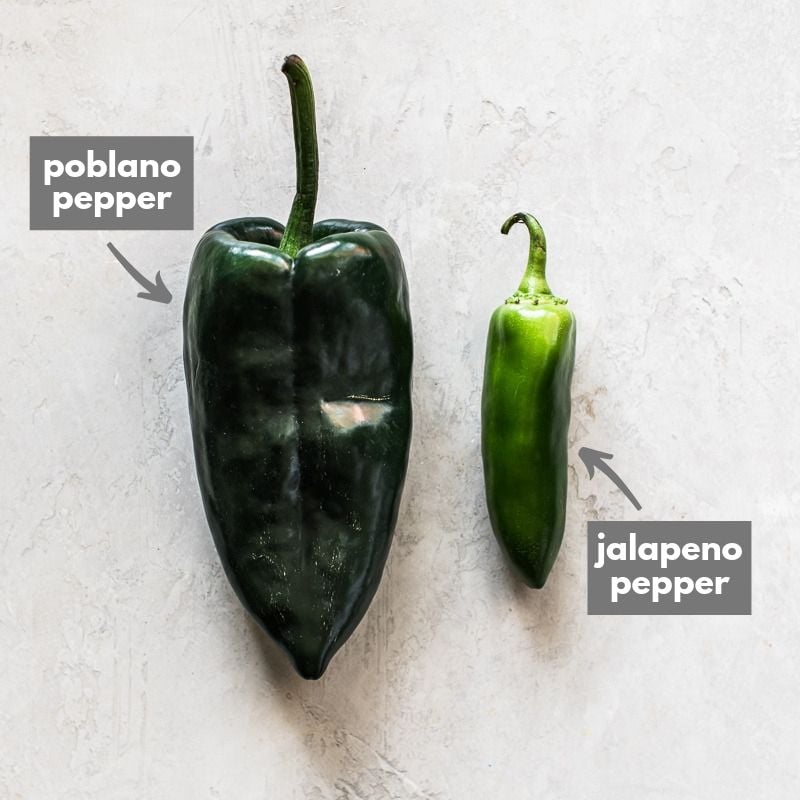 How to Roast Poblanos
A common way of preparing poblano peppers is to roast them. This brings out more of their fruity flavor, and roasting makes the skin easy to remove.
There are several easy ways to roast them. No matter which method you choose, allow your pepper skins to blacken.
Gas stove – place the peppers right over the flame of your gas stove
Broiler – using tongs to turn them, broil each side of the peppers
Skillet – char them over high heat
Grill – roasting peppers over charcoal creates a wonderful smoky flavor.
(View easy step-by-step photos and instructions on how to roast poblano peppers here.)
After the skin is blackened on all sides, place them in a plastic bag or cover them with with saran wrap to trap in some of the heat for a few minutes.
Then open the bag, remove the peppers, and rub the skins off as best as you can.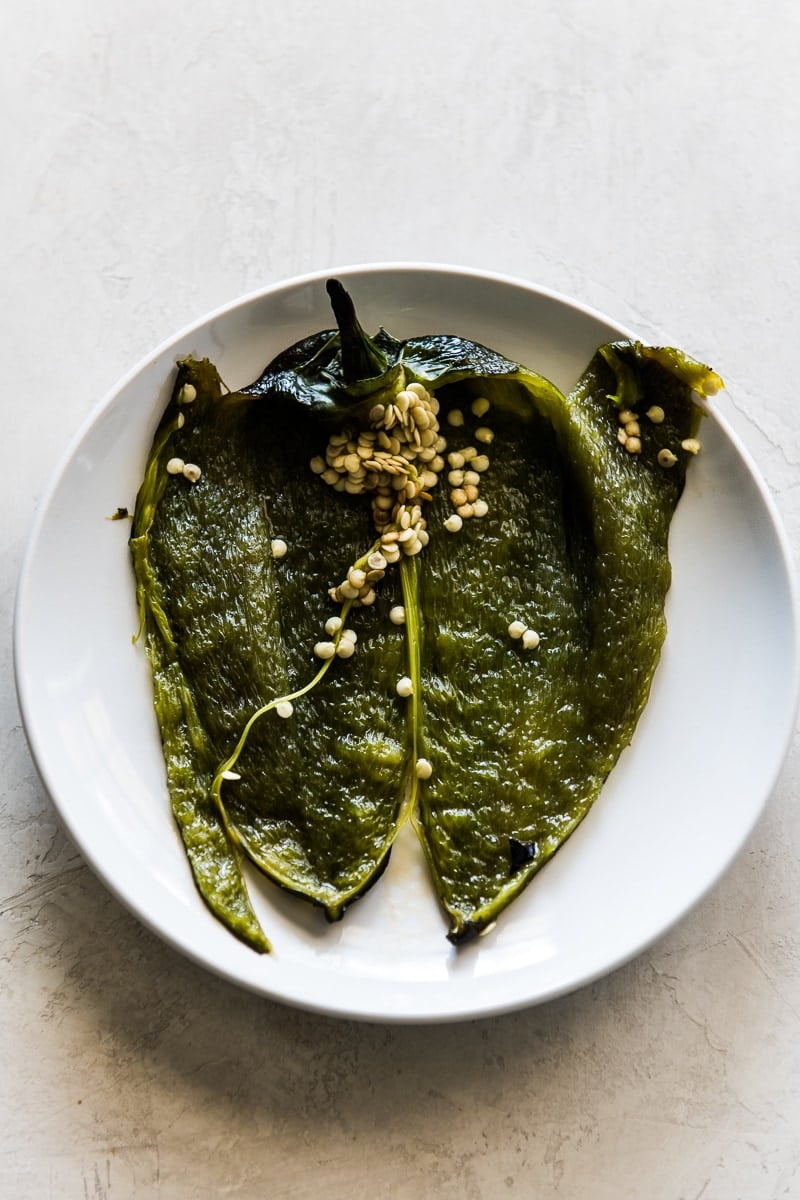 Poblano Pepper Recipes
One of the most popular Mexican recipes using poblanos is chile rellenos. In this dish, the peppers are stuffed with cheese, coated in an egg and flour mixture and then pan fried.
If you're looking for a non-fried version, here's a baked chile rellenos recipe that's a little healthier.
Poblanos can also be used in most dishes as a substitute for bell peppers if you're looking to add a little extra heat. Try incorporating them into some of your regular meals for a unique, slightly smoky flavor.
Here are a few recipes that feature poblano peppers:
Learn about other Mexican peppers