This Chili Chocolate Avocado Mousse is a decadent yet healthy dessert that only takes 5 minutes to make in the blender. Is also gluten free, paleo and vegetarian.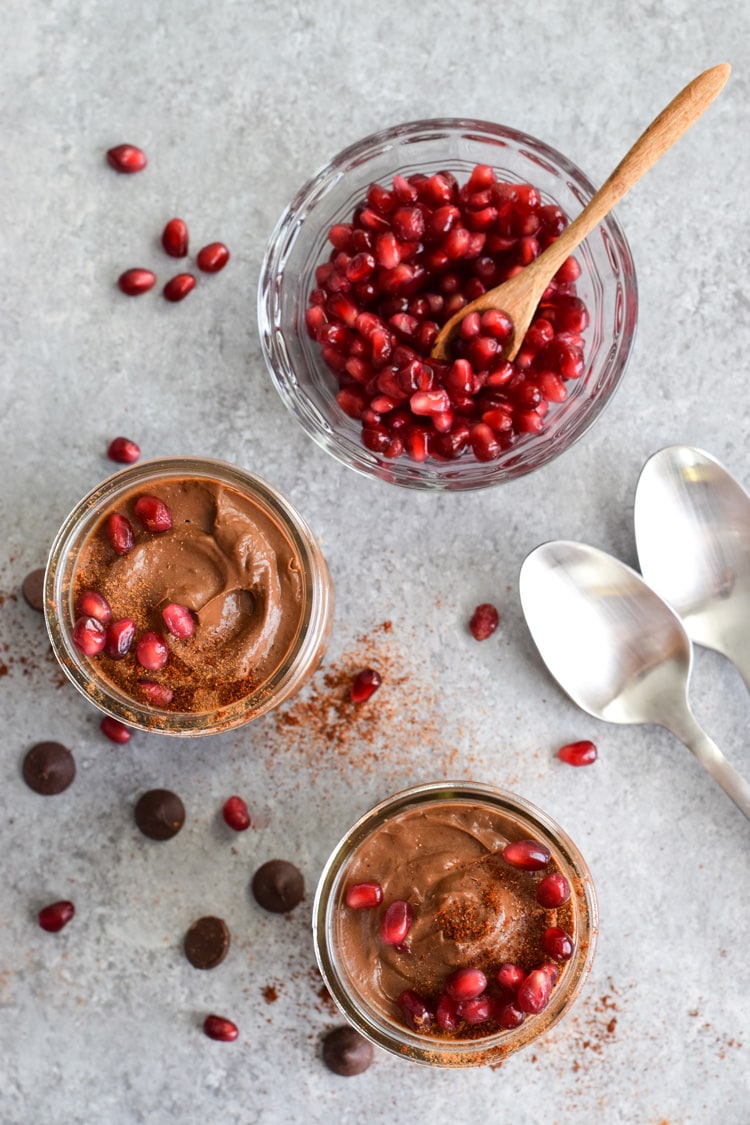 Are you celebrating Valentine's Day this year? I think I may have once or twice in my life, but that's pretty much it.
Wait – does elementary and middle school count? Because those were actually the best Valentine's Day celebrations. You bought the cool cards with your favorite characters on them, you passed them out to the whole class and left school with some candy. Yep, those were the good 'ol days.
It doesn't have to end though. Right? I mean, nobody is stopping me from buying cool Valentine's Day cards with puppies and kittens on them and passing them out to my favorite people.
Okay, I've convinced myself. I'm officially buying the cheesiest Valentine's Day cards and giving them to friends and family. Except this time, instead of candy, they're getting this chili chocolate avocado mousse.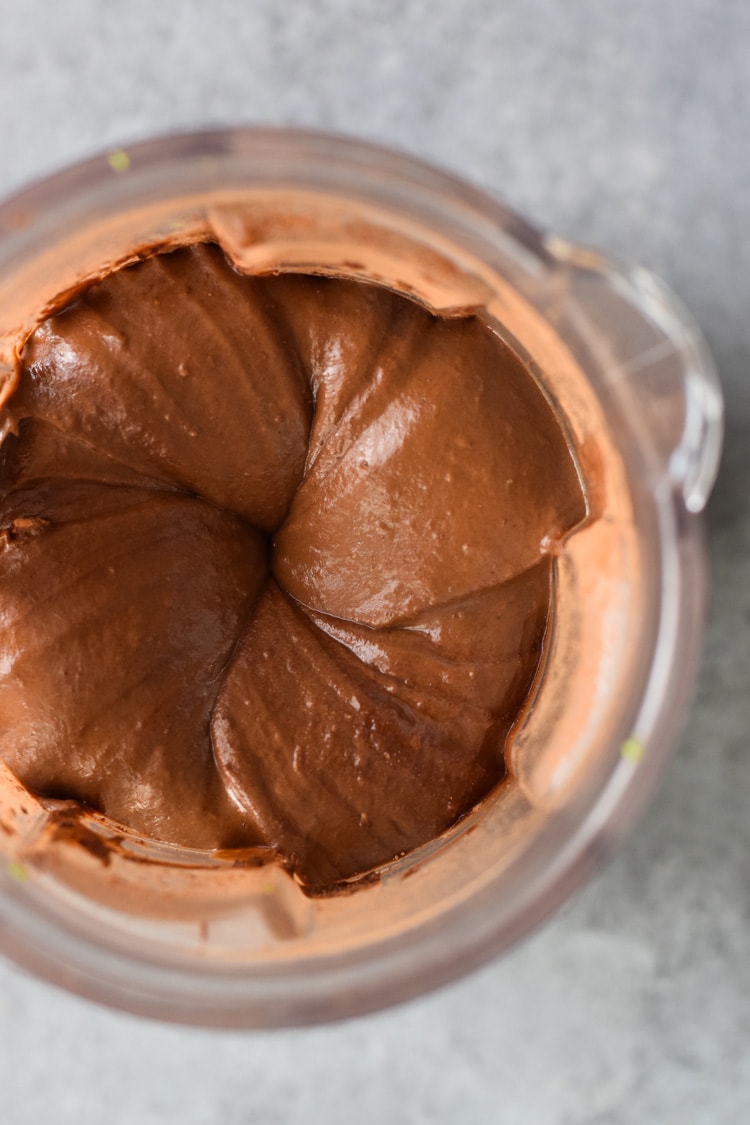 Say hello to your new favorite dessert.
The only kitchen tool you need is a blender, you most likely already have the ingredients (avocados, cocoa powder, chocolate chips, and some others) and it's literally ready to eat in 5 minutes as a chocolate pudding if you don't feel like waiting for it to thicken in the fridge.
Seriously the easiest dessert ever.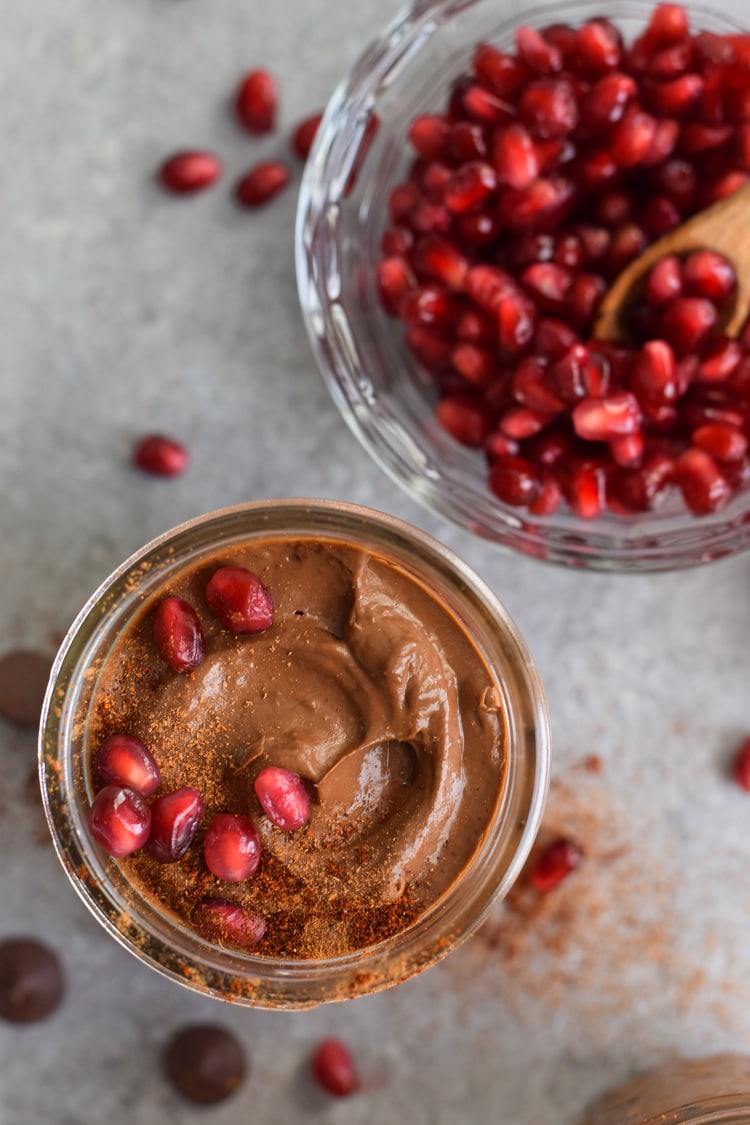 And since it's made with avocados, that means it's healthy, right?
Righhhht. That's my story and I'm sticking to it.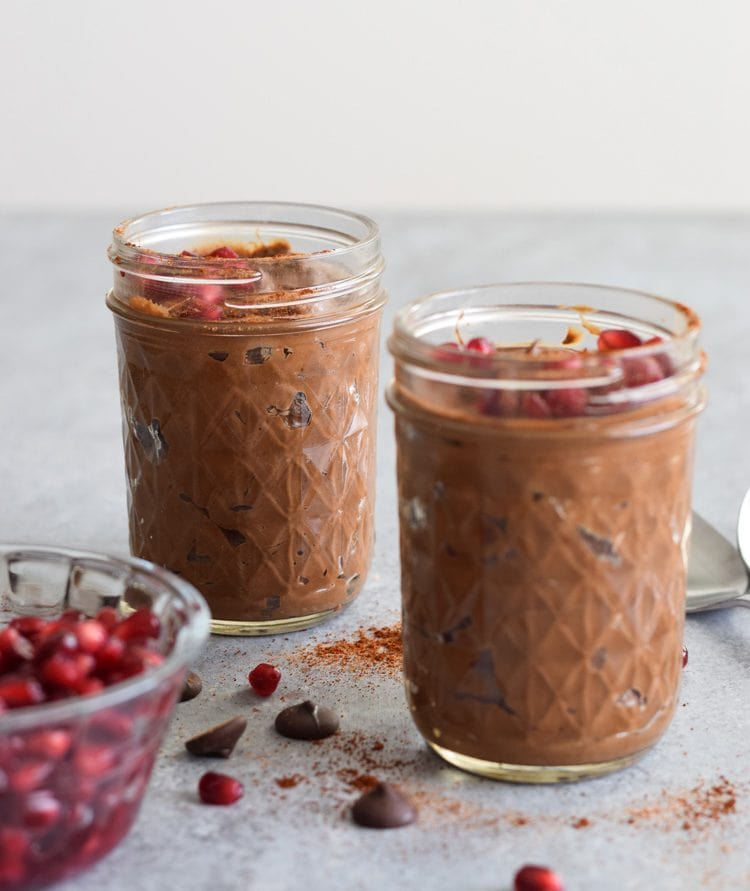 To give it a little Mexican flair, I added some ancho chili powder and cinnamon to the mixture as well as a sprinkling on top as garnish. To give it a beautiful pop of color, I served it with pomegranate seeds, but if you don't have any, you can serve it with any other fruit that goes well with chocolate.
strawberries
blueberries
blackberries
raspberries
bananas
cherries
apples
Ooh, or maybe some shaved coconut? Okay, you get the idea. 🙂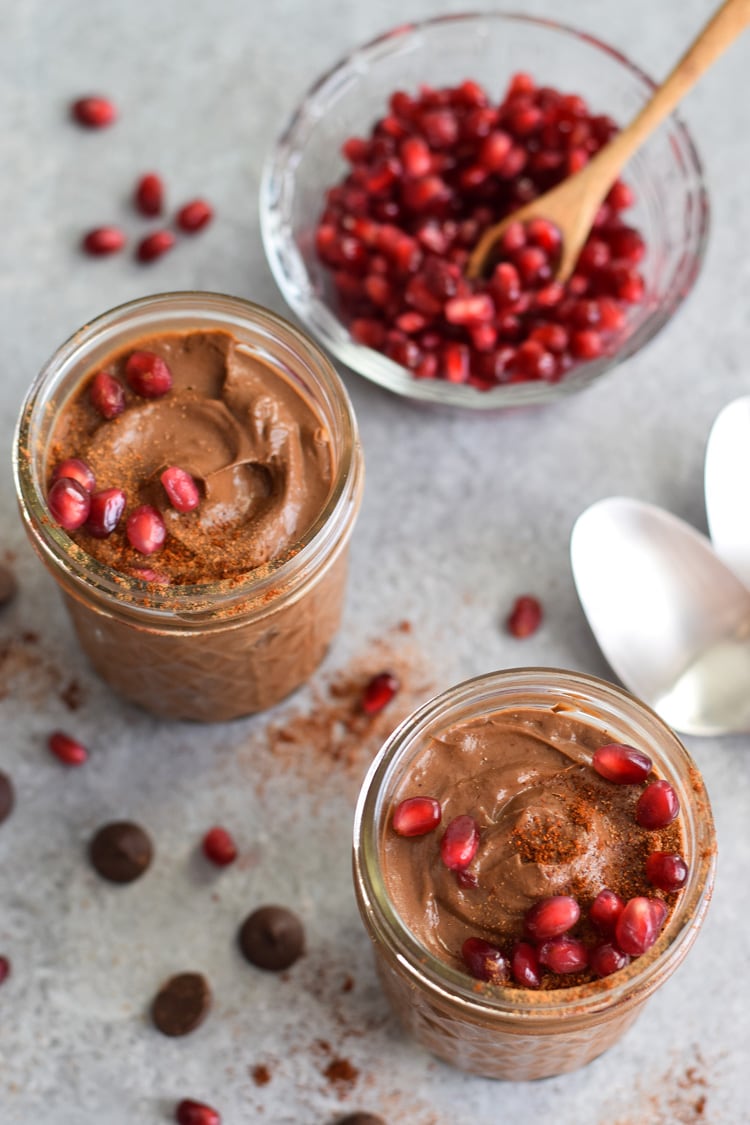 INGREDIENTS
2

large

ripe avocados

1/2

cup

milk chocolate chips

1/4

cup

unsweetened cocoa powder

1/4

cup

almond milk

1

teaspoon

pure vanilla extract

1

teaspoon

honey

1/8

teaspoon

 coarse sea salt

1

teaspoon

ground cinnamon,

divided

1

teaspoon

ancho chili powder,

divided

For serving: pomegranate seeds
INSTRUCTIONS
Place the chocolate chips in a microwave safe bowl. Microwave in 30 second increments, stirring between each and watching carefully so that the chocolate does not burn. When the chocolate is almost completely melted, remove it from the microwave and stir until smooth. Set aside.

Halve and pit the avocados. Scoop the avocado flesh into a blender and add the melted chocolate, cocoa powder, almond milk, vanilla extract, honey, salt, 1/2 a teaspoon of ancho chili powder and 1/2 a teaspoon of ground cinnamon. Blend until smooth.

Scoop mousse into 2 8-ounce glasses or 4 small bowls. Enjoy immediately as a pudding or cover and refrigerate for 2 hours to achieve a thicker and creamier mousse texture.

Top with pomegranate seeds, remaining ground cinnamon and chili powder.
Did you make this recipe?
Leave a comment below and tag @isabeleats on social media!
This page contains affiliate links. If you make a purchase on Amazon after clicking one of my links, I may receive a small commission. The price of the item stays the same and any money I make goes to supporting this blog. I only endorse products and services that I fully believe in.
Free Monthly Meal Planner
Plan your meals, stay organized and take the guesswork out of grocery shopping every week with my free monthly meal planner printable! Just subscribe to the Isabel Eats newsletter to get it today!