Jump to Recipe
Holiday Chocolate Crinkle Cookies with a twist! Made with Mexican chocolate, these festive cookies are soft, chewy and covered in powdered sugar.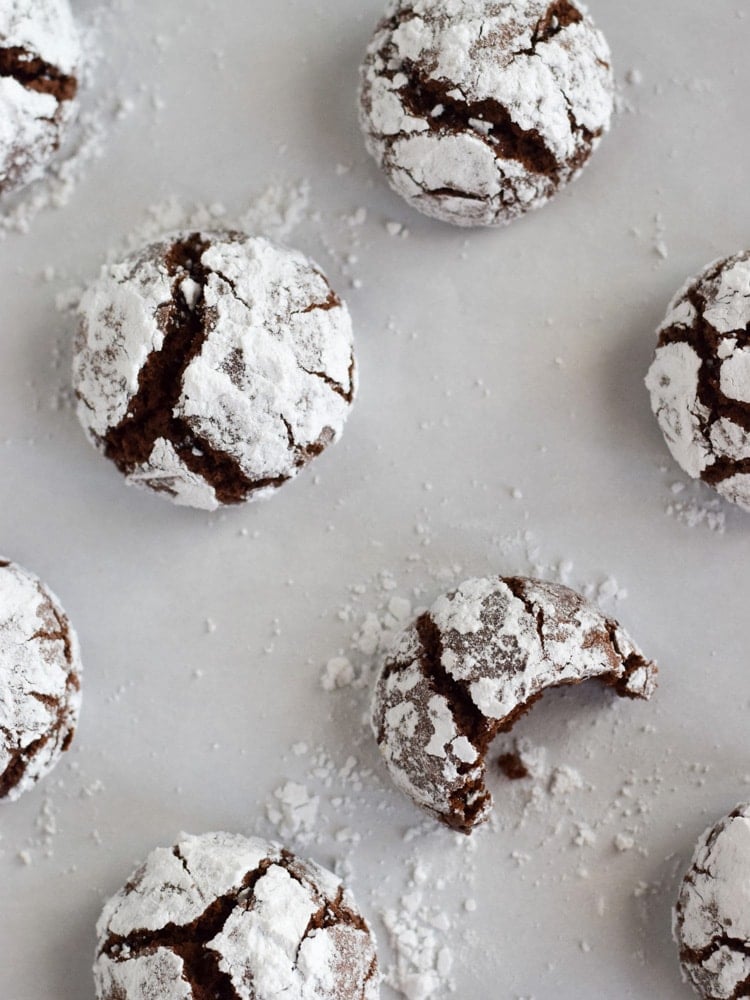 I'm ashamed to admit this, but this is my FIRST holiday cookie recipe of the year! And Christmas is only a few days away!
I'm such a bad food blogger. You'd think that I'd be all about the online cookie swaps, the cookie exchanges, the cookie parties, but alas, I am not. Since baking doesn't come easily to me, it takes a significant amount of effort for me create a recipe that actually works. Fortunately, these chocolate crinkle cookies only took me two tries to get them exactly how I wanted them. I call that a win in my book.
Related: 12 Mexican Christmas Recipes to Make This Year
Chocolate Crinkle Cookies – Mistakes to avoid
Mistake #1: I accidentally used orange extract instead of vanilla extract. The taste wasn't bad, but it wasn't what I envisioned.
Mistake #2: I didn't add enough chocolate. I used one full tablet of Abuelita Mexican Chocolate and didn't use cocoa powder at all. While it sounds good in theory, I forgot that Abuelita Mexican Chocolate isn't just cocoa powder, but also contains coarse sugar, cinnamon and other spices that give it a nice Mexican twist. So while I knew I wanted to include some, I still needed to play around with the total amount.
Mistake #3: The cookies were too big. I used an ice cream scoop which was about twice as big as I wanted them. They ended up melting together in the pan and forming one big cookie monster. Not a terrible thing, but not exactly cute little crinkle cookies.
And yet, after all those mistakes, I still ate them. #NoCookieLeftBehind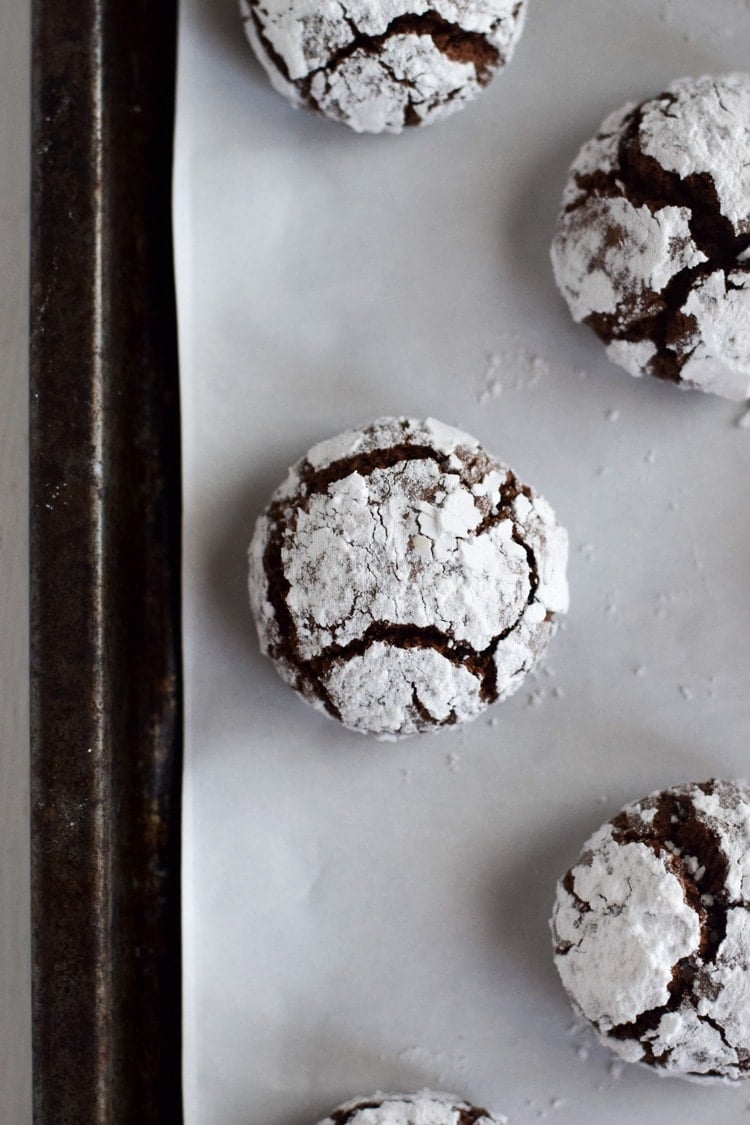 Ingredients in Chocolate Crinkle Cookies
butter
granulated sugar and powdered sugar
Mexican chocolate and unsweetened cocoa powder
eggs
vanilla extract
all purpose flour, baking powder, salt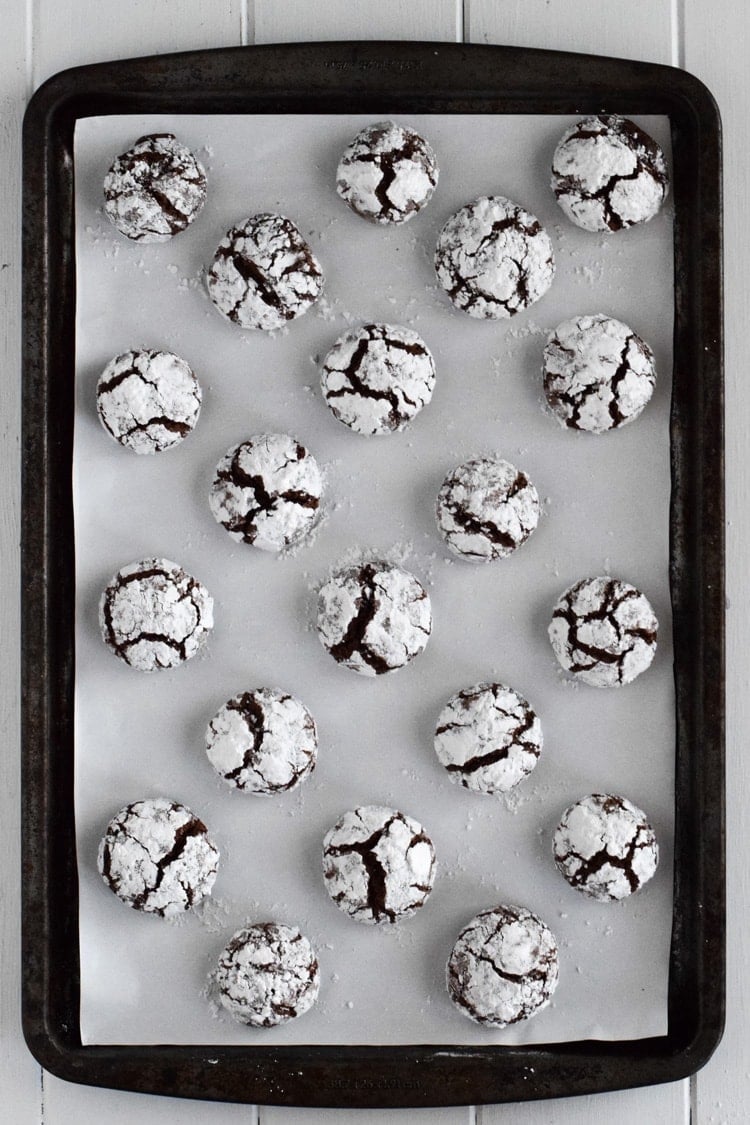 My favorite Mexican chocolate
While you could make these chocolate crinkle cookies with normal cocoa powder, I highly recommend using some Abuelita Mexican chocolate if you can. It has a very granular texture with coarse sugar and spices mixed throughout that really give it a unique flavor.
It's normally found in your grocery store's Hispanic Foods section, but if you can't find it there, try looking in the hot chocolate section. If you prefer shopping online, you can easily find it on Amazon here.
It's normally used to make hot chocolate, but my Mom uses it to make various sauces like mole. Here are a few recipes that I've made using Mexican chocolate: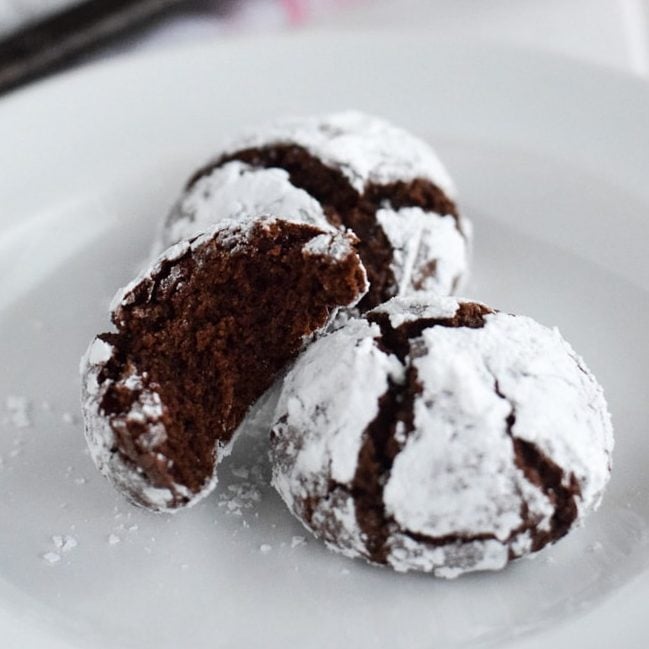 Happy holidays! I hope you enjoy this recipe as much as I do!
More recipes to try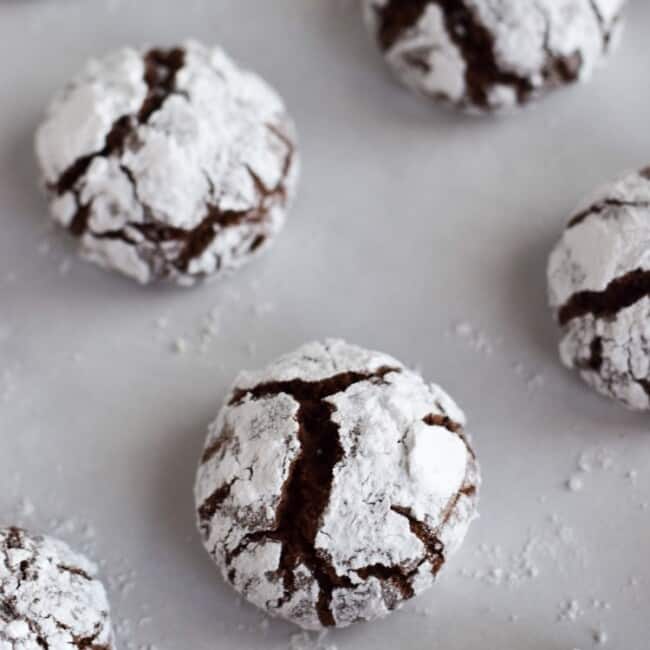 Prep: 1 hour 20 minutes
Cook: 10 minutes
Total : 1 hour 30 minutes
Holiday Chocolate Crinkle Cookies with a twist! Made with Mexican chocolate, these festive cookies are soft, chewy and covered in powdered sugar.
Ingredients
1/4 cup unsalted butter melted
1/2 cup granulated sugar
1/2 disc (46 grams) Mexican Chocolate, ground into a powder in a blender (I used Abuelita brand)
1/4 cup 100% unsweetened cocoa powder
2 large eggs
2 teaspoons vanilla extract
1 cup all-purpose flour
1 teaspoon baking powder
1/2 teaspoon salt
1 cup powdered sugar, for coating the cookies
Instructions
In a large bowl, add the butter, white sugar, ground Abuelita Mexican Chocolate disc and unsweetened cocoa powder. Beat on medium speed with a handheld mixer (or whisk together) until fully combined. 

Add in the eggs one at a time followed by the vanilla extract, beating each until combined. Then add in the flour, baking powder and salt and mix together with a fork until combined and the mixture has formed a dough.

Form the dough into a large ball and cover it completely with a sheet of plastic wrap or place it in a bowl and cover it it with a towel. Refrigerate for 1 hour until completely chilled through.

After 1 hour, preheat the oven to 350 degrees. Line a large cookie sheet (or two smaller cookie sheets) with parchment paper. Add the powdered sugar into a small bowl.

Remove the dough from the fridge and using a tablespoon measure, grab a heaping tablespoon of the dough and form it into a ball. Roll the ball in the powdered sugar until it is completely covered and place it on the cookie sheet. Do this until about 24 cookies are formed.

Bake for 10 minutes, remove from oven and let the cookies cool on the baking sheet until they reach room temperature. Serve and enjoy!
Nutrition Information
Serving: 1cookie Calories: 90kcal (5%) Carbohydrates: 15g (5%) Protein: 11g (22%) Fat: 3g (5%) Saturated Fat: 2g (10%) Cholesterol: 16mg (5%) Sodium: 565mg (24%) Potassium: 7mg Fiber: 1g (4%) Iron: 0.2mg (1%)