Jump to Recipe
Ready in only 15 minutes, this Roasted Broccoli is tossed in a chili garlic sauce and topped with Parmesan cheese for a healthy and delicious veggie side dish!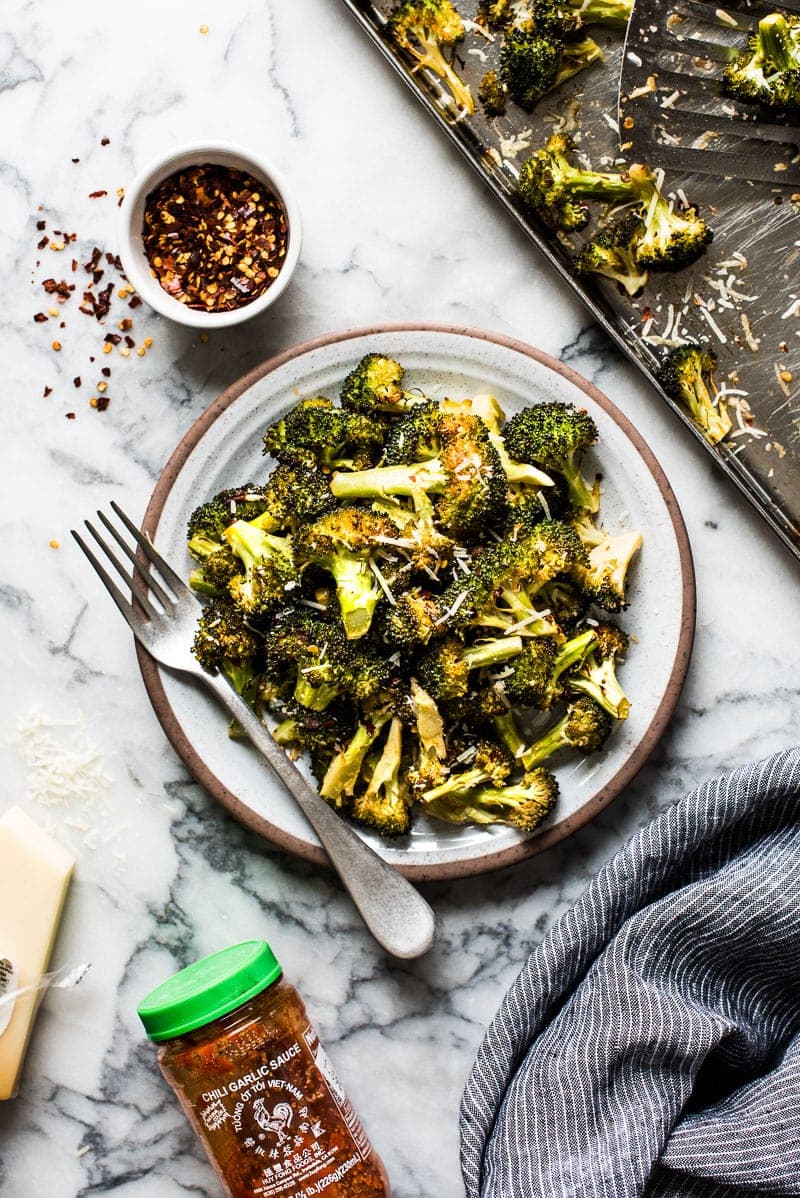 If you're trying to eat a little healthier and add some more veggies into your diet, but you don't want to your food to be boring and bland, then this oven roasted broccoli recipe is for you!
Broccoli and other cruciferous vegetables tend to get a bad rap. People think they're flavorless and dull and just plain gross, but you know what I think?  I think people just aren't cooking them the right way!
I think veggies like broccoli, cauliflower and brussels sprouts are best when roasted. Not only does it help bring out some of the natural sweetness of the veggies, but it also adds a great crispy texture that everyone loves. Roasting veggies is always the way to go.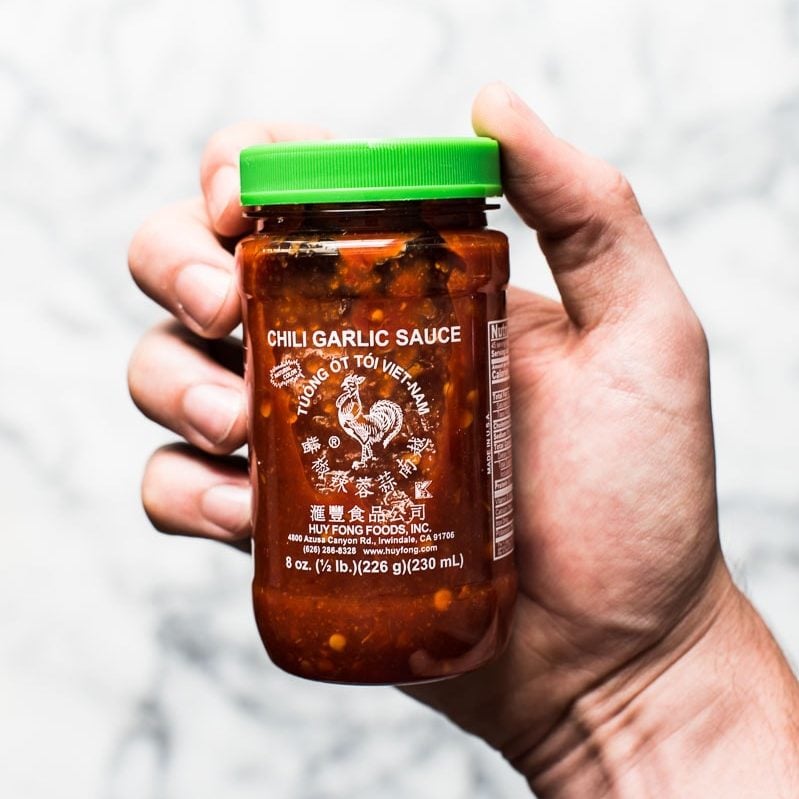 The secret ingredient
In addition to roasting your broccoli, adding in some flavorful spices and sauces will go a long way to making sure your veggies are irresistibly good.
One of my favorite ingredients to use on veggies is this chili garlic sauce from Huy Fong Foods. It's basically just a mixture of red chiles, lots of garlic, salt and some vinegar. You've probably seen the bottle with its bright green lid in the ethnic aisle at your local grocery store. Don't pass it up next time! It's available in so many stores across the country and it's something that I always have in my fridge.
For this recipe, I tossed the broccoli in a tablespoon of the red chile sauce as well as some olive oil, salt and a little Parmesan cheese because everything is better with cheese. 🙂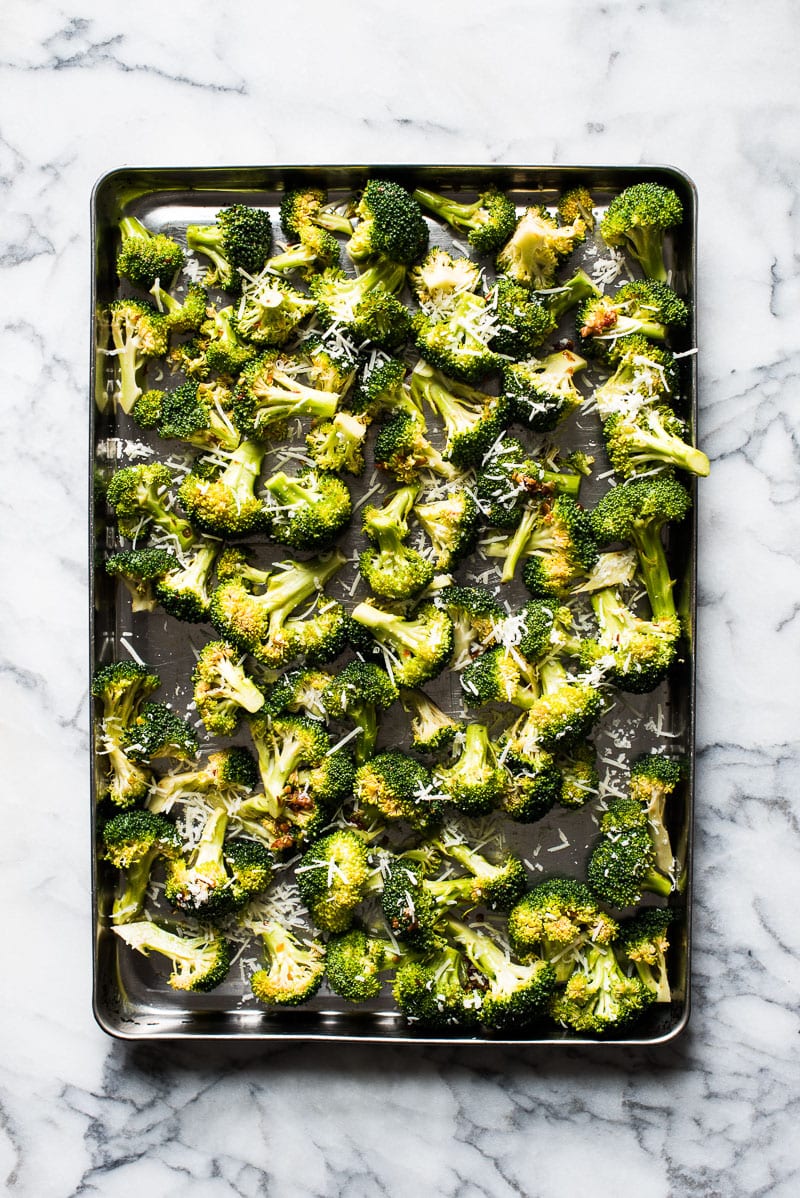 The best way to roast broccoli
I'm a big fan of roasting vegetables on high heat, especially broccoli. Not only do the veggies cook faster, but the high heat gives the broccoli tops that crispy crunchy texture that makes roasted veggies way better than their steamed counterparts.
For this recipe,  I roasted the broccoli at 475°F for 10 to 15 minutes. I recommend flipping them halfway through cooking so they roast evenly and don't burn.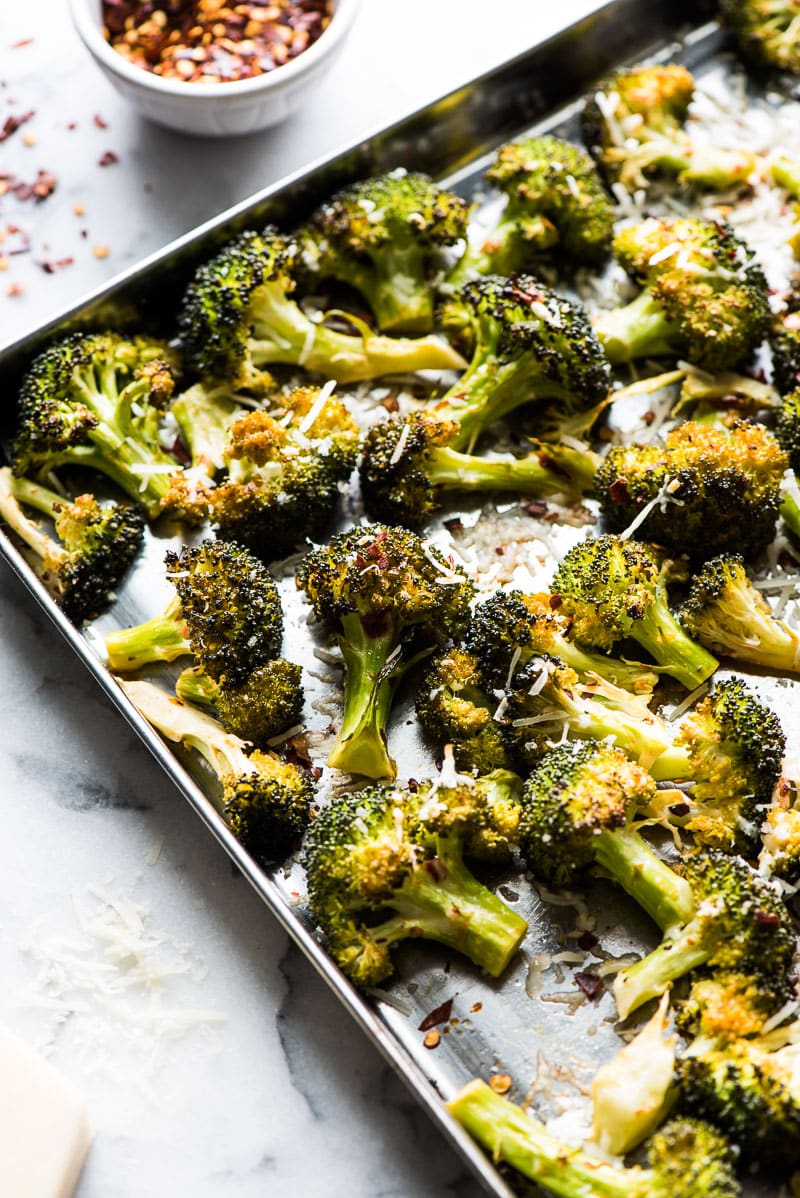 Once the broccoli is roasted to perfection, I like topping them with a little more Parmesan cheese and some red pepper flakes for some added heat.
If you're not a big fan of spicy food or if you're wanting to modify this recipe to serve to little kids, simply omit the chili garlic sauce to make it kid-friendly!
More healthy recipes you'll love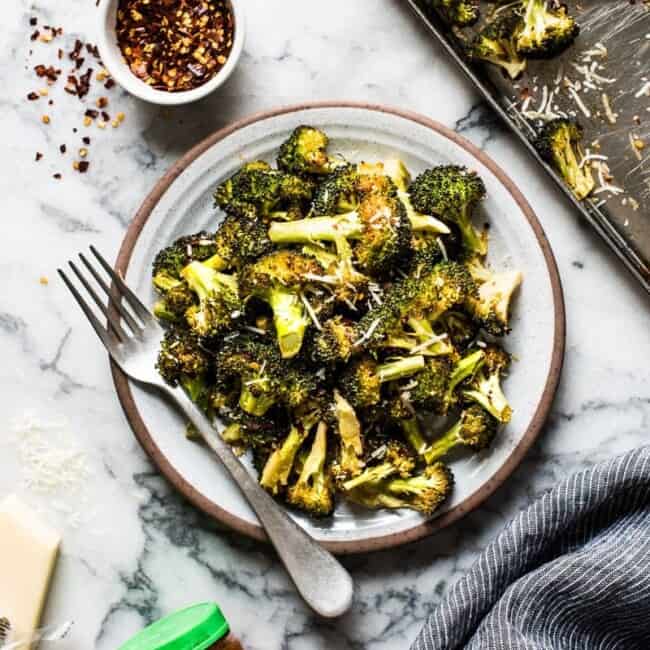 Prep: 5 minutes
Cook: 10 minutes
Total : 15 minutes
Ready in only 15 minutes, this Roasted Broccoli is tossed in a chili garlic sauce and topped with Parmesan cheese for a healthy and delicious veggie side dish!
Ingredients
8 cups fresh broccoli florets (about 2 large heads)
3 tablespoons olive oil
1 tablespoon chili garlic sauce
1/4 teaspoon kosher salt
1 lime, juiced
3 tablespoons freshly shredded Parmesan cheese
red chili flakes, for topping *optional*
Instructions
Preheat oven to 475°F.

In a large bowl, add broccoli, olive oil, chili garlic sauce, salt and lime juice. Toss together to fully coat the broccoli.

Transfer to a baking sheet and sprinkle with shredded Parmesan cheese. Bake for 10-15 minutes, flipping the broccoli over halfway through cooking.

Remove from oven, top with more Parmesan and red chili flakes if desired and serve.
Nutrition Information
Serving: 1/6th of recipe Calories: 112kcal (6%) Carbohydrates: 6g (2%) Protein: 2g (4%) Fat: 7g (11%) Saturated Fat: 1g (5%) Polyunsaturated Fat: 1g Monounsaturated Fat: 5g Trans Fat: 0g Cholesterol: 2mg (1%) Sodium: 109mg (5%) Potassium: 367mg (10%) Fiber: 3g (12%) Sugar: 3g (3%) Vitamin A: 0IU Vitamin C: 57.8mg (70%) Calcium: 60mg (6%) Iron: 0mg