This Healthy Sheet Pan Sausage and Veggies recipe is easy, delicious and perfect for meal prep. It's gluten free, dairy free, paleo and Whole30.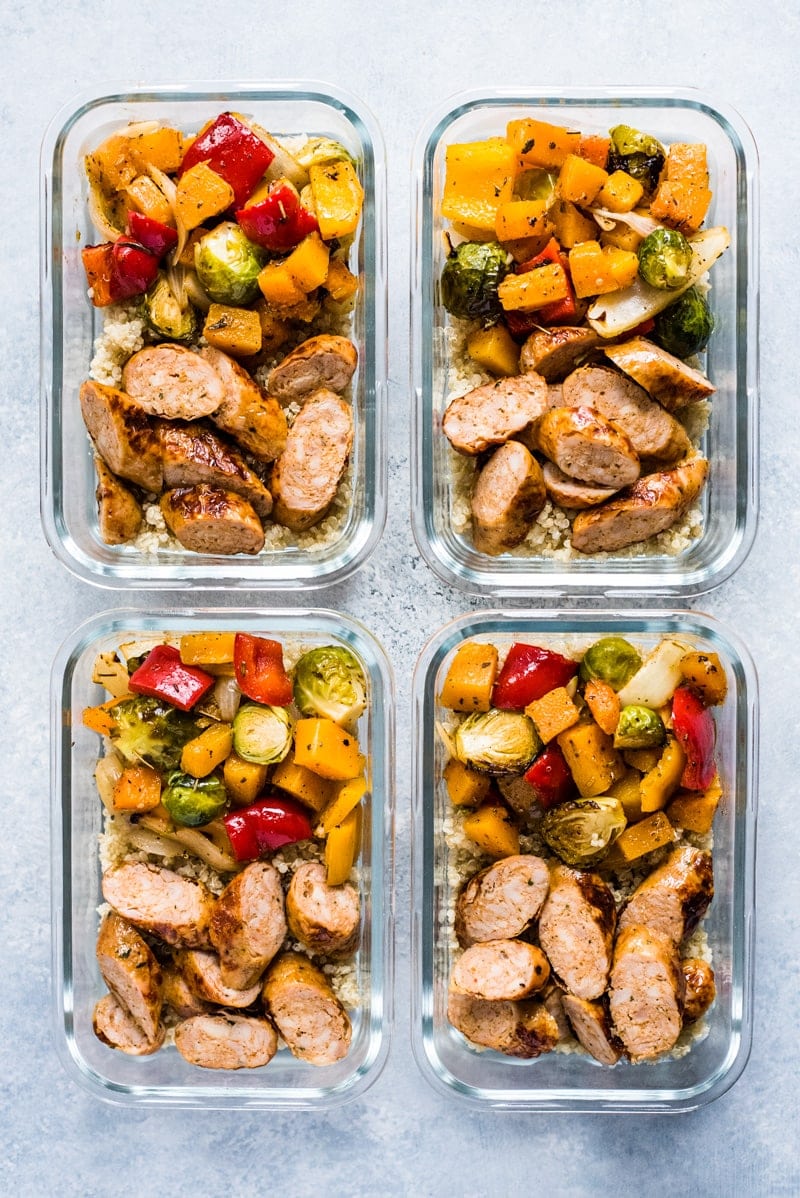 Today's Healthy Sheet Pan Sausage and Veggies recipe is sponsored by Premio Foods, but my love for their high-quality sausages is completely my own!
I don't know exactly when it happened, but I'm officially "into" meal prep.
Whaaa? Who am I? I even had to do a double take myself to make sure it was really me.
Here's some background: I used to despise meal prep for some reason. (I know despise is a strong word, but after consulting my handy dandy Word thesaurus, hate, loathe and abhor are just as strong, so I'm just going to go ahead and stick with despise.)
I had this idea in my head that prepping food for the week meant eating boring and bland meals Monday-Friday. I thought it would take the fun out of cooking and make me hate lunch time. But you know what?
I was totally wrong!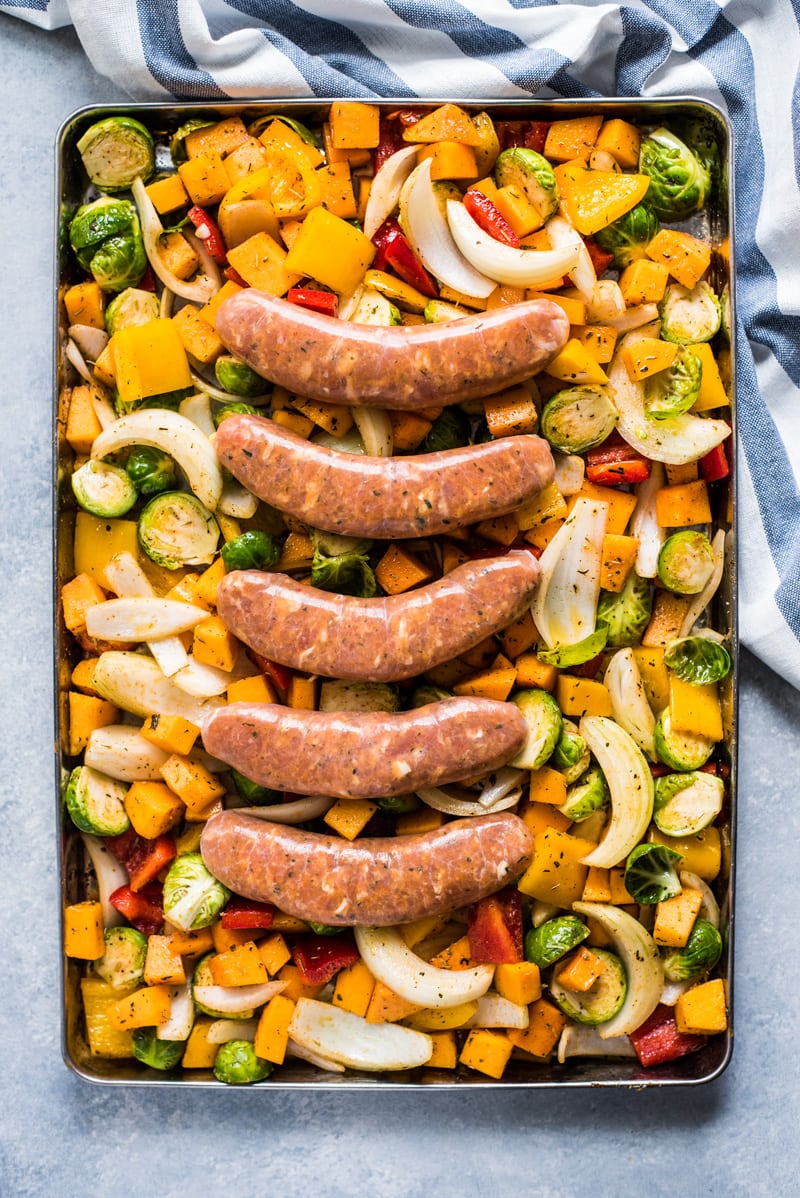 Meal prep is totally what you make of it. If you cook boring and bland food, then your lunches are going to be boring and bland. Luckily, I think my food and the ingredients I use are super flavorful so I don't have to worry about this one. ?
Second, having food ready to go is such a time saver and stress reliever. Getting home from work at 5:30/6:00pm and having no idea what to cook for dinner can be stressful, especially if you have a family to feed. Heck, even I get stressed about dinner and I'm a food blogger! But meal prepping or even just having your ingredients prepped can help everything go more smoothly.
Last but not least, you're more likely to make better food choices, especially if you prep healthy and colorful meals like this sheet pan sausage and veggies recipe.
So if you've been on the fence, don't be. Jump right in!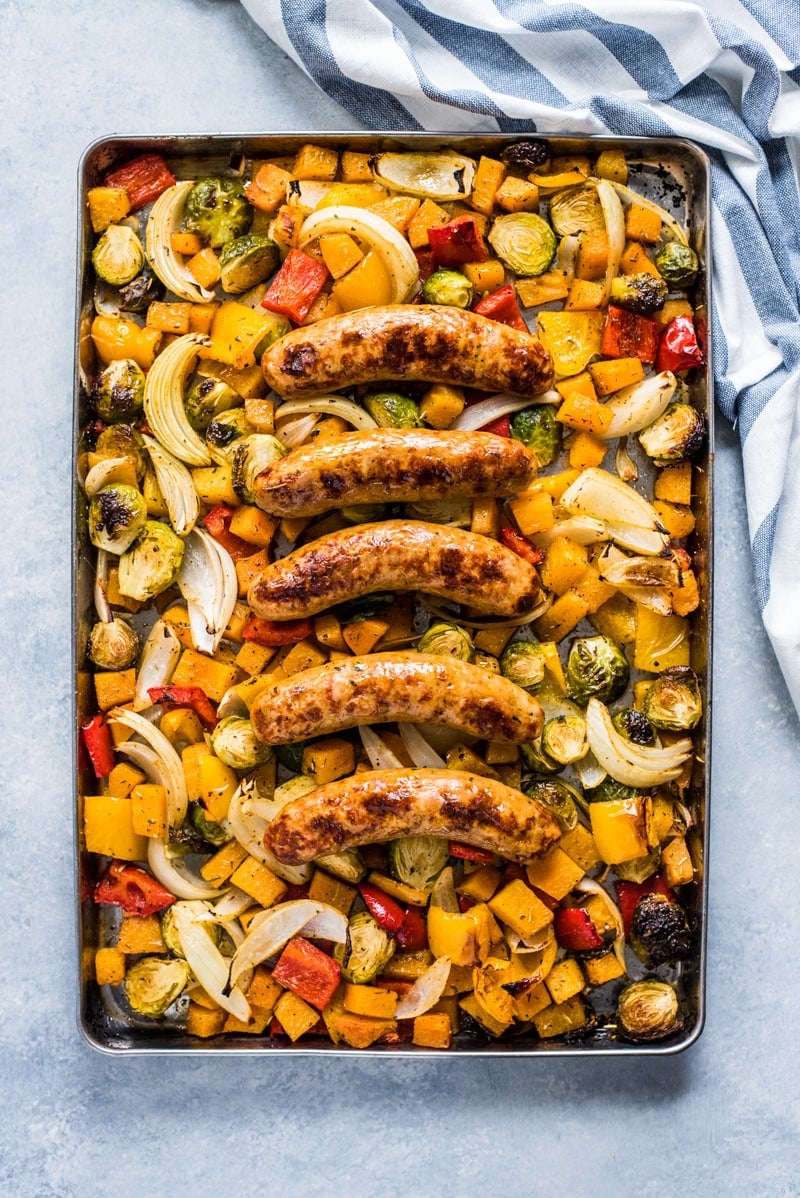 I think the process of meal prepping should be easy from start to finish, which is why I'm in love with sheet pan meals.
This recipe is filled with tons of colorful veggies like red and yellow bell peppers, Brussels sprouts and butternut squash tossed in some olive oil. I also used lots of good herbs and spices like chili powder, sage and more. If you like prefer your food spicy like I do, I recommend doubling the amount of chili powder you use. I'm a big advocate for more chili powder!
I paired the veggies with Premio's Hot & Spicy Italian Chicken Sausage to add even more amazing spicy flavors. One of my favorite things about Premio is that they're completely fresh with no fillers, preservatives, artificial flavors, nothing. Just. Real. Food. Plus, this chicken sausage is perfect for healthy meal prepping and is also dairy free, gluten free, soy free and nut free. Total win in my book!
Because the sausages are fresh, you don't have to worry about them getting dry and overcooked like you would if you used precooked sausage. These babies stay juicy and flavorful.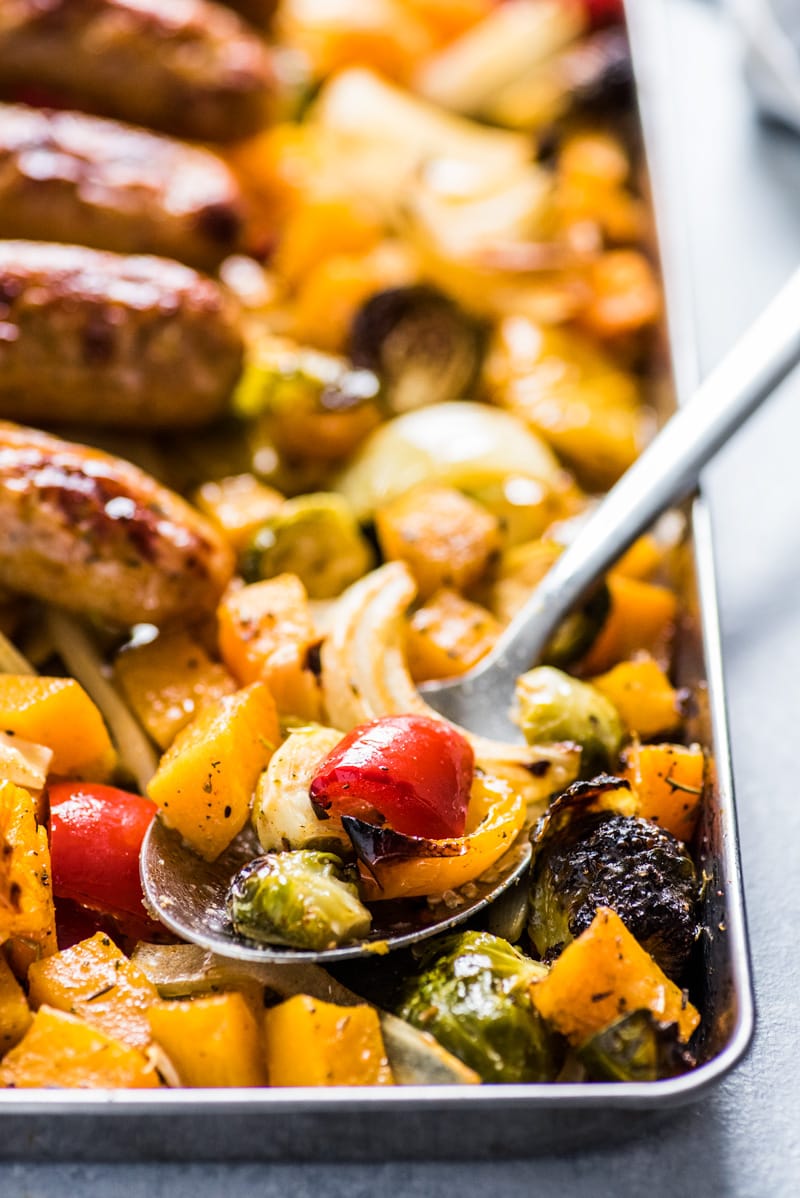 Everything is cooked in one pan, so all you have to do is place the sausages on top of the veggies and bake everything in the oven for 15 minutes, turn the sausages over and cook for another 15 minutes.
To make things even easier, I bought pre-cut butternut squash because cutting a whole squash is one of my least favorite things to do in the kitchen. It's never an easy process and I almost cut myself every time.
This is a pretty much a no-fail recipe! Just make sure that the veggies are all roughly the same size so they cook evenly and you're good to go.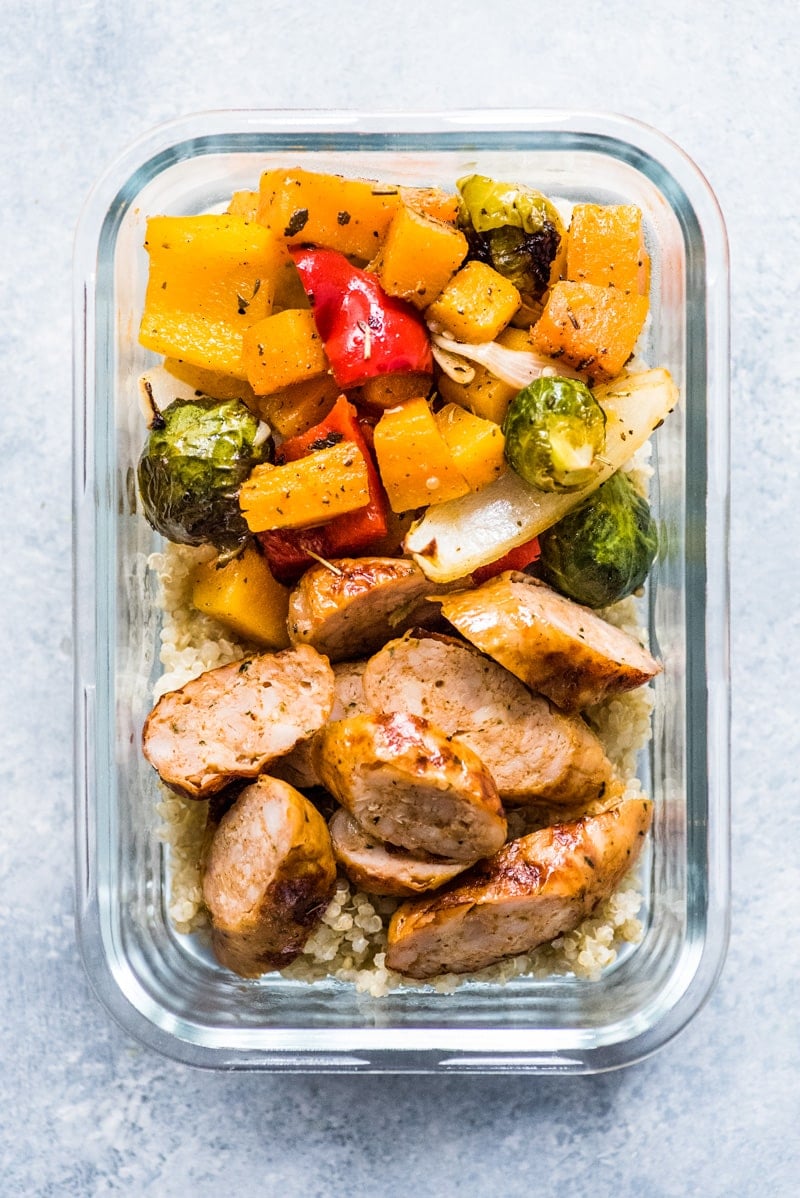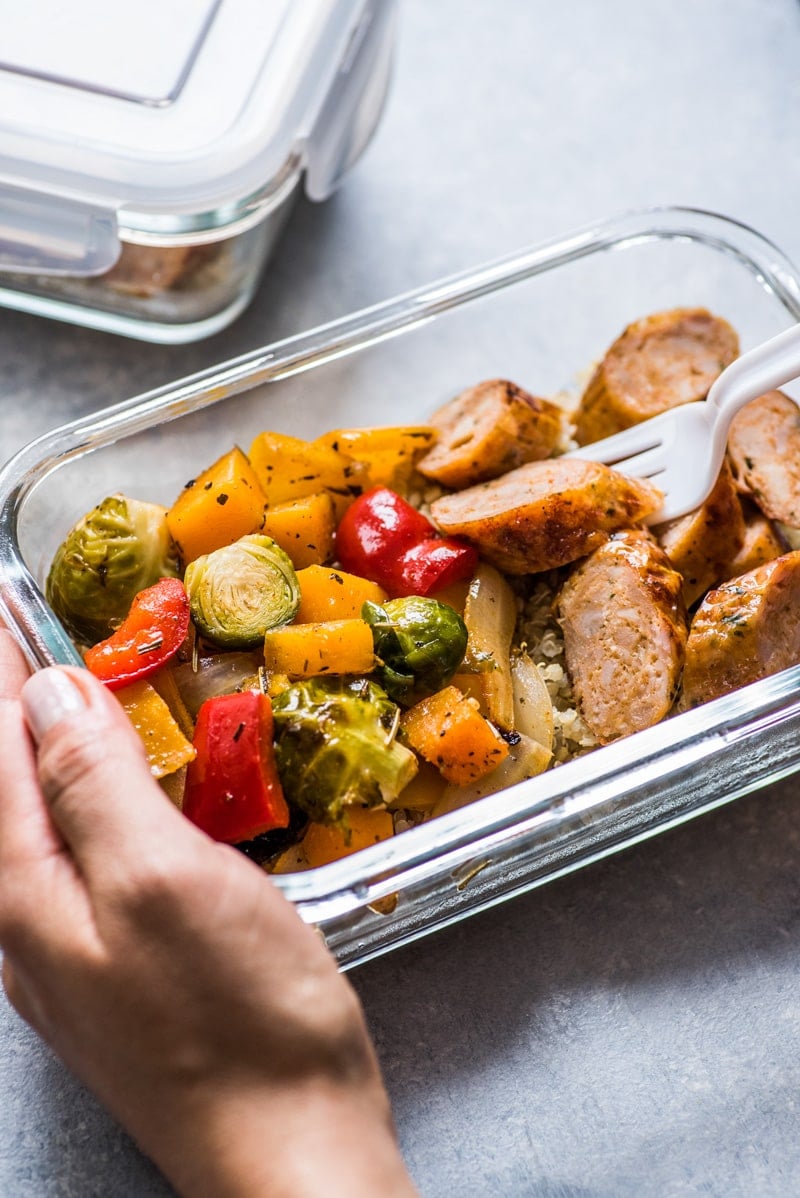 To serve, I paired everything with some plain cooked quinoa, but if you're paleo or trying to stay lower carb, you can serve it without or make some cilantro cauliflower rice.
Happy meal prepping!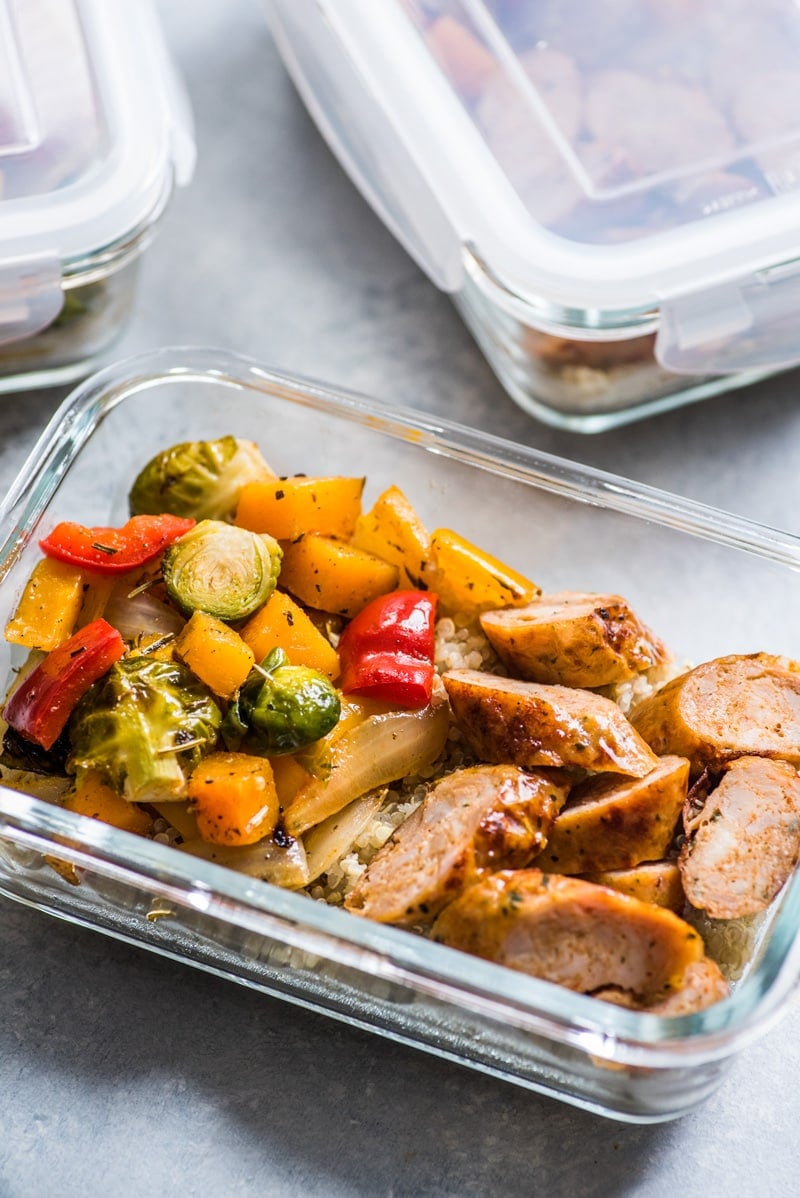 Ingredients
12

ounces

Brussels sprouts

(about 24 sprouts), ends removed and halved

1

pound

butternut squash,

chopped

2

large

bell peppers,

chopped

1

large

onion,

sliced into chunks

4

tablespoons

olive oil

1

teaspoon

dried sage

1/2

teaspoon

garlic powder

1/2

teaspoon

dried thyme

1/2

teaspoon

dried rosemary

1/2

teaspoon

chili powder

1/2

teaspoon

salt

1

pinch

of black pepper

1

14-ounce package

Premio Hot and Spicy Italian Chicken Sausage

(5 sausage links)

to serve: cooked rice or quinoa

(optional)
Instructions
Preheat oven to 375 degrees.

In a large bowl, add all ingredients except the sausage. Mix together until everything is evenly coated with olive oil and the herbs and spices. Transfer everything to a large baking sheet and lay sausages on top of the veggies. Lightly spray the top of the sausages with cooking spray or brush with olive oil to help the sausages brown.

Bake on the middle rack for 15 minutes, turn the sausages over, spray the new side with cooking spray and bake another 15 minutes.

Next, turn the oven broiler on low and cook for 5 more minutes, checking every minute to make sure nothing burns. This will ensure that the veggies and sausages get beautifully crispy and caramelized on the outside.

Remove from oven and serve with rice or quinoa, if desired.
Isabel's Tips
Any vegetables will work here! This is just the combo I'm currently loving, but asparagus, carrots, broccoli, sweet potatoes, anything will work. Just make sure to chop the veggies around the same size so they cook evenly.
Nutrition
Serving:
1
/4th of recipe
Calories:
418
kcal
Carbohydrates:
31
g
Protein:
22
g
Fat:
24
g
Saturated Fat:
5
g
Polyunsaturated Fat:
1
g
Monounsaturated Fat:
10
g
Cholesterol:
81
mg
Potassium:
573
mg
Fiber:
8
g
Sugar:
11
g
Vitamin A:
13150
IU
Vitamin C:
170
mg
Calcium:
90
mg
Iron:
2.5
mg
Did you make this recipe?
Leave a comment below and tag @isabeleats on social media!
Today's Healthy Sheet Pan Sausage and Veggies recipe is sponsored by Premio Foods, but my love for their high-quality sausages is completely my own!