This Cilantro Cauliflower Rice is ready in only 15 minutes and will help you get more veggies on the table in no time! It's also low carb, gluten free, paleo, vegetarian and vegan.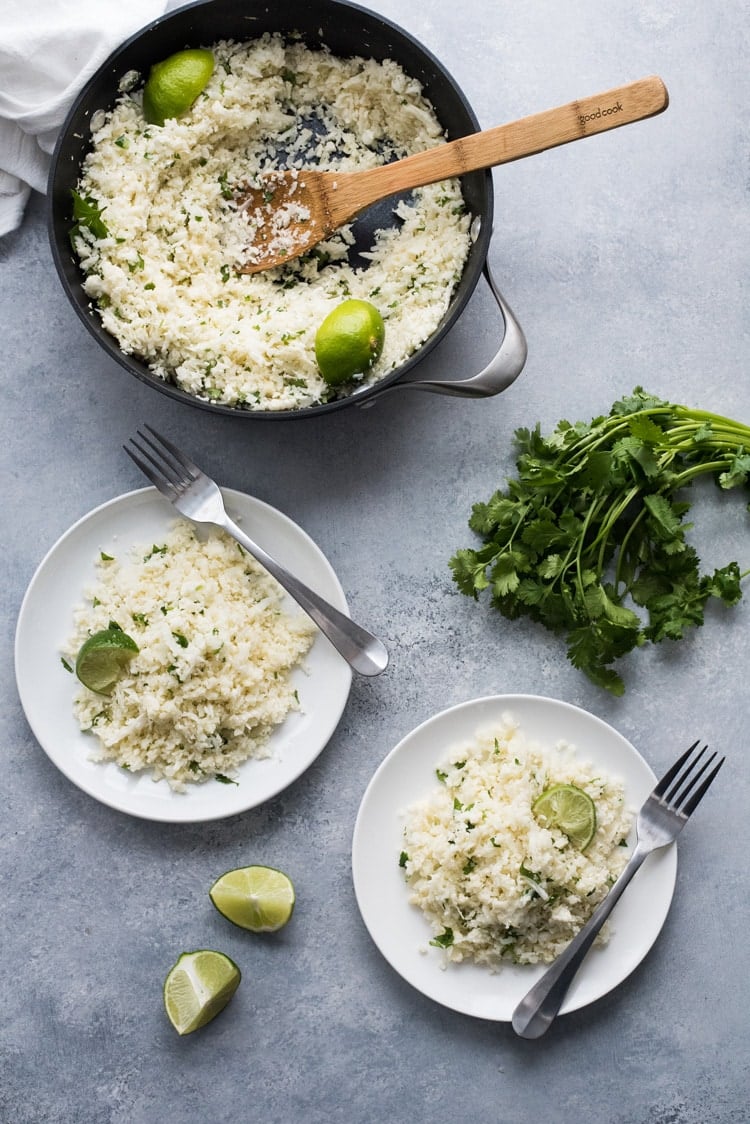 Cauliflower rice, or caul-rice, is a quick and easy side dish made of grated cauliflower florets. It's light, fluffy and resembles regular rice. It can be substituted for rice in most dishes and it's very healthy since it's made from only vegetables. Say hello to one of my favorite ways of getting more vegetables on my plate!
Which I must say is definitely going to come in handy after this weekend.  Have you ever had one of those days when you feel like your body is literally screaming out for vegetables? Or maybe at least something moderately healthy? Well, let's just say that I have a good feeling I might have one too many drinks with my friends this weekend. Why?
Because it's my bachelorette party!
All I know is that there will be lots of good food, wine, beer and dancing. And I. Can't. Wait.
Thank God for this cauliflower rice, because it's going to help me deal with the aftermath. 🙂


One of my favorite things about this Mexican cauliflower rice is how versatile it is. You can use it in a stir fry, stuff it in a burrito, put it in a soup or just eat it as a side as part of a larger meal. It's really the perfect rice substitute. Here are a few ideas of how to incorporate cauliflower rice into your everyday meals.
Or if you're a big cauliflower lover, you can always eat it by itself!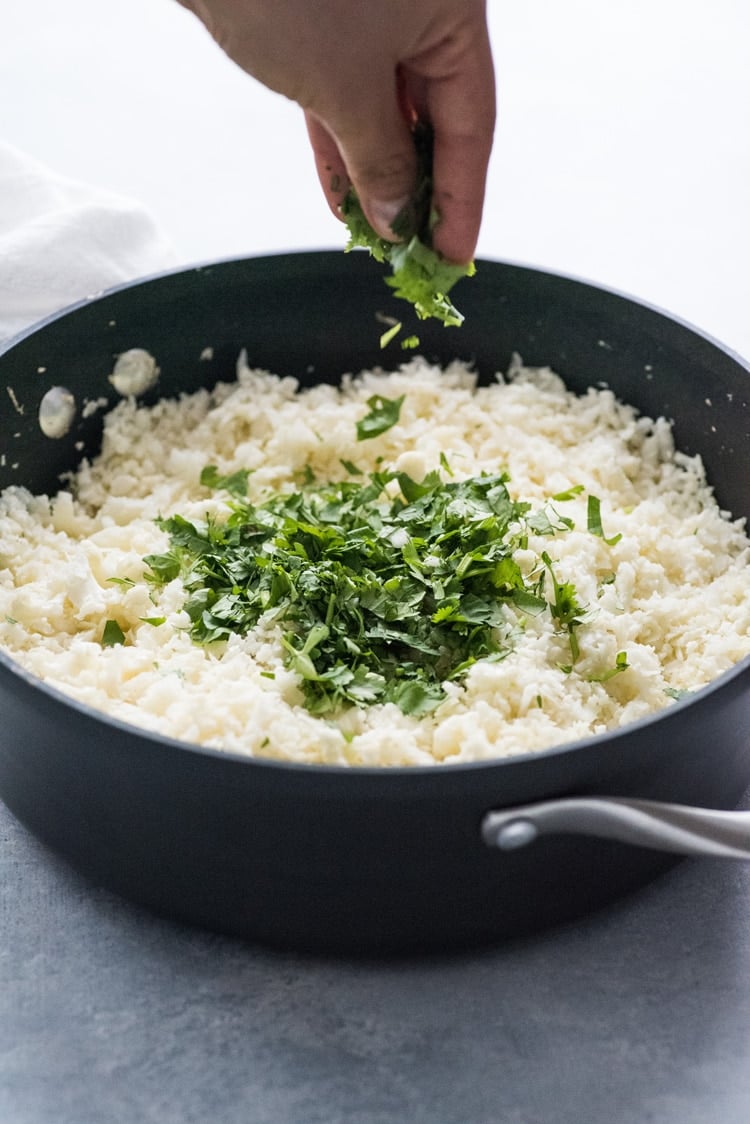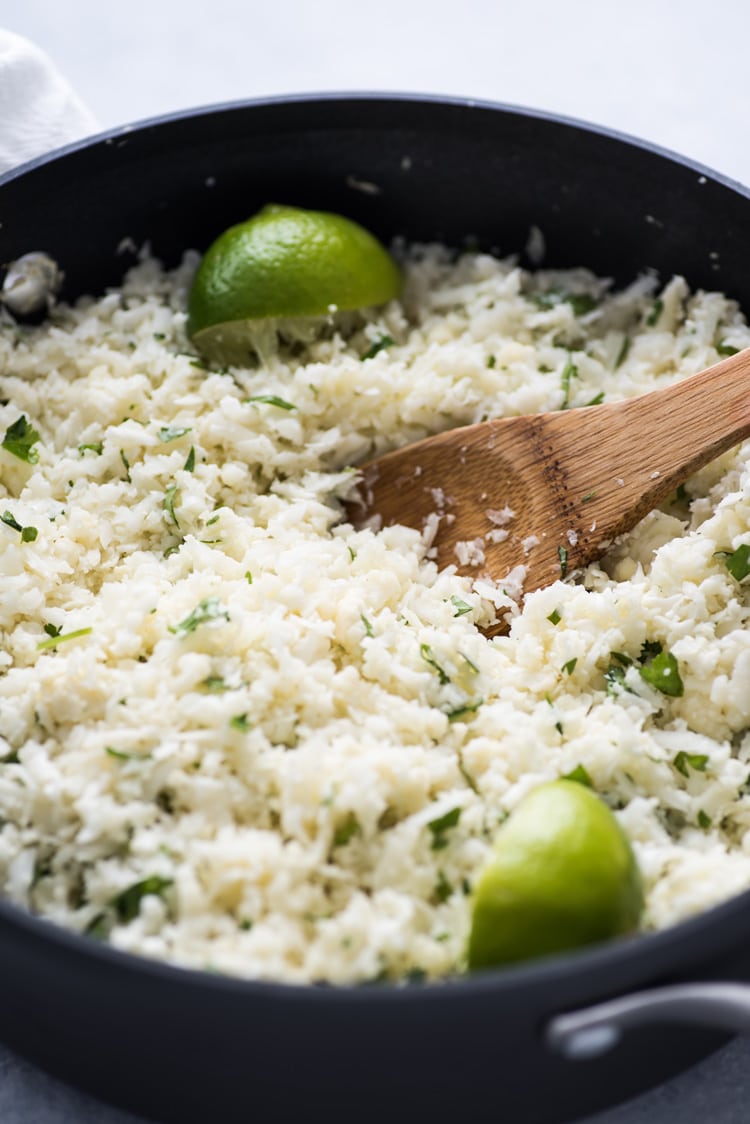 Not only can you pair it with so many dishes, but it's insanely easy to make. Double whammy, people.
It's even easier than cooking regular rice. I'm ashamed to admit it, but I'm terrible at making rice. I have no idea why. I've undercooked it, I've burned it, I've made it mushy wayyy too many times in my life. Just ask John. Whenever we make regular rice for a meal, I always ask him to do it.
How to make cauliflower rice
In a large bowl, grate cauliflower florets using a cheese grater or lightly pulse florets in a food processor until it's finely chopped and resembles rice.
Next, saute it over medium-high heat for 5 to 8 minutes until it softens and that's it! The beauty about cauliflower rice is that you don't need to add any liquid. Thanks to cauliflower's high water content, all you have to do it heat it up!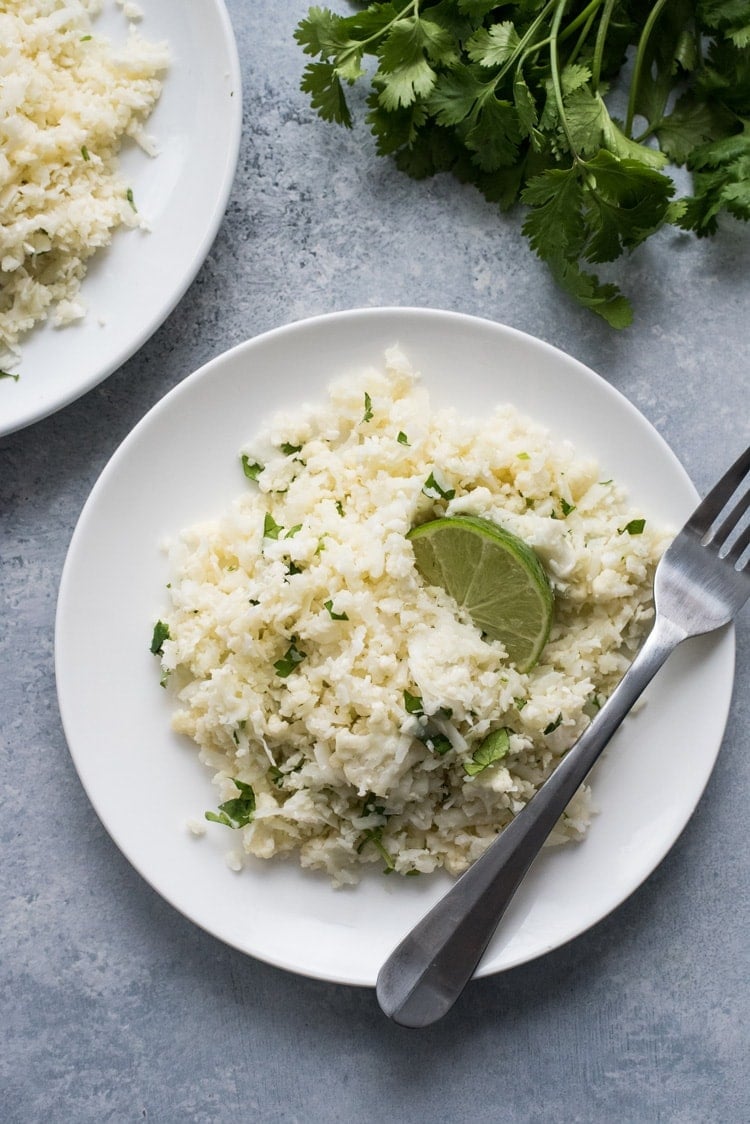 INGREDIENTS
1

large

cauliflower

1

tablespoon

olive oil

(or butter)

salt and pepper,

to taste

1/2

cup

chopped cilantro

3

tablespoons

lime juice

(about 1 1/2 limes)
INSTRUCTIONS
In a large bowl, grate cauliflower florets using a large cheese grater or lightly pulse florets in a food processor until finely chopped and resembles rice.

In a large pot over medium-high heat, add olive oil or butter. Add shredded cauliflower, salt and black pepper.

Cook for 5 to 8 minutes, stirring occasionally, until cauliflower rice begins to soften. Be careful not to overcook as the cauliflower can get mushy.

Remove from heat and stir in chopped cilantro and lime juice. Taste and season with more salt if necessary.
NOTES
---
Nutrition Facts
Cilantro Cauliflower Rice
Amount Per Serving (1 /6th of recipe)
Calories 58
Calories from Fat 18
% Daily Value*
Total Fat 2g 3%
Cholesterol 0mg 0%
Sodium 43mg 2%
Potassium 442mg 13%
Total Carbohydrates 8g 3%
Protein 3g 6%
* Percent Daily Values are based on a 2000 calorie diet.
Did you make this recipe?
Leave a comment below and tag @isabeleats on social media!
Free Monthly Meal Planner
Plan your meals, stay organized and take the guesswork out of grocery shopping every week with my free monthly meal planner printable! Just subscribe to the Isabel Eats newsletter to get it today!