Jump to Recipe
These jalapeno salmon patties are quick and easy to make and are the best healthy dinner paired with an avocado broccoli slaw. (low carb, gluten free, paleo)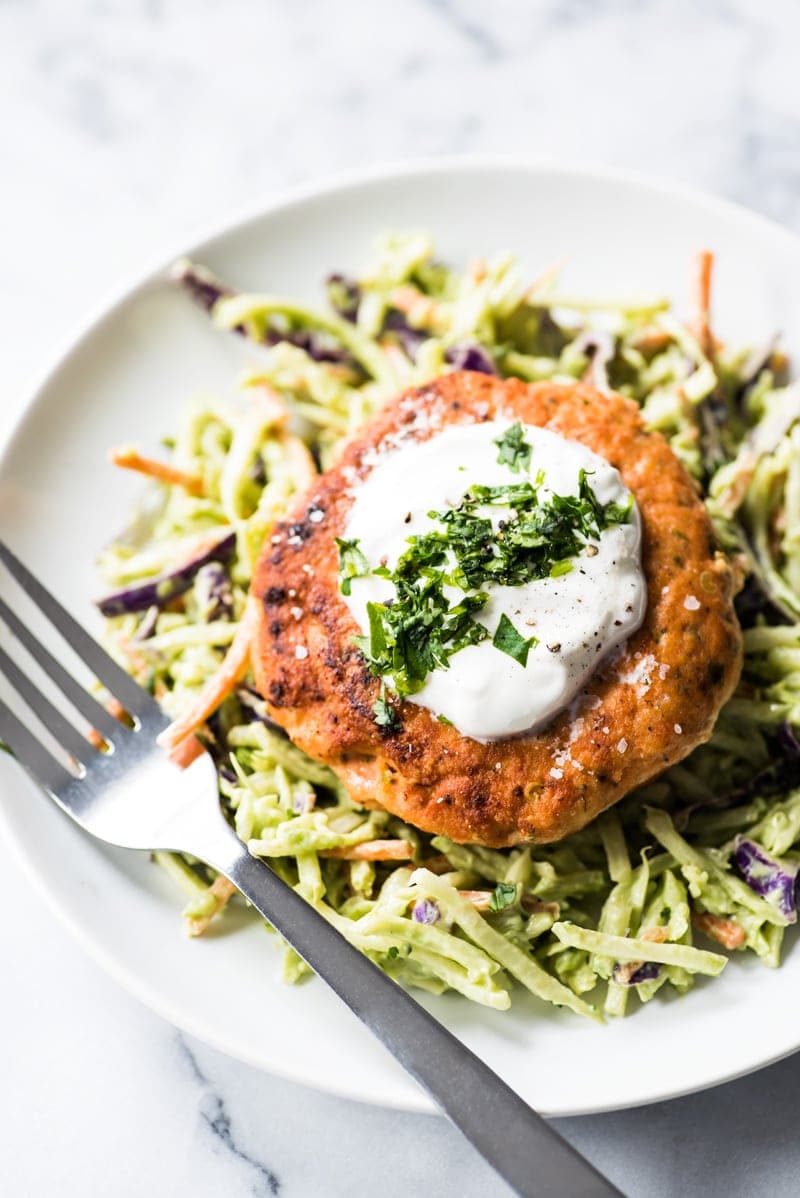 Fresh jalapeño salmon patties are one of my new favorite easy dinners! Made with either fresh or canned salmon, these patties come together quickly and easily. I served them over a simple avocado broccoli slaw, but you can also serve them on buns as salmon burgers or on some leafy greens for an easy work lunch.
Maybe it's because I grew up in a landlocked state and wasn't around seafood very much, but I feel like I'm always looking for new ways to incorporate more fish into my diet. And not only new ways, but easy foolproof ways, because you know it's the worst when you buy a beautiful filet and accidentally dry it out or can't get it quite right. I've been there so many times, it's hard to count.
But no more! This salmon patty recipe is officially my go-to versatile seafood dish and I'm so so happy!
Watch this how to make Jalapeno Salmon Patties video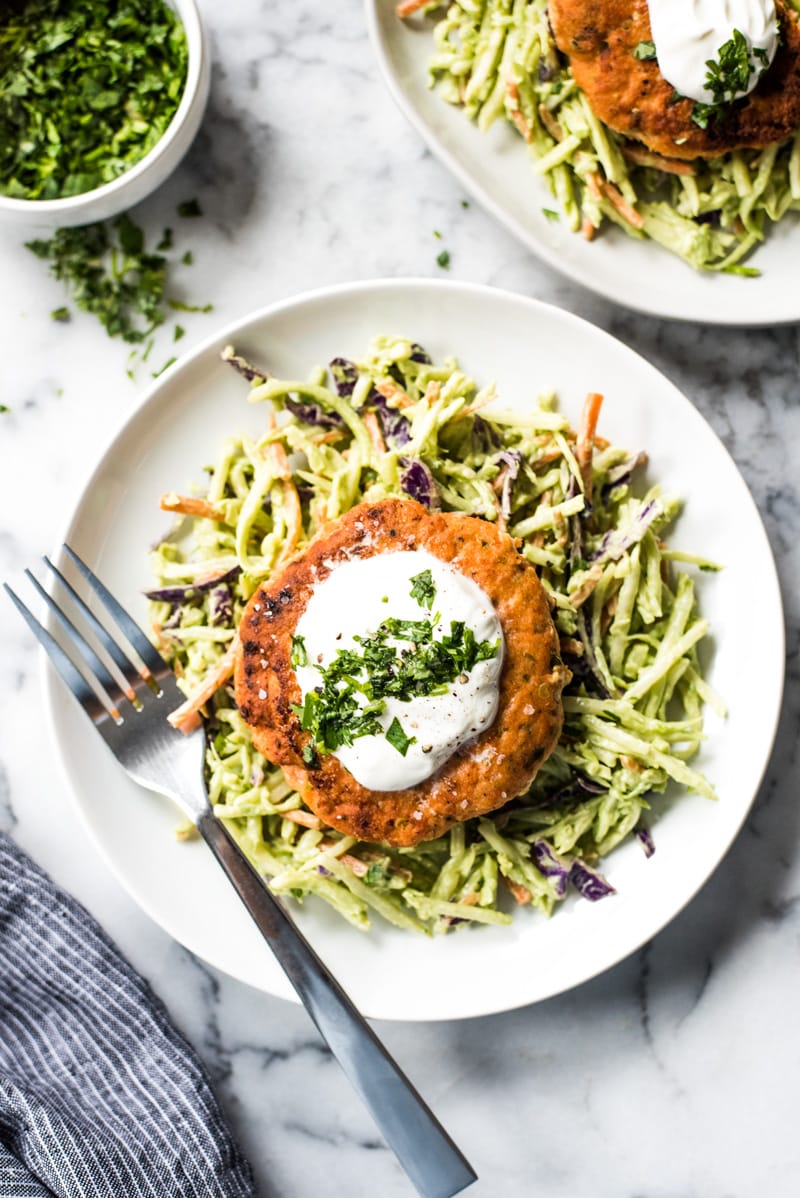 These salmon patties are for everyone – they're gluten free, low carb, whole 30, paleo and all the things!
Instead of using regular breadcrumbs, I used almond flour to make them gluten free. However, if you're trying to stay away from nut flours, you could use coconut flour instead. If using coconut flour, I recommend using half the amount since it is tends to absorb a lot more liquid than other gluten free flours.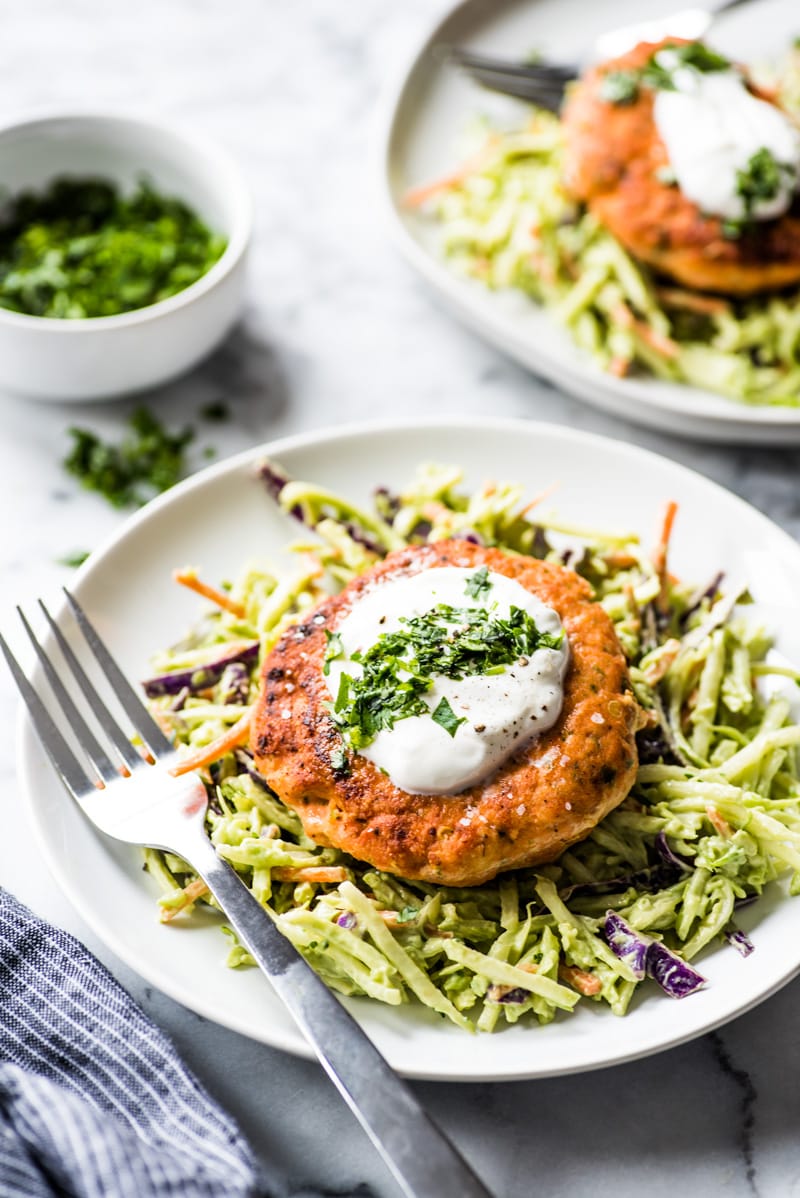 To give this recipe some Mexican inspired flair, I added some diced jalapenos for a little something something. Because it's only 1 jalapeno for the entire recipe, I didn't find the patties to be very spicy. However, if you're like me and want lots of heat, I recommend using a diced serrano pepper or even just 2 jalapenos instead of 1. That should definitely do the trick. 🙂
To compliment the heat from the peppers, I topped my salmon patty with a dollop of sour cream, fresh cilantro, black pepper and sea salt. It brightens everything up and also acts like a little dipping sauce which I looooove.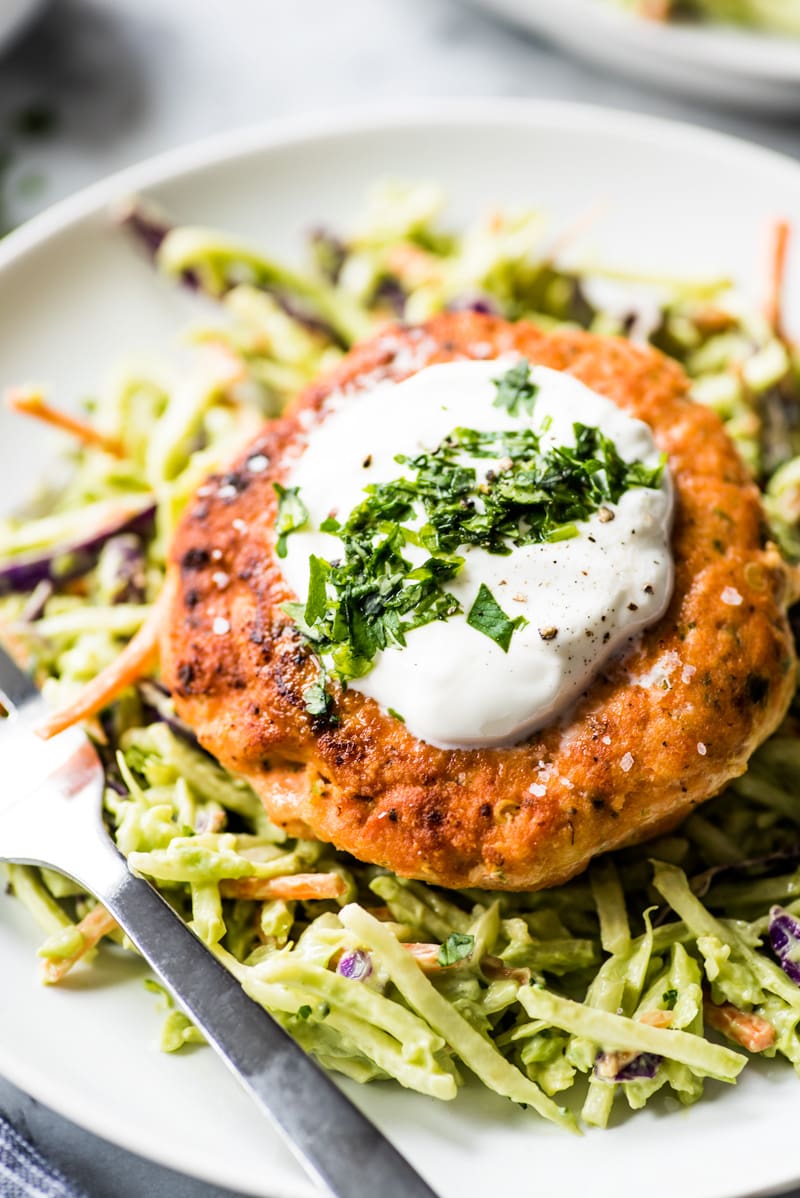 Can salmon patties be frozen?
Yes. I recommend forming them and freezing them raw on a baking sheet. Once they're completely frozen, remove them from the baking sheet and wrap each patty individually in plastic wrap to help prevent any freezer burn. Then place the patties in an air-tight ziplock bag and remove as much as as possible before closing.
How long are salmon patties good for?
I would keep them in the fridge for up to 5 days. They're perfect to pack for lunch, so you shouldn't have any trouble eating them throughout the week!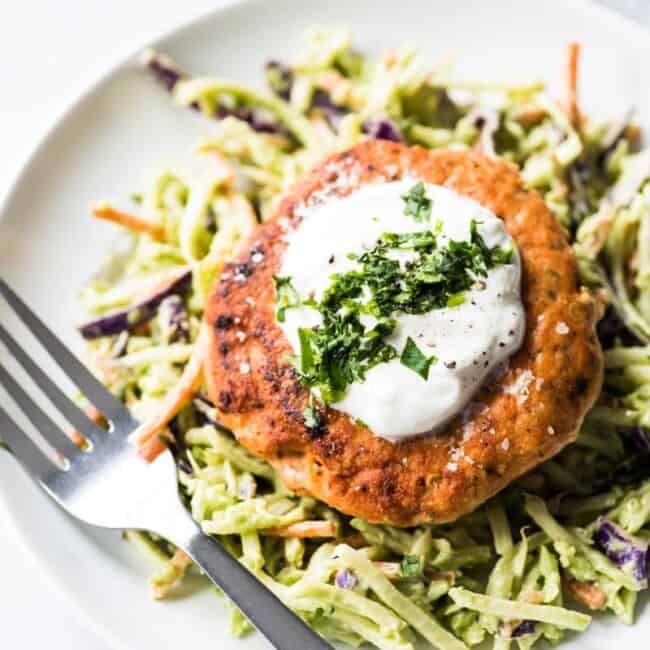 Prep: 10 minutes
Cook: 15 minutes
Total : 25 minutes
These jalapeno salmon patties are quick and easy to make and are the best healthy dinner paired with an avocado broccoli slaw. (low carb, gluten free, paleo)
Ingredients
For the Jalapeño Salmon Patties
1 pound fresh salmon fillet*, skin removed and cut into large chunks
1/2 cup almond flour
1 large egg
1 jalapeño diced
2 tablespoons lemon juice
1 teaspoon dried oregano
1 teaspoon minced garlic
2 teaspoons sea salt
1 teaspoons dried minced onion
1/2 teaspoon ground ginger
1/2 teaspoon freshly ground black pepper
1 tablespoons olive oil
For the Avocado Broccoli Slaw
1 avocado pitted
1/2 cup plain Greek yogurt (or sour cream)
2 tablespoons lemon juice
1/2 teaspoons salt
1 12-ounce bag broccoli slaw
Instructions
For the Jalapeño Salmon Patties
In a food processor (or a large bowl and a mixing fork), add half of the fresh salmon. Pulse a few times until there are no big chunks.

Add the remaining salmon and all the remaining ingredients except the olive oil and pulse together until combined. Form the mixture into 4 even sized patties.

In a large skillet over medium heat, add the olive oil. Place the patties on the skillet and cook for 5 to 8 minutes per side, until golden brown.
For the Avocado Broccoli Slaw
In a small blender or food processor, add the avocado, Greek yogurt, lemon juice and salt. Mix together until smooth.

In a large bowl, combine the brococli slaw and avocado-Greek yogurt sauce. Toss together to coat.
Isabel's Tips:
*You can substitute 15-ounces of canned salmon for the fresh salmon if that's what you have. Just make sure to drain it very well. If the mixture is too wet when everything is combined, add more almond flour 1 tablespoon at a time.
Nutrition Information
Serving: 1patty with slaw Calories: 338kcal (17%) Carbohydrates: 13g (4%) Protein: 31g (62%) Fat: 19g (29%) Saturated Fat: 4g (20%) Polyunsaturated Fat: 2g Monounsaturated Fat: 5g Trans Fat: 0g Cholesterol: 123mg (41%) Potassium: 719mg (21%) Fiber: 6g (24%) Sugar: 5g (6%) Vitamin A: 2000IU (40%) Vitamin C: 118.8mg (144%) Calcium: 140mg (14%) Iron: 2.7mg (15%)