Jalapeno Peppers are popular in Mexican and Tex-Mex cuisines, and are also America's favorite green chili! Learn why they're so popular and we'll share some delicious ways to use them too!
What is a jalapeno?
Jalapenos are medium-sized, moderately spicy chili peppers. They typically grow to about three inches in length but can be as long as six inches.
Jalapenos originated in Mexico but are so popular, they are now grown worldwide! In fact, the name comes from Jalapa, the city in Mexico where they were originally grown.
How to Grow Jalapenos
Jalapeno pepper plants are easy to grow. They only reach two to three feet tall and each plant will produce 30-40 peppers. As long as you keep picking them, the plant will continue to produce new peppers.

Most people pick the peppers when they are green. If you leave them on the plant longer, they will turn red. At that point, they are older and as a result, they will have more heat.
Are jalapeno peppers hot?
Jalapeno peppers fall between 2,500 and 8,000 on the Scoville Scale. In comparison, bell peppers are not spicy at all, so their Scoville Heat Unit is zero. While jalapenos may sound very spicy compared to that, keep in mind that the spiciest peppers in the world are well over 2 million SHU!
Jalapenos can vary in SHU because many factors can change the heat of the pepper. The climate, soil and amount of rainfall will all affect the end result.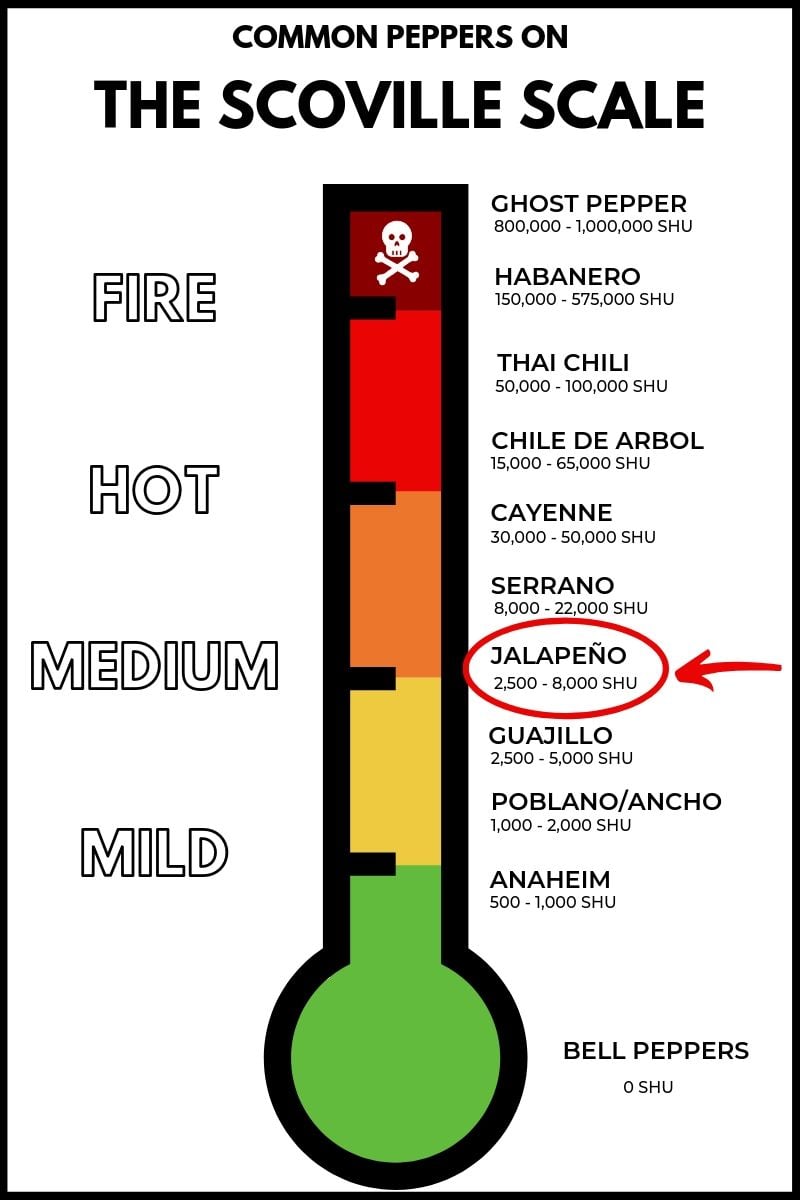 Most of the heat comes from the white interior veins of the pepper, also known as the ribs or membrane (see photo below). Removing these parts will tone down the heat of the dish.
This balance of spiciness, but without extreme heat makes the jalapeno the most popular chili pepper in the United States. Also, they're available all year long and can be found in almost any grocery store.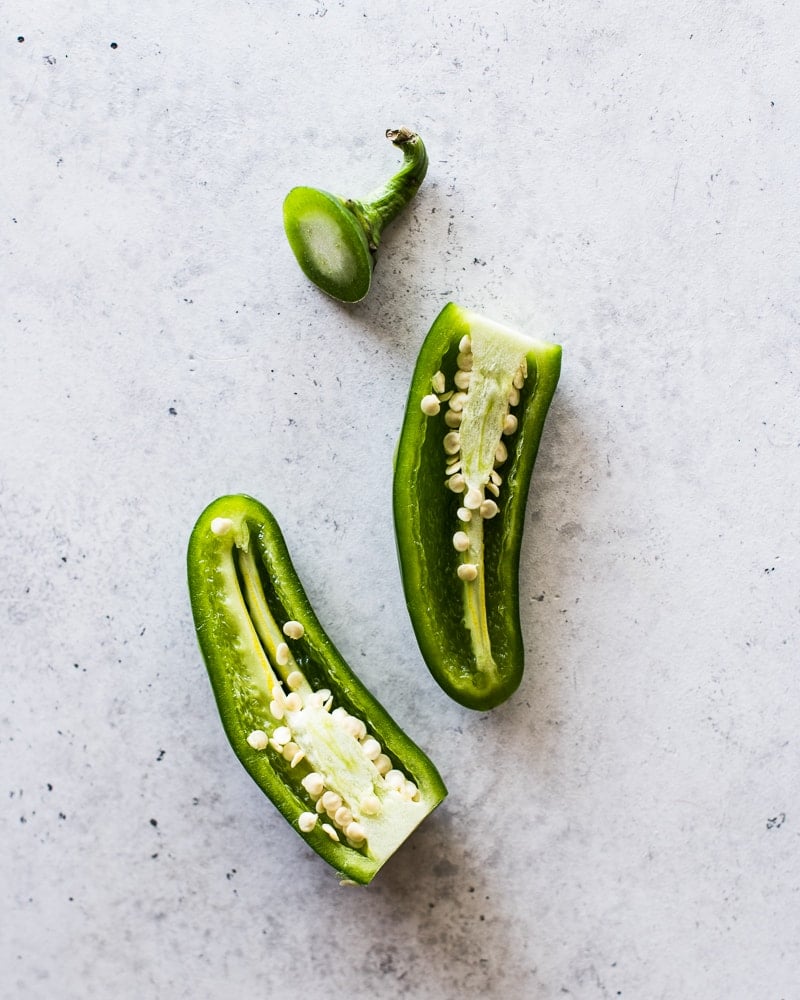 Are dried jalapenos hotter than fresh?
Dried jalapeno peppers are called chipotle peppers. Typically, chipotles are made from red jalapeno peppers. The peppers are dried in a smoker or on a grill at low heat.

The Scoville units of a chipotle pepper is 5,000-10,000 SHU, slightly spicier than a fresh jalapeno.

To make chipotle powder, the smoked peppers are ground. Not only are they spicy, but they also retain the smoky flavor of the wood used to dry them.
Cooking with Jalapeno Peppers
Avoid touching your eyes, nose, and other sensitive membranes when you are preparing jalapenos.
This is necessary because capsaicin (which is the ingredient in peppers that produces the heat) creates a burning sensation. To be cautious, you may want to wear kitchen gloves while preparing any type of spicy chili peppers.
Because jalapenos are not extremely spicy, you can use them as you would a bell pepper for a little kick of spice. Just finely chop them up and add them to your favorite dish.
If you want more heat, leave the white membrane and seeds intact, or remove them to tone down the spice level.
Here are some of my favorite Jalapeno Pepper recipes:
Is eating jalapenos healthy?
Yes! Jalapenos are very low in calories and high in vitamins, minerals and fiber.
They're packed with vitamin C and have antioxidant properties that are important to maintaining health. They're an easy and healthy way to add a lot of flavor to any dish.
Also something to note – regularly consuming foods with capsaicin is known to speed up metabolism, help prevent cancer, and stabilize blood sugar.
In other words – let's all eat more jalapenos!
Learn about other Mexican peppers