Jump to Recipe
This Kale and Sweet Potato Breakfast Hash is gluten free, grain free, dairy free, vegetarian and paleo!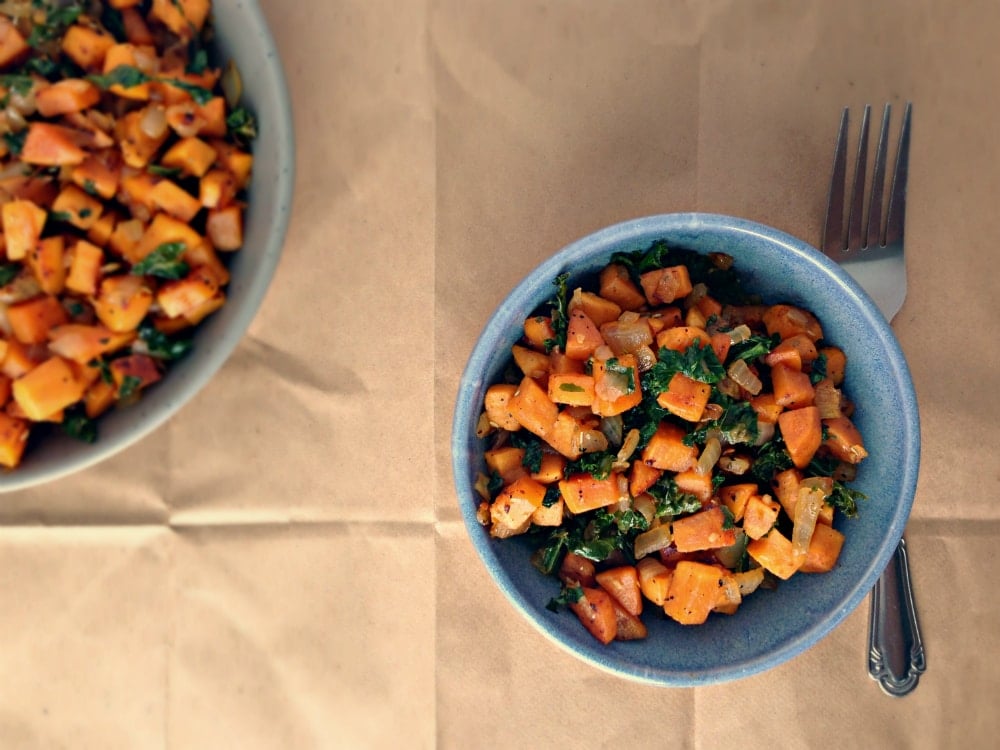 Ever have one of those mornings when you just don't know what to eat for breakfast? Your usual eggs and toast aren't calling your name, pancakes and waffles are too sweet for your palate so early in the day and the thought of a green smoothie makes you want to bang your head against the kitchen counter? Yeah, that was me this weekend. I stood staring at the contents of my fridge for way too long before deciding to give up on breakfast. And just as I closed the fridge door and lifted my head, my eyes landed on the bowl of sweet potatoes and onions sitting on top of my microwave. And just like in the movies (not really), a breakfast recipe was born.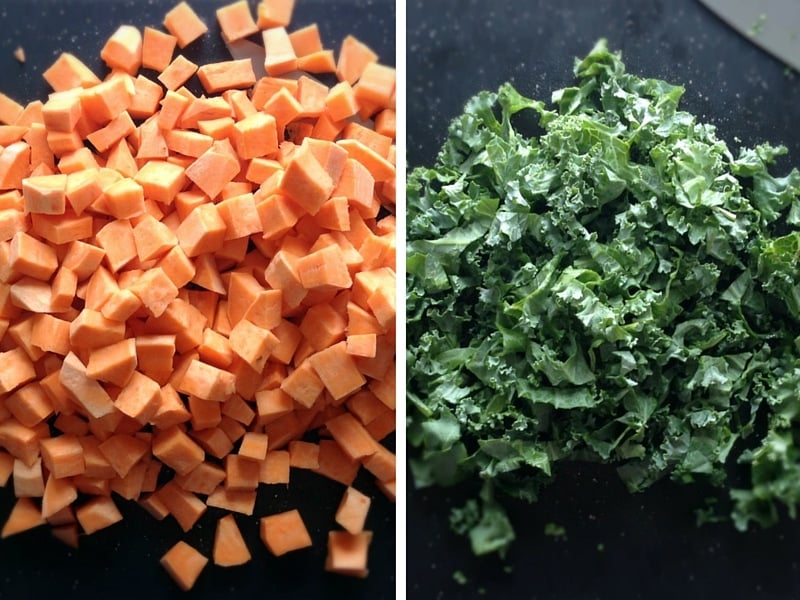 Okay, okay, okay. So maybe my morning wasn't as dramatic as I'm making it out to seem, but I was hungry! Or should I say hangry? Seems to be the word of the moment, don't you think? Seriously, that word is everywhere. But whatever I was doesn't matter now. All that matters is the end result – this deliciously warm and savory kale and sweet potato breakfast hash. Just look at it, you guys! Don't you just want to stick your face in and start chomping?!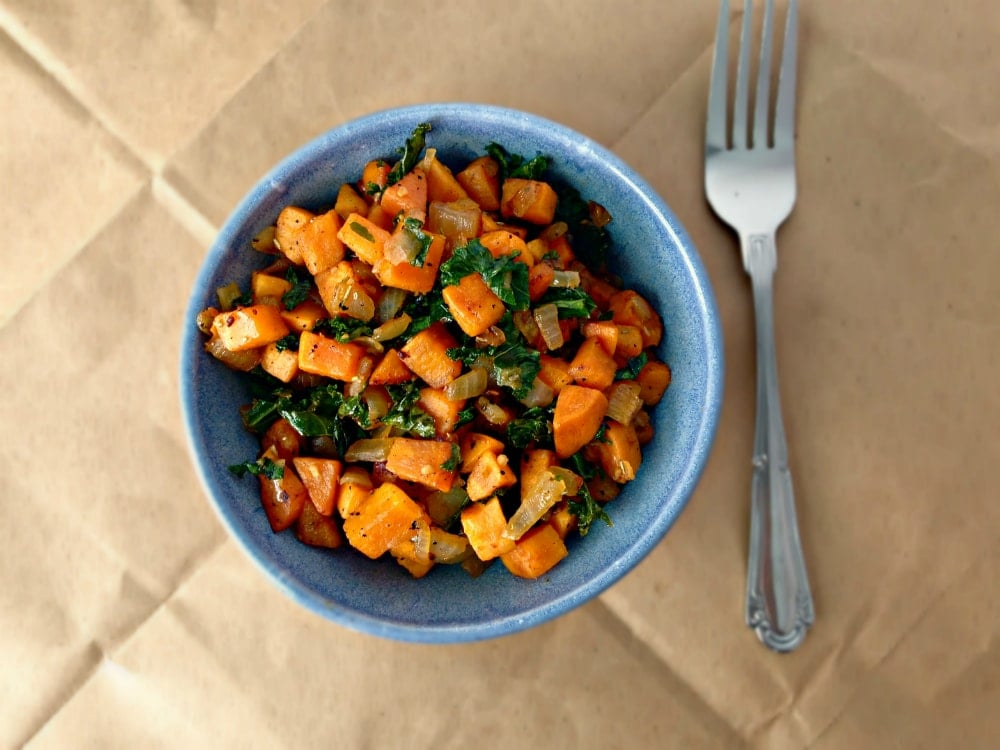 Made with sauteed onions, kale fresh from the garden, golden sweet potatoes and savory herbs like rosemary and sage, this breakfast hash hit the spot.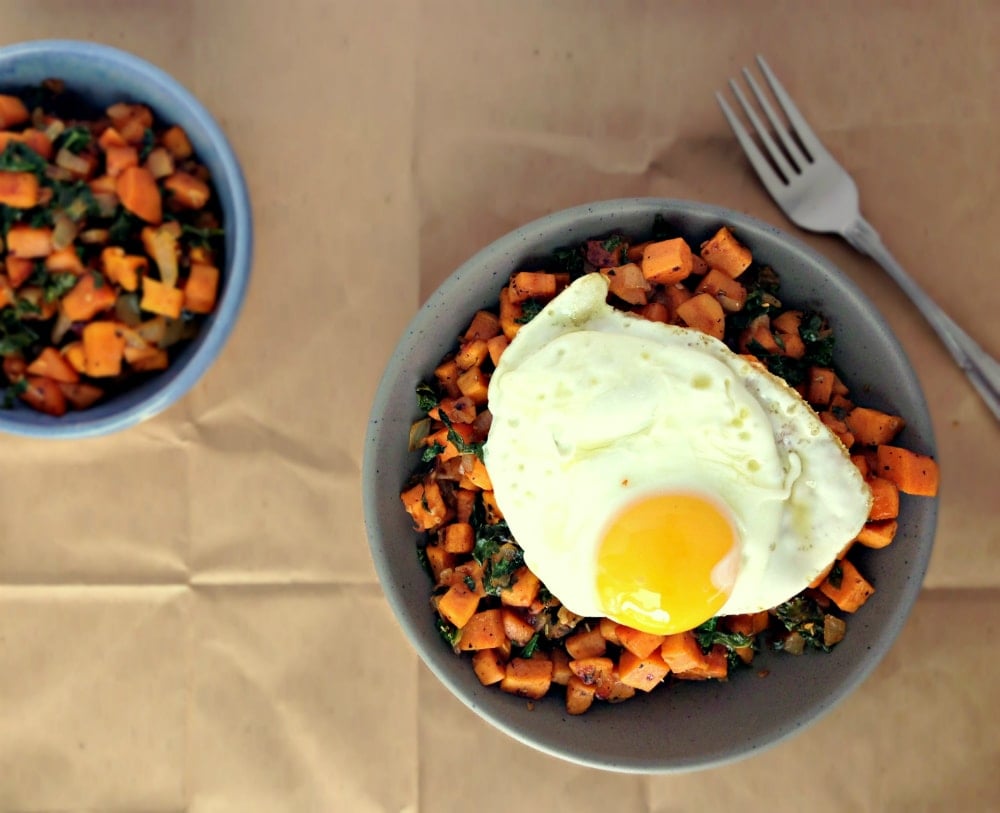 If there was anything that could make this hash better, I found it. And "it" was a sunny side up egg. Don't get me wrong – the hash by itself is a perfectly delicious meal or side, but there is something about adding a bright yellow egg yolk to this that makes it feel so decadent, sinful and dare I say, sexy. In practical terms, the egg yolks also help keep you fuller for longer and are packed with all the fat-soluble vitamins A, D, E and K along with tons of other nutrients. They're so good, one of my favorite bloggers, Liz Wolfe of Real Food Liz, even wrote an absolutely amazing book titled Eat the Yolks. Not going to lie, she's one of my girl crushes.
What's your usual go-to breakfast? Do you ever get tired of eating it and if so, where do you turn to get ideas for something new? More importantly, who is your girl crush?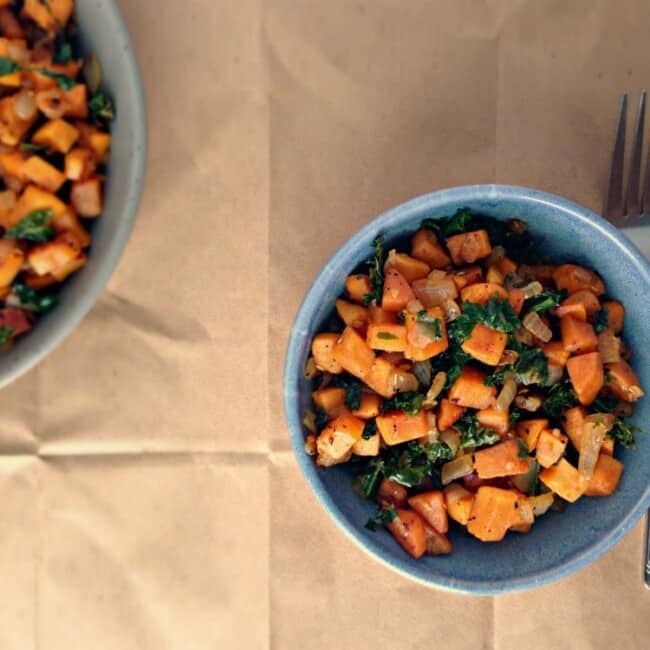 Prep: 10 minutes
Cook: 35 minutes
Total : 45 minutes
This Kale Sweet Potato Breakfast Hash is gluten-free, grain-free, dairy-free, vegetarian and paleo. Top it off with a sunny side up egg and voila!
Ingredients
3 tablespoons cooking oil
2 medium sweet potatoes, peeled and dice into small cubes
1 medium onion, finely diced
1 tablespoon minced garlic
2 cups kale, finely chopped
1/4 teaspoon ground sage
1/4 teaspoon smoked paprika
1/4 teaspoon dried rosemary
1 teaspoon kosher salt
Instructions
In frying pan on medium heat, add cooking oil, sweet potatoes, onions and garlic. Mix and cook, stirring occasionally for 15 minutes.

Add kale, sage, smoked paprika, rosemary and sea salt. Cook for another 15-20 minutes or until the edges of the sweet potatoes start to brown and are fully cooked through and tender.

Serve with a sunny side up egg or two and enjoy!
Nutrition Information
Serving: 1/2 of recipe Calories: 353kcal (18%) Carbohydrates: 39g (13%) Protein: 6g (12%) Fat: 21g (32%) Sodium: 1260mg (53%) Potassium: 866mg (25%) Fiber: 6g (24%) Sugar: 8g (9%) Vitamin A: 25100IU (502%) Vitamin C: 122.1mg (148%) Calcium: 160mg (16%) Iron: 2mg (11%)
This page contains affiliate links. If you make a purchase on Amazon after clicking one of my links, I may receive a small commission. The price of the item stays the same and any money I make goes to supporting this blog. I only endorse products and services that I fully believe in.