Jump to Recipe
A bright, fresh Mexican Chimichurri Chicken Salad featuring grilled corn, summer tomatoes, marinated and grilled chimichurri chicken and creamy avocados. (gluten free)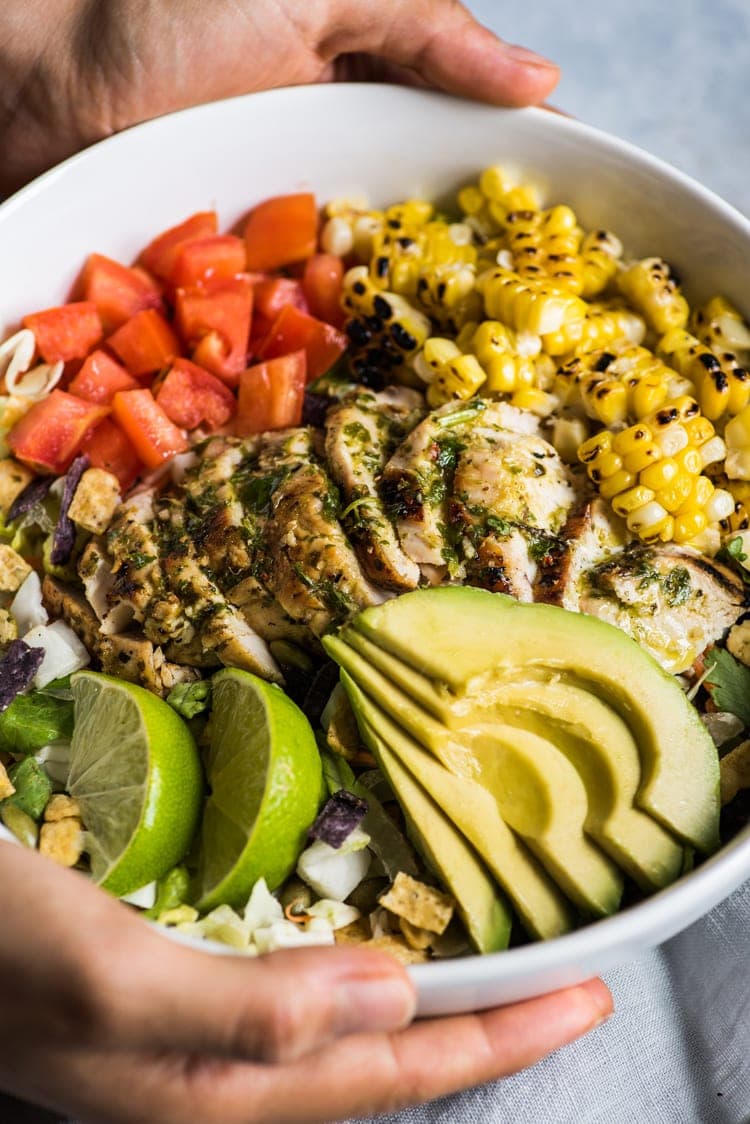 This post has been sponsored by Taylor Farms. Thanks for supporting the brands I love!
Okay, so here's the deal. Confession time.
Making delicious salads at home hasn't always been my forte. For some reason, I'd always somehow end up with a sad bag of lettuce, some bland grilled chicken and some super basic ranch dressing. Ugh. BORINNGG.
Right about now you're probably thinking, "Isabel, why are you sharing a salad recipe if you're terrible at making salads?" That's a fair question, friend. Hear me out.
After years of disappointing homemade salads, I've finally found the answer to my sad salad problems. Its first name is Taylor. And its last name is Farms.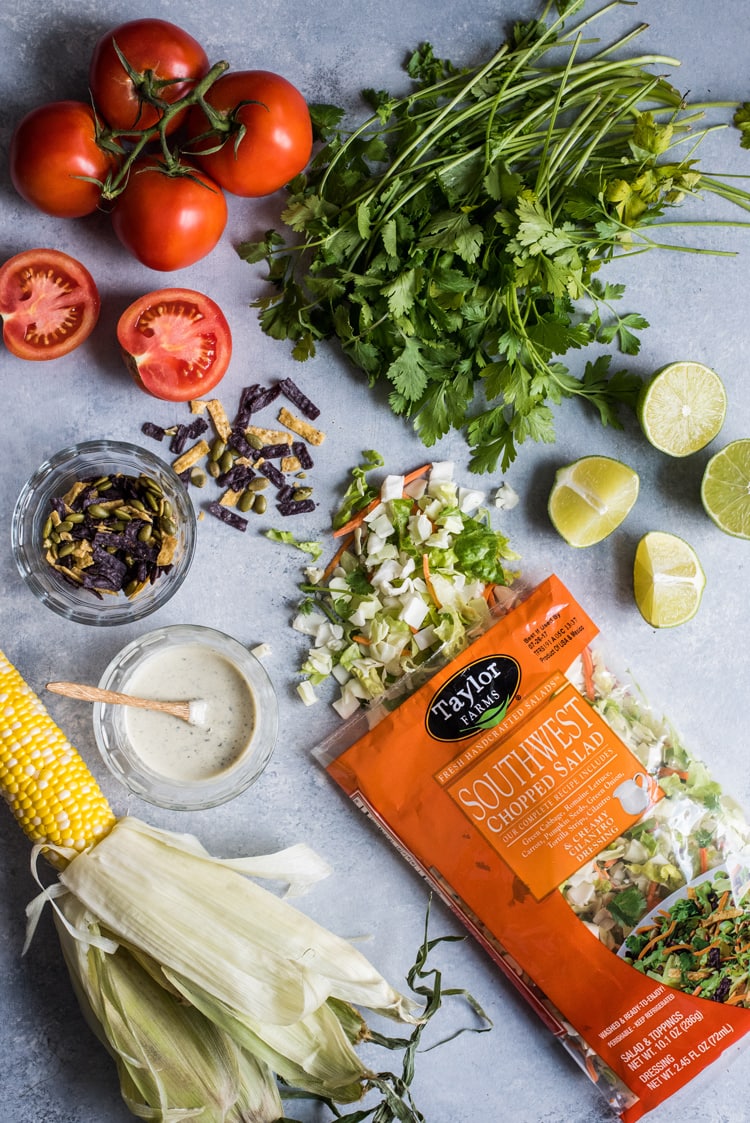 Taylor Farms Chopped Salad Kits are seriously lunch life savers.
No more flavorless, watery, unappetizing and uninspired salads here. Ain't nobody got time for that. With over 9 different salad recipes all washed and ready to eat, I don't have a chance to get bored. Being the stereotypical Mexican that I am, the Southwest Chopped Salad Kit is the one I used as the base for this recipe.
My favorite things about the Southwest Chopped Salad Kit:
It has cilantro in the salad mix! And you know how much I love cilantro. It's basically in 8 out of 10 of my recipes. #sorrynotsorry
The creamy cilantro dressing. It's so good, I could drink the stuff. Don't dare me, because I'll do it.
It includes crispy tortilla strips and pumpkin seeds! That's enough to make me love a salad right there. Who doesn't want crunchy tortilla chips on their salad?
Everything is washed and ready to eat. No need for a salad spinner. No need for paper towels to dry any wet salad greens. It's already done for you. Best time saver ever.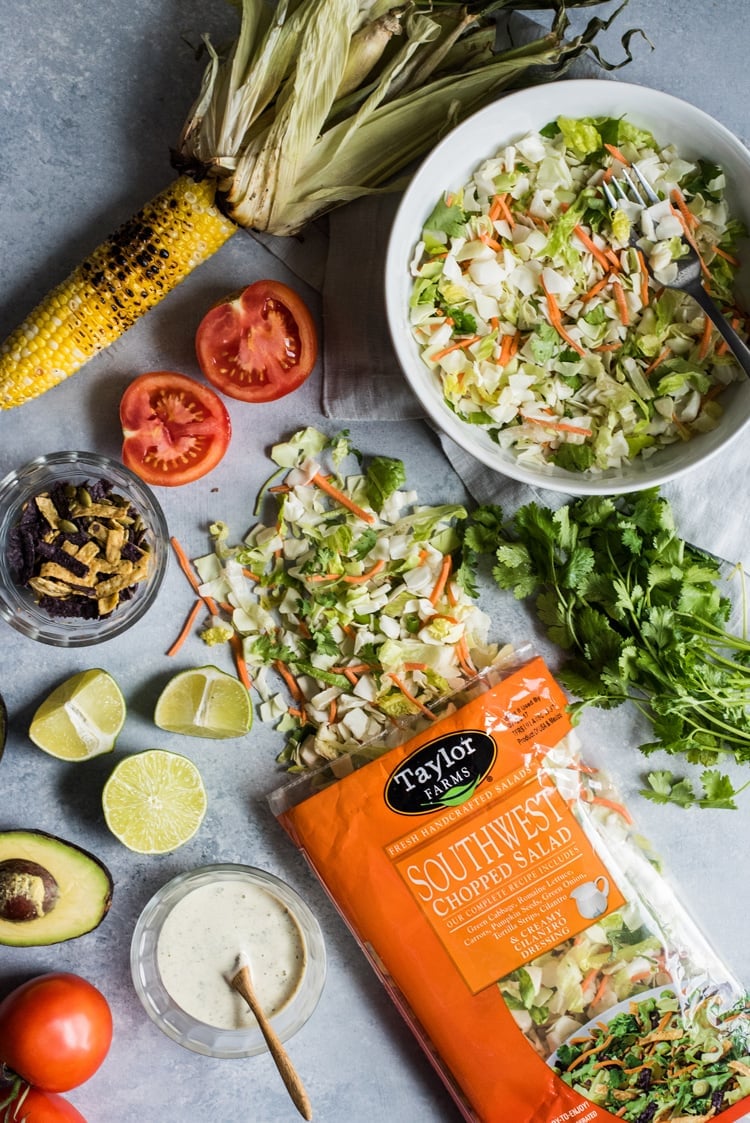 Once I got the salad mix and dressing situation under control, I decided to focus on transforming boring grilled chicken into something mouthwatering and perfect for summer. It only took me two seconds to realize that marinating the chicken in chimichurri, my favorite summer sauce, is pretty much the best idea I've ever had.
And that's saying a lot. Starting a garden in my front yard? My idea. Getting two cats? My idea. Introducing John to brewing beer? My idea.
Marinating chicken in chimichurri sauce? Better than all of the above. It's that good.
I used a cup of my homemade Parsley and Cilantro Chimichurri that takes less than 10 minutes to make, but if you're in a rush, store bought chimichurri sauce works like a charm.
I then added some of my favorite summer ingredients like grilled corn, fresh tomatoes, avocados, and lime juice for good measure.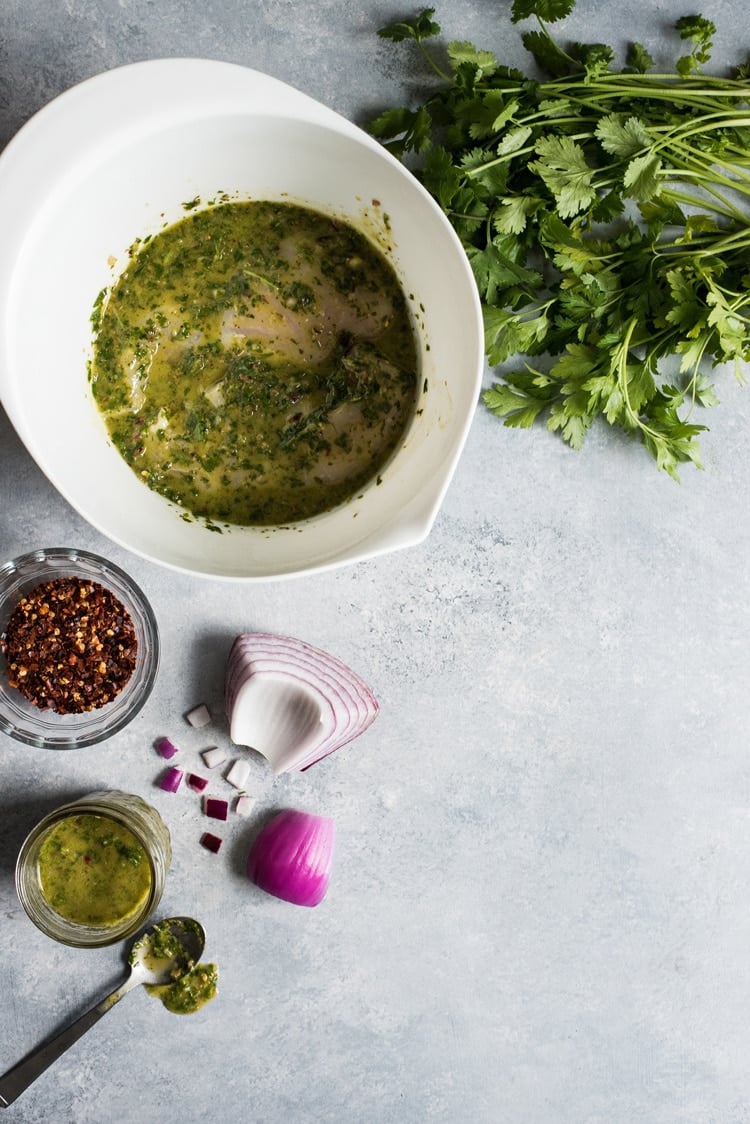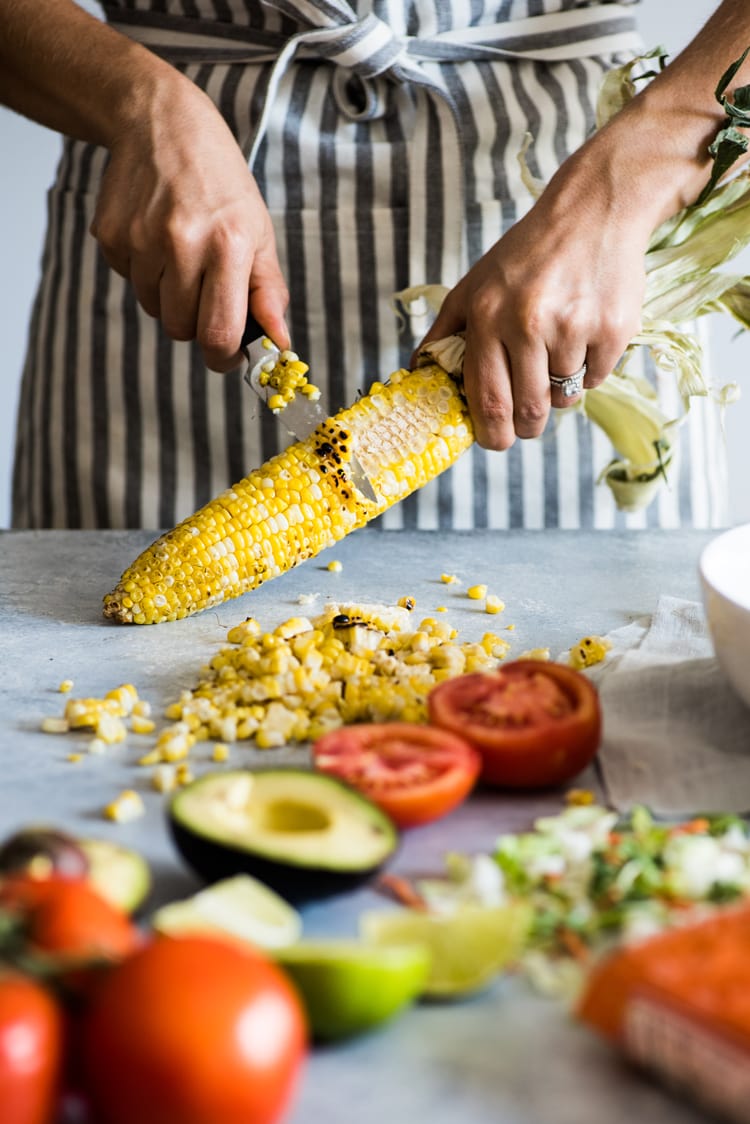 Topped it all off with the creamy cilantro dressing that's in the Southwest Chopped Salad Kit and my Mexican Chimichurri Chicken Salad was born.
New favorite summer salad. Done.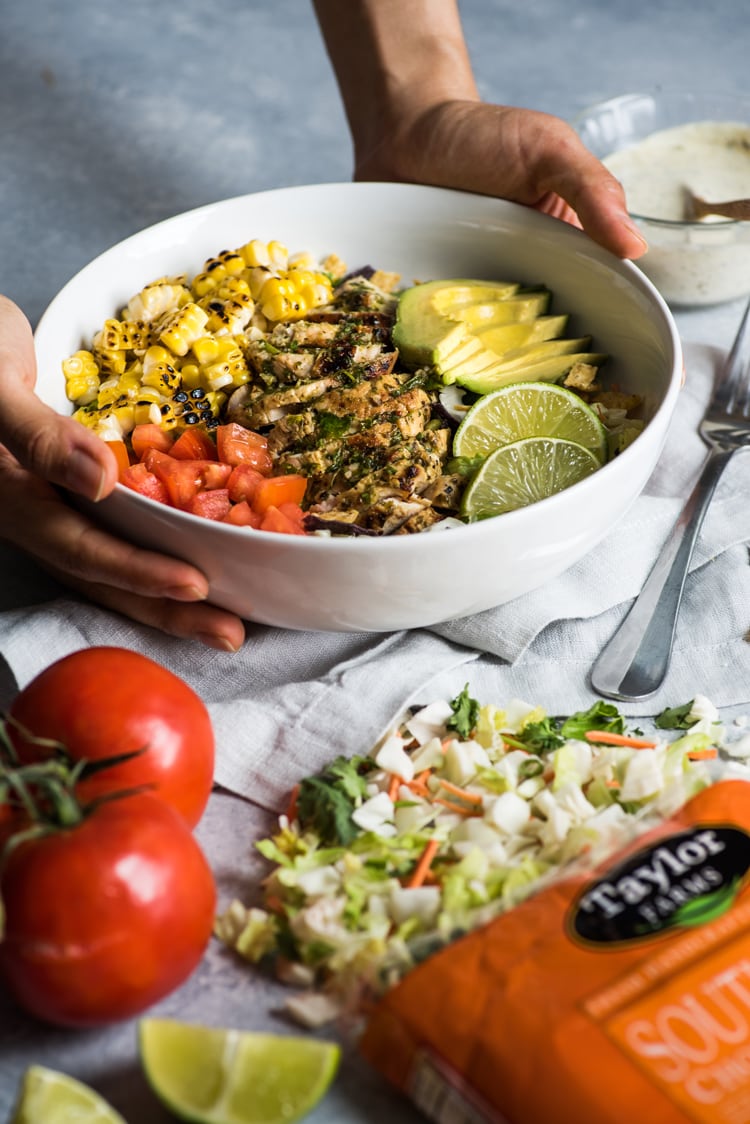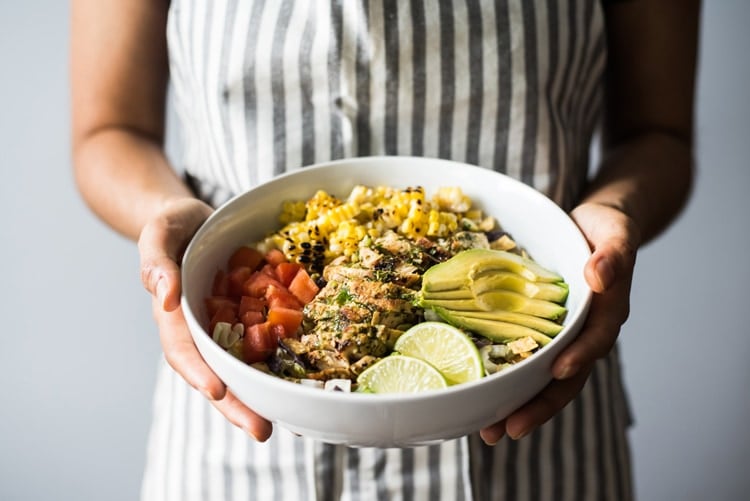 Summer in a bowl.
If you're eager to try Taylor Farms salad kits and all of their other fresh and healthy products, click here to get your hands on some free coupons! I'm all about saving some money whenever possible. 😉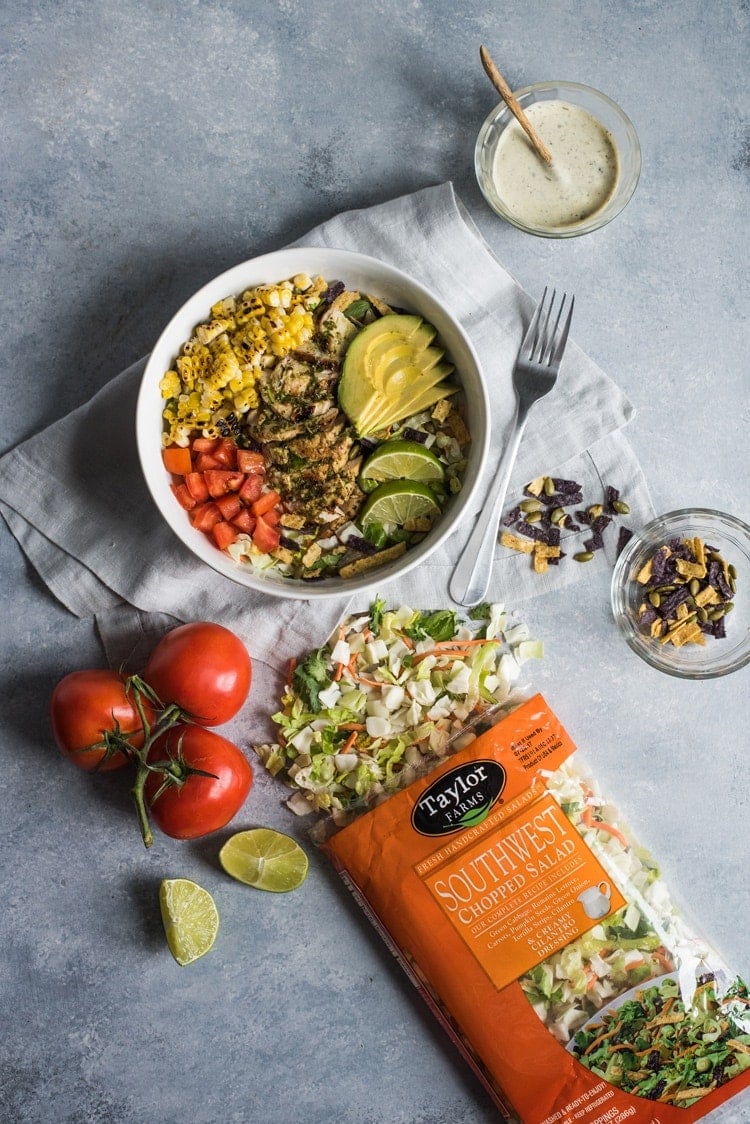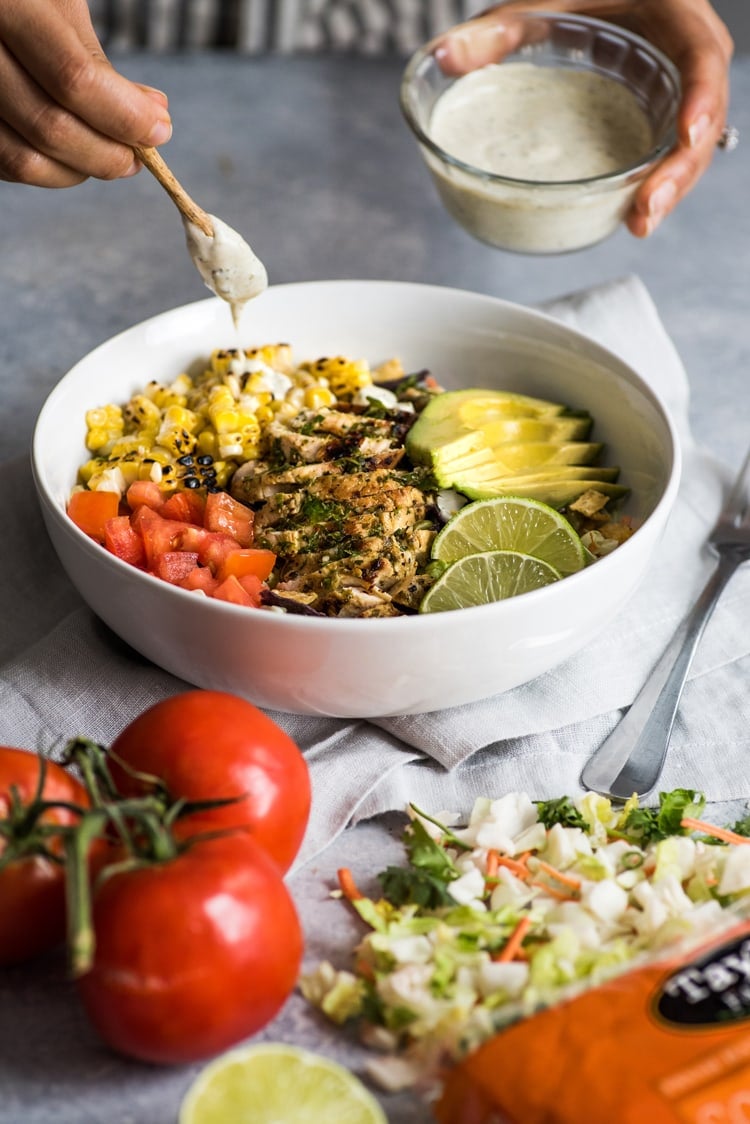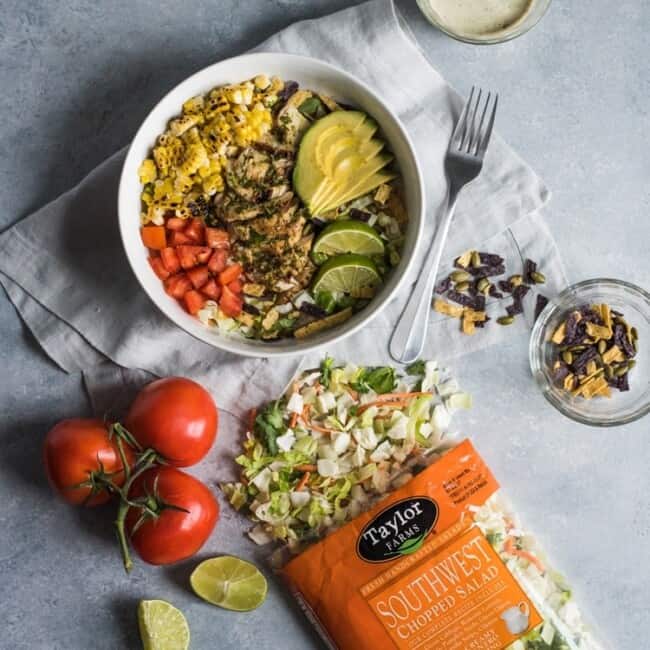 Prep: 1 hour
Cook: 15 minutes
Total : 1 hour 15 minutes
A bright, fresh Mexican Chimichurri Chicken Salad featuring grilled corn, summer tomatoes, marinated and grilled chimichurri chicken and creamy avocados. (gluten free)
Ingredients
For the salad + toppings:
1 large avocado pitted and thinly sliced
2 large stem tomatoes, chopped
1 lime, cut into 6 wedges
Instructions
For the grill:
Marinate chicken breast in in 3/4 cup of chimichurri sauce for 1 hour or overnight if possible.

Preheat grill to medium-high heat. Spray the corn with cooking spray.

Place the marinated chicken breast and corn directly on the grill. Flip the corn every two minutes and remove when the corn has turned a bright yellow and has beautiful grill marks. Flip the chicken after 5 minutes and grill on the other side until chicken has fully cooked through.

To serve, cut the corn off the cob and slice the grilled chimichurri chicken into thin slices.
To assemble:
In a large salad bowl, add the entire contents of the Taylor Farms Southwest Chopped Salad Kit except for the creamy cilantro dressing. Toss together and divide into 3 separate salad bowls.

Add the sliced grilled chicken breast, grilled corn, avocado slices and chopped tomatoes to each bowl. Brush chicken with remaining chimichurri sauce and freshly squeezed lime juice.

Top salads with creamy cilantro dressing and enjoy!
Isabel's Tips:
Store-bought chimichurri sauce can be used as well.
Nutrition Information
Calories: 483kcal (24%) Carbohydrates: 30g (10%) Protein: 51g (102%) Fat: 33g (51%) Saturated Fat: 2g (10%) Cholesterol: 120mg (40%) Sodium: 156mg (7%) Potassium: 498mg (14%) Fiber: 7g (28%) Vitamin A: 300IU (6%) Vitamin C: 24.8mg (30%) Calcium: 50mg (5%) Iron: 2.2mg (12%)