Jump to Recipe
These Mexican Chocolate Cinnamon Rolls filled with cocoa powder, brown sugar and cinnamon are a sweet breakfast and brunch treat!

I hope you're not completely over baked goods just yet, because today I'm sharing these Mexican Chocolate Cinnamon Rolls!
Filled with cocoa powder, brown sugar, cinnamon and sliced almonds for a little crunch, these rolls are what holiday breakfast dreams are made of. I topped them with a classic 3-ingredient sugar glaze, poured myself a hot cup of coffee and went to town.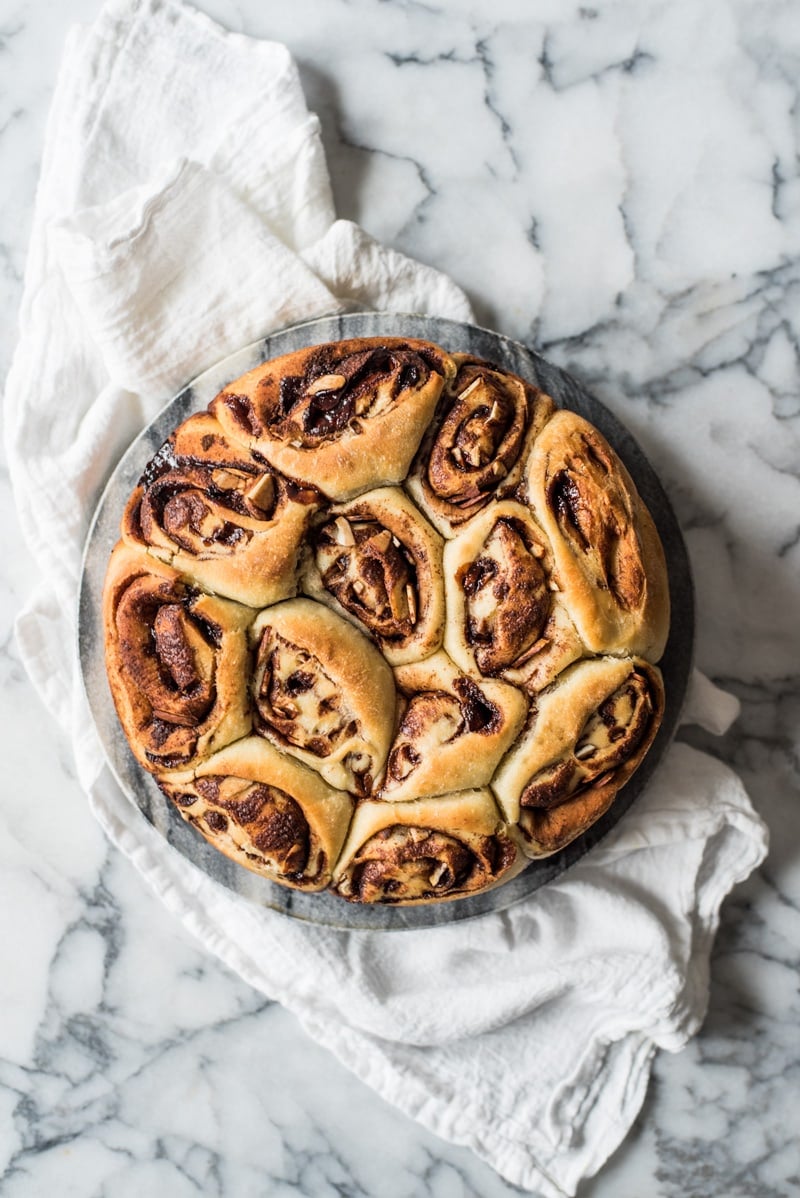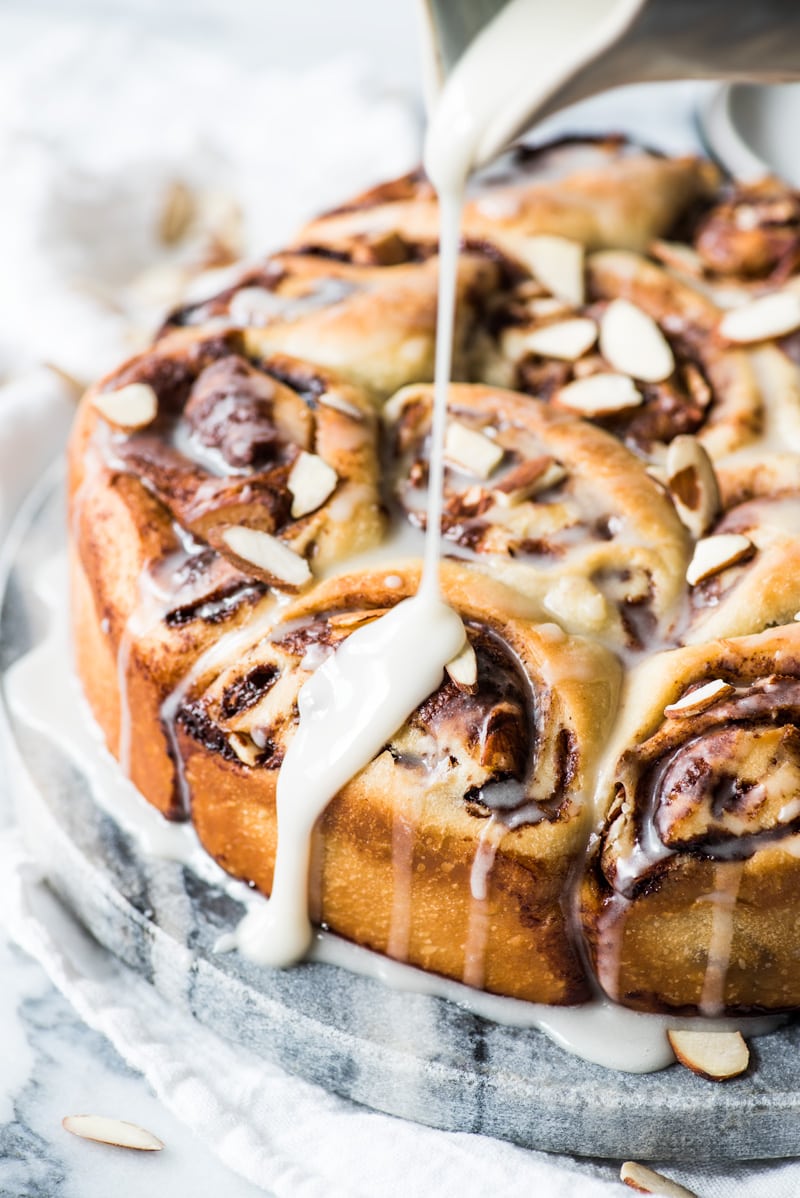 If you follow me on Instagram stories, you know that I'm officially on vacation! Last week was kind of a whirlwind – I finished recipe testing and taking photos for the rest of the year, I was in my best friend's wedding and John and I packed up our stuff and drove to his parents' house yesterday. We're planning on celebrating Christmas with his family tomorrow, and then we'll be flying to see my family at the end of the week!
There's still some stuff I need to do, but it's all relaxing and fun, like wrapping Christmas presents and such.
That's the fun part, right? 🙂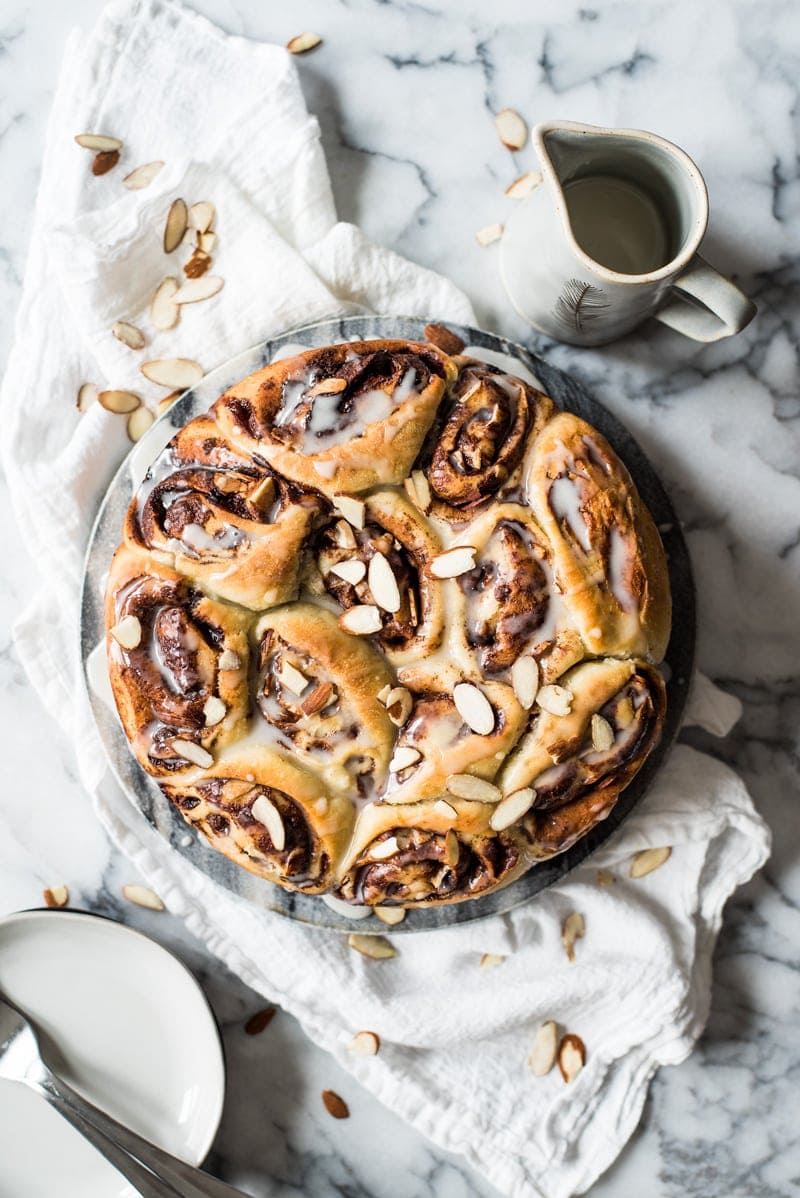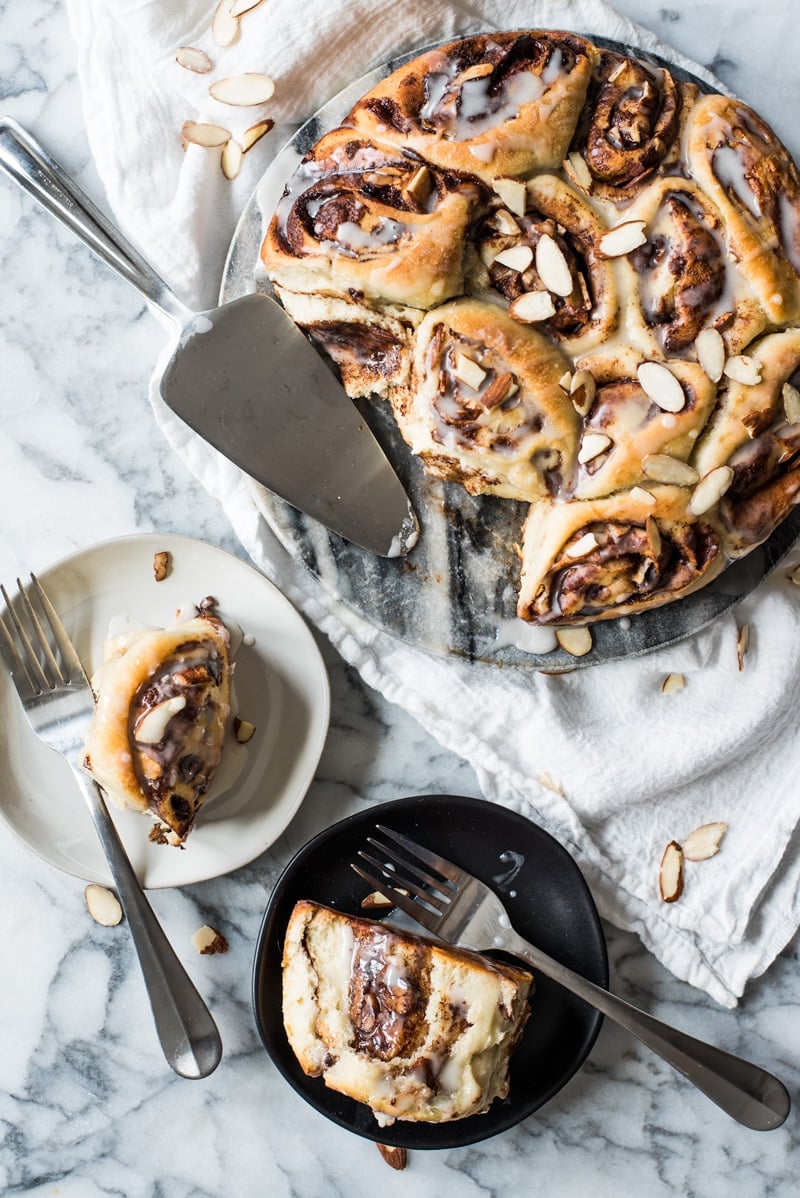 Whether you're on holiday vacation like I am and need some breakfast ideas, or are just looking for a tasty cinnamon roll recipe, these Mexican Chocolate Cinnamon Rolls will not disappoint. So gather around the table with family and friends, grab a roll and dig in!
More recipes you'll enjoy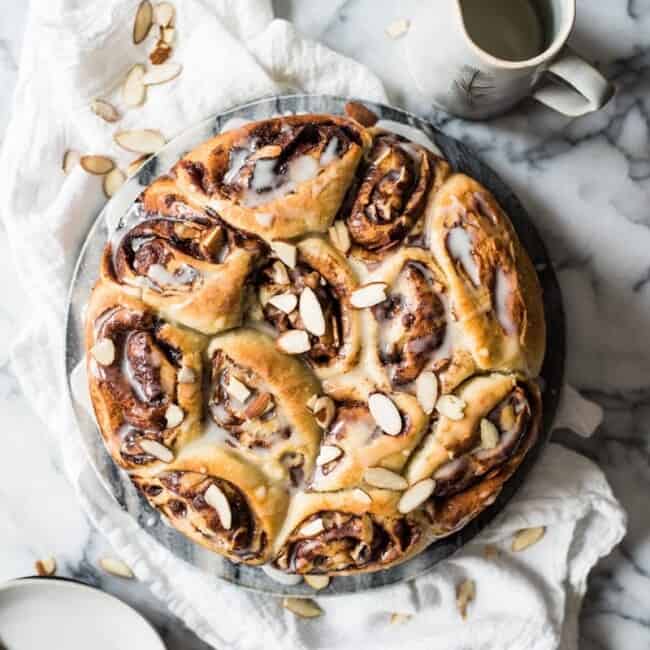 Prep: 1 hour 6 minutes
Cook: 30 minutes
Total : 1 hour 36 minutes
These Mexican Chocolate Cinnamon Rolls filled with cocoa powder, brown sugar and cinnamon are a sweet breakfast and brunch treat!
Ingredients
For the dough
1 packet instant active yeast (2 1/4 teaspoons)
3 tablespoons unsalted butter melted
1/2 cup granulated sugar
1 pinch salt
1 cup hot water
4 1/2 cups all-purpose flour
1 large egg, room temperature
For the filling
1/2 cup brown sugar
1 teaspoon cinnamon
2 tablespoons unsweetened cocoa powder
1/2 cup sliced almonds
2 tablespoons unsalted butter softened, cut into pieces
For the glaze
1 cup powdered sugar
1 teaspoon vanilla extract
3 tablespoons milk (or coffee to make a coffee glaze)
Instructions
Make the dough: In a small cup, mix a packet of active yeast with 1/2 a cup of warm water. Let sit for 5 minutes. The mixture should start to get foamy, which means the yeast is alive and working. If it doesn't get foamy, the yeast isn't activated and you should try again with another packet.

In the bowl of a stand mixer, add butter, sugar, salt and hot water. Mix together until sugar has mostly dissolved. (If you don't have a stand mixer, you can stir and knead everything by hand.)

Add half of the all-purpose flour and mix on low until well combined.

Add the yeast mixture, the egg, and half of the remaining flour. Mix on low until well combined.

Using the dough hook, gradually mix in the remaining flour and knead on low for 6 to 8 minutes, until it becomes super smooth and silky. If the dough is sticking to the mixing bowl, add in 1 tablespoon of flour at a time until it no longer sticks.

Transfer the smooth dough into a large oiled bowl and cover with a towel. Place bowl in a warm spot (like the top of your fridge or in the microwave, wherever is warmest) and let rise for 30 minutes until the dough has almost doubled in size.

Fill and roll the cinnamon rolls: Remove the risen dough from the bowl and place on a lightly floured surface. Roll dough into a large rectangle with a rolling pin. When you're done rolling it, lift the dough carefully your hands and add more flour to your surface to make sure the dough isn't sticking.

In a small bowl, mix together brown sugar, cinnamon, and cocoa powder. Spread the mixture evenly on the dough, leaving about a 1/2-inch of bare dough on all sides. Top mixture with sliced almonds and finish with butter.

Carefully roll the dough as tightly as possible into one long roll. Cut into 12 rolls using a piece of dental floss, thread, or a sharp serrated knife.

Let rise one last time: Place rolls into a greased 3 quart baking dish (or large cake pan) and cover with a towel. Place in a warm spot and let rise for 1 hour. When there's 5 minutes remaining, preheat oven to 375°F.

Bake: Bake for 25-30 minutes, until the cinnamon rolls are golden brown. Remove from oven and set aside to cool.

Make the glaze: In a medium bowl, add the powdered sugar, vanilla extract and milk. Whisk together until smooth. Pour the glaze on the rolls and serve.
Nutrition Information
Serving: 1cinnamon roll Calories: 345kcal (17%) Carbohydrates: 61g (20%) Protein: 6g (12%) Fat: 8g (12%) Saturated Fat: 3g (15%) Monounsaturated Fat: 1g Cholesterol: 29mg (10%) Sodium: 24mg (1%) Potassium: 41mg (1%) Fiber: 2g (8%) Sugar: 26g (29%) Vitamin A: 200IU (4%) Calcium: 30mg (3%) Iron: 0.5mg (3%)