Jump to Recipe
These Dulce de Leche Cinnamon Rolls stuffed with apples and pecans are the perfect fall and winter treat made with a Mexican twist!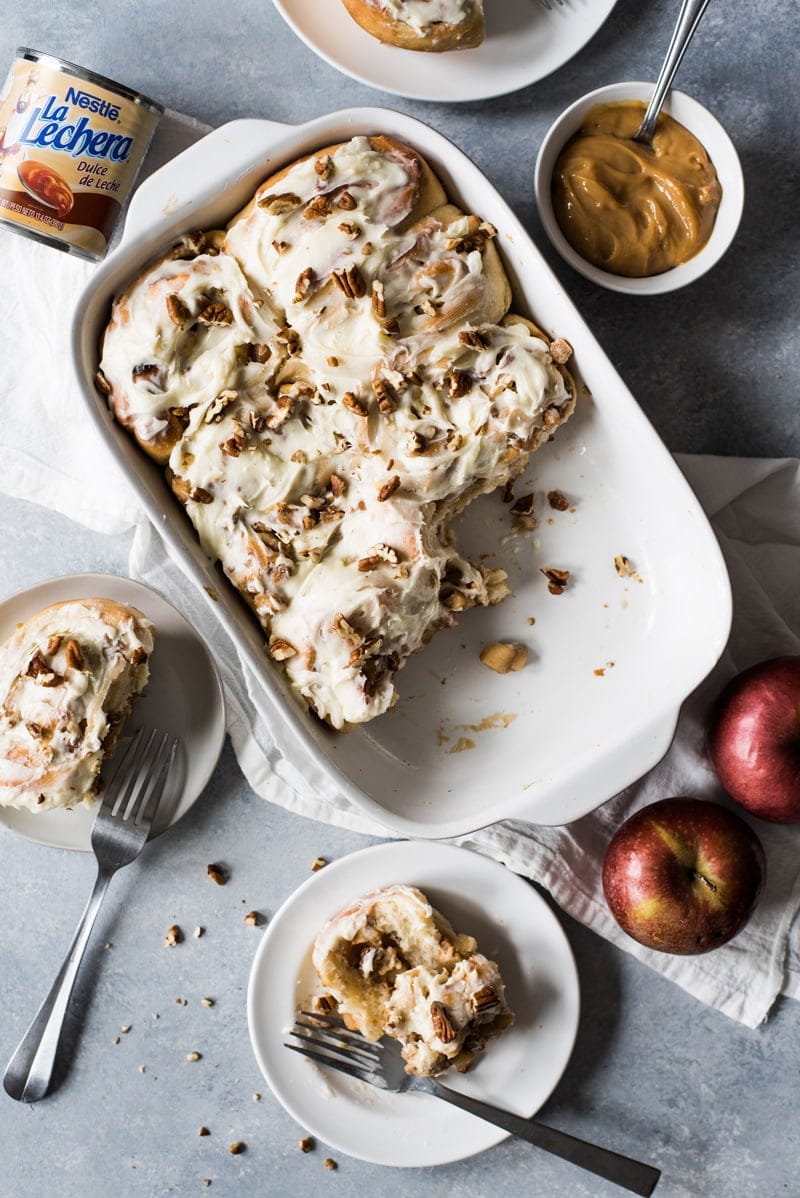 Thank you to Nestlé® La Lechera® for sponsoring this post!
Baking season is upon us, friends! Can you believe it?
This has always been my favorite time of year. I get to wear warm sweaters, comfy scarves, there's always a candle burning in the living room and I'm not trying to toot my own horn, but my kitchen smells extra amazing. Seriously, I wish you could smell all the awesome smells!
But while those things contribute to my love for the holidays, there's really only one thing that truly makes this time of year so special – and that's spending it with people I love.
Get ready because I'm about to get super cheesy up in here.
Ever since I moved halfway across the country to go to college over 10 years ago, I've come to realize how much family and my Mexican culture mean to me. Though I call/text everyone whenever I want and visit 3 or 4 times a year, it's still a struggle to be so far away sometimes. Feeling homesick just plain sucks.
So when I start to miss my family and need a little mood boost, I like to get in the kitchen and make a recipe using Mexican-inspired ingredients that my parents always had on hand when I was growing up.
One of those ingredients is La Lechera® Dulce de Leche.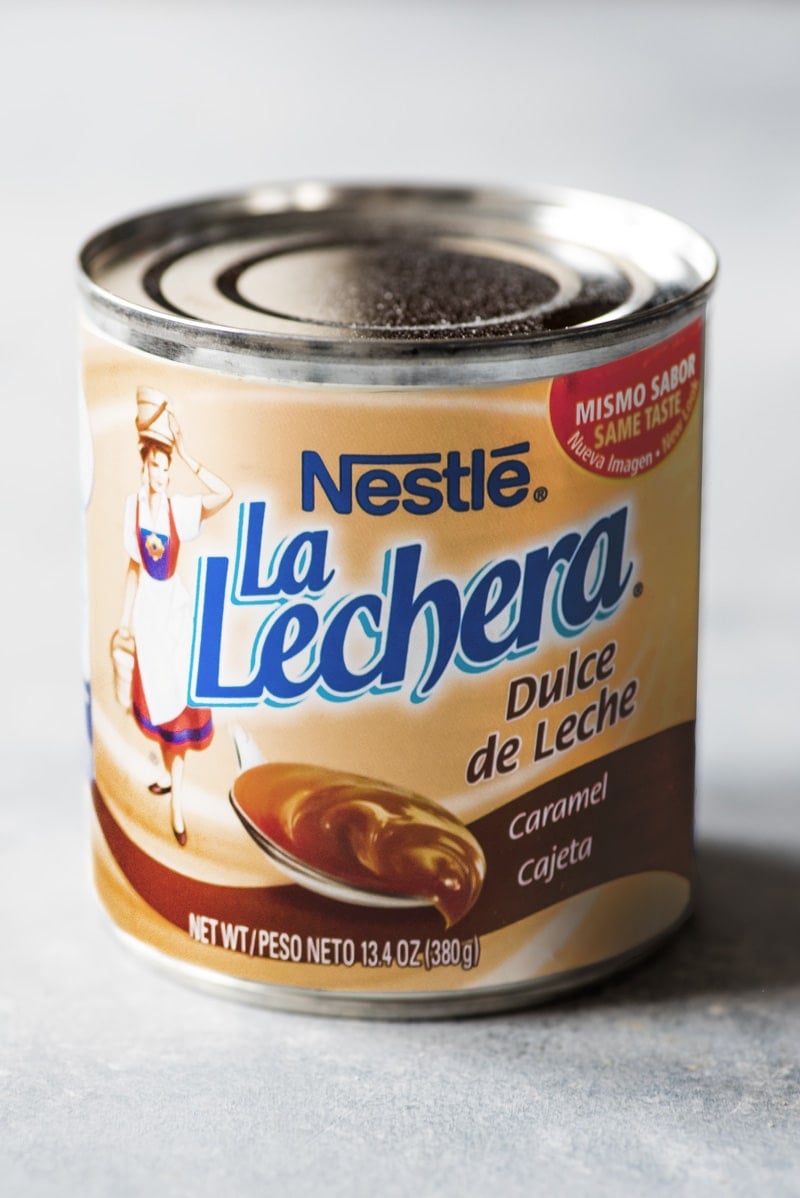 La Lechera is literally the one and only brand of dulce de leche my parents buy. They grew up with it, ate it by the spoonful and put it on everything. My oldest sister in particular is obsessed with the stuff! She has a big sweet tooth and usually grabs a spoonful of dulce de leche to spread on some crackers or fruit as a quick little dessert. The consensus in my family is that dulce de leche makes everything better and it must be La Lechera because other brands just aren't the same.
And you know what? I totally agree.
If you're going to make a Mexican inspired dessert, La Lechera is the way to go. You can easily find it in the Hispanic section of your local grocery store or in the baking aisle. To find out if your local grocery store carries La Lechera, take a look at the store locator here.
Though I love grabbing a spoon and eating dulce de leche all by itself, I'm excited to get a little fancy today and make some cinnamon rolls stuffed with dulce de leche, apples and pecans. To get started, we'll need 1 can of La Lechera® Dulce de Leche.
Once you've got your dulce de leche, it's time to start making the cinnamon roll dough. It's a yeasted dough that needs to rise for 30 minutes once you knead the ingredients together. After it rises and gets super fluffy, you'll roll it out into a large rectangle and fill it up with all the ooey gooey delicious ingredients!
How to make dulce de leche cinnamon rolls
Though there are many steps to this recipe (like most homemade baked breads and sweets), it doesn't have to be overwhelming! Here are some step-by-step photos on how to fill and roll these Dulce de Leche Cinnamon Rolls.
Kids love helping with filling and rolling the cinnamon rolls. This would be the perfect time to get them involved! Let them spread out the dulce de leche and maybe even let them lick the spoon. That's one of my favorite parts, so I'm sure they'd love it, too!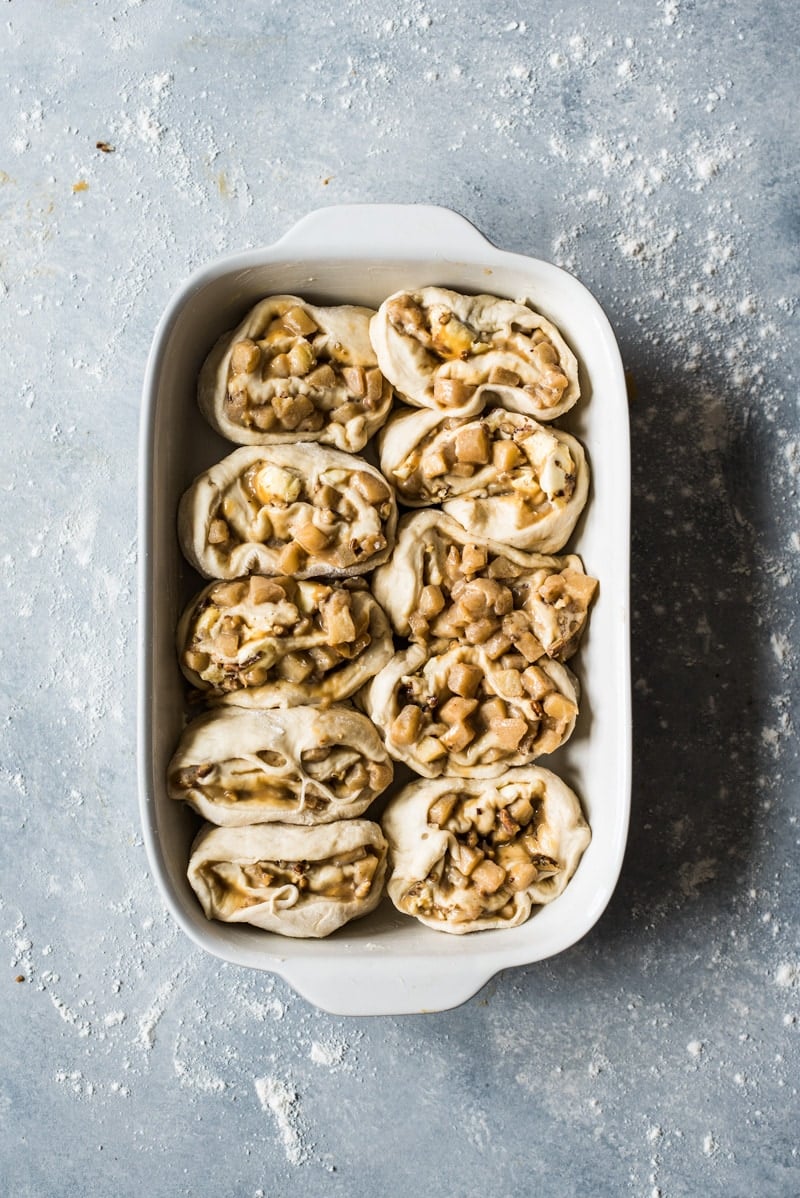 Once the cinnamon rolls are filled, they need to rest just one more time so they can get extra light and fluffy. Then you bake them in the oven for 25-30 and they're done!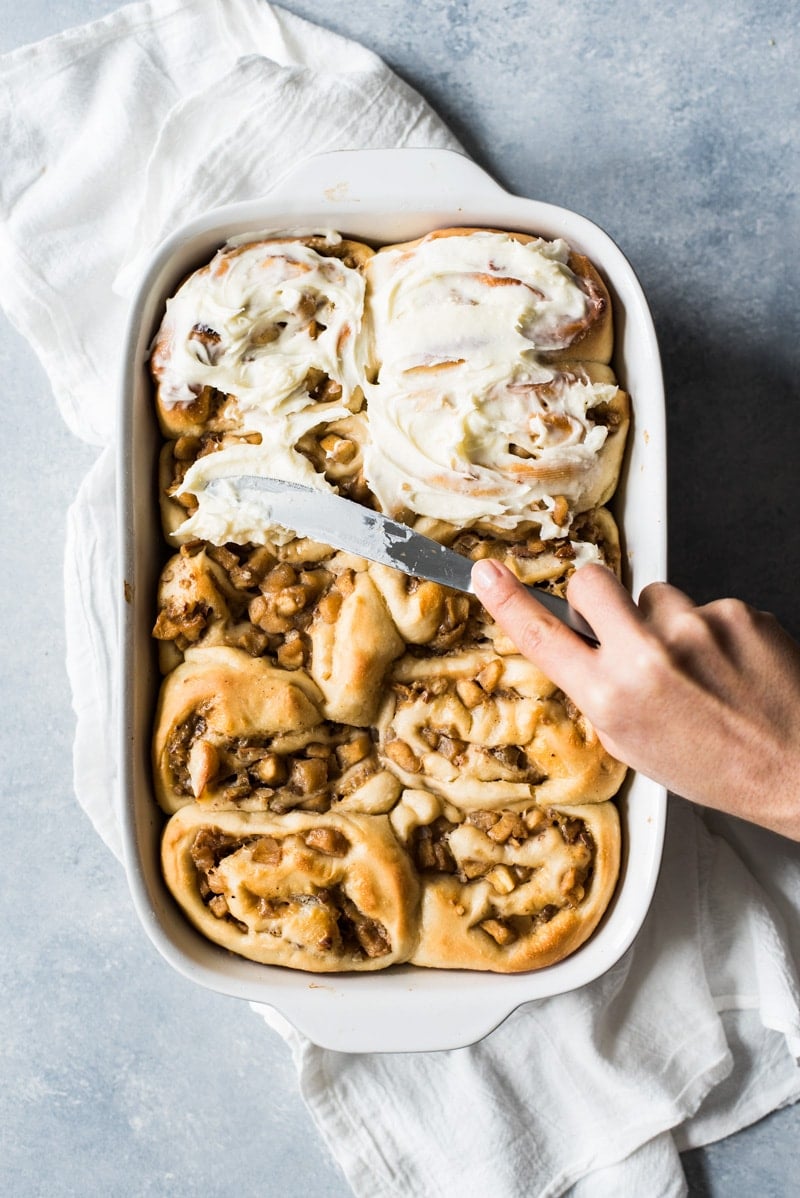 To serve, I topped my cinnamon rolls with cream cheese frosting but you could easily serve it without it if you're watching your sugar intake. I like to make the frosting and let everyone put it on their cinnamon roll individually so everyone can decide how much they want.
I also love the idea of making these cinnamon rolls on Christmas morning. The combination of warm baked cinnamon rolls, a fresh fruit salad and a cup of coffee sound absolutely amazing!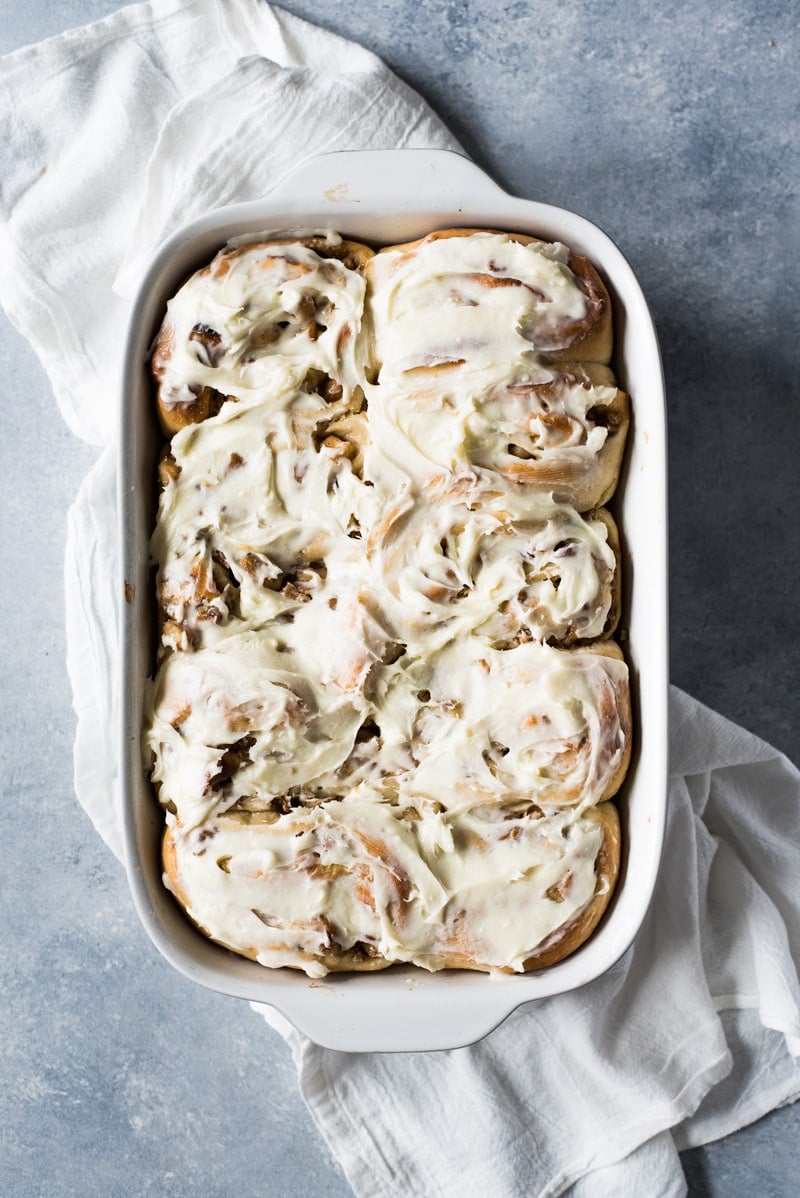 For more delicious La Lechera recipe inspiration, be sure to visit El Mejor Nido and check out La Lechera on Pinterest and Instagram. You won't regret it!
(Shout out to my big brother, Jose, for giving me the idea to make these Dulce de Leche Cinnamon Rolls a few months ago. I'll make you a batch when I see you for Christmas! Promise.)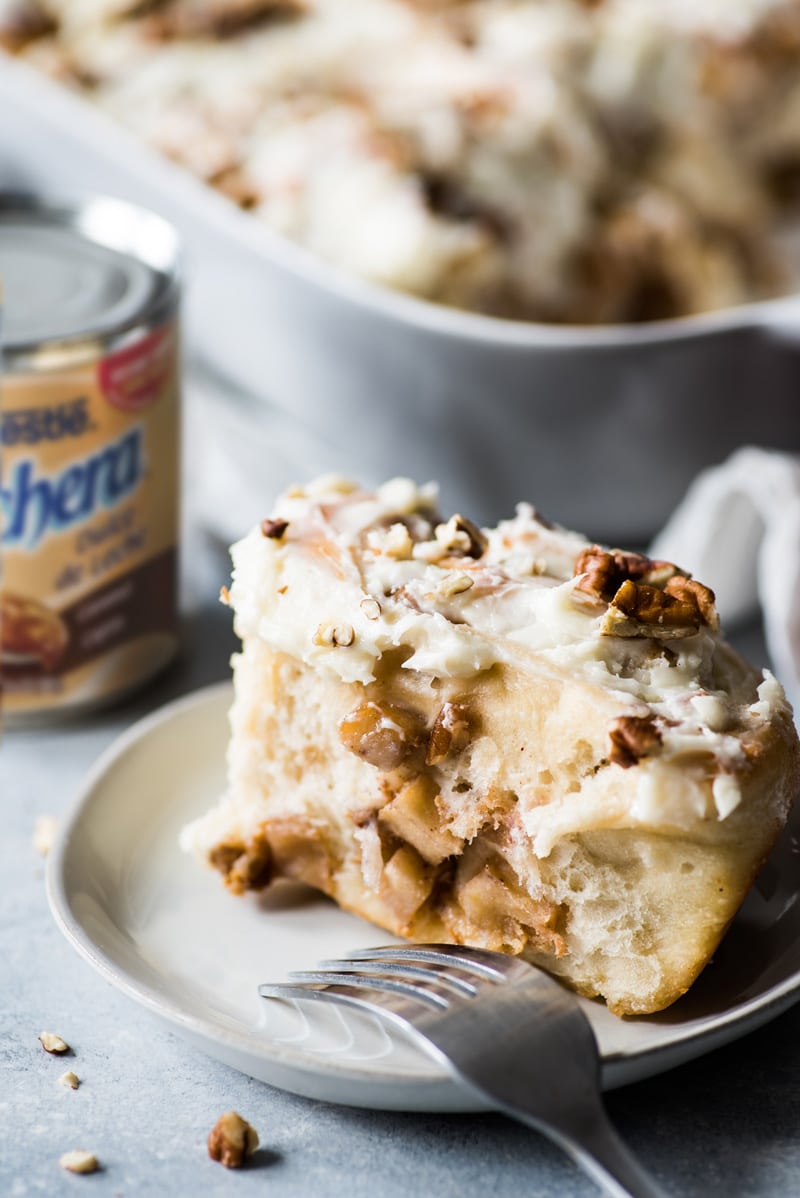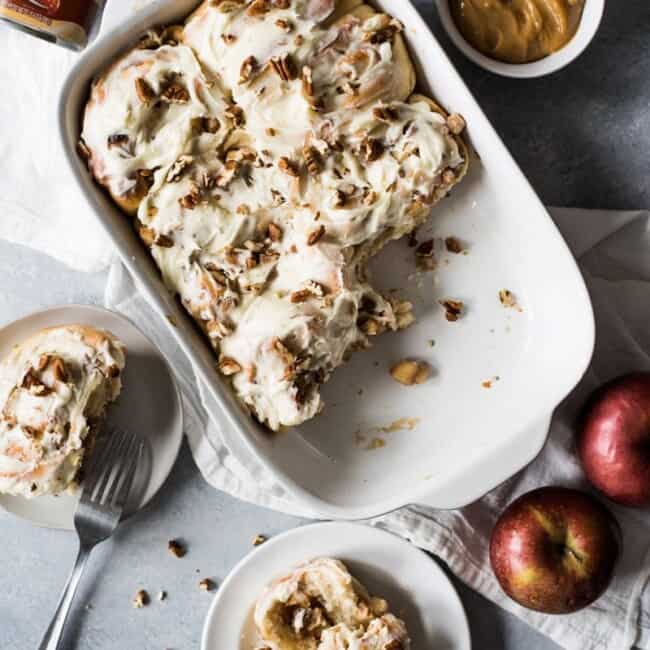 Prep: 1 hour 6 minutes
Cook: 30 minutes
Total : 1 hour 36 minutes
These Dulce de Leche Cinnamon Rolls stuffed with apples and pecans are the perfect fall and winter treat made with a Mexican twist!
Ingredients
For the dough
1 packet active yeast (2 1/4 teaspoons), dissolved in 1/2 cup warm water
3 tablespoons unsalted butter
1/2 cup granulated sugar
1 pinch salt
1 cup hot water
4 1/2 cups all-purpose flour
1 large egg
For the filling
3 medium baking apples (such as Honeycrisp or Jonathan apples), peeled and diced
1 tablespoon brown sugar
1/4 teaspoon cinnamon
1/4 teaspoon vanilla extract
1 teaspoon lemon juice
1/8 teaspoon ground cloves
1 13.4-ounce can La Lechera® Dulce de Leche
1/2 cup pecan halves, chopped
4 tablespoons unsalted butter chopped
For the cream cheese frosting
1/2 cup unsalted butter softened
2 ounces cream cheese
1 cup powdered sugar
1 tiny pinch of salt
Instructions
Make the dough
In a small cup, mix a packet of active yeast with 1/2 a cup of warm water. Let sit for 5 minutes. The mixture should start to get foamy, which means the yeast is alive and working. If it doesn't get foamy, the yeast isn't activated and you should try again with another packet.

In the bowl of a stand mixer, add butter, sugar, salt and hot water. Mix together until sugar has mostly dissolved. (If you don't have a stand mixer, you can stir and knead everything by hand.) Add half of the all-purpose flour and mix on low until well combined. Add the yeast mixture and the egg and mix on low until well combined.

Using the dough hook, gradually mix in the remaining flour and knead on low for 6 to 8 minutes, until it becomes super smooth and silky. If dough is sticking to the mixing bowl, add in 1 tablespoon of flour at a time until it no longer sticks.

Transfer the smooth dough into a large oiled bowl and cover with a towel. Place bowl in a warm spot (like the top of your fridge or in the microwave, wherever is warmest) and let rise for 30 minutes until the dough has almost doubled in size.
Make the filling
While the dough is rising, make the apple filling. Add apples, brown sugar, cinnamon, vanilla extract, lemon juice and ground cloves into a small pot. Cook over medium-high heat, stirring occasionally, until the apples are super tender and have soaked up a lot of the sugar and liquid, about 8-10 minutes. Remove from heat and set aside.
Fill and roll the cinnamon rolls
Remove the risen dough from the bowl and place on a lightly floured surface. Roll dough into a large rectangle with a rolling pin. Lift the dough carefully with your hands and add more flour to your surface to make sure the dough isn't sticking.

Open the can of dulce de leche and spread 1/2 a cup evenly over the dough, leaving about an inch of bare dough on all sides. Then add the cooked apple filling, the chopped pecans and pieces of butter.

Carefully roll the dough as tightly as possible into one long roll. The process might get messy because of all the delicious ooey-gooey stuff inside. That's okay! Just do the best you can. Cut into 12 rolls using a piece of dental floss, thread, or a sharp serrated knife.

Place rolls into a greased 3 quart baking dish and cover with a towel. Place in a warm spot and let rise for 1 hour. When there's 5 minutes remaining, preheat oven to 375 degrees F.

Bake for 25-30 minutes, until the cinnamon rolls are golden brown. Remove from oven and set aside to cool.
Make the cream cheese frosting
While the rolls are cooling, make the cream cheese frosting. In a medium bowl, add softened butter, cream cheese, powdered sugar, and a pinch of salt. Mix together using a handheld mixer and mix until smooth. Spread the frosting on rolls and serve!
Nutrition Information
Serving: 1cinnamon roll Calories: 366kcal (18%) Carbohydrates: 64g (21%) Protein: 6g (12%) Fat: 9g (14%) Saturated Fat: 3g (15%) Monounsaturated Fat: 1g Cholesterol: 31mg (10%) Potassium: 20mg (1%) Fiber: 3g (12%) Sugar: 29g (32%) Vitamin A: 200IU (4%) Vitamin C: 7.4mg (9%) Calcium: 40mg (4%) Iron: 0.2mg (1%)