Jump to Recipe
This Mexican Chorizo Chili is a warm and comforting one-pot meal perfect for the fall and winter months! (freezer friendly, gluten free)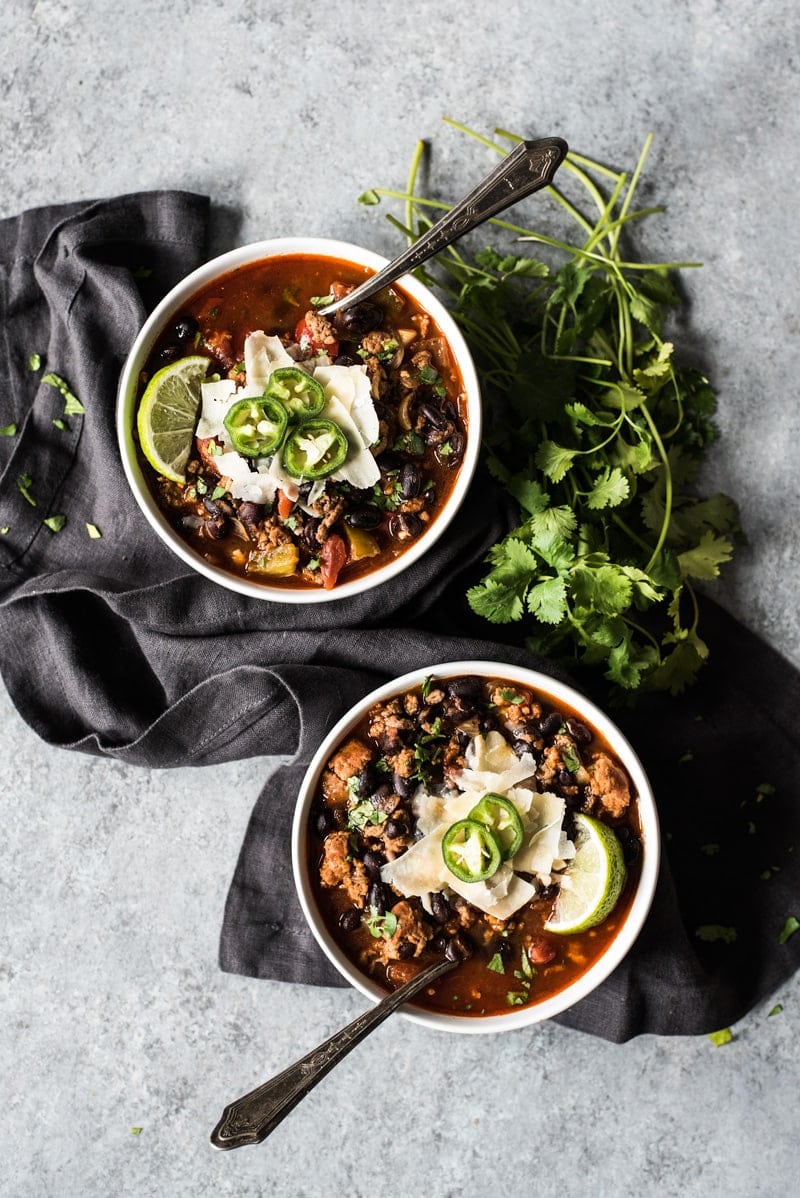 Today's Mexican Chorizo Chili recipe is sponsored by Premio Foods, but my love for their high-quality sausages is completely my own!
When it's cold out and I'm hungry (which is pretty much most of fall and winter), there's only one thing that can warm me up from the inside out – a big ol' bowl of chili. Warm, comforting and satisfying, a bowl of chili is like a big puffy winter jacket, but for my tummy.
I'm pretty sure the feeling I get when I dig into a bowl of chili is universal. You know what I'm talking about – that cozy, relaxed, snuggly feeling like everything is right in the world and all you want to do is sit on your comfy couch and eat more chili.
This Mexican Chorizo Chili recipe will take you to that place. It will not disappoint. So put on some sweatpants, your favorite oversized sweater and let's get cooking.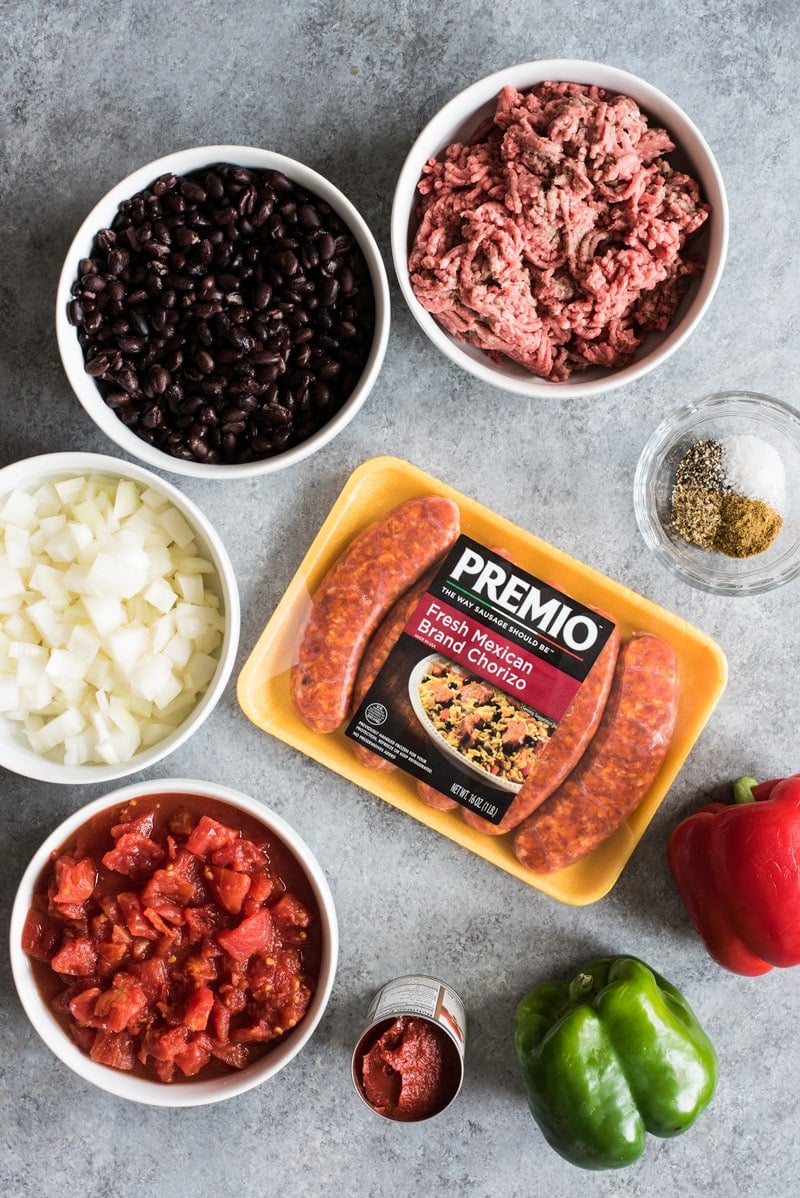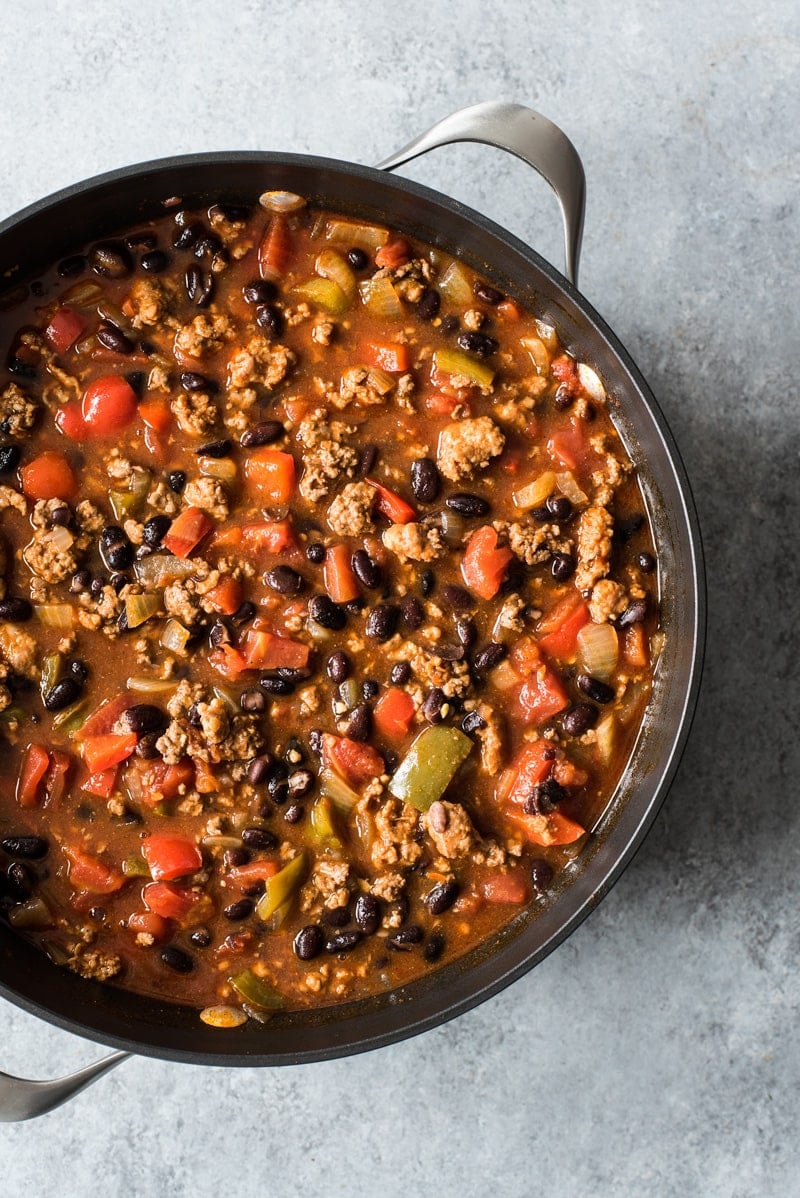 One of my favorite things about this chorizo chili is how flavorful it is while using simple ingredients that I already had in my kitchen like black beans, tomatoes and chorizo.
First, let's talk about the star of this recipe – Premio Fresh Mexican Brand Chorizo sausage. It's bold, slightly spicy and reminds me of home. ? There's those comforting flavors I was telling you about!
Not only is it fresh and made with high-quality ingredients, it's also gluten free, nut free, dairy free and made without fillers or preservatives.
To really highlight and compliment the chorizo, I added spices like chili powder, cumin, oregano and garlic. Once the meat is browned in a large pot, I cooked some onions and bell peppers until soft and then added all the remaining ingredients like black beans, broth, diced tomatoes and tomato paste. Cook for about an hour to let all the flavors blend together and that's it!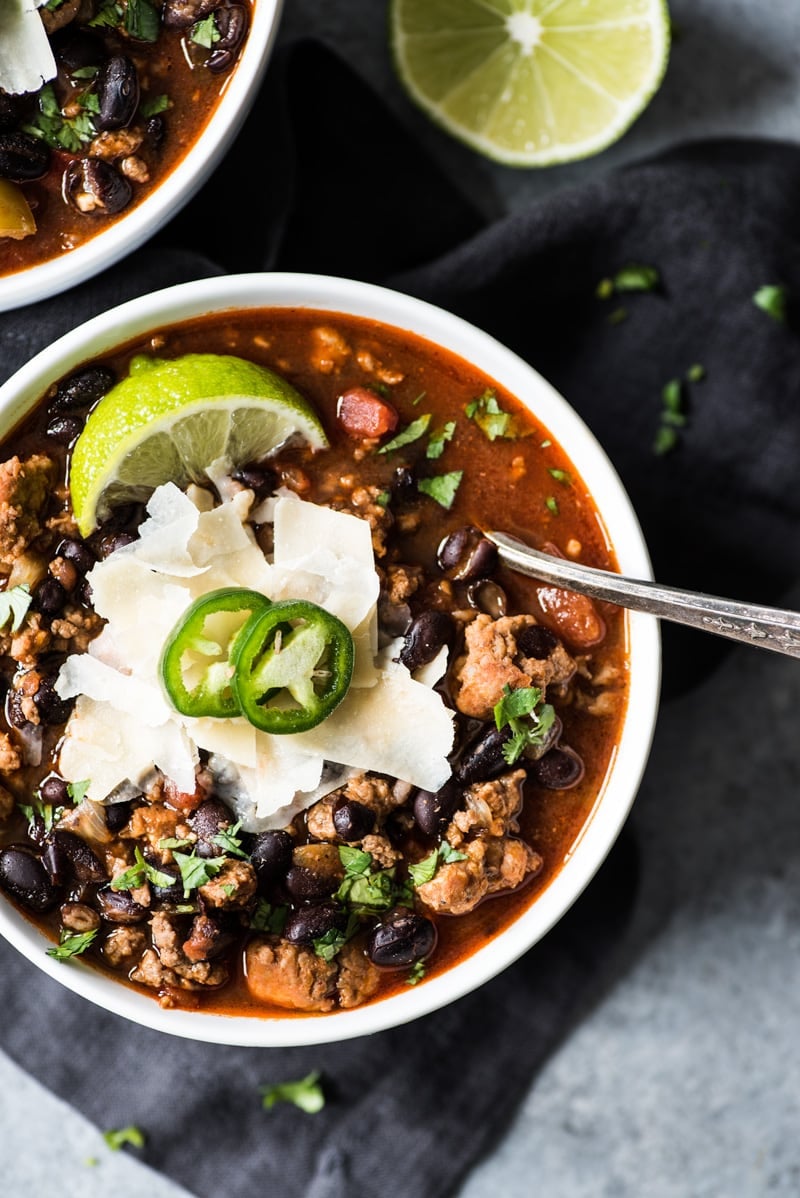 This Mexican Chorizo Chili is super easy to make and makes a whopping 12 servings. Why so much?
Chili is PERFECT for leftovers. It's one of those meals that somehow magically gets even better the longer it's been in the fridge.
Chili is freezer friendly and perfect for meal prep. One of my favorite things to do is to make this recipe and divide it in two – one half to eat throughout the week, and the other half to freeze and eat later. Then when you have one of those nights when you don't feel like making dinner, all you have to do is take this chili out of the freezer and heat it up! Bam. Dinner is done.
This time of year is full of parties, get-togethers and family functions that often require you to bring food. Luckily, this chili can feed a small crowd! No need to double the recipe and figure out all the measurements.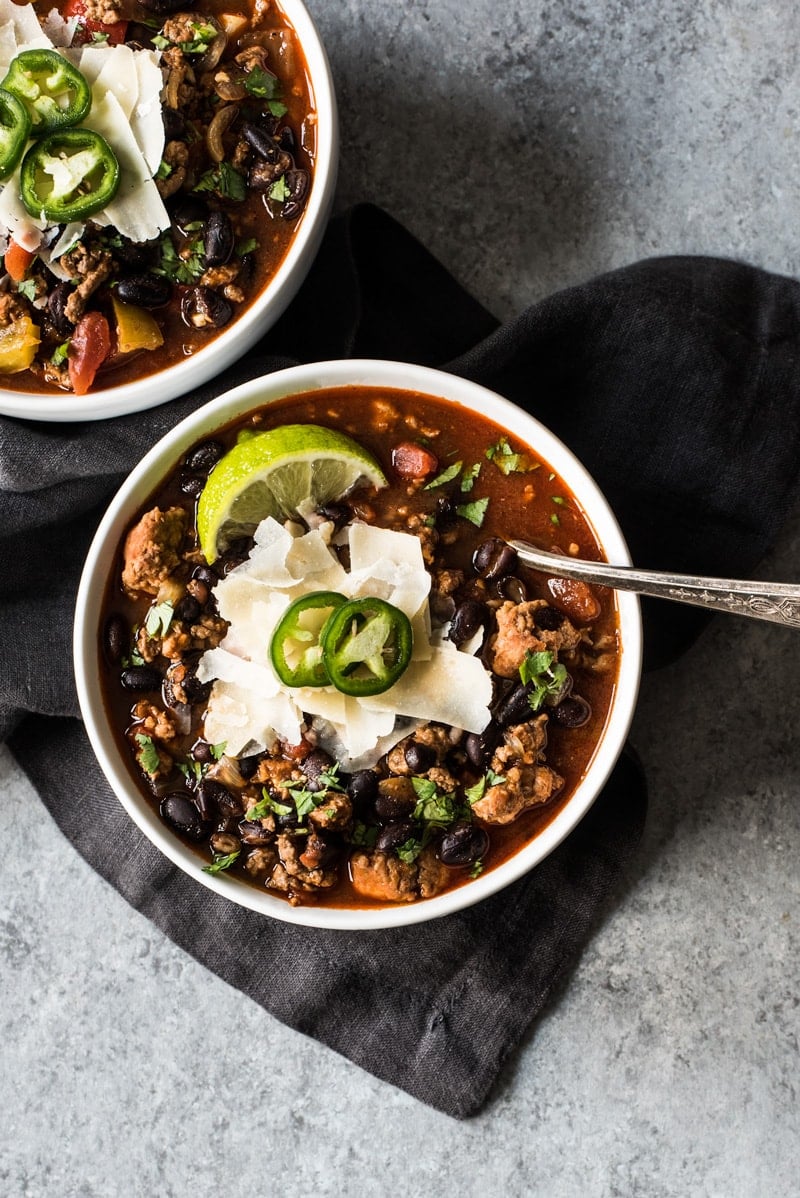 To make it spicier (because I'm that person), I added some red pepper flakes. However, if you're making this for a big crowd and don't want to make it too spicy, I recommend leaving it out. You always have the option of topping your bowl with a splash or two of your favorite Mexican hot sauce before serving. ?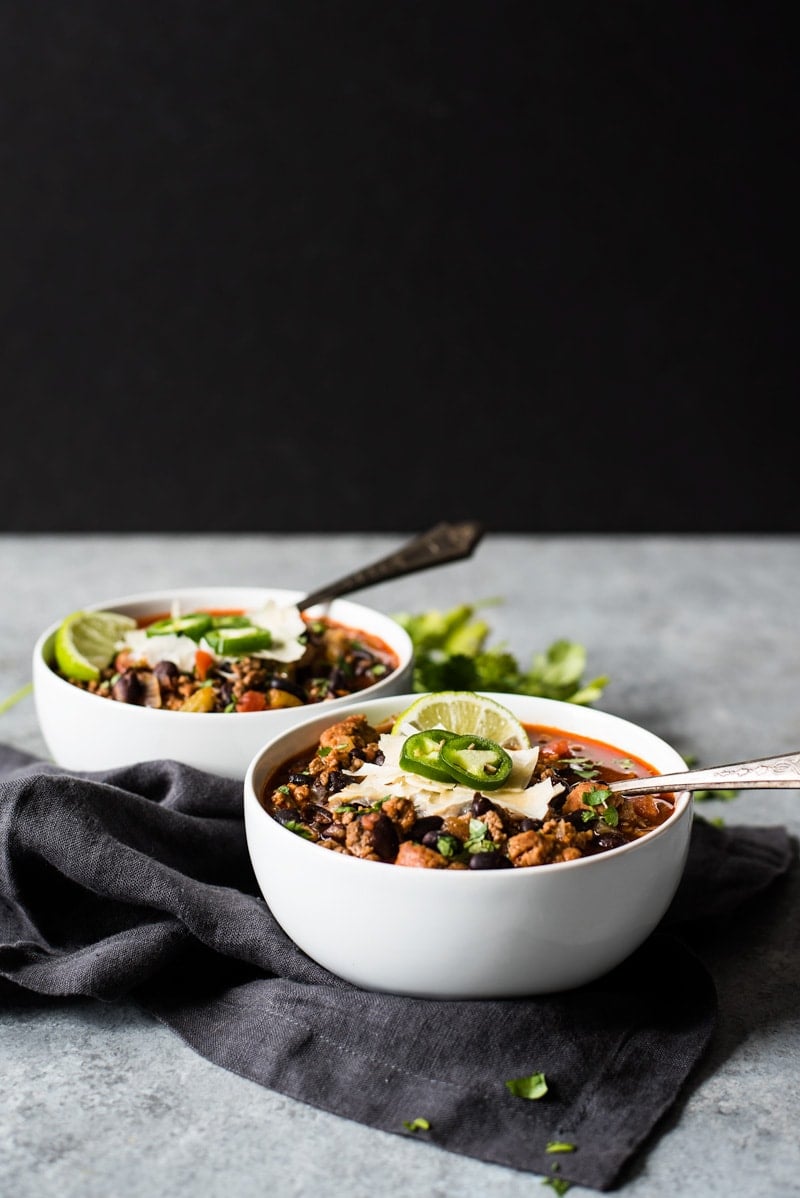 I topped my bowl with some salty Parmesan cheese, some fresh lime juice and cilantro. And don't forget to serve it with your favorite jalapeno cornbread!
More recipes you'll love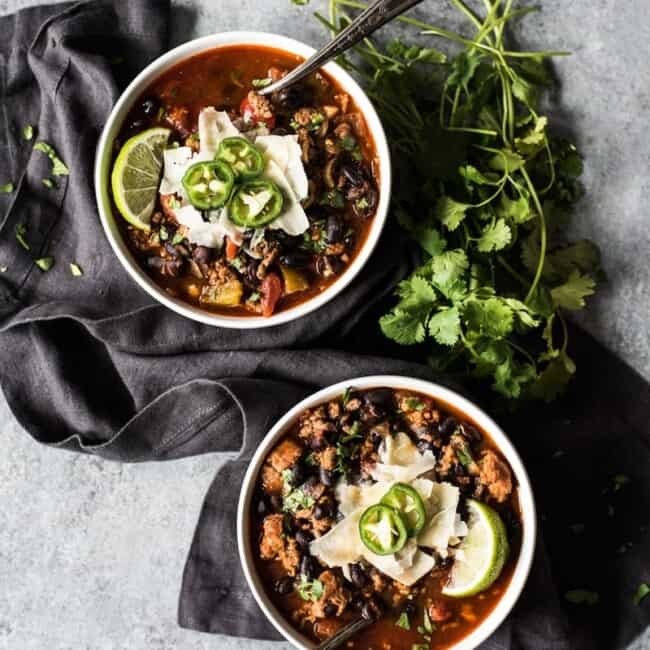 Prep: 15 minutes
Cook: 1 hour 40 minutes
Total : 1 hour 55 minutes
This Mexican Chorizo Chili is a warm and comforting one-pot meal perfect for the fall and winter months! (freezer friendly, gluten free)
Ingredients
1 pound Premio Fresh Mexican Brand Chorizo, casings removed
1 pound ground beef
1 teaspoon cumin
1 teaspoon kosher salt
1/2 teaspoon oregano
1/4 teaspoon freshly ground black pepper
1 1/2 tablespoons cooking oil
1 large onion, diced
2 large red bell pepper, seeded and diced
1 tablespoon minced garlic
1/2 teaspoon red pepper flakes
4 15-ounce cans black beans, drained and rinsed
2 32-ounce boxes beef broth
2 15-ounce cans diced tomatoes
1 6-ounce can tomato paste
2 tablespoons chili powder
to serve: cilantro, cheese, jalapenos, limes
Instructions
In a large bowl, add chorizo, ground beef, cumin, salt, oregano and black pepper. Mix together until well combined.

In a large pot or Dutch oven (5 quarts or larger) over medium-high heat, add meat and brown until cooked through, about 8-10 minutes. Drain off grease, transfer meat to a large bowl and set aside.

In the same pot, add the cooking oil, onions and peppers. Reduce heat to medium-low and cook for 15 minutes, stirring occasionally, until the veggies are soft and the onions have begun to caramelize.

Add garlic and red pepper flakes. Cook for 1 to 2 minutes, until garlic is fragrant.

Add black beans, beef broth, diced tomatoes, tomato paste, chili powder and the cooked chorizo and ground beef. Mix together and bring to a boil. Reduce heat to simmer and cook for 1 hour, stirring occasionally, until the liquid reduces to your liking.

Taste and season with salt and more red pepper flakes as needed. Serve with cilantro, cheese, jalapenos and fresh limes.
Isabel's Tips:
To freeze, cool the chili down completely by placing it in the fridge. Once chilled, store in freezer-safe zip-top bags or containers and freeze. When ready to eat, let frozen container thaw completely in the fridge or defrost in the microwave. Reheat on the stove or in the microwave until completely warm.
Nutrition Information
Serving: 1.5cups Calories: 349kcal (17%) Carbohydrates: 26g (9%) Protein: 28g (56%) Fat: 14g (22%) Saturated Fat: 5g (25%) Monounsaturated Fat: 1g Cholesterol: 53mg (18%) Sodium: 902mg (38%) Potassium: 220mg (6%) Fiber: 10g (40%) Sugar: 4g (4%) Vitamin A: 650IU (13%) Vitamin C: 5mg (6%) Calcium: 90mg (9%) Iron: 3.8mg (21%)