Jump to Recipe
Made in one pot, this Quinoa Black Bean Chili recipe is ready in a little over an hour and is hearty, satisfying, and super flavorful! Perfect for enjoying on a chilly day or as an easy vegetarian weeknight meal any time of the year.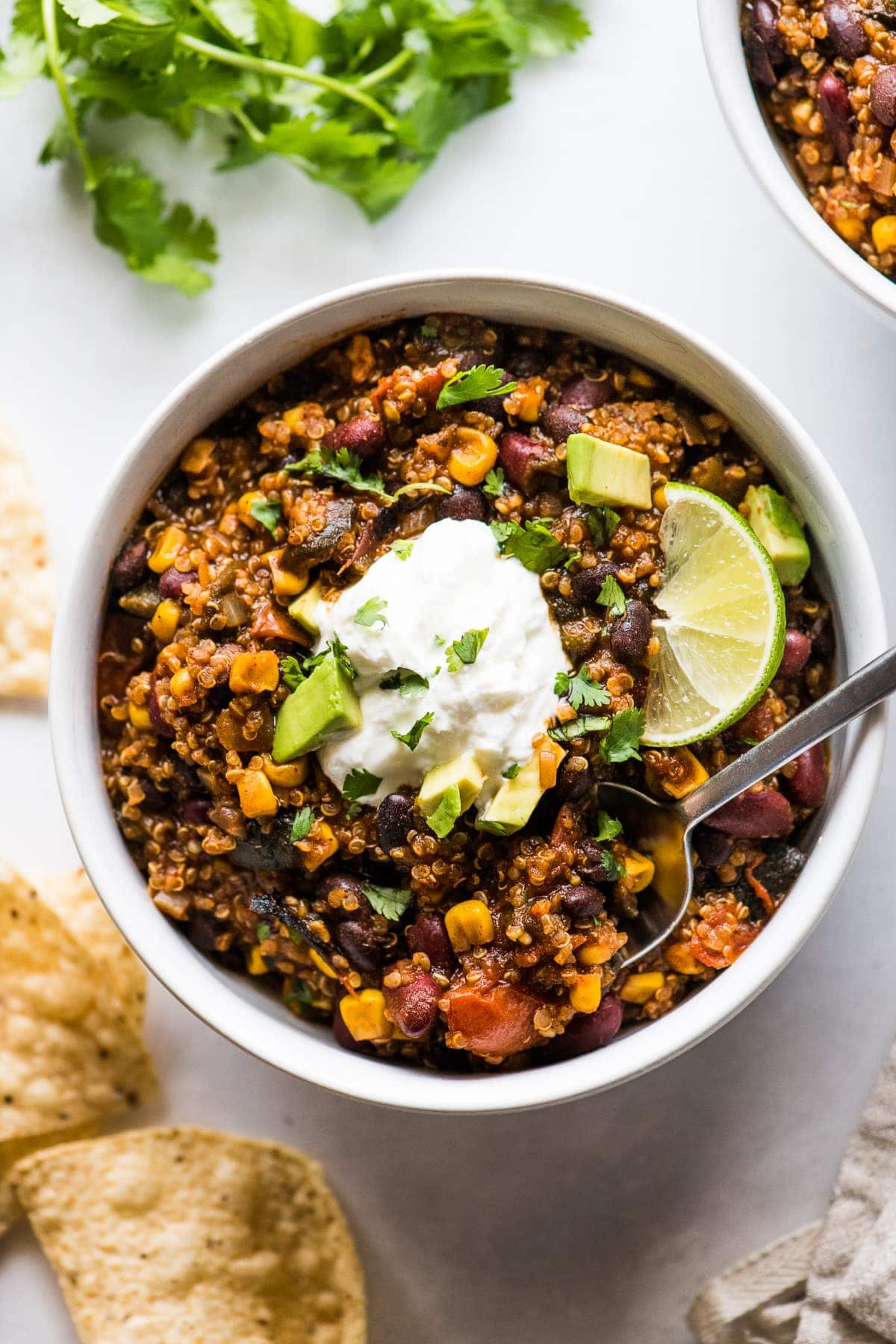 This post is sponsored by Bush's® Beans. All opinions expressed here are my own.
I'm a huge chili fan over here at Isabel Eats, and I'm so excited for this Quinoa Black Bean Chili recipe to finally be out in the world!
Thick, satisfying, and full of flavor, this one pot black bean chili takes about an hour to make and will warm you up on those chilly days and nights.
Though this recipe only takes about an hour to make, it's packed with some powerhouse ingredients like roasted poblano peppers, roasted jalapeno peppers, roasted tomatoes, and Bush's® Beans Black and Kidney Beans in a Mild Chili Sauce. They all add a ton of flavor without sacrificing too much time, which is what home cooking is all about!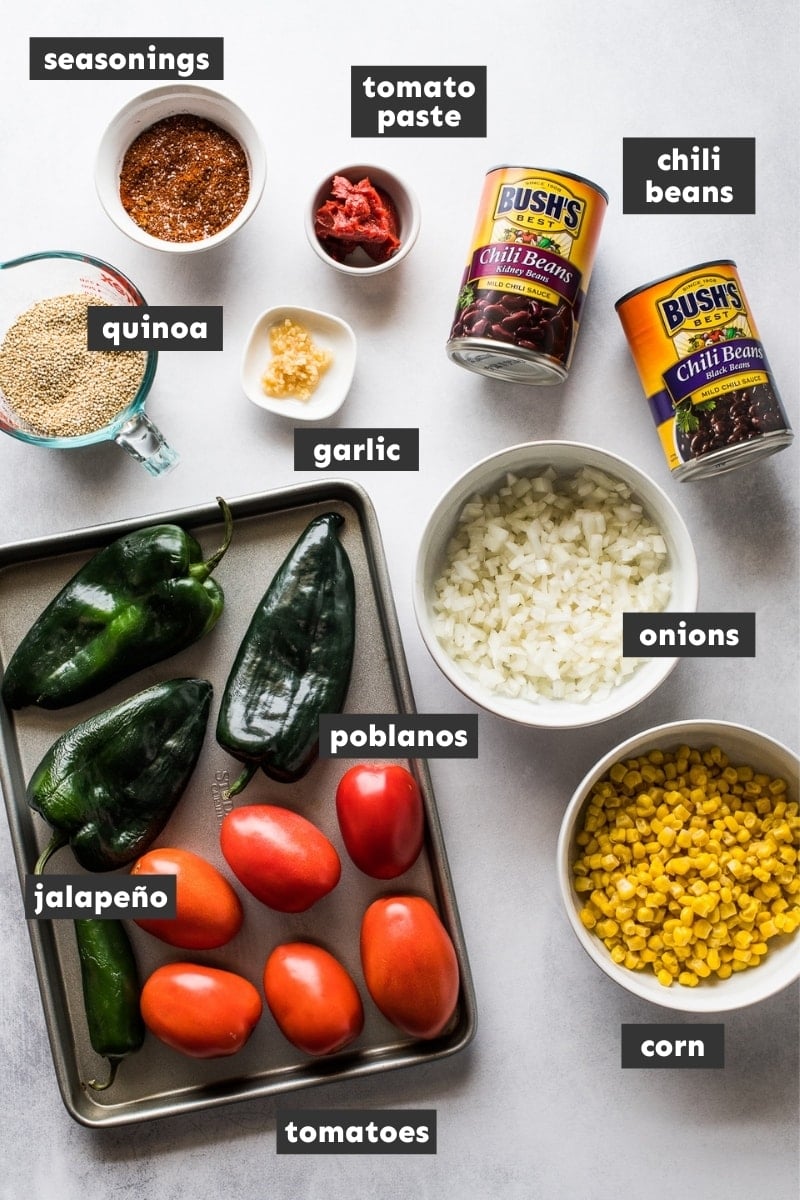 Ingredients You'll Need
Beans: To make a really good chili in only an hour, you need to pack in as much flavor as possible everywhere you can. To do that, I'm using two cans of Bush's® Beans Chili Beans – Bush's Black Beans in a Mild Chili Sauce and Bush's Kidney Beans in a Mild Chili Sauce. They both come in a sauce that is going to add a base of flavor that will make everyone think this chili took hours to make!
Peppers and tomatoes: To add even more flavor, I'm going the extra mile and roasting some poblanos, a jalapeno, and some tomatoes. This deepens their flavor and adds a subtle roasted flavor to the chili that can't be faked otherwise.
Tomato paste: This adds a more concentrated tomato flavor without all the liquid that adding more tomatoes would bring.
Corn: It adds a nice crunch, some color, and another vegetable to the mix! If you can add some roasted corn, even better!
Onions and garlic: A must have in a good chili!
Quinoa: I used dry quinoa and cooked it all together in the pot, so no need to cook it beforehand! It adds in even more protein and makes each spoonful extra filling!
Spices: Chili powder, ancho chili powder, ground cumin, smoked paprika, and salt.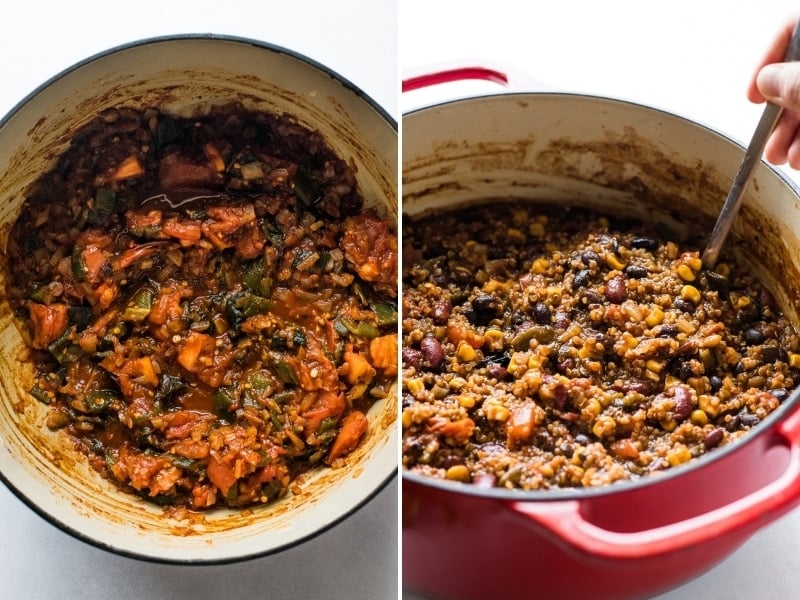 How to Make Quinoa Black Bean Chili
Roast the peppers and tomatoes. Roast the poblanos, tomatoes, and jalapeno under the broiler until charred on all sides. Then peel the skin off the peppers, and chop everything up.
Cook the onions and garlic. Sauté the onions in garlic in a little olive oil in a large Dutch oven or pot.
Add the roasted veggies and spices. Add the chopped and roasted tomatoes and peppers and all the spices to the pot. Give it a stir and cook for 5 minutes to really infuse the spices into the mixture.
Add the beans and corn. Add the 2 cans of Bush's Chili Beans and corn to the pot. Give it a stir and bring it to a boil.
Add the quinoa, broth, and cook. Add the dry quinoa and vegetable broth to the pot. Mix everything together, bring to a boil, then cover and reduce heat to simmer for 15-20 minutes until the quinoa is fully cooked.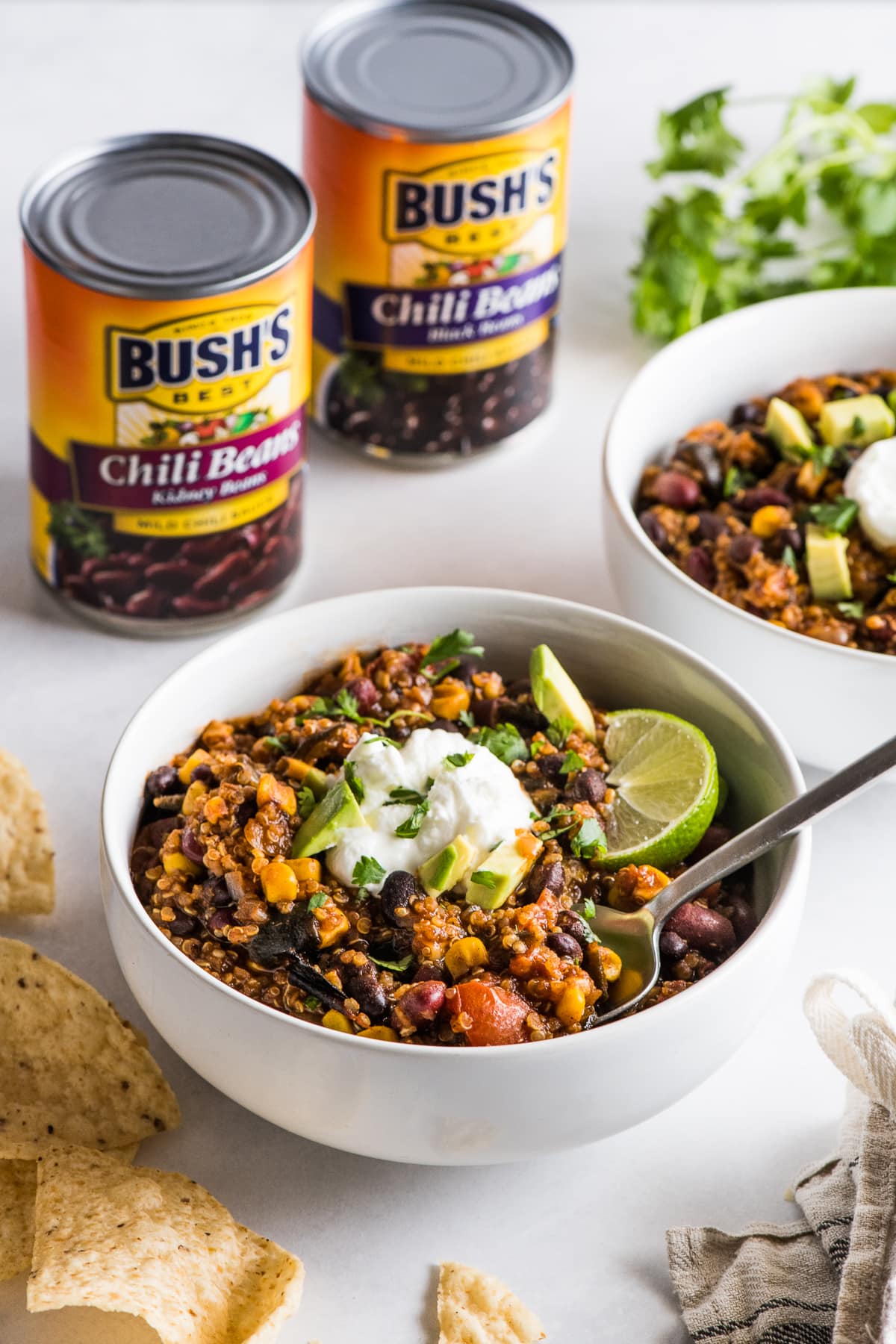 Helpful Tips and Variations
Make this chili ahead of time. I don't know about you, but I always tend to find that chili typically tastes better the next day! I think it's because all the ingredients and flavors get all that extra time to meld together and really soak in. If you're making this for a party or chili contest, consider making it the day before and then reheating the day of!
Don't forget the toppings! The second most important thing in a chili (besides the beans in my opinion) are all the toppings! Some of my favorites are:
sour cream
shredded cheese
cilantro
diced avocado
freshly squeezed lime juice
tortilla chips or corn chips
Want to add some meat? You may have noticed that this chili happens to be vegetarian. If you're looking to add some meat, I suggest adding 1 to 1.5 lbs. Here are a few suggestions:
Ground beef
Hot Italian sausage removed from the casing
Spicy Mexican chorizo sausage
Ground turkey
Storing and Reheating
One of my favorite things about chili is that it stores, freezes, and reheats beautifully!
To store, transfer the chili to an airtight container and refrigerate for up to 1 week.
To freeze, transfer cooled chili to a freezer-safe storage bag and secure. Lay the chili flat in the freezer to save some space and freeze for up to 6 months!
To reheat, place the chili in a pot on the stovetop over medium-high heat and reheat until fully warmed through. Alternatively, you can reheat it in the microwave until hot. The quinoa may have absorbed even more of the moisture, so feel free to add in a little broth if you want the chili a little saucier.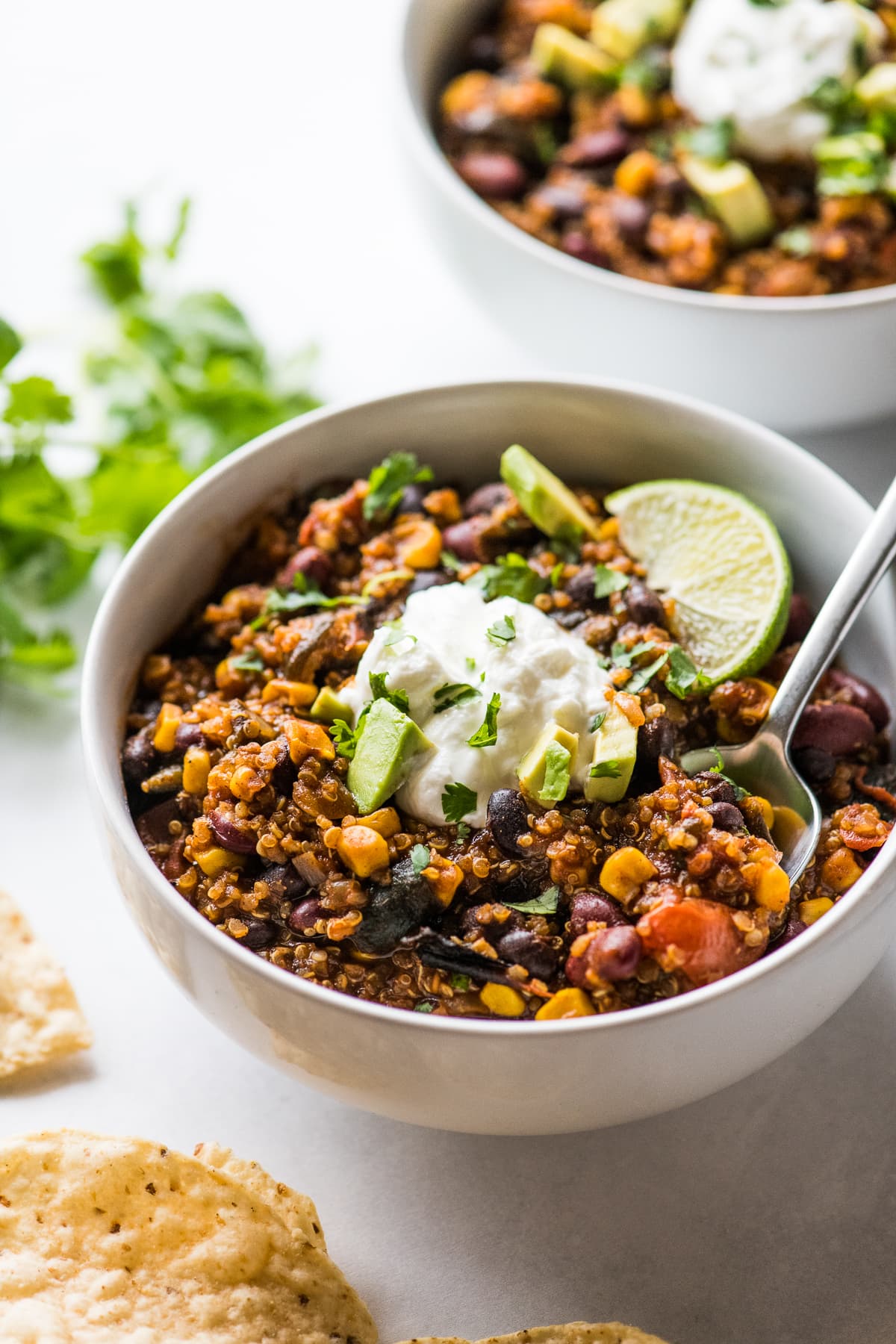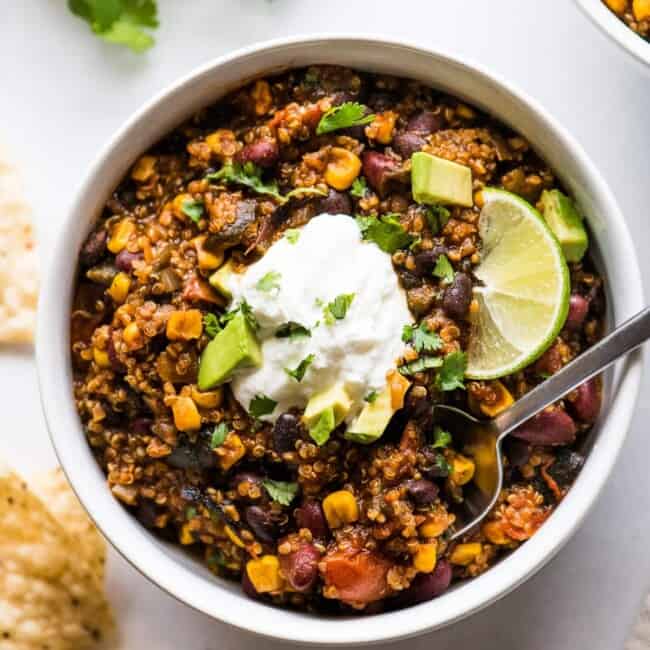 Prep: 10 minutes
Cook: 1 hour
Total : 1 hour 10 minutes
Ingredients
6 Roma tomatoes
2 poblano peppers
1 jalapeno pepper
1 tablespoon olive oil
1 large yellow onion, diced
3 cloves garlic, minced
2 tablespoons tomato paste
1 tablespoon kosher salt
1 tablespoon chili powder
1 tablespoon ancho chili powder
1 teaspoon ground cumin
2 teaspoons smoked paprika
1 (15-oz) can yellow corn, drained and rinsed
1 (15-oz) can Bush's Black Chili Beans
1 (16-oz) can Bush's Red Kidney Chili Beans
3/4 cup uncooked quinoa
2 cups vegetable broth
Instructions
Line a baking sheet with aluminum foil and place the tomatoes, poblanos, and jalapeno peppers on top. Set the oven rack directly underneath the broiler and turn the broiler on high.

Broil for 5 minutes, or until the skin is blackened and blistered. Carefully flip over the tomatoes and peppers and broil for another 5 minutes, or until the skin is blackened and blistered on all sides.

Remove from the oven and transfer the roasted tomatoes to a cutting board.

Loosely cover the remaining peppers on the baking sheet with aluminum foil or plastic wrap to keep in some of the heat to help them steam, and let them sit for 5 minutes.

While peppers are sweating, roughly chop the roasted tomatoes.

Uncover the peppers and pull and rub off as much of the loose skin on them as possible. It doesn't have to be perfect. (View some step-by-step photos on how to roast poblano peppers.) At this point, you can also remove the seeds from any of the peppers if you don't want it too spicy.

Transfer clean peppers to a cutting board and chop them, removing the seeds from the peppers if you don't want the chili to be spicy.

Heat olive oil in a Dutch oven or large pot over medium-high heat. Add onions and garlic and cook for 5 minutes until softened and translucent.

Add chopped roasted tomatoes, chopped roasted peppers, tomato paste, salt, chili powder, ancho chili powder, ground cumin, and smoked paprika. Cook for 5 minutes, stirring occasionally.

Add corn and both cans of chili beans. Stir to combine and bring to a boil.

Cover, reduce heat to low, and simmer for 5 minutes.

Add quinoa and vegetable broth. Stir to combine, raise heat to high, and bring to a boil.

Cover, reduce heat to low, and simmer for 15-20 minutes or until the quinoa is fully cooked.

Taste and season with more salt if necessary. If you prefer your chili with a little more saucy, stir in 1 cup of water or more to your liking.

Garnish with cilantro, avocados, and sour cream. Serve with tortilla chips or cornbread and enjoy!
Nutrition Information
Serving: 1serving Calories: 237kcal (12%) Carbohydrates: 40g (13%) Protein: 10g (20%) Fat: 5g (8%) Saturated Fat: 1g (5%) Sodium: 1770mg (74%) Potassium: 901mg (26%) Fiber: 8g (32%) Sugar: 9g (10%) Vitamin A: 1435IU (29%) Vitamin C: 37mg (45%) Calcium: 69mg (7%) Iron: 4mg (22%)