These Mexican Wedding Cookies (also known as polvorones) are rich, buttery and crumbly shortbread cookies that melt in your mouth and are absolutely irresistible!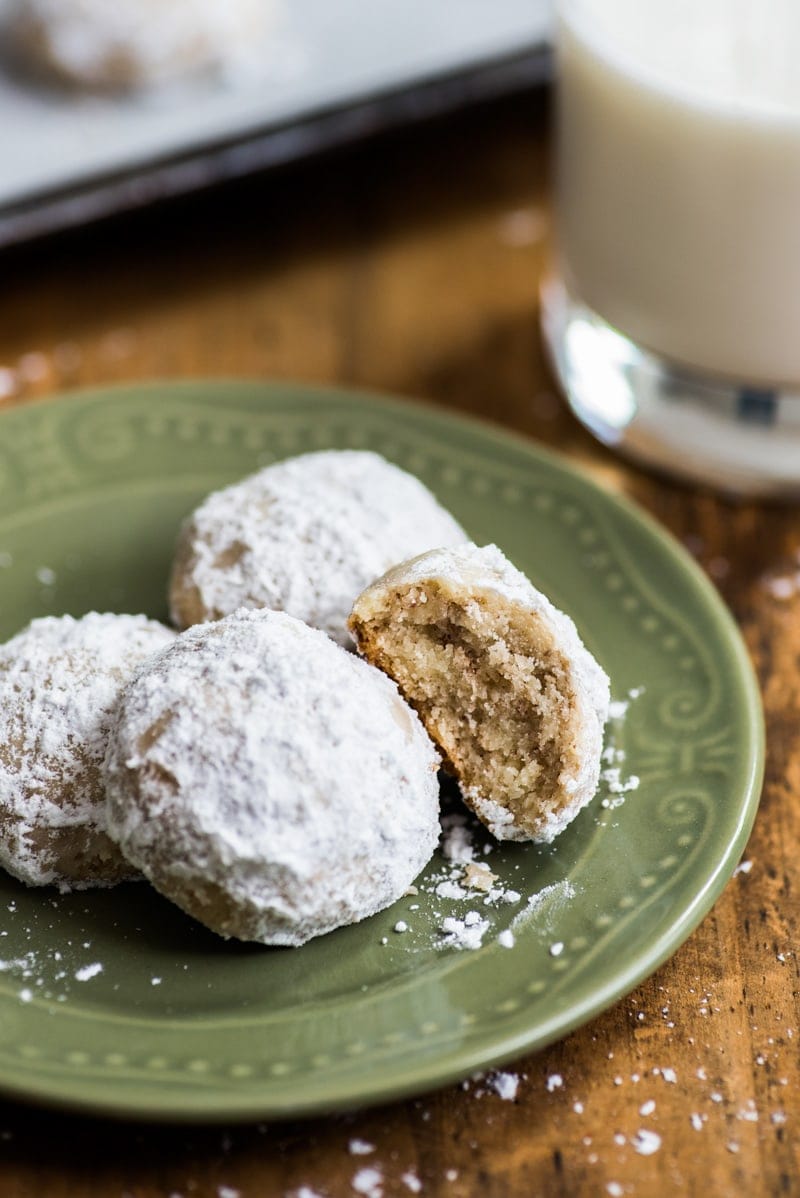 Say hello to Mexican wedding cookies – my new favorite cookies!  I know that's quite the statement, but one little bite and you'll understand exactly why I'm head over heels in love!
Made with only a handful of simple ingredients like flour, powdered sugar, butter and nuts, these little shortbread-like cookies are super easy to make and have that luscious melt-in-your-mouth quality that will keep you coming back for more. They're known by many different names including polvorones in Spanish, snowball cookies, Russian tea cookies and butterballs, and are traditionally served at weddings and other special occasions, hence the name.
But watch out, world! I'm breaking the rules today.
I don't think these Mexican wedding cookies need a special occasion! They're way too delicious and easy to make to only have at certain times of the year. I've come to realize that life itself is a special occasion. Waking up everyday, enjoying precious moments with loved ones, being out in nature and tasting and savoring all the amazing food the world has to offer – that's what's truly special.
So join me in breaking the rules and let's make some Mexican wedding cookies today!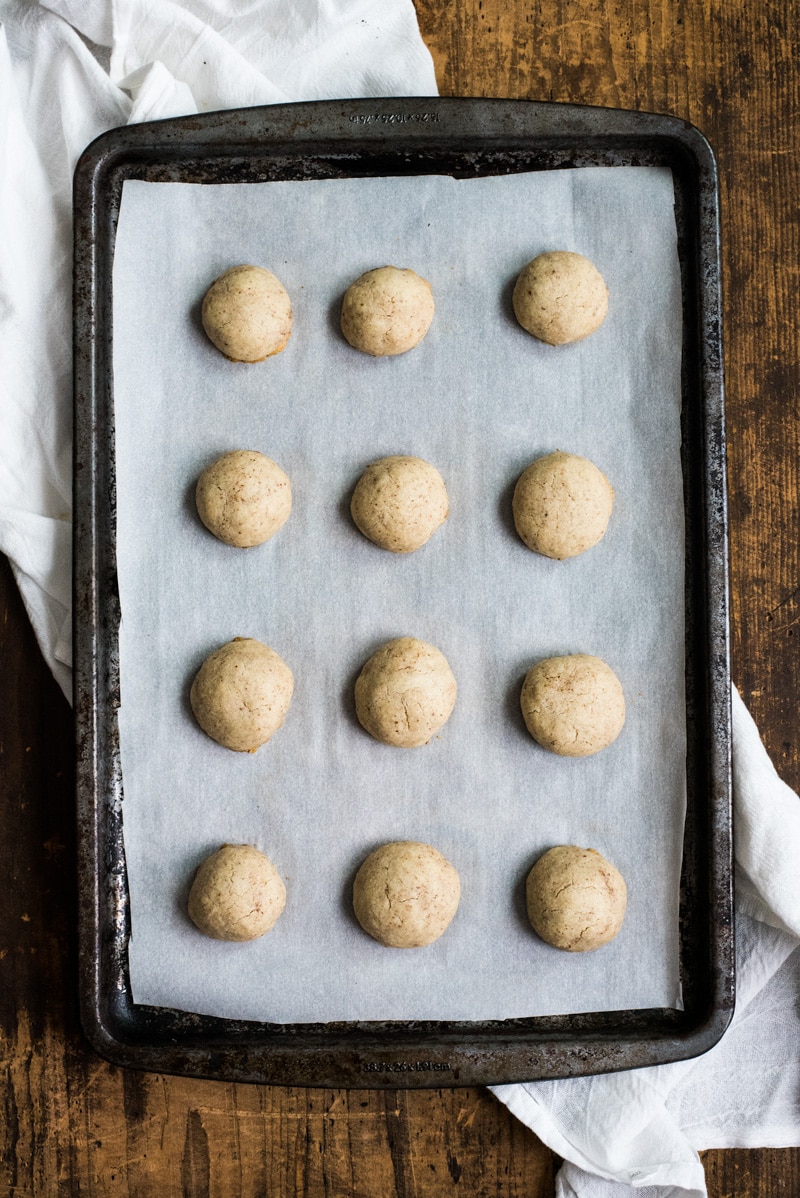 How to make Mexican wedding cookies
Start by lightly toasting some pecans in a 350 degree oven for about 8 minutes. Once they've cooled, place them in a blender or food processor with some flour and blend them until they're finely ground.
Next, in a large bowl, beat together room temperature butter and powdered sugar until light and fluffy. Beat in some vanilla extract and mix in the remaining flour and salt.
Lastly, gently fold in the ground pecans and form the dough into a ball. Chill in the fridge for about an hour or in the freezer for about 20 to 30 minutes. This will help the cookies stay in a little ball shape when baked in the oven instead of spreading and flattening out.
Once the dough has been chilled, form about 26 1-inch balls with a slightly flat side so they don't roll around in the pan and place them on two baking sheets lined with parchment paper. Bake in a 350 degree oven for 12 to 15 minutes. Remove and let cool for about 5 minutes.
For the final touch, roll the cookies in powdered sugar and eat up!



The hardest part of this recipe is waiting for the dough to chill, which isn't hard at all but does require a small amount of time. If you're looking to save a bit of time the day of, the cookie dough can be made ahead of time and kept in the freezer for up to 3 months until you're ready to bake them.
Simply follow all of the instructions and place the balls in a freezer-safe bag or container and freeze. When you're ready to bake them, place them on two baking sheets lined with parchment paper and bake in a 350F oven for 15 to 18 minutes.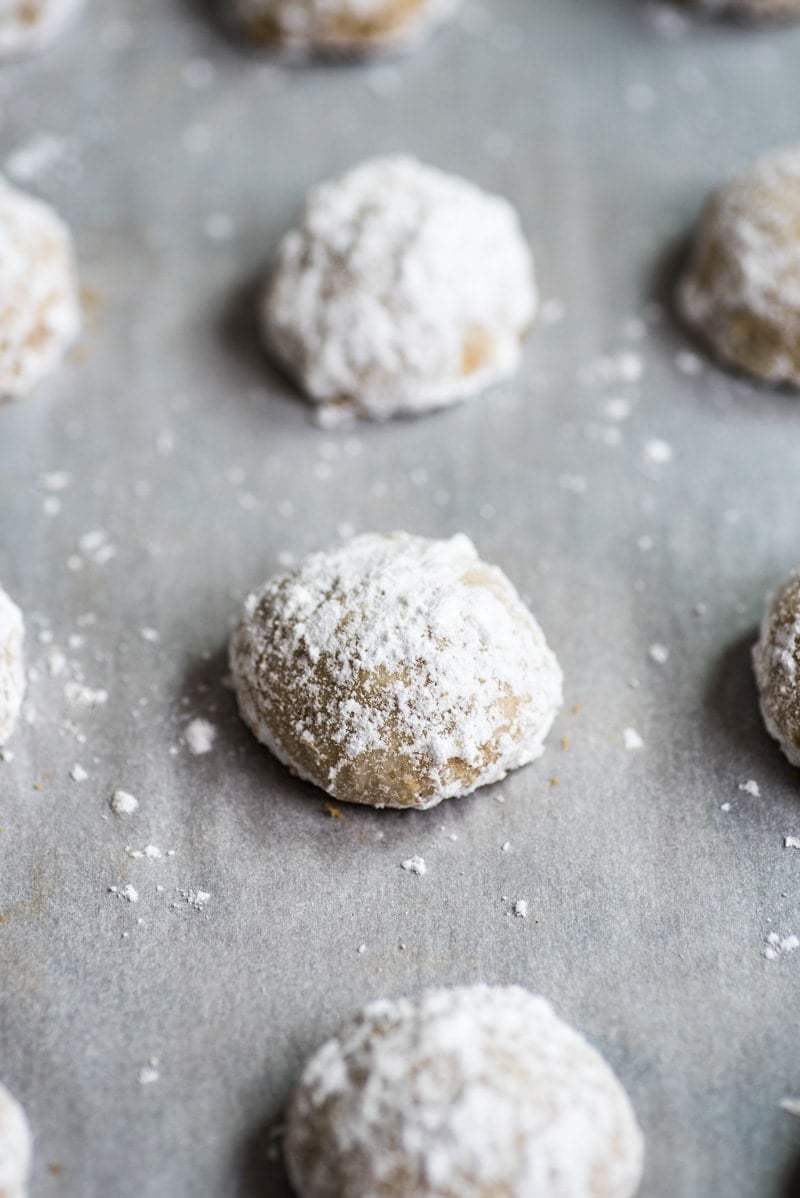 While I'm insanely proud of my Mexican heritage and get a lot of my recipes and ideas from my family kitchen, the recipe for these Mexican Wedding Cookies actually comes from my amazingly talented friend Emily Levenson's new ebook The Recipe Archives!
Filled with a whopping 217 recipes (you read that right!) for breakfast, lunch, dinner and everything in between, this ebook contains every. single. recipe. that Emily has ever shared on emilylevenson.com.
Every recipe is dairy free and there's also a large selection that are also nightshade free, gluten free, and plant-based.
If you're curious to see what types of recipes are included, go to The Recipe Archives and take a look at the complete list of recipes in the book, including these Mexican Wedding Cookies!
Like this recipe? You may also like these!
INGREDIENTS
2/3

cup

whole pecans

1

cup (2 sticks)

butter,

room temperature

1/4

cup

powdered sugar

1

teaspoon

vanilla extract

2

cups

all-purpose flour

1/4

teaspoon

salt

1

cup

powdered sugar,

sifted (for topping)
INSTRUCTIONS
Preheat oven to 350°F.

Place pecans on a baking sheet or toaster oven tray and bake for about 8 minutes, or until lightly brown and fragrant. Cool. Once the nuts have cooled completely, place them along with 2 tablespoons of the flour from the recipe into your food processor or blender and process until they are finely ground.

In a large bowl using a stand or hand mixer, beat the butter and sugar until light and fluffy, about 2 minutes. Beat in the vanilla extract. Add the remaining flour and salt, and beat until combined. Stir in the ground nuts.

Cover and refrigerate the dough for about one hour or until firm. (You can also put it in the freezer for about 30 minutes to speed up the process.)

Line two baking sheets with parchment paper.

Form the chilled dough into 1 inch balls and place them onto prepared baking sheets. Press with hand or bottom of a glass to flatten the top slightly. Bake for about 12-15 minutes, or until the edges of the cookies start to brown. Remove from oven and place on a wire rack to cool for about 5 minutes.

Place 1 cup of powdered sugar into a bowl, and roll one cookie at a time until coated with sugar. Note: the warmer the cookies, the more the powdered sugar turns into a paste, so don't rush the cooling process. Store in an airtight container.
NOTES
---
To make this vegan: use your favorite non-dairy butter or margarine.
To freeze these ahead of time: follow all of the instructions and place the formed cookie dough balls in a freezer-safe bag or container and freeze. When you're ready to bake them, place them on two baking sheets lined with parchment paper and bake in a 350F oven for 15 to 18 minutes.
Nutrition Facts
Mexican Wedding Cookies (Polvorones)
Amount Per Serving (1 cookie)
Calories 134
Calories from Fat 81
% Daily Value*
Fat 9g14%
Sodium 77mg3%
Carbohydrates 12g4%
Protein 1g2%
Vitamin A 250IU5%
* Percent Daily Values are based on a 2000 calorie diet.
Did you make this recipe?
Leave a comment below and tag @isabeleats on social media!