These Mexican Hot Chocolate Cookies are super chocolaty, made with cinnamon and chili powder for a little Mexican twist and topped with mini marshmallows!

Hello, December! I've been waiting for you all year!
It seems appropriate to ring in the month with a batch of hot chocolate cookies, right? These beauties are super chocolaty, made with cinnamon and chili powder for a little Mexican twist and topped with mini marshmallows. I also added a little sea salt on top to help balance out the sweetness, just a tad. If you're a chocolate lover, you're going to LOVE these.
I've been enjoying these with a hot cup of tea at night, in the dark, while watching a movie, with the Christmas tree lit. Ambiance is very important. 🙂 It's actually been very relaxing and has turned into sort of a ritual. Never mind that I've only done this "ritual" twice, but I'm totally into it and would like to do it more often. There's just something about sitting on the couch with a hot cup of something good and a little sweet treat that's so comforting.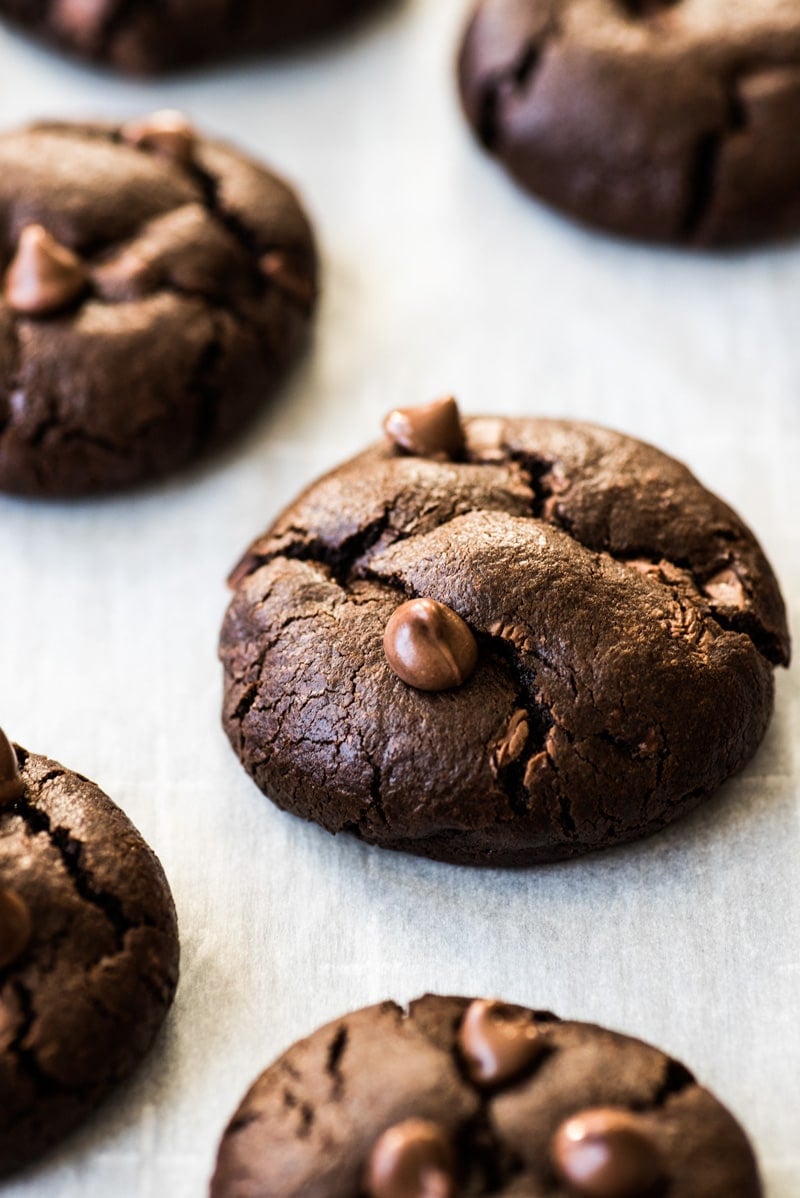 I've been on quite the baking frenzy these past couple of weeks and there's no signs of stopping. It all started with the baked pumpkin churros, followed by the baked apple empanadas and then the dulce de leche cinnamon rolls. Factor in that I tested each recipe at least twice and then you can see just how many sweets I've been making!
It's been crazy town. A very delicious crazy town.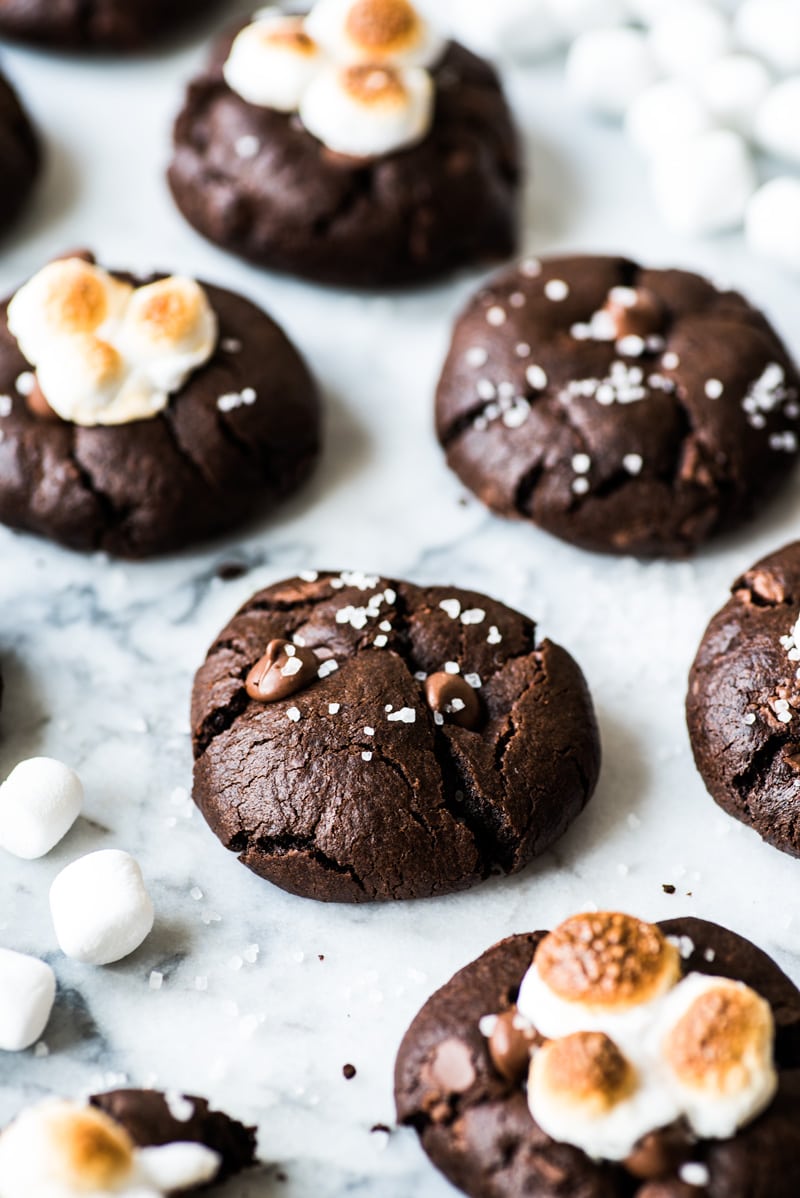 If there was ever a season for baked goods, this is it. Christmas and New Year's is right around the corner and I'm so ready to go home and spend it with my family.
It's been such a roller coaster of a year, it's hard to believe sometimes. I've literally felt the highest highs and lowest lows. I got married and quit my full-time job to pursue my passion for food blogging, which has been so incredibly amazing. At the same time, my family and I have been going through some really sad and tough times this year. It's something I haven't really talked about on the blog, and I'm not sure when I'll be ready to or if I ever will. What I do know is that now more than ever, my family needs to be together and support each other this Christmas.
And you better believe I'm gonna bake SO MANY COOKIES to give to everyone. Because that's how I show my love and support.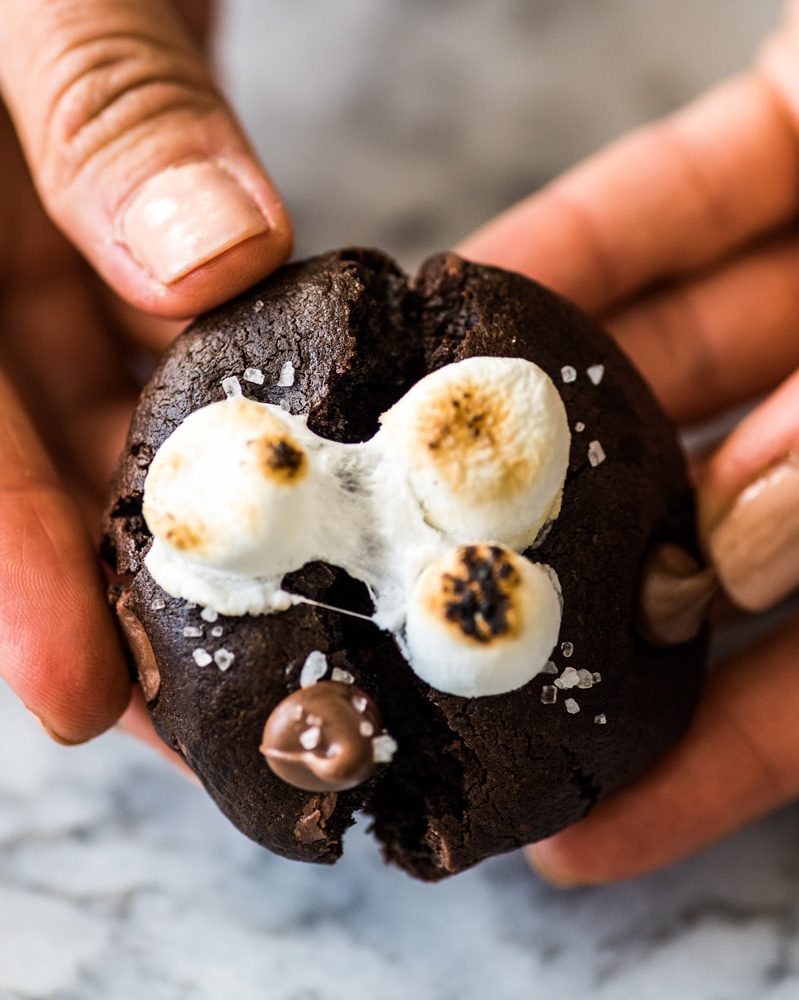 With all the baking I've been doing lately, you'd think I'd feel comfortable with the whole process, right? Nope. Not at all.
Baking does not come easily to me. Pretty much every single baked good I've made, I've had to research techniques and best practices because I just don't know how to do it. I'm hoping that with time, all the techniques and little tips will stick in my brain. Fingers crossed.
If you're like me and aren't really a great baker, you've got to check out Sally's Baking Addiction blog. It's my go-to resource. She gives so many great baking tips and her writing is just so informative. It's like she's sitting next to me, teaching me exactly what to do and why I should do it. Highly recommend her website.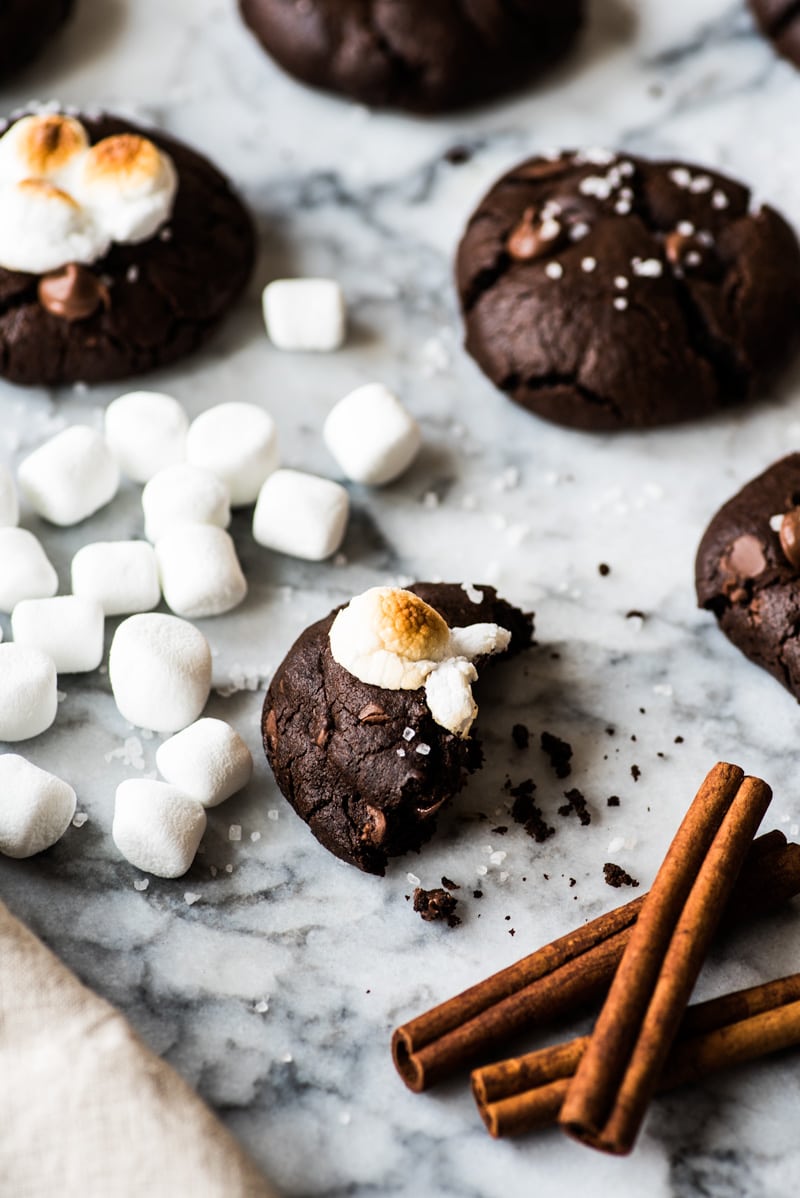 I hope you guys love this recipe as much as I do! Have a great weekend!
More dessert recipes you'll love
INGREDIENTS
1

cup

all-purpose flour

2/3

cup

unsweetened cocoa powder

1

teaspoon

baking soda

1 1/2

teaspoons

chili powder

1

teaspoon

ground cinnamon

1/8

teaspoon

salt

1/2

cup

unsalted butter,

softened

1/2

cup

granulated sugar

1/4

cup

dark brown sugar

1

large

egg

1/2

teaspoon

vanilla extract

2

tablespoons

milk

3/4

cup

milk chocolate chips,

plus a few more for topping

1

handful

mini marshmallows for topping,

optional

1

pinch

sea salt for topping,

optional
INSTRUCTIONS
In a medium bowl, add the flour, cocoa powder, baking soda, chili powder, cinnamon and salt. Mix together to combine.

In the large bowl of a stand mixer, add the softened butter and beat with the paddle attachment on low speed until smooth, about 1 minute. (A hand mixer can also be used.)

Add the granulated and dark brown sugar and beat on medium-high speed until well combined.

Add the egg, vanilla extract and milk and beat until well combined. You may have to stop the mixer once or twice to scrape down the sides and bottom. That's okay.

Working on low speed, add in the dry ingredients slowly until combined. The cookie dough will be thick and sticky. Add in the chocolate chips. Once the chocolate chips are mostly combined with the dough, transfer the dough onto two sheets of plastic wrap. Form the dough into a ball (making sure to poke in chocolate chips that aren't staying) and cover. Chill in the fridge for an hour or in the freezer for 20 minutes.

Remove the cookie dough from the fridge and preheat oven to 350 degrees F. Line two large baking trays with parchment paper. Roll dough into 16 balls and place on baking trays.

Bake cookies for 10 minutes. Remove from the oven and top with 3 or 4 mini marshmallows each.

Place cookies under broiler and broil on high for 30 seconds or until the tops of the marshmallows begin to brown.

Remove from oven and top with a few more chocolate chips and sea salt if desired. Let the cookies cool for 5 minutes. They'll spread out a little more and deflate in the process. All that's left to do is eat!
NOTES
---
Recipe adapted from Sally's Baking Addiction.
Nutrition Facts
Mexican Hot Chocolate Cookies
Amount Per Serving (1 cookie)
Calories 186
Calories from Fat 90
% Daily Value*
Fat 10g15%
Cholesterol 30mg10%
Sodium 400mg17%
Potassium 68mg2%
Carbohydrates 25g8%
Protein 2g4%
Vitamin A 250IU5%
Calcium 30mg3%
Iron 0.7mg4%
* Percent Daily Values are based on a 2000 calorie diet.
Did you make this recipe?
Leave a comment below and tag @isabeleats on social media!