Jump to Recipe
These Mexican Hot Chocolate Cookies are super chocolaty, made with cinnamon and chili powder for a slightly spicy Mexican twist. Topped with mini marshmallows, this easy recipe makes for a tasty treat that's perfect anytime!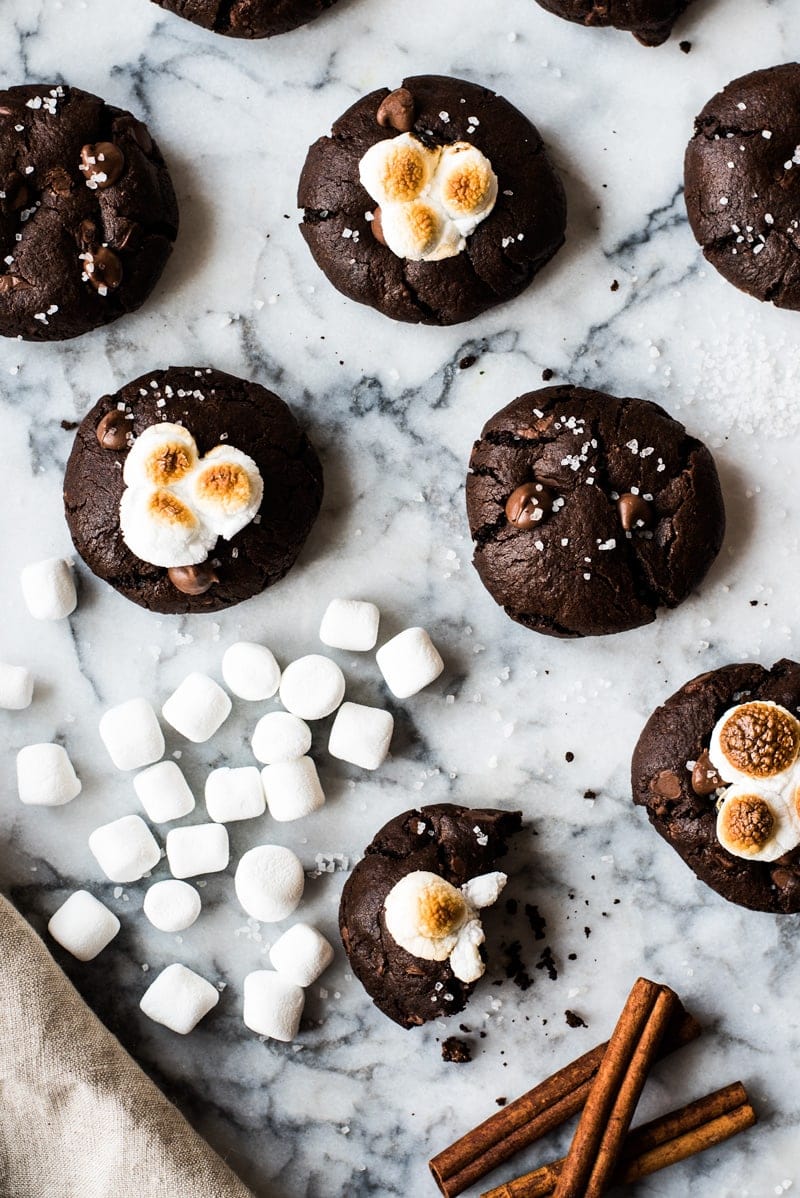 I wait all year for December, and when it comes around I just want to give it a big "hello"!
It seems appropriate to ring in the month with a batch of hot chocolate cookies, right? These beauties are super chocolaty, made with cinnamon and chili powder for a little Mexican twist and topped with mini marshmallows. I also added a little sea salt on top to help balance out the sweetness, just a tad.
If you're a chocolate lover, you're going to LOVE these.
I like enjoying these with a hot cup of tea at night, in the dark, while watching a movie, with the Christmas tree lit. Ambiance is very important. 🙂 It's very relaxing and has turned into sort of a ritual. There's just something about sitting on the couch with a hot cup of something good and a little sweet treat that's so comforting.
What Makes These Mexican Hot Chocolate Cookies So Amazing
They're rich and decadent, with two layers of chocolate and gooey marshmallow on top
These cookies have a fun and unexpectedly slightly spice twist with the addition of cinnamon and chili powder.
They are simple enough to make for a weeknight but look impressive enough to bring to a holiday gathering.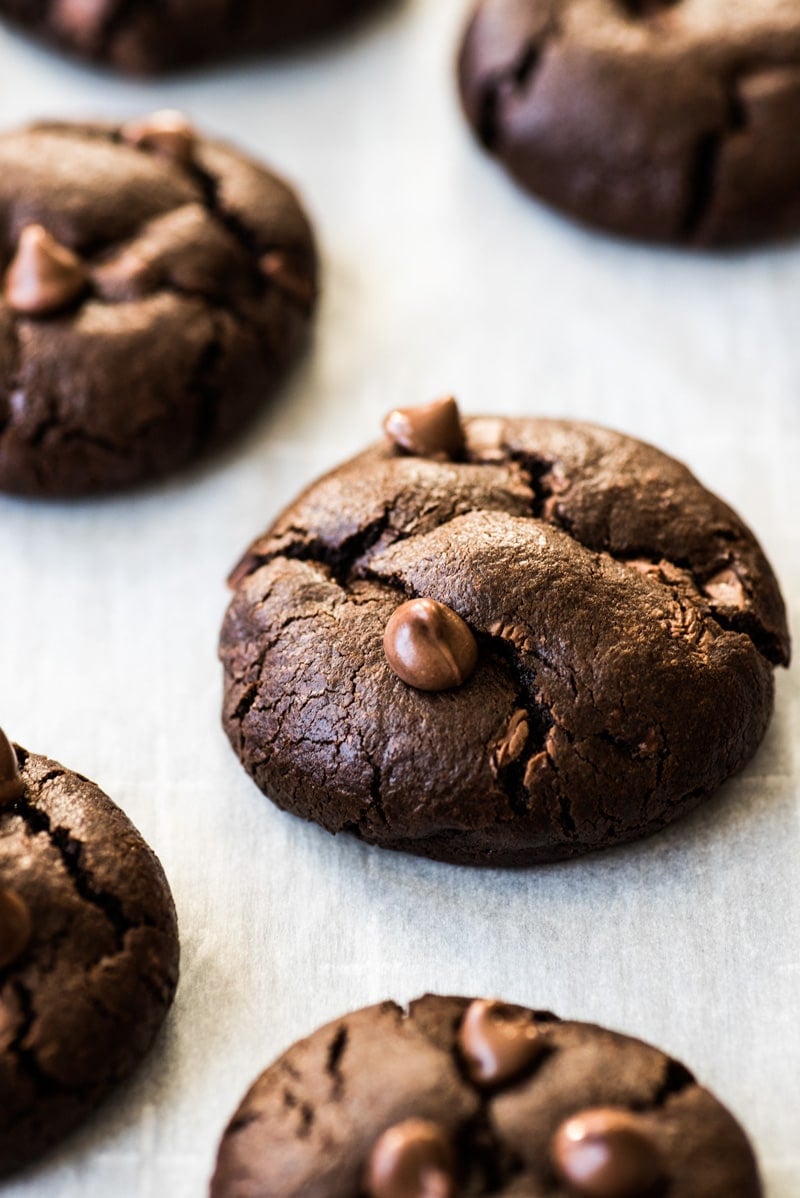 When I first made these cookies I went on quite the baking frenzy. It all started with the baked pumpkin churros, followed by the baked apple empanadas and then the dulce de leche cinnamon rolls. Factor in that I tested each recipe at least twice and then you can see just how many sweets I've been making!
It's been crazy town. A very delicious crazy town.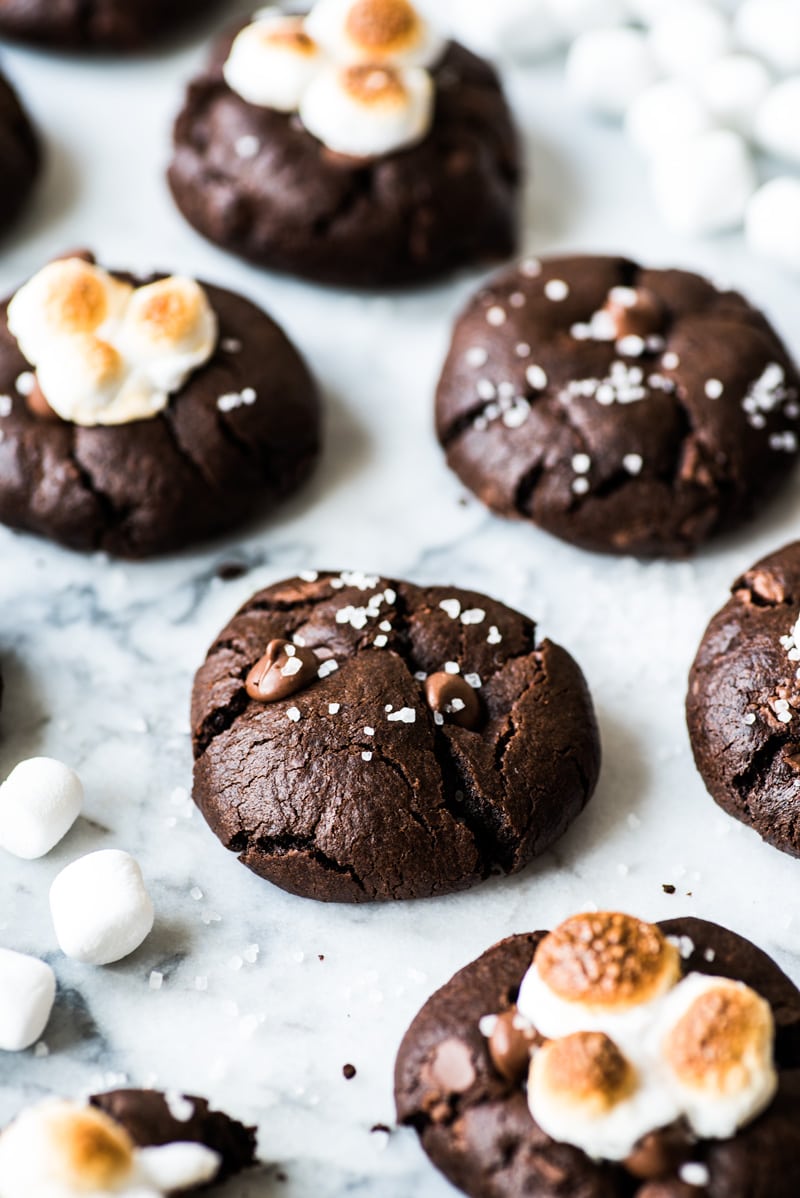 If there was ever a season for baked goods, this is it. Christmas and New Year's is right around the corner and I'm so ready for it all.
When I made these cookies back in 2018, it had been a roller coaster of a year, it's hard to believe sometimes. I literally felt the highest highs and lowest lows. I got married and quit my full-time job to pursue my passion of food blogging, which has been so incredibly amazing. At the same time, my family and I had been dealing with some really sad and tough times that year. It made me realize how important it is to be with family and loved ones around Christmas.
And you better believe I'm gonna bake SO MANY COOKIES to give to everyone. Because that's how I show my love and support.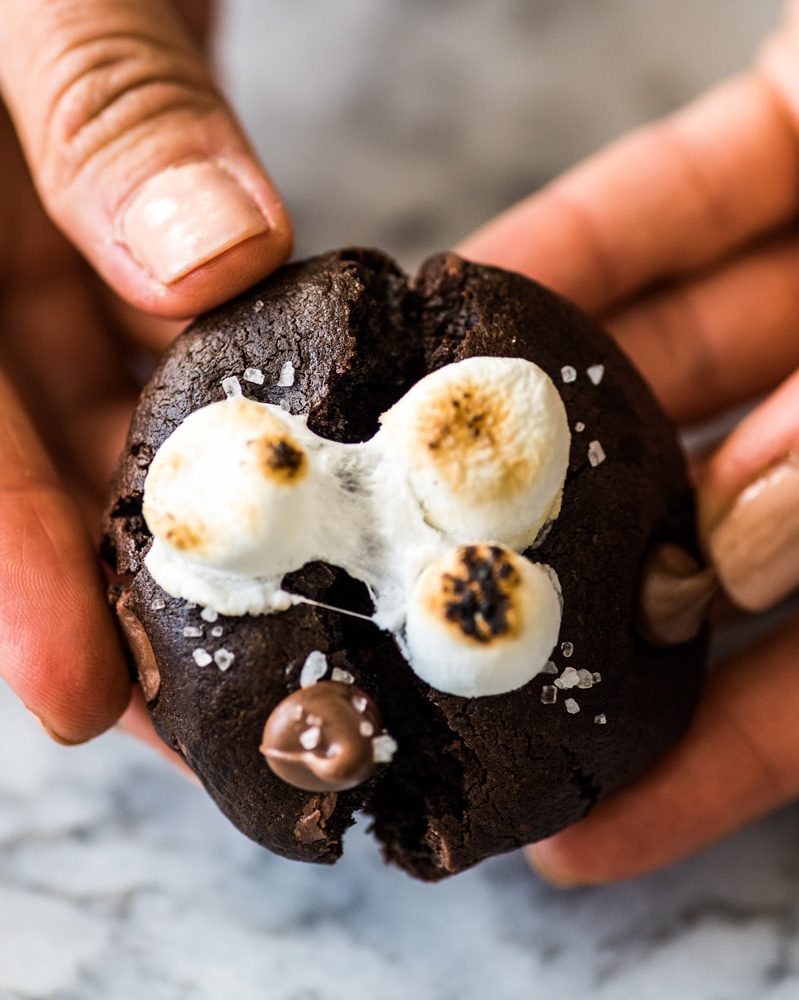 Tips and Tricks
Try mixing the dry ingredients together with a large whisk instead of a spoon or spatula. It helps incorporate them together.
After you're finished mixing in the dry ingredients to the wet ingredients, scrape the bottom of the bowl once or twice. Sometimes bits of the flour mixture can get caught in pockets at the bottom and you want to be sure and mix everything together. This is especially true if you're using a stand mixer.
Watch the cookies carefully when you put them under the broiler. The marshmallow will brown quickly and if you're not watching closely they'll burn.
Variations
Add half a cup of chopped walnuts to the batter to give these cookies a little crunch!
Drizzle a little fudge sauce on top of each cookie for an extra dose of chocolatey goodness.
Like some caramel with your chocolate? Try drizzling some cajeta or even dulce de leche on top of each cookie!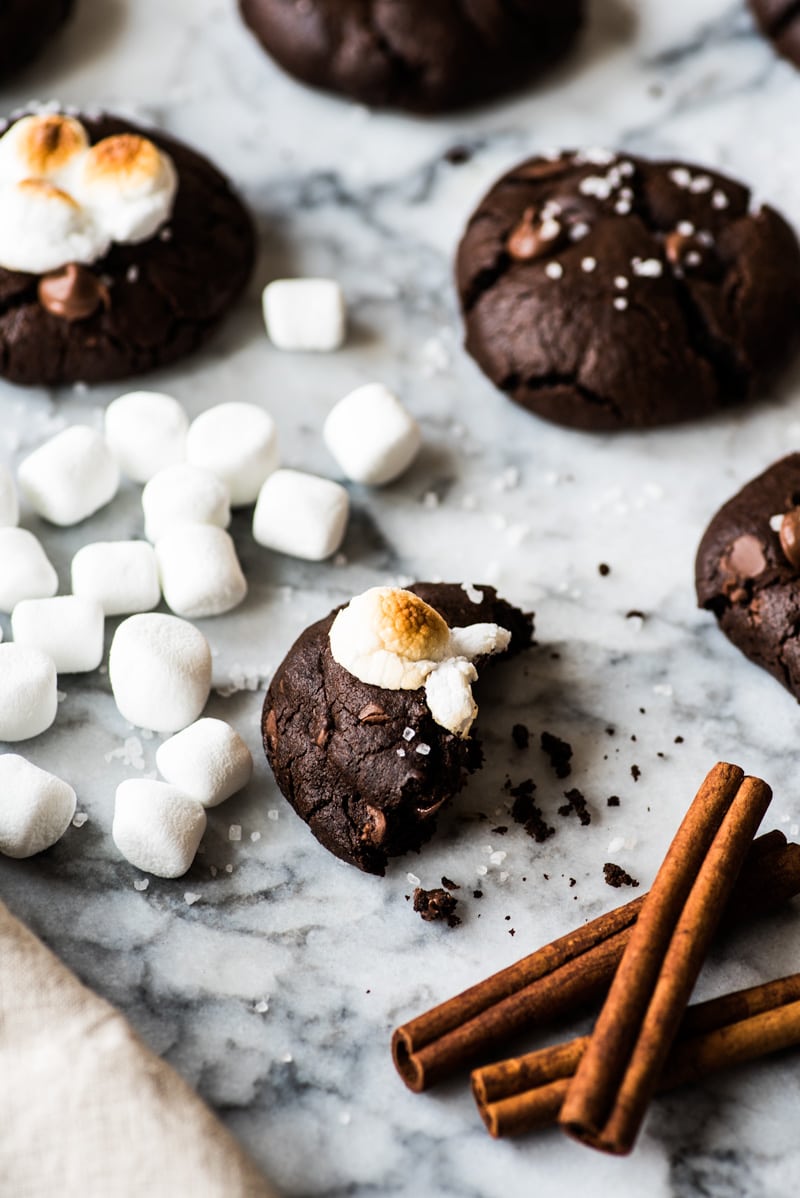 I hope you love this recipe as much as I do!
More dessert recipes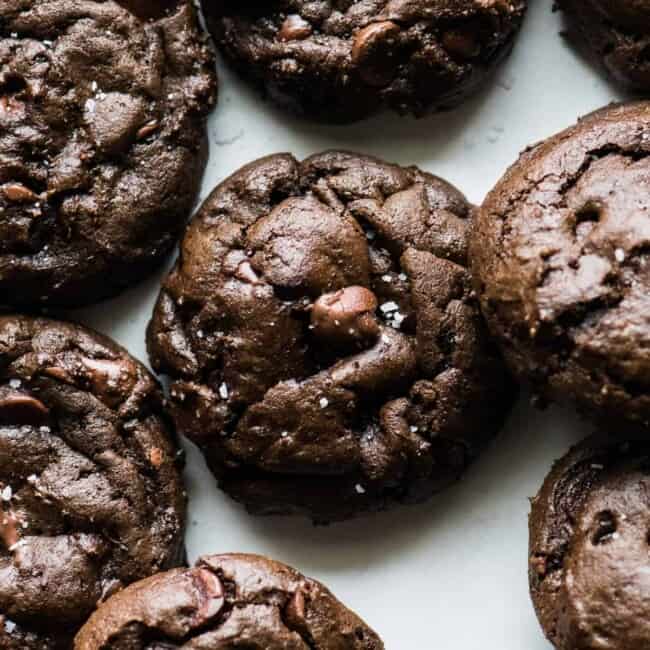 Prep: 1 hour 20 minutes
Cook: 10 minutes
Total : 1 hour 30 minutes
These Mexican Hot Chocolate Cookies are thick, chewy, and spiced with a hint of cinnamon and chili powder. Great for the holidays!
Ingredients
1 cup all-purpose flour
⅔ cup unsweetened cocoa powder
1 teaspoon baking soda
1 ½ teaspoons chili powder
1 teaspoon ground cinnamon
⅛ teaspoon salt
½ cup unsalted butter, room temperature
½ cup granulated sugar
¼ cup dark brown sugar
1 large egg
½ teaspoon vanilla extract
2 tablespoons milk
¾ cup milk chocolate chips
mini marshmallows*, for topping, optional (see notes)
flaky sea salt, for topping, optional
Instructions
In a medium bowl, whisk together the all-purpose flour, cocoa powder, baking soda, chili powder, cinnamon, and salt. Set aside.

In the bowl of a stand mixer (or in a large bowl if using a hand mixer), add the softened butter, granulated sugar, and brown sugar. Beat with the paddle attachment on medium speed until light and fluffy, about 2 minutes.

Scrape down the sides of the bowl, then add the egg, vanilla extract, and milk, and beat until well combined.

With the mixer on low, slowly add in the dry ingredients and beat until combined. The cookie dough will be thick and sticky.

Fold in the chocolate chips until just combined, then cover the bowl with plastic wrap, and chill in the refrigerator for 1 hour or in the freezer for 35 minutes.

When ready to bake, remove the dough from the refrigerator and preheat the oven to 350°F. Line two large baking sheets with parchment paper and set aside.

Use a heaping 1 tablespoon cookie scoop to portion out the dough, and scoop 8 portions onto each baking sheet for a total of 16 cookies.

Bake cookies for 10-12 minutes until the edges appear set but the middle is still soft.

Remove them from the oven, sprinkle them with a touch of flaky sea salt if desired, and let them cool for 5 minutes.
Isabel's Tips:
Mini Marshmallows: To top the cookies with mini marshmallows, firmly press 2 to 3 marshmallows on the top of each cookie dough scoop before baking. Bake as directed.
Nutrition Information
Serving: 1cookie Calories: 187kcal (9%) Carbohydrates: 25g (8%) Protein: 2g (4%) Fat: 10g (15%) Saturated Fat: 6g (30%) Polyunsaturated Fat: 0.3g Monounsaturated Fat: 2g Trans Fat: 0.2g Cholesterol: 27mg (9%) Sodium: 98mg (4%) Potassium: 112mg (3%) Fiber: 2g (8%) Sugar: 16g (18%) Vitamin A: 252IU (5%) Vitamin C: 0.01mg Calcium: 24mg (2%) Iron: 1mg (6%)