Jump to Recipe
This Slow Cooker Corned Beef Tacos recipe is perfect for celebrating St. Patrick's Day or any day of the week! Made from shredded corned beef piled onto flour tortillas and topped with sauerkraut and sour cream.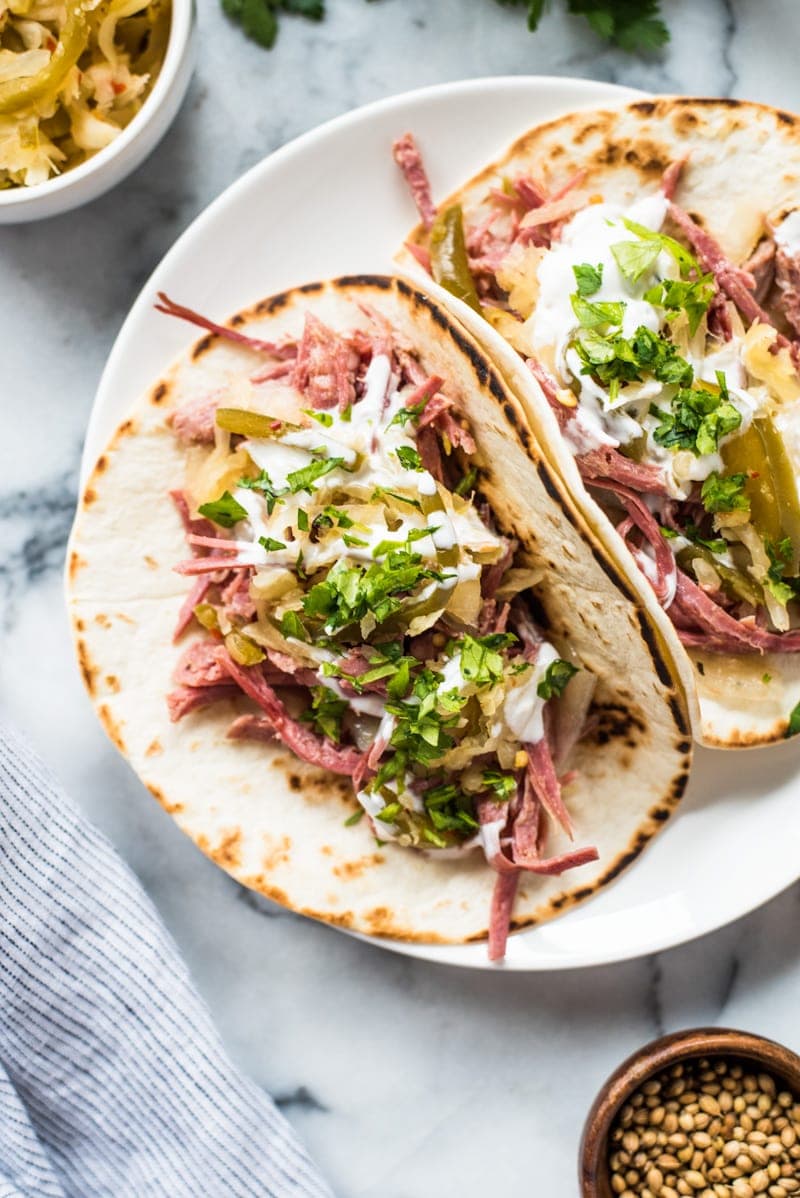 I'm getting in on the fun and celebrating St. Patrick's Day the only way I know how – with slow cooker corned beef tacos!
I think we all know I'm far from being Irish. Both of my parents were born and raised in Mexico, which makes me zero percent Irish. I've been to Ireland, I really like Guinness, and I LOVE the accent, but that's about as close as it gets.
My husband, on the other hand, is half Irish. He loves meat and potatoes, beer and listening to The Clancy Brothers (especially when we go camping). So for the upcoming St. Patty's Day celebration, I thought I'd try to bring our two cultures together and whip up something tasty!
Watch the Recipe Video
This recipe is so incredibly simple, it's perfect for your upcoming St. Patty's Day celebration or even just for meal prepping on Sunday.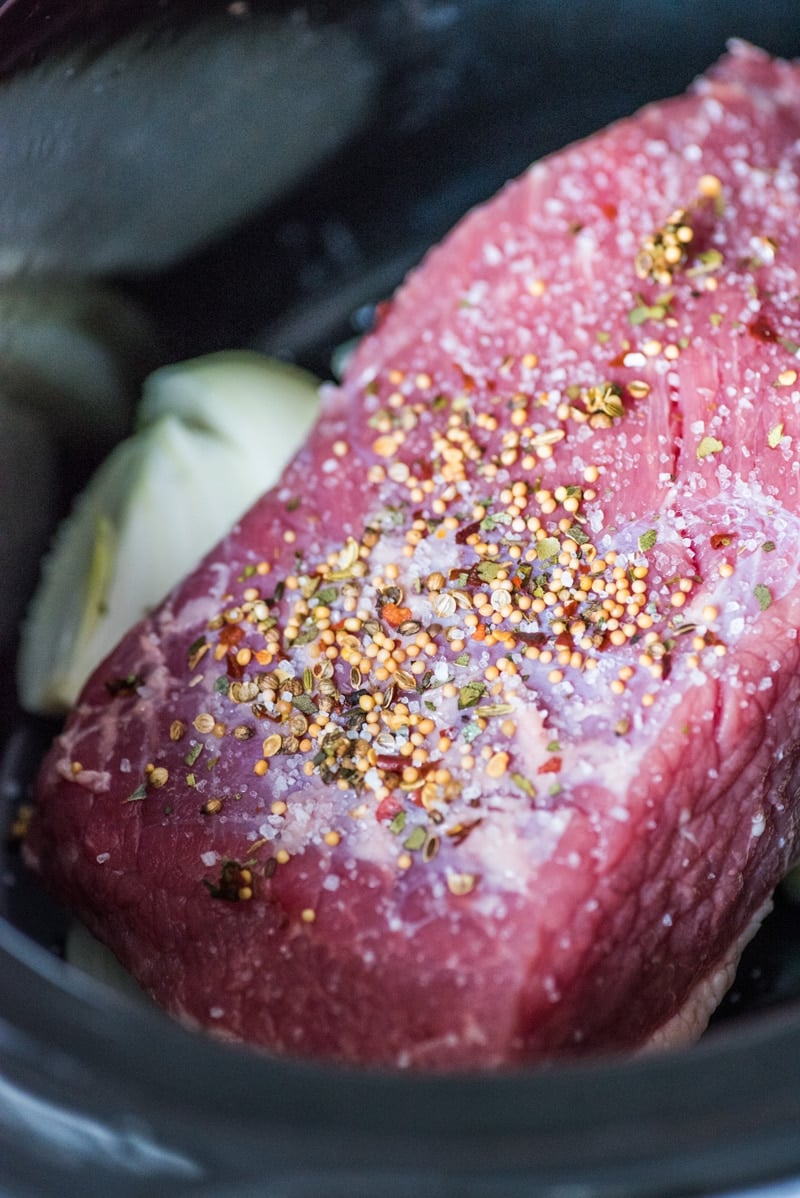 How to Make Slow Cooker Corned Beef
To make the slow cooker corned beef, all you need is a 3-lb corned beef brisket. Make sure to get the kind that comes in a bag and has a little spice packet attached. This meat has been marinating and soaking in a brine, which tenderizes it and gives it that addicting salty flavor. It also saves you the time it takes to brine it at home, which normally takes a week or even longer!
Once you've got the meat, all you need to do is add it along with the spice packet, some onions and beef broth to a slow cooker. Cover and cook on high for 5-6 hours or on low for 8-10 hours, until the meat is tender.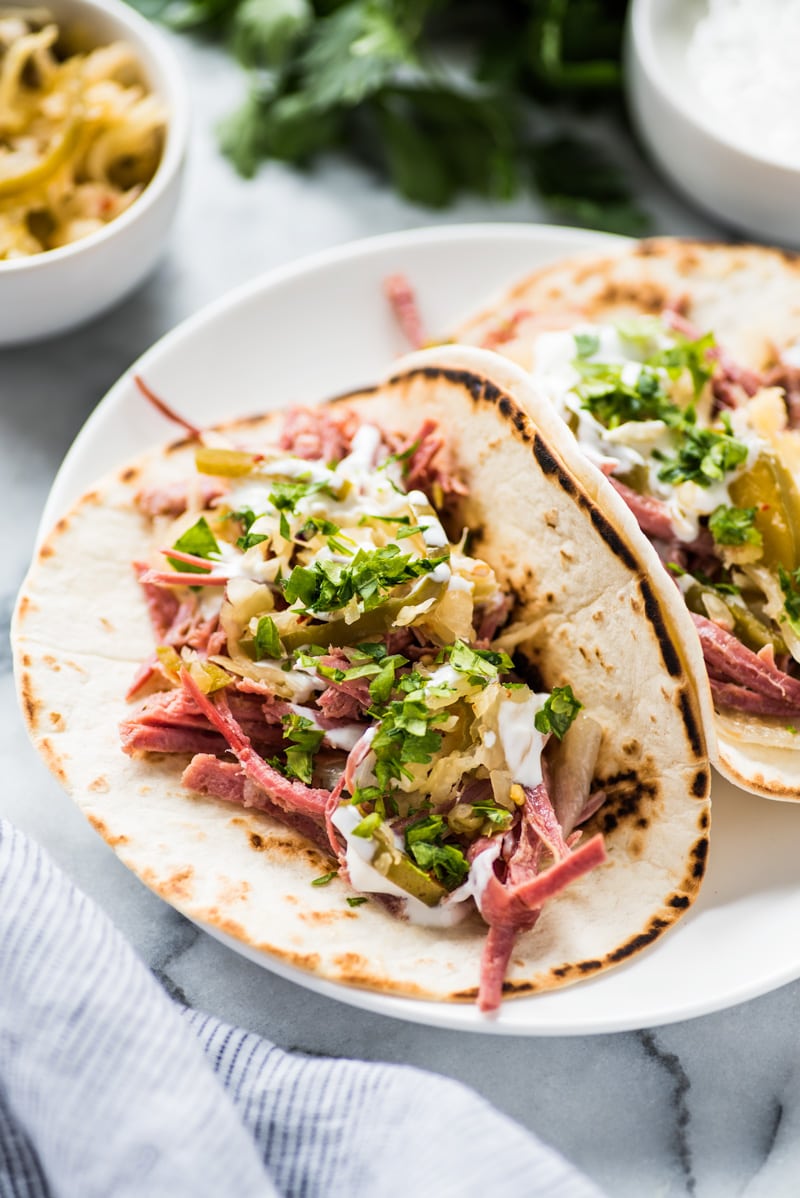 Once the meat is cooked, shred it with a knife and a fork and mix it in with all the juices in the slow cooker. At this point, you can enjoy the meat with eggs, in sandwiches or with the traditional cabbage and potatoes.
Today, however, we're making it into tacos!
Corned Beef Tacos
For the base, I decided to use flour tortillas instead of corn. The brined corned beef is salty and hearty, which requires a tortilla that can really stand up and handle the fillings. Flour tortillas are definitely the way to go.
Next, I added some of my favorite spicy sauerkraut made from fermented cabbage and peppers. This is the kind I've been buying at my local grocery store, but you can use any sauerkraut you like. If you're interested in making your own, this Spicy Sauerkraut recipe or this Jalapeno Cilantro Sauerkraut recipe look delicious.
Last but not least, I added some sour cream to balance out all the acidity in the tacos. Top it with some fresh parsley and you've got some delicious St. Patrick's Day tacos!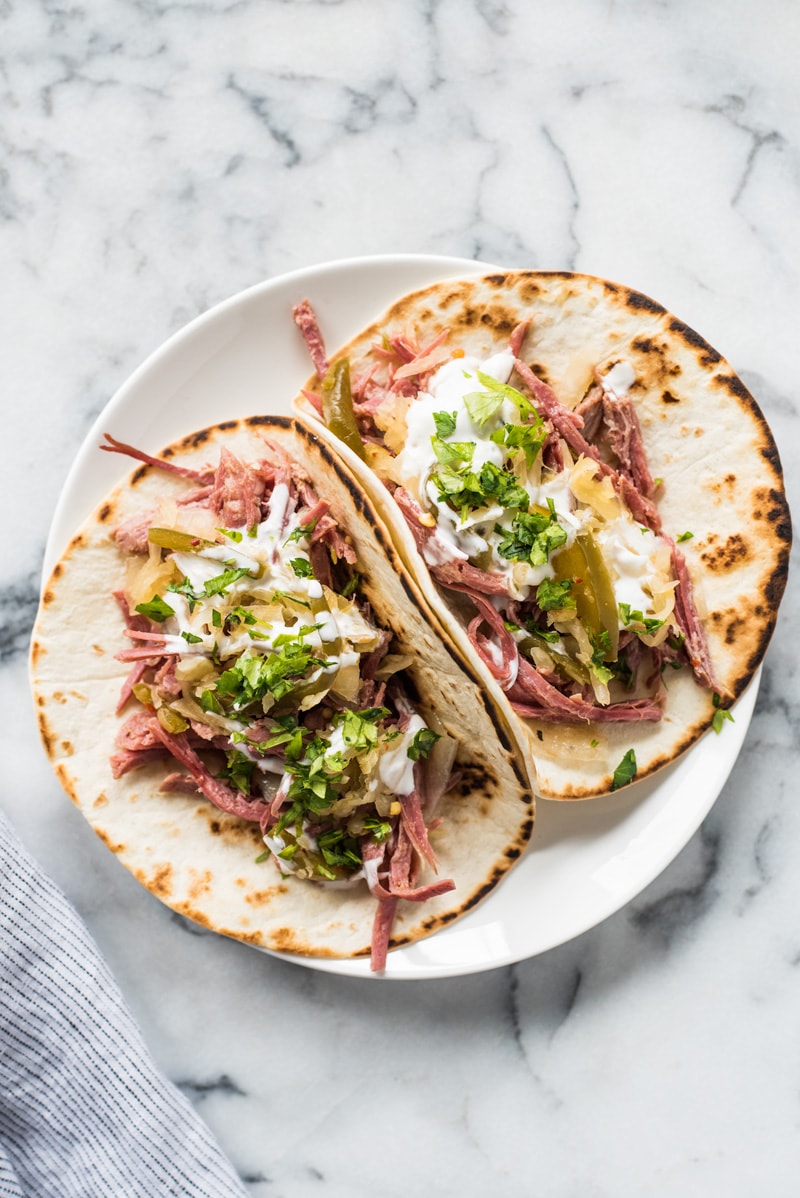 I hope you love this recipe – be sure to give it a review below! To get more easy recipes delivered straight to your inbox, sign up for my weekly email newsletter. You can also follow Isabel Eats on Facebook,  Instagram and Pinterest!
More recipes you'll love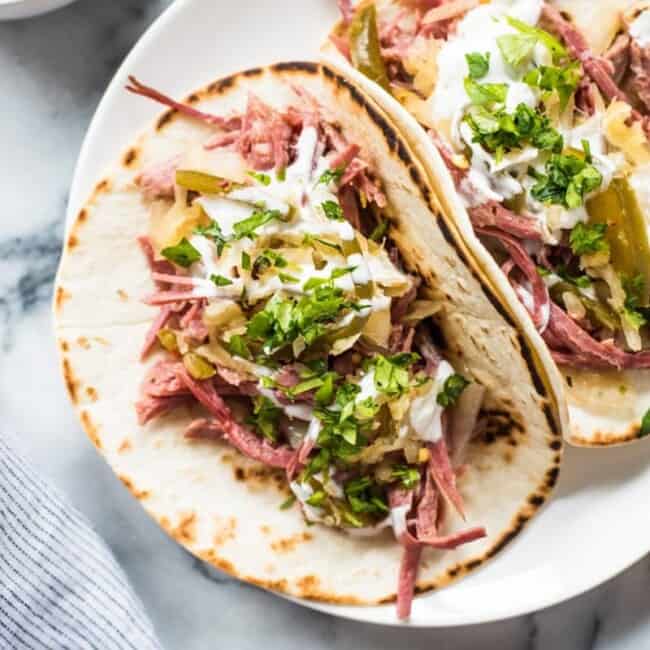 Prep: 10 minutes
Cook: 5 hours
Total : 5 hours 10 minutes
Slow Cooker Corned Beef Tacos perfect for St. Patrick's Day! Made from shredded corned beef on top of flour tortillas with sauerkraut and sour cream.
Ingredients
For the corned beef
3 small onions, quartered
3 pounds corned beef brisket
1 spice packet (it usually comes with the corned beef)
4 cups beef broth (or water)
For the tacos
16 soft-taco-size flour tortillas
1 cup sauerkraut (I love the spicy variety!)
1 cup sour cream
1/2 cup chopped parsley
Instructions
Place the quartered onions in a large slow cooker. Add the corned beef brisket, spice packet and beef broth.

Cover and cook for 5-6 hours on high or 8-10 hours on low until brisket is tender.

Remove brisket from the slow cooker and transfer to a plate or cutting board. Shred the brisket using a knife and fork. Add the shredded beef back into the slow cooker and mix together with the broth.

Serve corned beef in flour tortillas with sauerkraut, sour cream and chopped parsley.
Isabel's Tips:
To freeze, cool the shredded beef to room temperature. Place in an airtight freezer bag, leaving about 2 inches of room at the top to allow for expansion, and freeze. It can be kept frozen for 4-6 months. To reheat, heat it up in medium pot on the stove or a large bowl in the microwave.
Nutrition Information
Serving: 2tacos – 1/8th of recipe Calories: 710kcal (36%) Carbohydrates: 55g (18%) Protein: 34g (68%) Fat: 30g (46%) Saturated Fat: 12g (60%) Polyunsaturated Fat: 1g Monounsaturated Fat: 2g Cholesterol: 118mg (39%) Potassium: 14mg Fiber: 4g (16%) Sugar: 9g (10%) Vitamin A: 700IU (14%) Vitamin C: 13.2mg (16%) Calcium: 250mg (25%) Iron: 5.2mg (29%)