Jump to Recipe
This Slow Cooker Mexican Lasagna is made with layers of black beans, corn tortillas and red enchilada sauce for a delicious gluten free weeknight meal!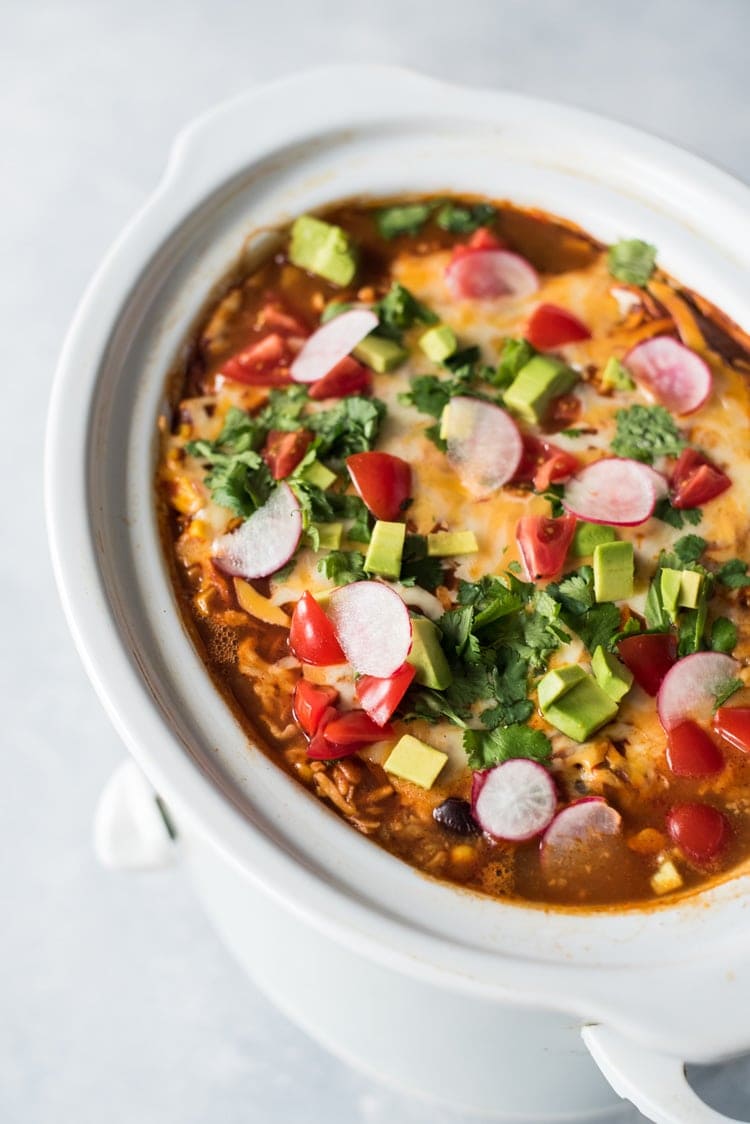 My favorite part of Monday afternoons? Eating delicious leftovers from the night before, especially when they're slow cooker leftovers like this Mexican Lasagna. There's just something about slow cooker meals that gets better after a day or two in the fridge. It's like magic.
Delicious Slow Cooker Mexican Lasagna magic.
So what exactly is Mexican lasagna? It's a stacked casserole made of beans, cheese, enchilada sauce and other ingredients that are layered with corn tortillas. Think of it as an open-faced enchilada topped with all your Mexican favorites.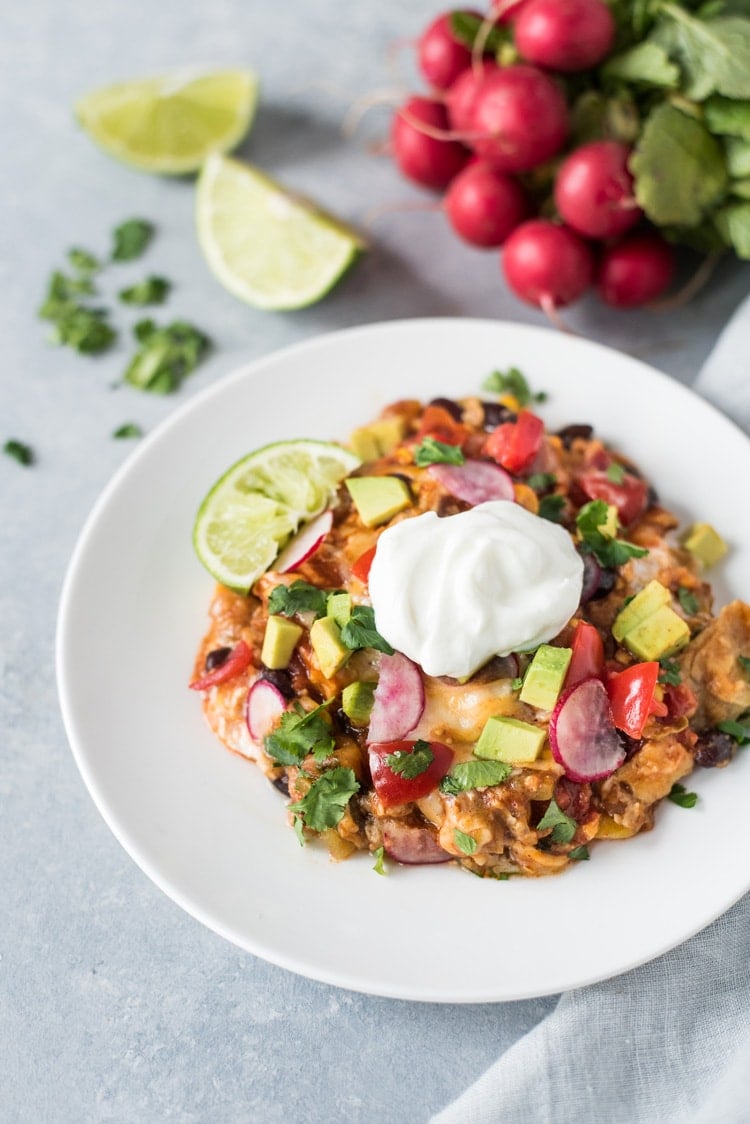 Though this recipe is written for the slow cooker, you can easily make this in a casserole dish. Simply follow the instructions like normal, but bake it in the oven for 40 minutes to 1 hour instead of in the slow cooker. Depending on the size of your casserole dish, you may need more corn tortillas, but the ingredients and how they're layered is the same.
For the enchilada sauce, I'm a huge fan of making my own. It's easy to do and the flavor is out of this world. Here's an easy Authentic Red Enchilada Sauce recipe that is ready in under 30 minutes. I like to make a couple of batches and freeze them so I can use them whenever I want.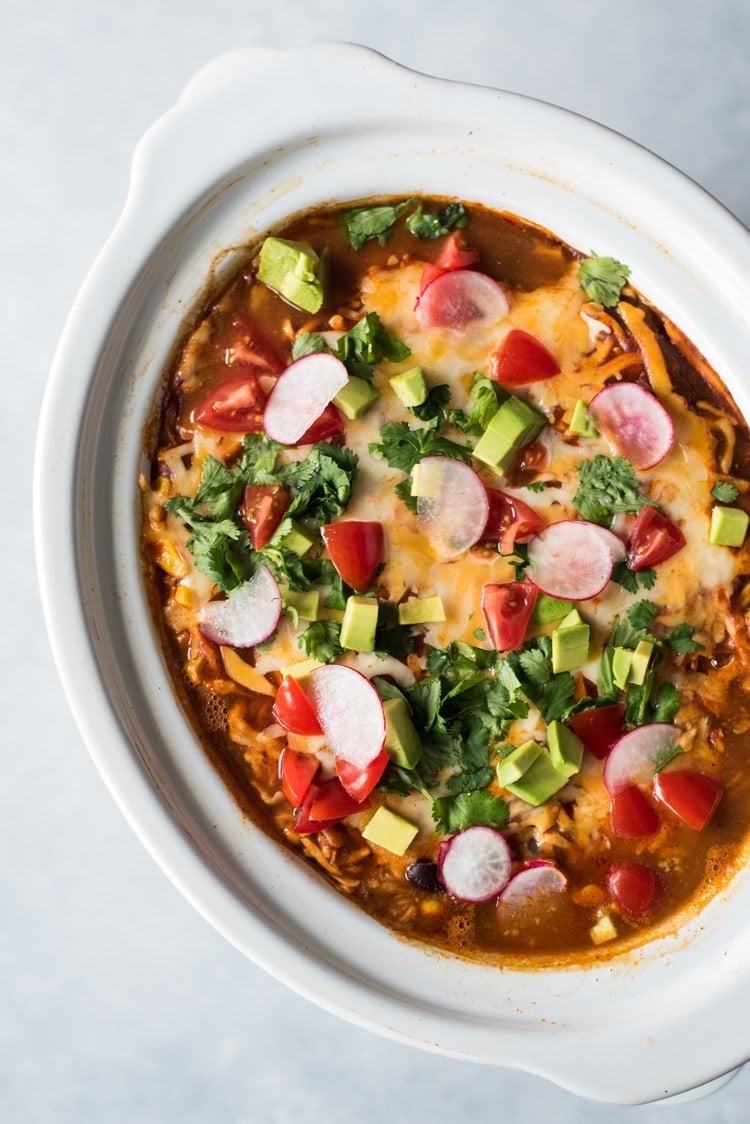 Once the Mexican lasagna is done, I like to top it with diced tomatoes, avocados, cilantro and radishes before serving.
How to make this Slow Cooker Mexican Lasagna (video):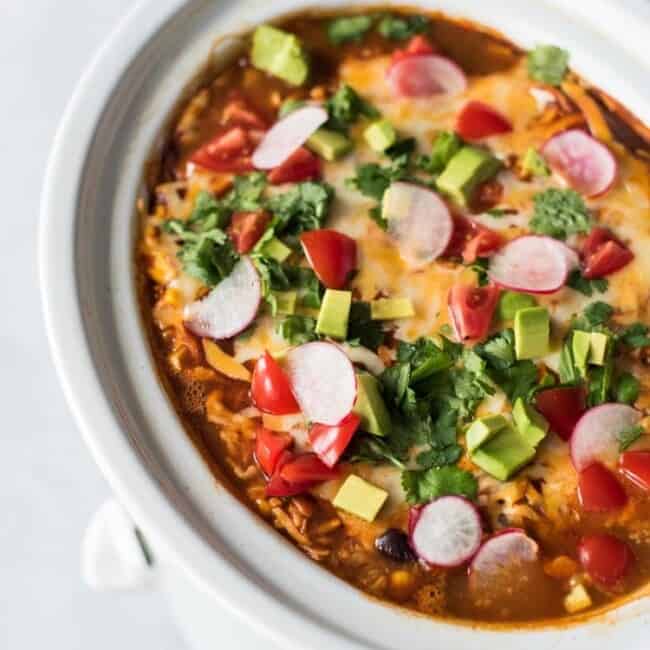 Prep: 15 minutes
Cook: 2 hours 45 minutes
Total : 3 hours
This Slow Cooker Mexican Lasagna is made with layers of black beans, corn tortillas and red enchilada sauce for a delicious gluten free weeknight meal!

Ingredients
1 tablespoon olive olive
1 tablespoon minced garlic
1 medium onion, chopped
1 pound ground turkey (or any ground meat like beef or chicken)
1 teaspoon ground cumin
1 teaspoon chili powder
1/2 teaspoon dried oregano
1 pinch salt and black pepper,
1 juice of 1 lime, (about 2 tablespoons)
1/4 cup chopped cilantro
1 batch Authentic Red Enchilada Sauce (or 2 10-ounce cans red enchilada sauce, about 2.5 cups)
1 15-ounce can black beans
1 15-ounce can corn
1 15-ounce can diced tomatoes, drained
2 4-ounce can diced green chiles
1 1/2 cups shredded mexican cheese
Instructions
In a large skillet over medium-high heat, add olive oil and minced garlic. Cook until fragrant, about 15 seconds. Add onions and cook until they have softened and are translucent, about 5 minutes.

Add ground turkey and sprinkle with ground cumin, chili powder, dried oregano, salt, pepper and lime juice. Mix together with a spatula and cook for 8 minutes, until meat is cooked through. Remove from heat and stir in chopped cilantro. Set aside.

In a slow cooker, layer the following ingredients in this order: enchilada sauce, 2 corn tortillas, black beans, corn, diced tomatoes, diced green chiles, ground turkey, shredded cheese. Layer ingredients for a total of three layers.

Cover and cook on high for 2 1/2 hours, until cheese has melted and lasagna is bubbling.

Serve with diced tomatoes, avocados, radishes, cilantro and sour cream.
Nutrition Information
Calories: 425kcal (21%) Carbohydrates: 43g (14%) Protein: 32g (64%) Fat: 14g (22%) Fiber: 10g (40%)