Made with dried chiles and a piece of Mexican chocolate, this Red Enchilada Sauce recipe is perfect in many dishes including enchiladas! (gluten free, low carb, paleo, vegan, vegetarian)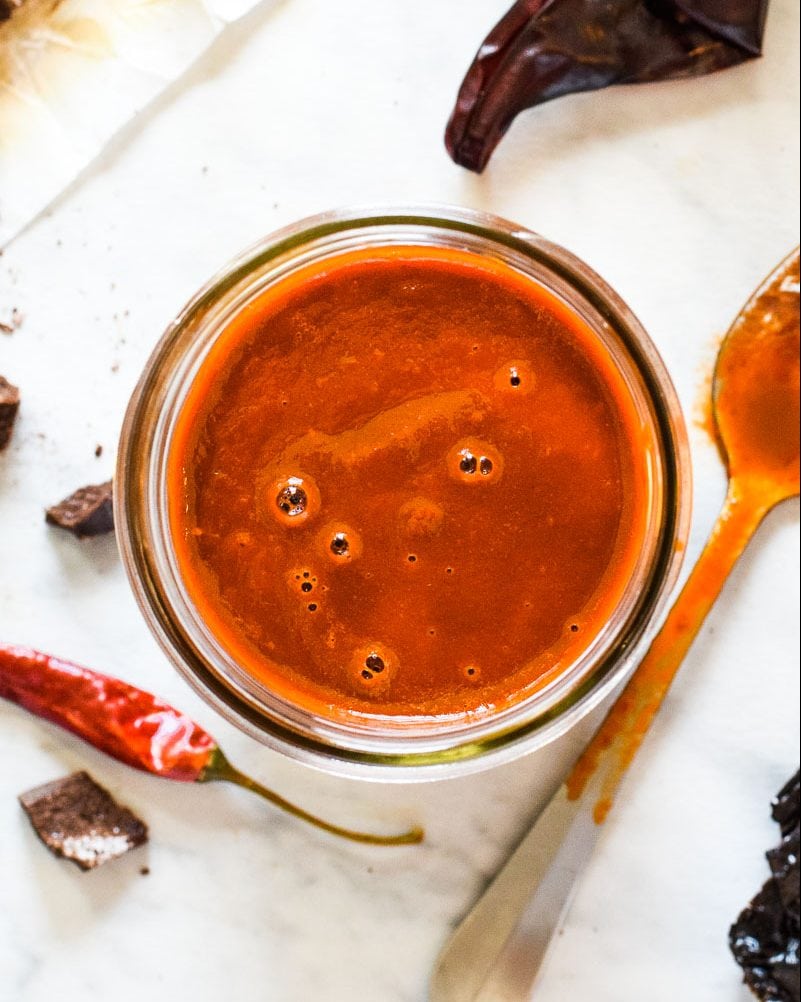 You guys, I did it. I FINALLY did it. I finally made a batch of red enchilada sauce that closely resembles my mom's! Sure, it took me 10 million tries to get it just right, but who's counting?
Here's how the whole thing went down. After trying to recreate her recipe quite a few times from memory and failing miserably, I decided to swallow my pride and give her a call. She was excited to give me the recipe and immediately started describing her step-by-step process. I made sure to write everything down in detail so I wouldn't forget a thing when I attempted to make it again.
But there was a tiny little problem – when I asked her for the exact quantity of the ingredients in the recipe, she gave me an answer that I should have expected. "Oh, you know, just add a little of this, a little of that. Then taste it. If it doesn't taste right, add some more of that." Not exactly what I wanted to hear.
So I kept trying and finally got it just right, and I'm so excited to share it with you! So let's get into the nitty gritty and talk about making my mom's famous enchilada sauce!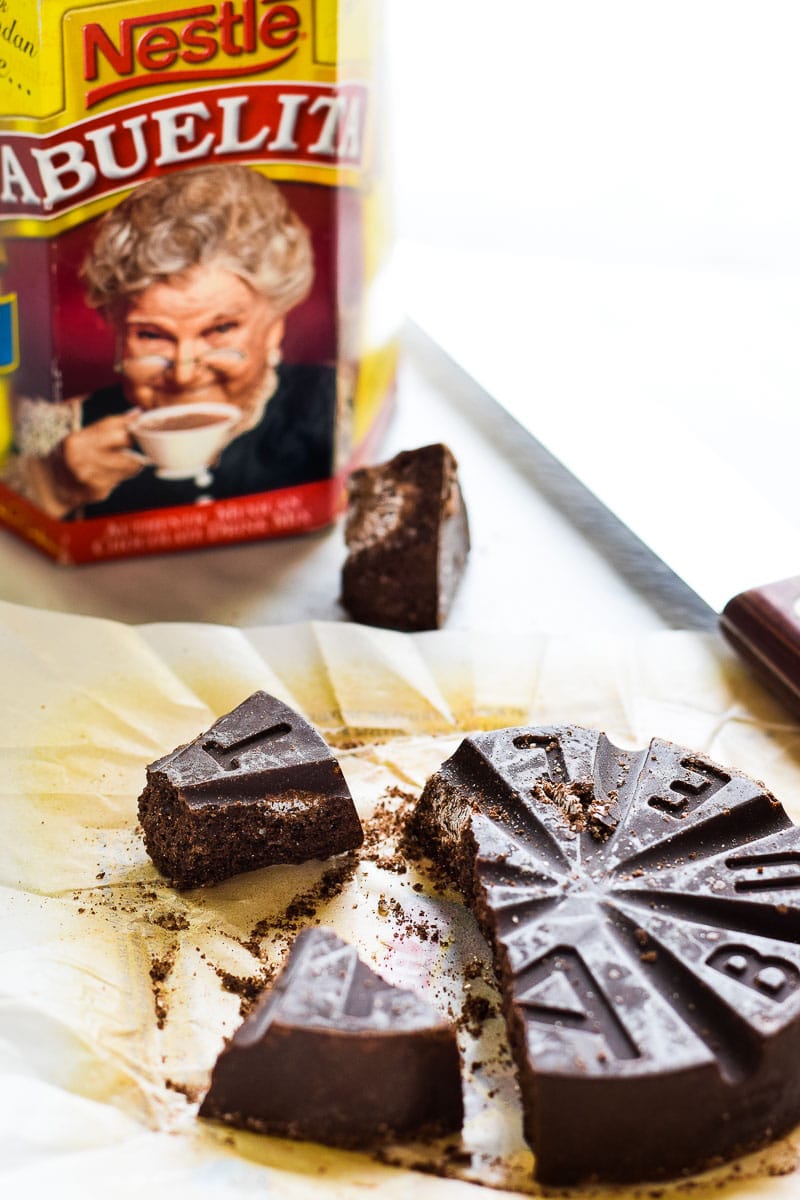 The secret ingredient in amazing enchilada sauce
The secret to getting it just right? Throw in a small piece of Mexican chocolate. Chocolate is one of those things that makes everything better. Just like butter. And bacon.
All you need is a small piece, about an eighth of a circular tablet of Abuelita Mexican chocolate. If you've never used it before, I highly recommend you buy a pack. It's normally used to make hot chocolate, but my Mom uses it to make various sauces like mole and this enchilada sauce. I even used it in last week's Mexican Chocolate Pumpkin Seed Granola recipe.
It's normally found in your grocery store's Hispanic Foods section, but if you can't find it there, try looking in the hot chocolate section. If you prefer shopping online, you can easily find it on Amazon here.
Once you've got the chocolate situation sorted out, next it's time to let the chiles do the work.


Dried chiles for homemade enchilada sauce
For this sauce, I'm using dried chiles. If you've never used them before, don't freak out! They're super easy to use and once you taste the rich and complex flavor they give this sauce, you'll never go back to the bland store-bought stuff.
First, you've got to find the dried chiles. I was able to get them at my local grocery store in the Hispanic Foods section, but I've also seen them hanging near the fresh chiles in the produce aisle. If your local grocery store doesn't carry them, you could always head to a speciality Hispanic grocery store if you have one near you. They'll definitely have dried chiles. Or, if you prefer to shop online, here are the specific dried chilies that you'll need.
How to make enchilada sauce
First, you need to rehydrate the dried guajillo, ancho and arbol chiles. To do so,  just crack them open with your hands, remove the stem and throw it away if it's still attached to the chile.
Remove the seeds if possible and place the chiles in hot water to soak for about 20 minutes. After the 20 minutes has passed, the chiles will be soft and pliable.
Place them in a blender with garlic, Mexican chocolate and salt. Blend until completely smooth.
That's it! Your red enchilada sauce is ready to go!
What to make with enchilada sauce
Now you're ready to use the sauce on your favorite enchilada recipe! Here are just a few ideas of what you can make!
There are so many possibilities, you're going to love it!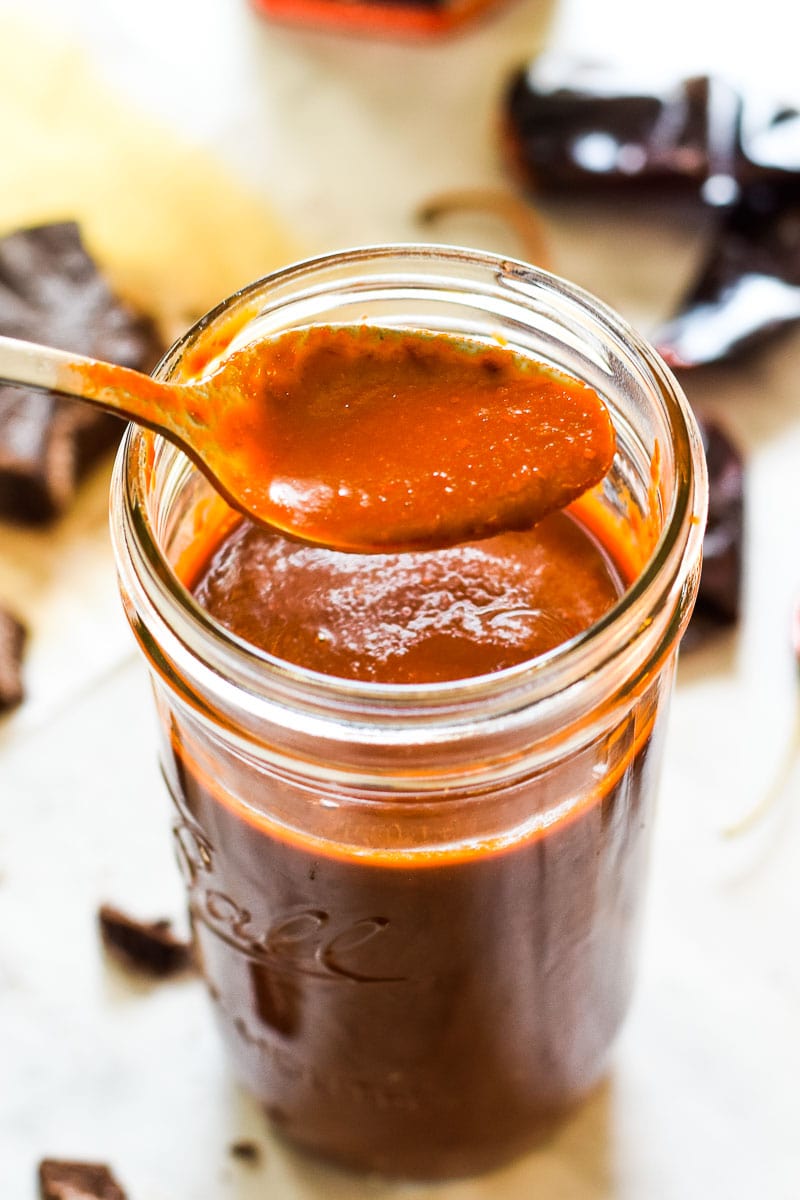 I hope you enjoy this sauce as much as I do! If you make this recipe, I'd love to see it. Snap a photo and tag me @isabeleats on Instagram.
Instructions
In a large bowl, combine the seeded dried chiles and 3 cups of hot water. Let the chiles soak for about 20 minutes, until softened.

Using a slotted spoon, transfer the softened chiles into a large blender.

Add in 1 cup of the chile-soaked water, the remaining 1 cup of fresh water, minced garlic, salt and the Abuelita Mexican chocolate.

Blend until smooth.

Cover and store in an airtight container in the refrigerator until ready to use, up to two weeks.
Notes
Sauce can also be stored in the freezer for up to 6 months.    
---
Nutrition Facts
Red Enchilada Sauce Recipe
Amount Per Serving (0.5 cup)
Calories 37
Calories from Fat 9
% Daily Value*
Total Fat 1g 2%
Sodium 699mg 29%
Potassium 5mg 0%
Total Carbohydrates 6g 2%
Protein 1g 2%
* Percent Daily Values are based on a 2000 calorie diet.
Did you make this recipe?
Leave a comment below and tag @isabeleats on social media!
This page contains affiliate links. If you make a purchase on Amazon after clicking one of my links, I may receive a small commission. The price of the item stays the same and any money I make goes to supporting this blog. I only endorse products and services that I fully believe in.