Jump to Recipe
This authentic enchilada sauce recipe is made with real whole dried chiles and a small piece of Mexican chocolate. Perfect for enchiladas, tacos and more!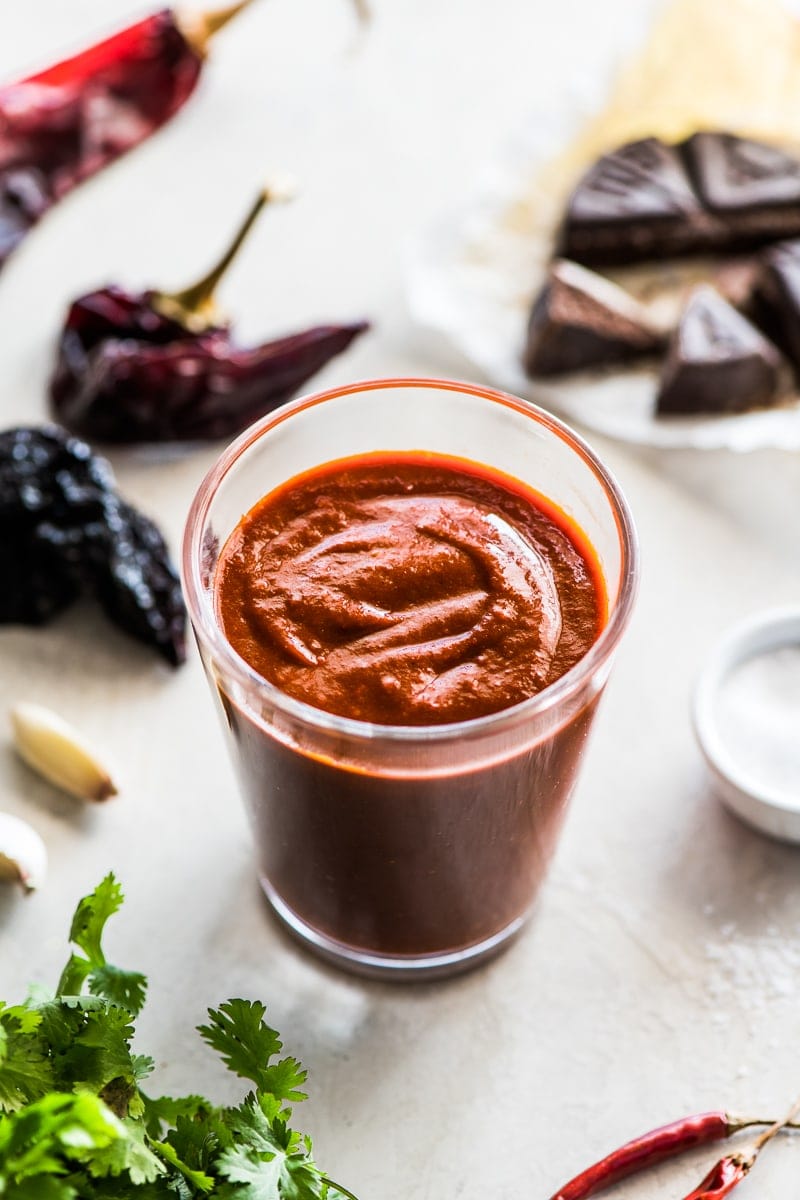 I did it! I made a batch of authentic enchilada sauce that's just like my mom's!
After quite a few tries, I finally got it just right and I'm so excited to share it with you!
Unlike many enchilada sauce recipes out there, this sauce is made without any tomatoes. Instead, all the rich and savory flavors come from only a handful of ingredients – dried chiles, garlic, salt and Mexican chocolate.
(Check out this easy enchilada sauce recipe for a 10-minute version made with easy-to-find pantry ingredients like chili powder, tomato paste and broth.)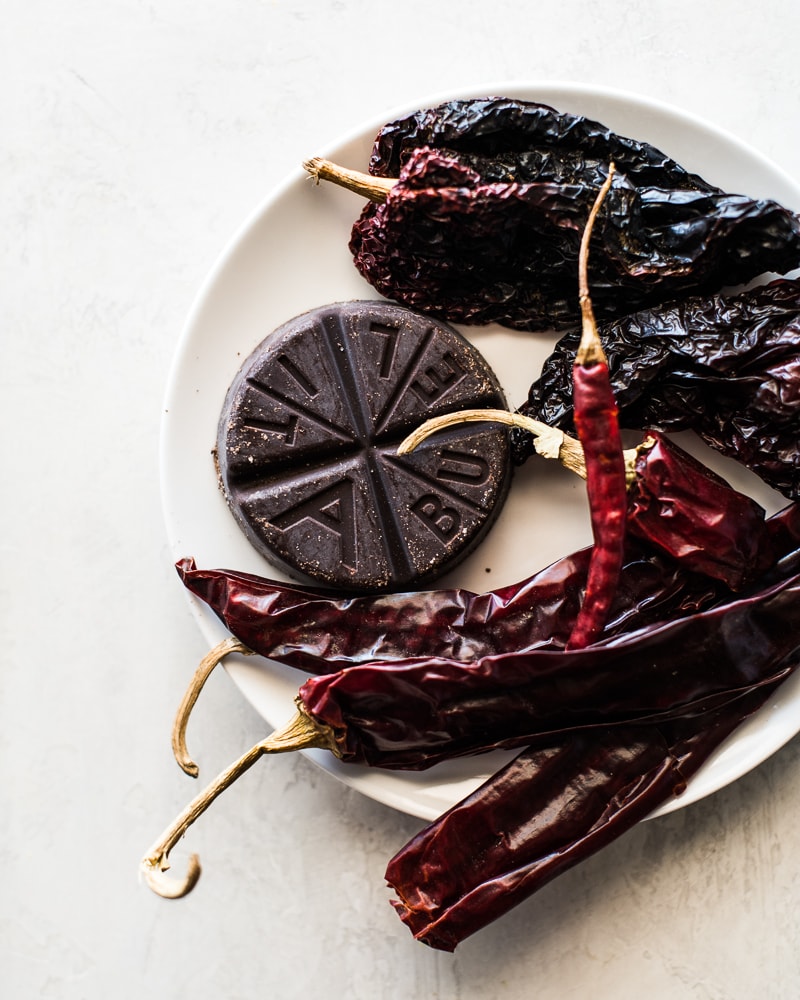 The secret ingredient in amazing enchilada sauce
The secret to getting it just right? Throw in a small piece of Mexican chocolate.
All you need is about an eighth of a circular tablet of Mexican chocolate. If you've never used it before, I highly recommend you buy a pack because it's so good! It's normally used to make hot chocolate, but my Mom uses it to make various sauces like mole and this enchilada sauce. (Learn more about Mexican Chocolate here.)
It's normally located in the grocery store's Hispanic foods section, but if you can't find it there, try looking in the hot chocolate section. If you prefer shopping online, you can easily find it on Amazon here.
Don't have Mexican chocolate?
That's okay! A good substitute is a little unsweetened cocoa powder and turbinado/raw sugar. See recipe card below for amount.
Dried chiles for authentic enchilada sauce
For this sauce, I'm using dried chiles. If you've never used them before, don't freak out! They're super easy to use and once you taste the rich and complex flavor they give this sauce, you'll never go back to the bland store-bought stuff.
Like Mexican chocolate, dried chiles are often located in the Hispanic Foods section at the grocery store, but I've also seen them hanging near the fresh chiles in the produce aisle.
If your local grocery store doesn't carry them, you can purchase them online here: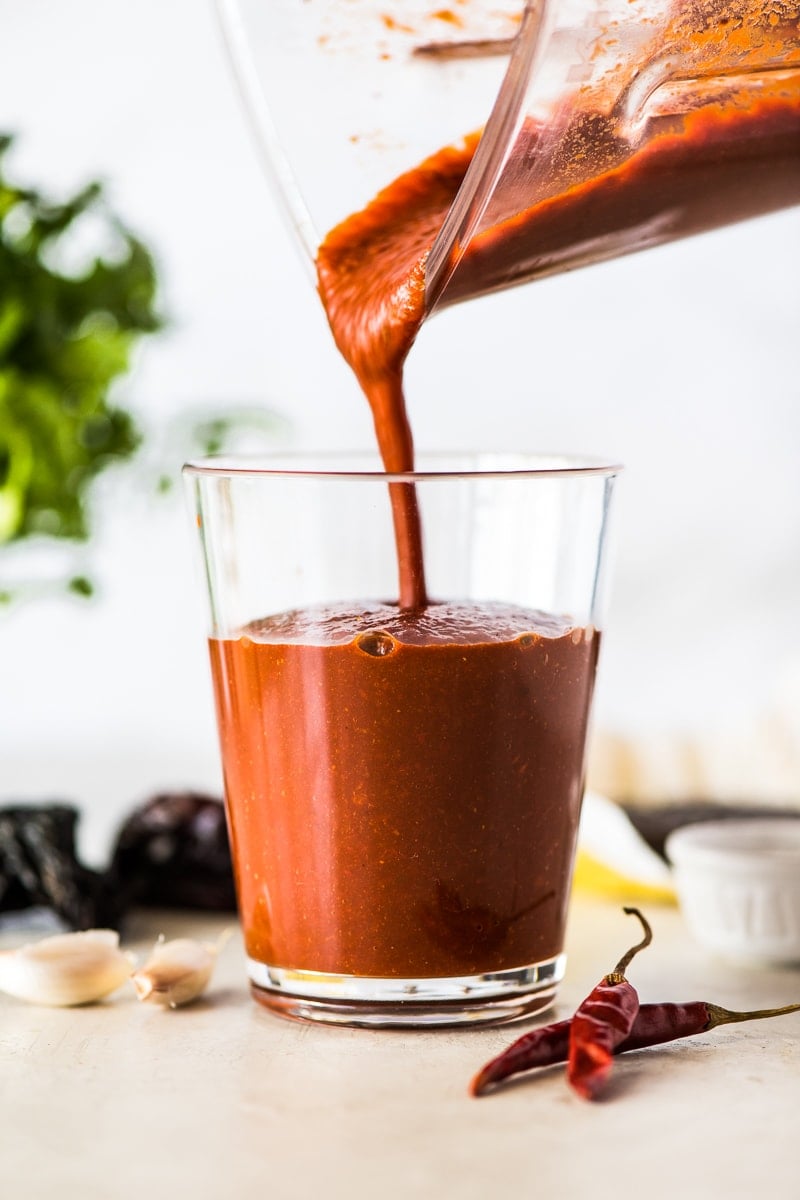 How to make authentic enchilada sauce
Prepare the dried chiles by removing and discarding the stem. You ca also remove and discard the seeds if you're extra sensitive to spicy foods.
Rehydrate the dried chiles by placing them in hot water. Let them soak for about 20 minutes.
Transfer chiles to a blender and puree with garlic, Mexican chocolate and salt until completely smooth.
That's it! Your sauce is ready to go!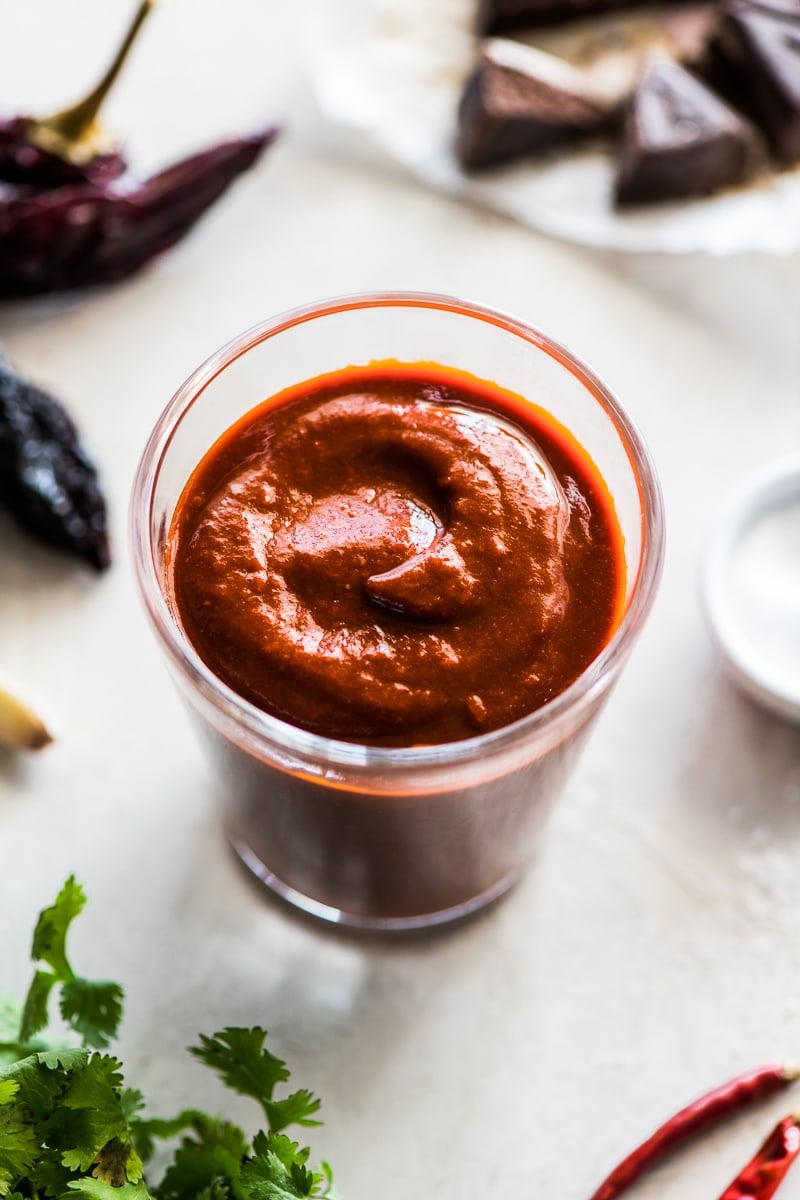 What to make with enchilada sauce
Now you're ready to use the sauce on your favorite enchilada recipe! Here are just a few ideas of what you can make:
There are so many possibilities, you're going to love it!
Be sure to check out my recipe for green enchilada sauce, too!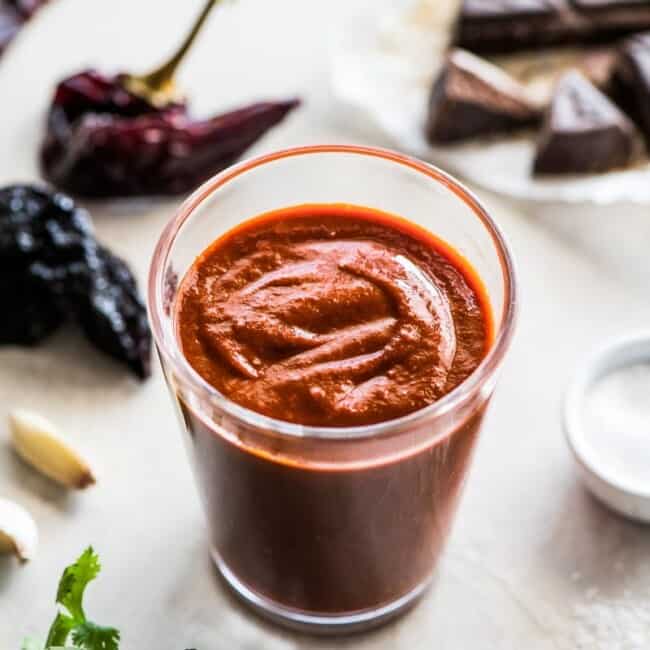 Prep: 25 minutes
Total : 25 minutes
This authentic enchilada sauce recipe is made with real whole dried chiles and a small piece of Mexican chocolate. Perfect for enchiladas, tacos and more!
Instructions
In a large bowl, add dried chiles and hot water. Cover bowl with a large plate or plastic wrap and let the chiles soak for 20 minutes.

Using a slotted spoon, transfer the softened chiles into a large blender.

Add in 1 cup of the chile-soaked water, 1/2 cup of fresh water, the garlic, salt and Mexican chocolate.

Puree until completely smooth. This step may take a few minutes depending on the power of your blender. Add more water if the sauce is too thick for your liking.
Isabel's Tips:
Dried chiles: If you'd like to make this sauce as mild as possible, I recommend removing and discarding the seeds of the dried chiles in addition to the stems.
Mexican chocolate: If you don't have Mexican chocolate, you can substitute 1 teaspoon unsweetened cocoa powder and 1 teaspoon turbinado/raw sugar instead.
Storage: Enchilada sauce can also be stored in the refrigerator for up to 2 weeks or in the freezer for up to 6 months.
Nutrition Information
Serving: 0.5cup Calories: 37kcal (2%) Carbohydrates: 6g (2%) Protein: 1g (2%) Fat: 1g (2%) Sodium: 699mg (29%) Potassium: 5mg Sugar: 3g (3%) Vitamin A: 3000IU (60%) Vitamin C: 0.8mg (1%) Calcium: 10mg (1%) Iron: 0.7mg (4%)