Jicama is a delicious starchy root vegetable that has some amazing benefits! Keep reading here for more about what it is and how to use it!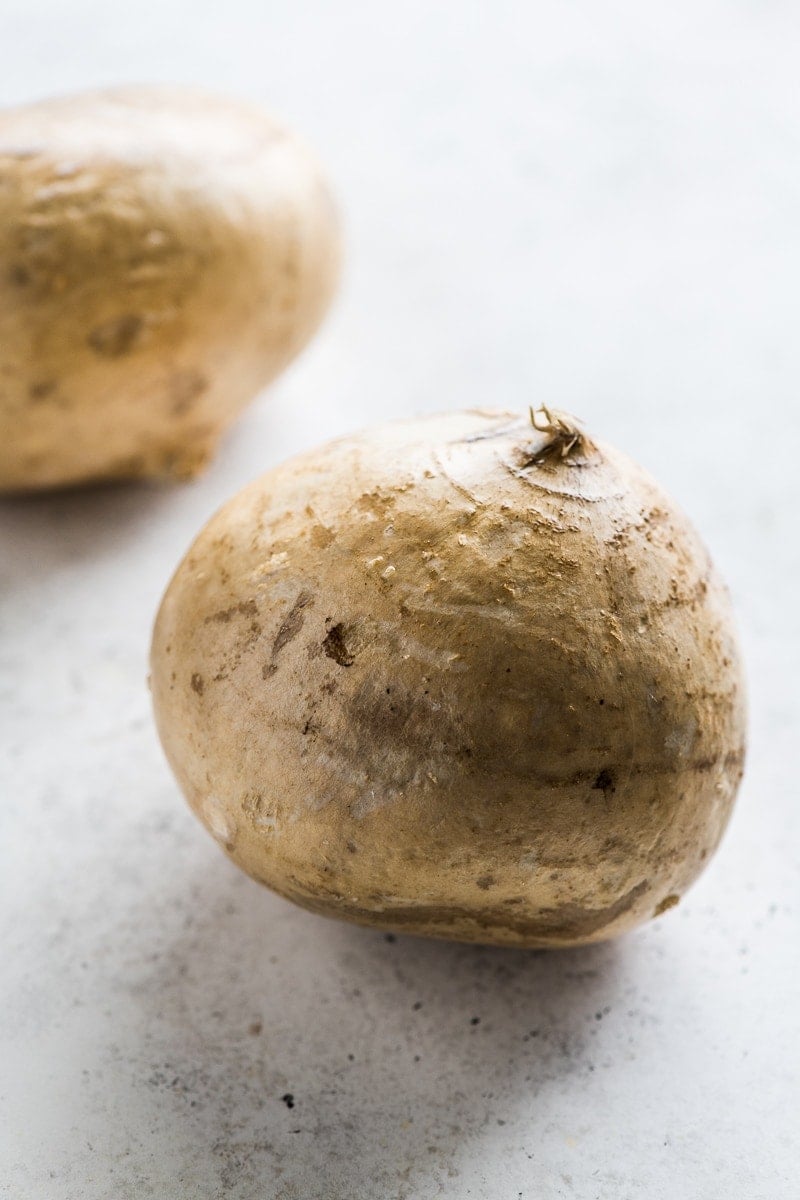 What is jicama?
Jicama is a root vegetable that is native to Mexico and used throughout Latin American countries.

The plant thrives in warm climates and grows on long vines close to the ground. However, the leaves and seeds are toxic, so only the root portion can be eaten.
It looks similar to a potato or turnip, with brown skin and starchy, white flesh. The edible part, which is underneath the outer peel, is very juicy and crunchy.
Other names for this vegetable include yam bean, Mexican potato, and Chinese turnip.
What does jicama taste like?
The flavor of jicama is mild, lightly sweet, and slightly nutty. It's tastes like a cross between an apple, a potato, a water chestnut, and a pear.

Because it's mild and starchy, it blends well with other flavors, especially in its raw form. It also easily takes on the flavor of whatever it's cooked with.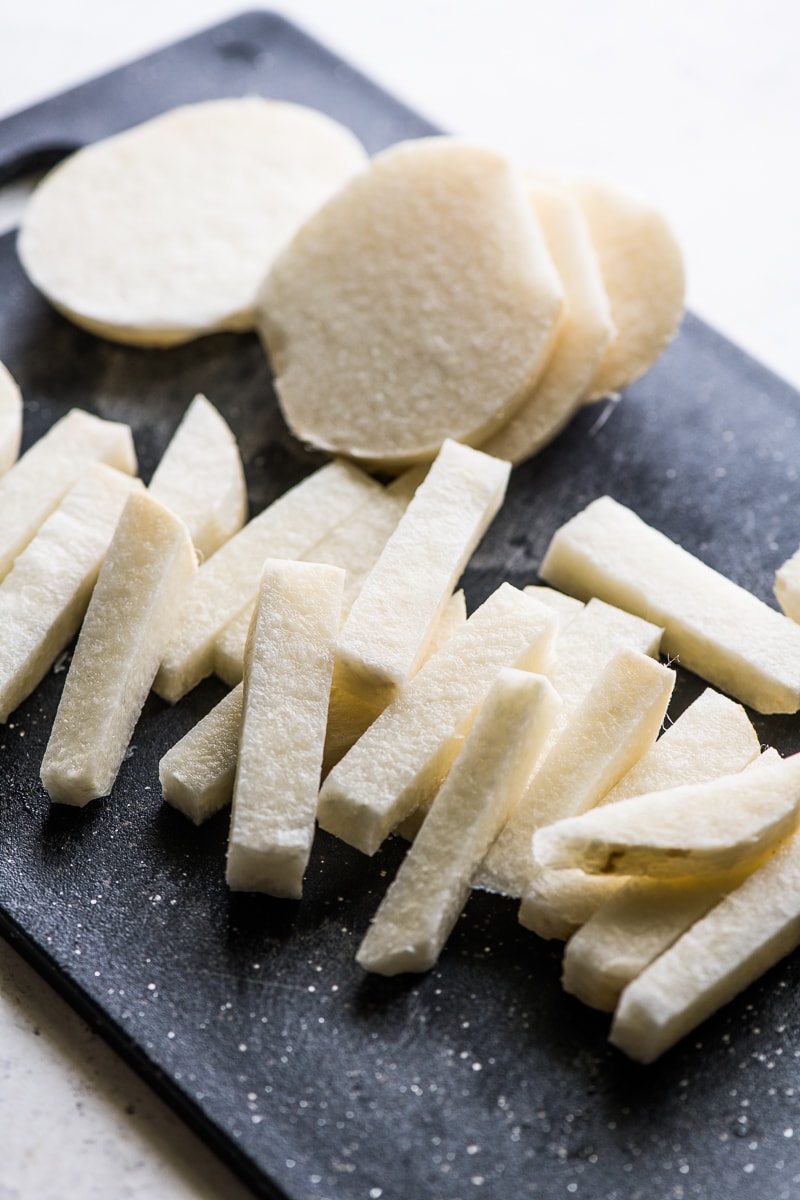 Is jicama healthy?
This root vegetable has several health benefits that make it a great ingredient to cook with.
Low-carb and low-calorie: The high water content combined with low sugar and fat makes this a low-calorie food. When combined with the high fiber content, it makes for a great alternative to higher carbohydrate vegetables.
Nutrient dense: It contains a wide variety of vitamins and minerals, especially fiber and potassium. It also contains a high level of Vitamin C, which acts as an antioxidant and supports the immune system.
Supports a healthy gut: This tuber is high in a prebiotic called inulin.

Prebiotics are a type of fiber stored in our digestive system to feed probiotics, which are healthy bacteria. Keeping this balance also supports overall health and immune function.
Ways to use it
First, you'll want to remove the peel. This can be done with a sharp knife or a vegetable peeler. If the peel is thick enough, you may even be able to peel it off with your hands!

Once it's peeled, you can cut the flesh into strips or cubes, or you can shred it as you would cabbage. It can be eaten raw (like an apple), or cooked (like a potato).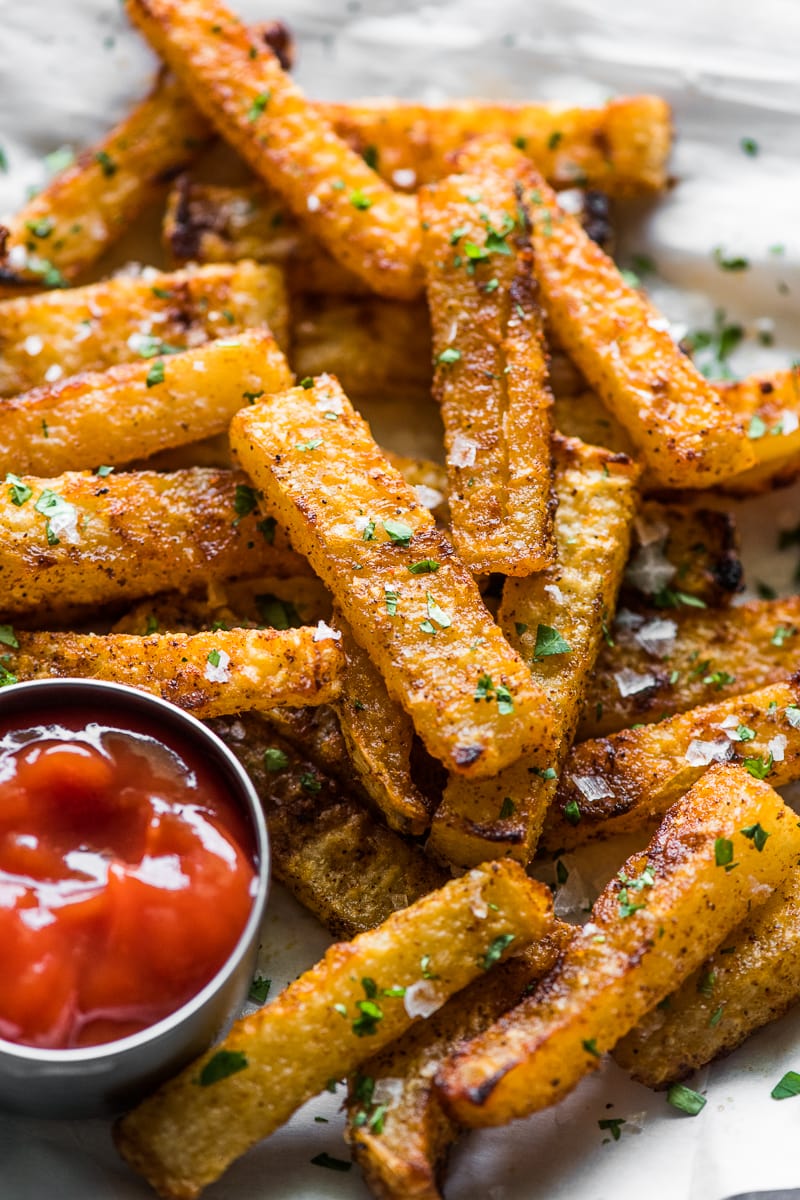 Recipes made with jicama
It's most often used raw, but you can cook it several different ways as well. Here are some ideas of ways to use it:
Fries – Cut into matchsticks or cubes and fry or bake them. Serve with your ketchup, mustard or your favorite condiment. Here's an easy baked jicama fries recipe.
By itself – It's often served by Mexican street vendors in thin slices sprinkled with lime juice, chili powder, and salt.
Fruit cups – Pair it with other fruits like watermelon and pineapple to make authentic Mexican Fruit Cups.
Slaw – Use it to make a refreshing jicama slaw with cilantro and lime juice, and serve with your favorite Mexican dishes.
You can also find plenty of other recipes that call for jicama. It's delicious in stir fry, spring rolls, egg salad, and even hash browns!
Where to find jicama
You should be able to find this vegetable year-round in the produce section of the grocery store.

It can also be found in Mexican markets. Make sure to choose one that is firm with dry roots. It shouldn't have any bruises, dents, or blemishes.
How to store it
In its peel, it will last up to two weeks in the refrigerator. It's best to keep it in a sealed plastic bag.

After the peel is removed, it needs to be used within 3 days or it will start to go bad. Store in an airtight container and cover the white flesh with water so it doesn't dry out.