Tamarind is a popular tart and sweet fruit used in dishes around the world, including in Mexican cuisine! Learn more about this ingredient and how to use it.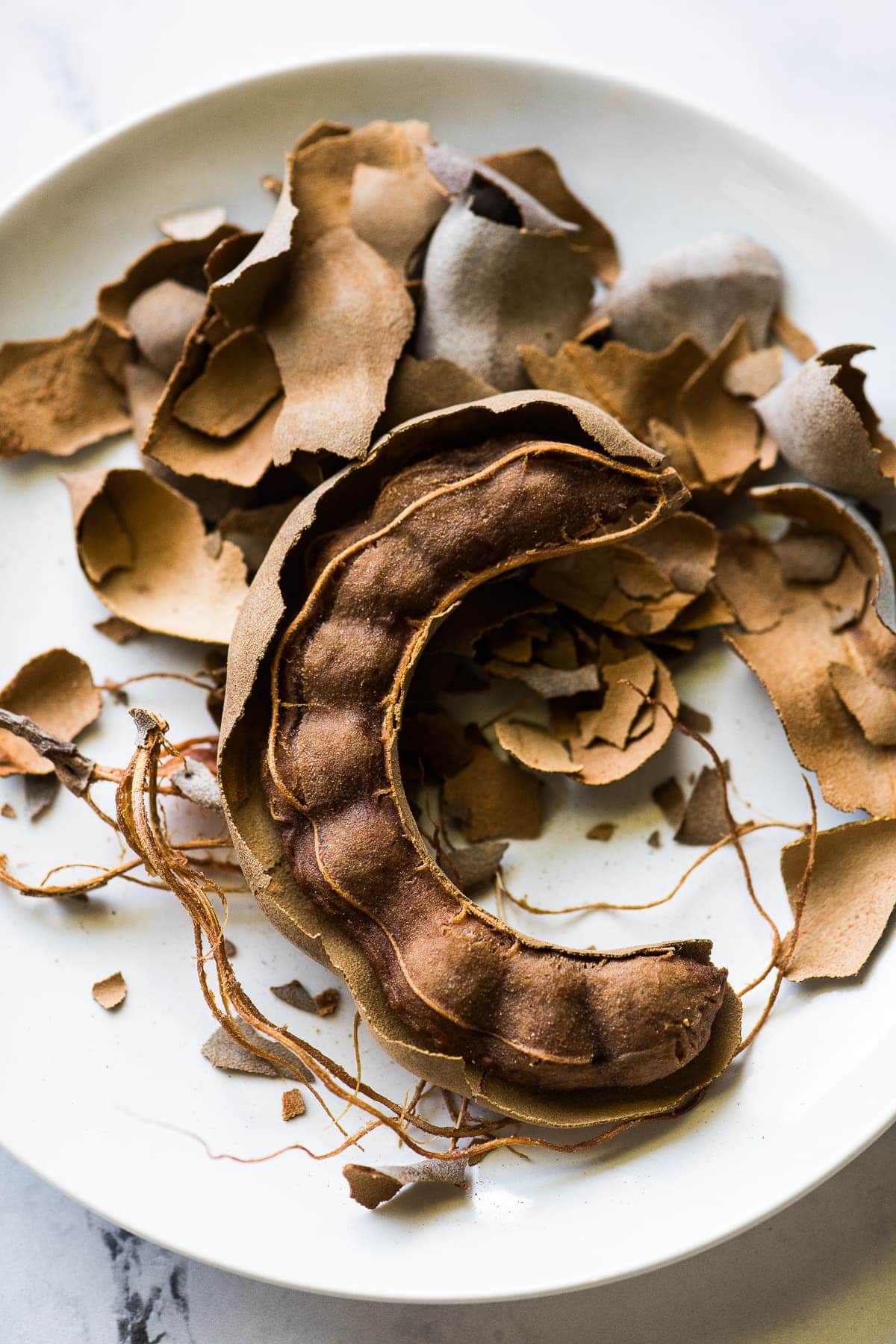 What is tamarind?
Tamarind is a sweet and sour fruit that grows in pods. Inside, they contain large seeds covered in a dark, sticky pulp.
The pulp of the fruit is eaten raw and has a similar texture to dates and figs. The fruit has a strong tangy flavor and is used in many dishes and drinks in Mexican, Caribbean, Asian, and Middle Eastern cooking.
Tamarind is also the name of the tree that the fruit grows on. The seed pods are part of the legume family and have a smooth, brown shell similar in shape to edamame or long raw peanuts.
What does tamarind taste like?
The flavor of the tamarind fruit ranges from sweet and sour to tangy and tart. The flavor depends on how ripe the fruit is. The more it ripens, the sweeter it gets.
Similar to tart citrus fruit, the flavor will also depend on what the fruit is mixed with. Coconut milk and sugar are often used to reduce the sour taste, while vinegar can enhance the tartness. 
While it does have a sour bite, it's often found in desserts just as often as in savory dishes.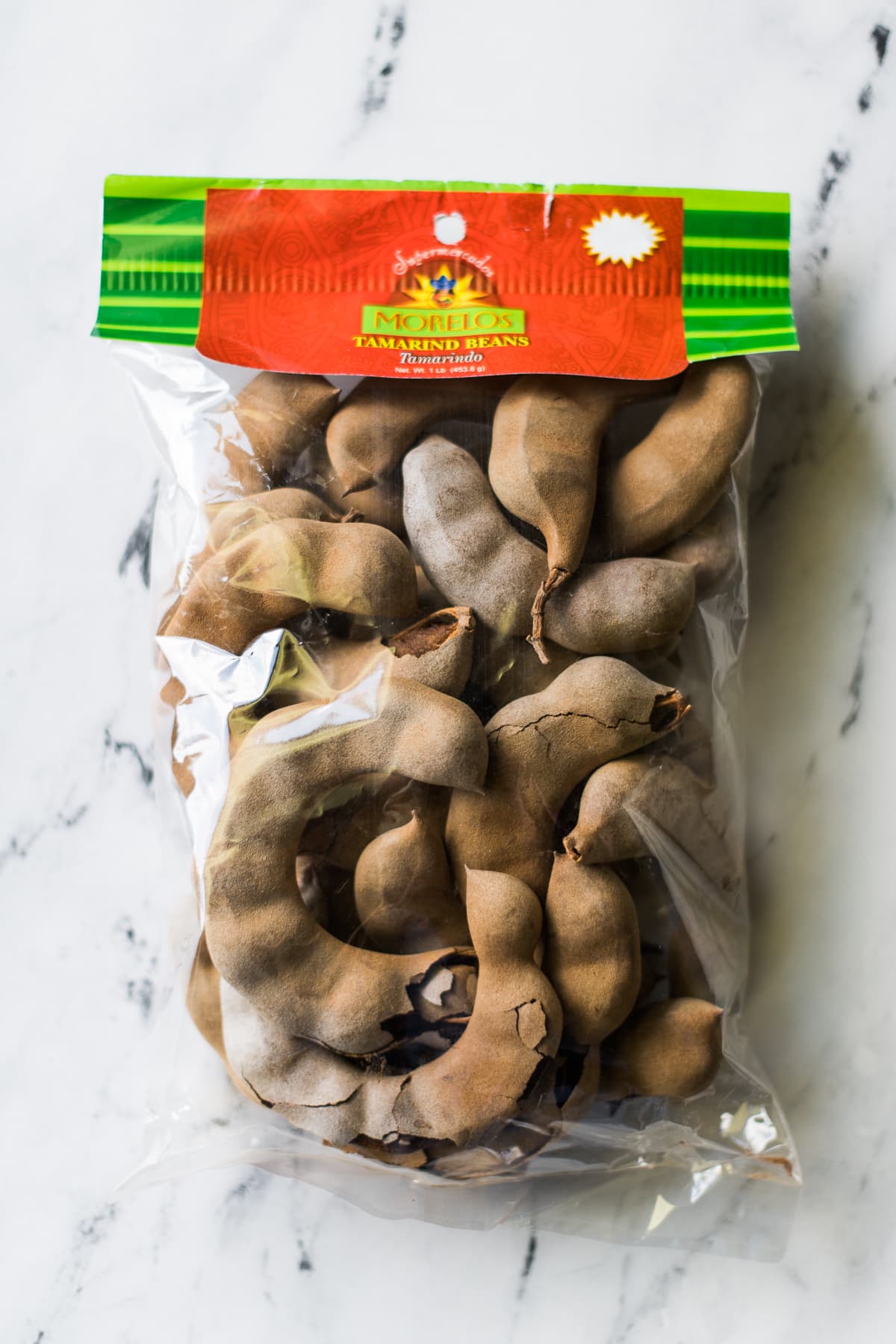 How is it sold?
Tamarind can be purchased in a variety of ways, including:
Whole pods: typically sold in large bags and requires you to prepare the fruit by removing the brittle pods and seeds from the pulp
Paste: made by steeping the fruit in hot water, then straining to remove the fibers
Concentrate: similar to paste, but has a liquid texture with a much more intense flavor
Pressed blocks: these are used to form candies or are softened to use in cooking
Frozen pulp: has a milder taste and can be diluted before mixing into drinks
Sweetened syrup: this is the form most often used in cocktails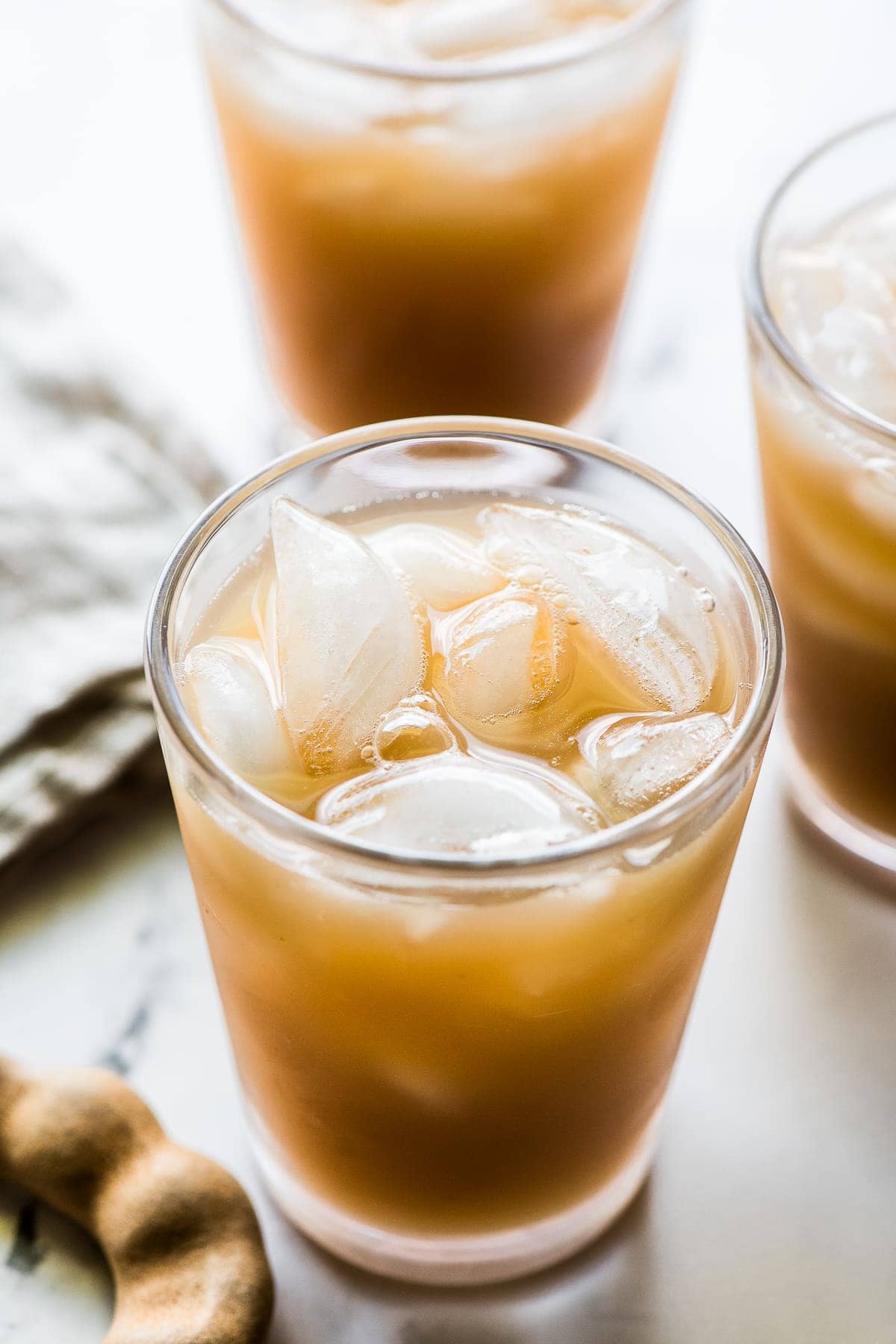 Uses for Tamarind
One of the most popular ways to use this fruit is in Agua de Tamarindo (Tamarind Drink). This Mexican agua fresca (or "fresh water" in English) is a sweet and sour drink similar to an earthy lemonade.
The drink is made by boiling peeled tamarind pods in water, removing the seeds, and blending the cooked tamarind pulp in a blender with a little more water and sugar until it's the perfect balance of sweet and tart.
(You may know of other agua frescas like horchata or agua de jamaica (hibiscus tea).)
Other ways to use this fruit
Additionally, different forms of the fruit are in things such as:
Candies and sweets – Tamarind paste is a common ingredient in many Mexican candies! It's often seasoned with chili powder and sugar, and then used as a coating around flavored hard candies.
Savory cooking – Blend it into homemade barbecue sauce, chutney, or a marinade for steak or chicken. It's even an ingredient in Worcestershire sauce!
Cocktails – A popular Brazilian drink called caipirinha uses tamarind paste. Also, it's a component of classic drinks like whiskey sours and gin and tonics.
Asian dishes – Both paste and concentrate are used in curries, stir-fries, and Pad Thai.
Soups and stews – Middle Eastern countries use this ingredient in meat stews. Also, places like Indonesia and the Philippines use it to add a sour taste to many of their soups.
While not as popular, the seeds are edible and can be used in several different ways.
Roasted seeds are a popular Caribbean snack. And Indian bakers often use ground-up seeds to flavor their cakes.