Jump to Recipe
Baked Pumpkin Churros covered in cinnamon sugar are the perfect fall and winter dessert. They're baked, not fried, which means you can eat more of them!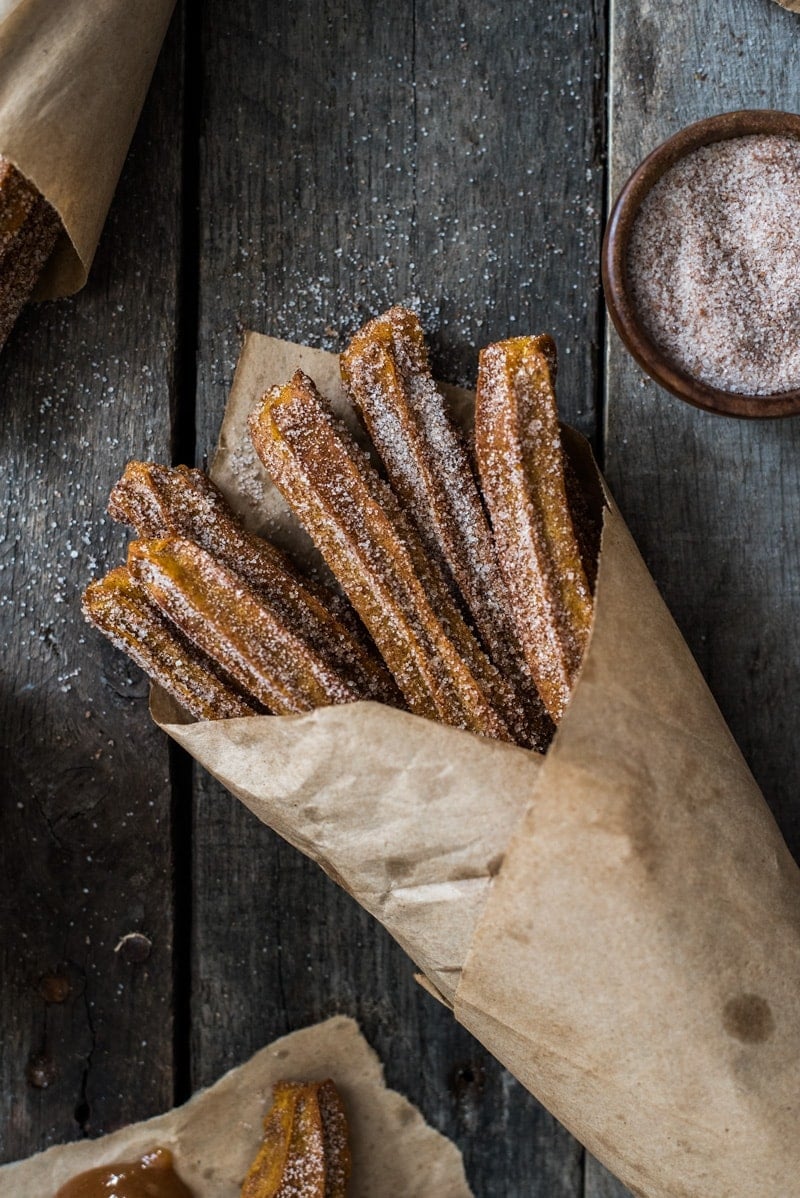 In case these Baked Pumpkin Churros didn't give it away, I'm finally in the fall mood!
Though the weather has definitely been having some serious mood swings lately, I was able to wear my boots, a big scarf and a sweater this weekend without sweating! That's a total win in my book.
Another huge win this weekend? These pumpkin churros. (Not to be confused with regular classic churros that are fried.)
I took a batch to a friend's surprise 30th birthday party and everyone loved them. His grandma even came up to me and gave me lots of compliments! You know you've made it when grandmas like your desserts. Weekend = made.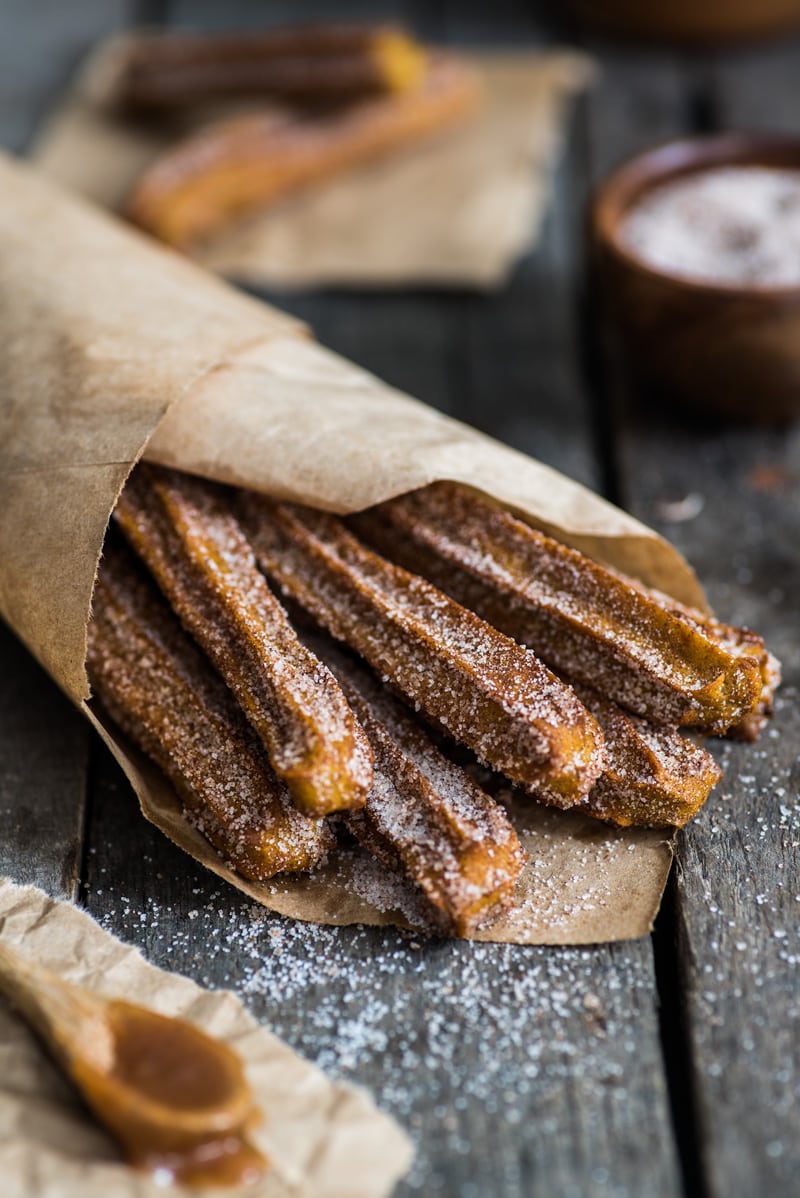 These churros are very easy to make. They make look super fancy because they require using a piping bag and a star tip, but I promise they're not complicated at all. Just follow the step-by-step instructions in the recipe and they'll come out perfect every time!
If you're not a baker and don't have a clue what a piping bag and a star tip is, here's what you need.
The 1M star tip gives you a thinner churro than you're probably used to seeing at restaurants, but I prefer it because it just means I can eat more. Also, it's a common size tip that's often used for piping frosting swirls onto cupcakes, so you'll get lots of use out of it.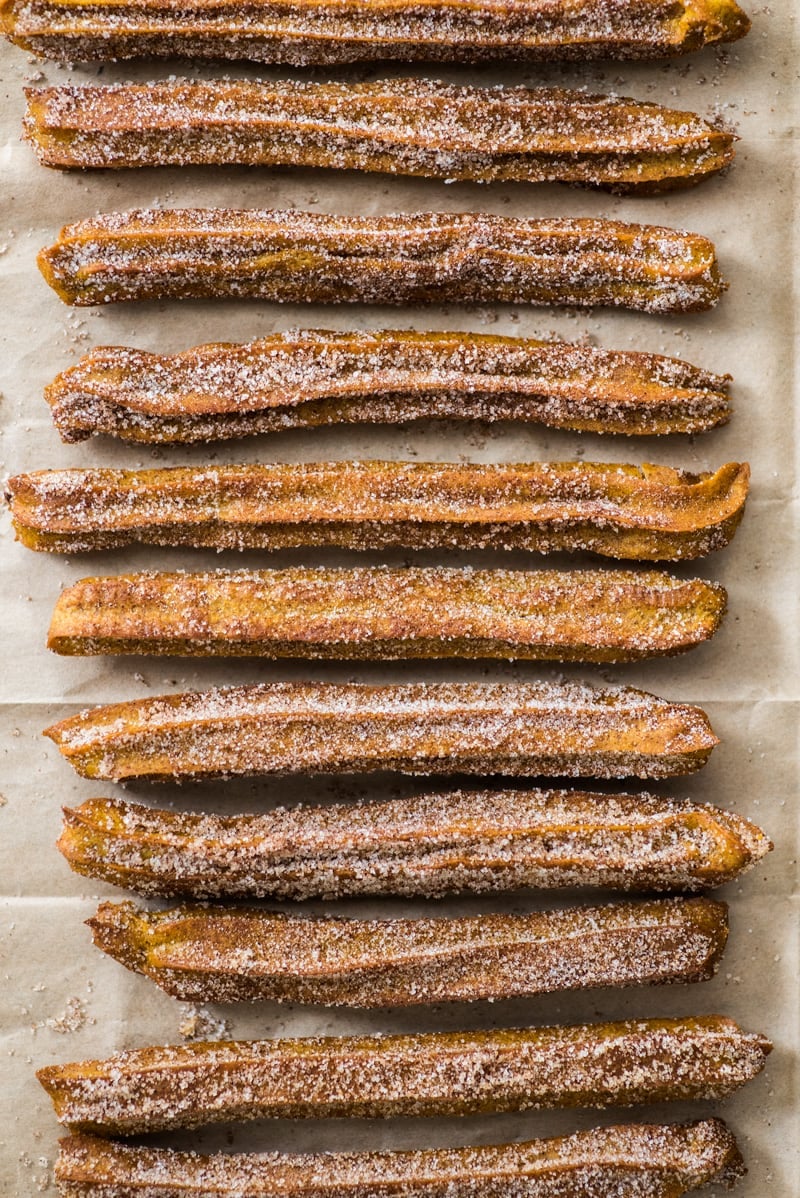 One of my favorite things about these pumpkin churros is that they'r baked, not fried.
Now don't get me wrong – I'm not against eating fried food. Lord knows I eat it when I'm out at a restaurant. But deep frying food at home is such a pain in the butt and isn't always necessary. Take these churros for example – they're absolutely delicious baked! They still have the same crunchy texture on the outside while being light and fluffy on the inside. They're still covered in a sweet cinnamon sugar coating and can still be dunked in your favorite dessert sauce! Super important.
I dipped mine in some dulce de leche, but you could also serve it with a chocolate sauce or some vanilla icing dip.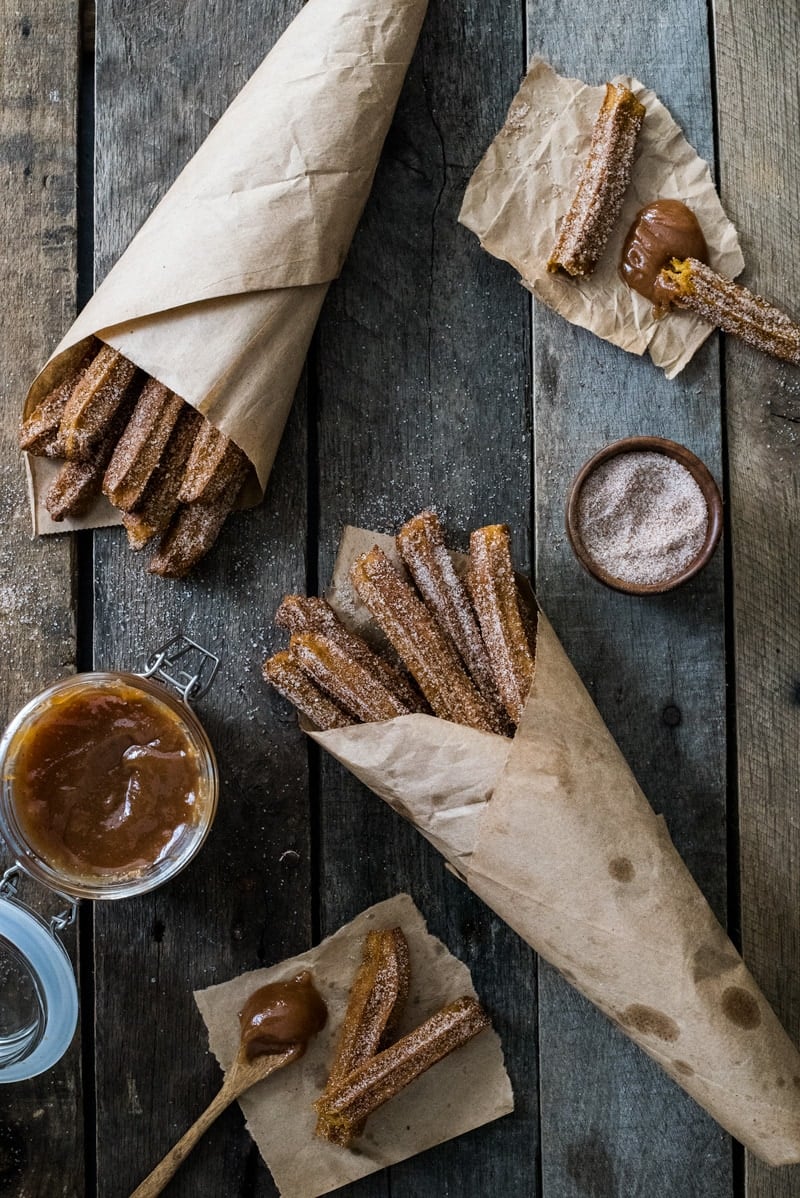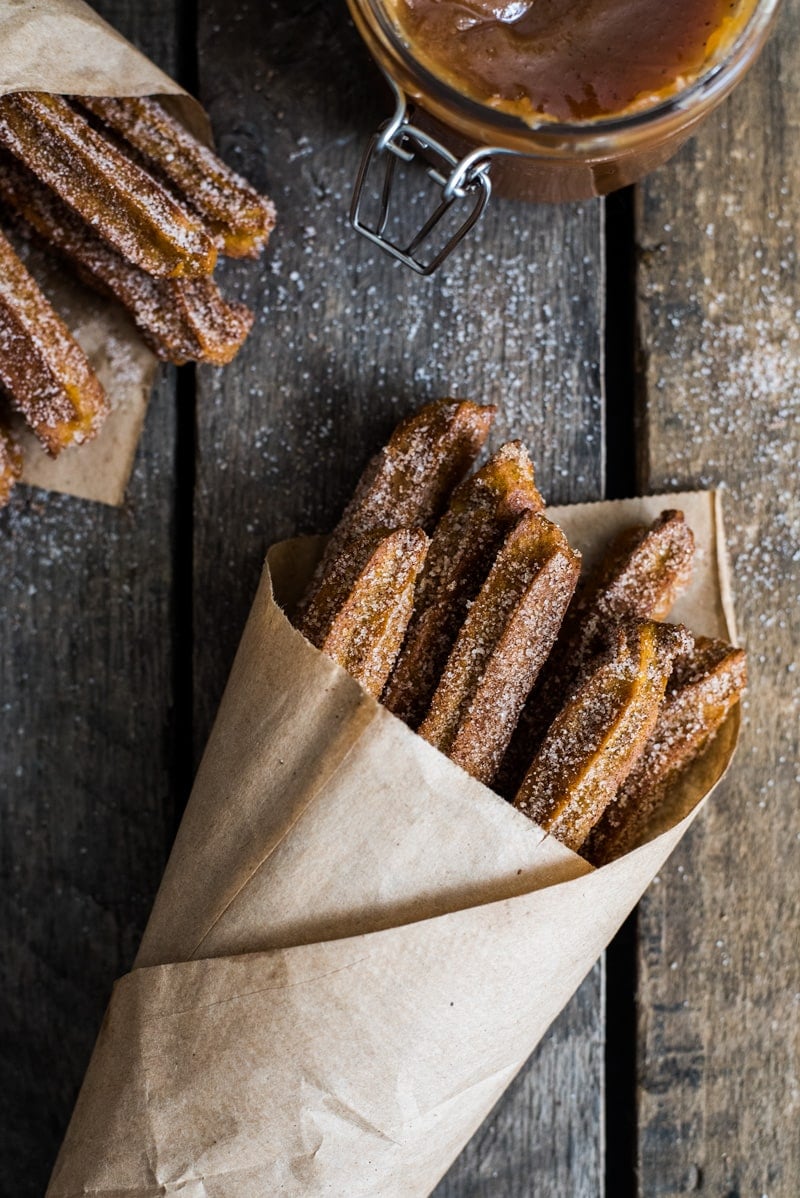 More Mexican desserts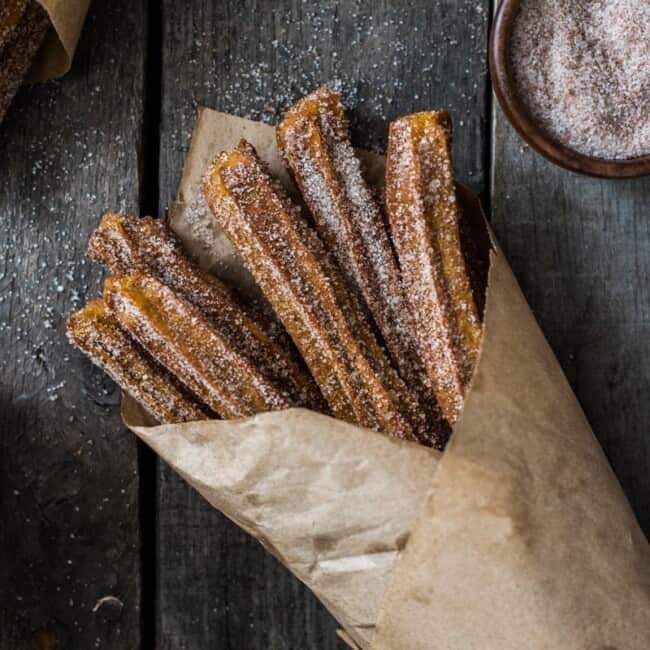 Prep: 15 minutes
Cook: 35 minutes
Total : 50 minutes
Baked Pumpkin Churros covered in cinnamon sugar are the perfect fall and winter dessert. They're baked, not fried, which means you can eat more of them!
Ingredients
For the coating
1 1/2 tablespoons margarine or butter, melted
1 teaspoon cinnamon
2/3 cup granulated sugar
Instructions
For the churros
In a medium bowl, mix together the flour, cinnamon, pumpkin pie spice, chili powder and salt.

In a medium pot over medium-high heat, add water, pumpkin puree, margarine and vanilla extract. Bring to a boil, whisking constantly and remove from heat.

Pour the flour mixture into the pumpkin mixture and stir with a wooden spoon until just combined. Let sit and cool down for 2 minutes.

Add in the eggs one at a time, vigorously mixing together the dough with the wooden spoon until each egg is incorporated. It may seem like the eggs aren't mixing with the dough, but just keep mixing until they are, about 1 to 2 minutes each egg. The dough should be smooth and the consistency of a very thick pudding.

Preheat oven to 400 degrees F. Line 2 large baking sheets with parchment paper. Place the dough into a pastry bag with a star tip. I used a Wilton 1M star tip. If you use a larger one, you may get less churros overall because they'll be thicker, but they'll still be delicious!

Pipe 6-inch lines of churro dough onto the prepared baking sheets and bake for 25 minutes. Turn oven off and leave churros in for another 10 minutes.
For the coating
While churros are baking, add cinnamon and sugar to a large plate. Mix together until well combined and set aside until ready to coat the churros.

To coat, brush churros with melted margarine using a pastry brush and roll in cinnamon sugar mixture.
Isabel's Tips:
*Nutritional information is based on a total of 36 churros. I used a Wilton 1M star tip, but if you use a different size, your total churro count will likely be different.
Nutrition Information
Serving: 1churro Calories: 74kcal (4%) Carbohydrates: 10g (3%) Protein: 1g (2%) Fat: 3g (5%) Saturated Fat: 1g (5%) Polyunsaturated Fat: 1g Monounsaturated Fat: 1g Cholesterol: 21mg (7%) Sodium: 49mg (2%) Potassium: 29mg (1%) Fiber: 1g (4%) Sugar: 4g (4%) Vitamin A: 550IU (11%) Calcium: 10mg (1%) Iron: 0.2mg (1%)
This page contains affiliate links. If you make a purchase on Amazon after clicking one of my links, I may receive a small commission. The price of the item stays the same and any money I make goes to supporting this blog. I only endorse products and services that I fully believe in.