Jump to Recipe
Learn how to make Dulce de Leche two different ways! The classic version is made from milk, sugar and baking soda while the easy version is made with a simple can of sweetened condensed milk. Both produce a delicious and rich caramel-like sauce that you'll want to eat by the spoonful!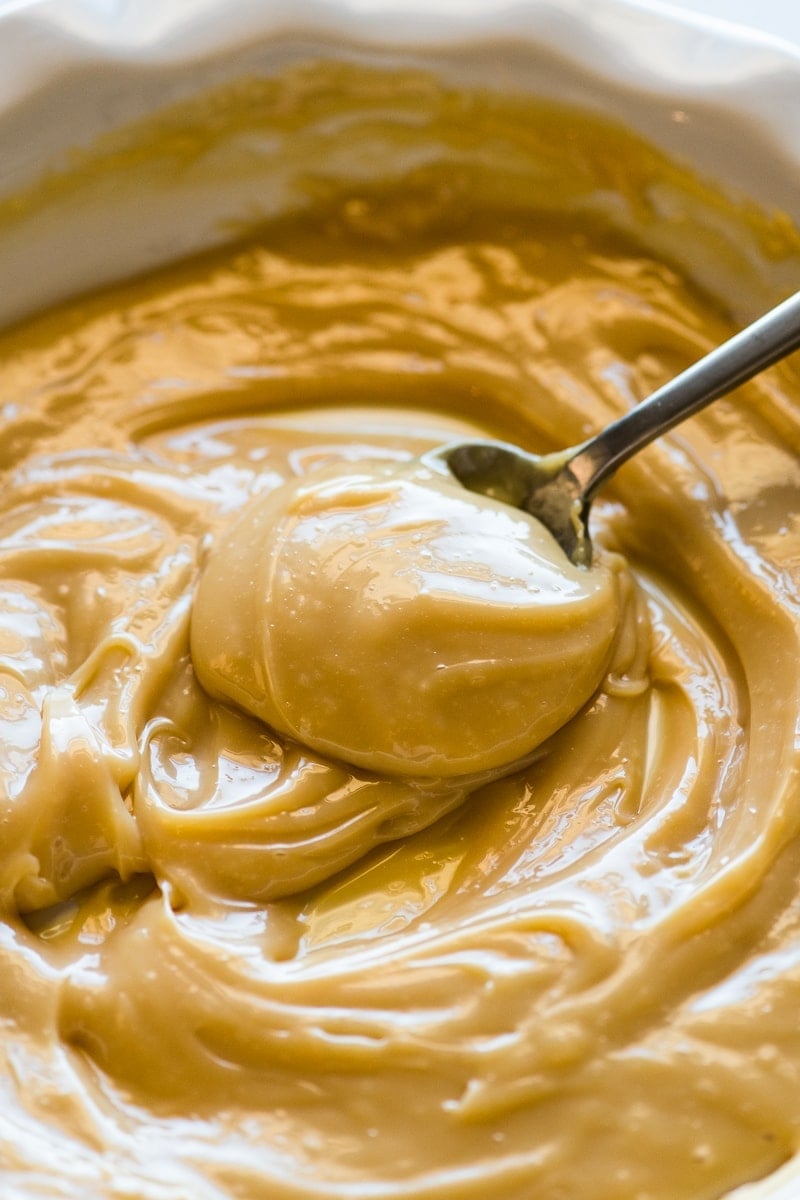 Do you ever get a craving for a decadent and comforting dessert that tastes so rich and delicious, you can't wait to put it on everything? Then you need some dulce de leche!
This caramel-like sauce is so versatile, it can be used as a sauce, a spread, eaten on its own, mixed in as a flavoring, and countless other ways.
What is dulce de leche?
Dulce de leche is a thickened caramel-like sauce that's made with milk, sugar and sometimes flavored with vanilla and cinnamon. It's prepared by slowly heating milk and sugar until the mixture caramelizes and thickens, turning it into a sauce that's often referred to as Mexican caramel.
What's the difference between dulce de leche and cajeta?
Dulce de leche is sometimes called cajeta because they're very similar. Though they're made the same exact way, cajeta uses goat's milk, whereas dulce de leche uses cow's milk. If your tummy is sensitive to cow's milk, take a look at my cajeta recipe.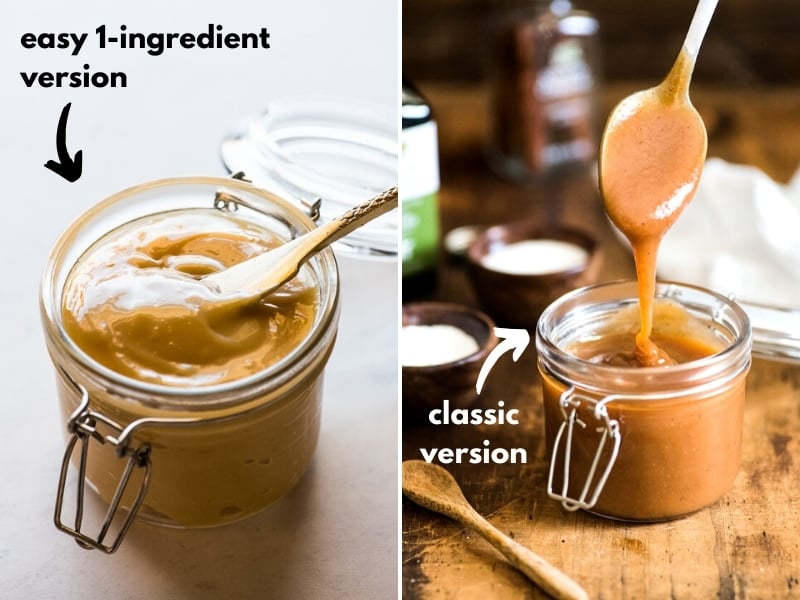 Dulce de Leche – 2 Ways
There are two ways to make dulce de leche:
The classic version is made on the stovetop with five ingredients: milk, sugar, baking soda, vanilla extract, and ground cinnamon.
The easy 1-ingredient version is made in the oven with one can of sweetened condensed milk.
Both versions are similar in flavor and color, but where they differ is the actual cooking method and time.
Making the Classic Version
To make the classic version, heat up some milk, sugar, and baking soda in a pot over medium-high heat. Once the mixture boils, reduce it to a simmer and cook for about 1 to 1 1/2 hours until it's thickened and transformed into a beautiful golden brown color.
I like adding in some vanilla extract and a touch of ground cinnamon at the end for extra flavor, but that's completely optional.
This method requires more attention and some stirring every now and then to make sure it doesn't burn.
Making the Easy 1-Ingredient Version
To make the easy version, simply pour a can of sweetened condensed milk into a 9-inch baking dish like a glass pie plate and cover the top tightly with aluminum foil. Then place the pie plate into a larger dish like a roasting pan and fill up the pan with water until it reaches halfway up the pie plate.
This creates a water bath (or a bain-marie or baño-maría) that helps the sweetened condensed milk cook slowly and gently.
Bake this for 2 hours at 425°F and just set it and forget it. The longer it cooks, the darker and thicker it becomes.
Though this method takes a little longer than the classic method, it doesn't require much attention once it's in the oven.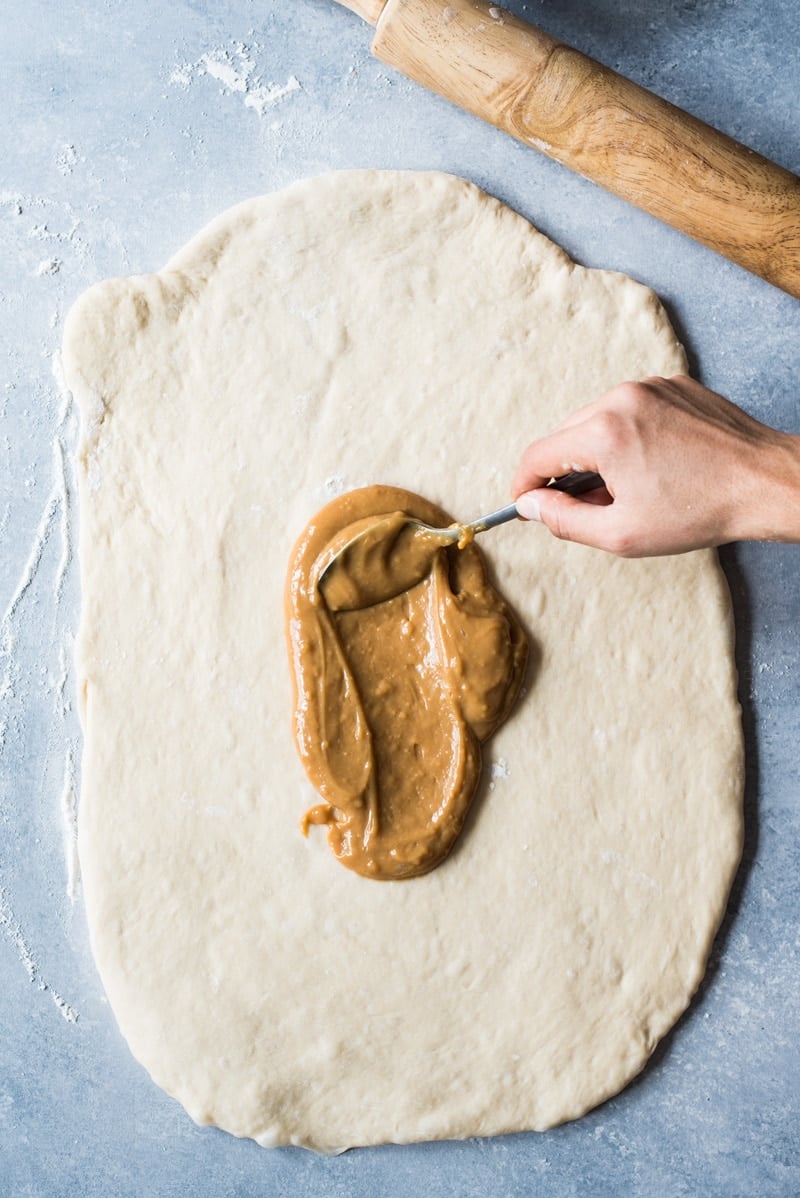 Ways to enjoy dulce de leche
Besides eating it by the spoonful, here are some other ways to eat this amazing Mexican dessert!
spread onto cookies or graham crackers
stirred into coffee or hot chocolate
drizzled on crepes, ice cream, or brownies
spread on fruit like bananas and apples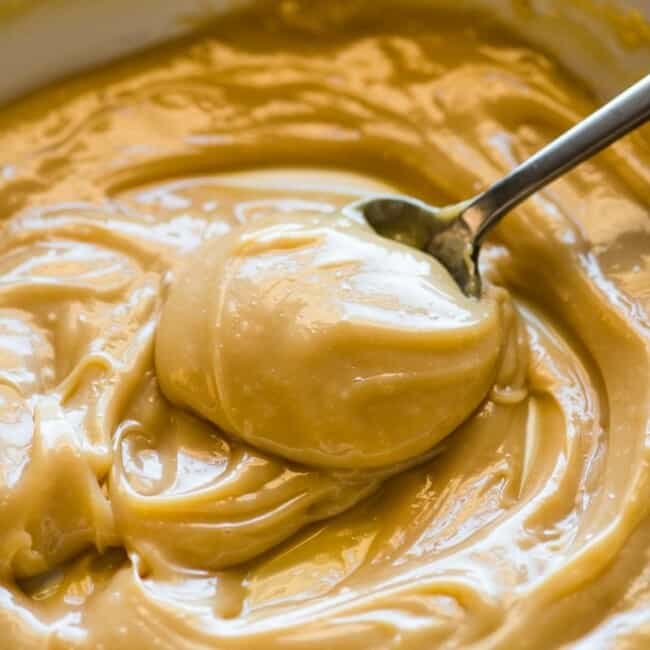 Cook: 1 hour 20 minutes
Total : 1 hour 20 minutes
Dulce de Leche recipe – two ways! The classic version made with milk and sugar, or the easy version is made from sweetened condensed milk.
Ingredients
For the easy 1-ingredient version
1 (14-ounce) can sweetened condensed milk
Instructions
For the classic version
In a large pot over medium heat, stir together milk, sugar, and baking soda.

Bring to a boil, stirring occasionally, making sure to remove the pot from the stove if it looks like the mixture is going to foam over. Keep stirring until the foam subsides and then return to the stovetop.

Once the mixture is boiling consistently without foaming, reduce the heat and simmer uncovered for about 1 to 1 ½ hours, stirring occasionally, until the milk has caramelized and thickened. 

When the mixture is a beautiful golden brown and the mixture has thickened to where it sticks very well to the back of a spoon, remove from heat and stir in vanilla extract and ground cinnamon.

Transfer to a glass jar to cool and enjoy!
For the easy 1-ingredient version
Preheat the oven to 425°F. Pour the sweetened condensed milk into a 9-inch baking dish (I used a pie plate) and cover it tightly with foil. 

Place the covered dish in a larger pan (like a roasting pan) and pour hot water into the larger pan until it comes halfway up the side of the 9-inch dish.

Carefully transfer it to the oven and bake for 1 hour and 45 minutes.

Remove the 9-inch baking dish from the water bath and carefully remove the foil. Whisk the dulce de leche until completely smooth and transfer it to a glass jar to cool. Enjoy!
Isabel's Tips:
Makes about 1 ¼ cups. Store dulce de leche in an airtight container in the fridge for up to one month. For the easy version, make sure to check the water level in the roasting pan halfway through baking and add more hot water if needed. If the dulce de leche has not reached a beautiful golden brown color after the time is over, let it bake for an additional 15 minutes.
Nutrition Information
Serving: 2tablespoons Calories: 152kcal (8%) Carbohydrates: 29g (10%) Protein: 3g (6%) Fat: 3g (5%) Saturated Fat: 2g (10%) Cholesterol: 14mg (5%) Sodium: 80mg (3%) Potassium: 156mg (4%) Sugar: 28g (31%) Vitamin A: 100IU (2%) Vitamin C: 1.7mg (2%) Calcium: 130mg (13%)