Jump to Recipe
A healthy Banana Bread Baked Oatmeal recipe made with berries and cinnamon to start your morning off on the right foot. (gluten free + vegetarian)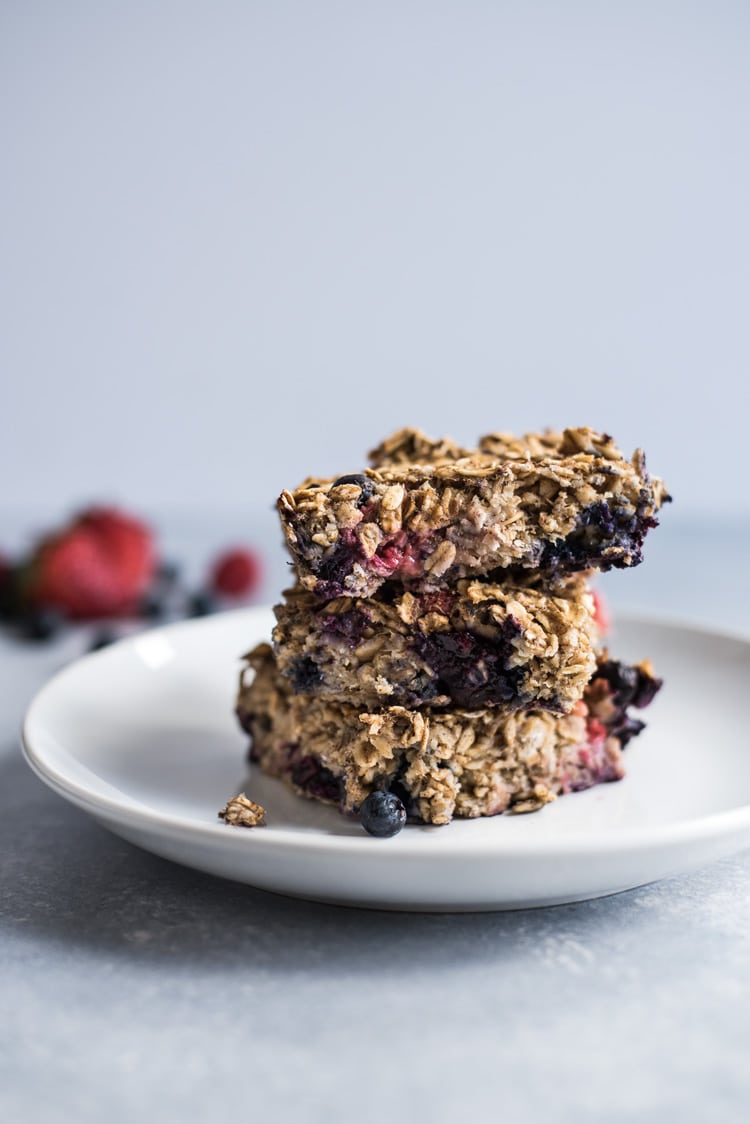 Hello, fellow oatmeal lovers! Are you ready for a slice of berry-filled, cinnamon-y baked oatmeal that tastes like banana bread?
Oatmeal is one of my favorite easy breakfasts to make during the week. I usually just heat it up in the microwave, add some fresh fruit and nuts, a dollop of Greek yogurt and go to town. But sometimes I crave a little variety. That's where baked oatmeal comes in.
Baked oatmeal is like a breakfast oatmeal casserole that can be easily divided into individual square portions. It's not completely hardened like a snack bar, and it's not a porridge consistency like your probably used to from a bowl of cooked oats. It's crispy on the outside and soft on the inside. It's really the best of both worlds.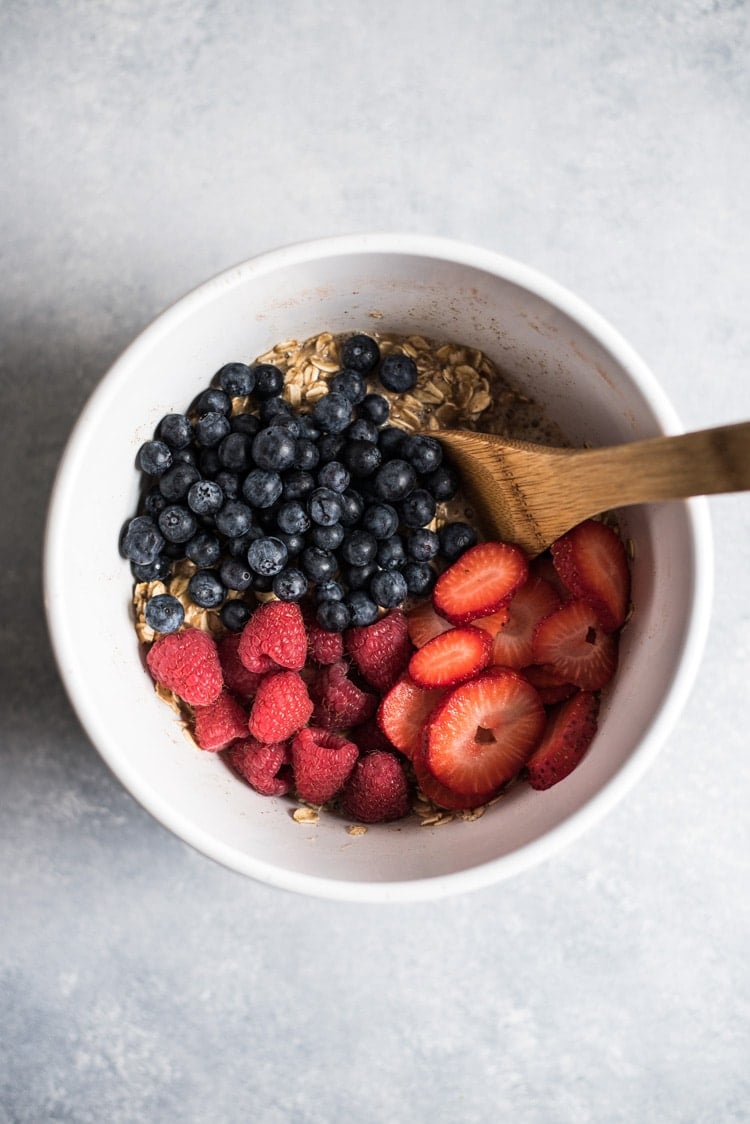 One of the great things about this recipe is that it's easily customizable.
For this recipe, I used three types of fresh berries – blueberries, strawberries and raspberries. If you don't have these berries at home, feel free to substitute any kind of berries or fruit that you like! You can also easily substitute frozen berries if fresh fruit isn't in season yet.
I also added some canela, aka cinnamon, to this baked oatmeal which gives it a nice, comforting flavor that all Mexican-inspired dishes have. While this isn't exactly a Mexican dish, the cinnamon touch is there and that's all that matters.
Plus, I made it, and I'm Mexican, so that counts. 🙂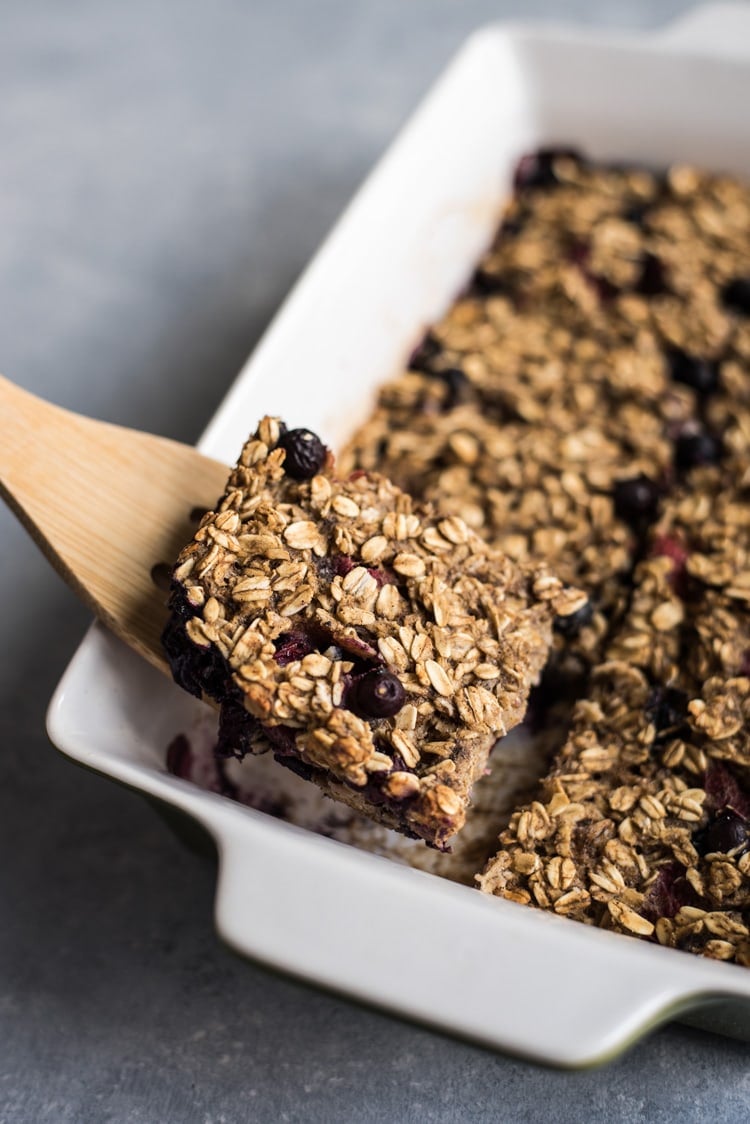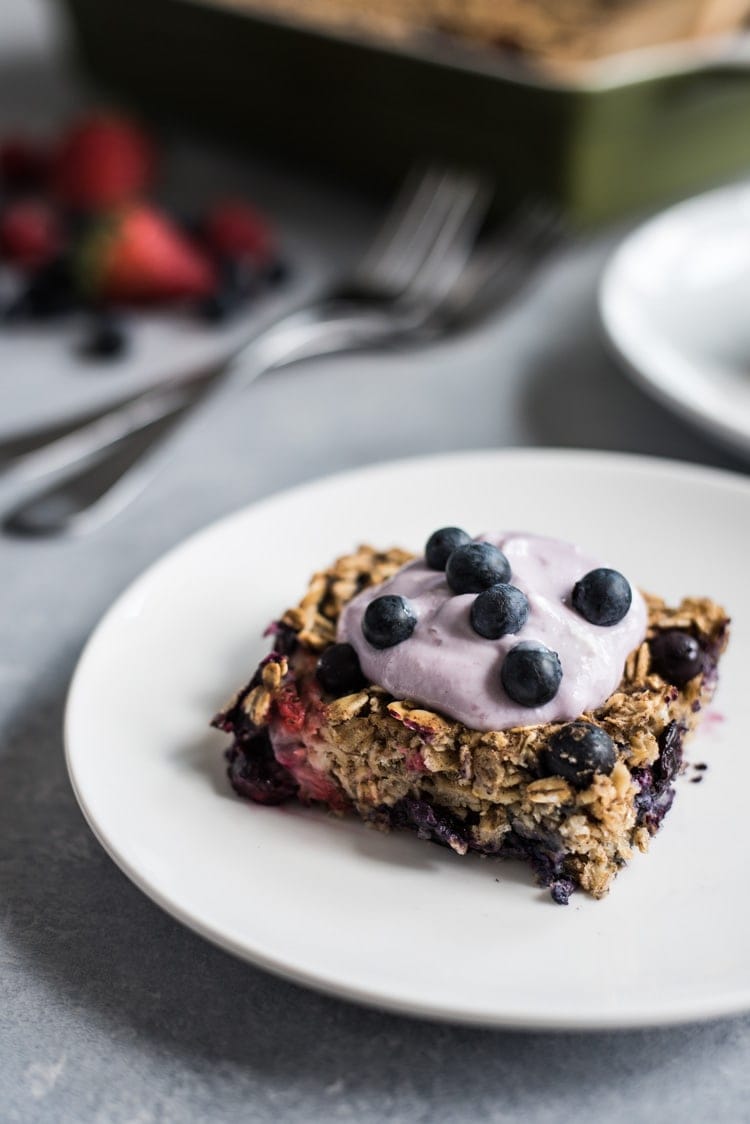 If you like this recipe, be sure to check out these other oat-filled recipes on the site!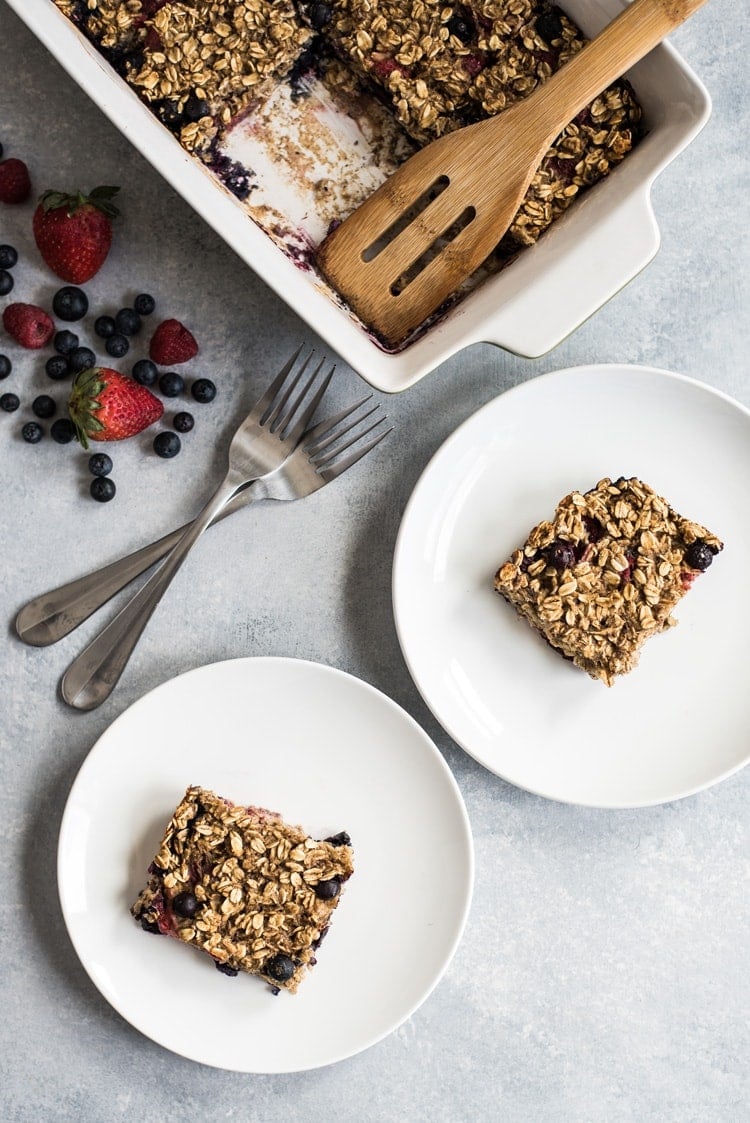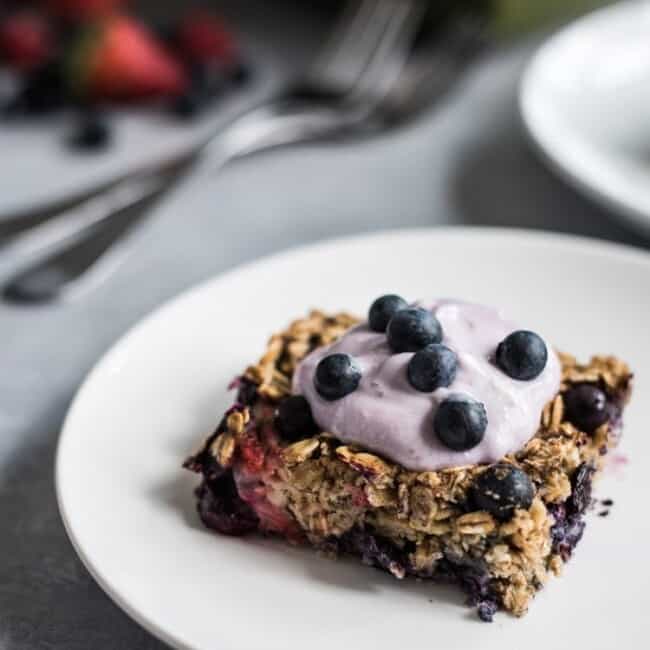 A healthy Banana Bread Baked Oatmeal recipe made with berries and cinnamon to start your morning off on the right foot! (gluten free + vegetarian)
Ingredients
2 1/4 cups old fashioned rolled oats
1 teaspoon baking powder
1 teaspoon ground cinnamon
1/4 teaspoon salt
1 cup ripe mashed bananas, about 2 large bananas or 3 medium bananas
3/4 cup almond milk
1 large egg
1 teaspoon vanilla extract
1/2 cup blueberries, fresh or frozen
1/2 cup sliced strawberries, fresh or frozen
1/2 cup raspberries, fresh or frozen
Instructions
Preheat oven to 350 degrees. Grease an 8x8 square baking pan (or other medium baking pan) with coconut oil or cooking spray and set aside.

In a large mixing bowl, mix together the oats, baking powder, cinnamon, and salt. Set aside.

In another mixing bowl, whisk together the mashed banana, almond milk, egg, and vanilla extract. Add the wet ingredients to the dry ingredients and mix until everything is combined.

Fold in the blueberries, strawberries and raspberries and pour the oat batter into the baking pan.

Bake for 35 to 40 minutes or until the top is set and lightly golden brown.

Remove from the oven and allow to cool for 10 to 15 minutes. Slice and serve warm, or cool completely, cover tightly, and refrigerate until ready to enjoy.