Jump to Recipe
These cinnamon coffee cake muffins topped with a crunchy streusel topping are made with Greek yogurt for a healthier homemade treat!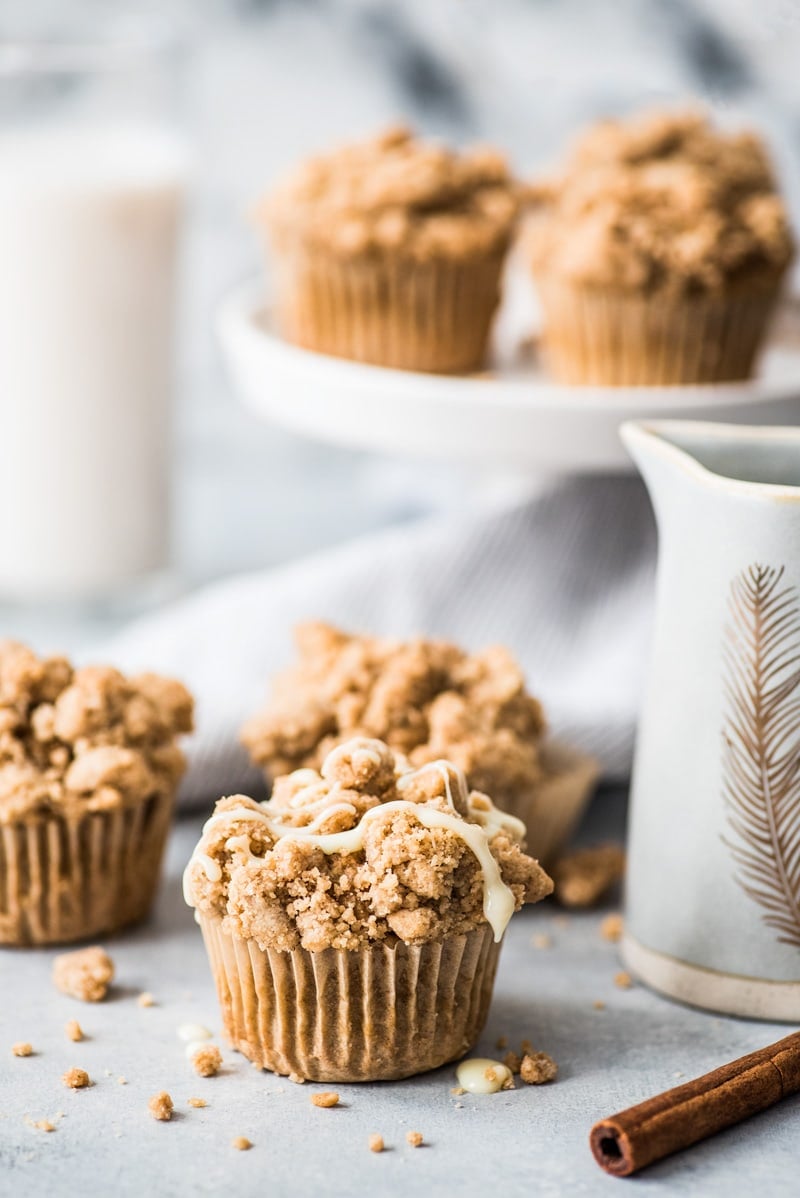 Healthy-ish cinnamon coffee cake muffins made with Greek yogurt? Is this REAL LIFE?!
Yes, my friends, this is real life. And such a sweet life it is. 🙂
Coffee cake muffins with Greek yogurt
Instead of using oil or butter in the muffin batter, I used plain Greek yogurt to lower the fat and up the protein. But don't worry – I didn't get rid of the good stuff completely. Each muffin is topped with plenty of buttery, crunchy, crumbly streusel that is in my humble opinion the best part of cinnamon coffee cake! I love eating the little crunchy crumbs that inevitably fall on my plate. Soooo good.
Saturday morning + a cinnamon coffee cake muffin + a cup of coffee = total relaxation.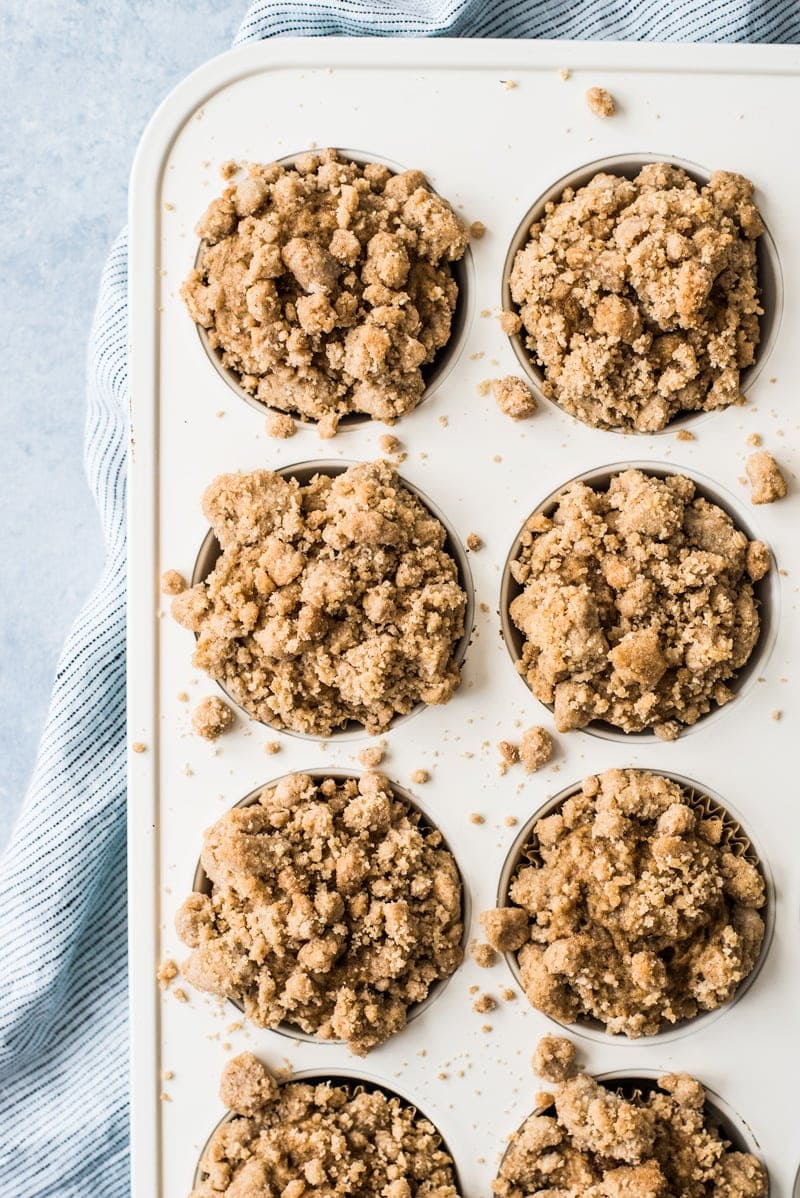 Is there actual coffee in coffee cake?
Some of you may be thinking that there's actual coffee in this muffin, but despite the name, there is none. So why is it called coffee cake? Because it's meant to be eaten with a hot cup of coffee!
With this in mind, I added plenty of cinnamon to both the muffin and the streusel because coffee and cinnamon are a classic Mexican combo that I just can't get enough of. And then I did one more thing that kind of defeats the purpose of these being "healthy-ish," but oh well. I topped the muffins with a little drizzle of La Lechera, my family's favorite sweetened condensed milk. I just couldn't help myself.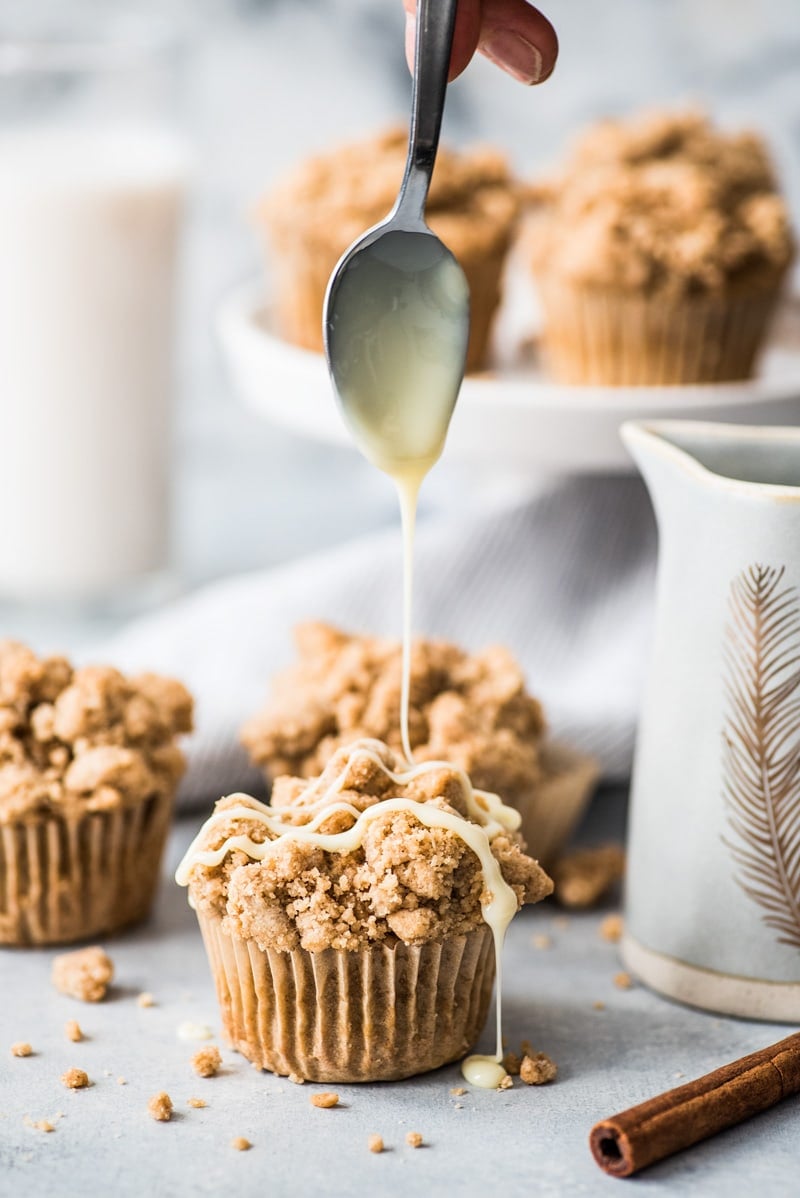 Pretty much every ingredient in this recipe is something I always have in the fridge and pantry, making this a perfect go-to treat when you need that little something something.
The one thing that everyone might not have in their pantry that I highly recommend are these parchment paper liners from PaperChef. They're easily one of my all-time favorite products to use when making anything in a muffin tin (egg muffins, cornbread muffins, even cupcakes). I'm absolutely obsessed with them.  There's no need to grease the inside of a muffin tin when you use these, plus they help make cleanup wayy easier. I've been able to find them at Target and Whole Foods, but if you prefer online shopping you can order them here on Amazon.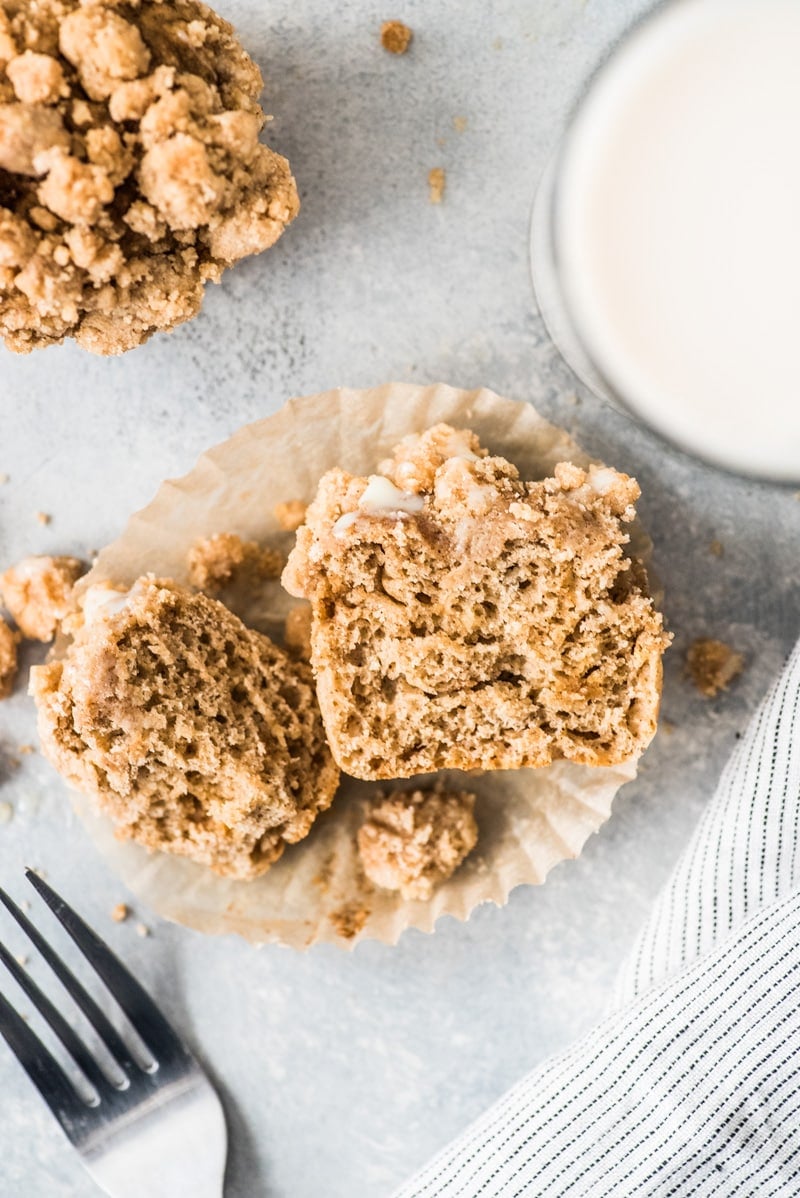 All that's left to do is dig in!
Thank you guys so so much for reading. I hope you have a great day!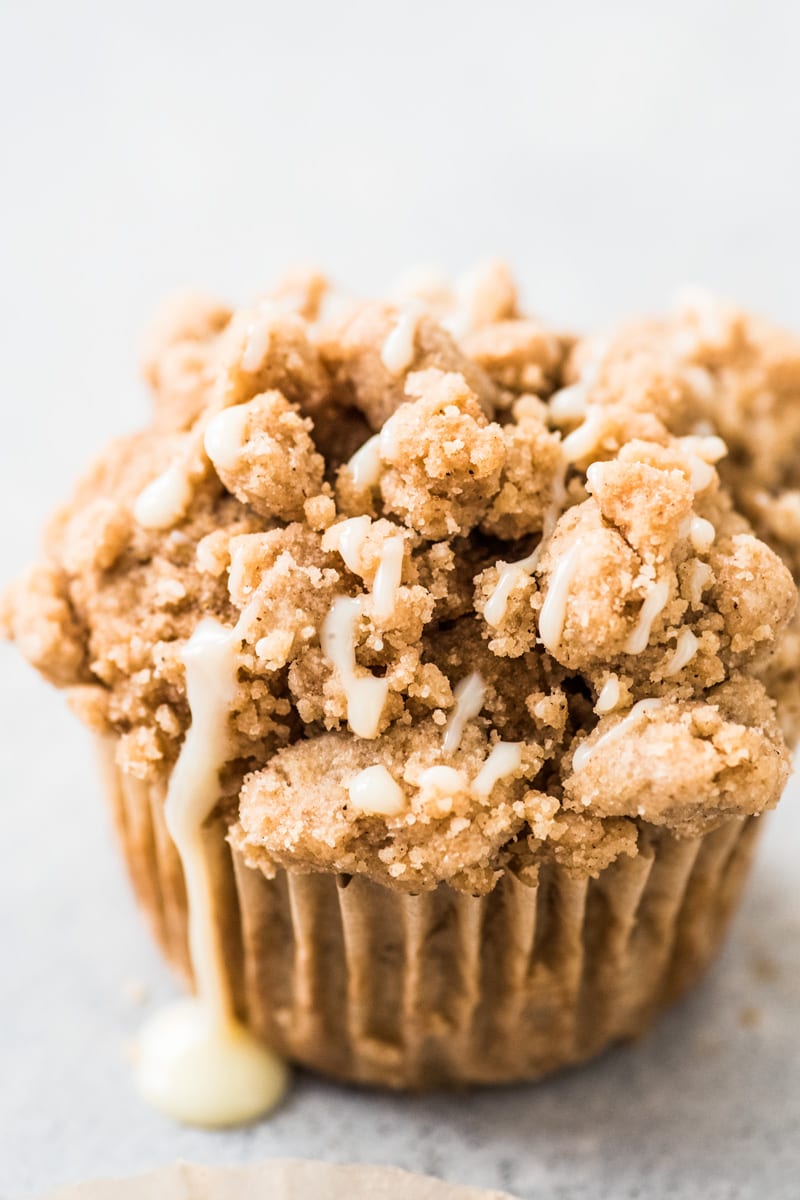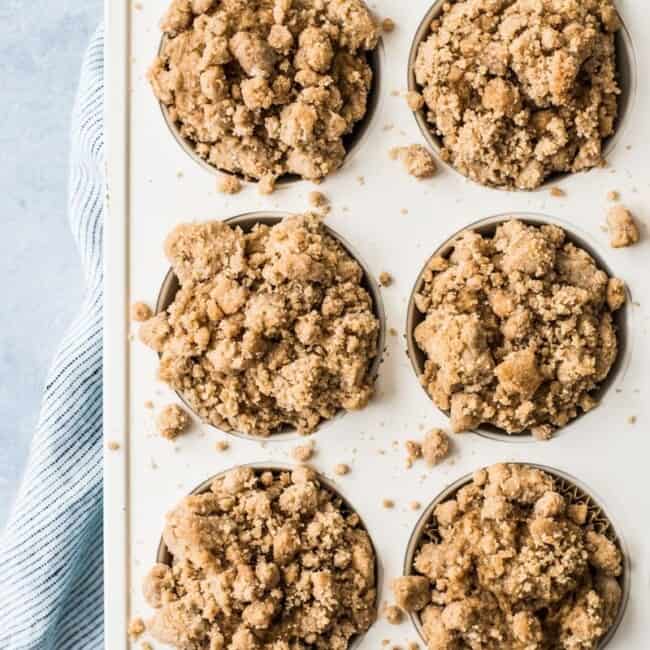 Prep: 15 minutes
Cook: 15 minutes
Total : 30 minutes
These cinnamon coffee cake muffins topped with a crunchy streusel topping are made with Greek yogurt for a healthier homemade treat!
Instructions
Preheat the oven to 375 degrees F. Line a 12-cup standard muffin tin with parchment paper liners (my personal favorite) or coat with nonstick spray. Then line a baking sheet with parchment paper or aluminum foil and set it aside.
For the streusel topping
In a medium bowl, add the granulated sugar, light brown sugar, ground cinnamon and salt. Mix together with a whisk.

Add the melted butter and whisk until well combined. Add the flour and mix everything together until moist.

Transfer the streusel topping to the prepared baking sheet and spread it out (this will help it dry out a little while you prepare the muffin mixture, which will make a more crumbly topping). The topping should have chunks of the mixture that are big and small. That's exactly what we want - an uneven crumbly streusel. Set aside until ready to use.
For the muffins
In a large bowl, add the flour, light brown sugar, baking powder, ground cinnamon, baking soda and salt. Whisk until well combined.

In a medium bowl, add the milk, Greek yogurt and eggs. Whisk until well combined. Add the wet ingredients into the dry ingredients and mix together until a thick batter is formed.

Pour the batter evenly into the muffin tins and top the muffins with the streusel topping. You may feel like you'll have leftover streusel, but press the mixture into the batter and try to use all of it.

Bake the muffins for 15 to 18 minutes, or until until a toothpick inserted into the center comes out clean. Remove the muffins from the oven and let them cool down for 5 minutes before serving.

Serve as is or top with a drizzle of sweetened condensed milk.
Nutrition Information
Serving: 1muffin Calories: 233kcal (12%) Carbohydrates: 34g (11%) Protein: 5g (10%) Fat: 9g (14%) Saturated Fat: 5g (25%) Cholesterol: 52mg (17%) Potassium: 48mg (1%) Fiber: 1g (4%) Sugar: 15g (17%) Vitamin A: 350IU (7%) Calcium: 40mg (4%) Iron: 0.2mg (1%)
This page contains affiliate links. If you make a purchase on Amazon after clicking one of my links, I may receive a small commission. The price of the item stays the same and any money I make goes to supporting this blog. I only endorse products and services that I fully believe in.