Chipotle Pumpkin Turkey Chili recipe made with pumpkin, sweet potatoes, beans and chipotle peppers for a quick and easy healthy fall meal! (freezer friendly, gluten free)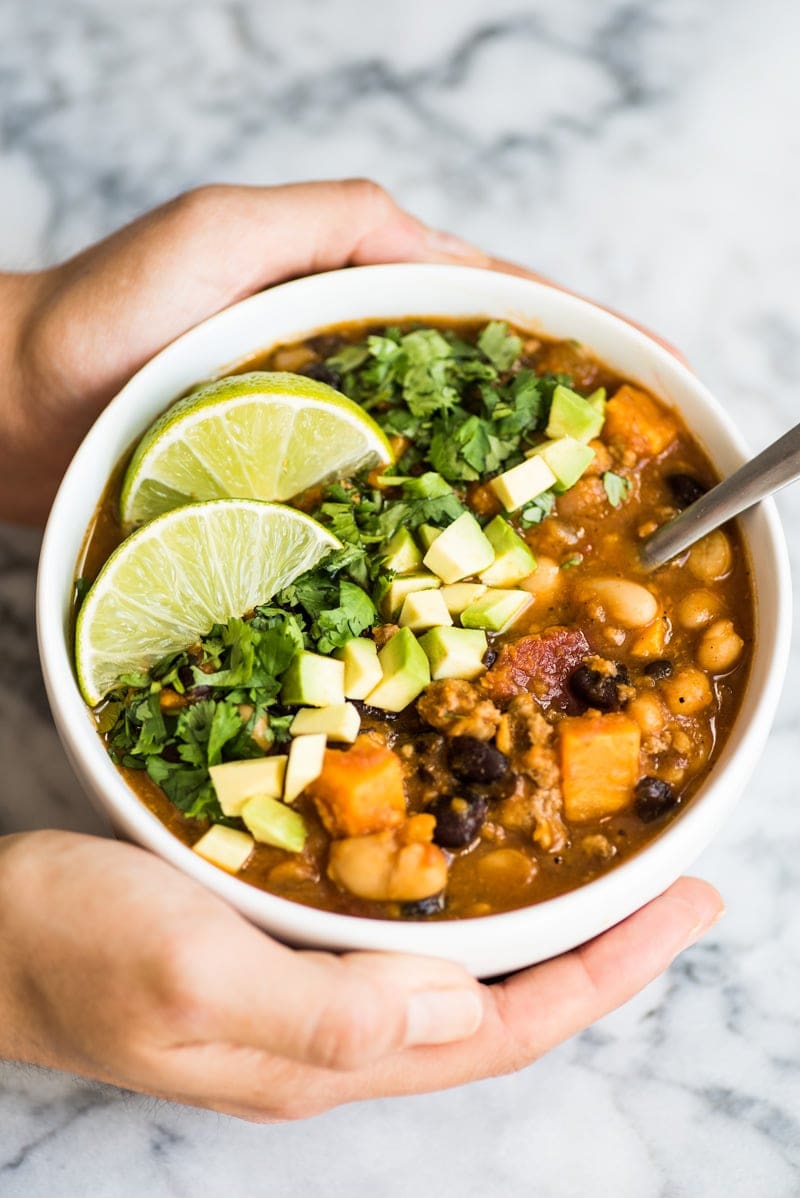 Who's ready for some healthy turkey chili to kick off the fall season?!
Sure, fall technically started about a month ago, but who's keeping track? It's been fairly warm in Pittsburgh lately for this time of year, and getting into the fall spirit has not been easy. Scarves and sweaters usually signal fall for me, but the weather is not cooperating.
In an act of defiance, I actually wore a scarf last week and quickly realized it was a huge mistake once beads of sweat started running down my neck. It made me so sad.
Nevertheless, even though it doesn't feel like fall outside, I'm determined to embrace the season in my little kitchen. Basically, what I'm say is it's time to bring on the pumpkin!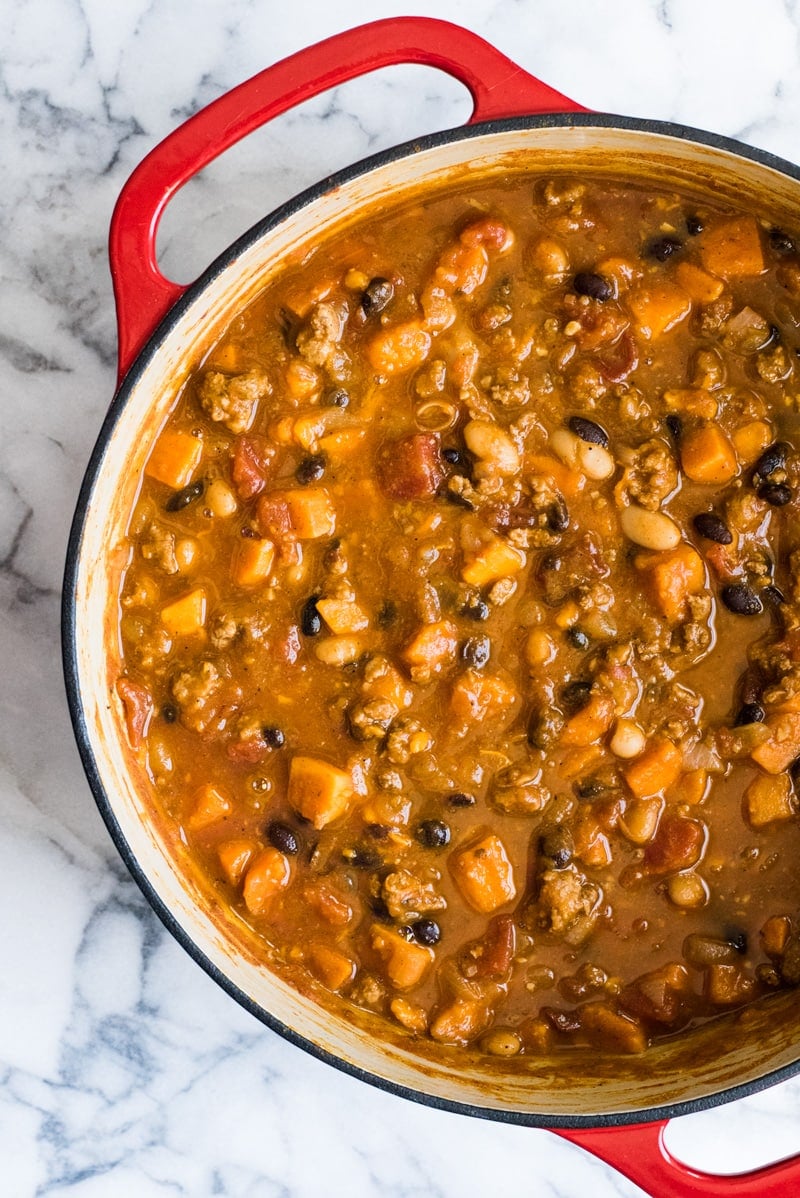 What better way to celebrate fall than with a healthy and satisfying turkey chili made with actual real pumpkin?! I used canned pumpkin puree since it's easy to find at all grocery stores and it doesn't require you to prepare a whole pumpkin from scratch.
I've actually done that once and it's a lot of work. And you know what? I didn't taste any difference in the homemade vs. store-bought stuff!
So unless you really enjoy preparing pumpkins for cooking, I say just go with a can of 100% pure pumpkin. Also, be careful not to buy pumpkin pie filling. That would be disastrous in this recipe.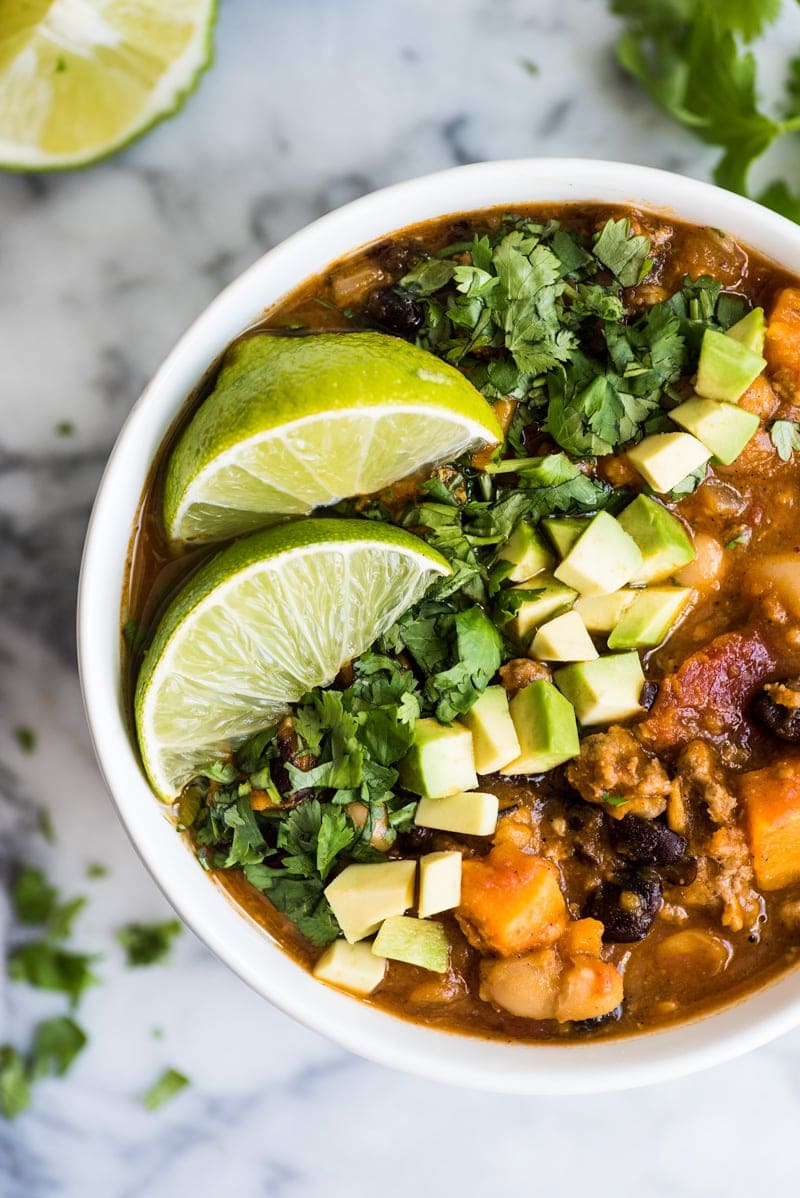 Because you know how much I love Mexican food, I added some chipotle peppers in adobo sauce to the chili for a bit of heat. I just couldn't help myself.
The chipotle compliments the sweetness of the pumpkin and sweet potatoes without making the turkey chili too spicy. This recipe only calls for 1 chipotle pepper in adobo sauce, but if you're like me and can handle the heat, I recommend adding 2 chipotles.
However, if you're very sensitive to spicy food, you can just omit the chipotle pepper all together and have a kid-friendly pumpkin turkey chili instead.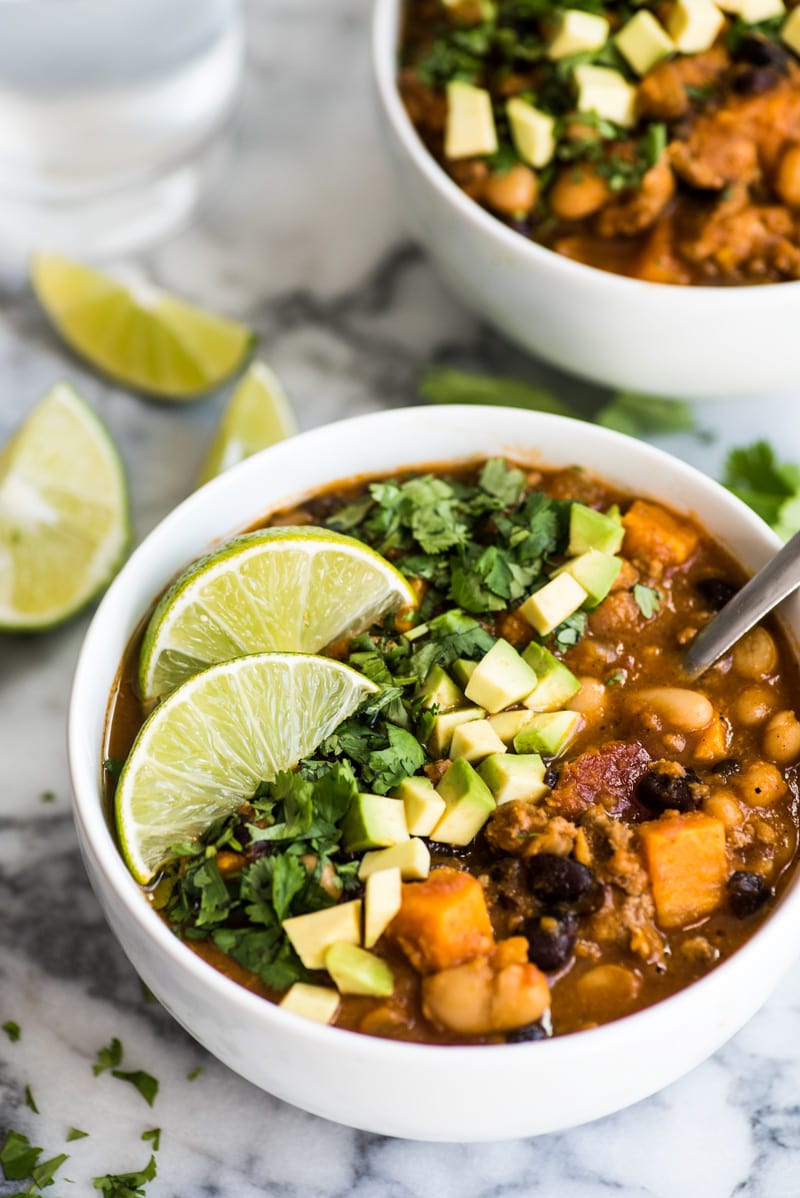 One of my favorite things about this chili is that it's freezer friendly, which makes it perfect for meal prepping and planning on Sundays. I've tested it, I've tried it and it works.
To freeze, simply let the chili cool completely and place it in freezer-friendly storage bags or containers. Remove as much air from the bags/containers as possible and freeze until ready to eat. To reheat, simply defrost it in the microwave and heat it up until it's hot.
A super simple, easy and healthy Chipotle Pumpkin Turkey Chili made for fall!
Now if we could only get the weather to cooperate.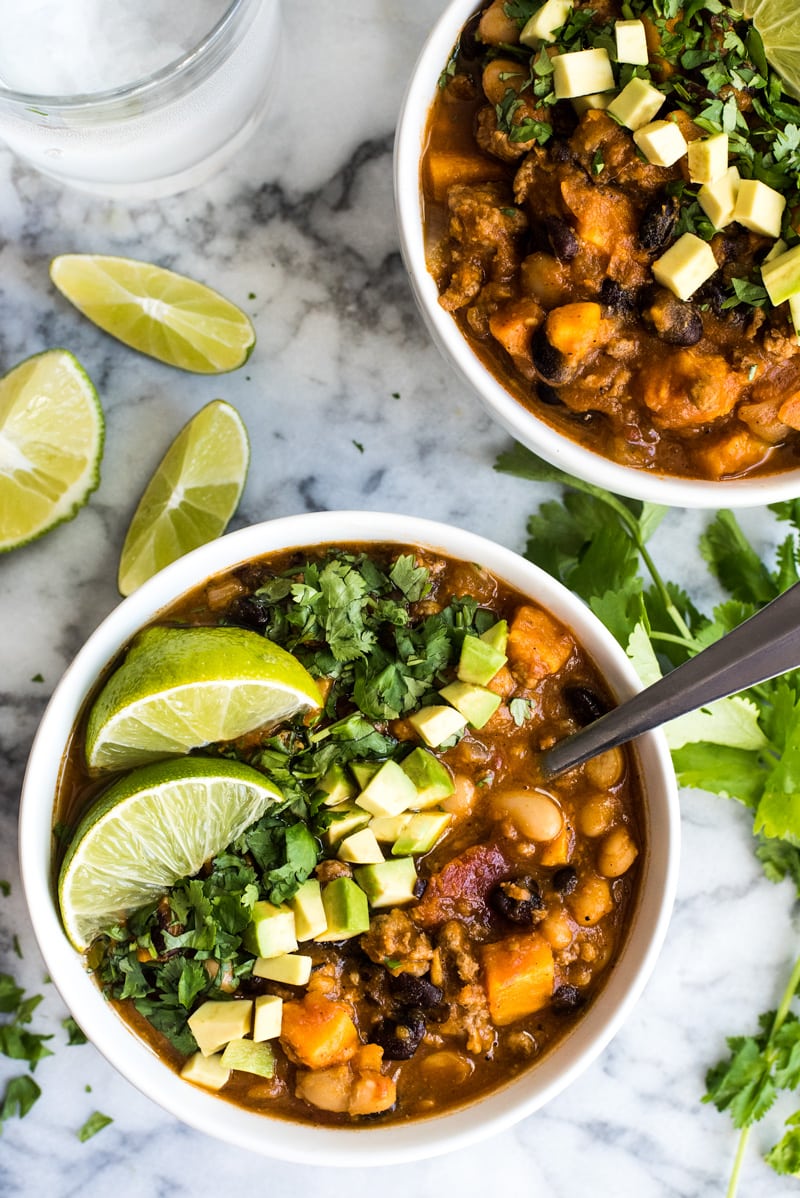 More soups, stews and chilis you'll love
INGREDIENTS
1

pound

ground turkey

(or ground chicken)

1

tablespoon

chili powder

1

teaspoon

ground ginger

1

teaspoon

coarse sea salt

1/2

teaspoon

ground cumin

1.5

tablespoons

olive oil,

divided

1

large

onion,

chopped

2

cloves

garlic,

minced (about 2 teaspoons)

1

cup

pumpkin puree,

canned or homemade

1

15-ounce can

diced tomatoes

1

quart

chicken broth

(about 4 cups)

1

15-ounce can

black beans,

drained and rinsed

1

15-ounce can

cannellini or white kidney beans,

drained and rinsed

2

teaspoons

chili powder

1/2

teaspoon

oregano

1

chipotle pepper in adobo sauce,

chopped (If you prefer lots of spice, start with this amount and add more, to taste.)

2

large

sweet potatoes,

diced into small cubes

1

pinch

salt and black pepper

For serving: cilantro, limes, avocados
INSTRUCTIONS
In a large bowl, mix together ground turkey, chili powder, ginger, salt and cumin.

Heat a dutch oven or large stockpot over medium-high heat. Add in 1 tablespoon of olive oil and the ground turkey mixture and cook for about 10 minutes, until meat is cooked through, crumbled and browned.

Transfer cooked meat to a large bowl and set aside.

Add remaining 1/2 tablespoon of olive oil to dutch oven and add in onion. Cook for about 5 minutes on until translucent and soft. Add in garlic and cook for one more minute.

Transfer cooked meat back to dutch oven and add pumpkin, canned tomatoes, chicken broth, black beans, cannelini beans, chili powder, oregano, a pinch of salt, chipotle pepper, sweet potatoes and salt and black pepper. Mix together and bring to a boil. Cover, reduce to simmer and cook for 45 minutes. Uncover and cook another 15 minutes.

Serve with chopped cilantro, fresh limes and avocados.
NOTES
To freeze: First, cool the chili down completely by chilling it in the fridge. Once chilled, store in freezer-safe zip-top plastic bags or containers and freeze. When ready to eat, let frozen container thaw completely in the fridge or defrost in the microwave. Reheat on the stove or in the microwave until completely warm.
---
Nutrition Facts
Easy Turkey Pumpkin Chili
Amount Per Serving (1 /6th of recipe)
Calories 378
Calories from Fat 90
% Daily Value*
Fat 10g15%
Cholesterol 60mg20%
Sodium 1429mg60%
Potassium 415mg12%
Carbohydrates 49g16%
Protein 26g52%
Vitamin A 17050IU341%
Vitamin C 34.7mg42%
Calcium 160mg16%
Iron 4.7mg26%
* Percent Daily Values are based on a 2000 calorie diet.
Did you make this recipe?
Leave a comment below and tag @isabeleats on social media!