This Spicy Vegetarian Black Bean Soup will warm you up from the inside out. This healthy and easy recipe is gluten free, vegetarian and vegan.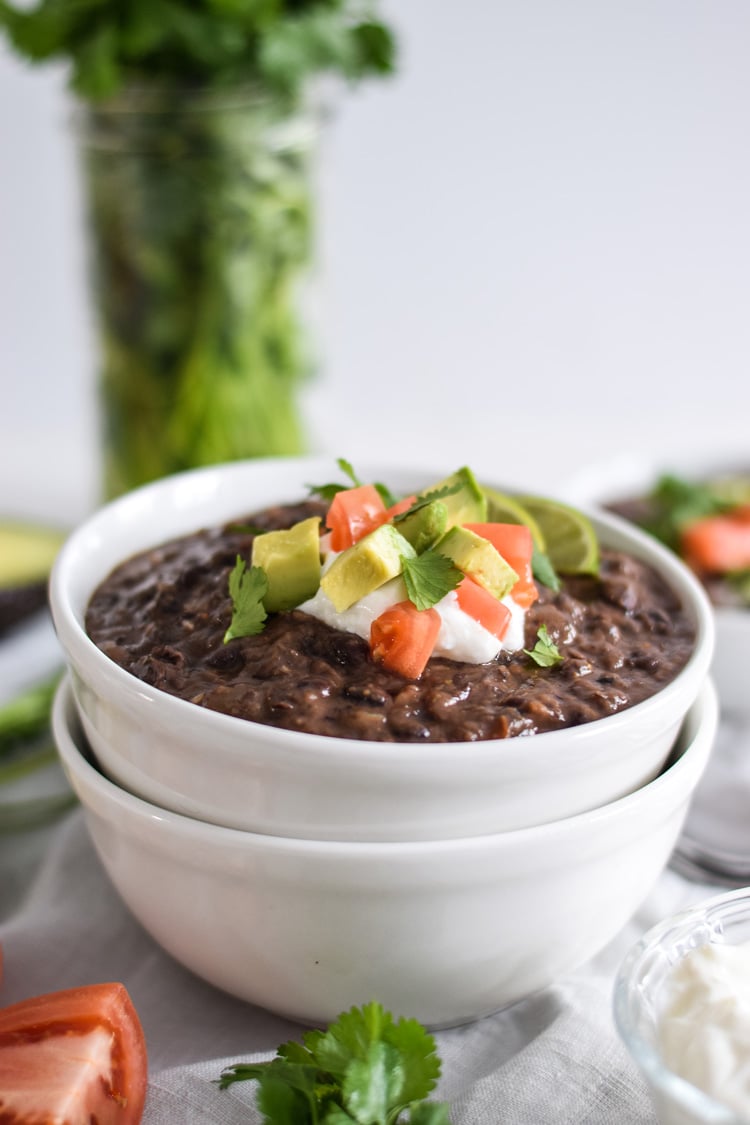 The best way to get through a cold and gloomy winter week? Eat as much soup as possible. (That and wear the biggest, most comfortable blanket scarf you own. It's guaranteed to keep you warm and put a smile on your face.)
Doesn't winter just make you want to dive head first into a bowl of soup? I can already feel the warmth, the comfort and the ease just thinking about it. Strangely, because of the lack of sunlight hitting Pittsburgh this time of year, I also find myself craving bright and bold flavors. So how exactly do I satisfy my cravings for warm and comforting yet bright and bold?
This Spicy Vegetarian Black Bean Soup.

MY LATEST VIDEOS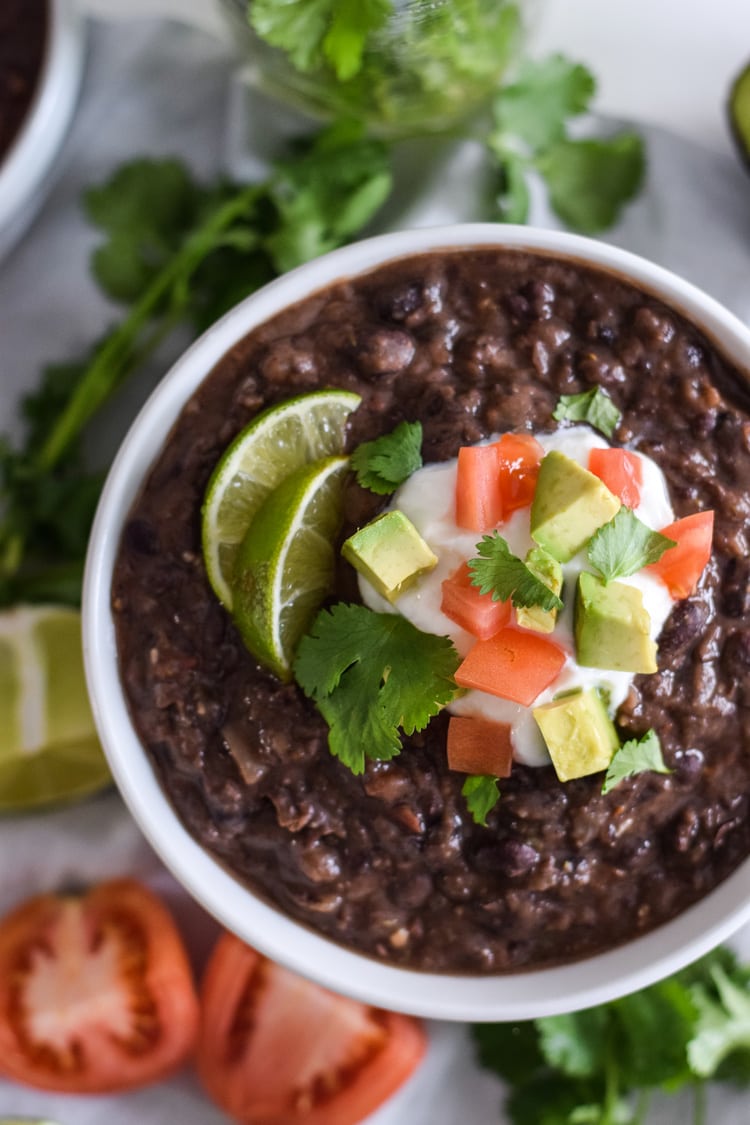 For me, the warmth and comfort come from the spice level in addition to the actual temperature of the soup.
Growing up in a Mexican household, I've been around spicy food my entire life. Peppers are a staple in my parents' fridge. For example, if something isn't spicy, my dad simply adds a whole pickled jalapeno or two onto the side of his plate. No big deal. So when I think about comforting foods in a physical and emotional sense, there's always a bit of spice in the picture.
Naturally, I added some crushed red pepper flakes to give the whole dish some heat. Though I only added 1 teaspoon, there's definitely a good amount of spice in every bite. If you like your foods extra spicy, feel free to add another teaspoon. If you prefer no spice at all, I recommend leaving out the red pepper flakes altogether.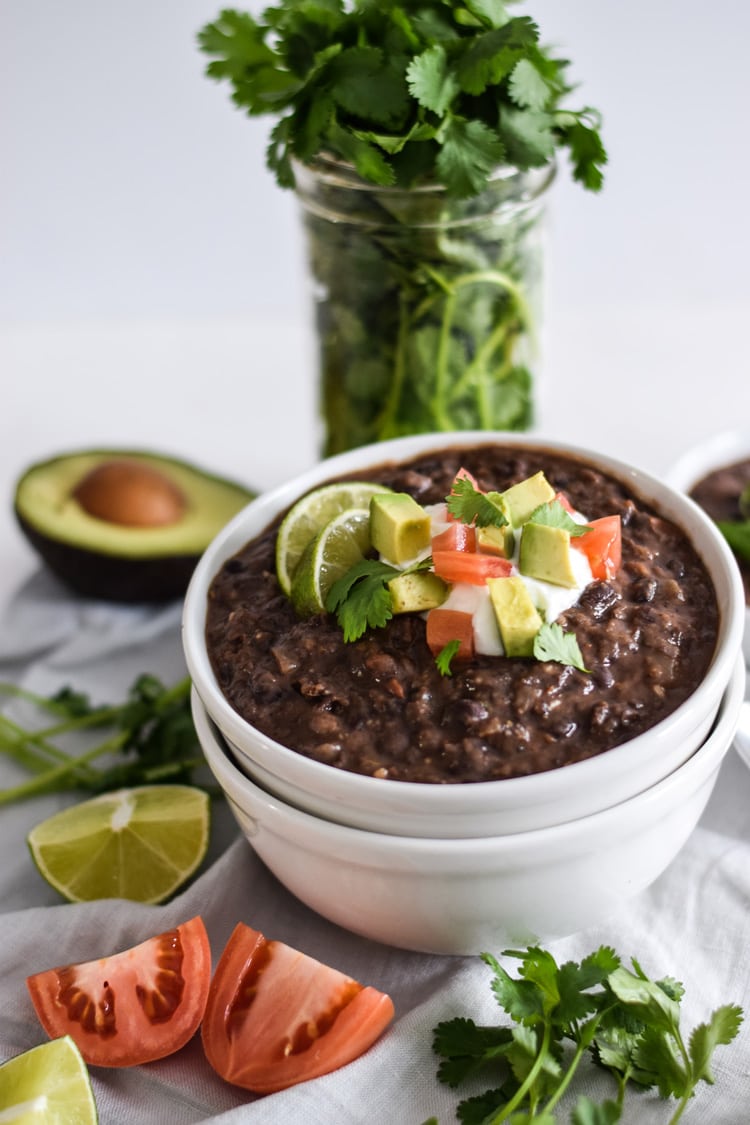 The bright and bold flavors of this vegetarian black bean soup come from the toppings. While they're optional, I highly suggest you use them.
If you've followed Isabel Eats for a while, you've probably noticed how much I love lime and cilantro. I use it in so many of my recipes because I'm absolutely obsessed! I can always count on those two ingredients to provide a bit of brightness and acidity to a recipe full of deep and intense flavors. They're definitely my go-to toppings.
I also added a nice dollop of plain Greek Chobani yogurt to help tame the spiciness from the red pepper flakes. I used some Greek yogurt for some of the added health benefits that it provides – added protein and healthy probiotics. If you want to go the authentic Mexican route, you can use sour cream or Mexican crema that's usually available at your local Mexican grocer.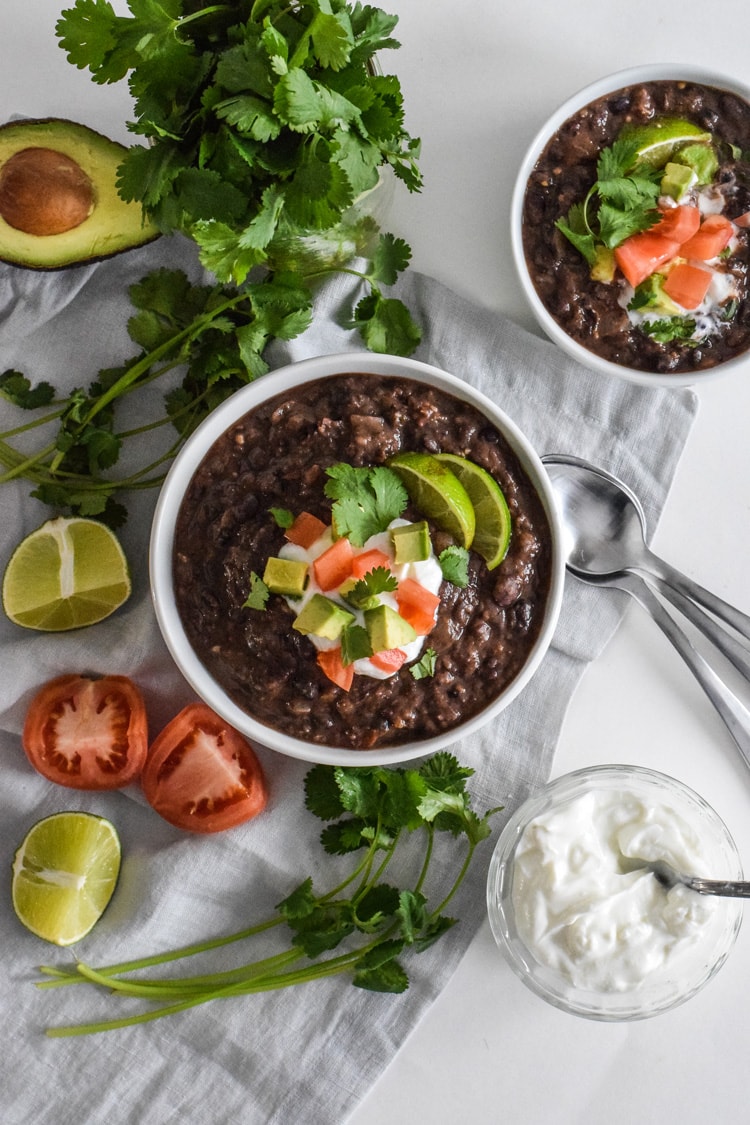 HOW TO MAKE THIS SPICY VEGETARIAN BLACK BEAN SOUP
Ingredients
For the soup
1 1/2

tablespoons

olive oil

3

(16-ounce) cans

black beans,

drained and rinsed

1

large

onion,

diced (about 1.25 cups)

2

teaspoons

minced garlic

2

large

plum tomatoes,

chopped (about 1.5 cups)

2 1/2

cups

vegetable broth

1

teaspoon

salt

1/2

teaspoon

black pepper

2

teaspoons

dried oregano

1

teaspoon

dried thyme

1

teaspoon

cumin

1

teaspoon

crushed red pepper flakes,

more if you prefer it extra spicy
Optional toppings
diced avocados

diced tomatoes

chopped cilantro

sour cream or Greek yogurt

lime wedges
Instructions
Heat 1.5 tablespoons of olive oil in a large pot over medium-high heat.

Add in onions, garlic and tomatoes. Cook until onions become translucent, about 3 minutes.

Add salt, black pepper, oregano, thyme, cumin and red pepper flakes. Stir and cook for another 4 minutes until very fragrant.

Add in vegetable broth, black beans and stir. Cover and cook for 15 minutes. The soup will be boiling by the end.

Uncover and with a

hand held immersion blender

, blend a few times until the soup reaches your desired consistency. Cook uncovered for another 15 minutes.

Stir and serve. Top with diced avocados, diced tomatoes, a dollop of sour cream or Greek yogurt, cilantro and lime wedges.
Notes
Nutritional information does not include optional toppings.
Nutrition Facts
Spicy Vegetarian Black Bean Soup
Amount Per Serving
Calories 231
Calories from Fat 36
% Daily Value*
Total Fat 4g 6%
Total Carbohydrates 39g 13%
Protein 12g 24%
* Percent Daily Values are based on a 2000 calorie diet.
This page contains affiliate links. If you make a purchase on Amazon after clicking one of my links, I may receive a small commission. The price of the item stays the same and any money I make goes to supporting this blog. I only endorse products and services that I fully believe in.