Jump to Recipe
This Cornbread Stuffing (or dressing) is made with chorizo, onions, celery and fresh herbs like sage, rosemary and thyme. It's the perfect easy side dish to serve at your Thanksgiving and holiday celebrations!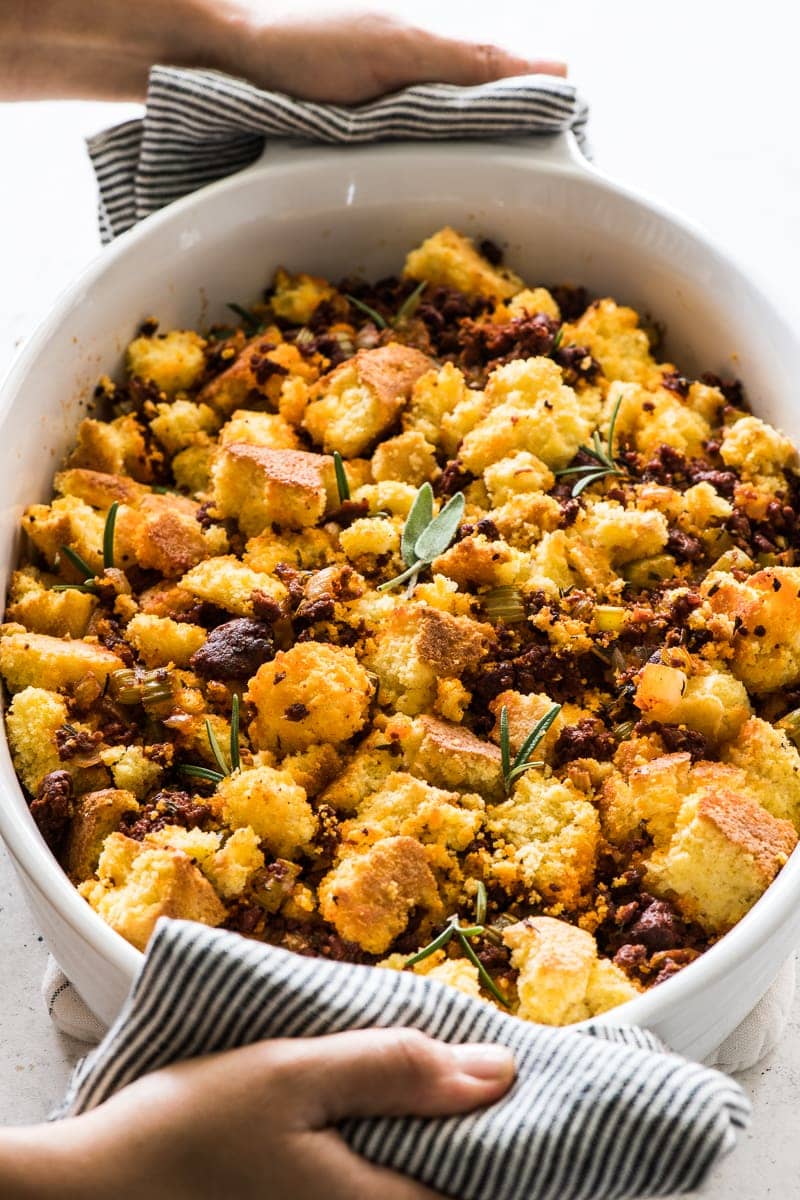 The Thanksgiving season is finally here and I am ready for it! It's one of my favorite holidays of the year because there's always so much amazing food, including my favorite side dish of the celebration – stuffing!
I'm that weird person who passes on the mashed potatoes just so I can fit more stuffing on my plate. See! Told you I'm weird.
While I'm used to eating the more traditional stuffing made from toasted white or french bread, I've decided it's time to try something new this year – stuffing made from cornbread!
What's the difference between stuffing and dressing?
Traditionally, stuffing is stuffed and cooked inside the turkey, whereas dressing is baked in a dish separately. However nowadays, the terms are often used interchangeably.
My family always made it separately in a casserole dish, but we still called it stuffing! Which is why I'm choosing to call this cornbread stuffing – please don't send me hate mail!
Ingredients in this Cornbread Stuffing
Cornbread – You have a few options here: you can make your own using your favorite recipe (like this easy jalapeno cornbread), you can buy a 15-ounce box of cornbread mix and make it at home, or you can buy already made cornbread and use that!
Chorizo – Make sure to use Mexican chorizo which is typically fresh, raw and near the other meats in the grocery store. Sometimes stores have it near the refrigerated deli meats and sometimes it's in a special section with other Hispanic food products. Don't get Spanish chorizo which cured, dried and ready to eat.
Veggies – Sauteed onions, celery and garlic give this stuffed a bit of texture and some needed crunch without being too overpowering.
Fresh Herbs – Sage, thyme and rosemary add the ultimate savory flavors that we all know and love during the holidays. They're typically used in many turkey recipes and pair perfectly with your bird.
Stock – Chicken and vegetable stock both work in this recipe, so use whatever you have on hand!
An egg – Cornbread stuffing (and stuffing in general) is inherently crumbly. Adding an egg into the mix helps to hold some of those crumbly pieces together just a tad bit.
How to make cornbread stuffing with chorizo
Crumble and cook the chorizo in a large nonstick skillet until browned. This will take about 5 minutes over medium-high heat.
Then add in the veggies and herbs – onions, celery, garlic, sage, thyme and rosemary. Cook this down for about 10 minutes, until the onions and celery have softened a bit.
Next, add the cornbread to a large greased baking dish. I roughly chopped my cornbread before adding it in, but try not to chop it up too finely because you don't want it to completely crumble and fall apart.
Add the cooked chorizo mixture and gently toss everything together until everything is evenly distributed.
In a medium bowl or mixing cup, whisk together the chicken stock and egg. Pour the mixture all over top of the cornbread, trying to get every piece a little moistened.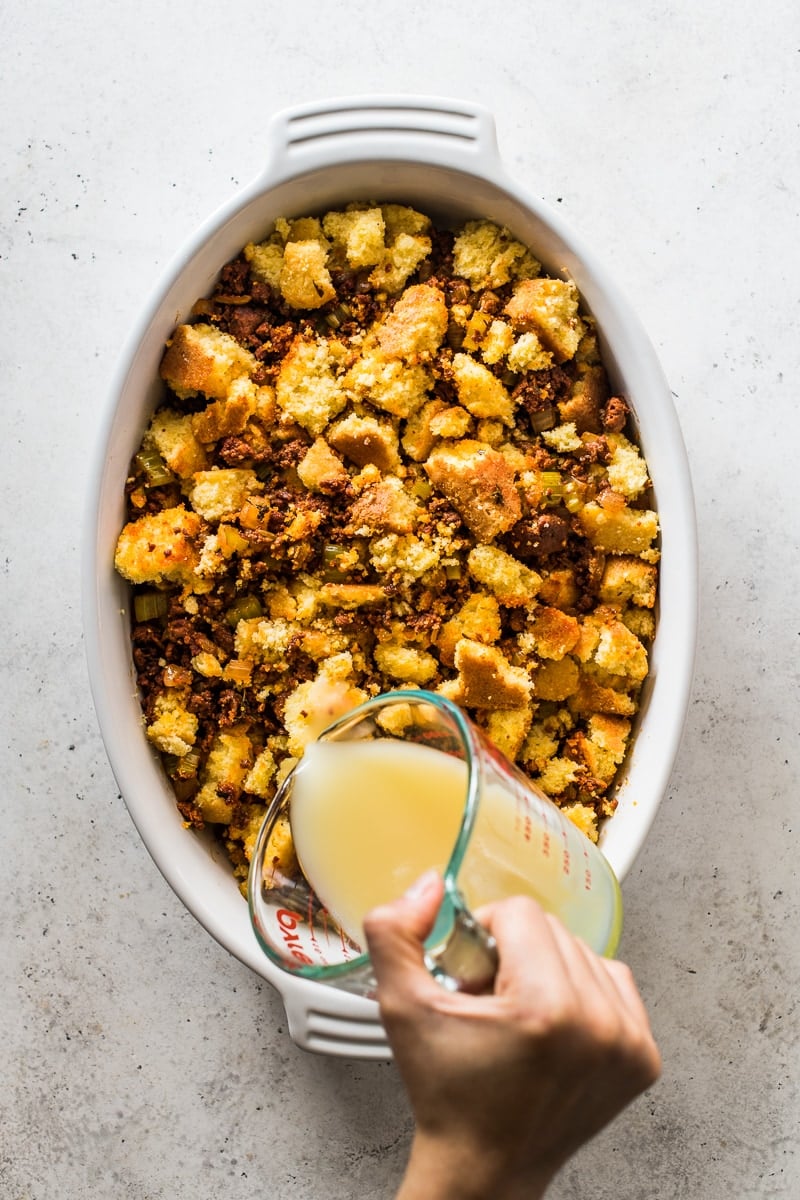 Bake in a 350°F oven for 25 minutes and that's it!
The cornbread pieces at the top get slightly toasted and crunchy while the layers underneath are perfectly infused with the chorizo sausage and herbs.
It's seriously the best and was completely devoured at this year's Friendsgiving party – no leftovers! Guess that means I'll have to double the recipe next time.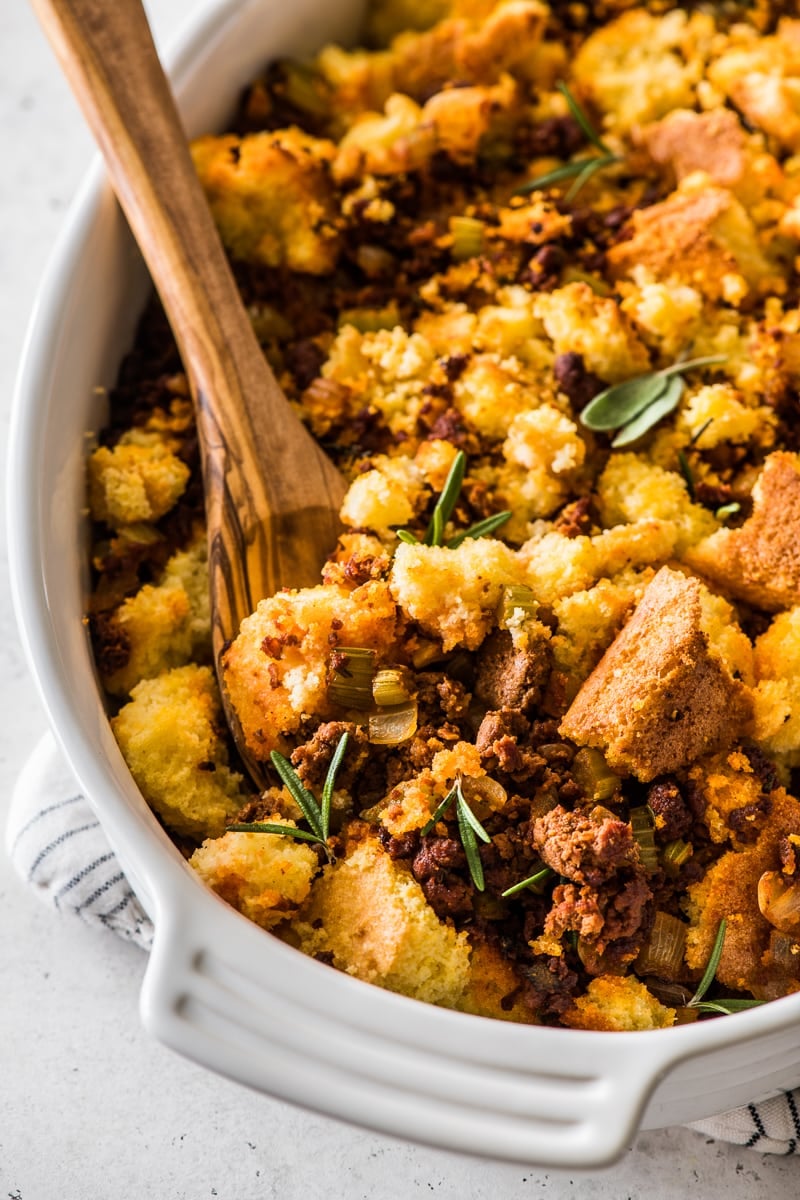 More Thanksgiving recipes to try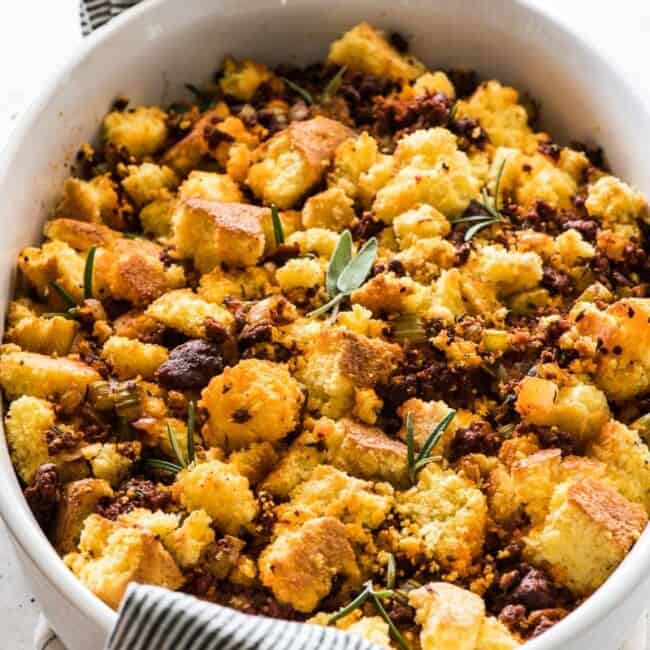 Prep: 15 minutes
Cook: 45 minutes
Total : 1 hour
This Cornbread Stuffing (or dressing) is made with chorizo, onions, celery and fresh herbs like sage, rosemary and thyme. It's the perfect easy side dish to serve at your Thanksgiving and holiday celebrations!
Ingredients
1 tablespoon unsalted butter, for greasing
14 ounces Mexican chorizo
1 medium onion, finely chopped
2 stalks celery, finely chopped
3 cloves garlic, minced (about 1 1/2 teaspoons)
1 tablespoon fresh chopped sage leaves (about 8-10 leaves)
1 tablespoon fresh chopped rosemary
2 teaspoons fresh thyme leaves, chopped
1 1/2 cups chicken stock (or vegetable stock)
1 large egg
8 1/2 cups roughly chopped cornbread (the amount made from a 15-oz box of cornbread mix)
Instructions
Preheat oven to 350°F. Grease the inside of a large casserole dish with butter and set aside.

Heat a large nonstick skillet over medium-high heat. Add chorizo and crumble it up with a spatula. Cook until browned, about 5 minutes.

Add onion, celery, garlic, sage, rosemary and thyme and cook, stirring occasionally, for 10 minutes until vegetables begin to soften. Remove from heat.

In a medium bowl, add the chicken stock and egg. Whisk until fully combined.

Add the cornbread and cooked chorizo mixture to the greased casserole dish. Gently toss together to combine.

Pour the chicken stock mixture evenly over the cornbread stuffing.

Bake for 25 minutes. Garnish with fresh herbs if desired and serve immediately.
Isabel's Tips:
Cornbread – I made this using a 15-ounce box of cornbread mix I bought at my local grocery store. To make it even faster, you could buy pre-made cornbread if your store has it!
Chorizo – I used this 14-ounce package of Mexican pork chorizo, but you can also use a soy chorizo if you'd like to make it vegetarian.
Nutrition Information
Serving: 1/8th of recipe Calories: 389kcal (19%) Carbohydrates: 46g (15%) Protein: 14g (28%) Fat: 16g (25%) Saturated Fat: 6g (30%) Polyunsaturated Fat: 0g Monounsaturated Fat: 1g Trans Fat: 0g Cholesterol: 71mg (24%) Sodium: 1000mg (42%) Potassium: 47mg (1%) Fiber: 0g Sugar: 20g (22%) Vitamin A: 1000IU (20%) Vitamin C: 5mg (6%) Calcium: 10mg (1%) Iron: 2mg (11%)