Thinking about starting a Friendsgiving tradition this year? Here are some helpful tips for hosting the best Friendsgiving ever as well as recipe ideas that are sure to make everyone come back for seconds! (And maybe even thirds.)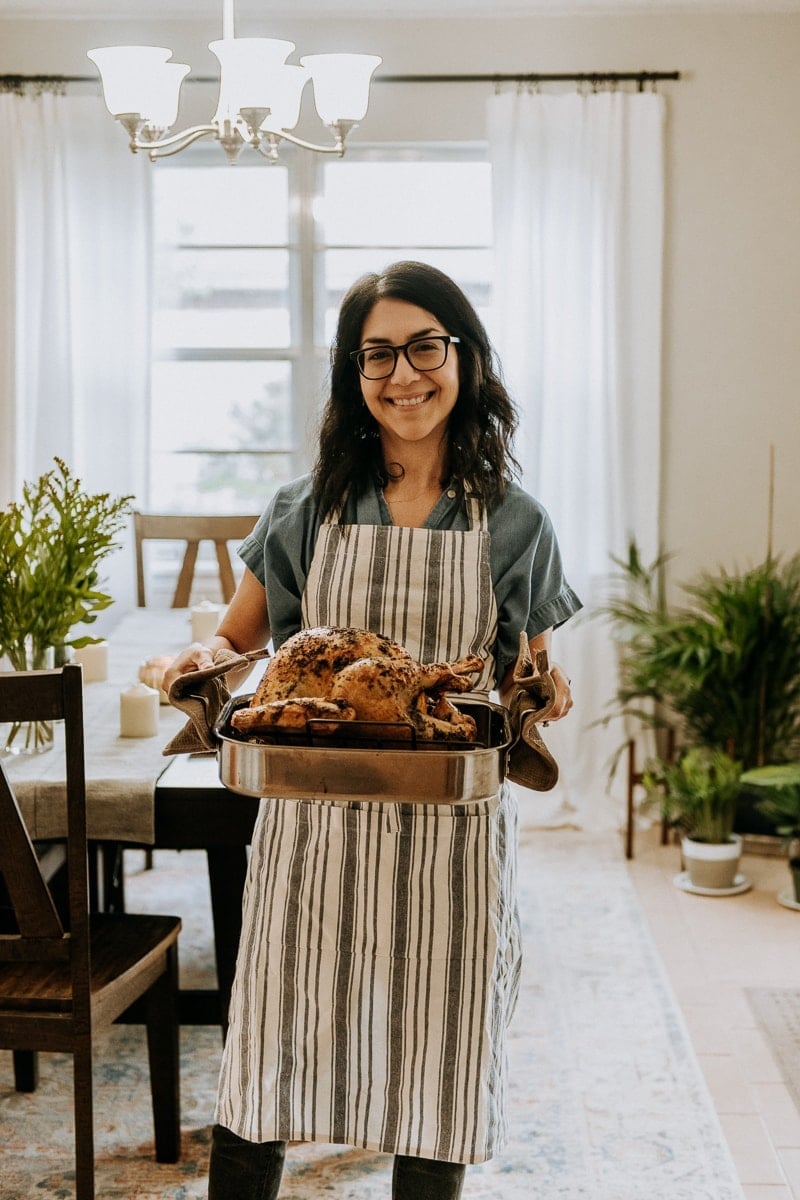 This post is sponsored by my friends at Honeysuckle White and Shady Brook Farms. All opinions expressed are my own.
Friendsgiving has quickly become one of my new favorite holiday traditions. It's pretty much everything I love about Thanksgiving…but with with friends!
There's good food, lots of wine, maybe some games, and most importantly good company.
But really, what is Friendsgiving, anyway?
I like to think of Friendsgiving as a fun Thanksgiving-style gathering with friends as opposed to the usual get-together with family and relatives.
Essentially, Thanksgiving + Friends = Friendsgiving!
It's typically held one or two weeks before or after the official Thanksgiving holiday and is often a more casual and laid-back affair, which is just the way I like it.
But as we know, life tends to get super busy for everyone this time of year. Really really busy.
Holidays are practically back to back. There's Halloween, Thanksgiving, Black Friday (pretty much a holiday at this point), Christmas, New Years – they all happen in a short period of time and getting everyone together on the same day can sometimes feel almost impossible.
So here's what you've got to do to make it happen. Ready?
You've got to plan ahead.
Now I'm not saying you need to plan some elaborate party with fancy decorations and gorgeous centerpieces. (Unless that's your thing, of course.)
I'm talking about a real life Friendsgiving.
A fun, casual party with friends where everyone brings a dish to be served potluck style, candles and pumpkins suffice as decorations, and the whole day is really about getting together and being thankful for each others company.
Let's do this thing!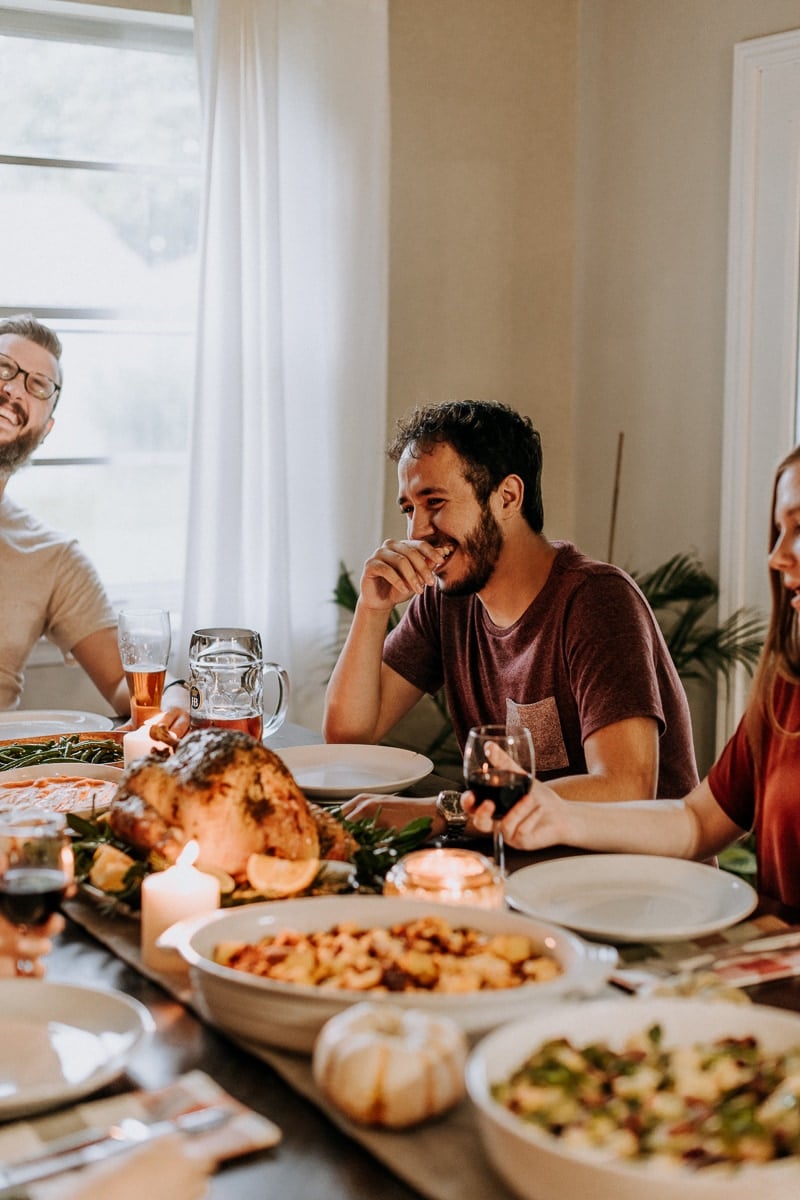 10 Tips for Throwing the Best Friendsgiving Ever!
Even though Friendsgiving is all about spending quality time with friends, hosting a party can still get a little hectic. Here are some tips to make the day as stress-free as possible.
1. Pick a date ASAP
The holidays can be a busy time of year for everyone, so try to coordinate and pick a date that works for most people as soon as possible.
Use a free scheduling tool like Xoyondo to send out a poll to your friends to have everyone vote for a day that works best, or create a Google spreadsheet with possible dates and have everyone put an 'X' next to the dates that work for them.
It's not always feasible for every person to be able to make a certain date, so don't beat yourself up if some people can't make it.
2. Celebrate while giving back
Consider turning your Friendsgiving into an opportunity to give back this holiday season. Honeysuckle White and Shady Brook Farms have partnered with No Kid Hungry to help feed children in need all across the country.
Turning your Friendsgiving into an easy fundraiser can have a huge impact on so many lives.
Just $1 can help provide up to 10 meals for hungry kids. Imagine if every friend at Friendsgiving gave just $5 or $10! Every. Little. Bit. Counts.
Sign up to hold your Friendsgiving for No Kid Hungry here. When you sign up, you'll get a fun toolkit as well as your own webpage and access to online resources to make the most of your Friendsgiving.
3. Create a sign-up list
Expecting one person to make all or most of the food is unrealistic and – let's face it – just plain mean. Create a sign-up list of items and dishes needed so two people don't accidentally bring the same thing (a Google spreadsheet is great for this).
Examples of items on the sign-up list:
food: appetizer, vegetable side dish, carb side dish, drinks, desserts, the turkey (usually made by the host)
drinks: wine, beer, sparkling water, a fun special cocktail
supplies: eco-friendly disposable plates and napkins if you want to make clean up a breeze, more plates and silverware if think you may not have enough plates for a large group
4. Be mindful of dietary restrictions
The last thing you want to do is make someone feel left out on Friendsgiving. Make sure to ask your guests if there are any dietary restrictions so you can make sure there are options for everyone.
Think vegetarian, vegan, gluten free, allergy-friendly, etc…
5. Be aware of how much space you have
With every guest bringing a dish or item to share, you want to make sure you have a place to put everything. Think about your counter space, refrigerator space, oven space, all of it.
Clean off those spaces before your friends arrive so you can let them know where to set things down.
6. The slow cooker and Instant Pot are your friends
If you're making the turkey, you likely won't have much oven space to keep many of the dishes warm that your guests bring. (Unless you have two ovens, in which case I'm officially jealous.)
That's where appliances like a slow cooker or Instant Pot come in handy. Thanksgiving sides like mashed potatoes, sweet potato casserole, stuffing, etc… can all be made in either of those appliances, so if you've got one, use it!
7. Have to-go containers ready
There are always leftovers, so be prepared by having to-go containers so you don't get stuck with all the food!
You can buy some eco-friendly to-go containers or ask your guests to bring some with them so they can take goodies home at the end of the night.
8. Make it a party!
You don't have to spend a ton of money to host a great Friendsgiving, but creating some good ambiance can go a long way to help people feel relaxed and comfortable.
Have some music playing in the background, light some candles throughout the house, decorate with some cute mini pumpkins that are everywhere this time of year, whatever makes you feel good!
9. Play some games
After everyone has feasted and helped clean a bit, keep the energy up by playing some games. A deck of cards, fun party games, dominoes, charades, whatever you have!
If you don't own many games, ask a friend to see if anyone has something they could bring.
One of my absolute favorite party games is Monikers! It's easy to learn and I promise it will get everyone laughing hysterically in no time.
10. Don't stress
Hosting a party can be overwhelming if you let it. Try to remember what this celebration is all about! Friends, love, togetherness and giving back.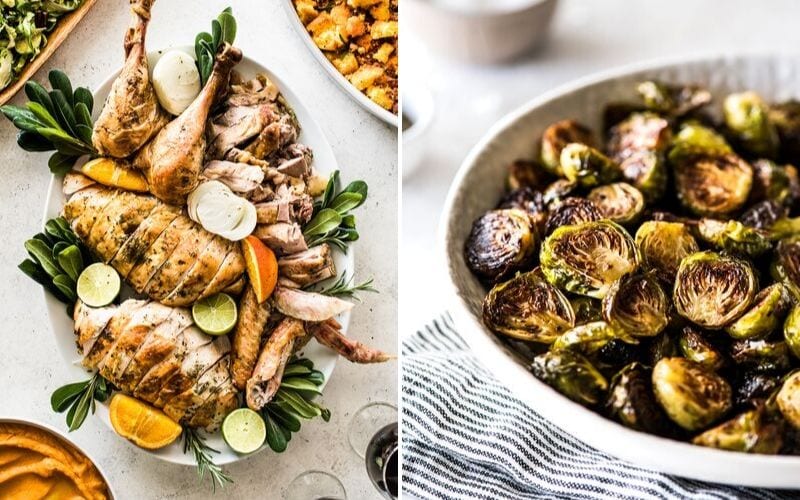 Recipes to make for Friendsgiving
One of the most important things at Friendsgiving (aside from the wine) is food! Here are some traditional and not-so-traditional Thanksgiving recipes that are perfect to share with friends.
My real life Friendsgiving!
I recently threw my own Friendsgiving for No Kids Hungry in partnership with Honeysuckle White and Shady Brook Farms and it was the best!
I decided to keep it small and intimate with just a few of my good friends, and everyone was happy to donate as much as they could to help end childhood hunger, even if it was as a little as the cost of a cup of coffee.
Proof that even a small group of people can make an impact.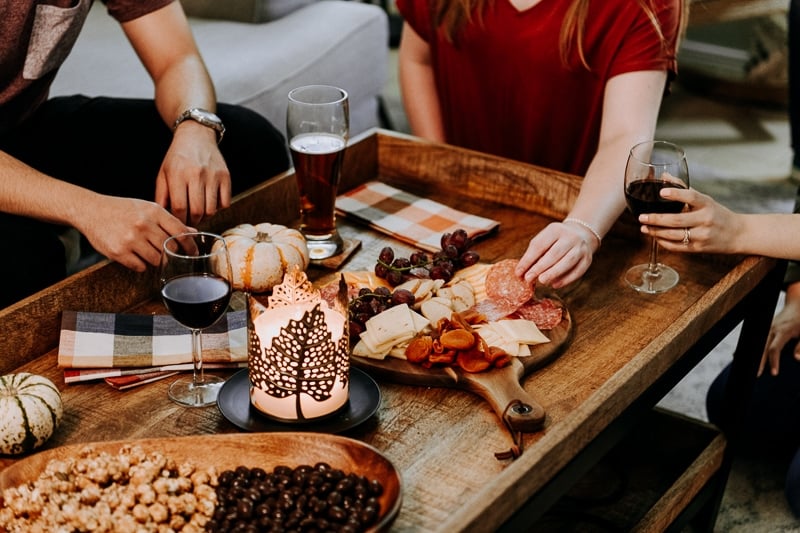 Appetizers were kept super simple – just a meat and cheese board and a few other snacks to nibble on while the turkey finished roasting in the oven.
There was an abundance of wine, beer and cat scratches all night.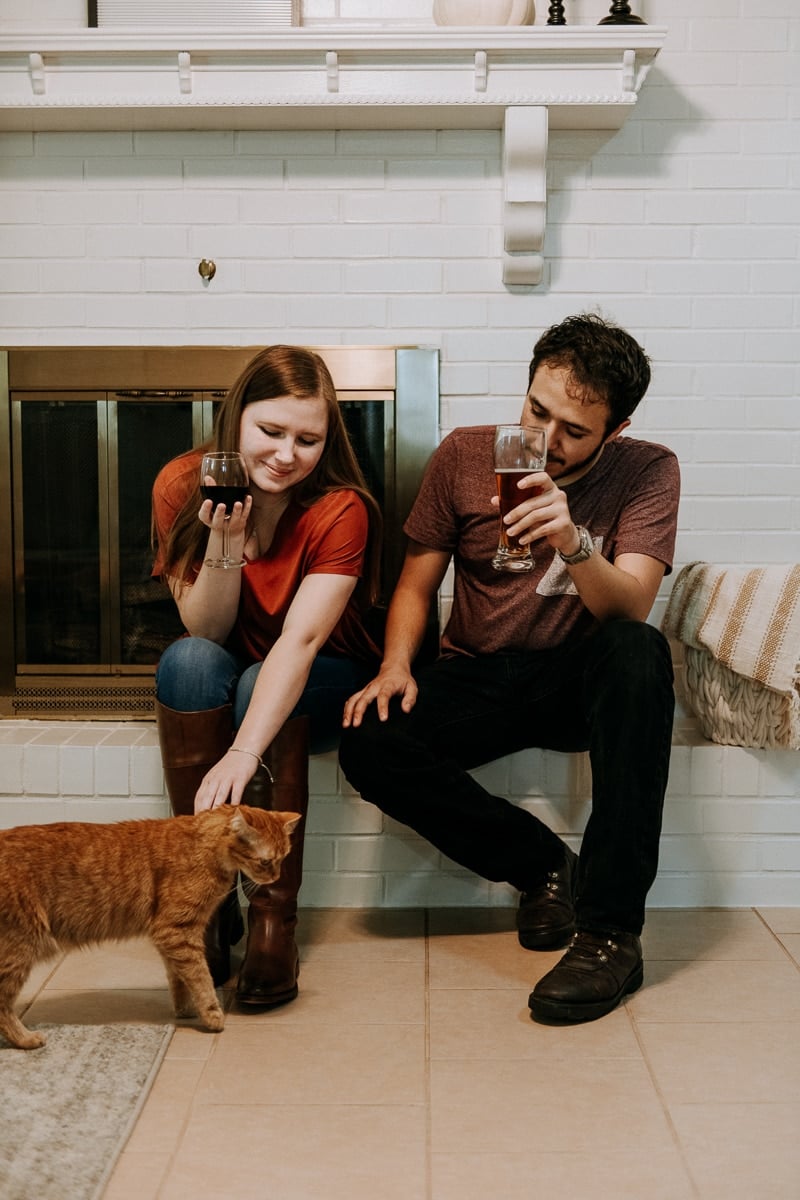 As per usual, my husband John took care of the music (all with a beer in hand). So talented.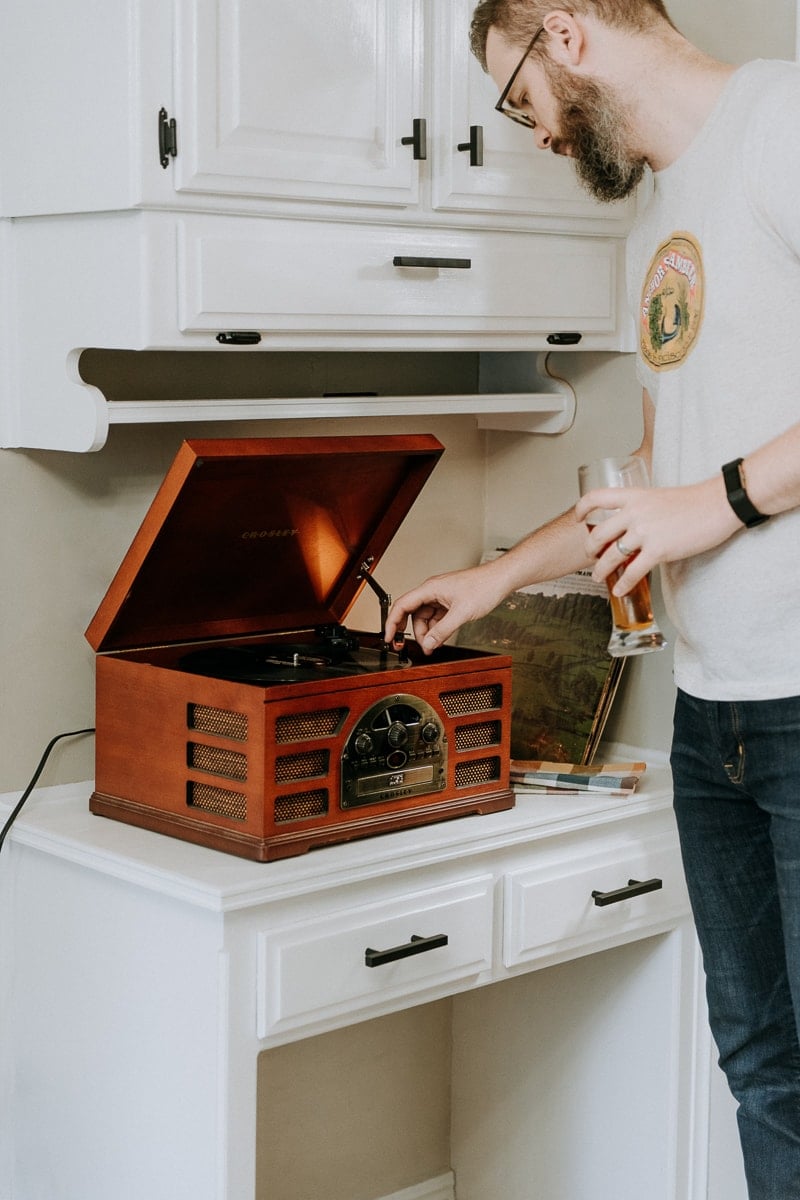 I asked him to stand for a photo so I could set the settings on my camera and this is immediately how he posed, haha.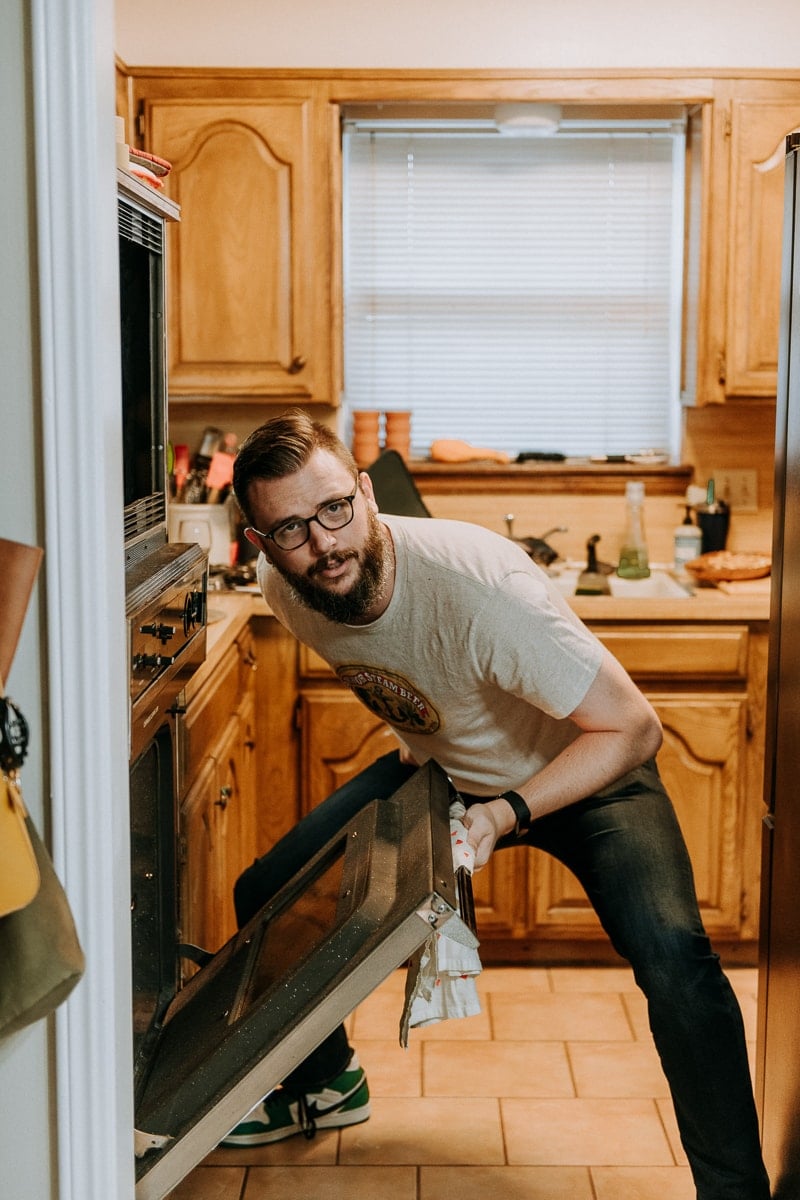 And then I handed him the camera to take a photo of me taking the turkey out of the oven and this is the photo he took. Mind you, he's 6'6″ which is why the angle is so terrible, hahaha.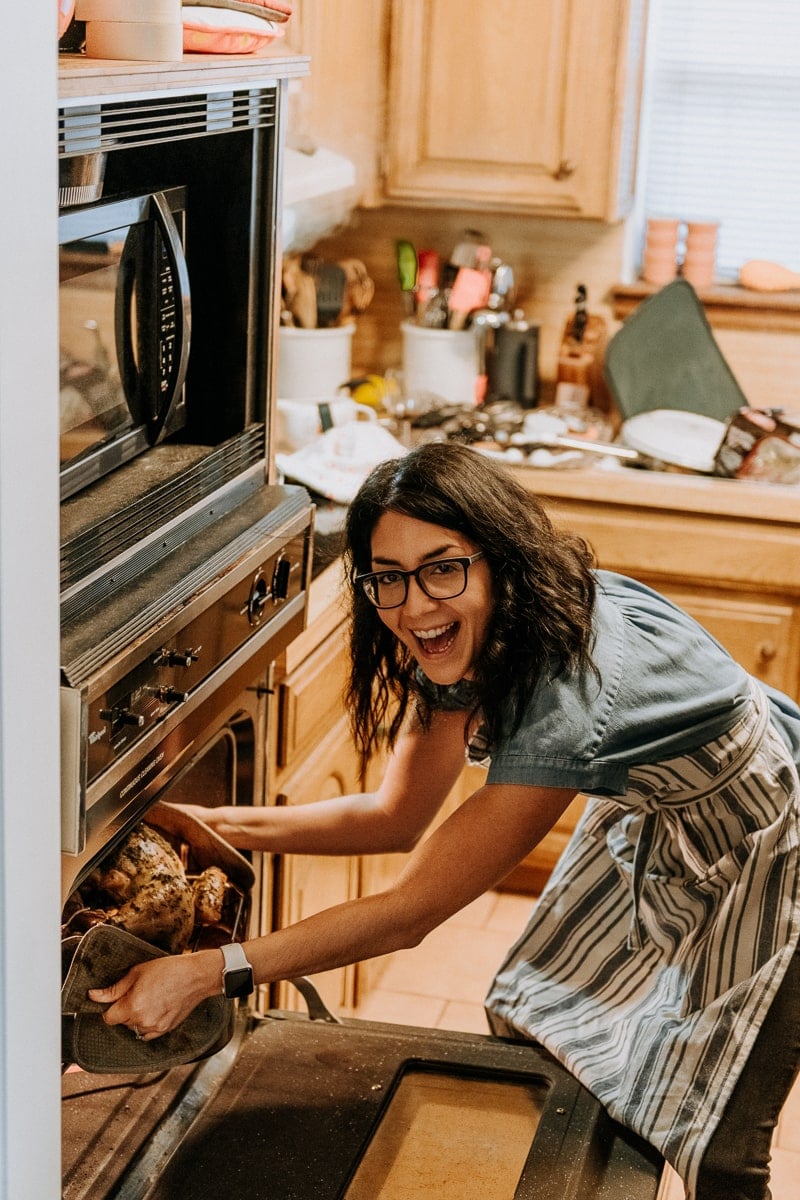 And voila, the turkey came perfectly! Here's the herb roast turkey recipe I used.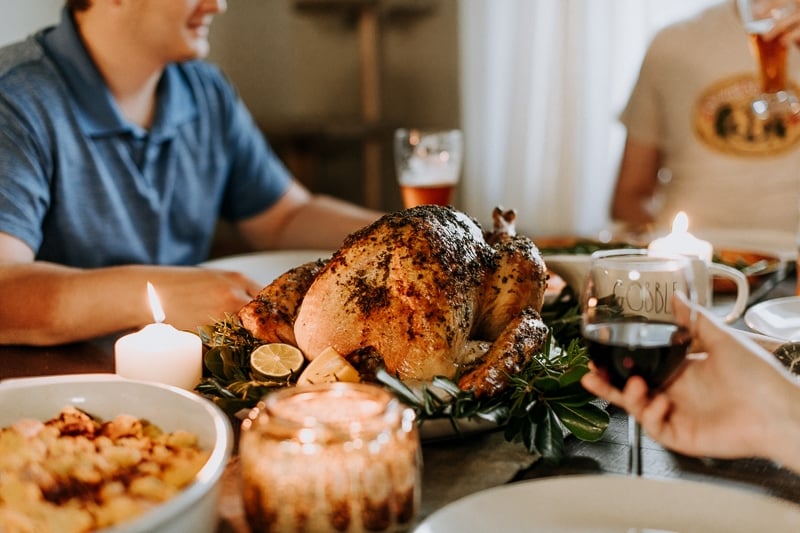 I placed all the food in the middle of the table so we could pass it around family style.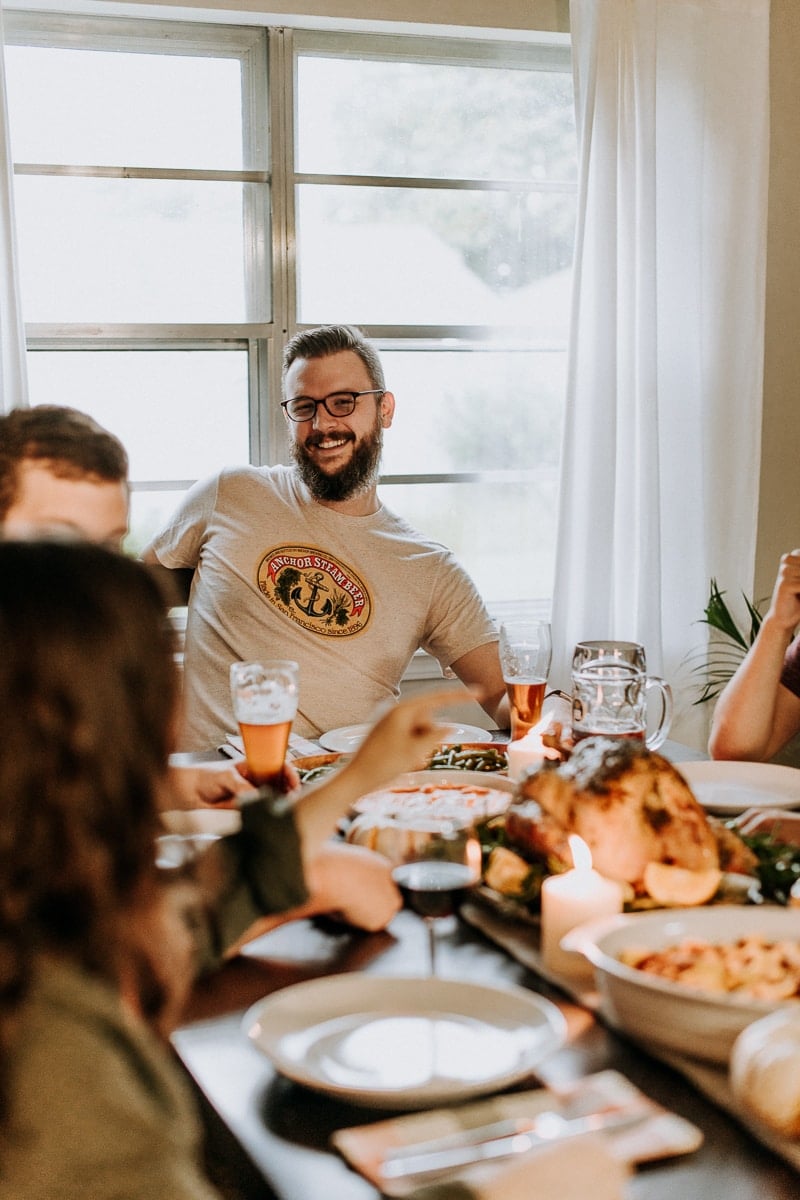 I kept decorations pretty minimal and used a simple gray table runner that I had stashed away. You can sign up to host Friendsgiving for No Kid Hungry presented by Honeysuckle White and Shady Brook Farms to receive your own fun hosting kit that includes decorations!
The only thing I bought was a few extra candles to place around the table, some cute mini pumpkins for decorations and some fall-colored checkerboard napkins that I bought at Marshall's.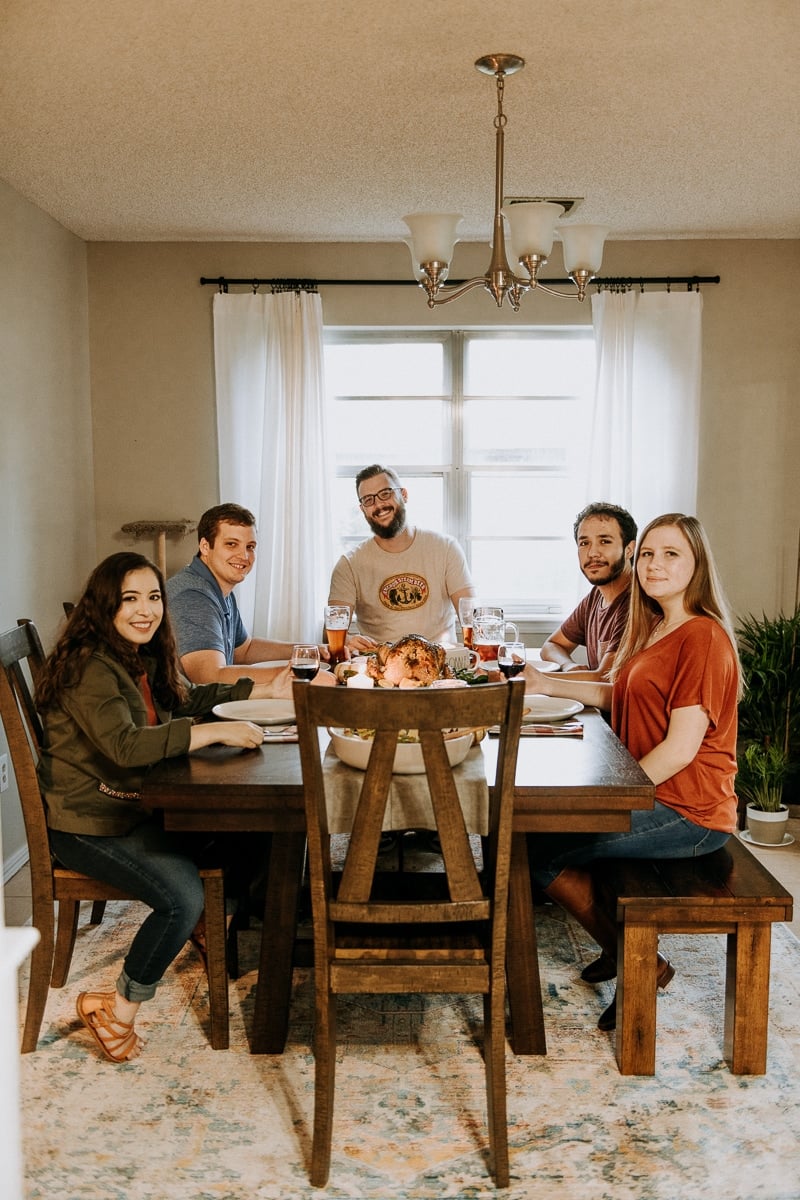 There was so much food and I'm so grateful that everyone was able to take home leftovers. I couldn't have asked for a better Friendsgiving!
One last photo before we stuffed our faces!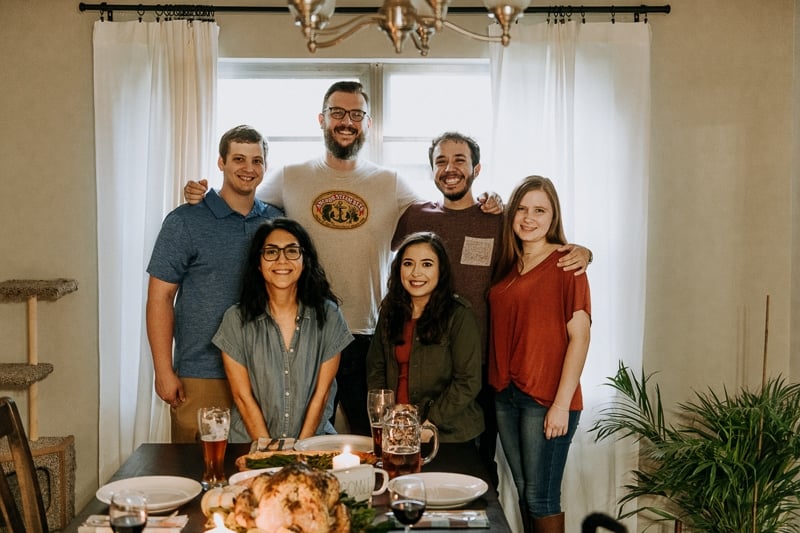 Happy Friendsgiving!