These Crispy Oven Baked Chicken Tenders seasoned with garlic, paprika and chili powder are made without any excess oil, making them a healthy meal option!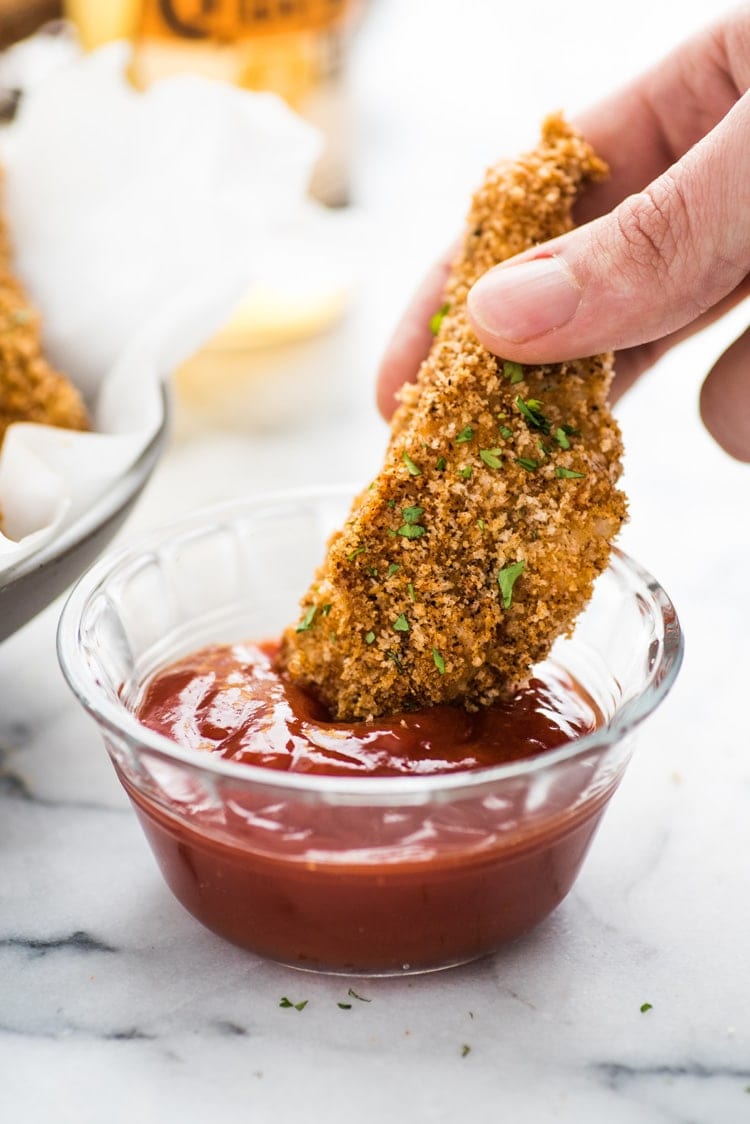 Love chicken tenders but don't want to go through the hassle of frying them at home? Me too.
I looove a good basket of chicken tenders. They're usually my go-to order at a bar if I don't see anything else on the menu. That and nachos, of course. But as much as I love them, I don't want any part of trying to fry them at home.
Everyone knows fried foods aren't the healthiest so I try to limit them to only when I'm eating out, which is usually on the weekends.
I don't have a deep fryer, which would make the process a whole lot easier.
What am I supposed to do with all the oil that's left over? Just throw it away? That seems kind of wasteful.
Knowing me and my clumsy self, I'd burn myself so bad
So instead of complaining about all of those things, I've decided to eliminate the frying all together and bake them instead. The secret to getting them crispy and crunchy without all the oil?
Panko breadcrumbs.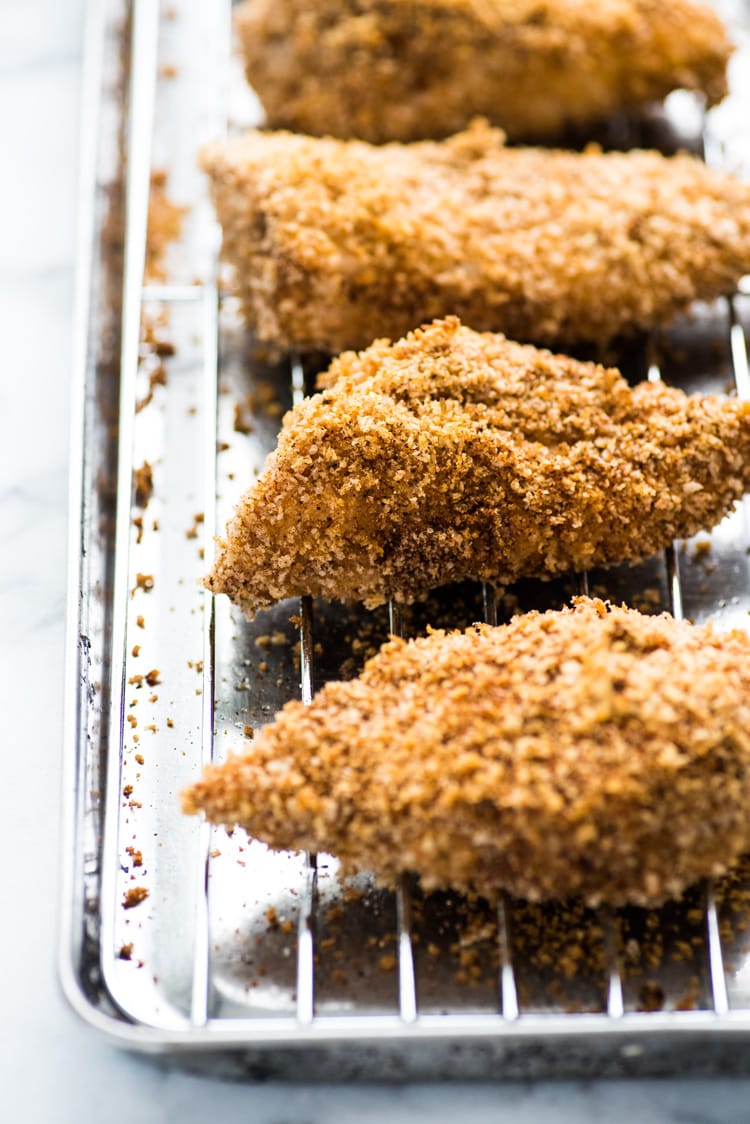 If you've never used panko breadcrumbs before, you're missing out! Unlike regular breadcrumbs which are finely ground and dense, panko breadcrumbs are flaky, light and airy, which makes them crisp up in the oven faster and without as much oil as regular breadcrumbs.
They're usually sold plain or unseasoned and can be found near the regular breadcrumbs or in the Japanese section of the ethnic aisle at your local grocery store. If your local grocery store doesn't carry it, you can always find it here on Amazon.
To give the breadcrumbs a punch of flavor, I mixed in a combination of spices including chili powder, paprika, garlic powder, cayenne and oregano.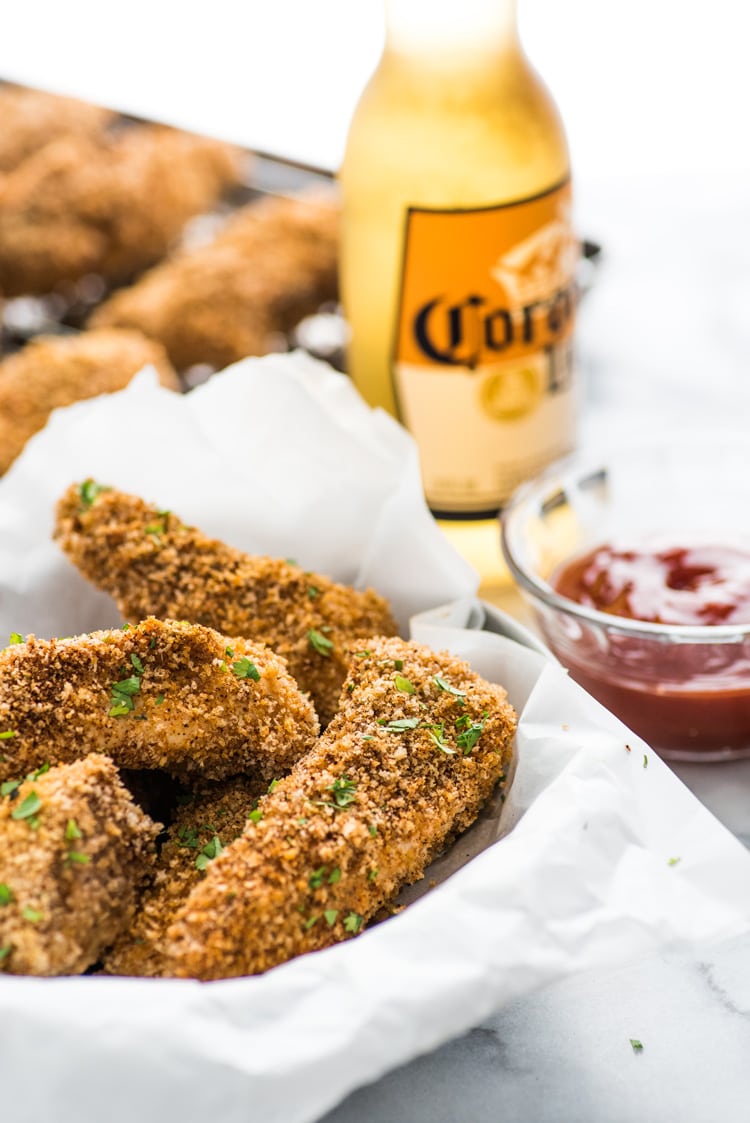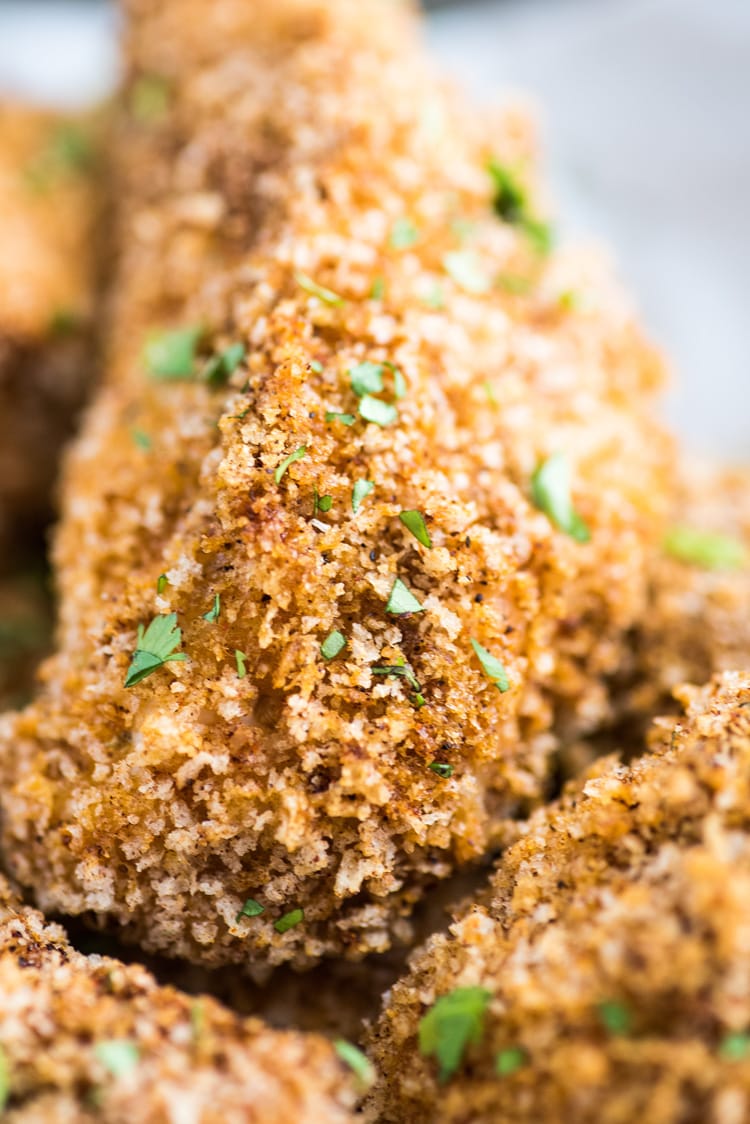 To help the breadcrumbs stick to the chicken tenders, I whisked together two eggs with some salt and pepper and dunked the chicken tenders into the mixture. Then remove the chicken, shake off any excess egg and toss in the breadcrumb mixture. Place on a greased baking sheet rack, spray with olive oil or other cooking spray and bake for 25 to 35 minutes until chicken is cooked through.
For some added color (because we eat with our eyes first!), I garnished the tenders with some chopped cilantro and went to town.
Healthy and crispy oven baked chicken tenders made right at home. Love it!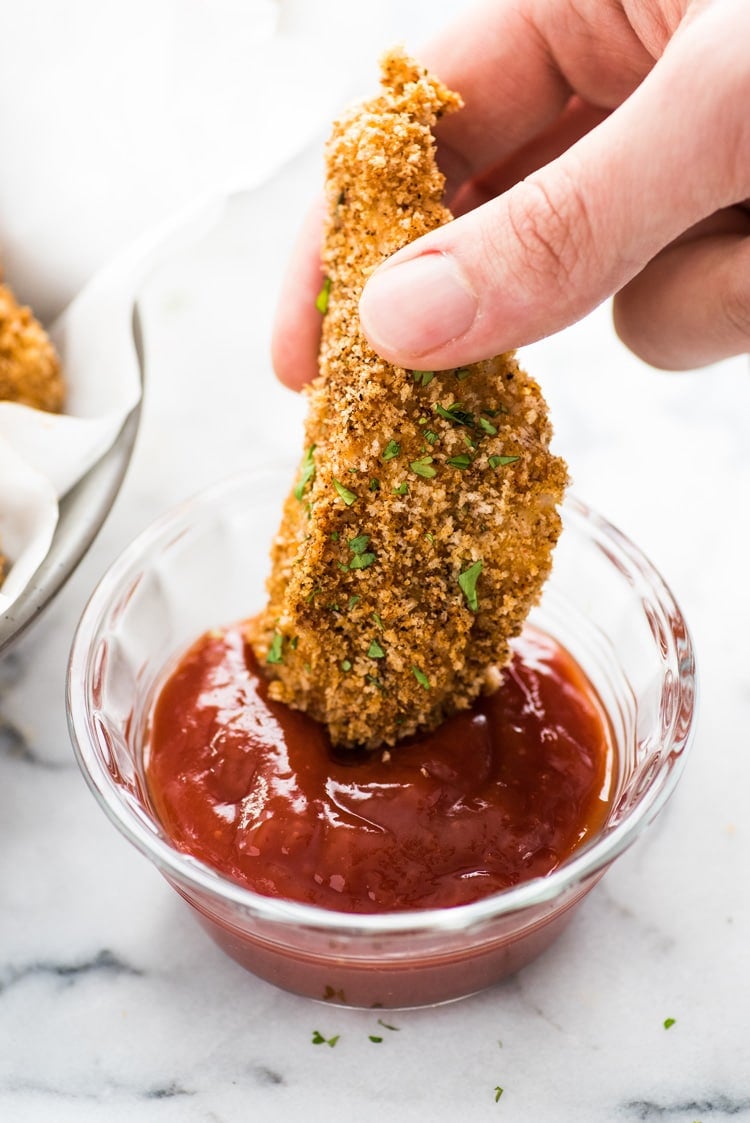 INGREDIENTS
2

pounds

boneless, skinless chicken breasts

2

large

eggs

1 1/2

cups

panko breadcrumbs

1

tablespoon

chili powder

2

teaspoons

paprika

2

teaspoon

garlic powder

1/2

teaspoon

cayenne pepper

1/2

teaspoon

oregano

1/2

teaspoon

salt

olive oil spray,

or other cooking spray

chopped cilantro,

for garnish

salt and pepper,

to taste
INSTRUCTIONS
Preheat oven to 375 degrees. Grease a large baking sheet rack with olive oil and set aside.

Slice chicken breasts into handheld strips the size of large chicken tenders. (I was able to cut 12 tenders.)

In a small bowl, whisk together eggs and a pinch of salt and pepper.

In a medium bowl, combine panko breadcrumbs, chili powder, paprika, garlic powder, cayenne, oregano and salt.

To assemble, dip the chicken tenders into the egg mixture. Shake off any excess egg and toss in the panko breadcrumb mixture until fully coated. Place chicken tender on baking sheet rack and continue until all chicken tenders are fully coated.

Lightly spray the tops of all chicken tenders with olive oil and bake for 25 to 35 minutes, until chicken tenders are fullly cooked and golden brown.

Remove from oven and garnish with chopped cilantro. Season with more salt and pepper, to taste.
ISABEL'S TIPS
Baking time will vary depending on the size and thickness of the chicken. I suggest using a meat thermometer or cutting a small piece off of a chicken tender to make sure it's cooked through.
***
Nutrition Facts
Crispy Oven Baked Chicken Tenders
Amount Per Serving
Calories 243
Calories from Fat 63
% Daily Value*
Fat 7g11%
Potassium 79mg2%
Carbohydrates 12g4%
Protein 35g70%
Vitamin A 500IU10%
Calcium 20mg2%
Iron 0.9mg5%
* Percent Daily Values are based on a 2000 calorie diet.
Did you make this recipe?
Leave a comment below and tag @isabeleats on social media!
This page contains affiliate links. If you make a purchase after clicking one of my links, I may receive a small commission. The price of the item stays the same and any money I make goes to supporting this blog. I only endorse products and services that I fully believe in. Thanks for your support!