Jump to Recipe
This Easy Chipotle Eggs Benedict recipe made with a lightened-up blender chipotle hollandaise sauce is ready in only 25 minutes and is the perfect brunch to get your weekend started!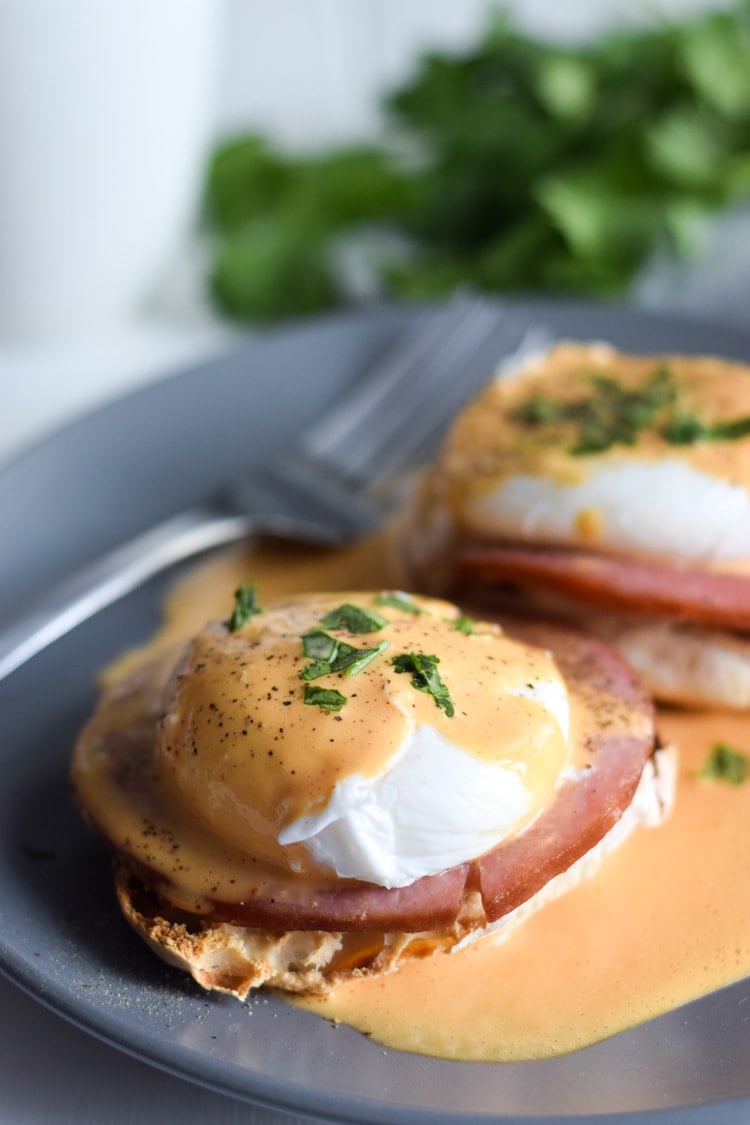 Monday mornings seem to come way too soon. My solution to getting through the day? I like to daydream about enjoying a relaxing weekend brunch in my pajamas with a warm cup of coffee and my two cats.
Heaven on Earth.
On the brunch menu of my daydream – this Easy Chipotle Eggs Benedict.
How to poach eggs
If you've never made eggs benedict before, you're going to need to poach some eggs. Sounds fancy, but it's very easy. Here's how to do it.
Fill a large saucepan 2/3 full of water and a dash of white vinegar. Bring to a rolling boil. Reduce the heat and bring the water to a simmer
Crack an egg into a small bowl or ramekin and gently tip the egg into the water. Cook for 3 to 4 minutes.
Carfeully remove the egg with a slotted spoon and dry with a paper towel.
Easy, right? If you're more of a visual learner, here's a great tutorial I found on The Kitchn.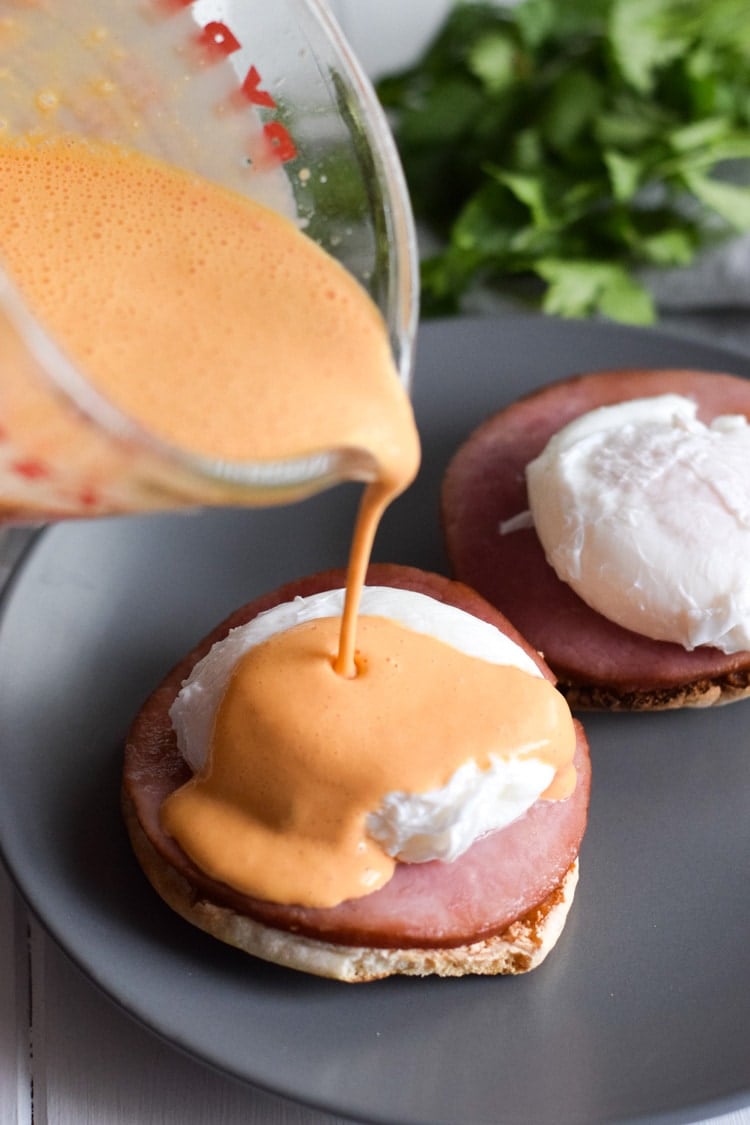 In addition to poached eggs, you're also going to need to make some buttery hollandaise sauce. Traditionally, it's made by whisking butter, egg yolks and lemon juice in a bowl over a simmering pot of hot water. But there's an easier way. Instead of having to hand whisk the sauce until all the ingredients are incorporated (which requires A LOT of attention), I like to use an immersion blender.
If you don't have an immersion blender, I highly recommend getting one. They're inexpensive, easy to use, easy to clean and are extremely versatile. They're perfect for making soups like this Roasted Butternut Squash Soup, Easy Black Bean Soup Recipe and sauces like this hollandaise.
Here's a link to the immersion blender I recommend.
However, if you don't have an immersion blender and can't wait to make this recipe, you can you a regular blender like this one as well. When pouring in the melted butter, just make sure to leave the lid on and use the opening in the lid so you don't get scalded.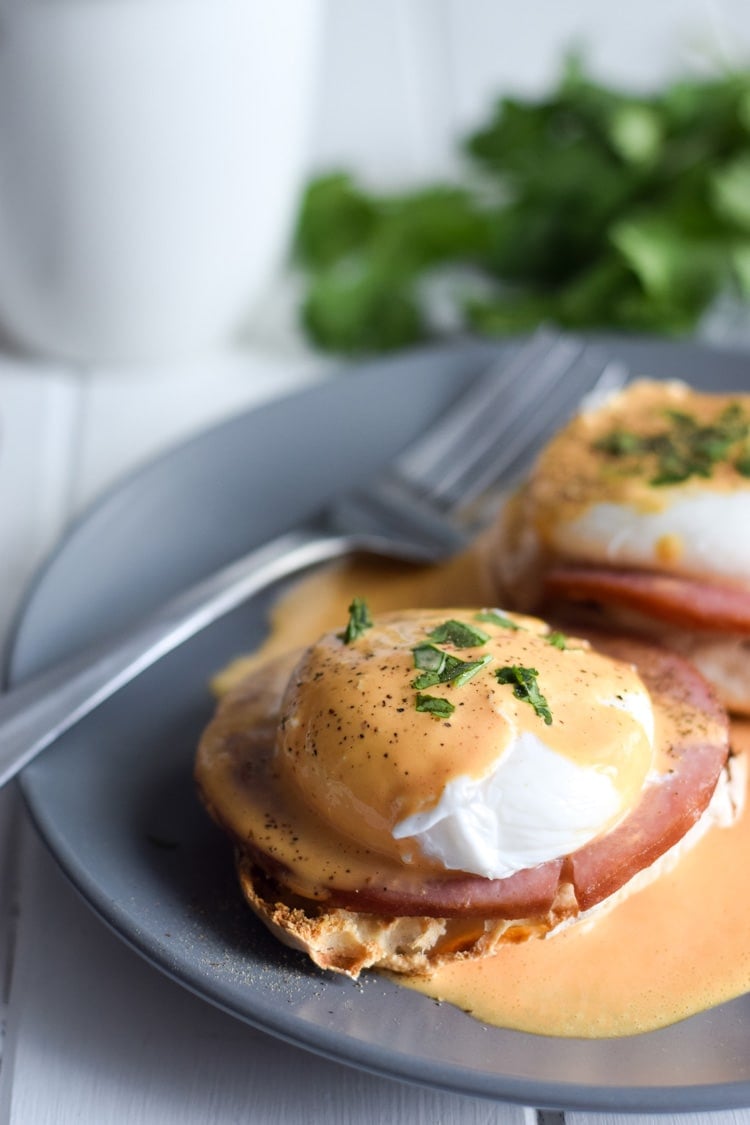 Now how exactly did I lighten-up a hollandaise sauce? Before I go any further, I've got to be honest – it's not easy. After all, it's made of butter, egg yolks and lemon juice and getting rid of either of those things is not an option in my book. They're integral components.
So instead of using 8 tablespoons (1 stick) of butter like is normally used, I simply cut down on the amount. I also reduced the amount of lemon juice accordingly and added some chipotles in adobo sauce to give it a bit of a Mexican touch.
I ended up using 4 tablespoons of butter resulting in a thinner sauce, as pictured in the photos. I still find that it has the rich, bright and buttery flavor that I love in a hollandaise, just not as thick and decadent as you would normally find served in restaurants. But if you're not into a thinner sauce like mine, I totally understand. And luckily, it's an easy fix.
If you're looking for the classic thick hollandaise sauce, all you need to do is adjust the amount of melted butter that you use. I would start off with incorporating 6 tablespoons of melted butter into the egg yolk mixture. If that isn't thick enough, add more, up to 8 tablespoons. Easy peezy.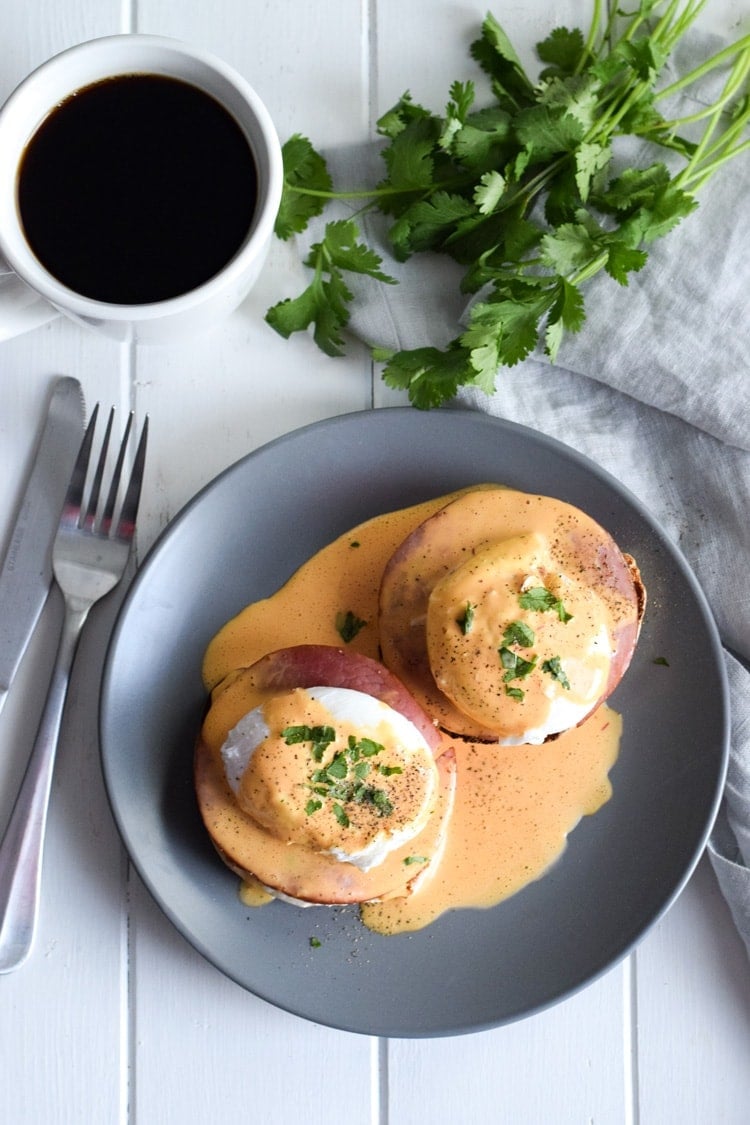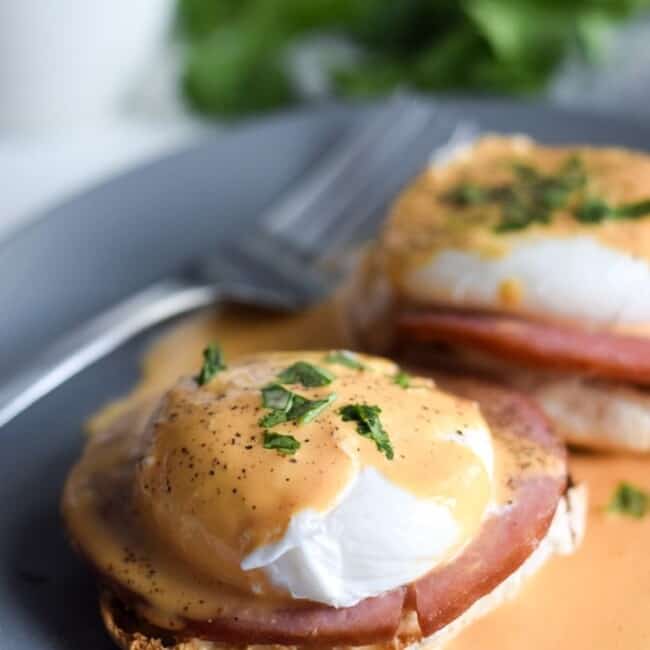 Prep: 10 minutes
Cook: 15 minutes
Total : 25 minutes
This Easy Chipotle Eggs Benedict recipe made with a lightened-up blender chipotle hollandaise sauce is ready in under 25 minutes and is the perfect brunch to get your weekend started!

Ingredients
For the lightened-up blender chipotle hollandaise
2 large egg yolks
2 tsp lemon juice
1 pinch of salt
4 tbsp melted butter (6 to 8 tbsp if you like it super thick)
For the eggs benedict
2 english muffins
4 large eggs
4 slices cooked canadian bacon or ham
cilantro, for garnish
Instructions
For the chipotle hollandaise
In a large, tall glass that you can use with your immersion blender, add the egg yolks, lemon juice, chipotle peppers and salt. Cover and blend for 5 seconds. (If you don't have an immersion blender, you can use a regular blender.)

With the melted butter in one hand, run the immersion blender in the egg mixture with the other and very slowly pour in the butter. The sauce will begin to thicken. Once you've added all the melted butter, assess whether you'd like to have a thicker sauce. If so, add in more melted butter, one tablespoon at a time. If the sauce is too thick, add in a few drops of warm water to thin it out.

Keep the sauce warm until ready to serve. I like to place the container in a bowl of hot water.
For the eggs benedict
Cut english muffins in half and place in the toaster. While they're toasting, begin poaching your eggs. (Here's an easy tutorial you can follow if you've never poached an egg.) Depending on the size of your pot, you'll be able to poach them either one or two at a time. Once poached, place them on a paper towel and set aside.

Heat the slices of Canadian bacon in a small frying pan over medium-high heat until hot. Alternatively, you can warm them up in the microwave.

Assemble your eggs benedict by layering a slice of Canadian bacon on top of a toasted english muffin half, followed by a poached eggs and a generous serving of hollandaise sauce. Top it off with a some cilantro, salt and pepper for garnish. Serve and enjoy!
This page contains affiliate links. If you make a purchase on Amazon after clicking one of my links, I may receive a small commission. The price of the item stays the same and any money I make goes to supporting this blog. I only endorse products and services that I fully believe in.