Jump to Recipe
This Roasted Butternut Squash Soup recipe is healthy, easy to make and perfect for the cold-weather season! (vegetarian, paleo, vegan)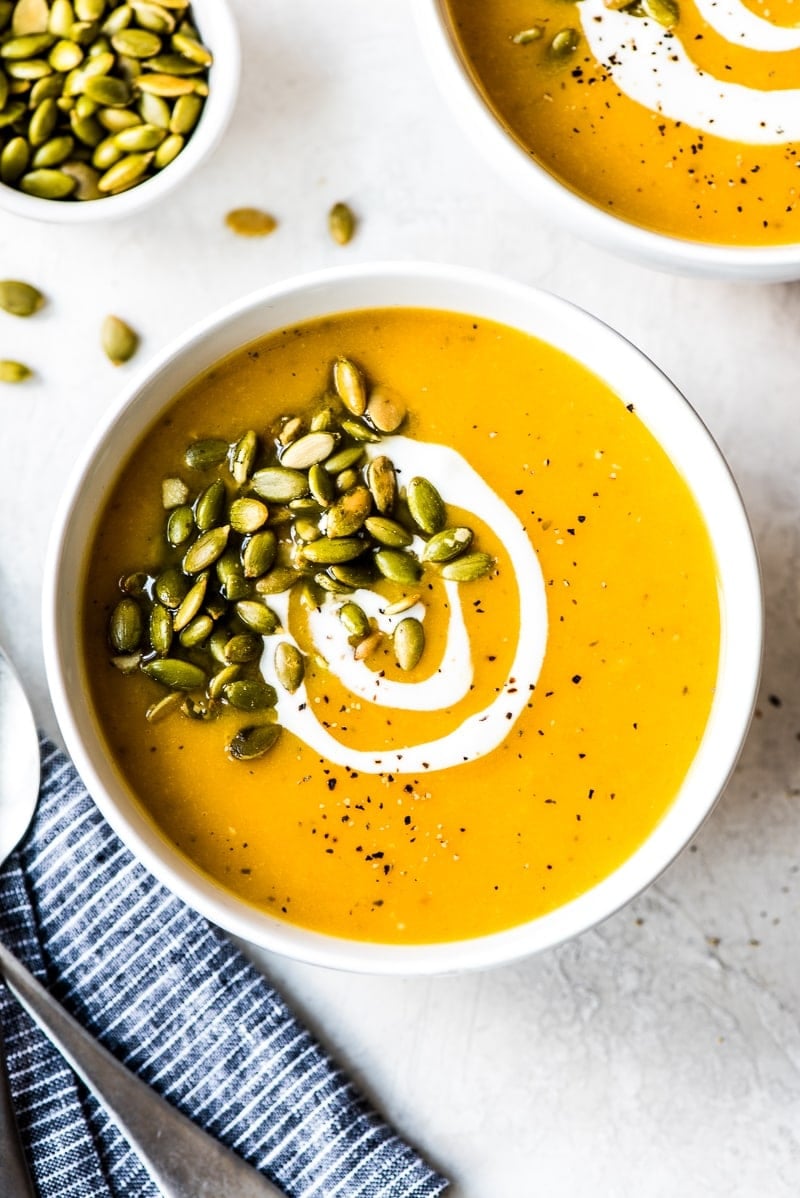 This butternut squash soup recipes is the perfect cold-weather soup! Now I know that's quite a bold statement, but hear me out.
It's savory and sweet. It's smooth with a bit of a crunch. It's roasted and has great depth of flavor. It's warm and filling. And most importantly, it incorporates two fall and winter staples – butternut squash and pepitas!
Believe me when I say that this butternut squash soup will become one of your favorites.
Ingredients you'll need
butternut squash
yellow onions
olive oil and butter/coconut oil
dried sage, celery seeds, dried thyme, smoked paprika, salt and black pepper
garlic
vegetable or chicken stock
Time saving tip
Cutting, peeling and prepping butternut squash is a pain in the butt. It takes about 10 minutes and can be really dangerous if you're not careful!
My time saving (and finger saving!) tip is to buy pre-cut squash. Many grocery stores sell ready-to-cook butternut squash that's been peeled and cubed in the produce section. You may have to dish out a few more cents, but I think it's so worth it if you're short on time (and motivation).
If you prefer to buy a whole butternut squash and prep it yourself, be sure you use a very sharp knife. It makes things way easier. Here's a really informative post on how to peel and cut a butternut squash from Elise at Simply Recipes.
How to roast butternut squash
To roast the squash, simply place the seasoned squash onto two large baking sheets lined with aluminum foil for easy cleanup. Roast in the oven for 45 minutes at 400°F.
There's no need to flip over the squash halfway through roasting. Just let it go for 45 minutes and that's it!
How to blend butternut squash
To blend using an immersion blender, I like to place all the roasted squash in a stockpot, add 2 cups of stock and blend until smooth. I then add in the remaining stock, blend it a little more and that's it.
If you don't have an immersion blender, you can use a traditional stand blender as well. Because the roasted vegetables will still be hot, I recommend blending it in two batches, making sure to add a cup of stock to each batch. Then just transfer the blended veggies to the stockpot, add the remaining liquid and stir.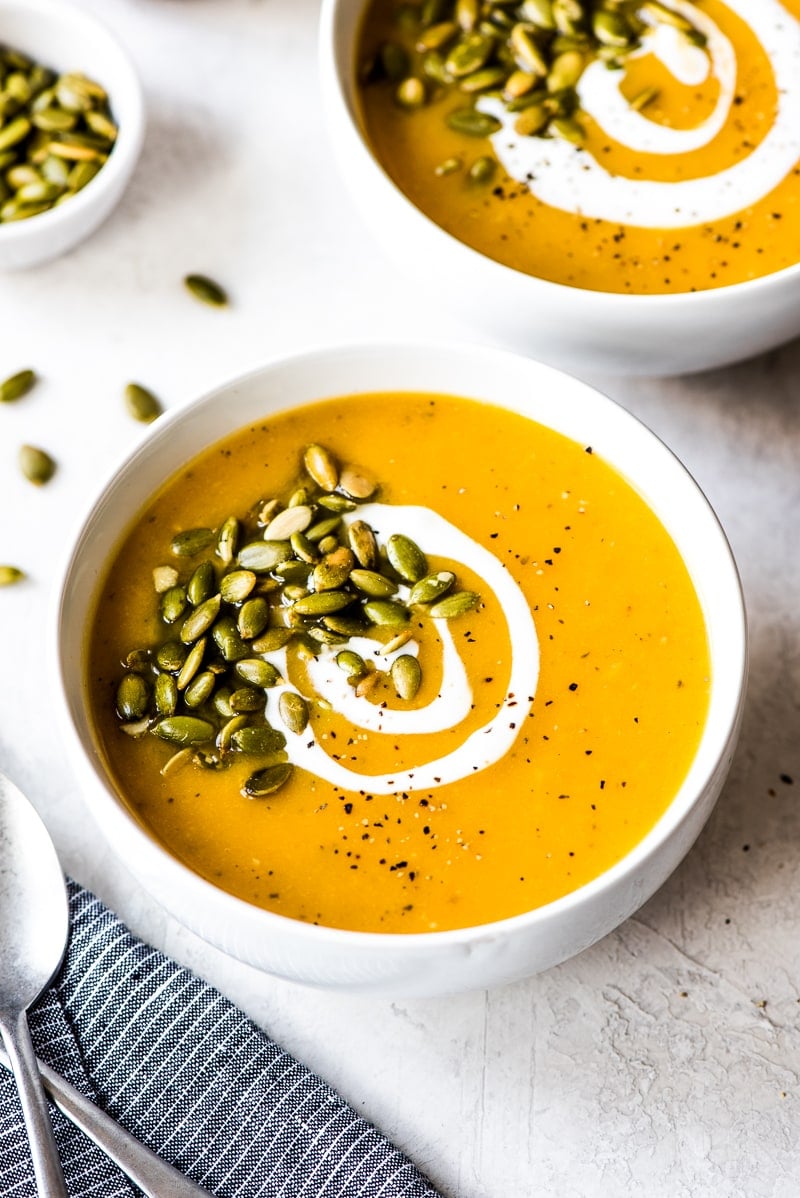 Butternut squash soup toppings
Though this soup tastes amazing as is straight from the pot, I'm a big proponent of adding toppings an mix-ins! Here are some that I recommend that pair well with the soup.
roasted pepitas (pumpkin seeds)
Mexican crema or sour cream
salt and freshly ground black pepper
fresh herbs like sage, thyme and rosemary
thinly sliced apples and pears
parmesan or extra sharp cheddar cheese
Though it's been fairly warm outside these past few days here in Pittsburgh, this soup has consistently been on the menu for over a week. I'm even considering making it for the holidays this year! It's just that good!
More soup recipes you'll love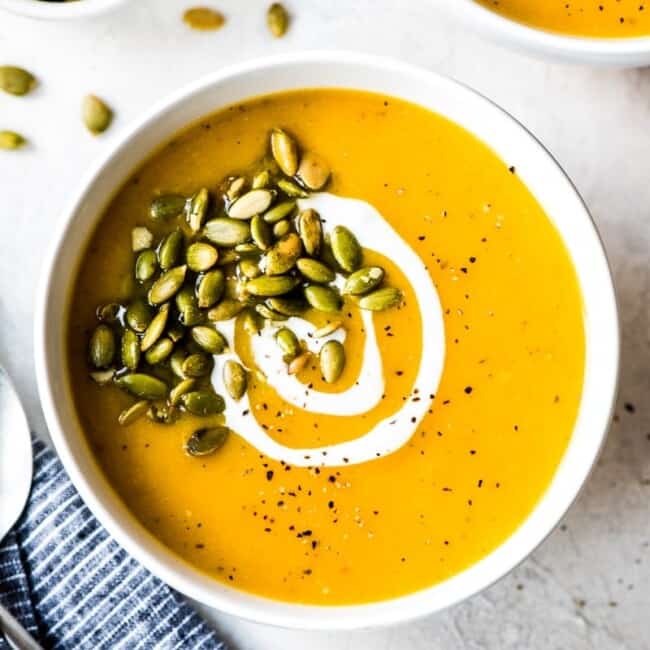 Prep: 10 minutes
Cook: 50 minutes
Total : 1 hour
This Roasted Butternut Squash Soup recipe is healthy, easy to make and perfect for the cold-weather season! (vegetarian, paleo, vegan)
Ingredients
3 pounds precut butternut squash (or about 2 small-medium whole butternut squash, cubed and peeled)
2 medium yellow onions, roughly chopped
2 tablespoons olive oil
1 1/2 teaspoon dried rubbed sage
1 teaspoon kosher salt
1/2 teaspoon celery seed
1/2 teaspoon dried thyme
1/2 teaspoon freshly ground black pepper
1/4 teaspoon smoked paprika
1 tablespoon unsalted butter or other cooking fat
2 tablespoons minced garlic (about 6 cloves)
6 cups vegetable or chicken stock
Optional toppings
roasted pepitas, Mexican crema or sour cream, fresh herbs
Instructions
Pre-heat oven to 400°F. Line two large baking sheets with aluminum foil and set aside.

In a small bowl, combine sage, salt, celery seed, thyme, black pepper and smoked paprika.

In a large bowl, add butternut squash, onions and olive oil. Toss to combine.

Add the spices and herbs to the butternut squash mixture and mix together until all the vegetables are evenly coated.

Evenly distribute the vegetables onto the two prepared baking sheets. Roast in the oven for 45 minutes. Set aside.

In a large pot over medium-high heat, melt butter. Add and cook for 30 seconds, until fragrant.

Add the roasted vegetables and stir to thoroughly mix with the garlic. Add 2 cups of stock.

Using an immersion blender, blend the vegetables carefully until completely smooth. You can also use a regular stand blender to blend the veggies in two batches. Be careful to not overfill the blender since veggies will still be very hot.

Add the remaining 4 cups of stock and blend again (or whisk thoroughly). Cover and cook for 5 more minutes.

Serve with roasted pepitas, Mexican crema or sour cream and fresh herbs if desired.
Nutrition Information
Serving: 1/6th of recipe Calories: 208kcal (10%) Carbohydrates: 37g (12%) Protein: 4g (8%) Fat: 7g (11%) Saturated Fat: 2g (10%) Monounsaturated Fat: 3g Cholesterol: 5mg (2%) Sodium: 363mg (15%) Potassium: 159mg (5%) Fiber: 7g (28%) Sugar: 13g (14%) Vitamin A: 24150IU (483%) Vitamin C: 73.4mg (89%) Calcium: 140mg (14%) Iron: 2mg (11%)