Jump to Recipe
This Healthy Taco Dip made with 5 layers of delicious ingredients is ready in under 10 minutes and is the perfect appetizer for any party!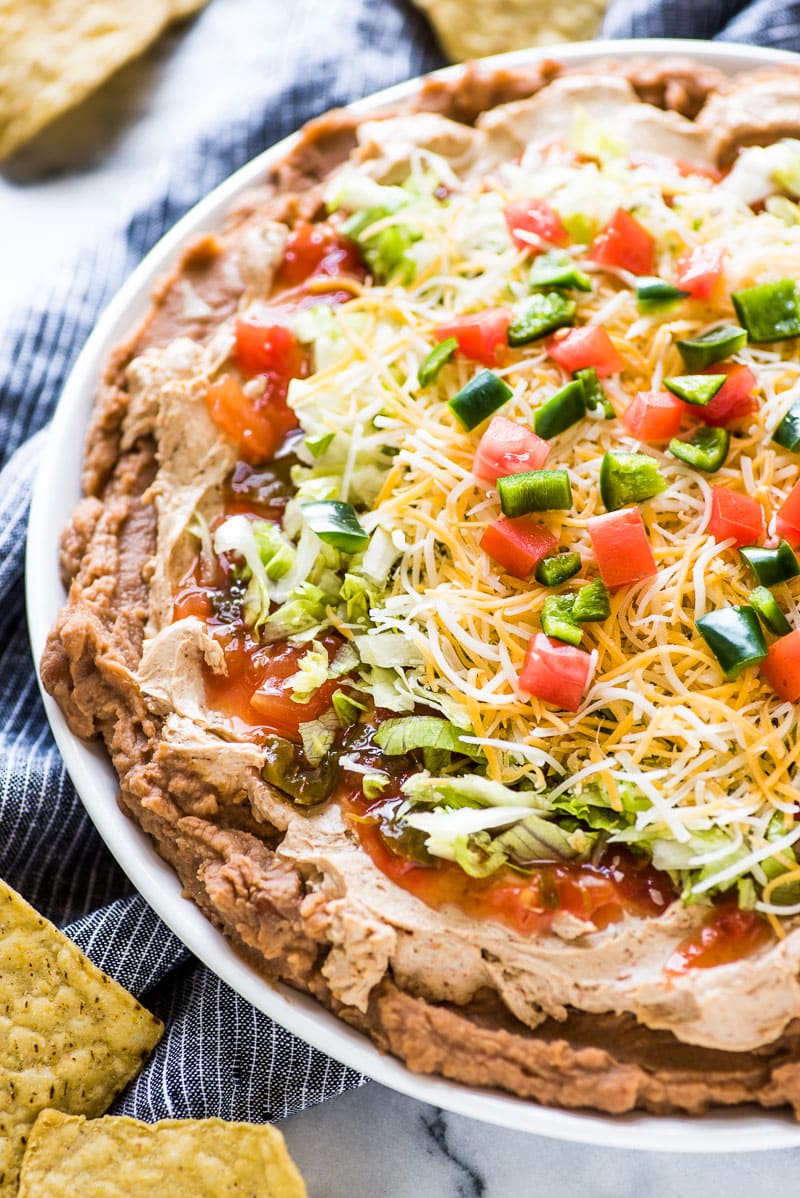 If you find yourself accidentally eating all the taco dip when you go to parties, then you are going to love this recipe! Packed with lots of fiber and protein from creamy refried beans and topped with all my favorites like cream cheese, chunky salsa and shredded cheese, this taco dip is a huge crowd pleaser.
It's perfect for parties and get togethers because it can be made ahead of time, and it can sit out for a relatively long period of time since it doesn't have to be warmed like nacho dip or buffalo chicken dip.
It's incredibly easy to make and is a healthy-ish appetizer option to take to a potluck!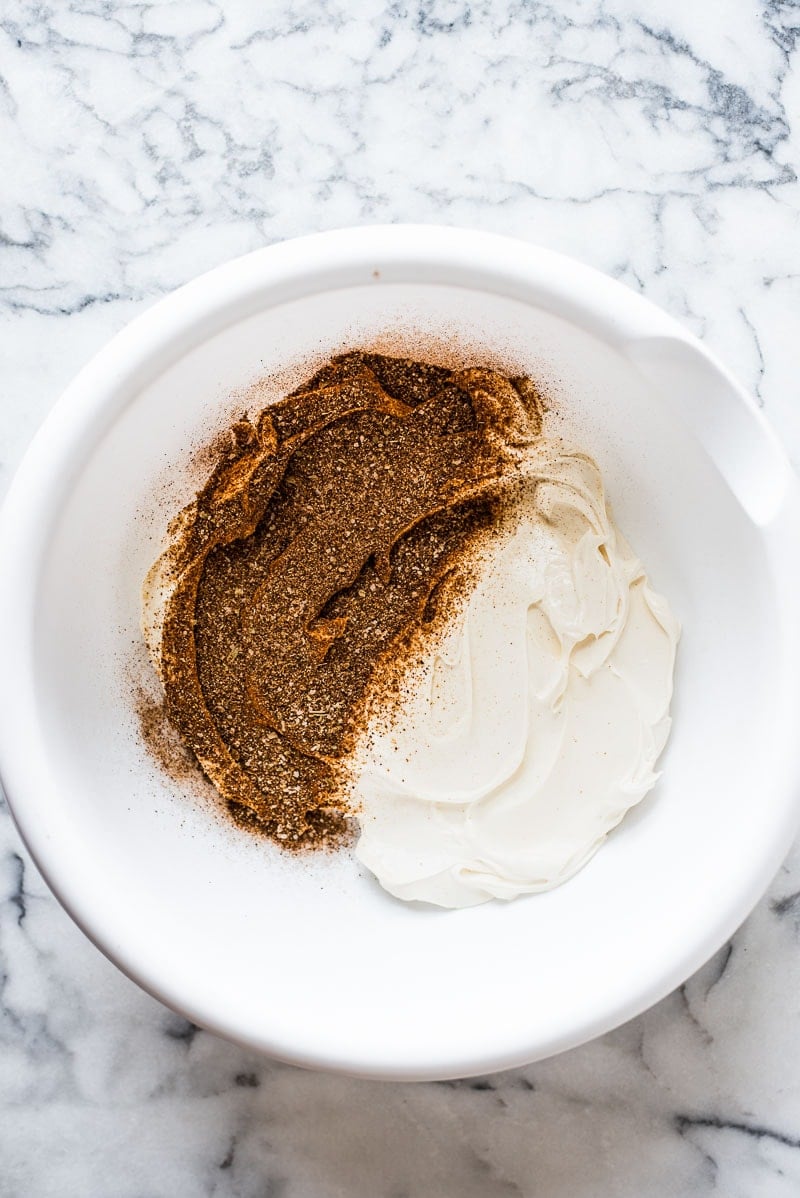 What makes this taco dip a little healthier, you ask? Three things – refried beans, light cream cheese and homemade taco seasoning!
The beans. So many taco dip recipes out there don't include beans and I'm here to remedy the situation. Refried beans aren't only creamy and super freaking delicious, they're also very nutritious and contain lots of fiber which will help fill you up and hopefully keep you from eating the entire platter! Or maybe that's just me.
For this recipe, I opted to use refried pinto beans but you could also use refried black beans if you prefer. Since we're trying to keep this dip on the healthier side, make sure to read the label on the back of your canned refried beans. If there's anything listed on the ingredients list that really shouldn't be in beans (like sugar), get a different kind.
The cream cheese. I opted for light cream cheese instead of the full fat stuff because if I'm being honest, I'm going to be eating this dip with lots tortilla chips and shredded cheese, which all adds up. So I figured if I wanted to cut some fat from somewhere without sacrificing any flavor, using light cream cheese instead would be perfect.
If you want to get even more protein in there, you could substitute half of the cream cheese for plain Greek yogurt.
The taco seasoning. I believe that the taco seasoning in taco dip is the one thing that really brings everything together. Without it, everything would be so boring and bland! To keep this dip on the healthy side, I used this easy recipe for homemade taco seasoning that's free of fillers, preservatives, added sugar or funky ingredients. It's super easy to make and highly customizable depending on your tastes – if you prefer a spicier seasoning, you can add more chili powder; if you like a smokier seasoning, you can add smoked paprika instead of regular.
If you decide to use store-bought taco seasoning, make sure to read the ingredients list and try to get one made without sugar or fillers like corn or potato starch.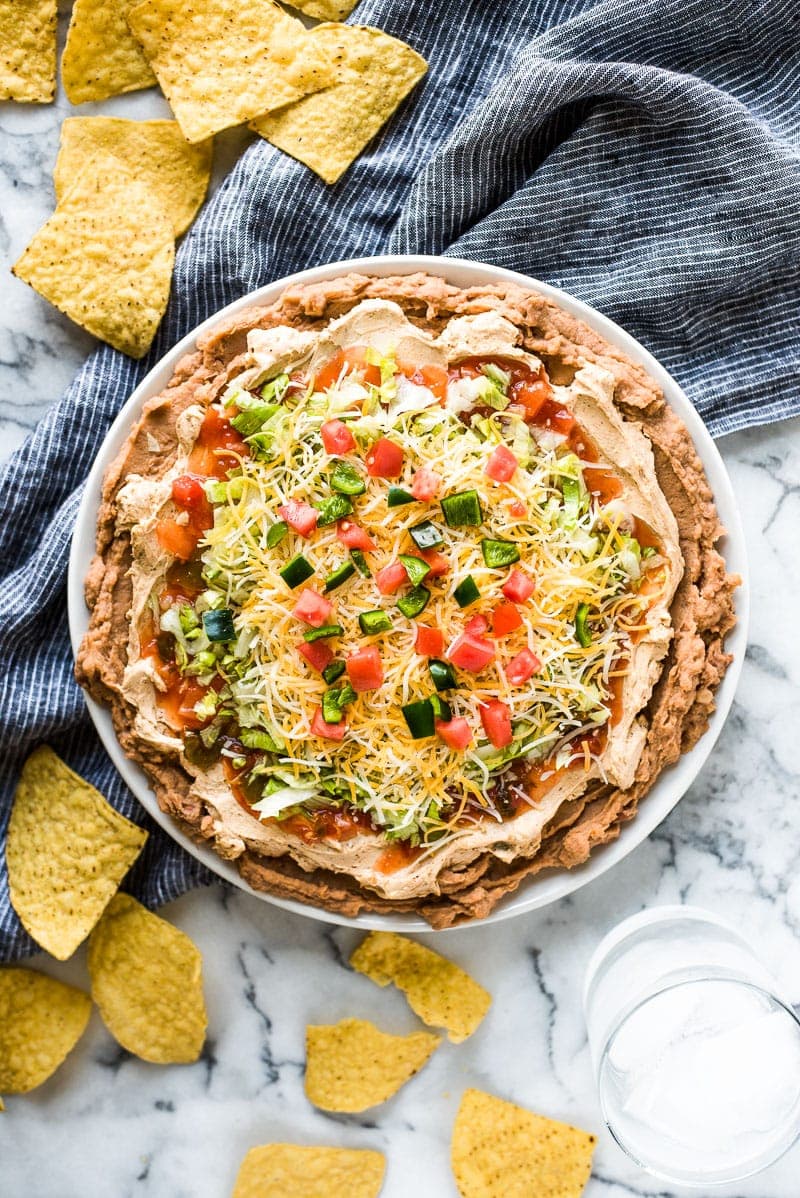 Once you've got your taco dip ready to go, you're going to need a vehicle to actually transfer the dip into your mouth. Sure, sometimes I like using my finger, but that's usually not acceptable at parties. So here are some ideas of foods that will get the job done.
What to serve with taco dip
pita chips
celery sticks
corn chips
crackers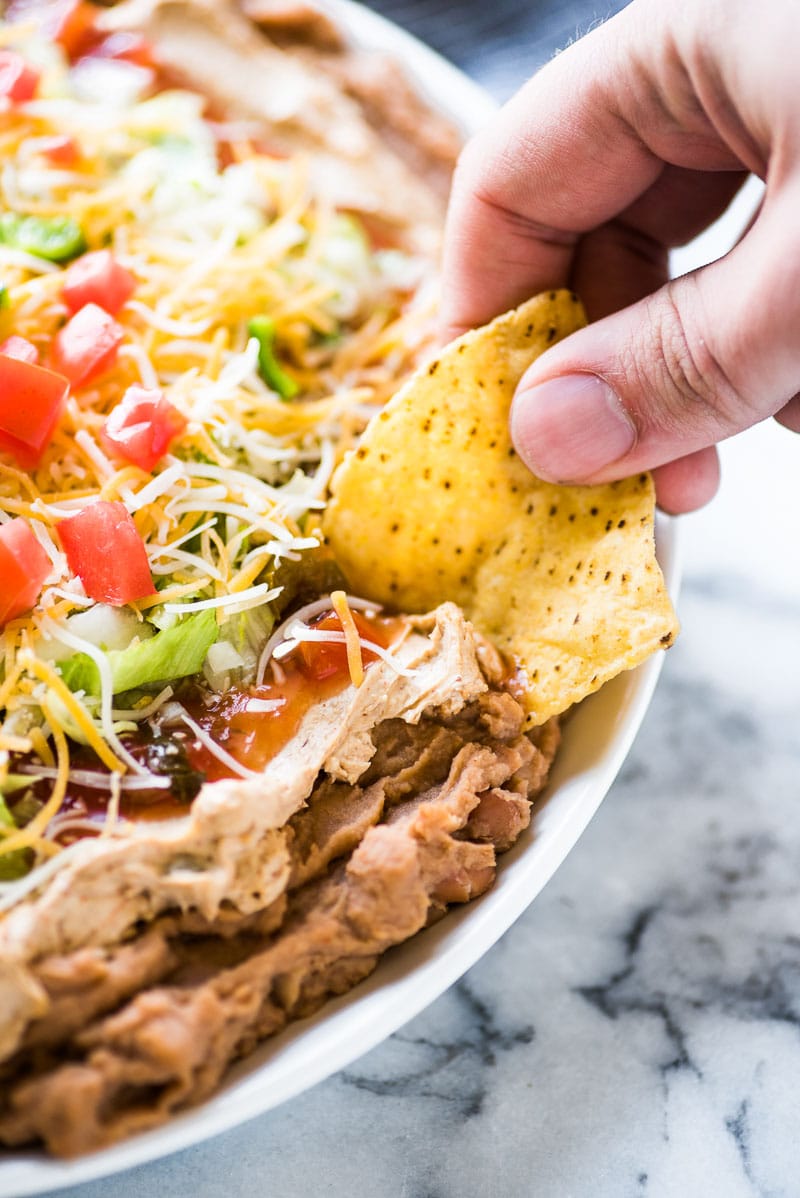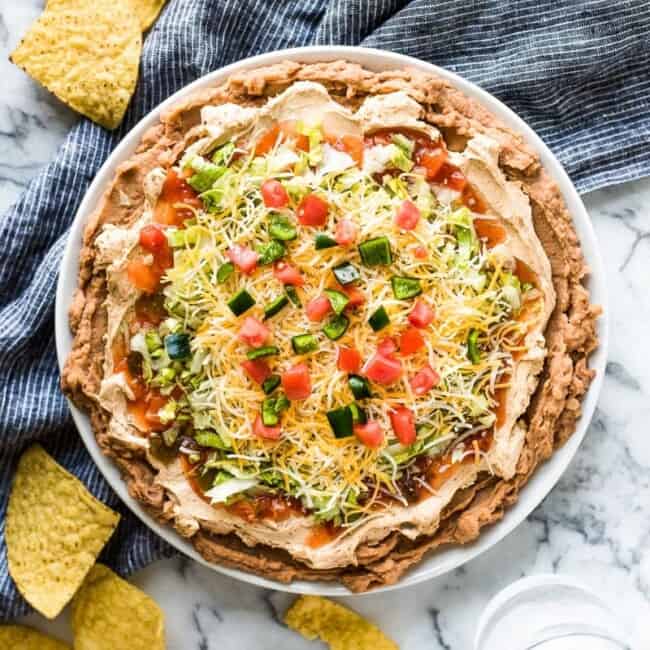 Prep: 10 minutes
Total : 10 minutes
This Healthy Taco Dip made with 5 layers of delicious ingredients is ready in under 10 minutes and is the perfect appetizer for any party!
Ingredients
2 8-ounce packages light cream cheese
2 tablespoons homemade taco seasoning (or 1 store-bought packet)
2 15-ounce cans refried beans
1 cup chunky salsa
2 cups shredded Mexican cheese blend
2 cups shredded lettuce
2 roma tomatoes, chopped
2 jalapeño peppers diced (or 1 bell pepper if you don't want it spicy)
Instructions
In a large bowl, add cream cheese and taco seasoning. Mix together with a hand-held mixer until well combined.

Spread the refried beans onto a large platter or 9×9 baking dish.

Top with a layer of cream cheese followed by salsa, shredded cheese, shredded lettuces, tomatoes and jalapenos.

Serve immediately or refrigerate until ready to serve.
Isabel's Tips:
Taco dip can be made up to 3 days ahead of time. If making more than 4 hours ahead of time, I recommend leaving off the shredded lettuce, tomatoes and jalapenos until you're ready to serve so the lettuce doesn't get soggy.
Nutrition Information
Serving: 1/12th of recipe Calories: 227kcal (11%) Carbohydrates: 20g (7%) Protein: 12g (24%) Fat: 11g (17%) Saturated Fat: 7g (35%) Polyunsaturated Fat: 0g Monounsaturated Fat: 0g Trans Fat: 0g Cholesterol: 37mg (12%) Sodium: 683mg (28%) Potassium: 49mg (1%) Fiber: 6g (24%) Sugar: 3g (3%) Vitamin A: 700IU (14%) Vitamin C: 13.2mg (16%) Calcium: 160mg (16%) Iron: 0.4mg (2%)