Jump to Recipe
This Homemade Taco Seasoning recipe is made without any added sugar or weird ingredients – just a delicious blend of Mexican spices and herbs to get your taco party started! (gluten free, paleo, vegetarian, vegan)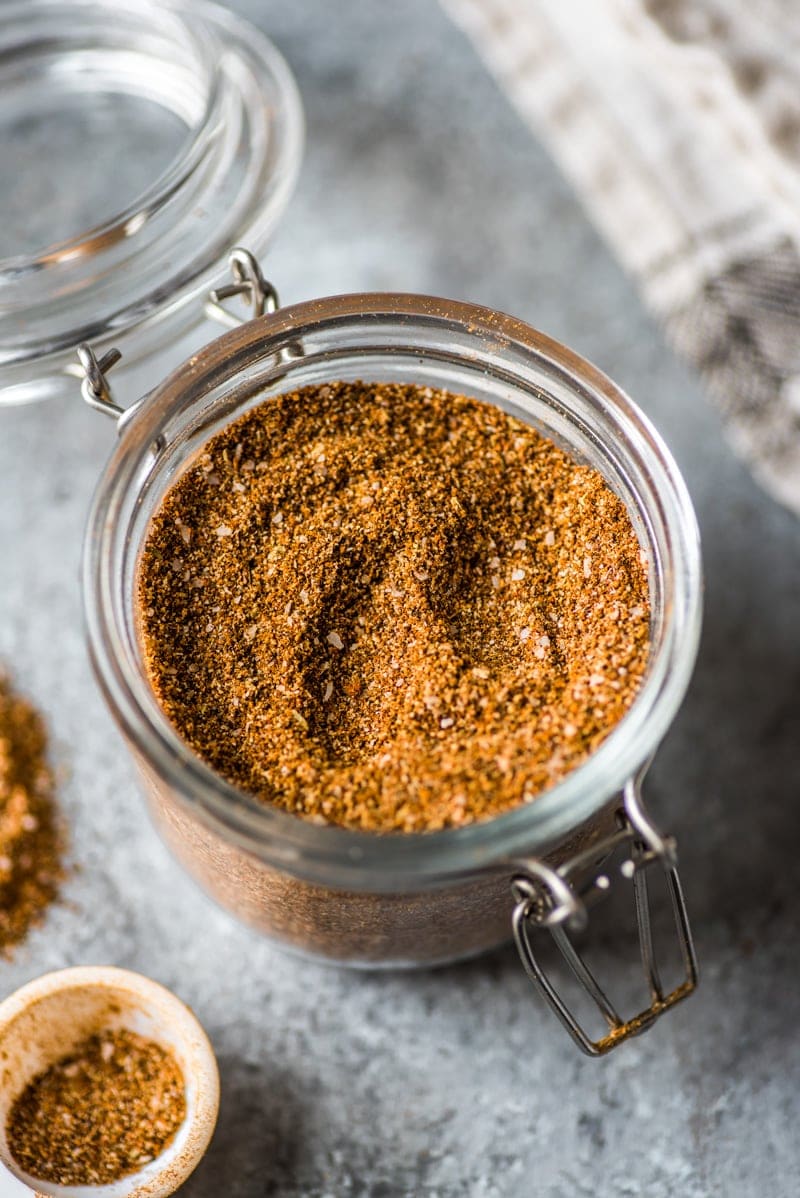 This Homemade Taco Seasoning recipe has been a long time coming! After using it to make these ground beef tacos and again in this creamy taco pasta, I knew I had to dedicate a separate post all about taco seasoning.
The first time I made my own seasoning blend was kind of an accident. I was making some normal ground beef tacos for taco night and I had everything ready to go except for the seasoning. I thought I had a packet of the store-bought stuff in my spice cabinet but I didn't, so I decided to season the meat with what I thought would taste good and the results were surprisingly great!
I know I probably shouldn't admit this because I'm Mexican, but I've always actually liked the flavor of store-bought taco seasoning. Other than it being a little too salty, I never minded the flavor at all. So my goal with this taco seasoning recipe was to make it taste like the store-bought stuff. But better. And I did!
The best part is that this recipe has no fillers, preservatives, added sugar or funky ingredients – just my favorite blend of Mexican spices and herbs to get your taco party started.
How to make taco seasoning
This taco seasoning is a simple blend of herbs and spices that I regularly have in my kitchen. The ingredients themselves aren't super fancy, but the proportions are just right, making this seasoning a powerhouse of flavor. Here's what you'll need.
4 tablespoons chili powder
4 teaspoons ground cumin
3 teaspoons salt
2 teaspoons garlic powder
2 teaspoons onion powder
2 teaspoons paprika
1 teaspoon dried oregano
This homemade taco seasoning will last about 6 months when stored in an airtight container, so make a big batch of it and keep it in your spice cabinet to use whenever you'd like!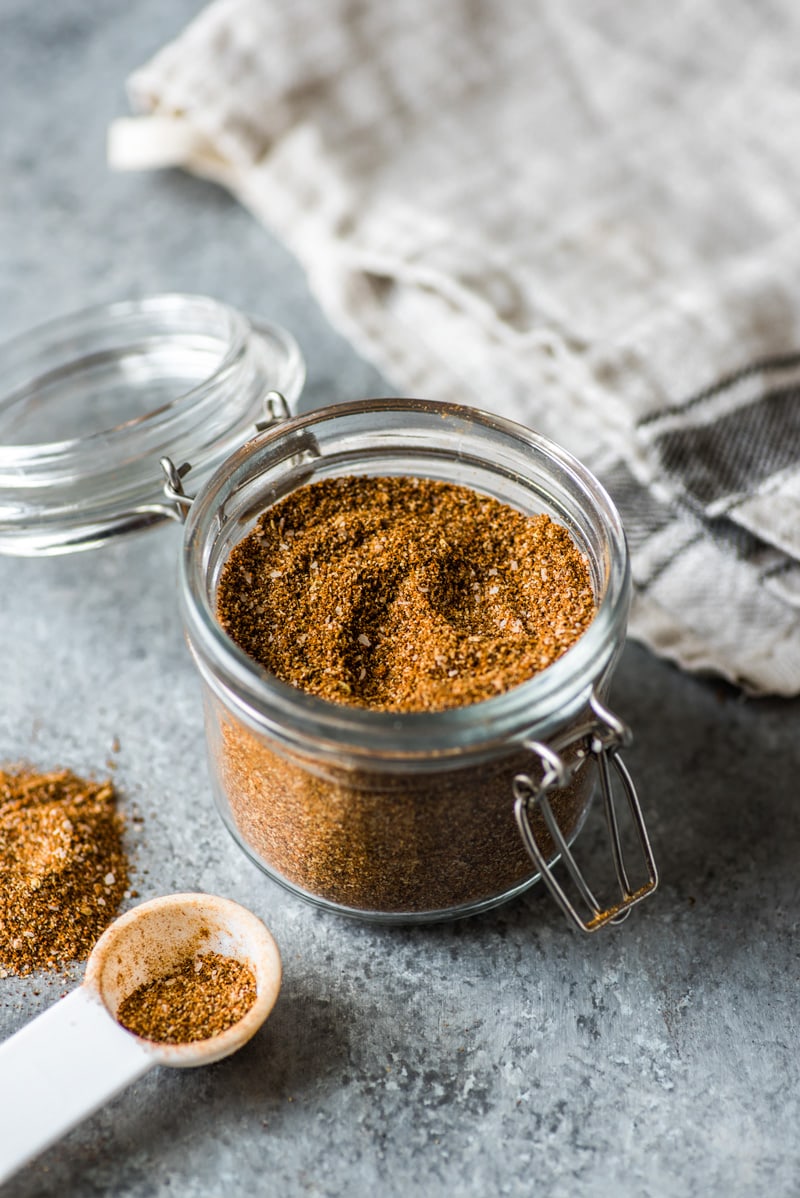 How to customize this taco seasoning recipe
Watching your salt intake? Simply leave out the salt in this recipe and just add it as needed during the cooking process.
Like your taco seasoning on the spicy side? Add 1 tablespoon ground cayenne pepper or red pepper flakes to the mix.
Want more of a smoky flavor? Use smoked paprika instead of regular paprika. You could also add some ground chipotle powder.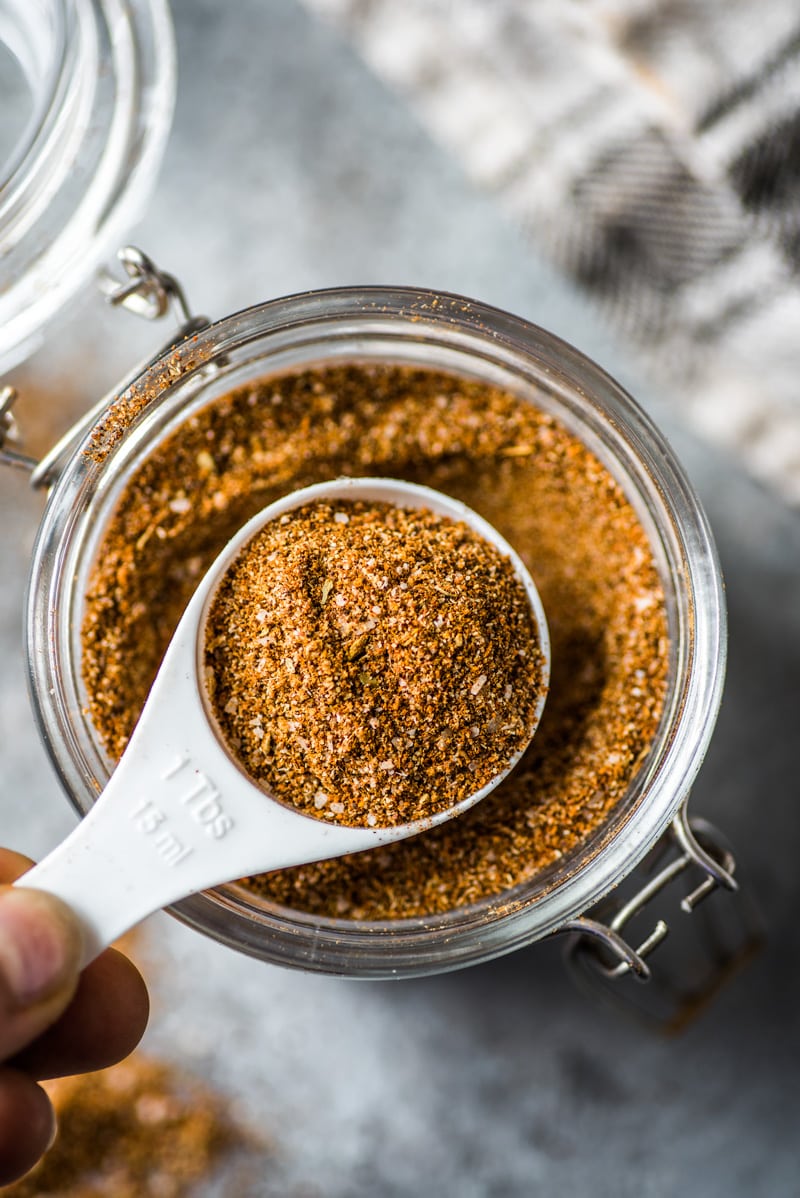 Once you've got your little jar of homemade taco seasoning, all that's left to do is get cooking! Here are some of my favorite ways to use it.
Recipes made with taco seasoning
sprinkled on any ground or shredded meat mixture for tacos
sprinkled on popcorn or your favorite snacks
For ground beef, chicken or turkey tacos, I recommend using 2 tablespoons of taco seasoning per 1 pound of meat.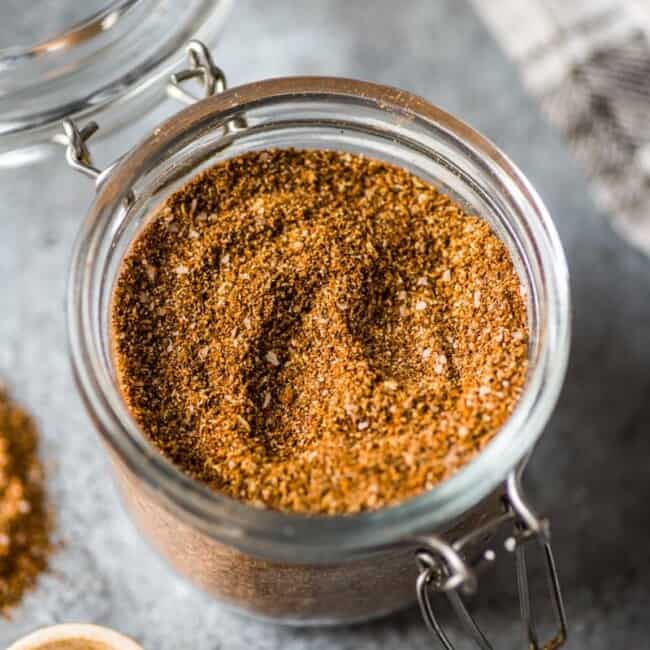 Prep: 5 minutes
Total : 5 minutes
This Homemade Taco Seasoning recipe is made without any added sugar or weird ingredients – just a delicious blend of Mexican spices and herbs to get your taco party started! (gluten free, paleo, vegetarian, vegan)
Instructions
Add all ingredients to a small airtight jar and close with a lid. Shake to combine.
Isabel's Tips:
When making ground beef, chicken or turkey tacos, I recommend using 2 tablespoons of seasoning per 1 pound of ground meat.
Nutrition Information
Serving: 2tablespoons Calories: 18kcal (1%) Carbohydrates: 3g (1%) Protein: 1g (2%) Fat: 0g Saturated Fat: 0g Polyunsaturated Fat: 0g Monounsaturated Fat: 0g Trans Fat: 0g Cholesterol: 0mg Sodium: 1749mg (73%) Potassium: 77mg (2%) Fiber: 1g (4%) Sugar: 4g (4%) Vitamin A: 1200IU (24%) Vitamin C: 0mg Calcium: 20mg (2%) Iron: 1.4mg (8%)