Jump to Recipe
This ground beef taco recipe, made with homemade taco seasoning, creates a flavor-packed weeknight meal! Easy to make and ready in only 25 minutes!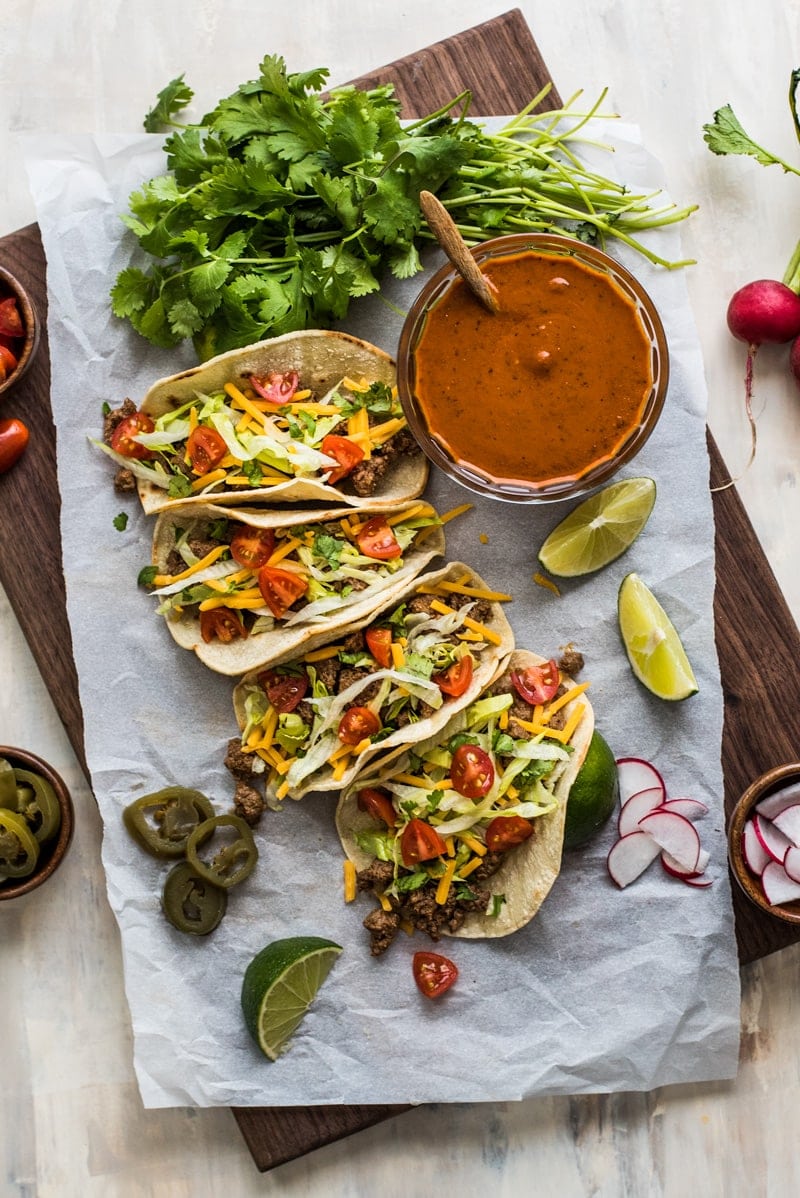 On a busy weeknight, easy Mexican dishes like tacos are such a time saver. From start to finish, including prepping the ingredients and toppings, this ground beef taco recipe comes together in 25 minutes. As a result, it is a weeknight staple in my house!
Is this beef taco recipe authentic Mexican food?
There are several ways to make a beef taco recipe, and this recipe in particular isn't super authentic – they're more along the lines of Tex-Mex which is a-okay with me!

Some differences between authentic and Tex-Mex beef tacos are:
Type of Beef – Ground beef tacos are more popular in the U.S., while shredded beef is the choice of most Mexican cooks.
Taco Shells – Hard taco shells and flour tortillas are rarely used for tacos. Mexicans prefer to serve tacos on soft corn tortillas. If you're looking for a paleo option, here's a great recipe for paleo tortillas.
Toppings – The popular taco toppings in America are lettuce, tomatoes, and cheese. Mexicans top their tacos with diced onion and fresh cilantro.
Regardless of how they are served, I think the best beef taco recipe begins with homemade taco seasoning.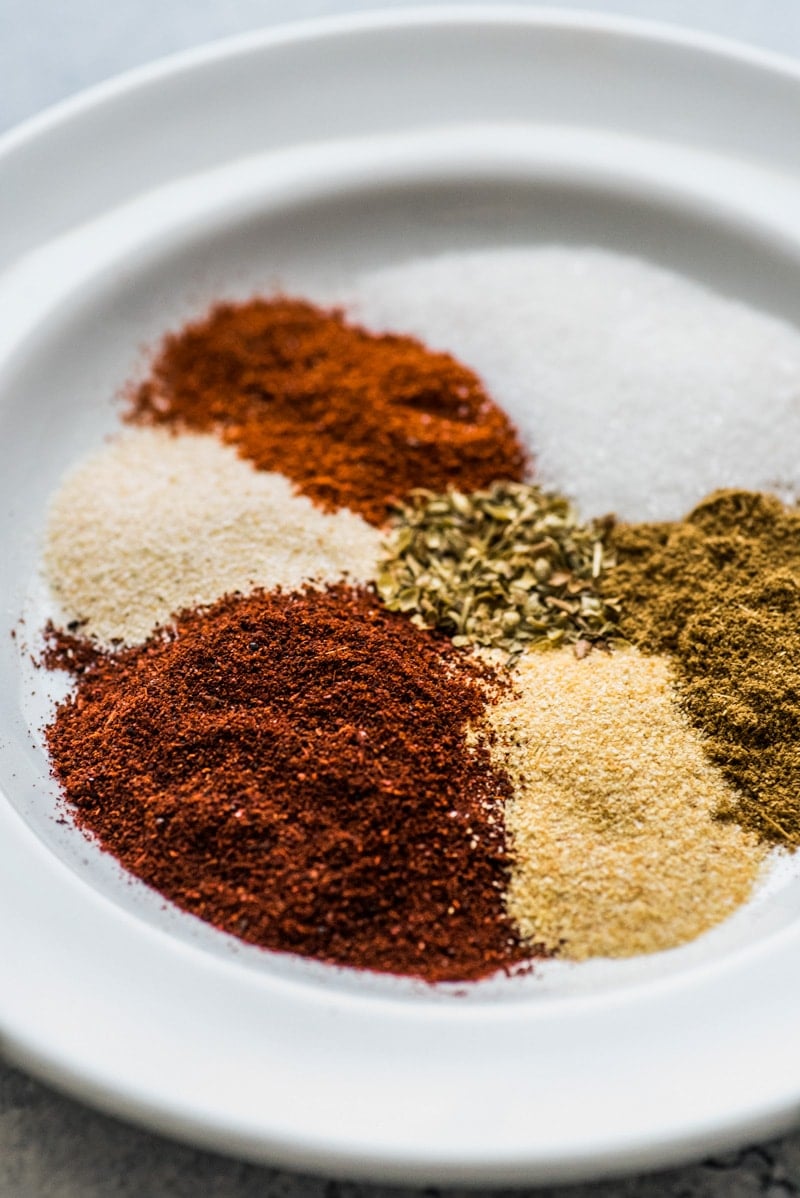 This is by far my favorite seasoning for beef tacos! I've always wanted to replicate the bold flavors of the taco seasoning packets you buy in stores and the ground beef tacos you get at restaurants, and you know what? I think I finally did it!
Taco seasoning won't go bad, so make a big batch of it and keep it in your spice cabinet to use whenever you'd like!
What type of ground beef should I use?
When I make this ground beef tacos recipe, I use 85% lean ground beef. Anything leaner and you'll run the risk of the meat being too dry.
If you plan to use leaner ground beef, or ground turkey or chicken, you may want to add another 1/2 to 1 tablespoon of cooking oil to the skillet. As a result, it will help the meat stay a little juicier.
How to Make Taco Meat
Making the beef tacos mixture really couldn't be any easier! There are just a few simple steps.
Add the taco seasoning into the ground beef. Using your clean hands is much easier than trying to combine everything with a spoon.
Preheat a large skillet, add some oil, and wait for it to start shimmering. Note: If you are using ground beef with a high fat content, such as an 80/10 blend, you may not need to use oil at all.
Brown the ground beef, then pour off any excess grease.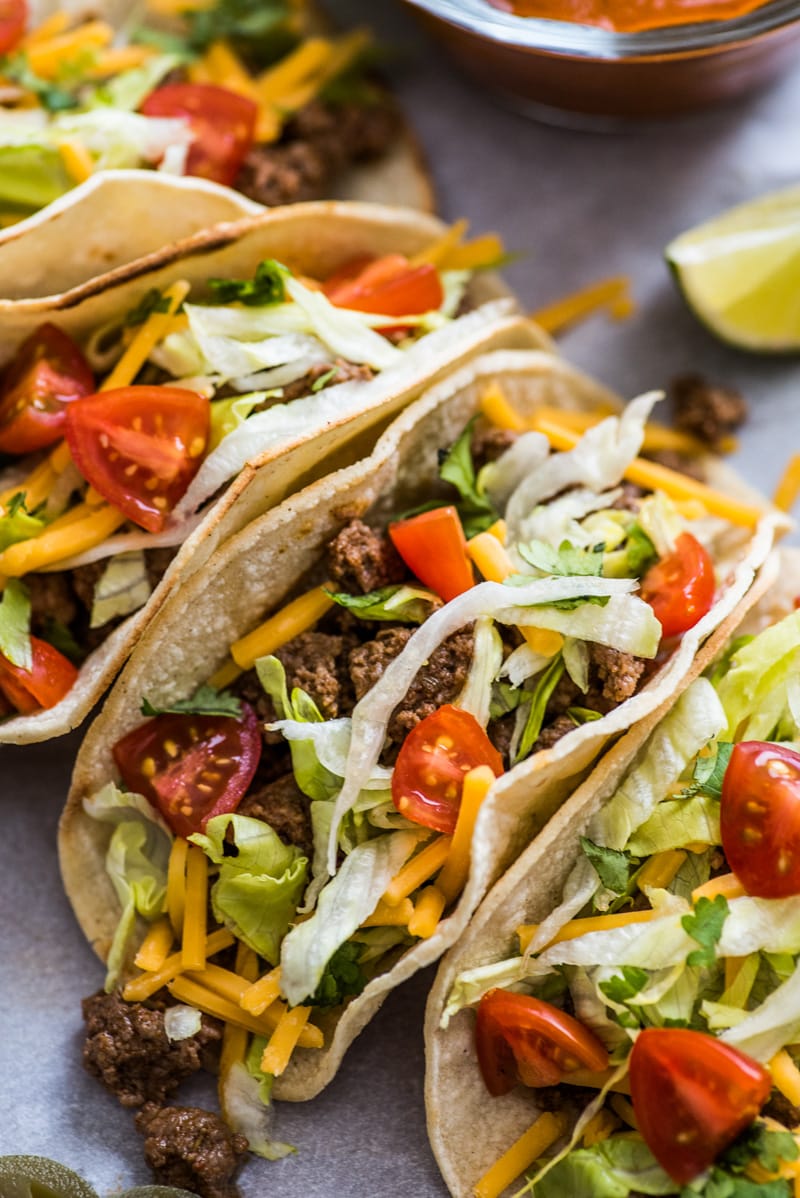 That's all there is to it!
Prep your favorite taco toppings and maybe some Mexican salsas and homemade guacamole. Warm the tortillas and then get ready to enjoy your beef tacos!
How can I make this beef taco recipe healthier?
If you're watching your carb intake, this recipe can easily be adapted to meet your needs.
To make this a low carb meal, you can serve the beef tacos in lettuce or collard green wraps instead of tortillas.

The ground beef would also be great served over some greens with all the toppings for an easy taco salad.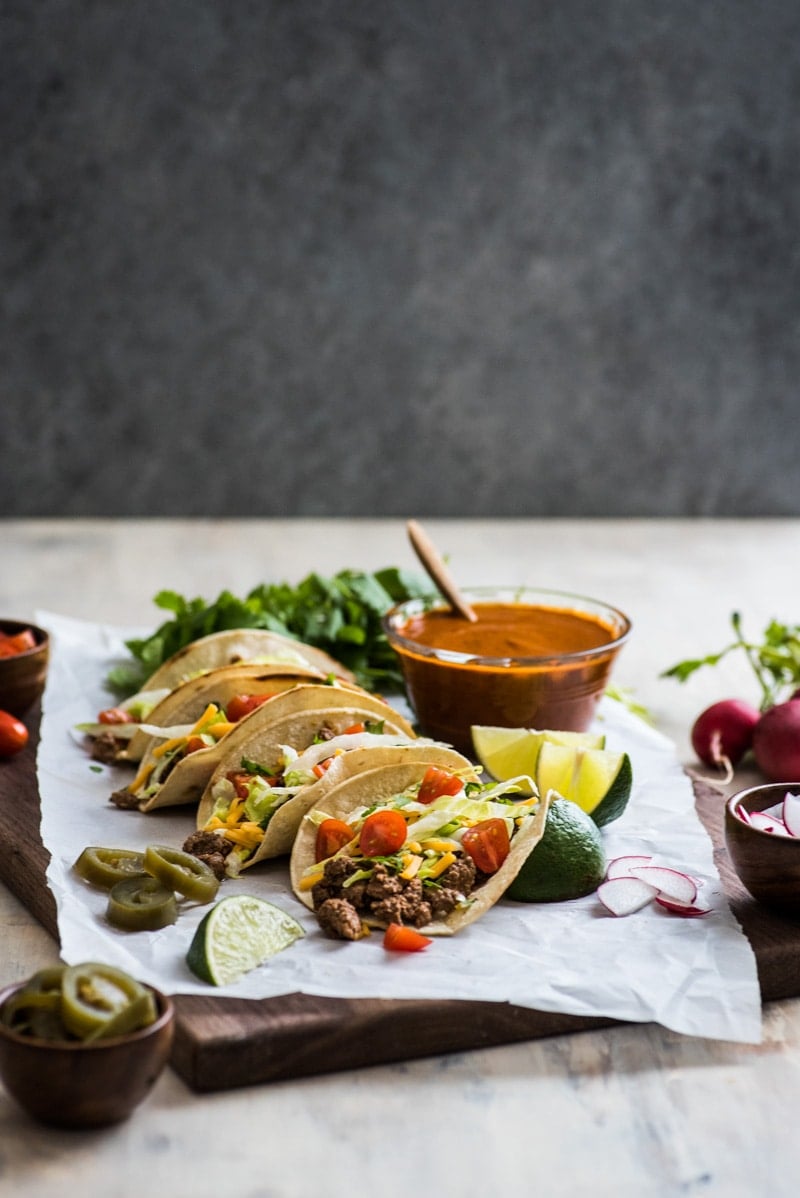 Other Taco Recipes to Make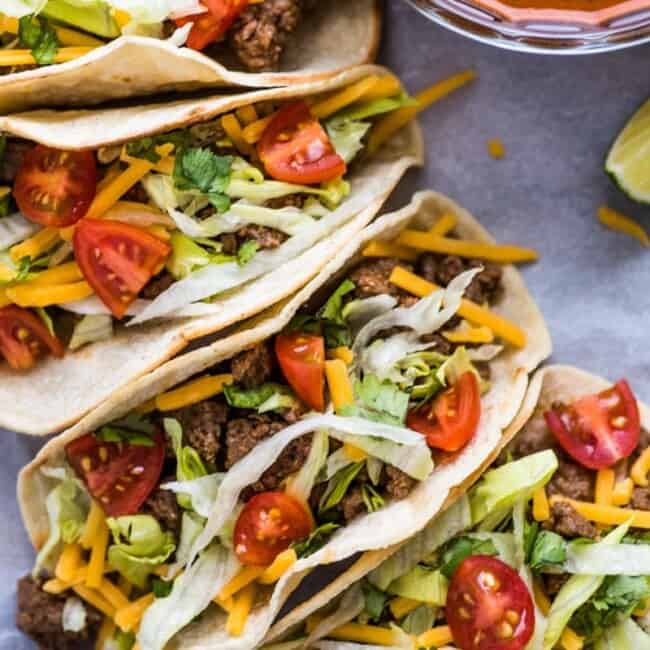 Prep: 10 minutes
Cook: 15 minutes
Total : 25 minutes
This ground beef taco recipe, made with homemade taco seasoning, creates a flavor-packed weeknight meal! Easy to make and ready in only 25 minutes!
Ingredients
1 pound ground beef
1 tablespoon chili powder
1 teaspoon ground cumin
1 teaspoon salt
1/2 teaspoon garlic powder
1/2 teaspoon onion powder
1/2 teaspoon paprika
1/4 teaspoon dried oregano
1 tablespoon cooking oil
12 corn tortillas (or more depending on how much you stuff them)
Optional toppings
iceberg lettuce, tomatoes, shredded cheddar cheese, pickled jalapeños, cilantro, limes, hot sauce
Instructions
In a large bowl, add ground beef, chili powder, ground cumin, salt, garlic powder, onion powder, paprika and dried oregano. Mix together with hands until well combined.

Heat a large skillet over medium-high heat. When hot, add the cooking oil. Add the ground beef and break up the meat into smaller chunks using a wooden spoon. Cook, stirring occasionally, until the beef is completely browned, about 8 to 10 minutes. Drain and discard any excess grease if you'd like. Remove from heat and cover to keep warm.

Warm the corn tortillas on a hot griddle or skillet, about 30 seconds per each side or until they get some toasty brown spots. Place the tortillas in a tortilla warmer or covered in a warm kitchen towel to keep from getting cold until ready to eat.

Fill each tortilla with ground beef and assemble tacos with toppings such as shredded lettuce, cheese, tomatoes, jalapenos, cilantro, lime juice and hot sauce.
Isabel's Tips:
Leftover taco meat can be stored in an airtight container in the refrigerator for up to 4 days. To make low carb, use lettuce wraps instead of tortillas.
Nutrition Information
Serving: 3tacos Calories: 401kcal (20%) Carbohydrates: 32g (11%) Protein: 24g (48%) Fat: 20g (31%) Saturated Fat: 7g (35%) Monounsaturated Fat: 1g Cholesterol: 70mg (23%) Sodium: 140mg (6%) Potassium: 62mg (2%) Fiber: 5g (20%) Sugar: 5g (6%) Vitamin A: 700IU (14%) Calcium: 40mg (4%) Iron: 3.6mg (20%)