Jump to Recipe
This Homemade Yellow Cake with Vanilla Cream Cheese Frosting is a rich and buttery layered "naked cake" perfect for any celebration!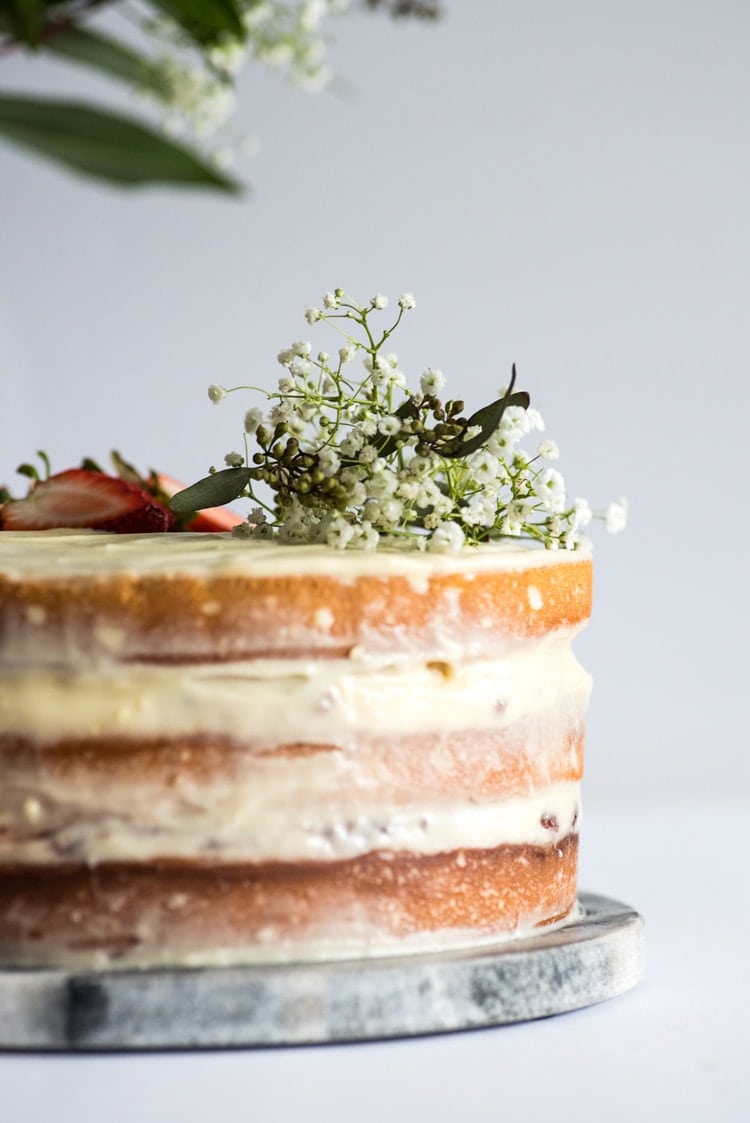 Say hello to my first ever homemade, from scratch, delicious cake!
Making a cake is kind of a big deal for me. Not only am I still new to baking, but John and I live alone and making an entire 3-layer cake for only us two seems a bit unnecessary. So if there's a cake in our house, there's usually some sort of celebration or party.
So what's the special occasion?
My birthday was this weekend! I turned 29 on Earth Day, so I decided to bake myself a nice big cake full of all of my favorite things.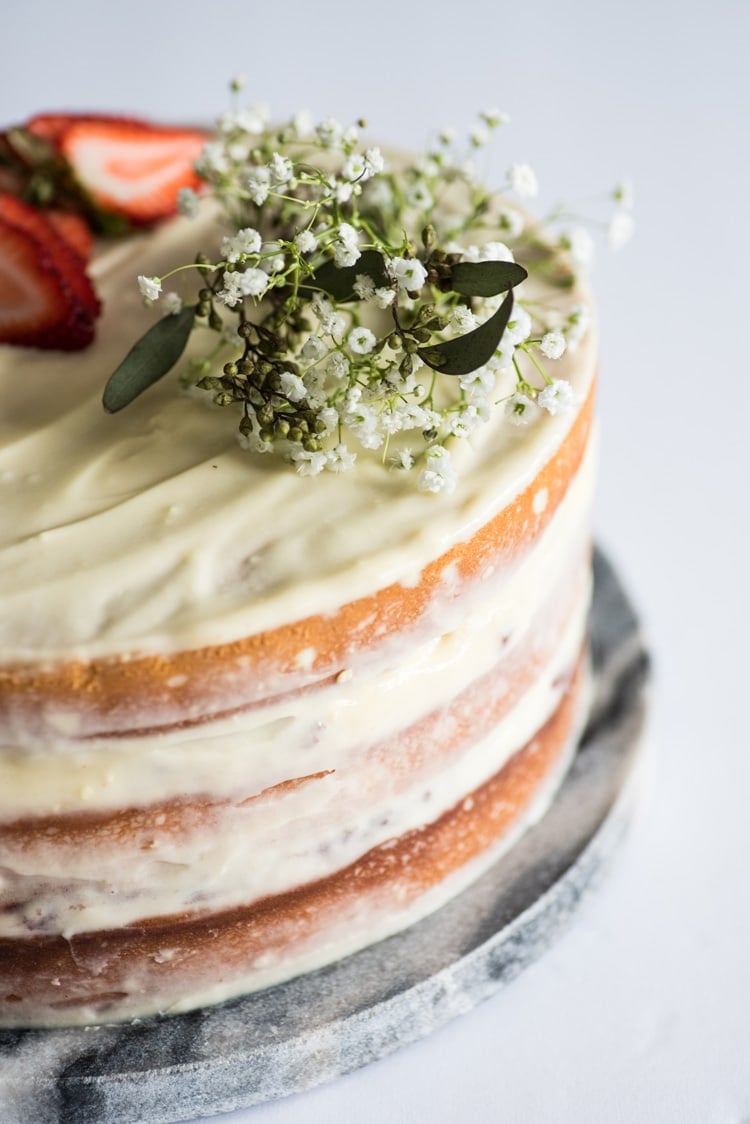 My favorite things about this cake
It's a yellow cake. I have fond memories of my mom making yellow cakes for everyone's birthday. It was from a box and it was damn delicious. I actually can't ever remember her making a white or vanilla cake. Yellow cake always just had more flavor to her. And I totally agree.
It's covered with vanilla cream cheese frosting. Hands down, any type of cream cheese frosting is my favorite. It's never too sweet like regular icing can be, it's buttery, rich, smooth and so so creamy. There's a reason the last two frostings I've made have been cream cheese based. (See Cherry Chocolate Cupcakes with Cinnamon Cream Cheese Frosting and Margarita Cupcakes with Tequila Cream Cheese Frosting.)
It's filled with strawberry preserves. Again, this is a thing my mom always did with cakes and I absolutely love it. Instead of making her own compote, she would buy preserves (not jam) and fill a cake with it. Not too much because you don't want it to be overly sweet, but enough that you get the strawberry flavor. Also strawberry is my favorite ice cream flavor, so I love strawberry filled foods.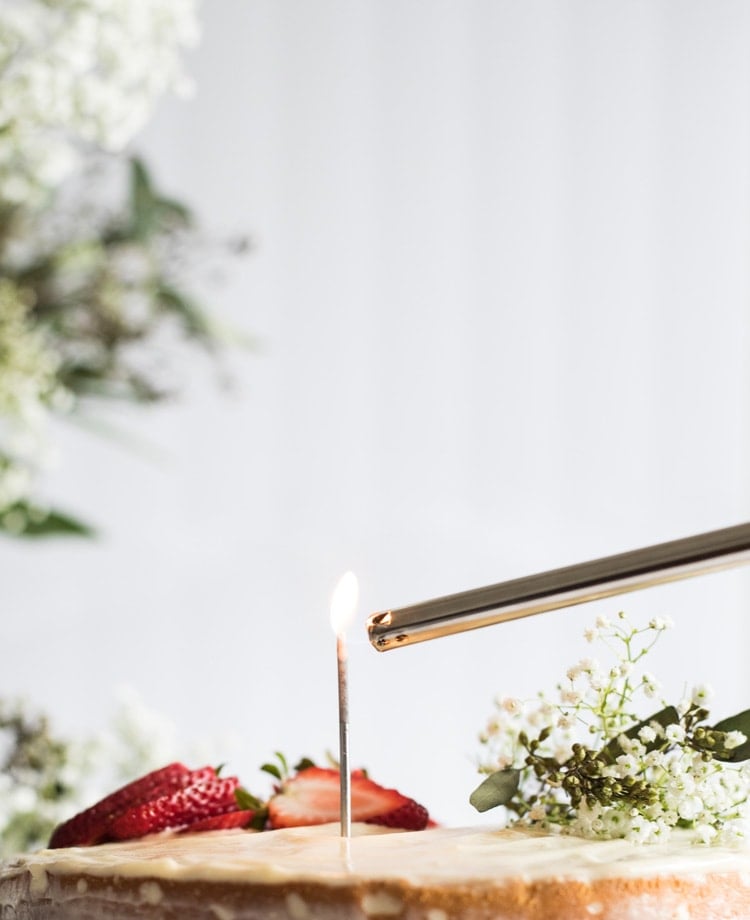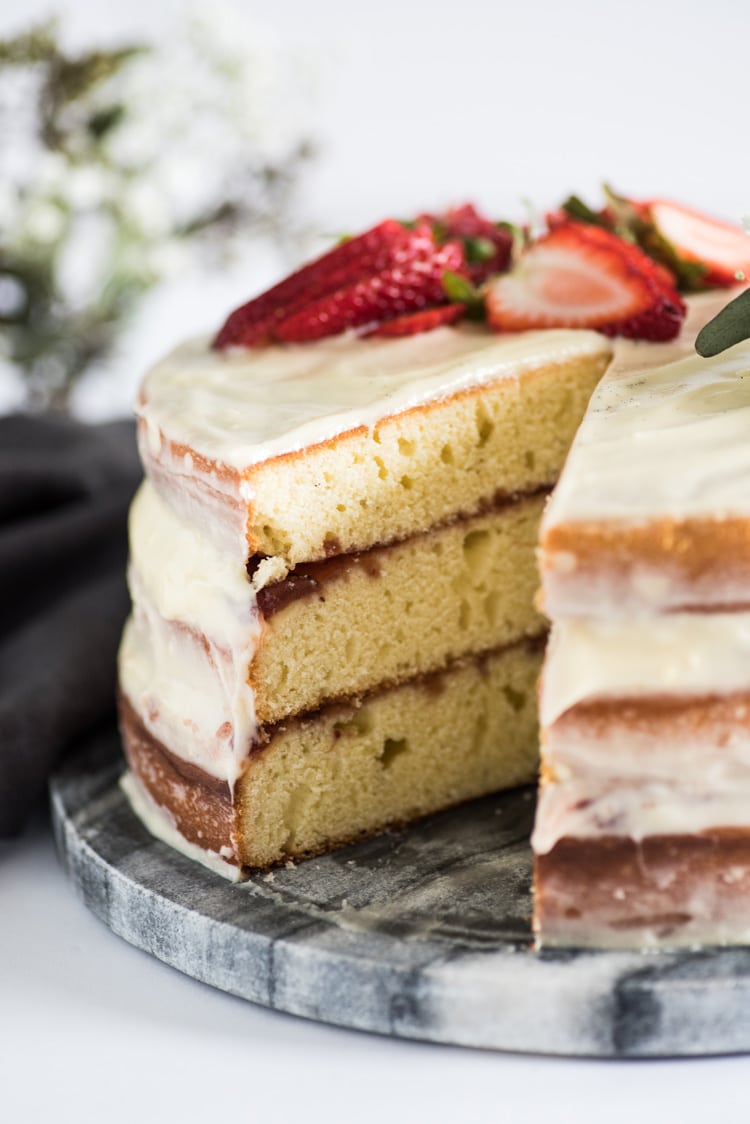 As far as what I did on my actual birthday…I actually didn't do much. And that was completely by choice. The day before, I went to happy hour with some work friends. On the actual day of, my friend took me to Sephora and bought me some makeup and I stayed home and watched Dr. Who with some good friends.
With my wedding coming up in a month and my bachelorette party happening in a few week, I didn't have any desire to do anything other than relax at home and bake myself a cake. And I must say, doing absolutely nothing was amazing.
So cheers to turning 29. May it be a great year!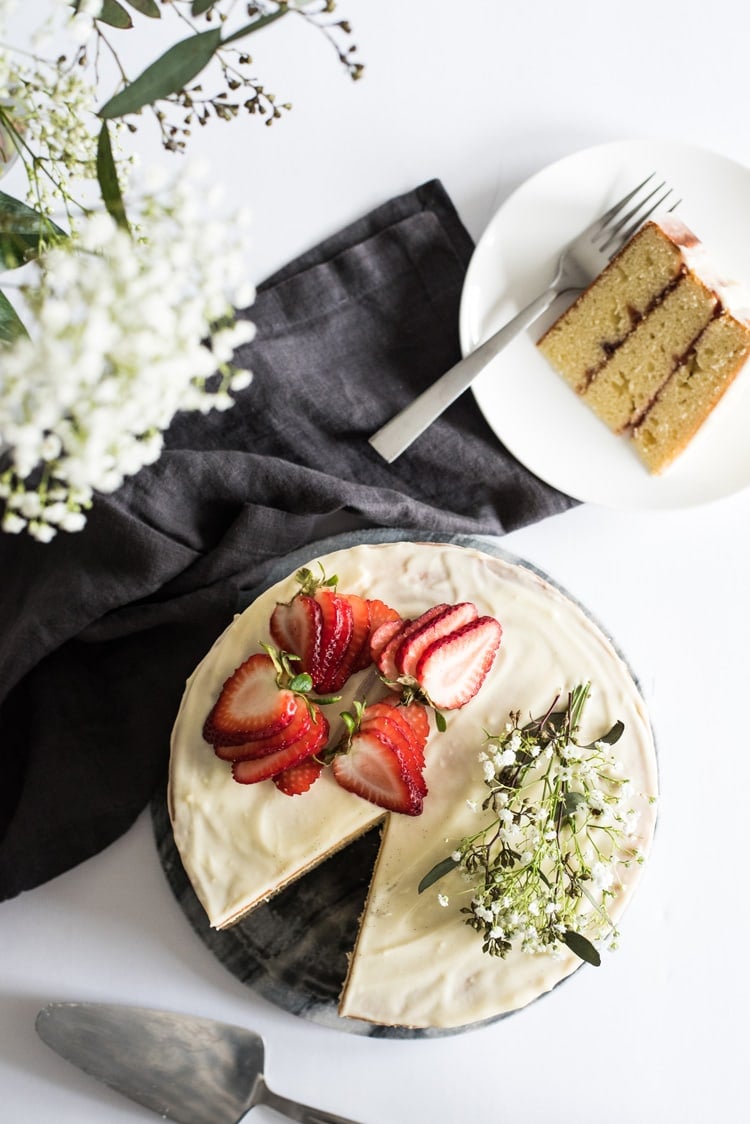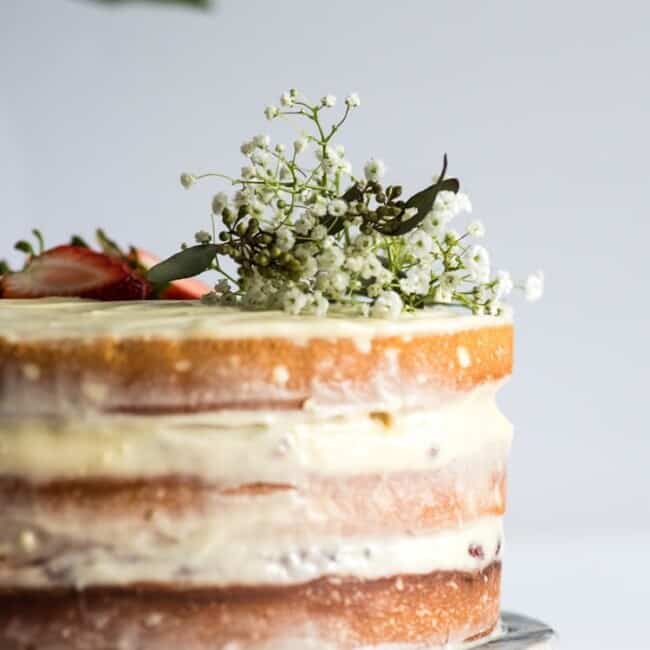 Prep: 20 minutes
Cook: 25 minutes
Total : 1 hour 45 minutes
This Homemade Yellow Cake with Vanilla Cream Cheese Frosting is a rich and buttery layered "naked cake" perfect for any celebration!
Ingredients
For the vanilla cream cheese frosting
1/2 cup unsalted butter (1 stick)
8 ounces cream cheese
2 1/4 cups powdered sugar
1/4 teaspoon salt
1 teaspoon vanilla extract
Instructions
For the yellow cake
Preheat the oven to 350 degrees. Prepare 3 9-inch round baking pans by spraying with cooking spray. Set aside.

In a large bowl, combine butter, coconut oil, sugar and salt. Mix on high with a handheld or stand mixer until smooth and fluffy, about 3 to 5 minutes.

Add eggs one at a time to the bowl and mix until combined.

In a separate large bowl, mix together flour, baking soda and baking powder with a fork or a whisk.

Turn the handheld or stand mixer to low and add half of flour to the butter mixture. Mix until combined. Add the Greek yogurt and vanilla extract and mix together.

Add the remaining flour to the cake batter and mix until combined.

Evenly add cake batter into baking pans and bake in oven for 25-30 minutes or until a toothpick inserted into the center of the cake comes out clean.

Remove cakes from oven and rest in pans for 10 minutes, or until cake pans are cool to the touch. Then, remove cakes from pans, wrap in plastic wrap and place in the freezer for 1 hour to help cool them down quickly so they're ready to be frosted. If you're not frosting the cake, feel free to enjoy it immediately - no need to cool in the freezer!
For the vanilla cream cheese frosting
In a large bowl, add the butter and cream cheese. Mix together until completely smooth using a handheld or stand mixer.

Add in the vanilla extract and salt. Mix together for about 30 seconds, until combined.

With the mixer on low, slowly add in the powdered sugar by adding a little, mixing it in and then adding some more until the wet and dry ingredients have been combined.

Cover and refrigerate the frosting until ready to use.
To assemble the cake
Before assembling the cake, smooth out every cake layer by slicing off a thin portion of the crown of the cake with a serrated knife in order to make each cake flat and level. Usually, only a small portion of the crown needs to be removed in order for the cake to be somewhat level. It doesn't have to be perfect! Leveling your cake also helps prevent any layers from cracking once they've been stacked on top of each other.

Next, place the first layer of cake onto a cake stand. Top with half of your desired filling. (I used a small 10-ounce jar of strawberry preserves like this one.) Spread filling to the edges of the cake, smoothing evenly. Repeat with second layer. Add the top layer with the bottom facing up and begin frosting.

Add chilled vanilla cream cheese frosting to the top and sides of the 3-layer cake. Using a cake scraper or flat cake knife, smooth the frosting out around the top, edges and sides. To make a "naked cake" as shown in the photos, simply scrape off as much frosting as possible from the sides using your cake scraper

Decorate the top of your cake with sliced fruit, beautiful flowers and serve!
Isabel's Tips:
The Vanilla Cream Cheese Frosting recipe makes enough frosting to cover a fully-frosted cake or enough for two "naked cakes."
Recipe adapted from Grandbaby Cakes.
This page contains affiliate links. If you make a purchase on Amazon after clicking one of my links, I may receive a small commission. I only endorse products and services that I fully believe in. Thanks so much for your support!