Made with sautéed vegetables, a cilantro parsley chimichurri spread and lots of melted cheese, this Mexican Fajita Grilled Cheese will leave you full and oh so happy.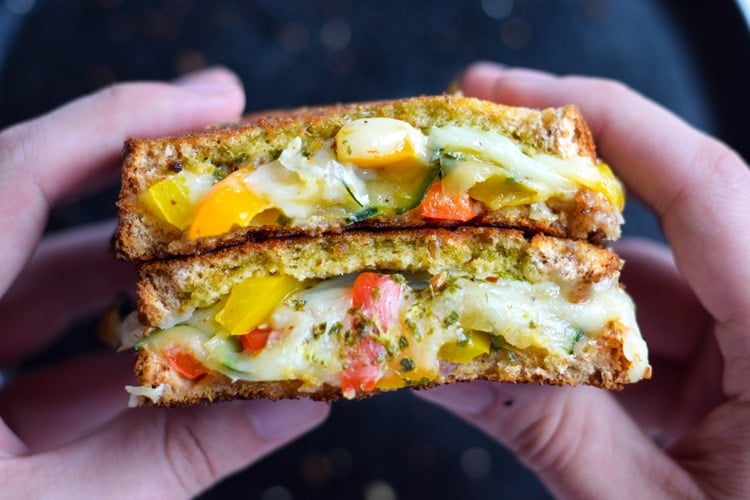 Put on your favorite lying around clothes and blast your musical guilty pleasure (PJs and the Biebs for me), because today we're making grilled cheese! Two slices of toasty bread slathered in butter and filled with lots and lots of cheese. Yep, I think it's safe to say that this is the ultimate comfort food.
But grilled cheese with…vegetables inside?
Ohhhoo yes, my friend.
Sweet and savory onions, ribbons of zucchini and bell peppers, all covered in my Cilantro Parsley Chimichurri Sauce PLUS cheese. Trust me on this one. You're going to love it.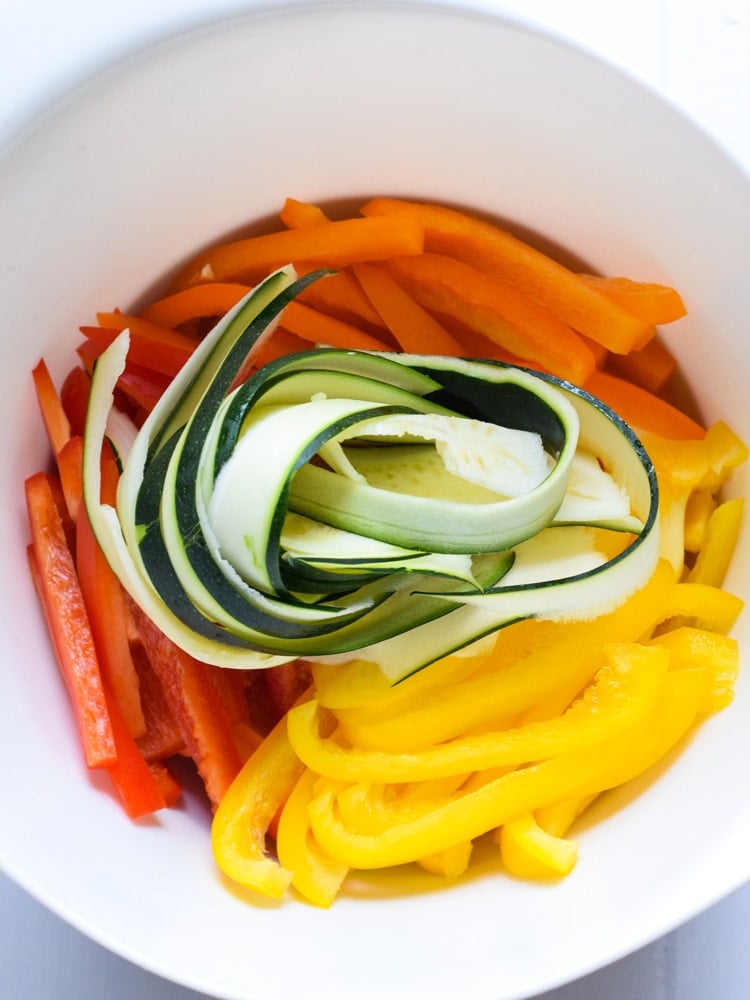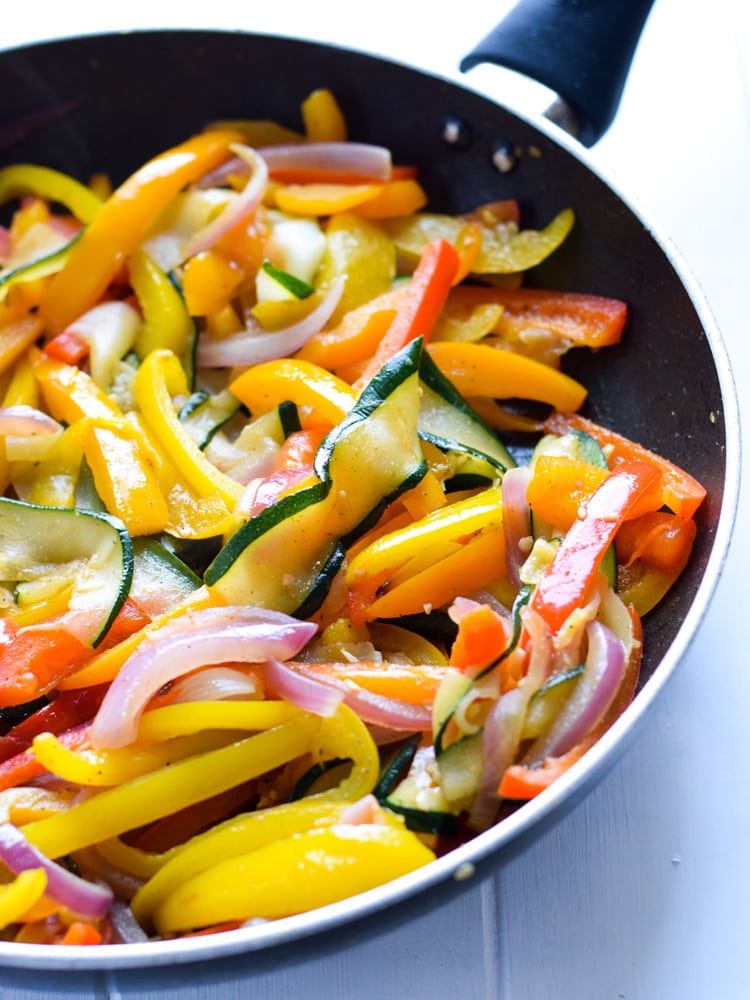 I know many of you don't want to hear this (or maybe you do), but summer is coming to an end.
It's true.
Pinterest has already started to feature tons of fall recipes with pumpkin, apples and all that delicious cinnamon goodness.
I totally get it. It's hot outside. You're sticky and sweaty. All you want to do is wear scarves. Or maybe that's just me. But I gotta say that I'm also sad that some of my favorite veggies and fruits are going to be hard to find locally without having to spend lots of cash.
I say let's make the most of it and try to savor every last bit of summer by grabbing some fresh zucchinis and bell peppers from the farmers market why they're still in season.
Oh, and cheese. Lots of cheese.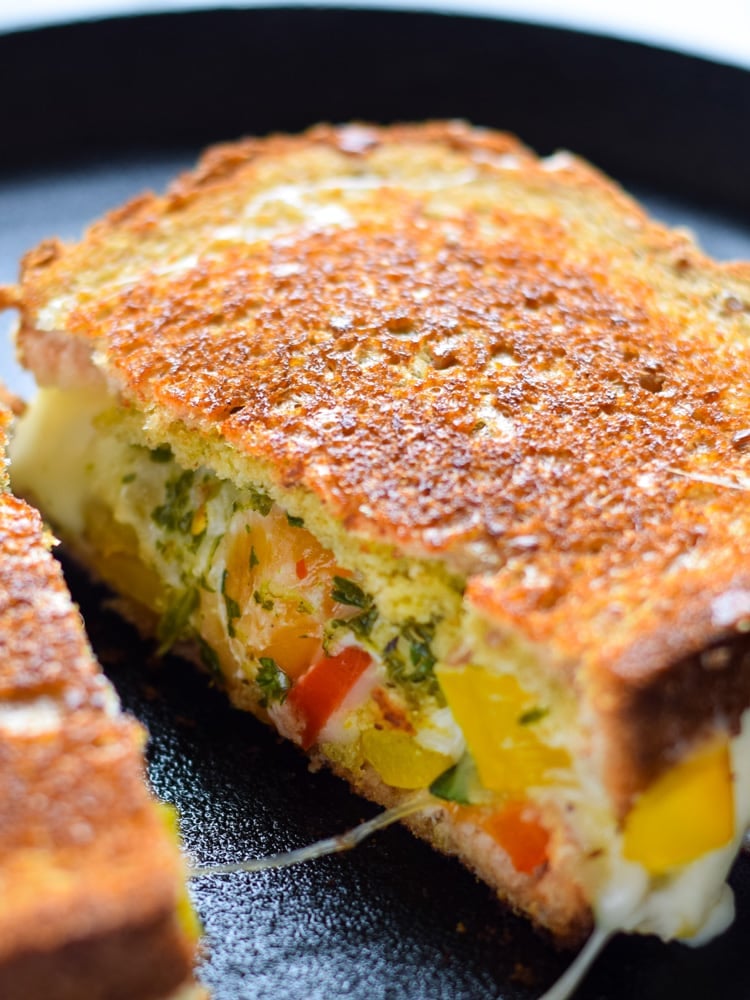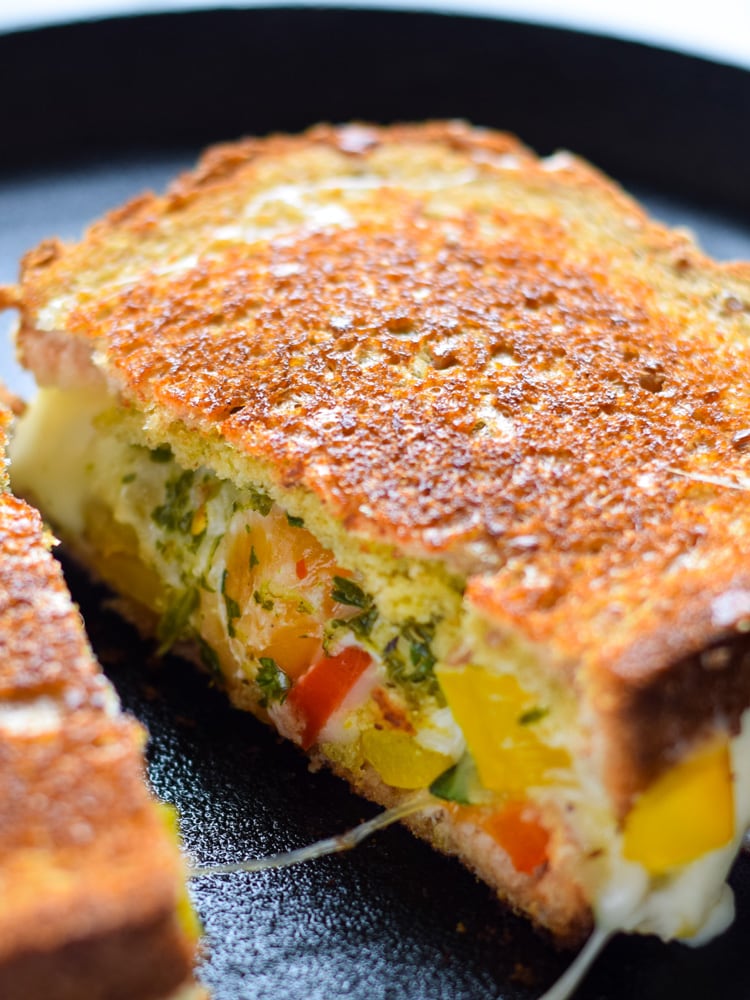 But before I get to the recipe, let me just SHOW YOU how easy it is to make this grilled cheese. To do that, I made a gif!
I'm so proud of myself.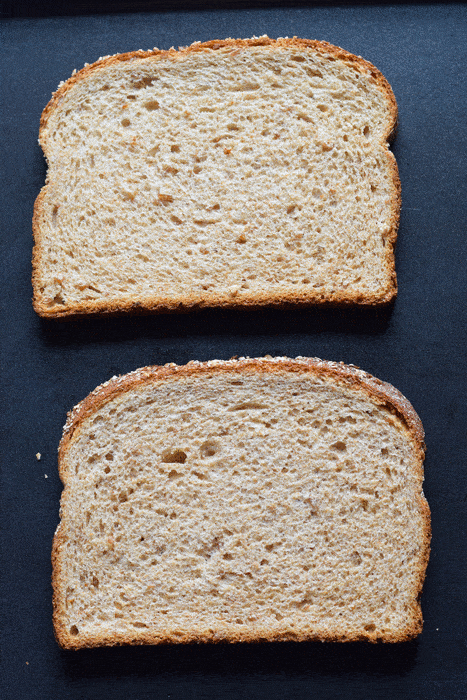 Here's the process.
Butter one side of a slice of bread. Layer the inside with chimichurri sauce, mozzarella cheese and fajita veggies. Top with another slice of bread and butter the outside. Grill on a flat griddle (this is the one I have) or in a skillet until the outside is golden brown and cheese is super melty.
Dig. In.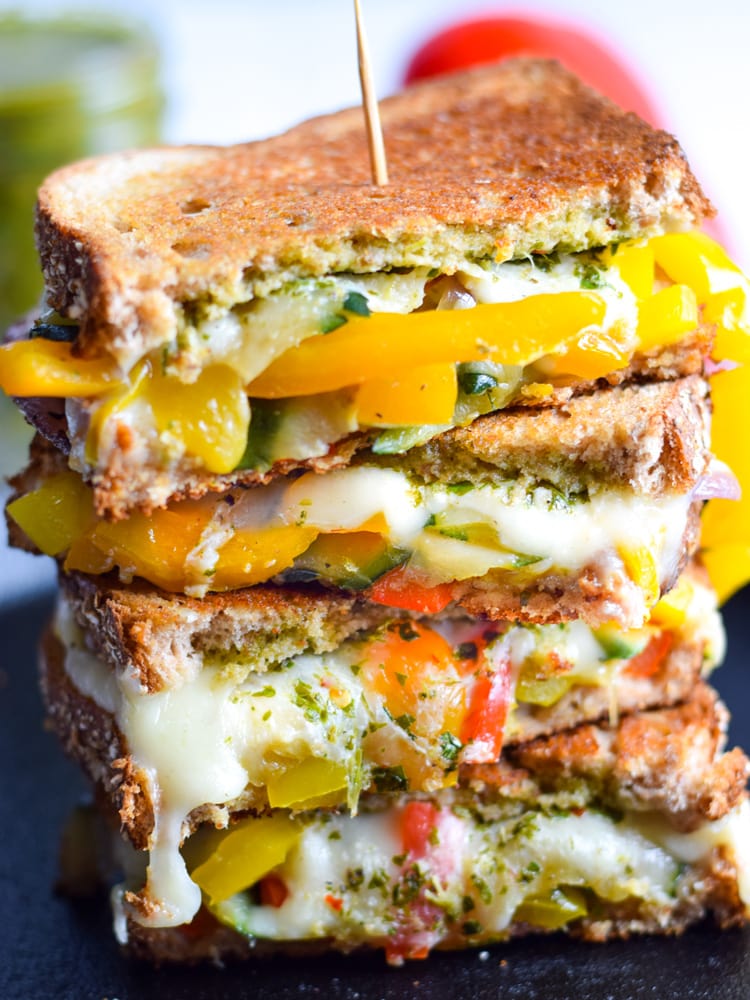 If you make this recipe, let me know in the comments below or snap a photo and tag me @isabeleats on Instagram. I'd love to see the finished product!
INGREDIENTS
1/2

large

red onion,

sliced

3

bell peppers,

sliced (I used different colored peppers to make it beautiful!)

1

medium

zucchini,

thinly sliced or ribboned with a peeler

2

tbsp

olive oil

1

tsp

minced garlic

1

tsp

coarse sea salt

1/4

tsp

black pepper

1/2

tsp

cumin powder

butter

(as much or as little as you want but the more the tastier!)

8

slices

hearty wheat or white bread

8

slices

mozzarella cheese
INSTRUCTIONS
Heat olive oil in large skillet over medium-high heat.

Add in onions and garlic. Sauté until fragrant, about 1 minute.

Add in bell peppers, zucchini, cumin powder, salt and black pepper. Cook until softened, about 10 min. Remove from heat.

Then, grab one slice of bread and butter one side.

Place the bread, buttered-side down, on a flat griddle pan or skillet.

Layer with 1 tbsp chimichurri sauce, 2 slices mozzarella cheese (about 2 ounces) and 3/4 cup fajita veggies.

Top with another slice of bread and butter the outside.

Heat skillet on medium heat.

Flip grilled cheese when mozzarella starts to melt.

Cook for another 2 to 4 minutes.

Slice in halve and serve!

Repeat steps 4 through 11 to make the remaining grilled cheese sandwiches.
Did you make this recipe?
Leave a comment below and tag @isabeleats on social media!