Jump to Recipe
This picadillo recipe is an easy, warm, and comforting Mexican dish made from ground beef, potatoes, and vegetables cooked in a flavorful tomato-based sauce. Great in tacos, gorditas, or served with rice and beans!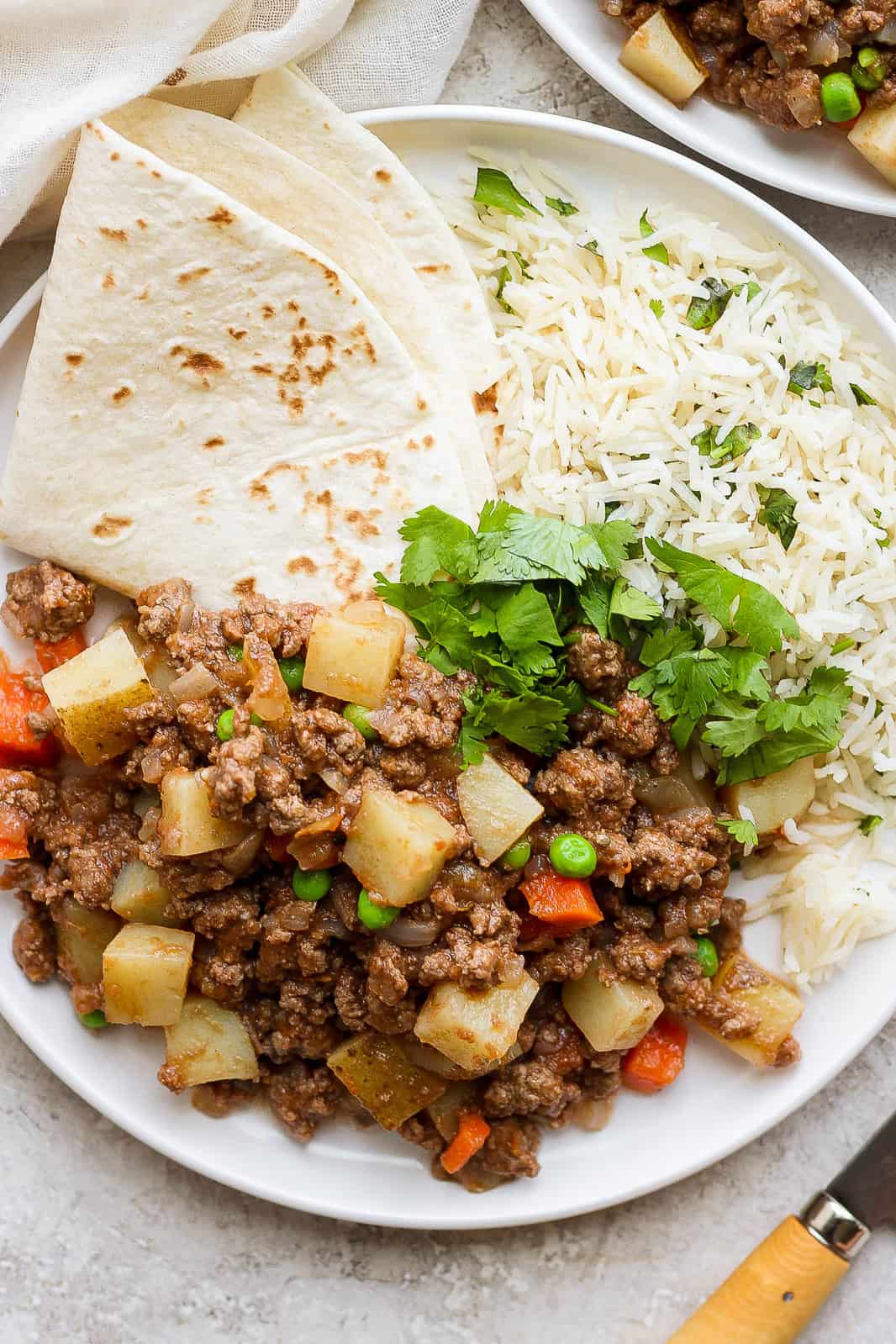 On nights when I'm unsure what to make for dinner, this picadillo recipe comes to the rescue!
What Is Picadillo?
Picadillo is a Latin American dish made from ground beef, potatoes, and a tomato sauce mixture. Every country and region has its own unique variation on the meal (for example, the very popular Cuban picadillo is made with olives and raisins), but today I'm going to share the way my family has always made it!
For context, my family is from the central/northern part of Mexico in the state of Zacatecas.
Ingredients
Meat: Ground beef is what is traditionally used, but you could also use ground chicken or turkey if you prefer.
Vegetables: You'll need carrots, frozen peas, potatoes, onions, and tomatoes.
Pepper: I used a jalapeño for a milder spice level, but you could also use a serrano pepper for more heat.
Seasonings: I used a mix of dried Mexican oregano, kosher salt, ground cumin, and garlic.
How to Make Picadillo
Make the sauce. Add tomatoes, onions, garlic, jalapeño pepper, oregano, cumin, salt, and some water to a large blender, then puree until smooth and set aside.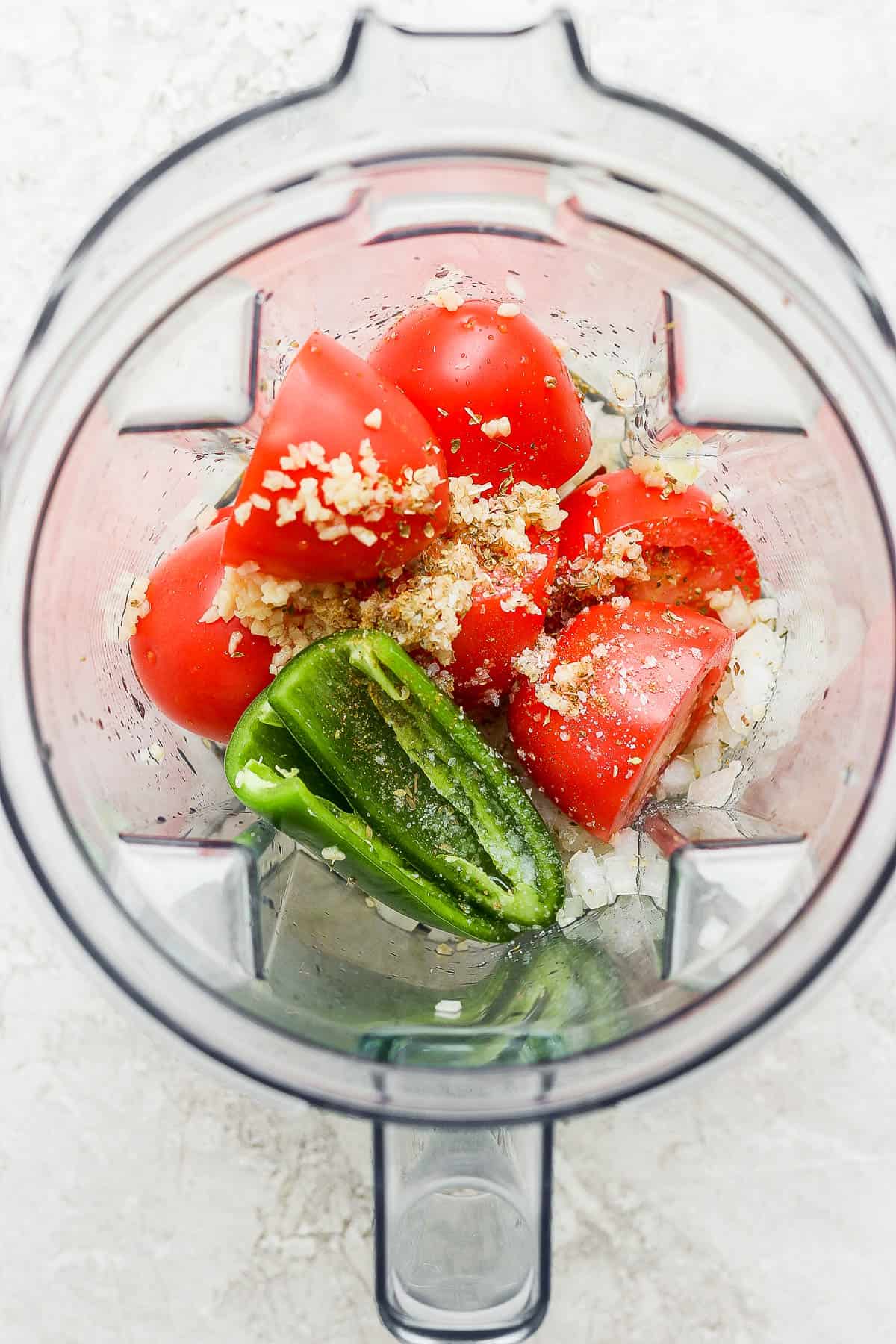 Cook the meat and veggies. Cook the ground beef in a large skillet with some diced onions until the meat is lightly browned. Add the diced potatoes, diced carrots, and cook for 5 minutes, then add the blended tomato sauce mixture, cover, and cook for 10 minutes.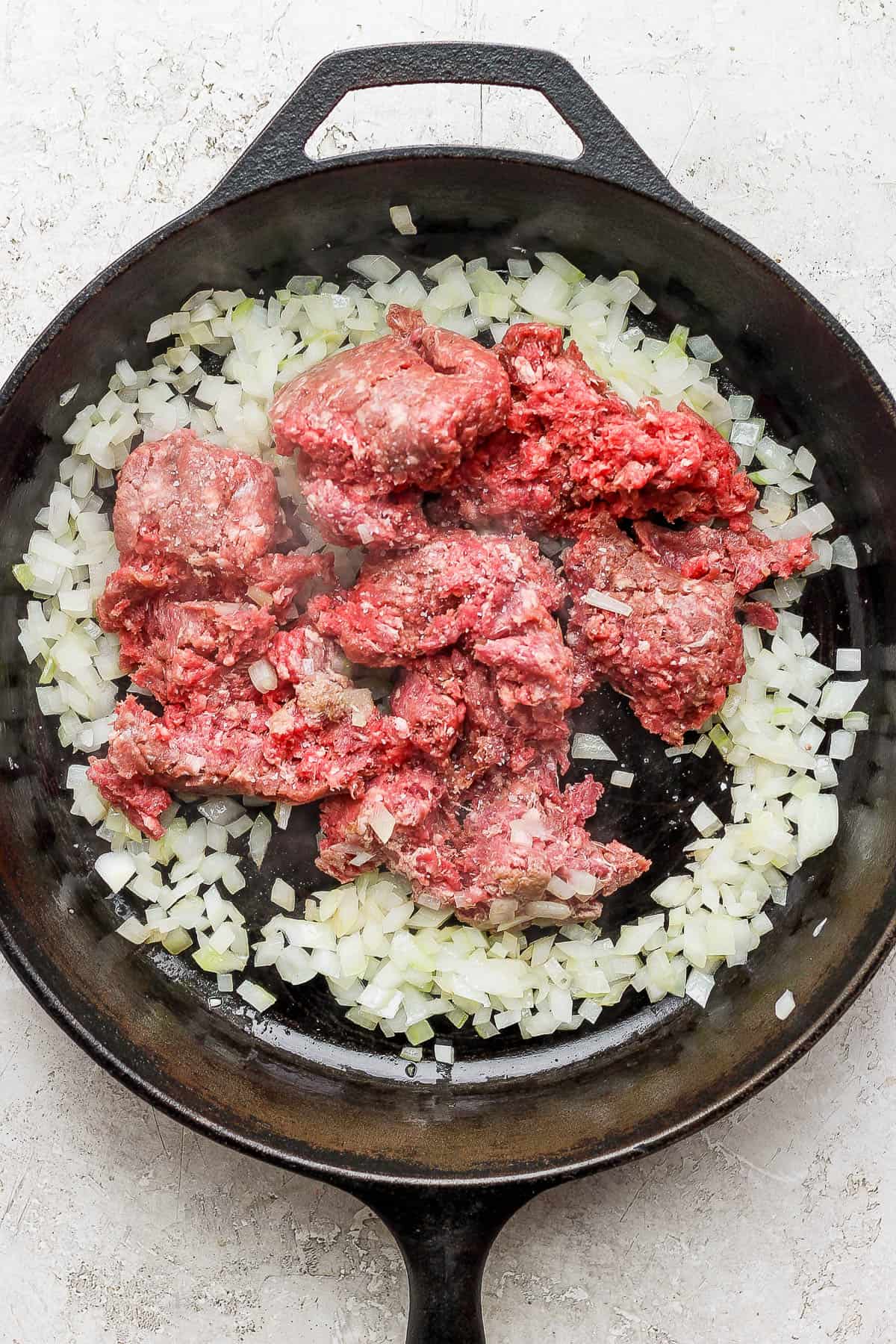 Thicken and serve. Uncover, cook for another 5 minutes, then stir in the frozen peas. It's ready when the potatoes and carrots are tender and soft!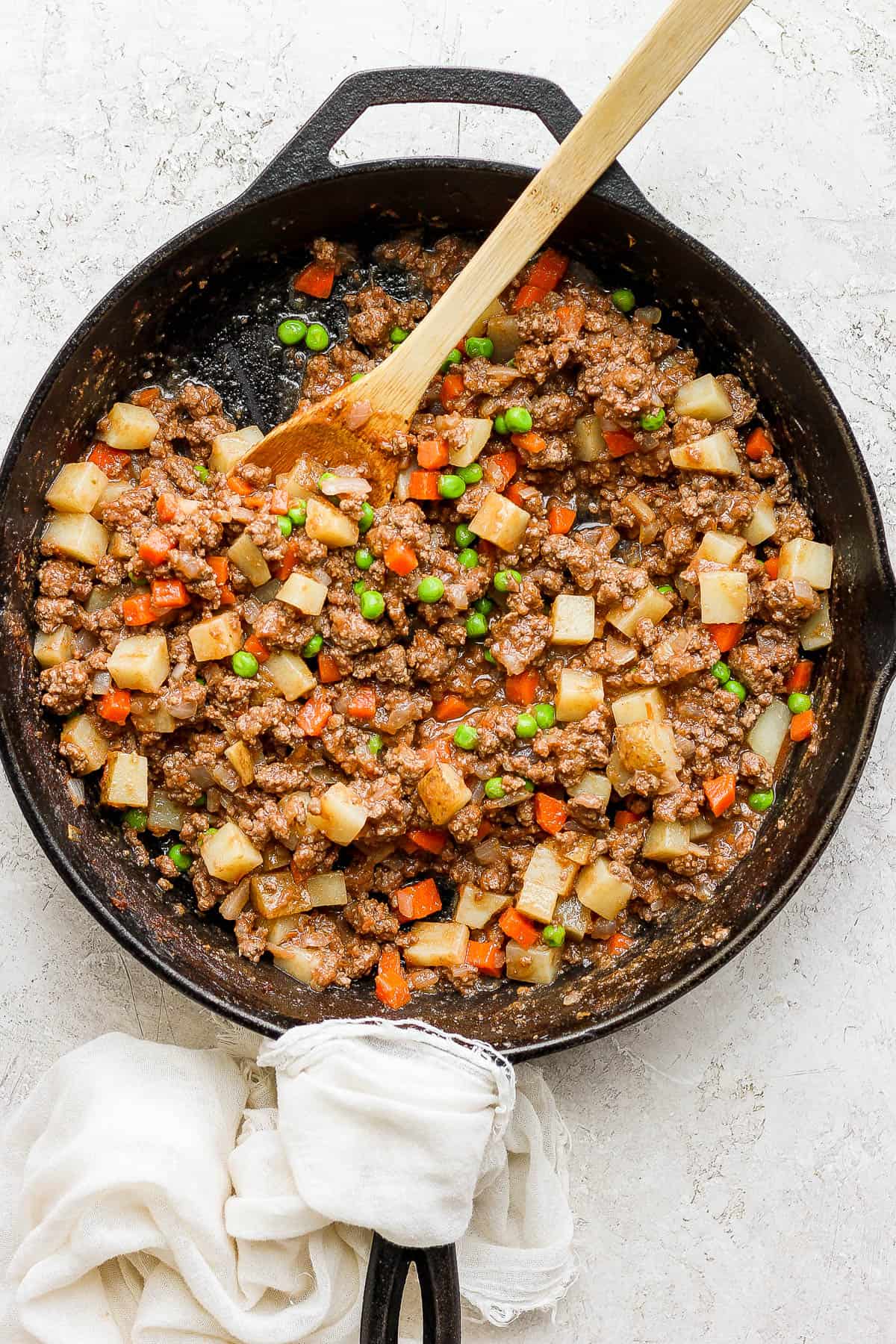 Tips
Don't be afraid of salt. The salt helps bring out the flavors of the tomato sauce mixture and makes the meat and potatoes one big happy family.
Taste as you go. Add another jalapeño or more salt in the sauce if needed. The spice level of jalapeños can vary from not spicy to extremely fiery, so take a small bite and test it out.
If the meat starts to dry out during the cooking process, add ¼ cup of water to keep it moist and continue cooking.
Serving Suggestions
I recently served this beef picadillo with some leftover cilantro lime rice I had in the fridge, but there are plenty of other ways to eat it. Here are a few suggestions: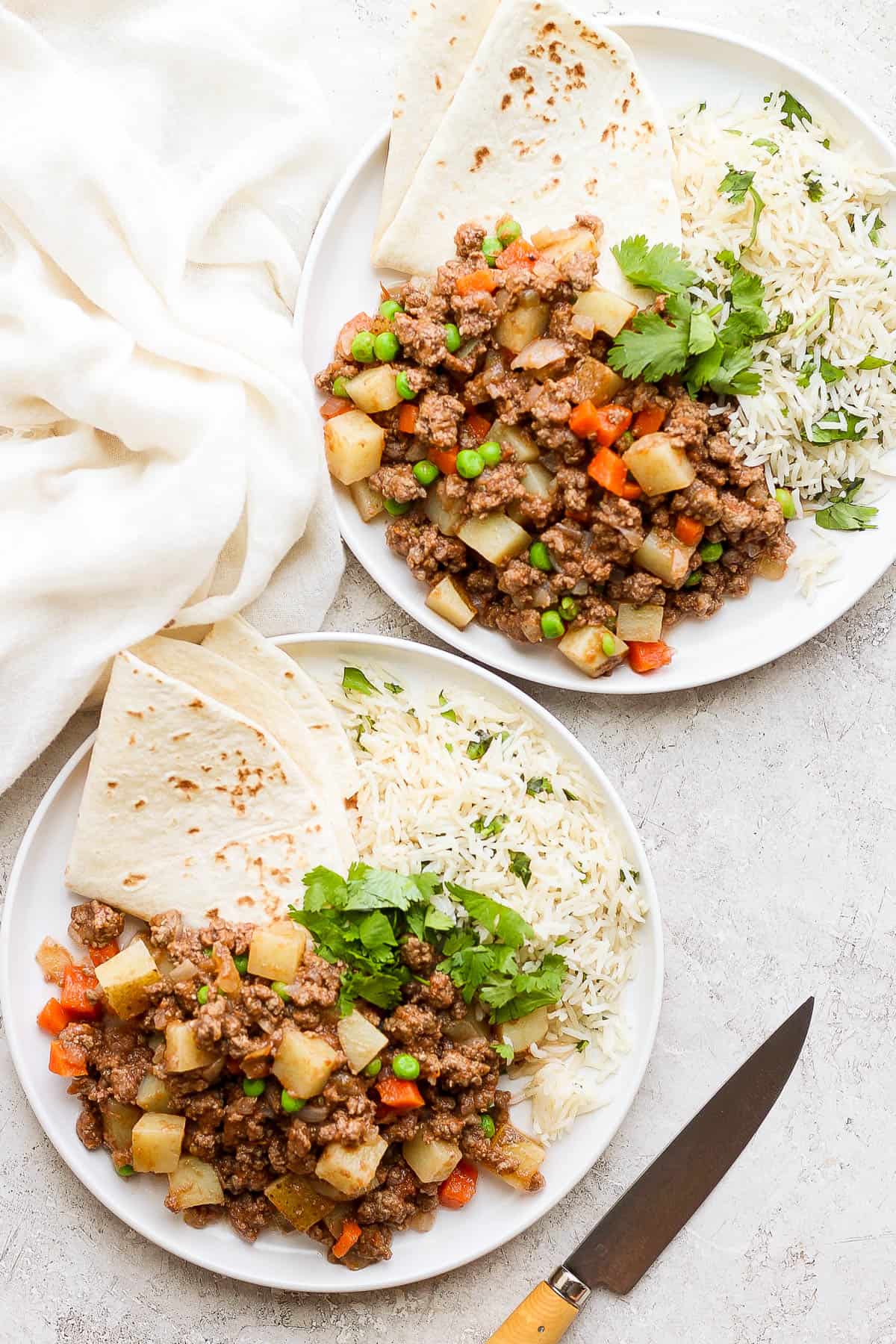 Variations
Give it a healthy twist by substituting ground turkey or chicken for ground beef.
Use sweet potatoes instead of white potatoes to add a subtle sweetness.
Try green beans in place of peas to switch things up!
Recommended Tools
Nonstick skillet. These are my absolute favorite. They're high-quality and worth every penny.
Blender. A good blender is a must when blending various vegetables for the perfect sauce consistency. 
Storage
Leftover picadillo can be stored in the refrigerator in an airtight container for up to 5 days.
You can also store it in the freezer for up to 3 months. To reheat from either method, simply toss it in a pan and heat it!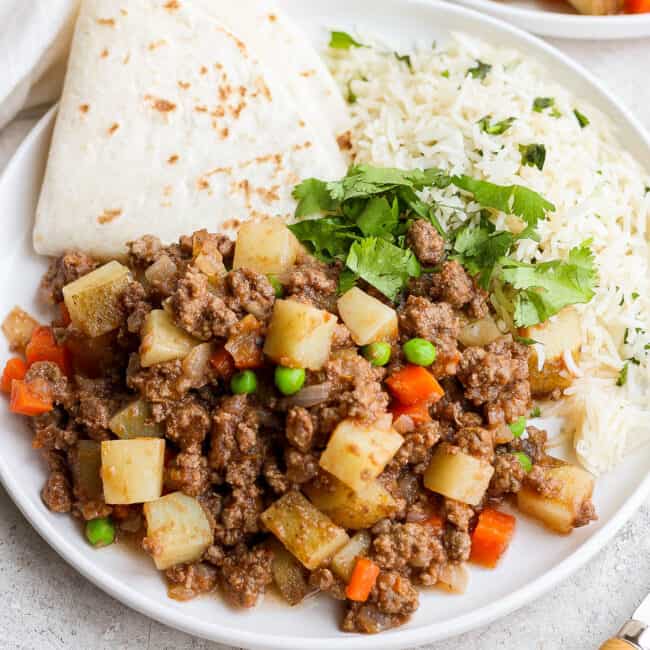 Prep: 10 minutes
Cook: 35 minutes
Total : 45 minutes
An easy and flavorful Mexican picadillo made from ground beef and potatoes cooked in homemade tomato sauce. The best weeknight meal!
Ingredients
4 Roma tomatoes, halved
1 medium onion, diced
2 cloves garlic
1 jalapeño pepper stemmed*
1 teaspoon kosher salt, plus more as needed
½ teaspoon dried Mexican oregano
¼ teaspoon ground cumin
½ cup water
2 teaspoons extra-virgin olive oil
1 pound lean ground beef
1 medium russet potato, diced
1 large carrot, diced
¼ cup frozen peas
Instructions
In a blender, combine the tomatoes, ½ of the diced onion, water, garlic, jalapeño pepper, ½ teaspoon of the kosher salt, Mexican oregano, cumin, and water. Blend until completely smooth.

Heat the oil in a large skillet or sauté pan over medium-high heat. Add the remaining ½ of the diced onion and cook for 5 minutes, stirring occasionally, until softened.

Add the ground beef and sprinkle with the remaining ½ teaspoon of kosher salt. Cook for 6 to 8 minutes, breaking up the meat into small pieces as it cooks. Drain and discard any excess grease if necessary.

Stir in the potatoes and carrots and cook for 5 more minutes. Pour in the pureed tomato mixture and stir to combine. Reduce the heat to low, cover, and cook for 10 minutes.

Uncover and cook for 5 more minutes. Stir in the frozen peas and cook uncovered for 5 more minutes, or until the potatoes and carrots are tender. If the meat starts to get dry, add in ¼ cup of water and continue cooking.

Taste and season with more salt as needed.
Video
Isabel's Tips:
Jalapeño: You can remove the seeds if you don't want it spicy, or you can completely omit the jalapeño for no spice at all.
Nutrition Information
Serving: 1/6th of recipe Calories: 207kcal (10%) Carbohydrates: 12g (4%) Protein: 18g (36%) Fat: 8g (12%) Saturated Fat: 3g (15%) Polyunsaturated Fat: 0g Monounsaturated Fat: 1g Trans Fat: 0g Cholesterol: 50mg (17%) Sodium: 326mg (14%) Potassium: 389mg (11%) Fiber: 3g (12%) Sugar: 3g (3%) Vitamin A: 2300IU (46%) Vitamin C: 37.1mg (45%) Calcium: 20mg (2%) Iron: 2.7mg (15%)
Photos by Erin Jensen of The Wooden Skillet.